I had an awesome and productive Tuesday!
First of all, I am learning a little more about how to write these post. I certainly still have a lot to learn, and a few kinks to work out, but I'm getting there. Last night I posted two new items to the "Food" tab at the top of the page.
One is an idea for Oatmeal, the other for Tilapia. You didn't think I made a recipe with Oatmeal and Tilapia, did you?
I am calling it "Food", not "Recipes", because I'm really not the best cook, and many times, I'm just throwing stuff together. Some of what is listed IS a recipe, and some of them are just ideas for quick, low point meals. Sometimes, the things I throw together taste great, and other times, not so much. Ive decided that if I make something worth sharing, then I will post it under the "Food" tab, which is exactly what I did last night. I did however put a link to the two in today's post, so if they sound appealing to you, you can just click on the link!
For the rest of the day…….I got in a nice 6.5 mile walk before going to meet with the trainer! I hadn't been to see him in a couple of weeks, so those lunges seemed an awful long way to the ground!
From now on, I will be meeting with the trainer every other Tuesday to get this body to build some more muscle!! I will do the workout that he gives me, three times a week, for two weeks. He is doing of great job of strengthening my back, shoulders and legs and I am hoping to be back at Bootcamp by the end of the year!!
Later in the day, I enjoyed a 2 1/2 hour wait with my mom at her Doctor's appointment. We passed the time by viewing everything I had "Pinned" lately on Pinterest and playing the Ellen Degeneres Game, Head's Up! By the time the doc did walk in the room, we were both crying from laughing so hard at the energetic game of charades we had began to play! We figured we could be irritated as all get out, or play a game. So, we played a game. I am happy to report that her surgery and the InterStim seem to be a success!
Here are the days eats……..
Breakfast
Chocolate Peanut Butter Banana Oatmeal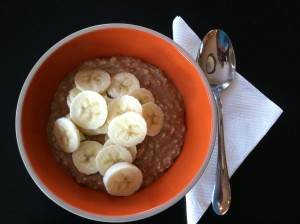 Snack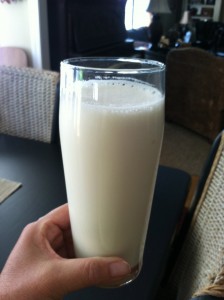 Lunch

Dinner. So good, I made it twice!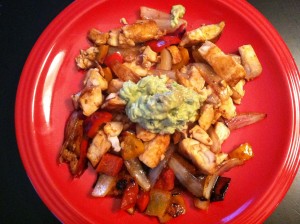 Refresh…I can eat 26 points a day.
I can earn Activity Points by doing exercise, and eat them if I choose.
I have an allowance of 49 points that I can dip into if I chose.
I should drink a minimum of 6 (8 oz) glasses of water each day.
The food I ate and it's PPV
Breakfast = Oatmeal, PB2, Banana (5)
Snack = Coffee with Milk (1)
Snack = Whey Protein Shake made with 1 C. cold water and 1 C. Ice (3)
Lunch = 5.5 oz Tilapia, Bell Peppers, Olive Oil, Guacamole (9)
Dinner = 8 oz. Tilapia, Bell Peppers, Olive Oil, Guacamole (12)
Total = 30
Today's Exercise = Walked 6.5 Miles, Workout with Trainer 30 minutes