Tilapia Fajita Bowl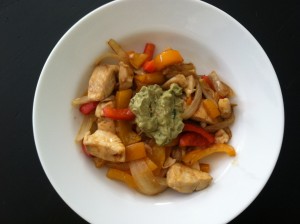 This is not so much a recipe, but an idea…….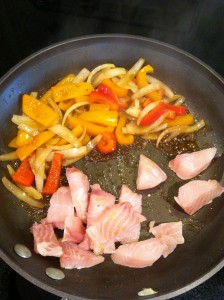 I had several bell peppers that I needed to eat up, and I had purchased several Tilapia Fillets on sale at the grocery store yesterday. I diced up some peppers and yellow onion and sauteed those in a little bit of Olive Oil. You could certainly use cooking spray too! Then I opened a packet of Fajita seasoning and sprinkled a little bit on the veggies, maybe 1 to 1 1/2 tsp. Then I added a bit of water and let it all sizzle. Then I cut up a tilapia fillet into bite size pieces and cooked it for a couple of minutes on both sides. Then I added a bit of the seasoning and a touch of water, and let them all sizzle together for a short bit.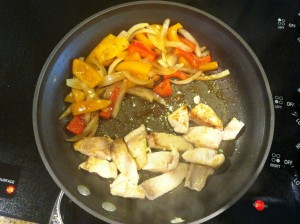 I dumped it all into a bowl and called it lunch. It was so darned tasty, I did it all over again for dinner!
Your PPV will depend on how much Oil you use for cooking, and the size of your Tilapia Fillet.
Quick Lunch or Dinner!
(I topped mine with Trader Joe's Greek Yogurt Chunky Guacamole!)