Friday was a complete day full of Food Truck's! We started of our morning in the West Bottoms of Kansas City serving up lots of yummies from Beauty of the Bistro to all sorts of friendly shoppers enjoying an awesome day! There were several other food trucks there too, serving up everything from coffee to taco's to BBQ!
You like my new T-Shirt???? Me too!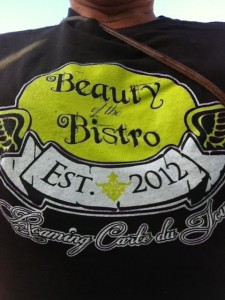 We were just busy enough that I never did think to hop out of the truck and take a picture! I did see lots of familiar faces though, and it was fun to have so many people come see us!
We closed up at the West Bottoms after feeding lunch to a bunch and headed to the KC Star Food Truck Friday Event downtown to serve up some dinner!
Some of the truck's in attendance included Beauty of the Bistro, Wilma's Real Good Good, Little Italy KC, Crave Food Truck of KC, 3 Girls Cupcakes and Carbonsitos and El Tenedor!
The event was scheduled from 5-8, but people just kept coming, and eating and eating and eating…….so we stayed and served up Food Truck Deliciousness well into the weeeee hours of the evening. Okay, like 10ish. But this girl was one tired girl by the time we were done. There were five of us working our tails off in that food truck, and you know what? I had a BLAST!!!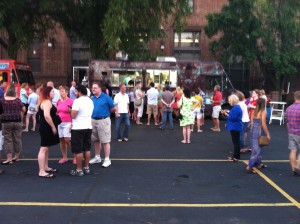 We were actually so busy, I think we all forgot to eat! But I did pack a few things to take, and at around 10:00 pm, I munched of a few of the things I brought.
Friday is my scheduled day off of exercise, but I'm pretty sure being on your feet for 10-12 counts as a few Activity Points, so I'm giving myself 3!
Friday's Eats…..
Breakfast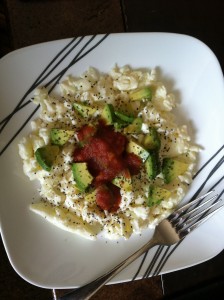 Snack
Lunch & Dinner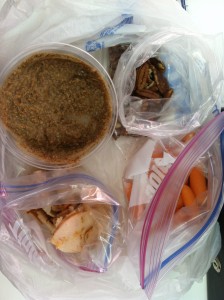 Refresh…I can eat 26 points a day.
I can earn Activity Points by doing exercise, and eat them if I choose.
I have an allowance of 49 points that I can dip into if I chose.
I should drink a minimum of 6 (8 oz) glasses of water each day.
The food I ate and it's PPV
Breakfast = 5 Eggs Whites, 1 Laughing Cow Cheese Wedge, 1/4 Avocado, Coffee with Milk (6)
Snack = Whey Protein Shake with 1 C. Water, 1 C. Ice and 1 C Frozen Blueberries (3)
Dinner = Turkey, Almond Butter, Pecans, Carrots (9)
Total = 18
Today's Exercise = Standing for 12 hours….pretty much non stop. 🙂
How many glasses of water I drank = 12
Activity Points Earned Today = 3
Activity Points Earned This Week = 3
Remaining Points from my 49 Points Allowance = 49
ALCOHOL consumption = none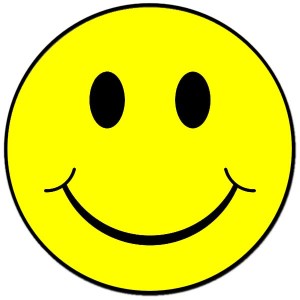 "love the life you live, live the life you love"