This is my first blog post since Friday and so much has happened!!
Let me start with…..I finally broke through 157 and I now weigh 155! That's 52 pounds lost and 5 pounds to go to GOAL!!
I'm super excited!
I spent Friday afternoon doing a little shopping with a friend in the West Bottoms, which is always a great time! I found just a couple more items to add to the new bedroom……
Love this…..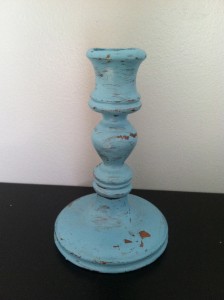 I really just needed something for this wall, and it was blue……but it makes me giggle….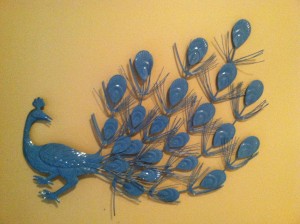 I love this little skate case, but it makes me want to redo my Master, in Black and Cream…..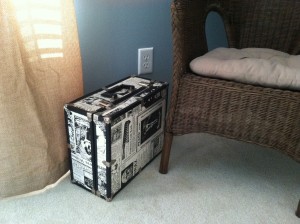 I had this vase, and I just keep bringing in sticks from the yard! (and little spiders….oops)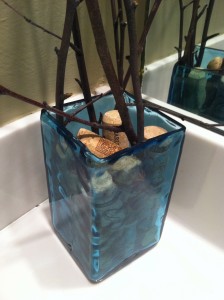 Um, had to have it…..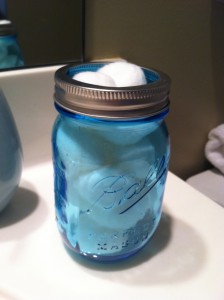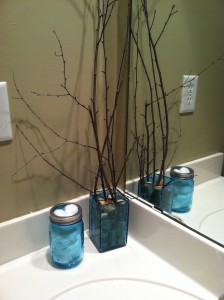 I needed to fill the empty space on this wall…….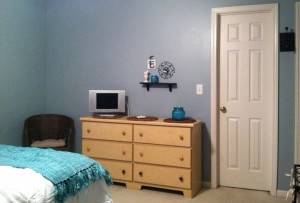 so I did…..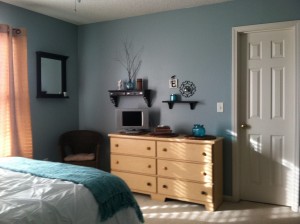 …….and the room is now officially finished! Tess came home Friday night, and loved the new room!
On Saturday morning, Tess and I drove to Pleasant Hill to watch an intense Flag Football game with Anne, Malik's mom. It was freezing, but it felt sooo good!!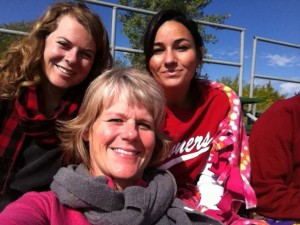 Our Sooners won 13 to 12!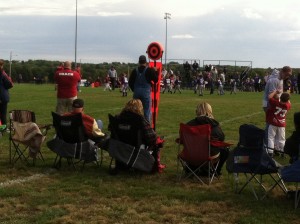 Here comes Malik into the Victory Tunnel!!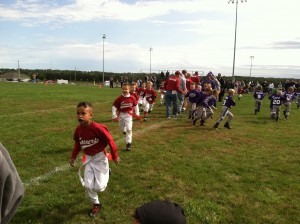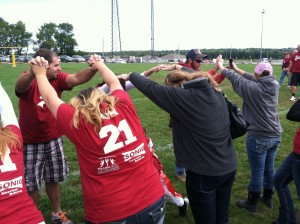 Then Tess and I headed back home to get ready for the wedding we were going to at 2:00. One of Tess' friends from college, Laura, was getting married, and I was going as Tess' date! I think I was just as excited as Tess to get to see some of her college friends and hang out with them for the evening! Would you believe I pretty much put my phone away for the rest of the weekend, and just enjoyed the moment? Well, I did, but I did steal this great picture of the Bride and Groom, Laura and Brent, from her Facebook page!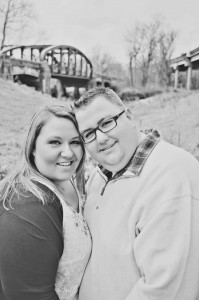 The wedding was beautiful, the food was awesome, the DJ was great, and we all had a really great time! Best of luck to you Laura and Brent!
Our Sunday was filled with some awesome couch time, Football and Chicken Chili. Tess had decided to take the latest flight home on Sunday that she could, which meant I got to enjoy her all day long. Her and Mike spent the afternoon drinking beer and yelling at the TV. I was as happy as I could be! My mom came over and listened to them for a bit and did her own little burst of yelling at the TV too! I guess it all worked out, because now our awesome KC Chiefs are an amazing 5-0!!!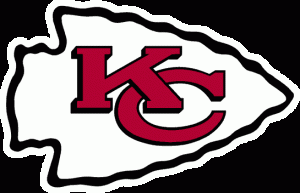 This is the last Chicken recipe of my "Four Week Chicken Challenge". I had planned to come up with my own seasoning recipe before I made this during this four weeks, but then I decided, I have been making this chili like this for a long time and I really really like it, so why mess with a good thing?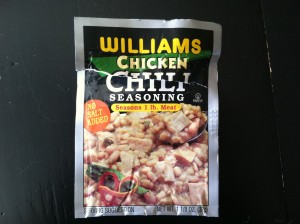 Chicken Chili
Makes 6 Servings
1 Serving = 6 PPV
Ingredients
1 packet of Williams Chicken Chili (No Salt) Seasoning
1 pound chicken (I almost always use a rotisserie chicken for this, but the seasoning packet has directions for cooking the chicken)
1 1/2 C. Water
1 Can of White Shoepeg Corn, drained (or frozen corn)
1 Can of Great Northern Beans, undrained
Directions
Follow directions on seasoning packet for cooking the chicken. (Or, like me, use already cooked chicken. If you choose this option, still use the 1 1/2 cups of water and simply combine it with the chicken and all of the other ingredients)
Combine all ingredients in a pot and let simmer. Enjoy!
This is one of those dishes that I like to make in the crockpot so I can walk away from it, let it simmer, and not have to worry about it for the rest of the day! It's nice to be able to stack few bowls beside the crockpot and let everyone serve up their own when they're hungry!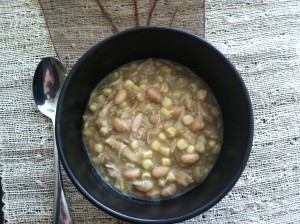 After cooking "Four Weeks of Chicken", I discovered that taking just a little bit of extra time to prepare some chicken in advance, and freeze it, really helped allow me to prepare healthy dinners quick and easy. I did cook some chicken breast in chicken broth, cool it, shred it and freeze it. I also bought several rotisserie chickens at Costco (because they are LARGE and only $4.99), took all of the meat off of them, and froze them in individual Freezer Bags for future use. Such a time saver!!!
If you can take a little time to "Meal Plan" for the week, I also think that this helps to make meal prep much easier during the week and one less thing to think of during the week.
Here are the recipes that I made over the last Four Weeks!
Chicken Philly Skillet for One
Chicken, Sun Dried Tomatoes, Spaghetti Squash
Chicken Thai Pizza, Chicken Fajita Pizza
Trisha Yearwood's Chicken Piccata
Simple Grilled Chicken Marinated in Italian Dressing
I hope you all have a wonderful, healthy week!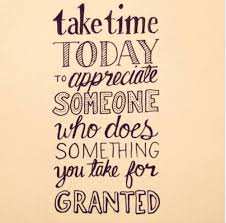 "love the life you live, live the life you love"