Reflection
I haven't done a "Reflection" post in quite a while. If I'm honest, which I do like to be, especially here, I have to admit that my exercise habits these last few weeks have been terrible! I don't know why. I have no good reason. I had gotten in such an awesome habit of exercising 5-6 days a week, no problem! I really don't even remember what threw me off, or what excuse I made, but for some reason, the excuses continued and I completely have gotten out of one of the best habits I had developed!!! That changes today. No excuses. I remember learning from "coach"……For each day that you exercise, you strengthen your body, for each day that you don't, you decay. I don't want to decay!!! Well, the fat can decay, that's cool, but not the good stuff!!! So, back to 5-6 days of exercise…..EVERY WEEK! I want to be stronger, I do NOT want to decay! The exercise is now, not even about weight loss, but more about good health in general.
I was super ecstatic to reach 155 last week, and the fact that I did that with little exercise, was a bit surprising, but I have to say, the more I think about things, the more I realize how much my eating habits have really changed over the last four years. We recently had a Weight Watcher meeting about "habits", and the whole time I kept thinking about all of the changes that I have gradually made over the last four years. Here is a list of some of the major things that I have changed that I know have contributed to me losing weight slowly over the last few years.
1. Fast Food. I won't say "No Fast Food", but I eat it so infrequently, that I can't remember the last time that I had it. I know the last time that I went to McDonalds's, I ordered a nonfat latte and an Oatmeal. I did not eat all of the toppings that came with the oatmeal. If I am out and about, and I'm hungry and running errands and need something quick, I'll find a grocery store and grab a few things off of the salad bar, or maybe just grab an apple, then eat a little something more when I get home.
2. Fried Foods. Again, I won't say "No Fried Foods", but I hardly EVER order it. I will take a few bites of someone else's fries, or a bite of someone else's "Fried" something, but I wouldn't order it myself.
3. I think nothing at all of drinking 10-12 (8 oz) glasses of water a day, sometimes more.
4. I am satisfied with smaller portions. It took awhile. I was one of those people that ALWAYS cleaned my plate. I now know that it's okay to leave food on my plate, but sometimes it is harder than others.
5. I try to include protein most mornings for breakfast. If I only eat a breakfast of carbs, I'm starving by 10:00, but if I include protein, I don't seem to even think about food until lunchtime.
6. The biggest surprise to myself in the habits that I have changed???? My beer drinking. I drank beer on a pretty regular basis. Anytime we went out to dinner, which used to be a LOT more frequently. Every time I mowed the lawn? A couple of beers. Because it's Friday? Quite a few beers. Because it's a gorgeous afternoon outside? Cold Beer! Football is on??? Beer!!!! I am drinking a lot less in general, and although I certainly still have a beer or two on occasion, I am a little more choosey about when I decide to do that. I opt for wine more often than beer, and for the most part, when I do drink, I am drinking less quantities. I'm still enjoying Happy Hour with my girlfriends, and I am certain there will be Happy Hour's to come, that I enjoy a few too many, but in general, I am drinking less alcohol, and it feels good.
7. We eat dinner out a LOT LESS often than we ever have. I like to cook now probably more than I used to, and it's just the two of us, so obviously cooking is easier when there are less people to please, in my opinion. It's much easier to know how many WW Points are going into your mouth when you are the one that has prepared it.
8. I recognize my trigger foods, and there are MANY! I try to avoid keeping those at my house because I can't seem to stop at a serving size.
a. sweets (candy, cookies, any dessert items)
b. cereal (I would start to eat cold cereal right out of the box, and stop when the box was empty!)
c. bread (I could be addicted to toast!)
d. crackers (I could live on cheese and crackers alone!)
e. chips (like the cereal, I could start eating chips and never stop!)
f. trail mix (I convince myself it's "healthy", but once I start eating it, I can't stop!)
These are all foods that I can't seem to stop eating at just one serving, and when that happens, I am so disappointed in myself, I'm worthless for the rest of the day. I've learned to eliminate this behavior by simply not having these foods at my house.
I'm a total "close"t binger, so having these foods available to me at a party is manageable. Sometimes at a party, I will eat a little more than I wish that I had, but nothing at all like I would do at home alone. It's such an unattractive part of my weight issue, but I've learned how to deal with it by not keeping those trigger foods at home. Outta sight, outta mind. 🙂
Those are the "reflections" running through my head lately. I am planning to be at 150 by November 22nd!
Redecorating the Master Bedroom
Okay, my brain is so busy dreaming up new Master Bedroom colors right now, I can't really think about anything else. I know. I'm an idiot. Since redecorating the New Blue Guest Room, all I can think about are paint colors and new bedding for the Master. Likely, a new headboard. A Black and White Theme? A Cream and Black Theme? Gray and White? Gray and Green? Black and Green? Ahhhhhhhh!!!!!!!!!!! Literally, my brain won't shut off the colors!! I have this huge green chase lounge in our bedroom that really has no other place to go, and I really want to keep it in the bedroom anyhow, so I feel like I am going to pick my final colors based on that chair!
Here are a few pictures that are inspiring me for my next project!!
I think I'm addicted to white bedding now…….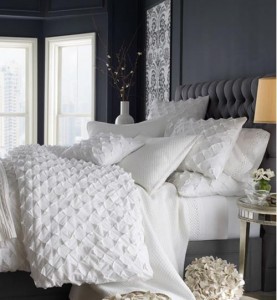 I really like the black and white, but I am considering "Grey Walls" but the grey will have to work with my chair…..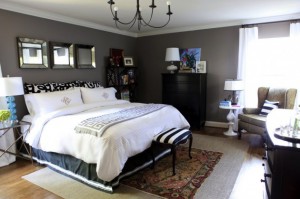 I'm really liking the idea of a pattern vs. solid for the window treatments……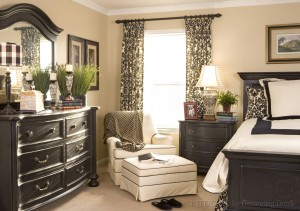 I have three big windows that I'm considering creating a "sitting area" in front of, but I don't have near this much space……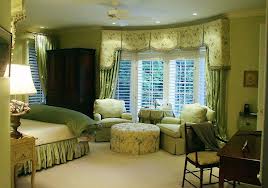 This is where the "Grey" idea came into play…….My nightstands and current head board are black.
I was looking for green and grey together to see what I thought. I think I like it, although my green isn't that bright?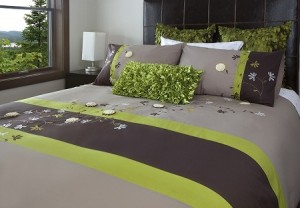 We have this nasty, blah, beige carpet. Maybe I could get an area rug for added texture????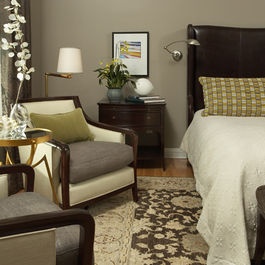 This makes me feel relaxed. Maybe a slip cover for that green chase lounge we have!! And Look! More patterned window treatments!!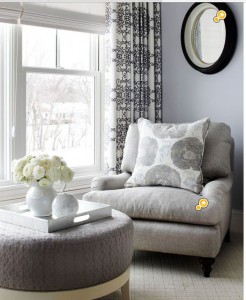 The last time a friend helped me redecorate our Master, she hung curtain rods exactly like this over our bed. I have since taken the fabric down, but I am considering doing this again. Your thoughts????? If I did all white bedding, and white over the bed, like in this picture, it could have a really relaxing feel to the room for sure.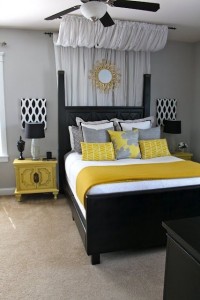 Okay, enough about that for now, but I have to tell you, my brain will NOT shut off about it all.
Yesterday, a girlfriend and I snuck out to a movie at 11:00 am. I guess I say "snuck", because there's just something about an afternoon movie on a weekday that is a bit of a guilty pleasure. Anyhow, she loves going to the movies just as much as I do, so I was excited to sneak my Starbucks into the show (its just part of my movie routine and apparently I was feeling "sneaky" all day yesterday!), and curl up in my seat and enjoy a show. We saw "Gravity" with Sandra Bullock and George Clooney, and much to our surprise, it was only being shown in 3-D! I had never seen a movie in 3-D before, so it was quite the experience!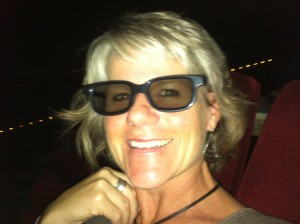 Then we headed to lunch, then home to be productive. Oh yeah, and prepare for an evening out with a girlfriend. I guess I had a bit of a guilty pleasure day, all day long. Sometimes, ya gotta just do that!
Here are the day's eats…….
Breakfast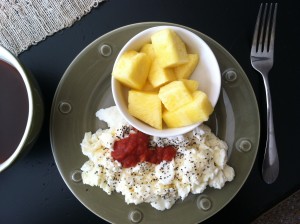 Lunch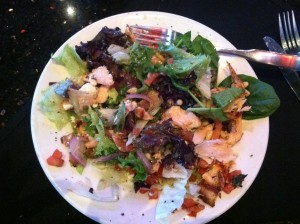 A mutual friend of ours (my movie friend) works at the restaurant that we went to for lunch, and she INSISTED on us trying the Cheesecake for dessert! It was ridiculous, and I believe we each had four small bites. As difficult as it was, we walked away from over half of it!!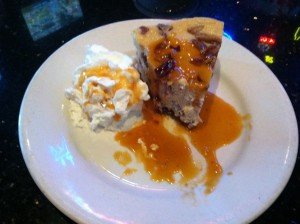 Snack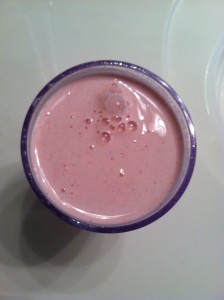 Dinner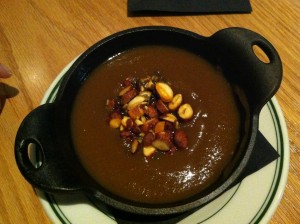 Refresh…I can eat 26 points a day.
I can earn Activity Points by doing exercise, and eat them if I choose.
I have an allowance of 49 points that I can dip into if I chose.
I should drink a minimum of 6 (8 oz) glasses of water each day.
The food I ate and it's PPV
Breakfast = 5 Egg Whites, Laughing Cow Cheese Wedge, Pineapple, Coffee with Skim Milk (4)
Snack = un-pictured Nonfat Latte (3)
Lunch = Salmon Salad, A Few Bites of Cheesecake (15)
Snack = Protein Shake made with 1/2 Serving Size of Protein Powder, 1 C. Skim Milk, 1/2 C. Greek Nonfat Yogurt,
1/2 C. Frozen Strawberries, 1/2 Frozen Banana (5)
Dinner = Cup of Butternut Squash Soup, 1 Glass Red Wine (9)
Total = 36
Today's Exercise = None….that changes TODAY!
How many glasses of water I drank today = 12
Activity Points Earned Today = 0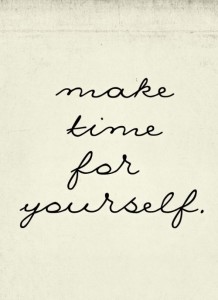 "love the life you live, live the life you love"