Tomorrow's Weigh-In
The Scale was very kind to me this morning, and I'm feeling fairly confident about weighing in at 154 tomorrow! Whoo Whoo! You guy's, that's the LOWER side of the 150's!!! When I talked to "coach" last week about going to weigh-in after enjoying too much cheese at Happy Hour the night before, she suggested I go for a 30 minute hard core walk/run before I went to my meeting. I was like….."Um, no thank you. If my weigh-in isn't great due to the salt and fat intake of the cheese, I'm sure it'll be fine in a couple of days." Well, my weigh-in wasn't great, but after lots of water over the next 2 days, I was where I thought I should have been last Friday morning, but it would have been nice to see my "Happy Number" at the actual meeting instead of at home by myself. This week, I'm a little more apt to thinking I just might do that in the morning. I HAVE to see 154 in the morning at my meeting!!!
Food Idea's, Not Really Recipes?
Okay, here are a few food ideas I played with. I never like to call what I throw together a recipe. I like to play in the kitchen, but usually what I come up with is an accident, and I really don't think I know enough about cooking to call my accidents "recipes". I just like to tell you the ingredients I threw together that I thought ended up tasting great, and how many points it was. It really is more of an "Idea" than a recipe. It is one of things that I wanted to be able to share with the blog, so while I don't think I'm so great at it, I do hope that I am helping you find different ways to eat different foods so that you don't get bored with same ole same ole. 🙂
Pumpkin Almond Steel Cut Oats
I really like the texture of Steel Cut Oats. There's just something about them. They're almost chewy. Maybe makes me think of an Oatmeal Cookie? They're heavy, and when I eat them, they make my belly feel happy and satisfied. I'm pretty certain that the only thing that I DON'T like about them, is the fact that they take 30 minutes to cook and you pretty much need to stay by their side to stir. But if you really like oatmeal, and can be patient, and cook a batch up, I'm fairly certain that you will NOT regret it! Once I discovered that you could cook them up, divide them into serving bowls, stick them in the fridge, and reheat them in the morning as needed, I became a fan. I have been making Mike his breakfast and lunch to take to work with him, and Steel Cut Oats have been on the menu to pack for his breakfast, so I've been playing a little with them.
Ingredients
1 Cup Dry Steel Cut Oats
4 Cups Water
4 packets of Sweetener (I like trivia, but you could also sweeten with Brown Sugar, Raw Sugar, Honey….whatever you like)
1 tsp Cinnamon
Makes Four Servings
Toppings For One Serving
6 almonds, chopped up
1 T. of Pumpkin Butter (Did you see how I worked something Pumpkin in without making a HUGE deal out of it? Your Welcome!)
Directions
Cook Steel Cut Oats according to package directions.
After oats are done cooking, add sweetener and cinnamon to the oats and stir well.
Divide the oats into FOUR separate bowls, cover and refrigerate for use throughout the week.
When you're ready to eat your oats, take them out, uncover them and pop them into the microwave for about 1 minute. Stir and heat longer if necessary. You may want to add a splash of milk.
Top with Pumpkin Butter…..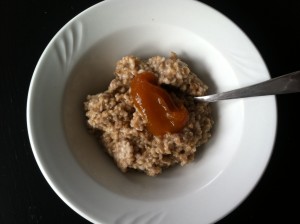 Add the chopped almonds and stir. Enjoy.
1 Bowl of Oats, No Toppings = 4 PPV
1 T. Pumpkin Butter = 1 PPV
6 Chopped Almonds = 1 PPV
Total for this Bowl = 6 PPV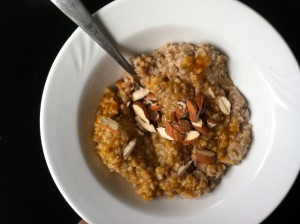 This week for Mike's breakfast, I sent a baggie that included one chopped Honeycrisp Apple, a handful of raisins and a few sunflower seeds. He said he LOVED it!
What are YOUR favorite Oatmeal Toppings? I'd love to know!
Scrambled Taco Eggs?
I don't really know what to call this, so I'm just calling it what it is. It's scrambled eggs, with taco seasoning! When I realized I had eaten more points than I thought I had the other night, I decided to eat something different for dinner than what I had originally planned. Egg Whites usually come in handy for me when this happens. I like them, I usually have them, they cook up quick, and 4 egg whites are only 1 PPV! Why not? I had opened a can of black beans for the dinner that I had planned to make, so I decided to use them with my eggs.
Ingredients
1 tsp of Coconut Oil (or any cooking Oil of your choice)
1 tsp of Taco Seasoning (use a store bought packet, or see below for this recipe)
1/4 Red Bell Pepper, Chopped
1/4 Yellow Onion, Chopped
Cooking spray
4 Egg Whites
1/8 Cup Black Beans, Rinsed and Drained
1 Slice Kraft 2% Sharp Cheddar Sandwich Cheese
1/4 Avocado
Salsa
Makes One Serving
Taco Seasoning Recipe – Click HERE for the original site for this recipe at Rachel Cooks!
1 Tbsp chili powder
1/4 tsp garlic powder
1/4 tsp onion powder
1/4 tsp crushed red pepper flakes
1/4 tsp dried oregano
1/2 tsp paprika
1.5 tsp ground cumin
1/2 to 1 tsp sea salt (more or less to taste)
1 tsp black pepper

Directions
Sautee Onions and Peppers in Coconut Oil for about 5 minutes. Add 1 tsp. of taco seasoning and stir until vegetables are well coated with the seasoning. Put vegetables in another dish and set aside.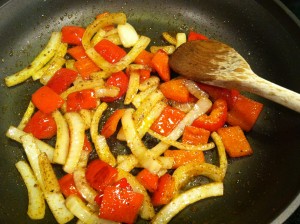 Wipe out skillet with a paper towel and spray with cooking spray. Scramble Egg Whites.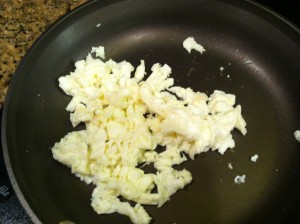 When eggs are almost done, add veggies back into the pan.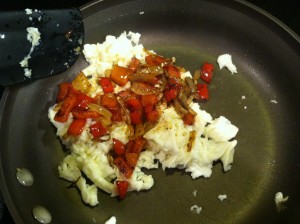 Add the Black Beans.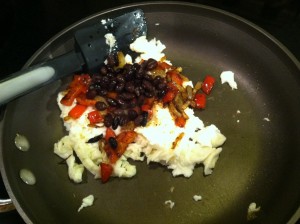 Mix the veggies and black beans in really well, then break up the cheese into bite size pieces and lay on top of eggs.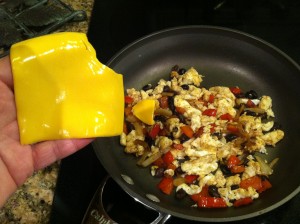 Spread that cheese all over so you get a little taste in EVERY bite!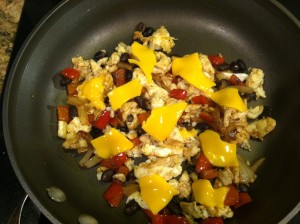 Set a lid on the pan so the cheese can melt.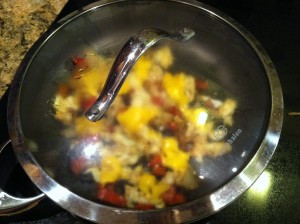 Remove the lid and look at all of that deliciousness!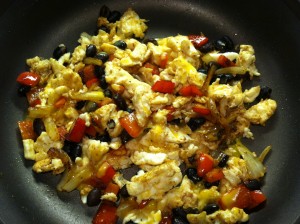 Top with 1/4 of an avocado and salsa!
One Serving Without Avocado = 4 PPV
One Serving With Avocado = 6 PPV

Those are just a couple of ideas that I came up with that I found satisfying in taste, satisfying in Points Plus Values, and easy. I will be cooking up some more Steel Cut Oats soon. I'll just do that while making dinner one night. They were great to have to pack for Mike to take to the office, and I liked being able to pop a healthy breakfast into the microwave in the morning!
Here are the days eats…….
Breakfast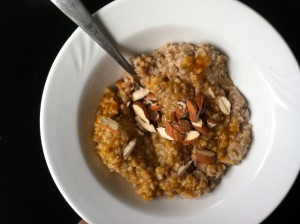 Snack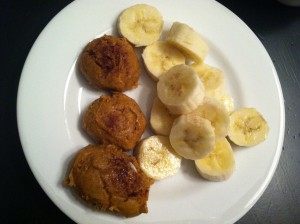 Lunch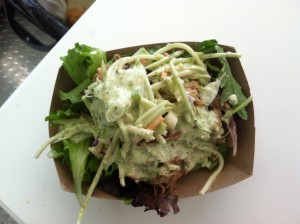 Snack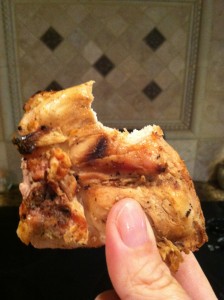 Dinner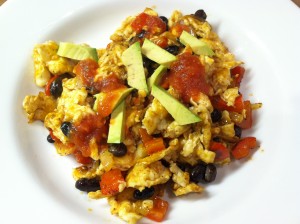 Refresh…I can eat 26 points a day.
I can earn Activity Points by doing exercise, and eat them if I choose.
I have an allowance of 49 points that I can dip into if I chose.
I should drink a minimum of 6 (8 oz) glasses of water each day.
The food I ate and it's PPV
Breakfast = Steel Cut Oats with 1 T. Pumpkin Butter and 6 Slivered Almonds, Coffee with Skim Milk (7)
Snack = Banana, Pumpkin Cake Cookies (3)
Lunch = Pulled Pork, Slaw, Salsa, Mixed Greens, and a few un-pictured bites of Mac and Cheese! (10)
Snack = un-pictured Strawberries, Coffee with skim milk (1)
Snack = 3 oz. Chicken Breast (3)
Dinner = Scrambled Taco Eggs (6)
Total = 30
Exercise = I didn't get any in, but I plan to make up for it today! Double Duty!!
How many glasses of water I drank today = 10
Activity Points Earned Today = 0
Activity Points Earned This Week = 16
Remaining points from my 49 Points Allowance = 31
Alcohol consumption = none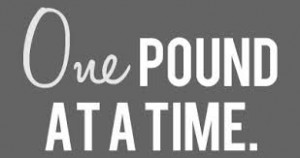 "love the life you live, live the life you love"