Getting Caught Up!
Due to some sort of a computer glitch (that is now fixed and I have NO idea what I did to fix it!) and not being able to upload photo's, I've had a terrible time attempting to get a blog post up the last couple of days!!
Here we go…..
Today is Halloween, AND……My Husband's Birthday! Whoo! Whoo! Having a birthday on a Holiday can be kind of a bummer for the birthday person. When the kids were younger and living here, I would try to make Mike a nice dinner, maybe grill a steak and enjoy a glass of wine, and weather permitting, light a fire. I tried to make it a relaxed nice evening for Mike, even though really, we were just hanging out at home handing out candy. I love answering the door and giving out the candy, and sometimes yelling at Mike to come and look at the cute little kids at the door and their costumes. Last year, we had a mini party in the driveway. I had snacks and drinks, and a fire going in the fire pit. We had a great time watching all of the neighborhood kids walk up the driveway.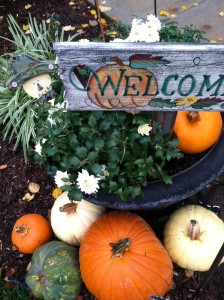 We handed out candy together and spent the evening chatting with lots of neighbors. Our kids and grandkids came over to Trick or Treat, and we really had a great time. It was so much fun, we're doing that again this year! (our kids can't make it over this year, but we're repeating the drive way party) I'm making a bit "Kettle" of Taco Soup, and I've decided this year, to make Mike's birthday EXTRA special by we're wearing costumes!! I'm surprising Mike with this for his birthday as soon as he gets home from work!! He's going to be soooo happy!
I'm wearing this!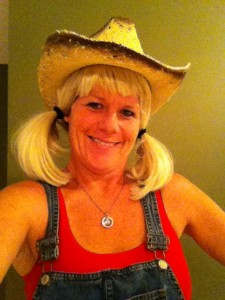 I have lot's of cowboy hats, so Mike has a nice variety to pick from! You guys……we're dressing up as……are you ready?????
"The Farmer's"!!!!
Get it? Our last name is FARMER???? Overalls??? Cowboy Hats????? Get it???? Farmers……..
I'm killing myself here. I can't believe how simple it is and I've never thought of it before! Really. I'm feeling like a genius.
Okay, if I get bored being a little "Blonde Farmer", I'm changing into a "Scary Farmer" with my awesome Walmart find!
You like???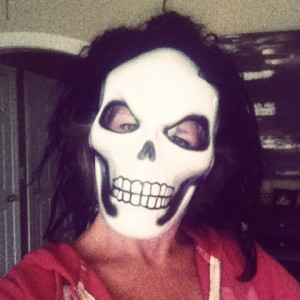 Okay, the last two days……..
I spent the first three hours of Tuesday morning, thinking it was Wednesday morning! Then I had a slight panic attack, thinking I had missed meeting my friend to walk at 7:30 that morning, and I thought I had missed my Tuesday night dinner plans and wondered why no one called about it! I took a deep breathe and opened my calendar on my phone. Then I realized it was Tuesday. Then I realized I had an appointment with my trainer and I was now going to be late for it!! This all went through my head in a matter of seconds and I really thought I was going absolutely crazy!! Maybe I am!!
I met with my trainer, and I'm certain he is trying to kill me. The first exercise? Dead Weight Squat. He apparently thinks I'm Super Woman! I think he gave me a 60lb weight? Anywho…..15 squats, three different sets, has my butt really sore this morning. THEN???? He had me do walking lunges with 25 lb weights in each hand. The whole time I am thinking how heavy this feels, I said to him…."Hey! This is how much weight I have lost!" It was really a weird feeling to finally set the weights down and think that much used to be on my body…..in fat!!!
After an awesome session with the trainer, (I showed up right on time!), I spent the entire day running errands. I hit up Costco (where I had lunch eating a variety of un-calculated WW Points SAMPLES!!!), Walmart, and three different grocery stores picking up certain items I had on my list!
I even picked up an unexpected Christmas present! Finally, I couldn't fit any more in the trunk, so I went home.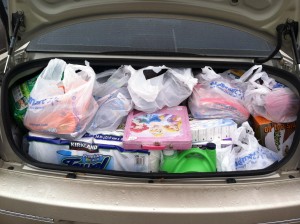 That night we had dinner plans with one of our daughter's and our grandson. We went with Mexican and I ordered the Grilled Chicken Fajjta's with corn tortilla's, and I passed on the beers and margarita's, but I perhaps mindlessly ate too many chips and salsa!!
Wednesday morning I met my friend for a good 4.5 mile walk, then worked the Food Truck in a nice and heavy, windy down pour! We surprisingly had several customer's…..rain or shine…..they are certainly a faithful bunch!!
Wednesday night, Mike and I went to my mom's house for a Chili Dinner. I have a niece in town with her boyfriend, and we were all getting together to get all caught up with one another. There were seven of us there, and the ONLY picture I took was with me and my OTHER niece (her sister).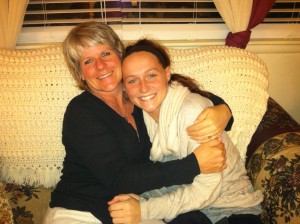 No one else seemed to be in the "picture" mood, and I totally forgot to take a picture of mom's table. She does a great job of Family Style around the table and it all looked super cute!
My niece that was visiting is a vegan, so I was thrilled to offer to make the Butternut Squash Chili recipe that I have fallen in love with!
The Fall Tree's
I think the last two years we were robbed just a bit of all the wonderful Fall color's that the tree's have to offer when the temperatures cooperate. I am LOVIN' all of the colors of the trees this Fall! We planted two new Maple tree's two summers ago, and this one is right outside of our back door! I think the color's are gorgeous, and I swear each day it gets brighter and brighter and brighter!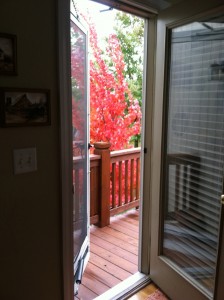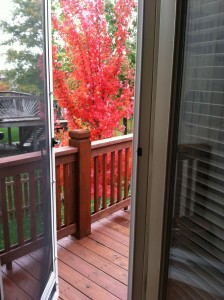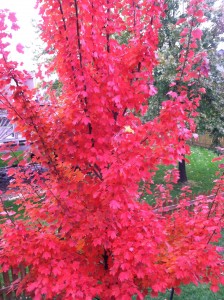 I love it!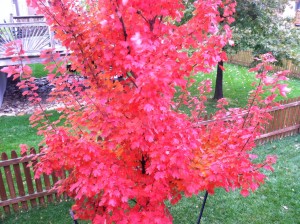 These are a few tree's I encountered through the week in the neighborhood. My little camera phone doesn't quite capture all of the color's, but I do love the variety!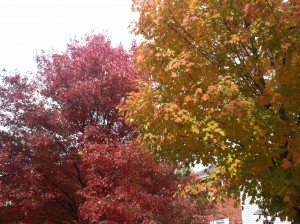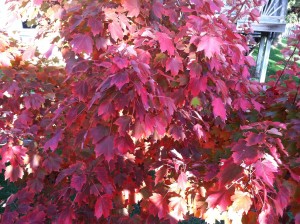 Projects
I recently tackled a small project that has been on my "To Do List" for a very long time. Several years ago (4 or 5 or maybe even 6???) Mike refinished our dining room table and chairs. We purchased new fabric and recovered the cushions. We had a little fabric left over thinking we would recover the bar stools to match, and it has simply never happened. 🙂
But……..we have had these spare chairs in the basement that we bring upstairs when the whole family comes over, and they really are NOT very attractive at all. I've been thinking about doing something with them, but I wasn't sure what.
Well, I surprisingly have never misplaced the spare fabric from the dining room chairs, and I love spray paint, so I played a little bit one afternoon.
Here is how the chair (there are three of these) has looked for as long as we have had them. I really don't even remember where they came from. A garage sale maybe???
Before

I added the fabric and decided that it did look MUCH better!

This is one of our Dining Room Chairs

I decided it really would look better with a quick coat of paint!

And I think I was right!

One chair down, two more to go…..

Here's a mini Recap of the last Two Days Eats….
Breakfast on Tuesday
Turkey Sausage, Potatoes, Onions, Egg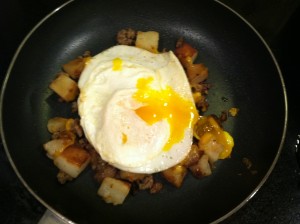 Lunch on Tuesday
un-pictured Samples at Costco and a Starbuck's Nonfat Latte
Dinner on Tuesday
Grilled Chicken Fajita's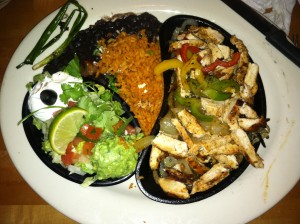 Breakfast on Wednesday
Egg Whites, Cheese, Bell Pepper, Avocado, Apple, Better n' Peanut Butter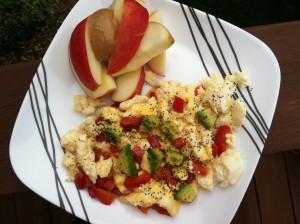 Lunch on Wednesday
Food Truck Pulled Pork Taco's, No tortilla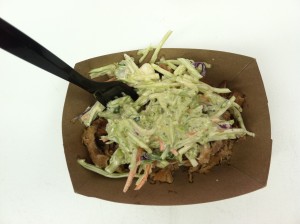 Dinner on Wednesday
Refresh…I can eat 26 points a day.
I can earn Activity Points by doing exercise, and eat them if I choose.
I have an allowance of 49 points that I can dip into if I chose.
I should drink a minimum of 6 (8 oz) glasses of water each day.
Activity Points Earned This Week = 16
Remaining points from my 49 Points Allowance = 10
Alcohol consumption = none
Hoping to maintain at tomorrow morning's Weigh-In!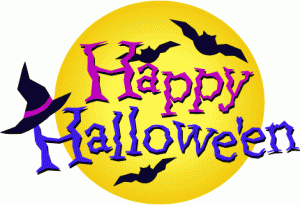 "love the life you live, live the life you love"