Yip, that's right. I really enjoyed my "Four Weeks of Chicken" challenge and how it made me think outside of the box for dinner idea's. Like I've recently said, I just seem to do better with a plan. I get bored and I like a variety, so I'm looking forward to my Breakfast Challenge.
I am going to make 14 different breakfast items, all for 5 PPV or less, for the next two weeks.
I am going to keep these simple. No fancy recipes (I don't have any of those anyhow….), no fancy ingredients, just a few of the different ways that I like to eat my eggs, a few different toppings that I like to put on my yogurt or oatmeal, and a few different bread options that are high in protein, low in fat and low in WW Points Plus Values. These will all be "Breakfast for One", but by all means, feel free to make it for the whole family!
Simple Breakfast Idea No. 1
4 Egg White Omelet with Cheese (2 PPV)
2 Slices Trader Joe's Sprouted 7 Grain Bread (2 PPV)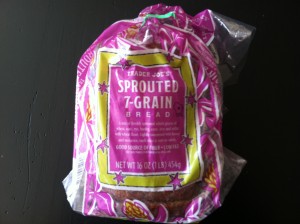 1 T. Pumpkin Butter (1 PPV)
Strawberries (0 PPV)
Black Coffee (0)
Total = 5 PPV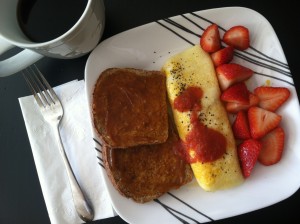 Snack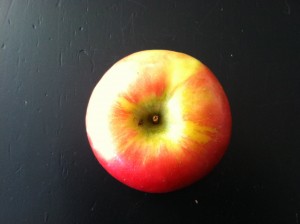 Lunch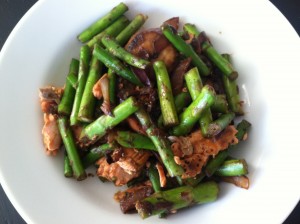 Snack
Snack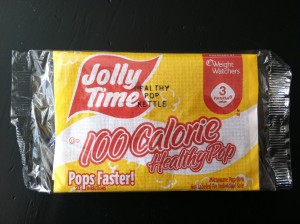 Dinner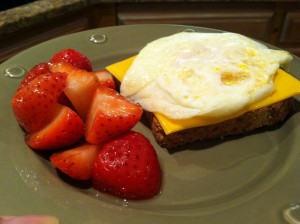 Refresh…I can eat 26 points a day.
I can earn Activity Points by doing exercise, and eat them if I choose.
I have an allowance of 49 points that I can dip into if I chose.
I should drink a minimum of 6 (8 oz) glasses of water each day.
The food I ate and it's PPV
Pre- Breakfast = Coffee with Skim Milk (1)
Breakfast = 4 Egg Whites, Cheese, 2 Slices Toast, 1 T. Pumpkin Butter, Strawberries (5)
Snack = Apple (0)
Lunch = Salmon, Asparagus, Mushrooms, Red Onions, Olive Oil (8)
Snack = Chobani Blueberry Greek Yogurt, Strawberries, 1/4 C Kashi Cereal (4)
Snack = Popcorn (3)
Dinner = Egg Sandwich with cheese on one piece of toast, Strawberries (4)
Total = 25
Exercise = walked 4.25 Miles
Activity Points Earned for the Day = 4
Activity Points Earned This Week = 7
Remaining points from my 49 Points Allowance = 49
Alcohol Consumption = 1/2 Shot of Rum Chata in my coffee while sitting around a Fire Pit while others enjoyed beer, wine, and cocktails. Then I drank a bunch of hot tea. I felt great when I came home, I was VERY pleased with the scale this morning, and it felt good to stick to my plan. I don't think a 1/2 a shot is big deal, it was really a taste, but I knew I couldn't write NONE beside Alcohol Consumption. 🙂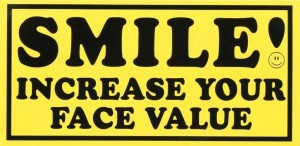 "love the life you live, live the life you love"