"Girlfriend Time!"
I went to the "Pink" Concert on Tuesday night, hence the "No Blog Post" Wednesday morning.
(A girl needs her sleep!!)
Just a few ladies from the neighborhood took a small party bus downtown to the concert.
(They're were over 20 of us and I think this old school bus was an EXTENDED cab!! It was CRAZY long!)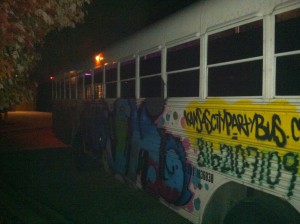 Here's a few of the girls. You Gotta Love a Pre-Party!!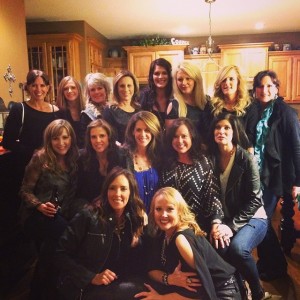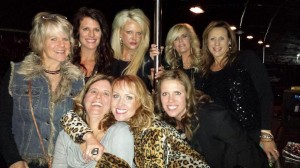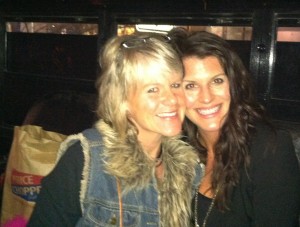 One of my favorite things to do is hang out with the girls. My High School girl's, neighborhood girl's, girl friends I've met through work, Weight Watcher girlfriends….I just love my girl friends. I feel lucky to live in the city where I've grown up because I have friends that have been in my life for a really long time, and I feel blessed to have friends in my life that are new to me! I feel blessed to have friends from long ago and new friends and friends I've met in between. No matter where my friends come from, I seem to be lucky enough to find some really good, kind and crazy friends!!
The bottle decorating party on Monday was so much fun! The "Pink" Concert on Tuesday night was awesome! I went "Coat" shopping with a friend last night for an upcoming girly trip to "Chicago" and today, a couple of HighSchool friends are taking me to lunch for my birthday that's later in the month. Yes, I am feeling very lucky to have so many great girls in my life! It's a Girlfriend Kinda Week!!
Take some time out for yourself and a girlfriend. It's HIGHLY recommended. 🙂
Simple Breakfast Idea No. 4
3 Egg Whites (1 PPV)
1 Slice Kraft Sharp Cheddar Cheese (1 PPV)
1/4 Cup Turkey Sausage (1 PPV)
(2) Fajita Sized Mission Carb Balance Tortilla's (2 PPV)
1 Tablespoon of Salsa (0 PPV)
1 Banana, sliced (0 PPV)
Total = 5 PPV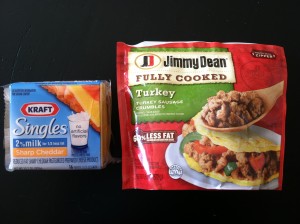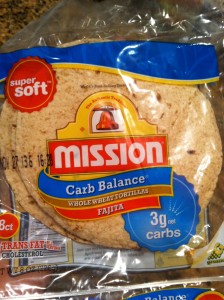 Cook sausage on a small plate in the microwave for about one minute.
Scramble egg whites in cooking spray, then add cooked sausage to the skillet.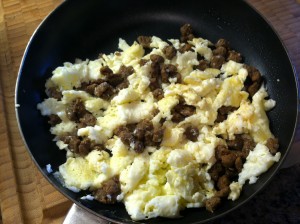 Divide sausage and egg whites between the two tortillas, split the slice of cheese in half and lay each half on top of the sausage and egg whites.
Put salsa on top and eat open like a taco……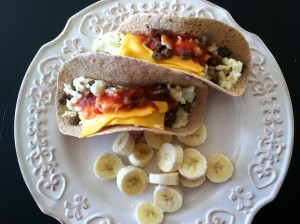 Or roll them up and dip each bit into salsa and eat them like a burrito!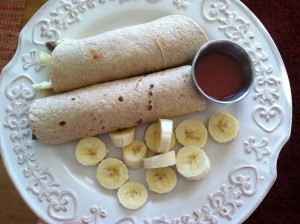 Lunch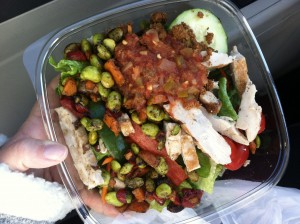 Dinner
I had completely planned to have some soup before going out for the evening. I got in a hurry, got excited about the concert, and forgot. One of the girls (we're going to a "Pink" concert, so yes, I say girls) brought a HUGE tray of meatballs to fill up our bellies, and thank goodness, because I had my fair share. Then I had a few crackers and cheese. I was saving my 49 points for this particular evening, but I'm not really sure how many points I ate and drank??
Refresh…I can eat 26 points a day.
I can earn Activity Points by doing exercise, and eat them if I choose.
I have an allowance of 49 points that I can dip into if I chose.
I should drink a minimum of 6 (8 oz) glasses of water each day.
The food I ate on Tuesday and it's PPV
Breakfast = Turkey sausage and Cheese Breakfast Burritos (5)
Lunch = Grocery Store Salad Bar (8)
Dinner = Meatballs, Cheese and Crackers, Adult Beverages…… (40?)
Total = 53
Exercise = Session With the Trainer
How many glasses of water I drank = 15
Activity Points Earned for the Day = 4
Activity Points Earned This Week = 11
Remaining points from my 49 Points Allowance = 14
Alcohol consumption = Vodka Soda, Beer
Wednesday
Simple Breakfast Idea No. 5
Topped with 1 Tablespoon Pumpkin Butter (1 PPV)
One Apple Sliced (0 PPV)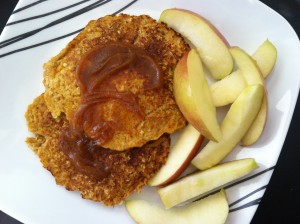 Lunch – 1/2 of this delicious Burger!!!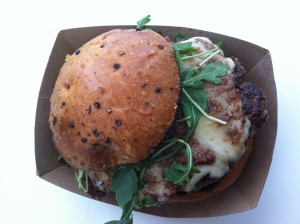 Dinner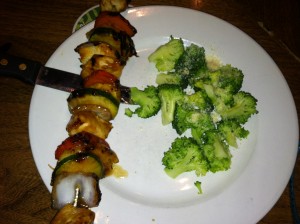 The food I ate on Wednesday and it's PPV
Breakfast = 2 Pumpkin Pancakes, 1 T. Pumpkin Butter, Apple (5)
Lunch = 1/2 Road House Burger at the Beauty of the Bistro Food Truck (12)
Dinner = Hawaiian Chicken Skewers with Broccoli (7)
Total = 24
Exercise = None.
How many glasses of water I drank = 15
Activity Points Earned for the Day = 0
Activity Points Earned This Week = 11
Remaining points from my 49 Points Allowance = 14
Alcohol consumption = None

"love the life you live, live the life you love"