Shopping!
I am quite pleased that weighing under 160 (currently holding steady at 155) for the first time in my life since High School has officially made a difference in what size clothes I wear. My large and extra large tops are for the most part, out of my closet. They just look frumpy. I've taken ALL of the size 12 pants out of my closet. I now have ONE pair of Black Jeans/Pants and TWO pairs of regular jeans. That's it. Oh, and lots of cozy sweats and leggings. 🙂
I am taking a trip to Chicago in December and I know I need a coat. I have a couple of Wool coats that I put on, and they really just look silly. So, I'm shopping. I found these two at Burlington, and I will likely take one back, but I couldn't decide and they were priced quite nice!
Short with Silver Zipper! It's thin and you can fold it up and put it in a bag that comes with it!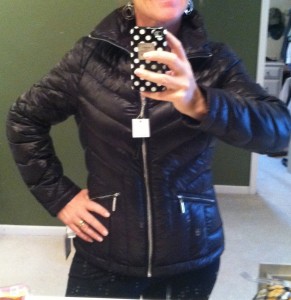 Longer with Gold! A little dressier…..Looks old ladyish???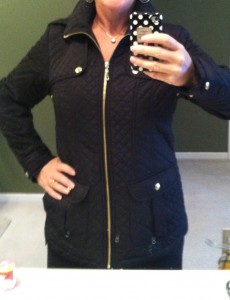 Today……JEAN SHOPPING!!
Simple Breakfast Idea No. 5
Super Simple. No recipe. Light, easy, low points.

2 Slices of Trader Joe's Sprouted 7 Grain Bread, Toasted (2 PPV)
1 Tablespoon Better n' Peanut Butter, divided between the two pieces (1 PPV)
1 Banana Sliced (0 PPV)
Total = 3 PPV
I had early lunch plans with friends, so I wanted to eating something, but not too much.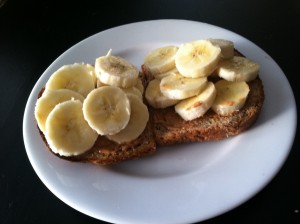 Lunch
Quiche with Butternut Squash Bisque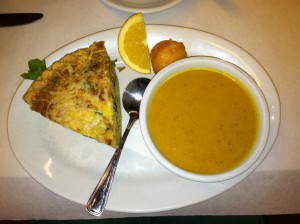 We all shared an incredible piece of (birthday) Carrot Cake! Yum!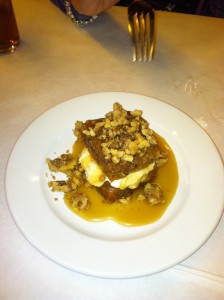 Dinner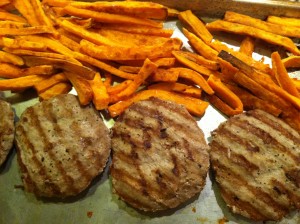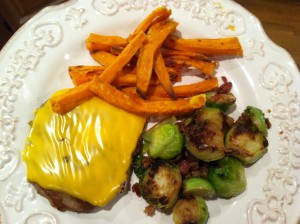 Refresh…I can eat 26 points a day.
I can earn Activity Points by doing exercise, and eat them if I choose.
I have an allowance of 49 points that I can dip into if I chose.
I should drink a minimum of 6 (8 oz) glasses of water each day.
The food I ate and it's PPV
Breakfast = Toast with 1 Tablespoon Better n' Peanut Butter, 1 sliced banana, coffee (3)
Lunch = Quiche, Butternut Squash Bisque, 4 Bites of Amazing Carrot Cake! (18)?
Dinner = Turkey Burger Patty with Cheese, Sweet Potato Fries, Brussels Sprouts with Bacon and Onions (12)
Total = 33
Exercise = None. What a crap week of exercise. Struggling here…….
How many glasses of water I drank = 15. I am consistent here!! 🙂
Activity Points Earned for the Day = 0
Activity Points Earned This Week = 7
Remaining points from my 49 Points Allowance = 7
Alcohol consumption = none
Off To Shop!!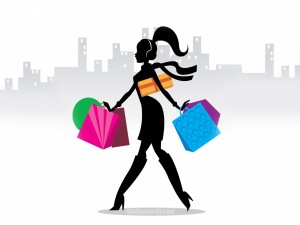 "love the life you live, live the life you love"