Tips for Eating Lighter at Your Thanksgiving Day Dinner!
It was a busy day on Saturday and I didn't get a chance to write a blog post! I hate missing a day!
At my WW Meeting on Friday, we discussed tips for making the best choices when it comes to our Thanksgiving Meal!
These are the tips I plan to use, especially since we do Thanksgiving at my In-Laws on Thursday, and another Thanksgiving Dinner at our house with my side of the family on Saturday.
1. Take a long walk in the morning.
2. If you do appetizers, make sure you have low point options available.
3. Drink a big glass of water before you fill up your plate.
4. As you go through the line, if you see a dish that isn't your favorite, give yourself the "Okay" to skip it.
5. If you do want to put everything on your plate, do so, but with small spoonfuls.
6. If you find it impossible to figure your WW points on your plate of food, give it your best guess and track it, even if it's more than you'd like to admit.
7. Eat slowly……
8. Take a walk after you eat. Play football with the family. Don't sit too long. Help Clean up! Keep active!
9. Remember…..it's okay to say "no" to seconds, no matter how many times people ask you if you want more……
10. If you are hosting, have lots of "To Go" container's ready to send home with everyone else!
11. Focus on the people you are with and enjoy the conversation……or the family debate that arises! Make fun of Grandpa. Whatever you and your family do in your conversation, enjoy it and Have a Happy Thanksgiving!
Friday
Breakfast
One of these and a Starbuck's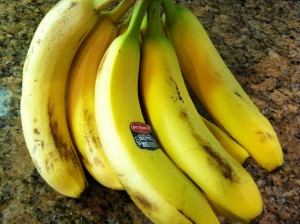 Snack – Pulled Pork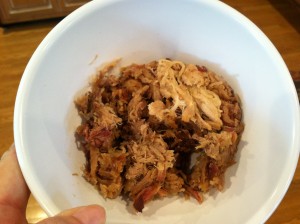 Lunch
(Breakfast for Lunch)
Breakfast Idea No. 6
Black Bean Scrambled Eggs
4 Egg Whites, Scrambled (1 PPV)
1/4 Cup Black Beans (1 PPV)
1/4 Cup Reduced Fat Cheddar Cheese (2 PPV)
1/8 Avocado (1 PPV)
1 Clementine (0 PPV)
Total = 5 PPV

Dinner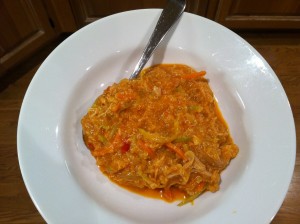 Saturday
Breakfast Idea No. 7
Serves Two!!
Greek Yogurt Strawberry Banana Parfait's
6 oz. Greek Plain Nonfat Yogurt (2 PPV)
1 Cup Strawberries (0 PPV) 1 Banana, Sliced (0 PPV)
1 Packet of Sweetener (Optional)
1/2 Cup Kashi Go Lean Cereal (2 PPV)
Total for One Serving = 2 PPV
I ate BOTH!!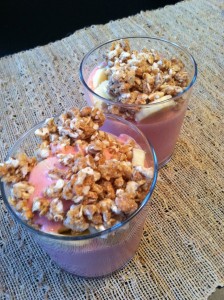 Blend Yogurt and Strawberries and Sweetener in blender.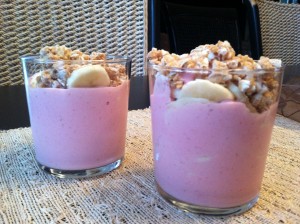 Layer Yogurt and banana's in a glass and top with Kashi cereal!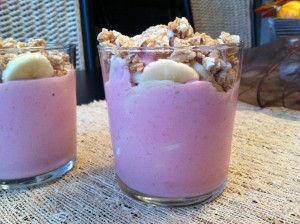 Lunch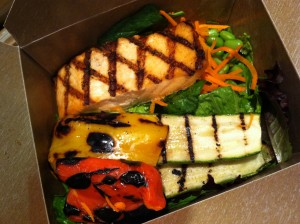 Dinner
103rd & State Line – Guadalajara Cafe
Great Little Authentic Mexican Restaurant with Live Music and Great Food!
Great Date Night! Pretended we were in Mexico…….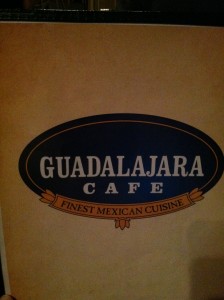 Awesome Guac!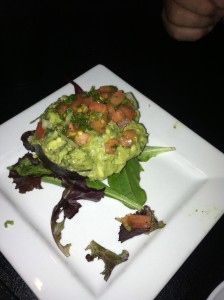 Chicken Enchilada's. I ate two and about 1/3 of the beans.
Refresh…I can eat 26 points a day.
I can earn Activity Points by doing exercise, and eat them if I choose.
I have an allowance of 49 points that I can dip into if I chose.
I should drink a minimum of 6 (8 oz) glasses of water each day.
The food I ate and it's PPV
Friday's Eats….
Breakfast = Banana and a Nonfat Latte (3)
Snack = Leftover Pork from the Food Truck (5)
Lunch = Eggs, Black Beans, Cheese, Avocado, Clementine (5)
Snack = Un-pictured Almonds (5)
Dinner = Not Your Mama's Chicken Soup – Two Servings (8)
Total = 26
Exercise = Walked the Dogs, 2 Miles
Saturday's Eats….
Pre-Breakfast = Coffee with Skim Milk (1)
Breakfast = TWO Strawberry Greek Yogurt Parfait's (4)
Lunch = Salmon, Mixed Greens, Grilled Veggies = (6)
Snack = un-pictured 1 Cup Dry Kashi Cereal (5)
Snack = Nonfat latte (3)
Dinner = Chips, Guac, Enchilada's (14)
Total = 33
Exercise = Walked 4.25 Miles……On this trail around 103rd and Nall. I love this trail for a little variety!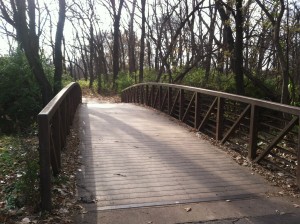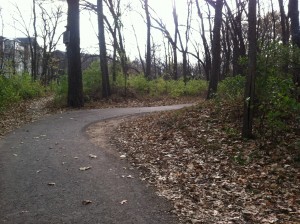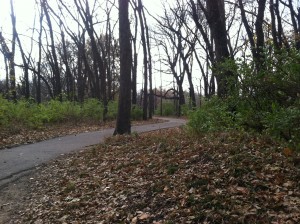 Activity Points Earned This Week = 6
Remaining points from my 49 Points Allowance = 42
Alcohol consumption = none
About tonight???
I'm a nervous WRECK!!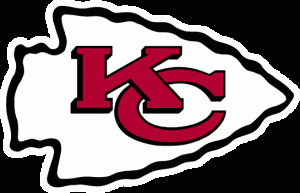 "love the life you live, live the life you love"