I said yesterday that I had a busy week ahead and that my post would be simple, likely boring too. Sorry. 🙂
Yesterday was an awesome and productive day that included a nice long walk with a friend at Shawnee Mission Park!
I'm getting together with girl friends for breakfast this morning to discuss our upcoming "Chicago Girls Trip"!!
After breakfast I am going shopping for Thanksgiving Dinner and then I'm baking Pumpkin Bars, as requested by my Mother-In-Law for Thanksgiving Day. I've never made them, so I'm trying a recipe to see how it goes. If it's really really good, then my neighbors will be getting a treat tonight!!
Here are yesterday's eats!
Breakfast Idea No. 9
Bacon Egg and Cheese, Please
1 Egg + 1 Egg White (2 PPV)
1 Piece of Cooked Bacon, Chopped (1 PPV)
1/4 Cup Shredded Cheddar Cheese (2 PPV)
1 Tablespoon Salsa (0 PPV)
Fresh Fruit (0 PPV)
Total = 5 PPV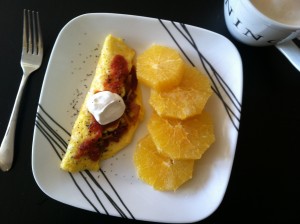 I topped my Omelet with 1 Tablespoon of Light Sour Cream and added 1 PPV, but of course that's optional.
You can also substitute 1 Tablespoon of Oscar Mayer Real Bacon Pieces if you prefer not to cook any bacon.
Lunch
I guess I was in an EGG mood today!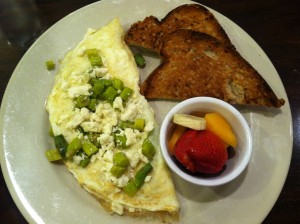 Dinner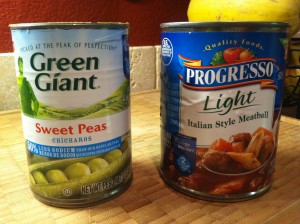 I made Spaghetti and Meatballs for dinner. After I made it, I decided it would just be for Mike, I just wasn't in the mood for it and was seriously craving canned peas. I love canned peas! Weird, I know. I don't eat them much, but I started eating this combo topped with 1 T. of parmesan cheese, sometime last year, and my entire meal, (the soup can and the can of peas), is 8 PPV. I ended up adding Three Turkey Meatballs to the top of this after I took my picture! That made dinner 13 PPV!!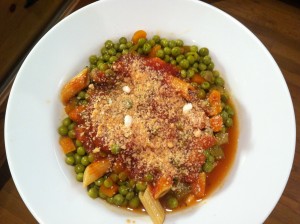 Refresh…I can eat 26 points a day.
I can earn Activity Points by doing exercise, and eat them if I choose.
I have an allowance of 49 points that I can dip into if I chose.
I should drink a minimum of 6 (8 oz) glasses of water each day.
The food I ate and it's PPV
Breakfast = Bacon and Cheese Omelet, light sour cream, Coffee with skim milk (7)
Lunch = Egg White Omelet with Asparagus and Feta, Dry Wheat Toast, Fruit and a Nonfat Latte (12)?
Snack = WW Fudge Bar. I've been doing pretty good not eating sweets, but I was craving SOMETHING!! (3)
Dinner = Soup, Peas, Parmesan Cheese, 3 Turkey Meatballs (13)
Total = 35
Exercise = An Awesome Walk with a friend at Shawnee MIssion Park! We walked 5.75 Miles and got all caught up with each other!
How many glasses of water I drank = 15+
Activity Points Earned for the Day = 6
Activity Points Earned This Week = 16
Remaining points from my 49 Points Allowance = 30
Alcohol consumption = none
I do SO much better when I plan exercise with a friend!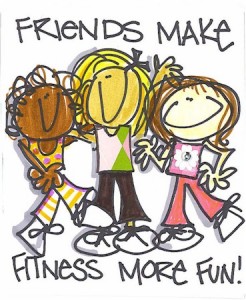 "love the life you live, live the life you love"