Let's Get Caught Up!
I don't think since I began blogging two and a half years ago, I've missed that many days in a row! I blogged on Tuesday morning, and I said in my post that my blogs would be short and simple, but I didn't think I'd skip them all together! Well, here it is Sunday morning and I feel like I have sooo much to say!
Let me start with, I haven't been sleeping so great, which means I haven't been waking up as easily as normal, which means by the time I DID get out of bed these last few days, it was time to head out the door and I didn't have a spare two hours to blog.
Since having rotator cuff surgery in February, my right shoulder is getting stronger and stronger, which means I am using it more and more and getting closer to completely healing and full use of my shoulder! Great, right? When I first went to the doctor many many months ago about my shoulder, I went to the doctor about both of my shoulders, but the right was much worse than the left, so we really never did much with my left shoulder, and with reduced activity, I wasn't really having any issues with it. My right shoulder was hurting so bad and my nights sleep were so messed up because of it, I think all I was really thinking about was that after surgery, I would soon be better, and I could move forward with so many of the things that I had put on the back burner. Now that I am doing more and beginning to lift heavier weights with the trainer, I am noticing my left shoulder is starting to give me some problems, and unfortunately starting to cause me problems sleeping! I know a doctor's visit is just around the corner, I'm just hoping the cure for this shoulder is therapy, and no more surgery!
Now…..Wednesday I worked at the Food Truck, then ran errands the entire rest of the day!
Thursday I began my birthday celebration by going with some girlfriends on a little overnighter! Sometimes, you just can't beat some good "Girl Time!"
Friday was my actual birthday, and I was home from my overnight by noon. I spent the rest of the day catching up on my DVR'd shows and treating myself to sweats, coffee and an entire day hanging out doing absolutely nothing! I loved it! Mike and I ended out the night with take out food and renting a movie.
Saturday I met my mom and my aunt for coffee. My aunt and I share the same birthday, so a small celebration Latte was in order! 🙂 I spent the rest of Saturday shopping for Thanksgiving food and doing returns. Mike and I decided to go out for dinner to one of my favorite restaurants, J. Alexanders, and apparently my "traditional" birthday spot! I think we have gone there for the last four years for my birthday! I love it and I always order the salmon. For some reason, all I wanted was a steak and a glass of red wine, so I did. I don't know if it's because I hadn't had a steak in a while, or what, but that was the best filet I think I've ever had!! It was the perfect way to end my Three Day Birthday Celebration!!
Okay, Where Am I On the Scale???
I'm not sure. I'm afraid to step on it actually. I know this is NOT in my best interest.
While with my girls on Thursday, I enjoyed Bloody Mary's, a few cold beers, and wine in the evening. I also was attached to the peanut M&M's that followed me from room to room.
Friday, let's just say my stomach wasn't so pleased with the decisions I had made on Thursday, and I finally decided a greasy burger would likely fix things. Mike and I shared it, and I felt much better. That's pretty much all I ate Friday, except for the sausage breakfast casserole I ate in the morning.
Saturday, I felt back on track, but I hadn't really planned on wine with dinner. Of course I made all sorts of excuses that I deserved it because it was my birthday dinner. I really am a Master Excuse Maker!!!
Today? Sunday? I am done celebrating my birthday, and honestly, with Thanksgiving coming up on Thursday at the In-Laws, and then again at my house on Saturday, I am ready to face this week and make myself follow the Weight Watcher rules!
I am going to my WW meeting on Friday morning, and I will weigh and post my weight in my Saturday morning post!! eeeekkkkkk!!!!!! Anything over 155 will be upsetting, but I know I need the reality check.
Fun Photo's!
Here are a few of the highlights of the last few days.
This is a ridiculous, but delicious Veggie Burger I had for lunch on Tuesday!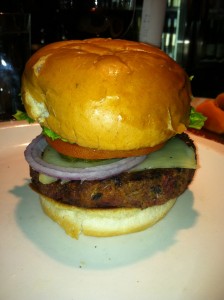 This is the Pumpkin Bar recipe that I made from scratch as an experiment for Thanksgiving Day, per my Mother-In-Law's request for Pumpkin Bars! Um, it was delicious, so I gave it all away! Click HERE for this Paula Deen recipe!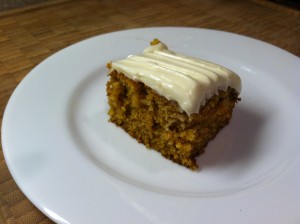 Likely, one of the best Birthday Gifts EVER!!!
Handerpants!!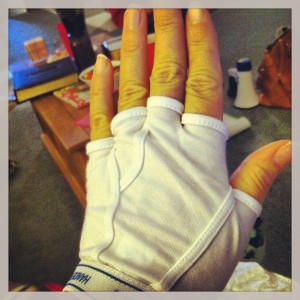 These are going to come in so handy while I am taking orders at the Food Truck this winter!!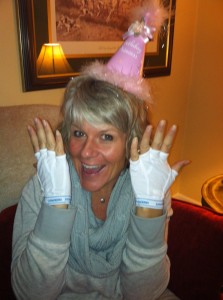 Seriously, Who wouldn't love Handerpants????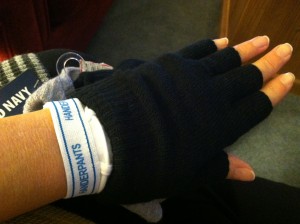 Oh Sure, I'll pose……Happy Birthday to Me!!

This happened……Girl's will be girls….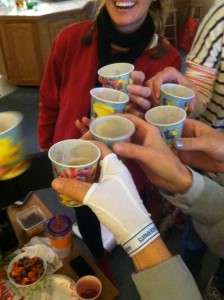 So did this……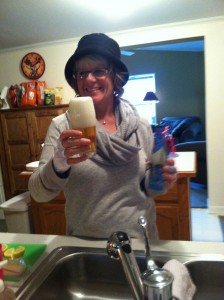 Then I actually climbed up this silo and peeked out the top with a couple of other brave (foolish) souls….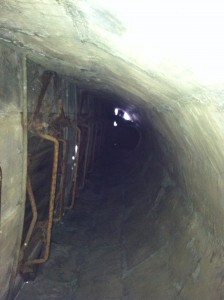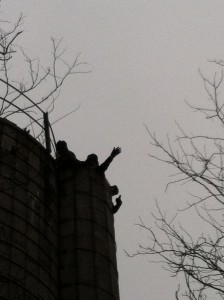 Lots of great Four Wheeling Trails!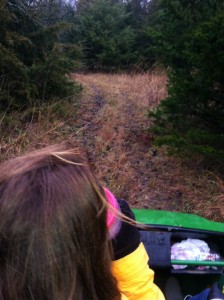 Ever Drive a Four Wheeler Through a Pond?? You should.
Busted…..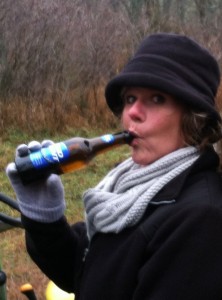 Okay, those were some of my birthday highlights…..
I did still manage to make a few breakfast ideas…..
Breakfast Idea No. 10
Breakfast Quesadilla
2 Fajita Size Tortilla's (2 PPV)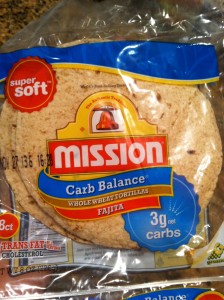 4 Scrambled Egg Whites (1 PPV)
1 Slice Cooked Bacon, Crumbled (1 PPV)
1 Slice Kraft 2% Sharp Cheddar Cheese (1 PPV)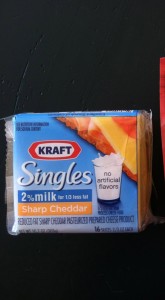 Salsa (0 PPV)
Total = 5 PPV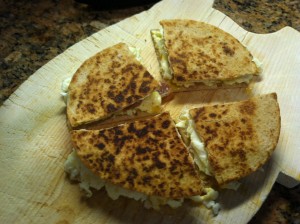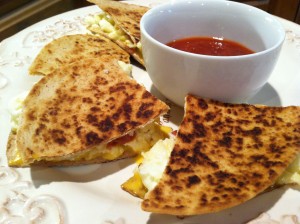 Breakfast Idea No. 11
Winter Fruit Parfait
Oranges, Ruby Red Grapefruit, Kiwi, Blackberries, Pears (0 PPV)
8 oz. Greek Plain Nonfat Yogurt (3 PPV)
1 Packet Sweetener (optional)
1/2 Cup Kashi Cereal (2 PPV)
Total = 5 PPV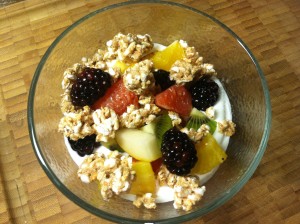 Okay, I feel updated now and I need to head to the Treadmill before the Chiefs game gets started!!
Go Chiefs!!
Climbing up a gigantic silo and driving a Four Wheeler through a pond were maybe small adventures, but still adventures.
Did you have an adventure over the weekend??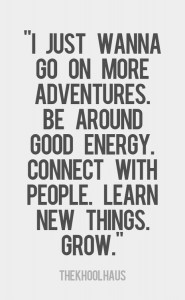 "love the life you live, live the life you love"