In preparation for Thanksgiving Dinner on Thursday, then again on Saturday, I'm planning on basically eating Chicken and Vegetables all week, and by all week, I mean Monday, Tuesday and Wednesday. After Sunday night's Chicken & Green Bean Casserole success, I decided to cook up some more chicken in the crockpot to have for the next few days. I've mentioned before how I know that planning is so helpful for me when it comes to eating healthy. If I have a plan, and I have food prepared, or at least on hand, I am so much more apt to be successful.
Here are the day's eat's and a couple of different ways that I ate my Crockpot Shredded Mexican Chicken.
Breakfast
Breakfast Idea No. 13
Baked Mexican Chicken & Egg Cups!

Makes 6 Muffins
One Muffin = 2 PPV
Ingredients
6 oz. Crockpot Shredded Mexican Chicken
1/2 Cup Shredded Reduced Fat Cheddar Cheese
1/4 Cup Black Beans, Rinsed and Drained
6 Egg whites
Salsa and Light Sour Cream to top with!
Directions
Spray muffing tins with cooking spray. Fill each muffin cup with 1 oz. of Crockpot Shredded Mexican Chicken.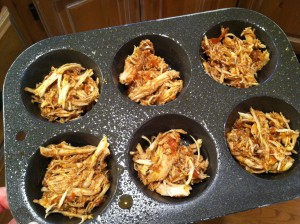 Divide 1/2 Cup of cheese between all six muffins.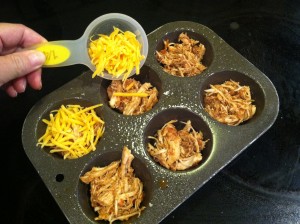 Divide the 1/4 Cup of Black Beans between all of the muffing cups.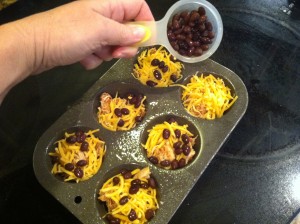 Spoon the egg whites over the filling. Egg whites don't move too quickly, so I added a little to each one, let it settle, then came back and added a little more. I used the back of a spoon and pressed the mixture down into the cup just a bit, but not too much. Then I added as much egg white as I could to each cup. I started with 8 Egg Whites, but I only ended up using 6 Egg Whites.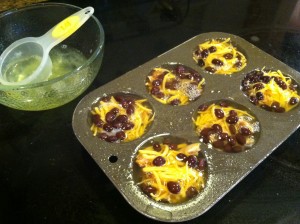 I did set the muffin tin on a cookie sheet to prevent any spillage mess in the oven.
(Um, they look like blueberry muffins??)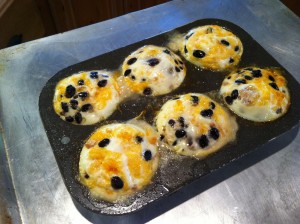 Bake at 350 degrees for 20-25 minutes, or until eggs are cooked.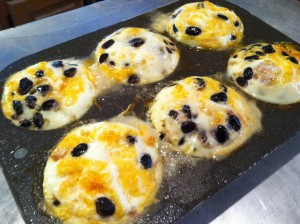 I think I top most eggs with salsa and sour cream.
1 T of Light Sour Cream = 1 PPV, so don't forget to add that if you eat it!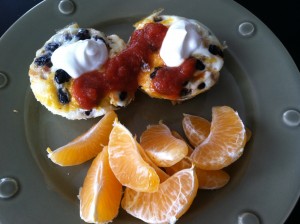 Lunch
Baked Oatmeal Casserole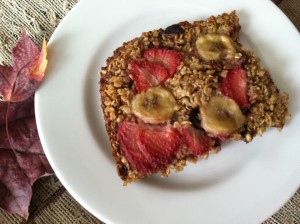 Breakfast Idea No. 14
Makes 8 Servings
One Serving = 6 PPV
(You could cut this into 10 Servings so One Serving would = 5 PPV)
Who say's Oatmeal is just for breakfast?? Not me!
This recipe is adapted from Megan over at Fiterature.com I really only first adapted the recipe a bit because I didn't have all of the ingredients that she had used. Then a few things I changed up just a little bit to make it as low in Weight Watcher Points Plus Values as I could. It was DELICIOUS!!!
Ingredients
2 cups quick cooking oats
1 tsp baking powder
1 tsp baking soda
1 tsp cinnamon
1/4 tsp salt
24 Dark Chocolate Roasted Almonds, Chopped
1 cup Strawberries (I had some frozen ones that I just sliced up and they worked great!)
1 cup skim milk
1 cup water
1/4 cup honey
1 Egg
3 tbsp coconut oil, melted
1 tbsp vanilla extract
1 ripe banana, peeled, 1/2-inch slices (I had frozen banana's. Worked great too!)
2 packets of Sweetener. I used Truvia.
Directions
1. Preheat oven to 375°F and spray a baking dish with cooking spray and place on a baking sheet.
2. In a large bowl, mix the oats, baking powder, baking soda, cinnamon, salt, almonds and half of the strawberries. Save the other half of the berries until later.
3. In another bowl, whisk together the milk, water, honey, egg, the melted coconut oil and vanilla.
4. Pour the dry oat mixture into the prepared baking dish, spreading it evenly. Arrange bananas and the remaining strawberries on top.
5. Sprinkle the Truvia evenly over the top. Pour the milk mixture over the top of that.
6. Bake 35 to 40 minutes or until the top is light brown and the milk mixture has set.
The ingredients totaled 45 PPV. I divided this into 8 nice, large pieces.
One Serving = 6 PPV!
You could certainly divide this into 10 servings, then each serving would be 5 PPV!
Dry Stuff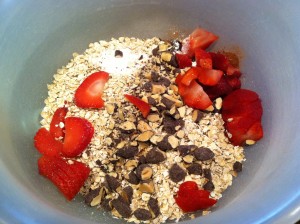 The Wet Stuff Poured over The Dry Stuff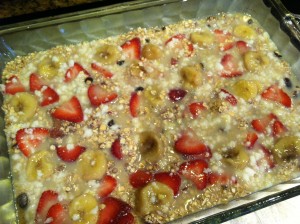 After it baked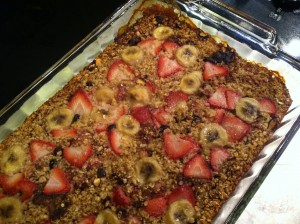 Um, yummmmmm.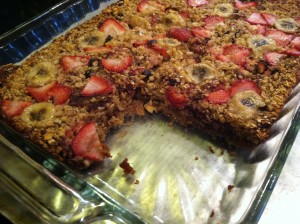 Another View…..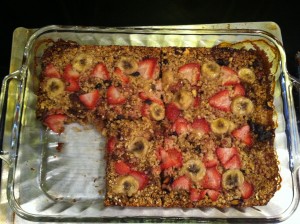 Seriously….I could just eat it for dinner too!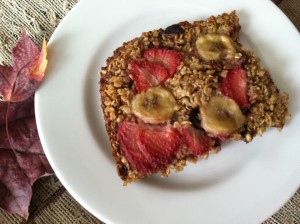 Who Knew Oatmeal Casserole tasted like a cookie???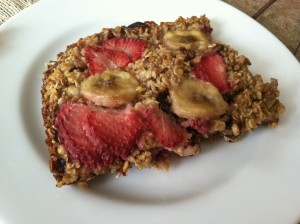 Now I know…..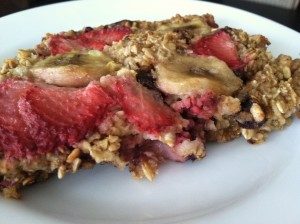 Dinner
Refresh…I can eat 26 points a day.
I can earn Activity Points by doing exercise, and eat them if I choose.
I have an allowance of 49 points that I can dip into if I chose.
I should drink a minimum of 6 (8 oz) glasses of water each day.
The food I ate and it's PPV
Breakfast = (2) Baked Chicken and Egg Cups, Salsa, 1 T. Light Sour Cream, Coffee with skim milk (6)
Lunch = Breakfast Oatmeal Casserole – 2 Servings (12)
Snack = Un-Pictured 24 Almonds (5)
Dinner = Taco Salad, Cheese, Light Sour Cream, Salsa, Red Bell Pepper, Chicken (9)
Total = 32
Exercise = 30 minutes on the Treadmill. Walk 1 minute at 4 mph, Run 1 minute at 5 mph. Stretching.
How many glasses of water I drank = 10
Activity Points Earned for the Day = 3
Activity Points Earned This Week = 6
Remaining points from my 49 Points Allowance = 0
Alcohol consumption = none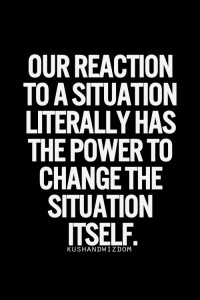 "love the life you live, live the life you love"