Once upon a time, "10 Girls" took a trip to the big city of Chicago…..
Wait, 10 ladies. Wait, no…. girls, girls in their 40's and 50's. Maybe the youngest 40 and 50 year old's you've ever met.
Why do I say girls? Let me start with our socks. Someone (maybe the silliest girl) came up with this great idea that we all wear Christmas socks to the airport, and oddly, we ALL agreed that sounded like a fun way to start off the trip!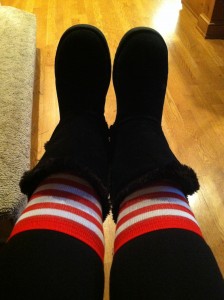 Then my travel outfit became all about the socks……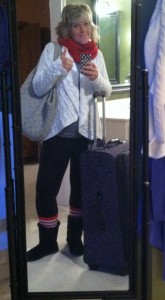 After Rumchata shots, an adventurous ride to the airport, retrieving boarding passes, checking bags, and possibly enjoying the attention received from our Christmas socks, the "10 Girls" (actually there were 9, we had one meeting us at the airport coming in from Atlanta) went to the bar. Surprise! It was now about 10:30 am. Let the fun begin!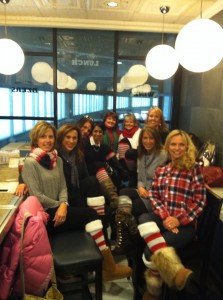 After a chatty flight, and likely a lot of people happy they would NOT be spending another minute with "10 Girls" (but some of them wishing they were) we made our way towards the subway. Yes, the subway. It was all about getting the "Chicago Experience". Have you ever hopped on the subway while toting approximately 50 pounds of luggage? I'm going to guess not a lot of other people have done this either. Are you aware of how many steps you go down to GET to the subway??? Um, it's a lot.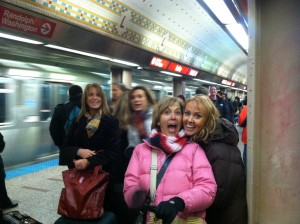 Let's just say that "10 Girls" (we're really not ladies) lugging around a bunch of bags and clueless, for the most part, as to what they are doing and where they're stop is, can draw a lot of attention, and we might have been just fine with that.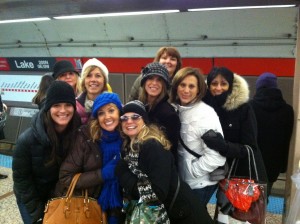 My only explanation for this is that……..we began our trip with shots, then went to the bar, some had drink's on the plane, and I was cold. Nothing like a nice big drink of Fireball from a paper bag, while waiting for the subway, to warm you up and really get the first day in Chicago off to the right start!! (Is this against the law?)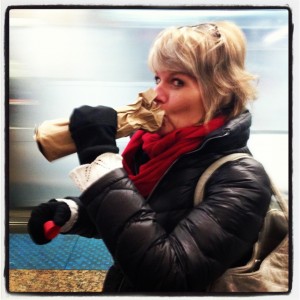 After a six hour subway ride (kidding), "10 Girls" arrived at the hotel, where "10 Girls" checked into two adjoining rooms for a three night slumber party. We freshened up for the first night out on the town, which began with a 4:00 pm reservation at RPM, famously owned by Bill and Giuliana!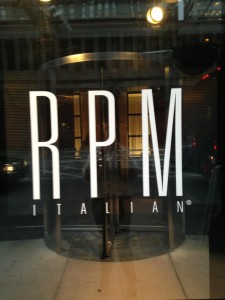 Our waitress was AWESOME and gave us the low down on everything on the menu and answered every single question we continued to ask. She was adorable and patient.
We started off with wine…….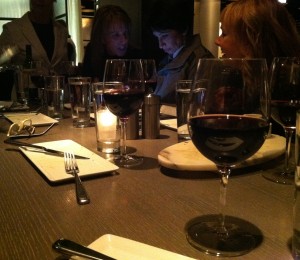 Then a little Kale Pizza and Octopus…..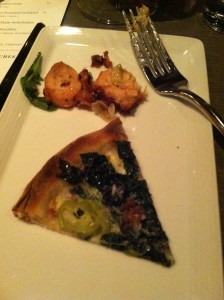 For my Entree?
Scallops in a brown butter sauce served over Pumpkin Puree. I'M STILL EATING PUMPKIN!!!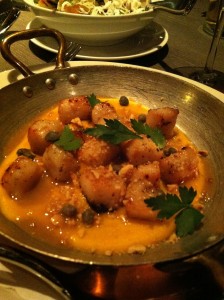 On the side, maybe the best brussels sprouts I've ever had.
Brussels sprouts are EVERYWHERE now!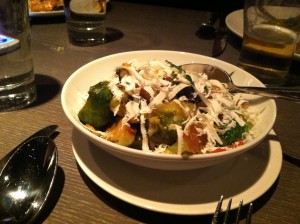 Dinner was delicious.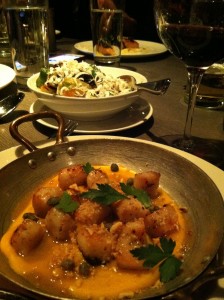 Chris was sitting beside me, and she had the Lobster Ravioli…..yummmmmm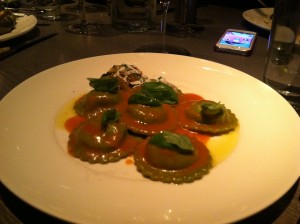 "10 Girls"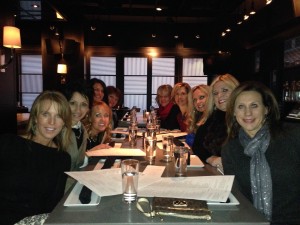 Now it was really late….6:00 pm. It felt like 10 or 11…..
We headed to Pop's, a Champagne Bar, recommened to us by our awesome waitress at RPM!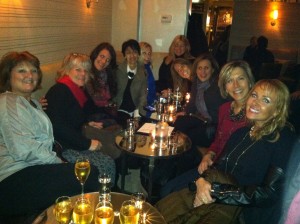 I checked out the entire menu…..How about a nice bottle of Dom Perignon?
Guys….it's only $620.
Wait, there's a less expensive one for $315!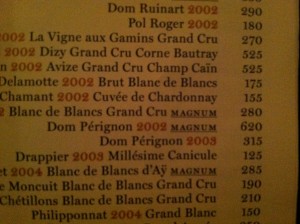 We opted for the Schramsberg, which was kind of fun for me because Mike and I went to Napa several years ago and actually went to the vineyard where this is made!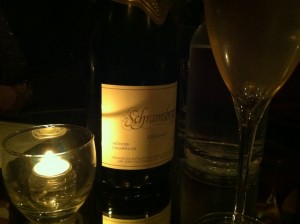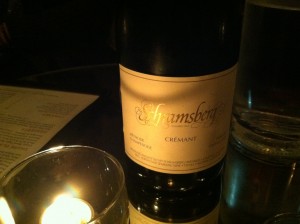 After the Champagne Bar, "10 Girls" completely went in the opposite direction of a champagne bar and ended up at a little dive called Snicker's, where we all crammed into a little corner and drank beer and danced!
We ended our night at Pizzeria Due, where we had the best pizza I think that I have ever put in my mouth! It takes almost an hour to bake, so we (unfortunately for some) had to drink more beers!!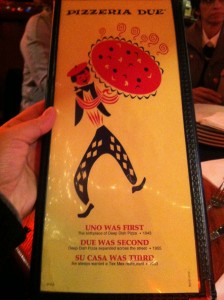 This was ridiculous…….I want more.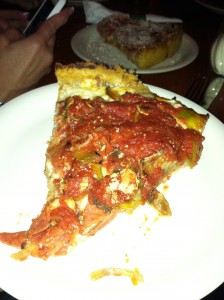 Friday…..
……was filled with lots and lots and lots of walking (I really wish I would have turned on my pedometer app!) and seeing the city! I believe the temperature was in the 20's…maybe 30's, so we were super bundled up with hats and scarfs and boots, and even a few had hand and foot warmers!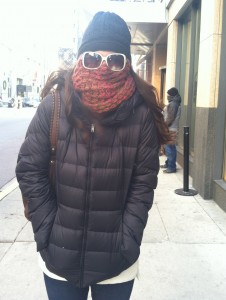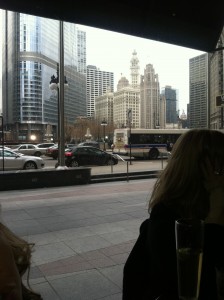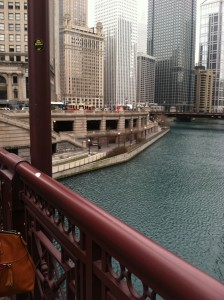 This is my favorite picture of Chicago that I took all weekend! I LOVED this view!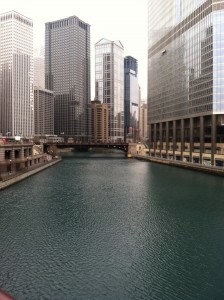 My only weekend regret? I never did make it in this Target!! You know I love a Target!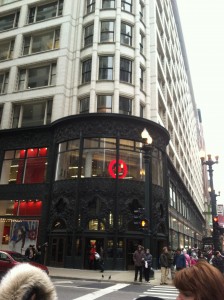 After lot's of shopping and a "cocktail" break along the way, "10 Girls" headed to the John Hancock Building to have a drink on the 96th Floor and enjoy a beautiful view of the city!
Our timing could not have been better, because we got there just at sunset, and the view of Chicago was truly amazing.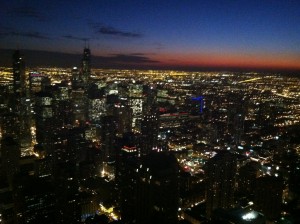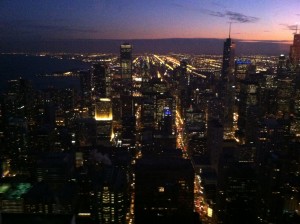 Side note….Cocktail's at the John Hancock building, are not cheap!!!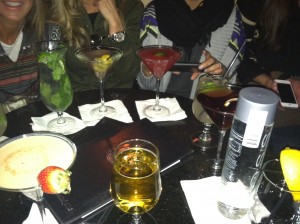 Then a little freshening up before dinner at Sunda!
Yes, our beer coozies are classy, just like us!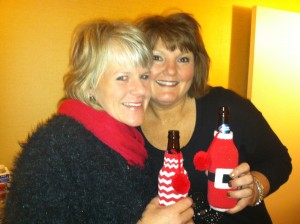 We enjoyed a nice dinner of sushi, then most everyone was exhausted. We hit one more place, then split up a bit, and some continued on, and likely shouldn't have. We ended up here again. Seriously, the best pizza EVER!! At this point, it about 1:00 am.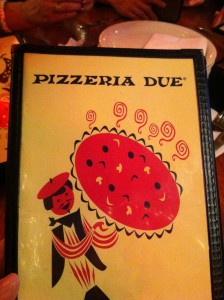 Saturday…..
Another day of shopping for "10 Girls"!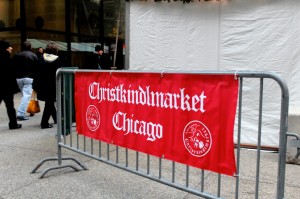 I didn't take this picture, but this is exactly what the market looked like!
Busy, busy, busy.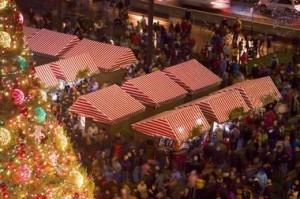 Lots of food and cider and so much to look at!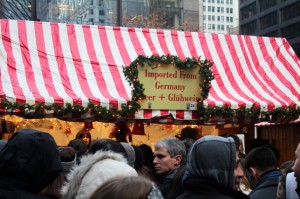 We ended up in this tiny little building crammed in a little place that made me feel like we were in a cabin in Germany, and guess what we drank? Hot wine in the cutest little souvenir mug. I can't remember what it was called, but it made us all feel warm inside.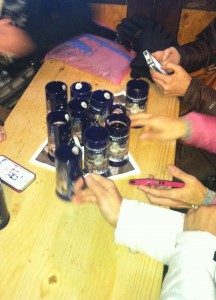 We were super cozy…..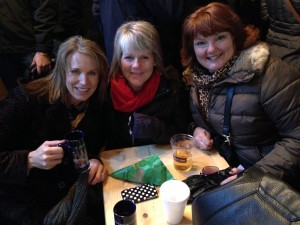 Then off to see more of the city!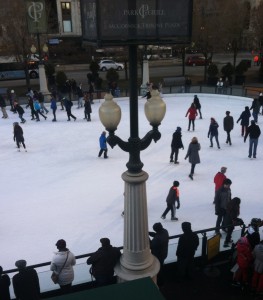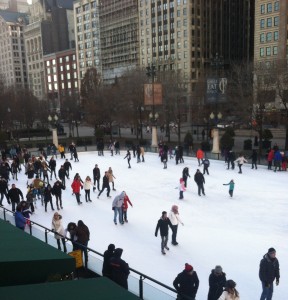 Have you been to the Bean??? Look at the view of the city in it!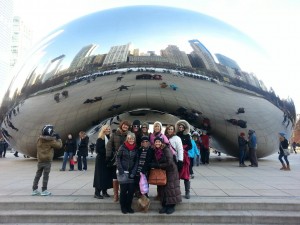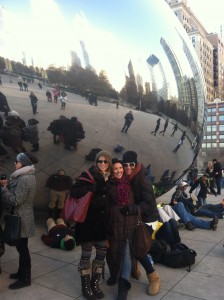 So silly…..girls will be girls….
Then….food! I'm fairly certain, we hadn't had anything to eat, and it was about 3:00 pm!! So we headed to this cute little place called "Gage".
Yummy little meat and cheese platter for sharing….with a pickled egg!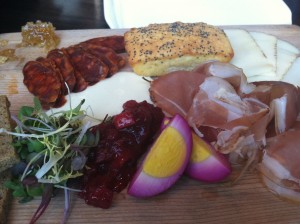 Then I dug into this gigantic and tasty Venison Burger!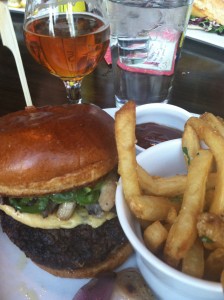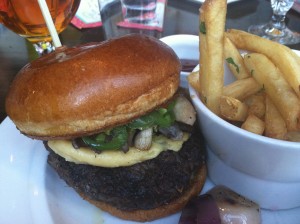 Niki went with the Fish and Chips! I snuck a bite. More yummmmmm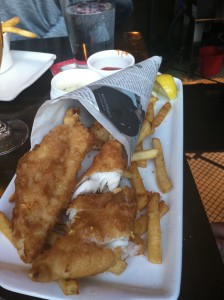 Then more shopping…….
Then……we ended up at "Streeters". I liked RPM, and I liked walking in the cold, and I liked seeing the Bean, and I actually liked the subway experience, but my favorite part of our entire weekend of "10 Girls", was finding this little tavern below the street.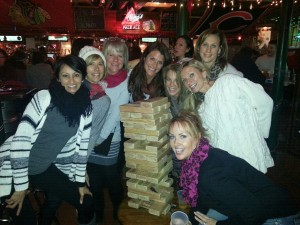 Awesome music, Beer Pong and Oversized Jenga!!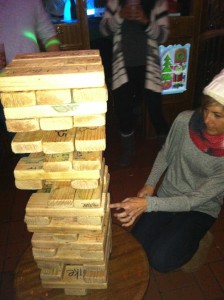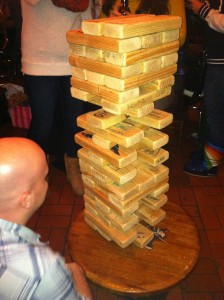 Lots of game playing, singing and dancing. I wish I could show you the video, but I didn't get permission for that. This place made me feel like I was in the movie St. Elmos Fire in that little bar when they all sang. I could have stayed for hours!!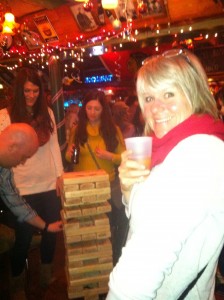 This is Mike, my future son-in-law. I spilled my beer on him.
Poor kid. But he loved us!!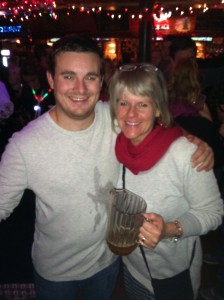 Perfect way to end our nights out!!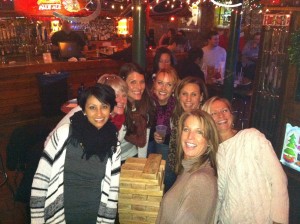 What you do when they run out of plastic cups…..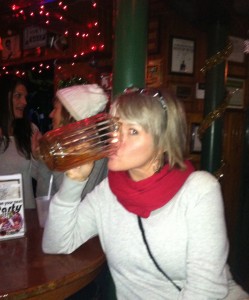 What you do when you love your friends……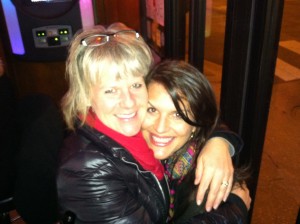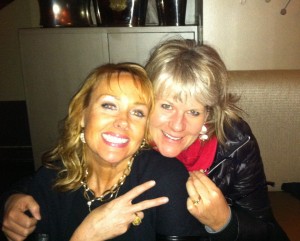 Sunday…
….morning, we had time for breakfast out!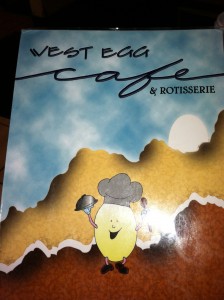 Then it began to snow. What if we get stuck here one more night????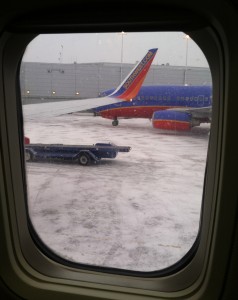 If I'd had any cash left, I would have been all over staying one more night, but it does feel good to get home.
Planning a Girl's Trip??? Highly recommended!
Okay, it;s Monday morning, and this girl needs to get back to being a Weight Watcher member. Lots of healthy meals planned for the week that include turkey and chicken and veggies.
Lots of exercise planned and a variety of things so I don't get bored!
These next several days leading up to Christmas are going to be a huge challenge with Cookie Exchanges, parties, and spontaneous nights out, so I really need to stay strong!
I'd love to know what YOU plan to do to make this Holiday Season the healthiest one that it can be for YOU!
Make it a Great Week!
Hug your friends and Laugh with them!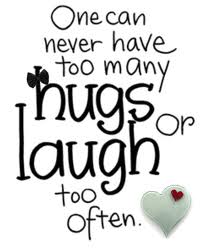 "love the life you live, live the life you love"