Finally, a good Weight Watcher's Day!
I woke up yesterday telling myself I HAD to pull myself together! So I did. It's so weird when you just say you're gonna do it, then you do.
My BIG challenge for the day was making treats for a cookie exchange that I am going to tonight. I made something called Crockpot Candy? I think it's from my mom's generation. It's basically peanut clusters, but you could really add anything to it. This was my first experience making it, so I just followed this Trisha Yearwood recipe exactly as it said. You really just throw a bunch of peanuts in the crockpot (2 pounds!), then add a few different types of chocolate on top, cover and cook on low for three hours without stirring. Then you stir the great big chocolate concoction and it looks like this!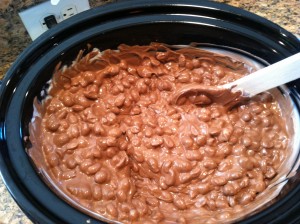 No, it is not chili, it is chocolate!
Hello Willy Wonka!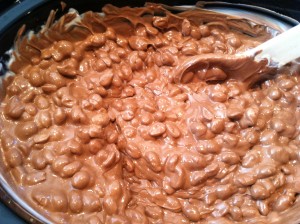 Then you just drop spoonfuls onto waxed paper, or drop spoonfuls into mini muffin cups. I did some of both! I ate two of them. I don't know how many points they were. The important thing here is that I refrained from eating a dozen of them. I packaged them all up and put them away so I wouldn't look at them all day.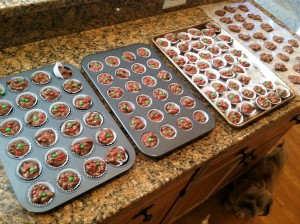 I didn't realize how MUCH I was making!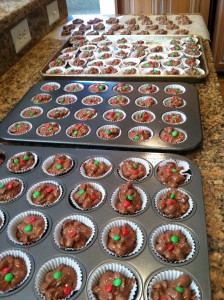 I did add a little Christmas pizzazz to them with a couple of green and red mini M&M's.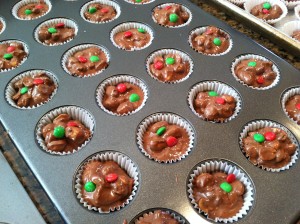 I've decided when I come home with my goodies from the exchange, that I am going to make up plates and deliver them to my neighbors! Some of my neighbors are fairly new and I never really made a good attempt to meet them, so I figure this is a great opportunity to do just that!
I had a really full day and woke up and got started on my "To Do List" right away, so breakfast was lighter than usual.
Breakfast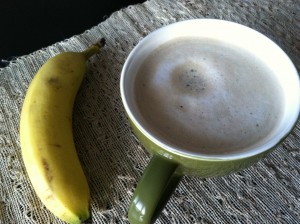 Lunch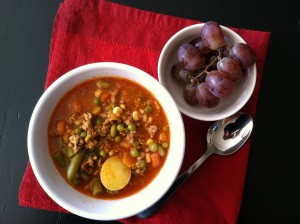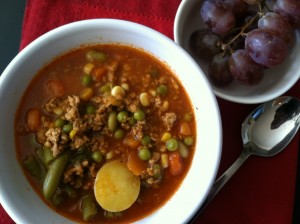 Dinner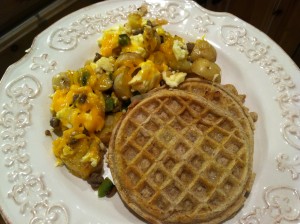 Refresh…I can eat 26 points a day.
I can earn Activity Points by doing exercise, and eat them if I choose.
I have an allowance of 49 points that I can dip into if I chose.
I should drink a minimum of 6 (8 oz) glasses of water each day.
The food I ate and it's PPV
Breakfast = Coffee with skim milk, banana (1)
Lunch = 2 Cups of Mom's V-8 Hamburger Soup, grapes (8)
Dinner = Scrambled Egg Whites, Turkey Sausage, Potatoes, Onions, Green Peppers, Cheese, Nutri Grain Waffles, Strawberry Jam (14)
Snack = I ate two pieces of chocolate Crockpot Candy…..not a clue how many points.
Total = 23, not including the candy
Exercise = 30 Minutes on the treadmill, walked the dogs 1/2 Mile (burrrrrr), 15 minutes of stretching
How many glasses of water I drank = 12
Alcohol consumption = none
Tomorrow morning, I will weigh myself. Skeered.
I have a friend that I have reconnected with through Facebook, and he is always posting something either really inspirational or something that just makes you think. This is what he posted this morning, so I knew I had to steal it! Thanks, Doug!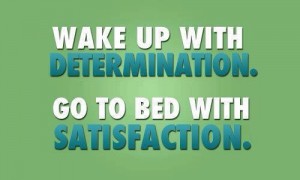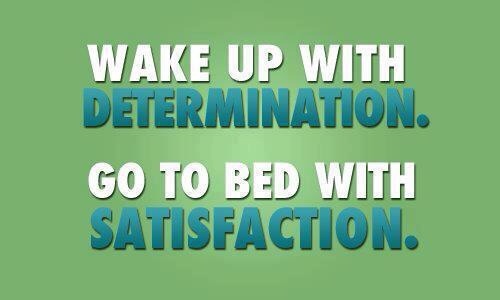 "love the life you live, live the life you love"