I've had fun playing in the kitchen the last couple of day's.
They really were delicious!
Here's a run down of Saturday's Eats…….
Breakfast
I am discovering that I love a diced, cooked sweet potato topped with an egg! I've tried a few different combinations of foods with this and like them all. I brown the potato in a little olive oil with whatever I can find in the kitchen. Onions? Bell Peppers? Yesterday I had salmon!
Leftover Salmon, Asparagus and Sweet Potato
I cut all of the leftovers into small pieces.
I dumped it all in the skillet in a little Olive Oil Cooking spray.
I cooked it until it browned a bit and the potatoes were crispy!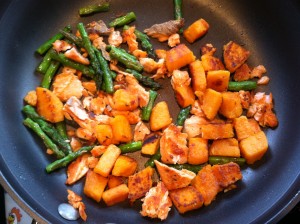 I topped it all with an egg! Yummmmmm…..
All of these ingredients are on the WW Simple Start Plan!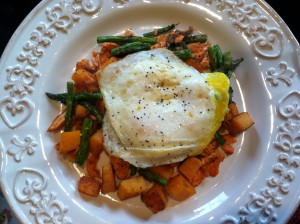 Snack
1 Orange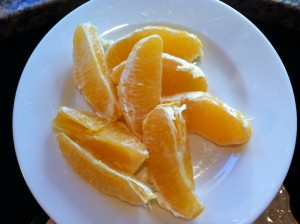 Lunch
Roasted Veggies
Ingredients
About 20 Baby Carrots
About 20 Brussels Sprouts
1 Zucchini
2 T. Olive Oil
Italian Seasoning
Sea Salt
Directions
Place all ingredients in a bowl and mix well. I use a LOT of Italian Seasoning, (1-2 Tablespoons) but use as little or as much as you like. I only used about 1 tsp of Sea Salt. I would imagine that most people would like a little more salt.
The leftovers will be great cold too!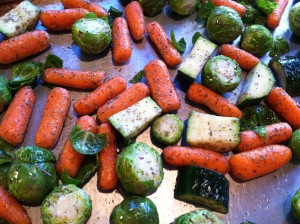 Bake on a baking sheet at 425 for 30 to 40 minutes!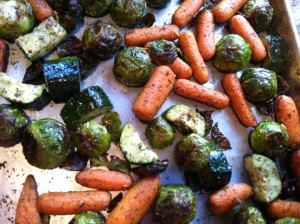 Enjoy……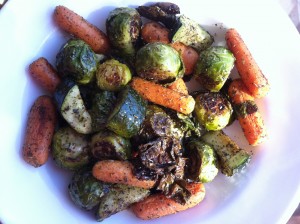 Snack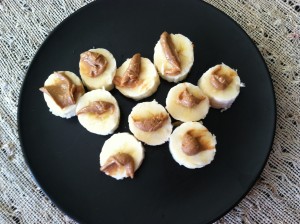 Dinner
Stir Fry with Fried (Quinoa) Rice
This was easy, really. I bought this packet for the seasoning. You just mix this with water and set it aside.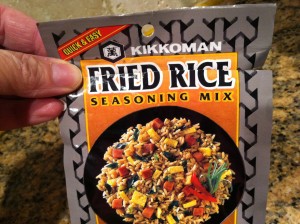 I sautéed some green onions and carrots, then I added quinoa that I had cooked in chicken broth. Then I added the sauce that I had made from the seasoning packet and I gave that a good stir, then added a few peas and a little low sodium soy sauce. I then added a slightly scrambled egg and let it cook the rest of the way in the mixture.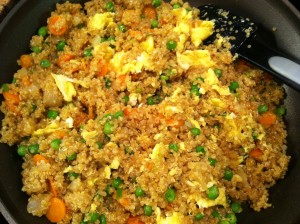 This made awesome fried (quinoa) rice!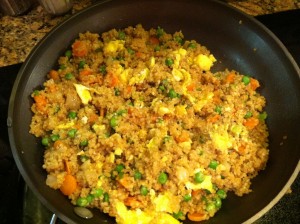 I cooked a little chicken and broccoli in Olive Oil, then added sliced water chestnuts. I bought some bottled stir fry sauce for flavor and due to the sodium and gluten in it, I only used about 1/4 Cup. The fried rice was moist and it seemed like just adding a little bit of the sauce and little more low sodium soy sauce to the chicken mixture would be just perfect, and it was!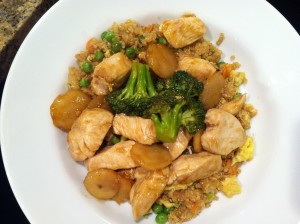 Simple Start
I can eat anything I want from the approved list of foods.
I can earn Activity Points by doing exercise, and eat them if I choose.
I have an allowance of 49 points that I can dip into for foods and beverages that are NOT on the approved list.
I should drink a minimum of 6 (8 oz) glasses of water each day.
Foods I ate that are NOT on the Simple Start Approved List = Better n' Peanut Butter (1)
Exercise = Walked 4 miles with a friend. Walked 1 mile with the dogs.
How many glasses of water I drank = 12
Activity Points Earned for the Day = 6
Activity Points Earned This Week = 6
Remaining points from my 49 Points Allowance = 44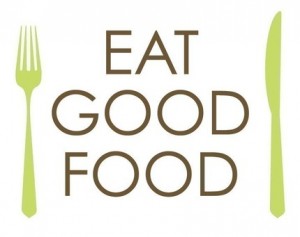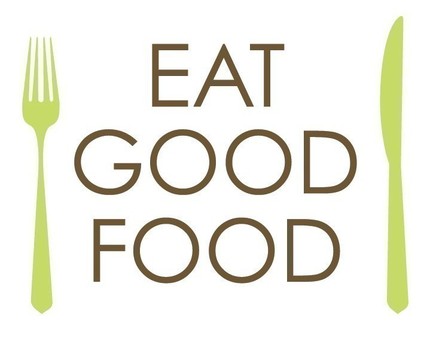 "love the life you live, live the life you love"