Charlotte Anne
Born on February 6th at 4:58 p.m.
7 pounds, 5 ounces
20″ Long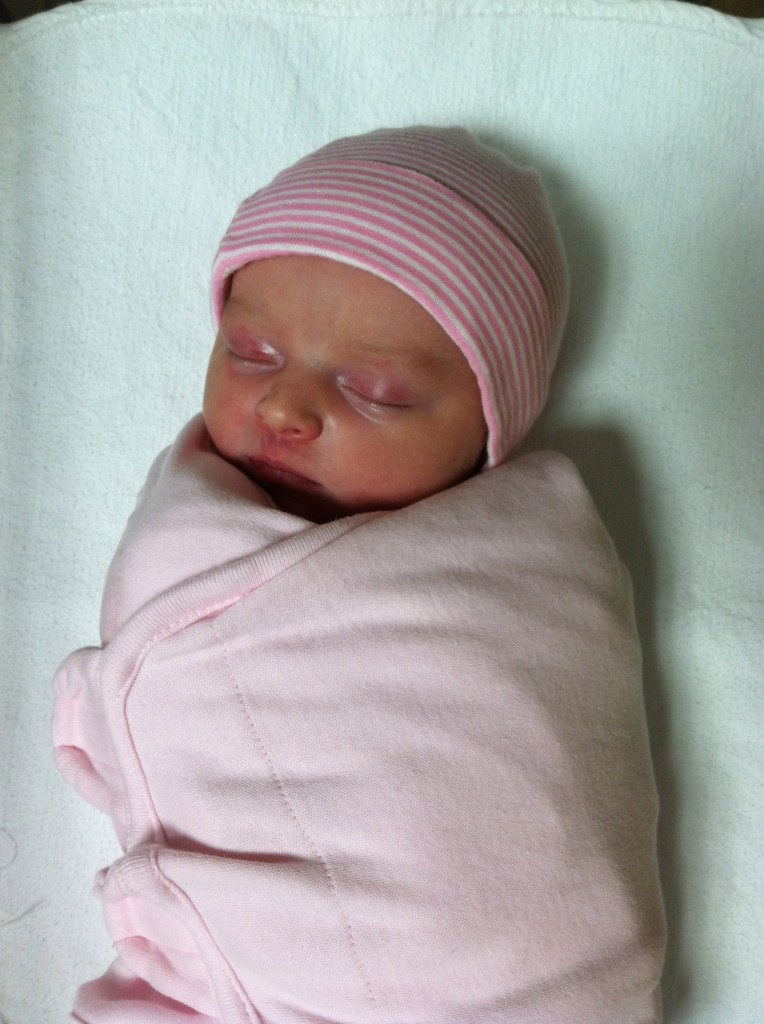 This is her mom, Kate. (and me!)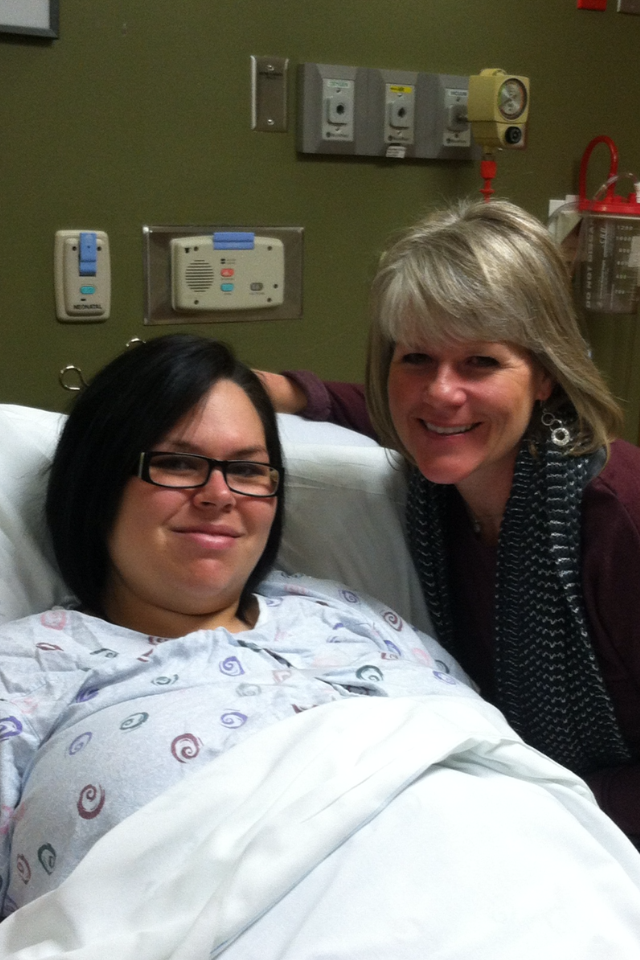 I don't think I can put into words today all of the emotions that I have experienced over the last few days. A few days before Charlotte was born, I found out that I was going to get to be IN the delivery room with Kate! I was super excited, but I kept reminding myself that things might change, there might be too many people around, we might be over the limit on people allowed in the room, who knows……
I tried to not let myself get over excited.
Kate spent the night at our house, along with our Daughter-In-Law, Jordan, the night before Charlotte was born, which we will forever refer to now…..as Charlotte's Eve. The weather hadn't cooperated too much, and it seemed like a good idea to all stick together and be ready to jump into a Four Wheel drive vehicle, if needed. Jordan was also going to get to be in the delivery room! Anne, Kate's sister, would join us at the hospital and also be in the delivery room!
Kate and Jordan and I stayed up until after 1:00 am talking about all sorts of things. Really good girl chat. Really good bonding time. We all knew the best thing to do was to get some sleep, but we were all so pumped with adrenaline knowing that we would finally get to meet Charlotte the next day, that none of us even wanted to go to bed. Kate was scheduled to be induced at 7:00 am. With only a few hours of sleep, we all got up at 5:00 am, showered, and headed to the hospital, with I am certain….more bags than any expectant mom and her posse has ever arrived at the hospital with.
We had bag(s) for baby, bag(s) for mom. We had pillows, snacks, water bottles, movies, magazines, iPad's, iPad chargers, phones, camera's and yes, we even had a tripod for the camera!
Once settled in, we all found our corner of the room. Kate was nervous and had lots of questions. That anxiety can really get to a girl about to have a baby!!! Things were moving along as expected when Jordan and Anne decided to visit the cafeteria. That's when things got serious…..
Contractions picked up in intensity, and the nurse decided it was probably a good time for the epidural. Only one person (out of your support people) could be in the room for the epidural. I asked Kate if she wanted me to get her sister, Anne. She said no, that she was totally fine with me being in there. (I'm like….oh crap…..Am I okay with this?) Let's just say that in the middle of what seemed liked forever to get the epidural, I felt the need to drop to my knee's, while Kate was squeezing my finger off. I was SO trying to not make this about me, really I was, but I kept thinking….I think I'm going to vomit, and that might upset Kate. Where do I vomit??? The anethesiologist said it happens all the time and that I should put my head between my knees. In the meantime, (while still not being able to feel my finger while Kate squeezes it, and feeling like a complete idiot and total failure as a support system for Kate) the nurse had pulled up a chair for me. So I am sitting in the chair, Kate has my finger, and I have my head between my knees, praying that I just don't vomit. The Midwife came in. She looked at me and I said, "I really hate to bother you, but could I please have a wet rag? I might vomit." Then everything was fine. 🙂
Kate got her epidural and things really started moving along. The girls were back in the room and we were ready for baby.
It all happened so fast after that! I was right beside her holding Kate's feet so she could push!! We were right there! Little Charlotte just came right out!! I couldn't believe I just saw my little grand baby come into the world! I lost it like a huge cry baby!! Emotions overcame me!
She was perfect.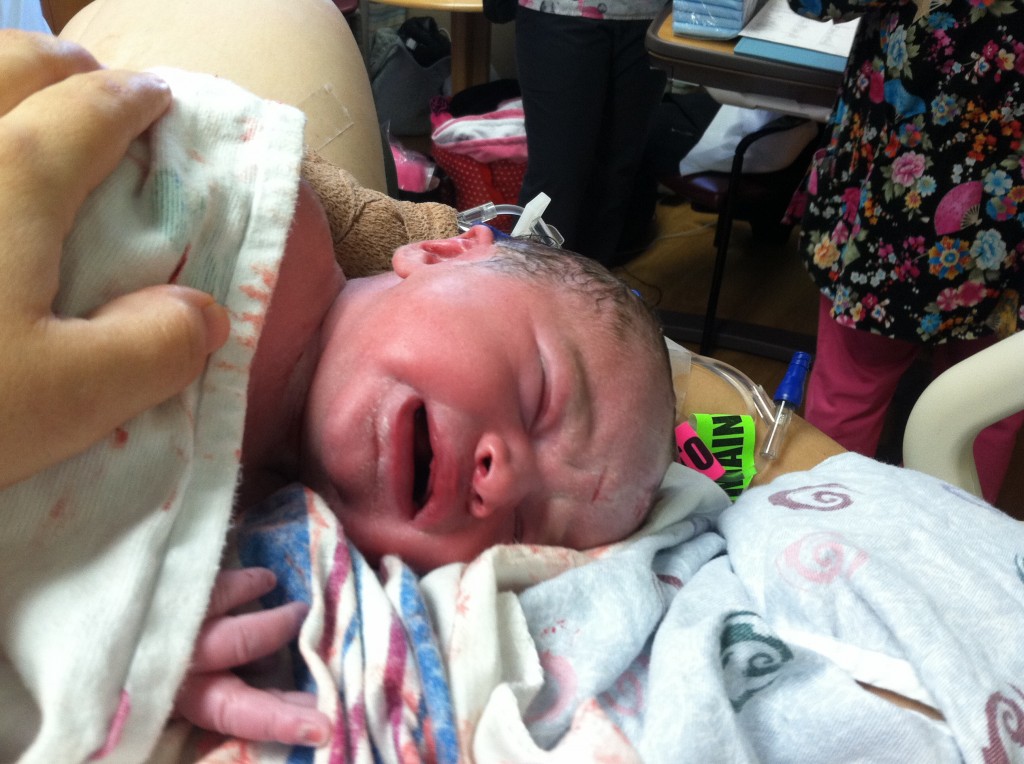 Absolutely perfect.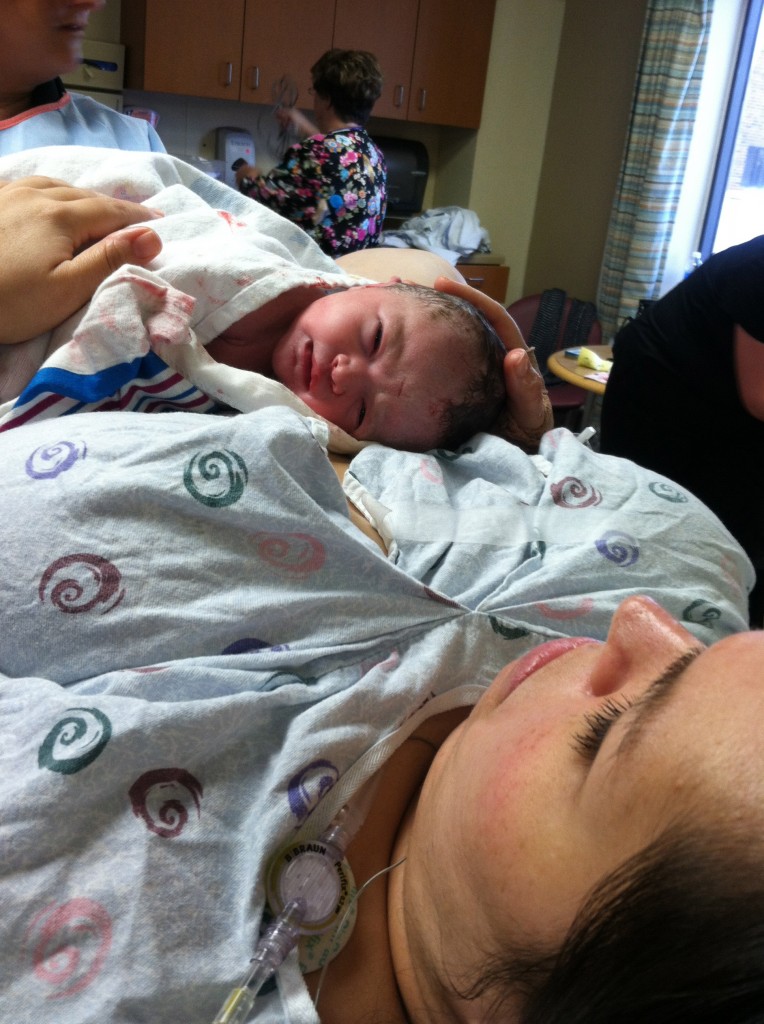 l still can't believe I got to be in there…….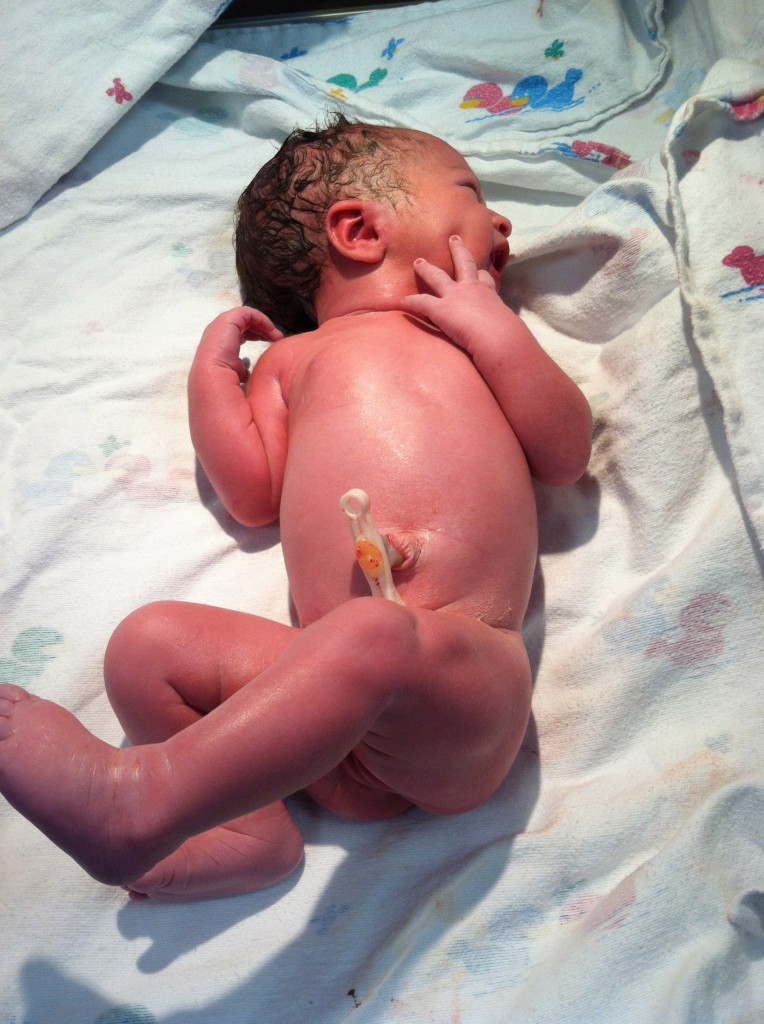 Along with these two awesome Aunts!!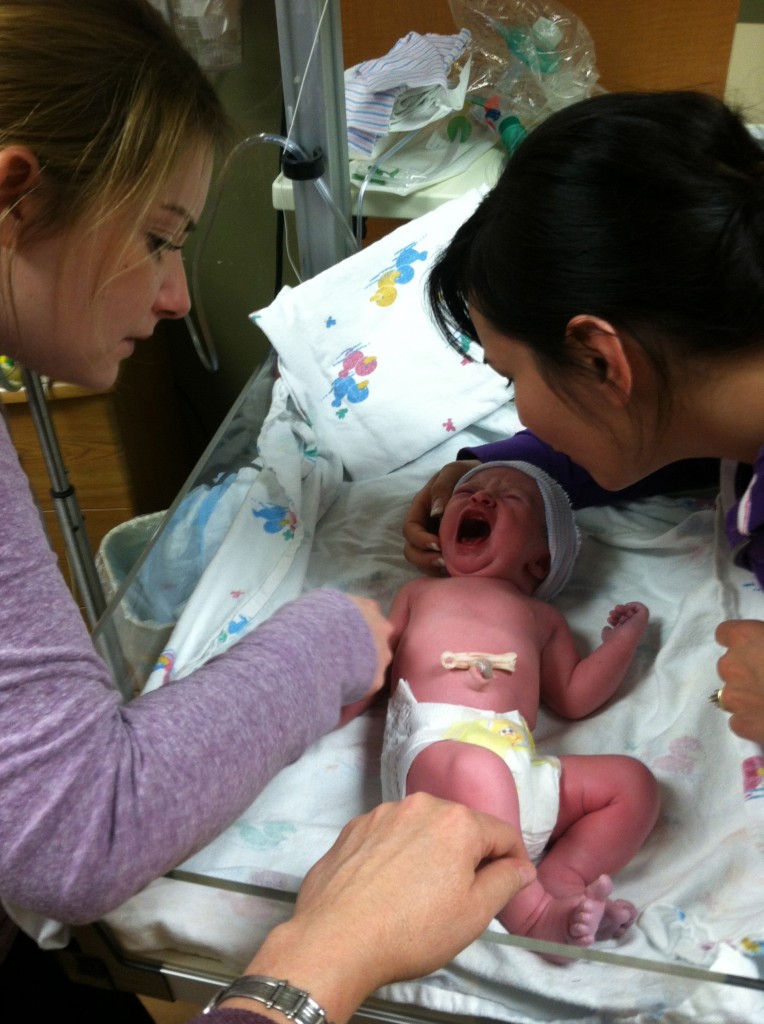 l think she know's it's me.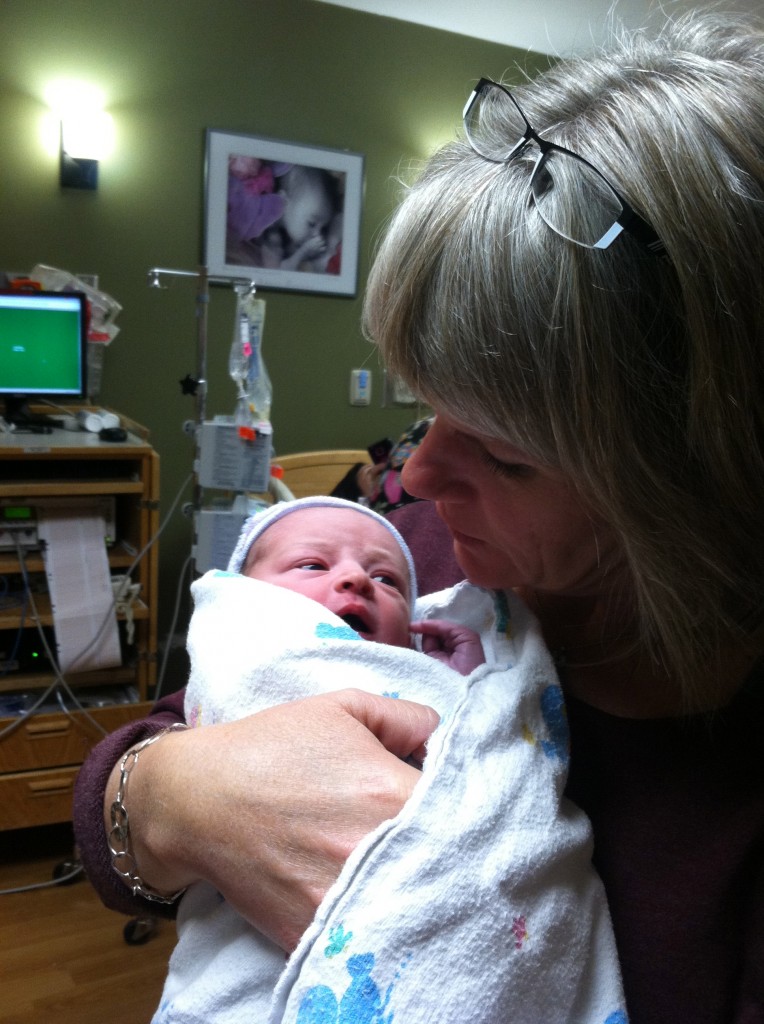 l'm still crying…….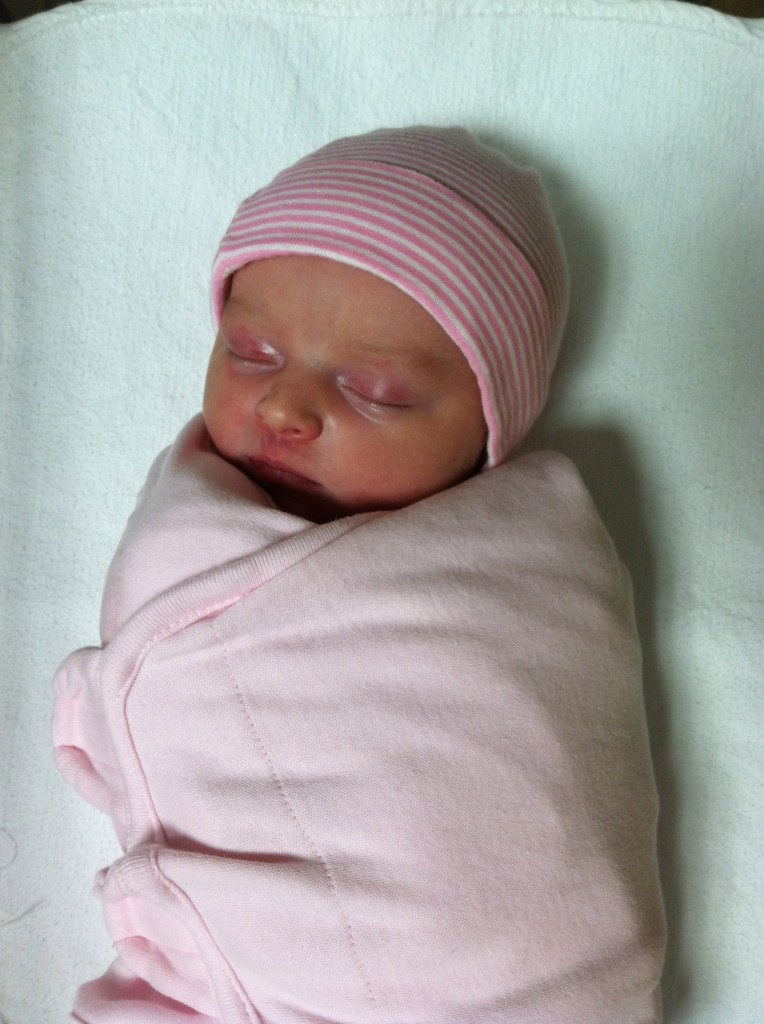 "love the life you live, live the life you love"