Geezzzz, where to even start. Who doesn't love a vacation?
We do! We do!!
You just can't beat a beach vacation in the middle of winter!
The Cancun airport is AWESOME! There's a bar RIGHT outside of the airport doors!! HOLLLA!!
Beer's in hand, waiting for the shuttle, let the vacation begin!!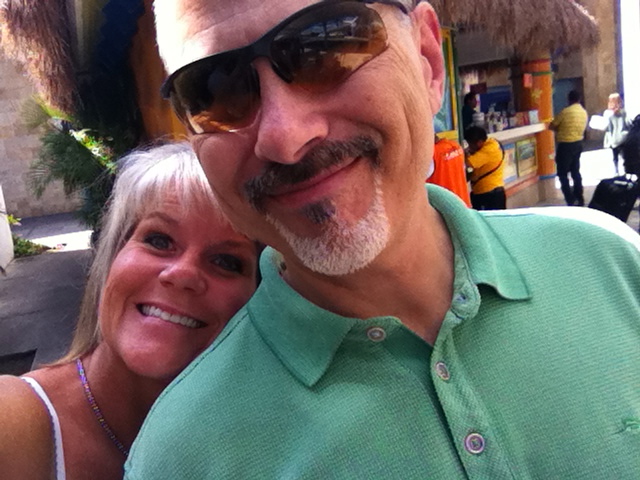 We've gone on several trips with this group of friends, and we are blessed to have such a great and laid back group of friends to travel with! We're already talking about our next adventures.
Once we got checked in……the food and drinks were everywhere!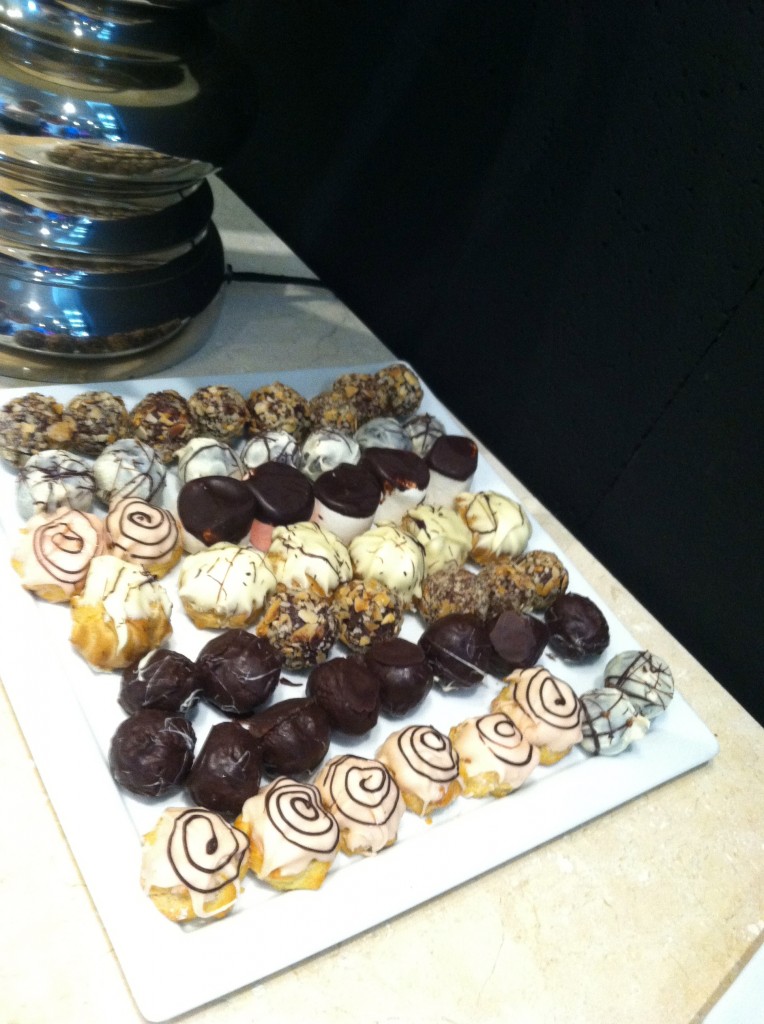 Here is our first view of the beach from our room on the 12th Floor of the HardRock! I loved this view!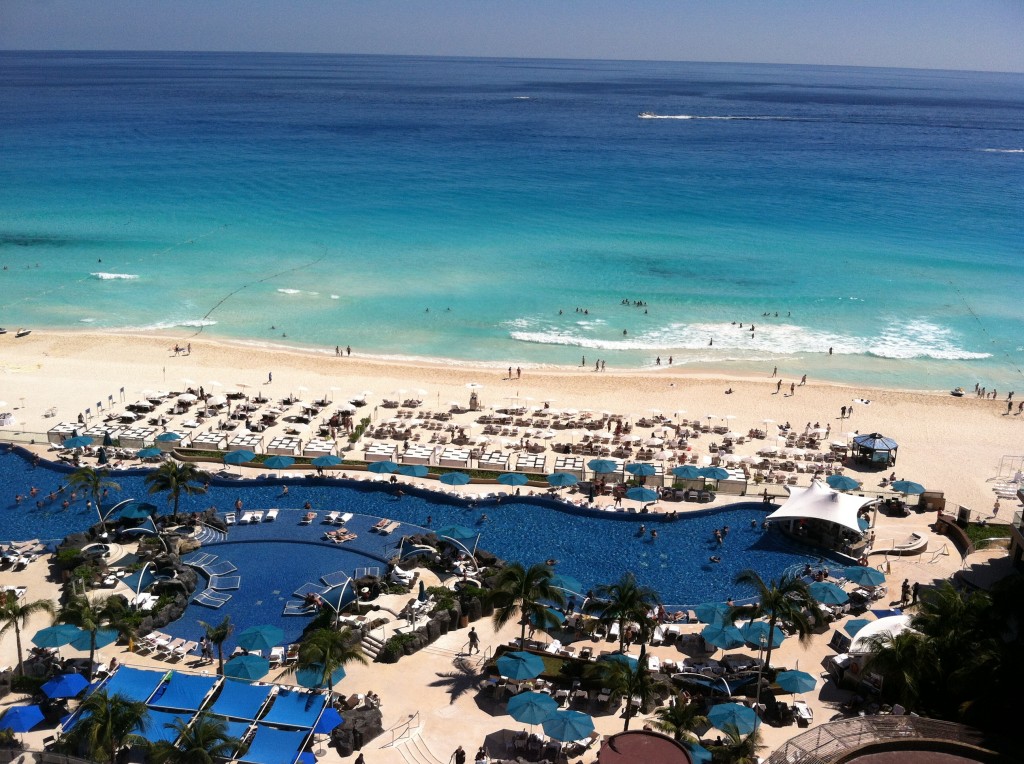 I had coffee on the balcony in the mornings and watched the sunrise, and I ended the evenings looking at the moon shining on the ocean.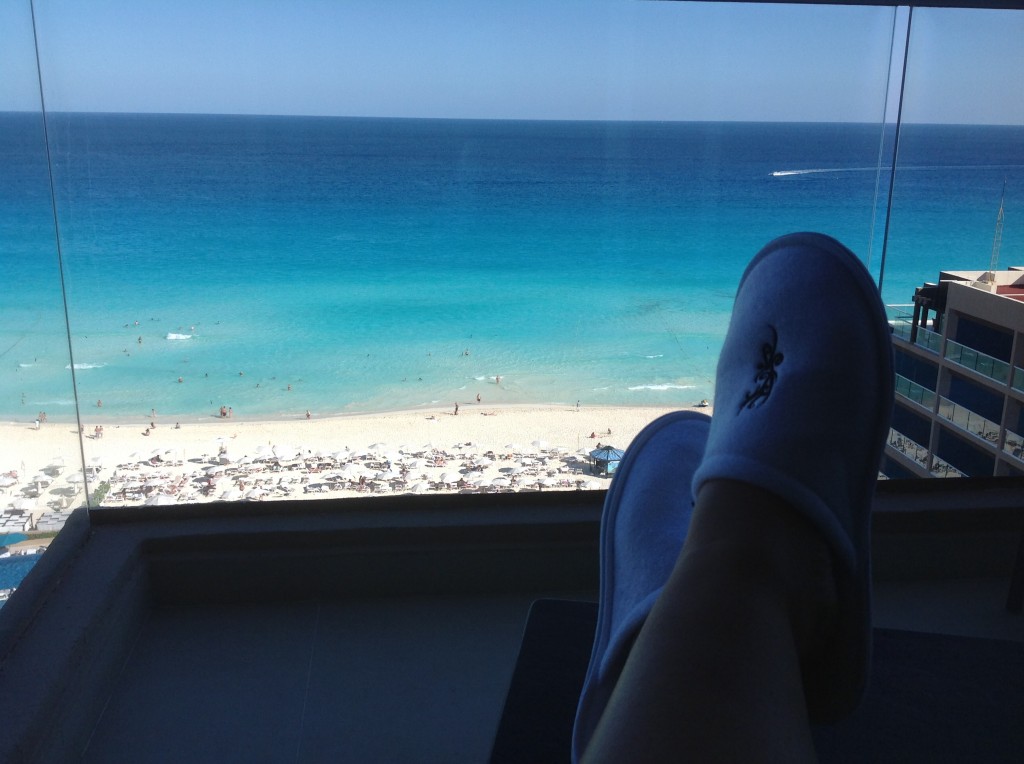 I loved sitting up there listening to the ocean…..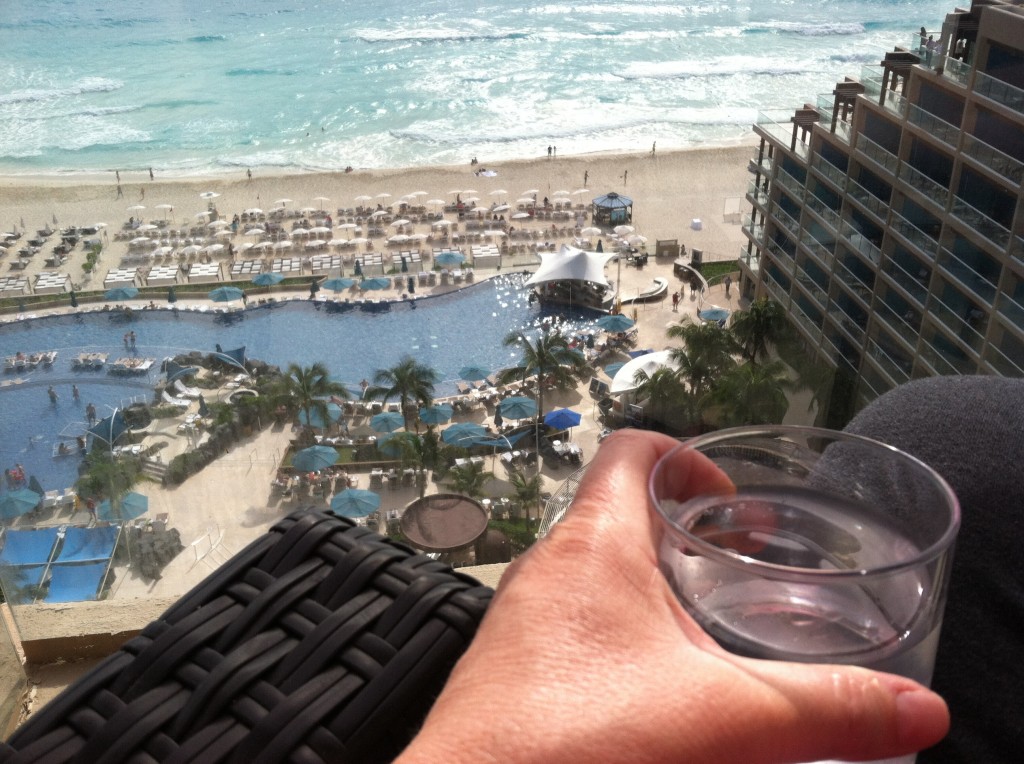 Sitting on the beach watching the sunrise was pretty darn relaxing…..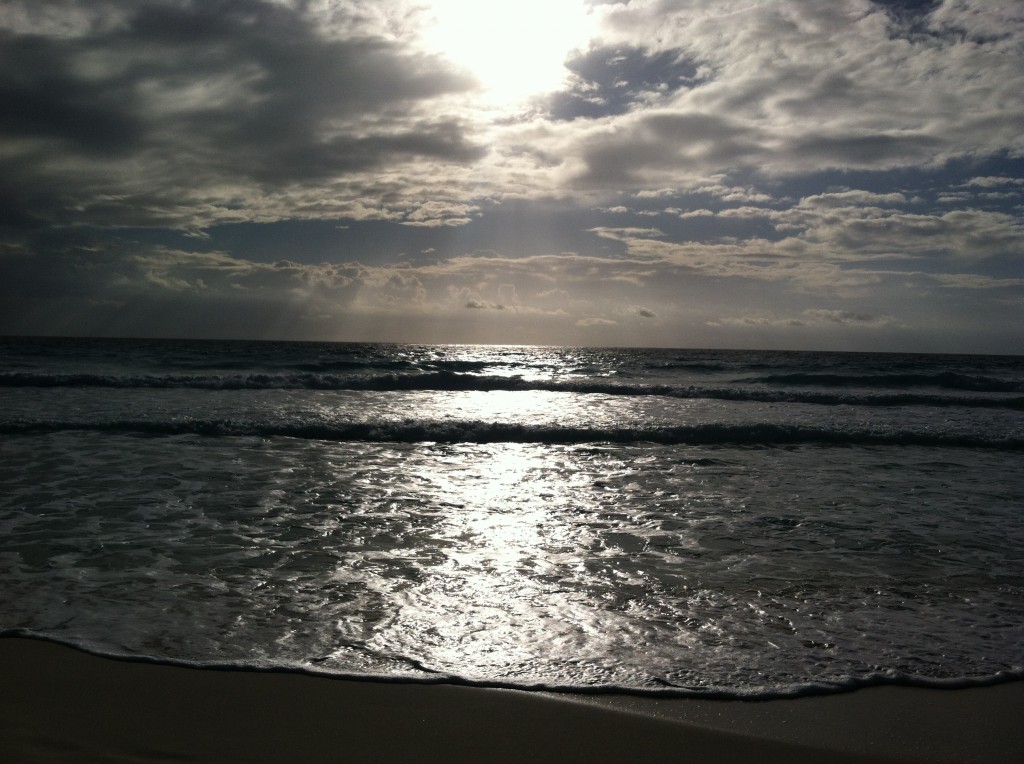 I found myself a cozy spot about 6:00 am on this morning. (People are MAD about saving a spot!! Relax people, it's vacation!!)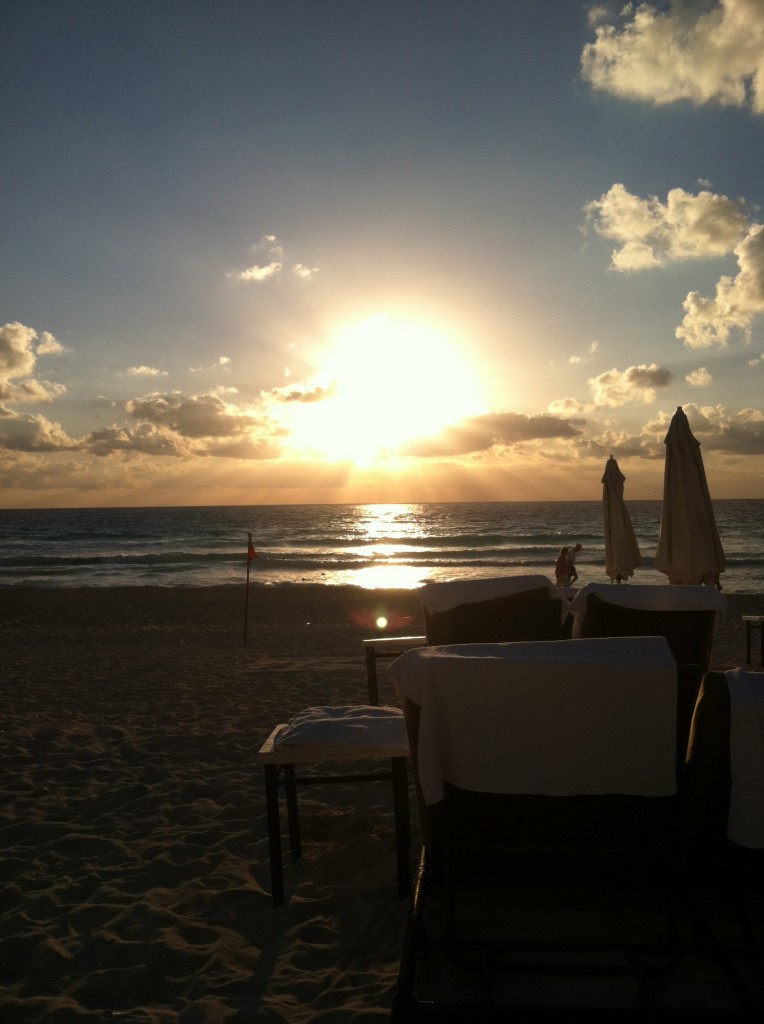 Then I hardly left this spot all day…..(they bring your drinks to you!!!)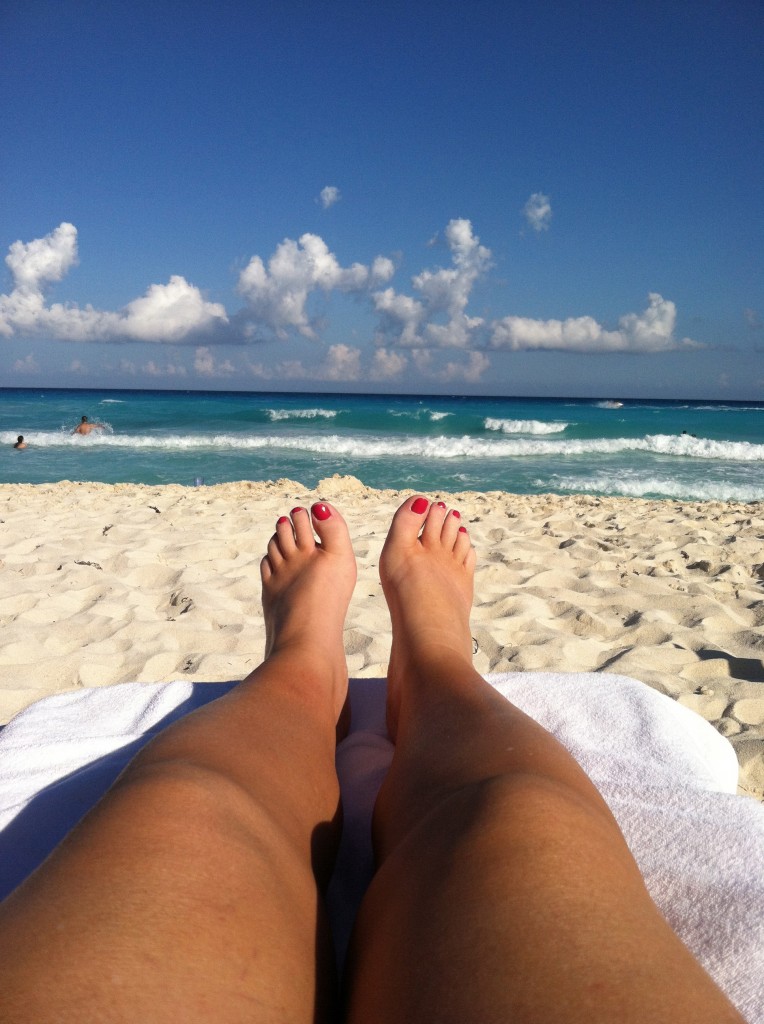 The sand was so soft…….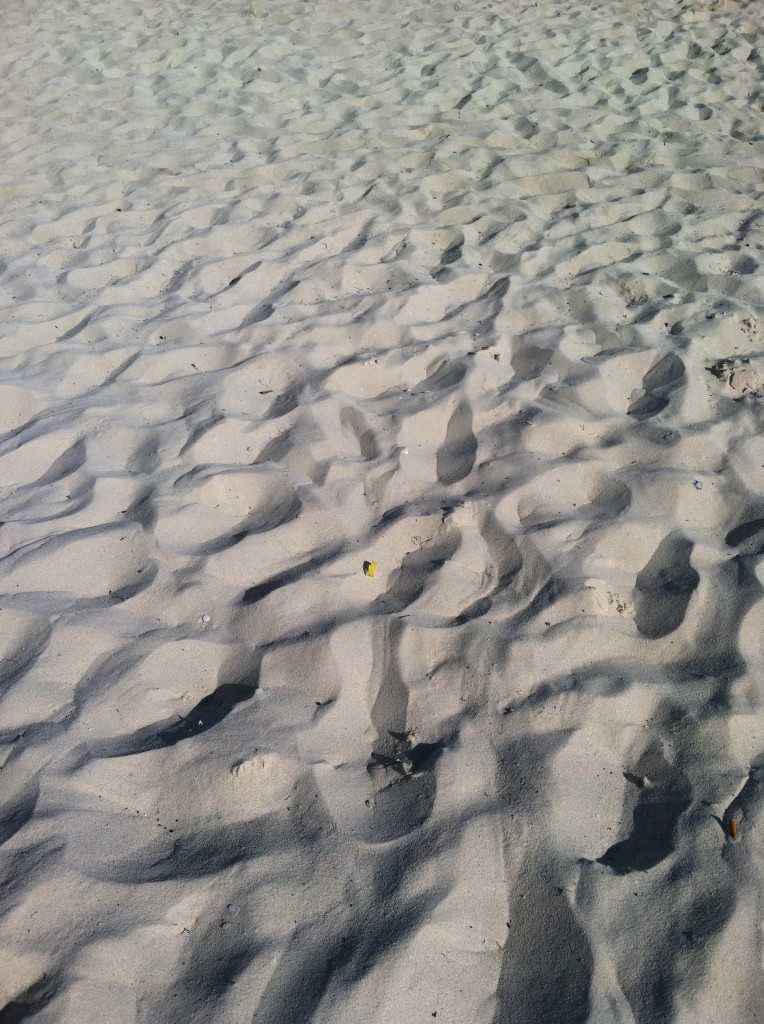 …..and the water was beautiful……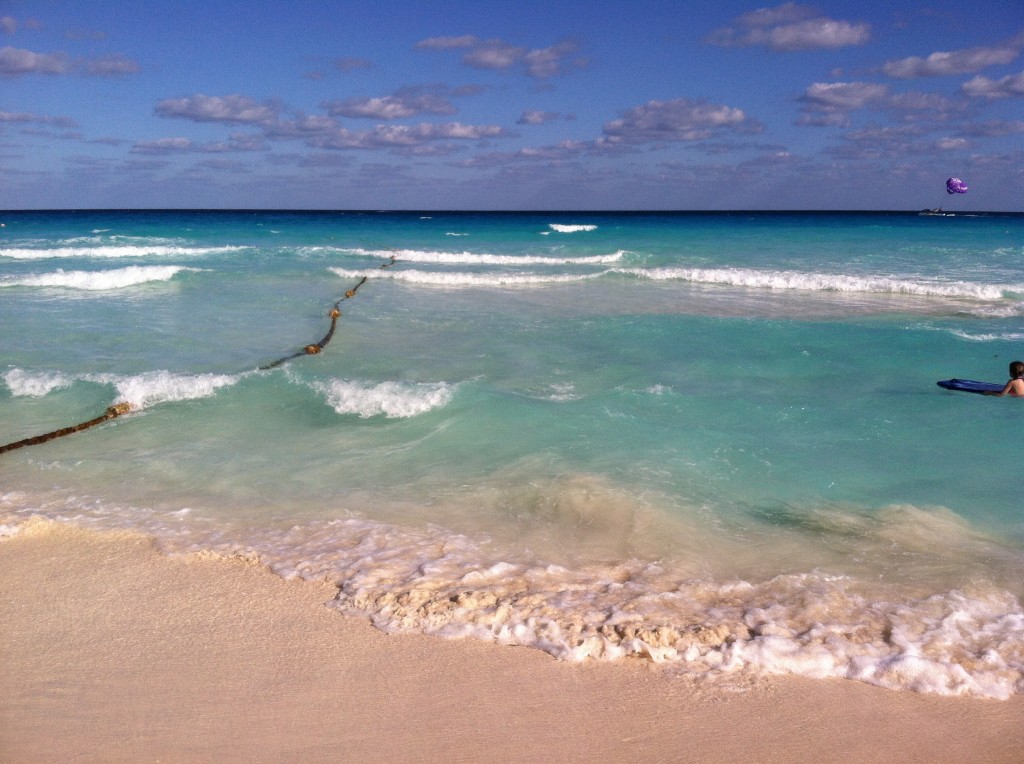 They had these great little Cabana's you could reserve for the day…..so one day we did that! 🙂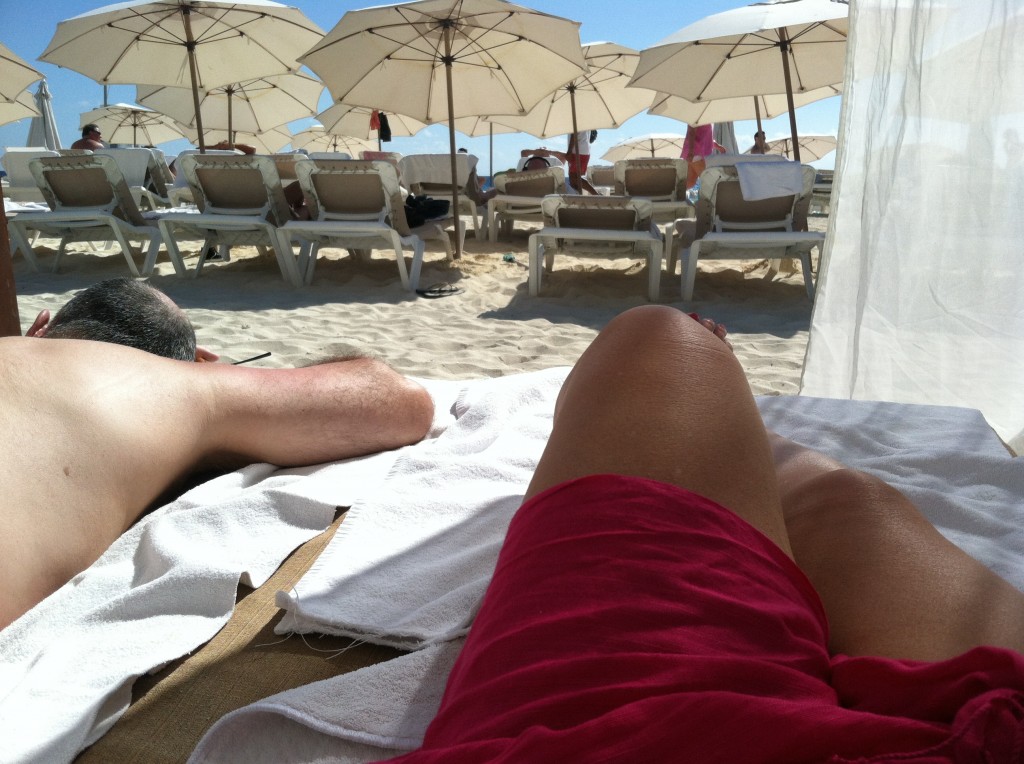 I could pull the curtains around just a bit when the sun was just too much (I'm not much of a Sun Goddess!)
There was one really big pool with two swim up bars….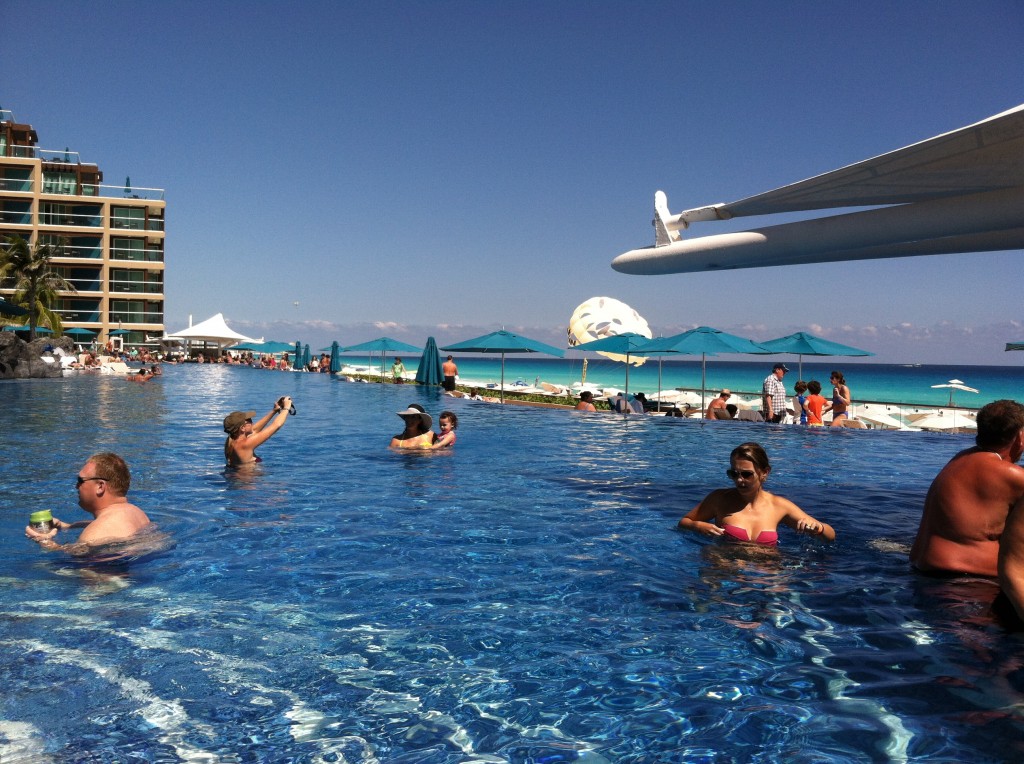 Not a bad place to have a drink, huh??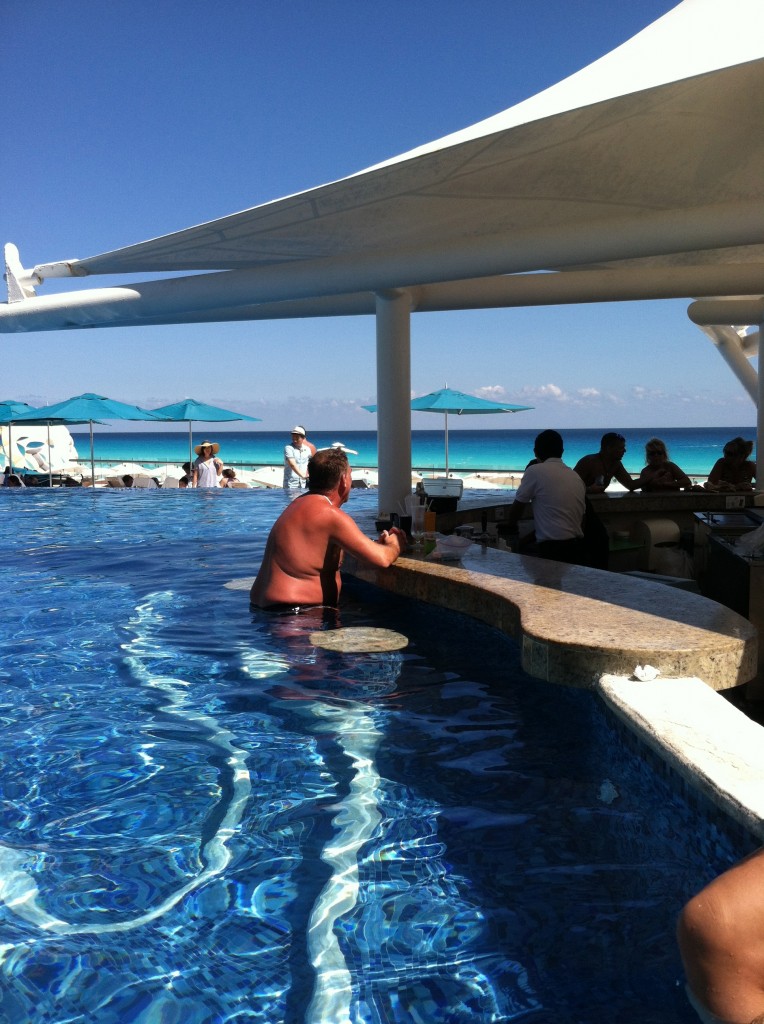 The walks along the beach were great!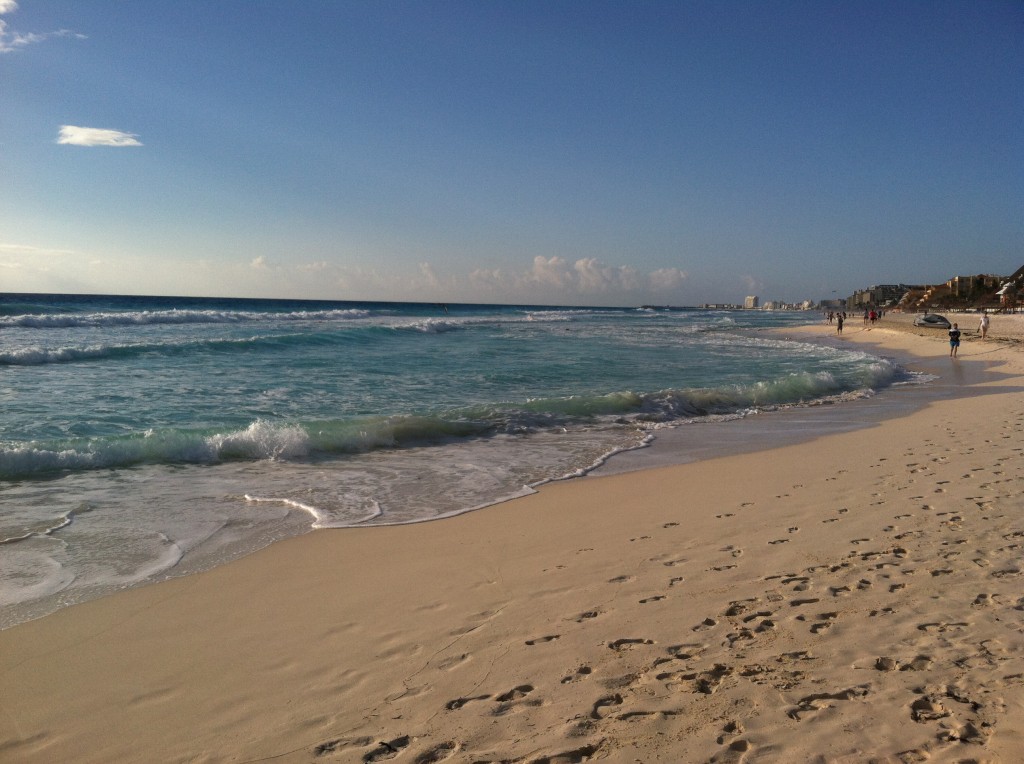 I do love the sand between my toes…..(and I think this picture turned out pretty darn cool)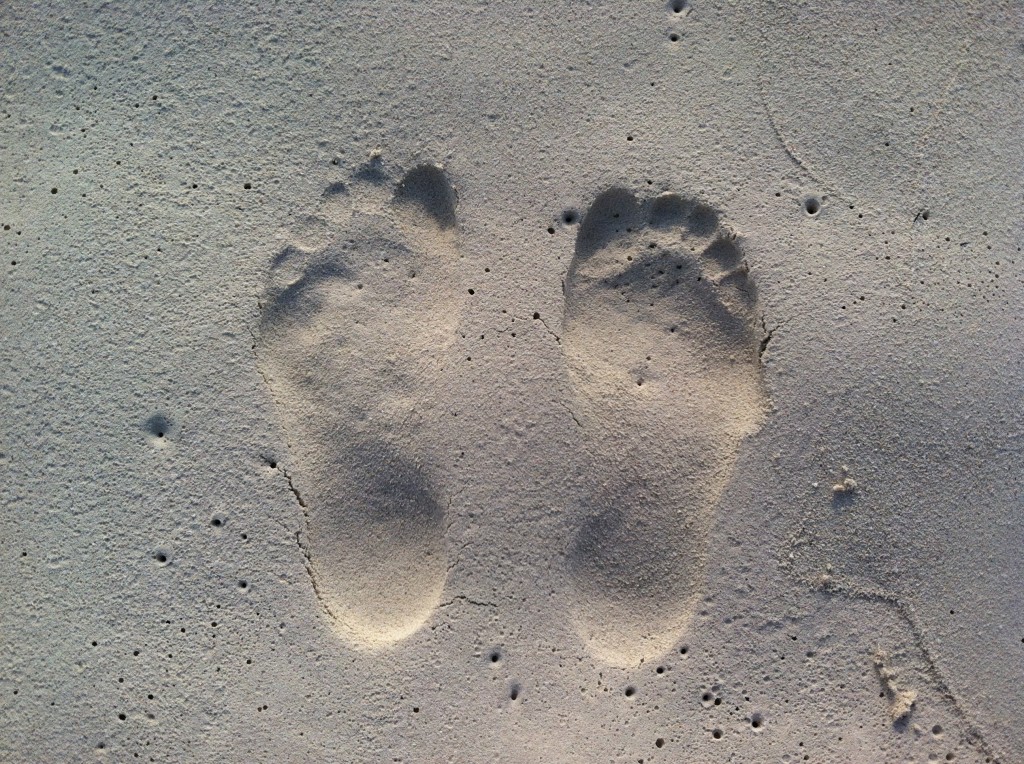 Being on the beach is my favorite part of a "Beach" Vacation….but we did do a few other things too!
The boys played golf one day.
Mike and I had a couples massage one day.
I got a pedicure one day.
Everybody did a little shopping here and there.
We even checked out the Cancun Walmart!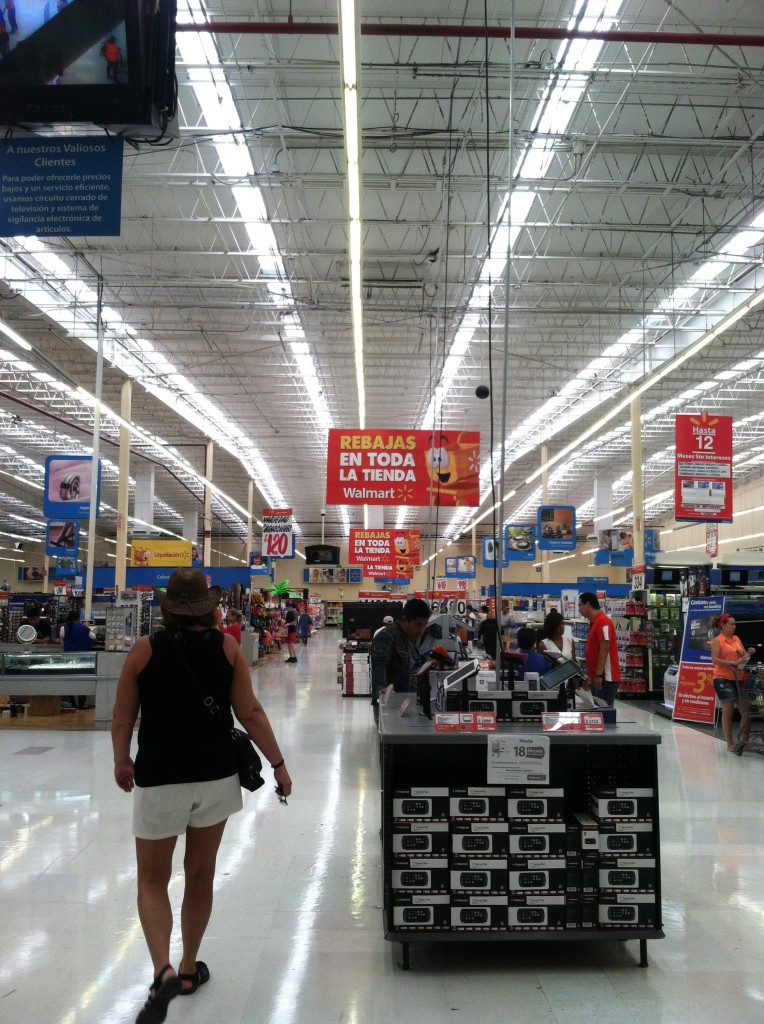 We went to CocoBongo one night! If you've never been, and you get the chance sometime….GO!! It was awesomely crazy. It's this stage show in a Dance Club type theme. You literally stand all night (the show starts at like 11:00 pm and last until after 3:00 am!!!!) while drinking and watching performance after performance! It's a wicked show! The time flew by like crazy!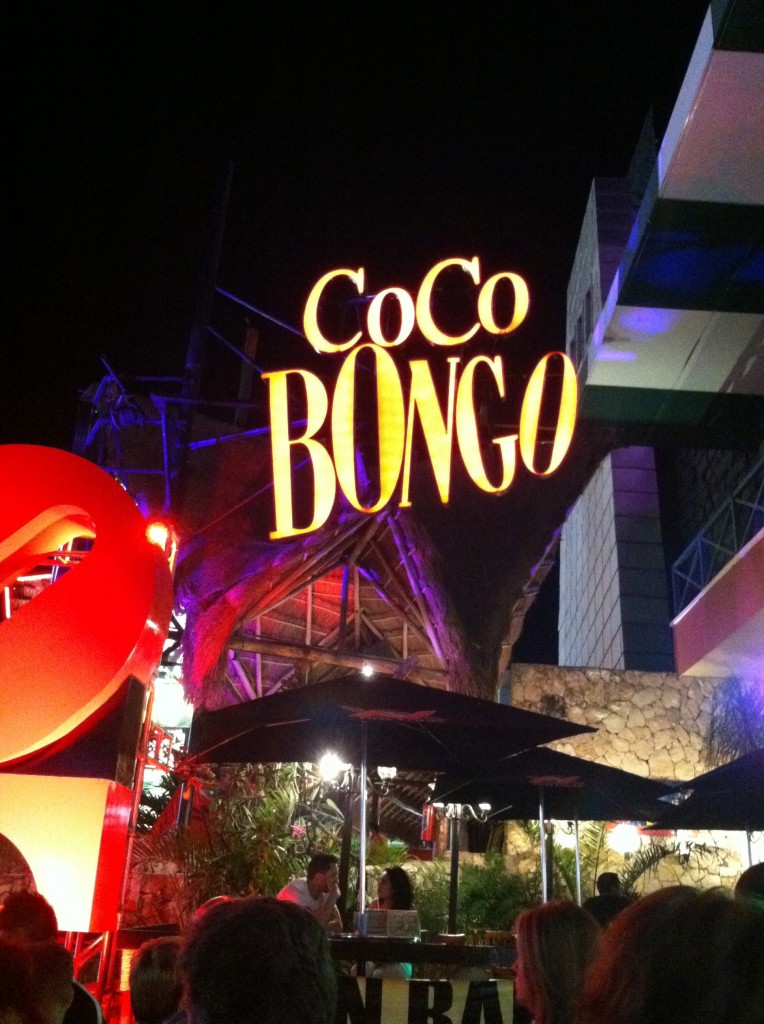 They pull people up (people like us!) to dance on the bar. They have dancers and performers coming out of the ceiling at you like this little guy! I took this picture while he was coming straight down from the ceiling right at us! The show was great!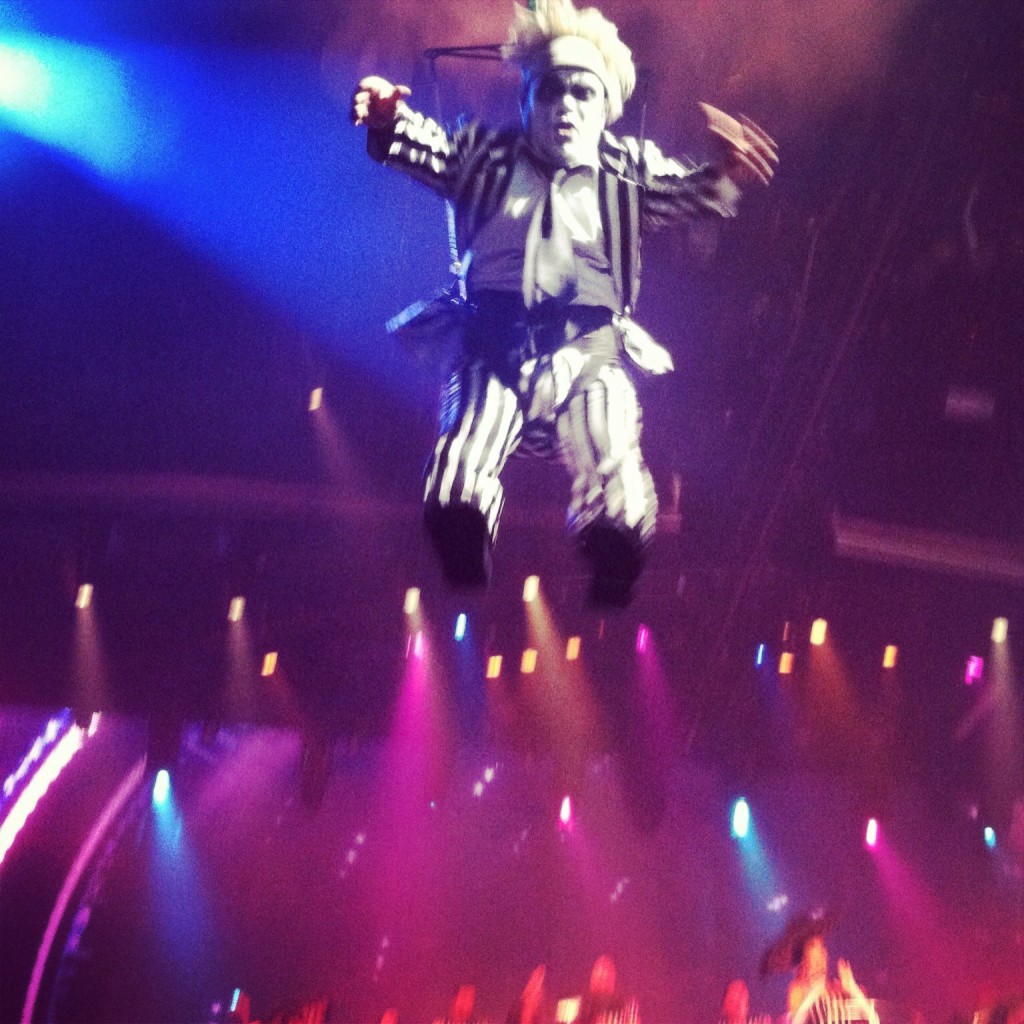 This guy also came out of the ceiling and danced on the table our drinks were sitting on!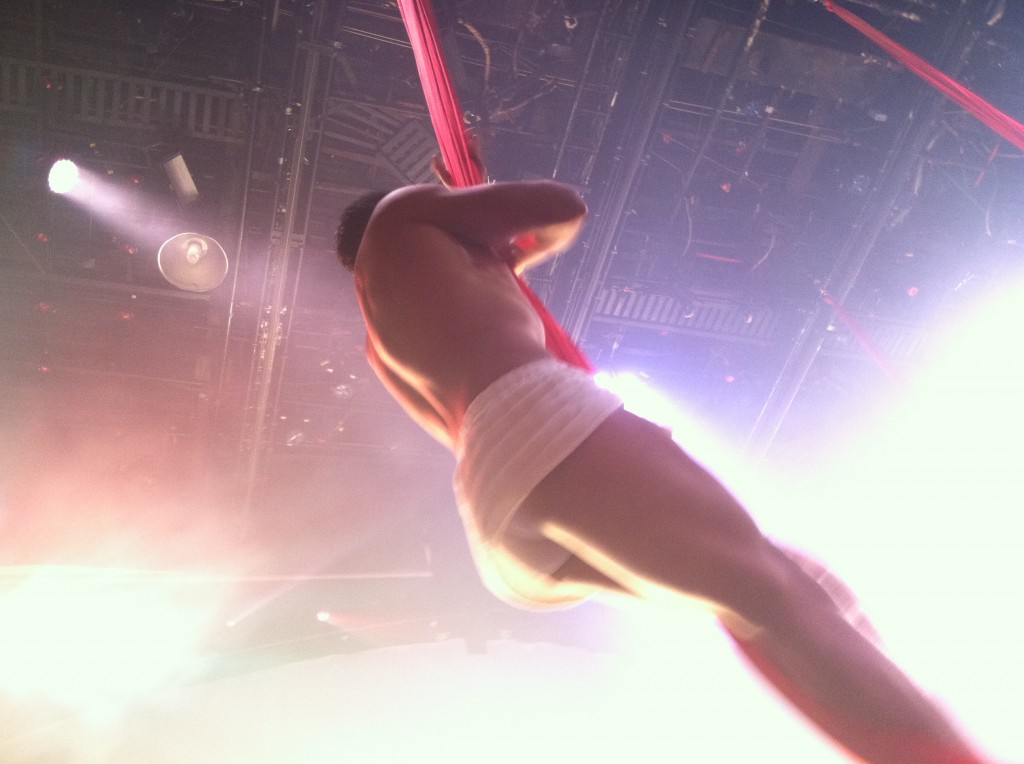 Our view did NOT suck.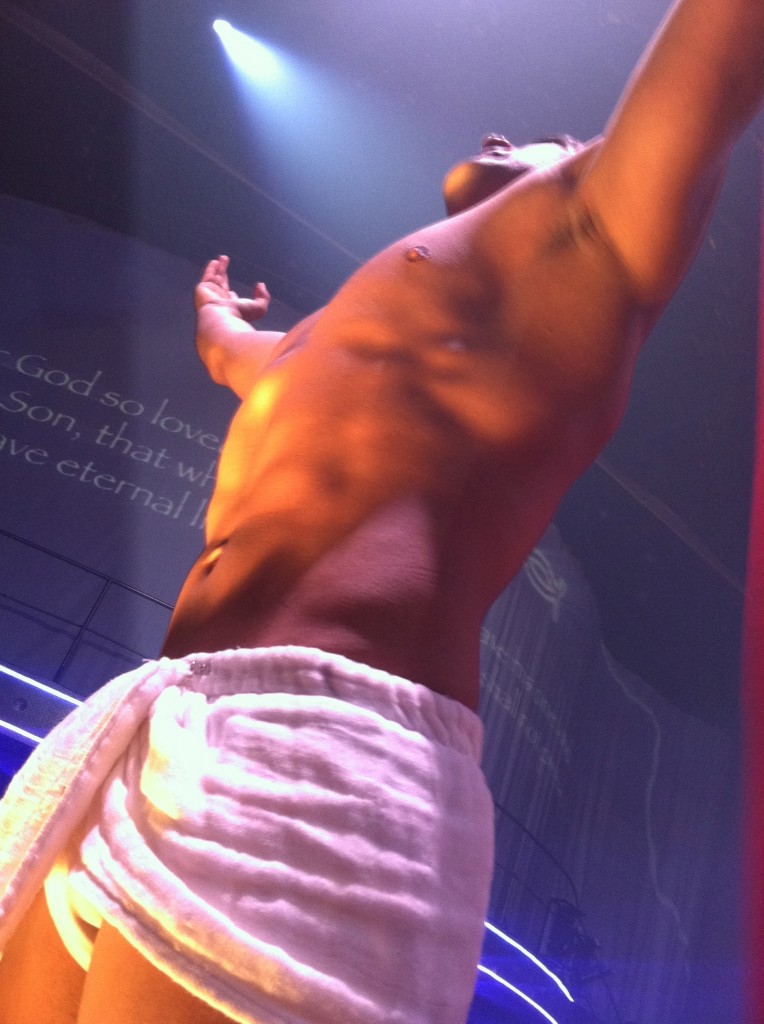 It was crazy there…….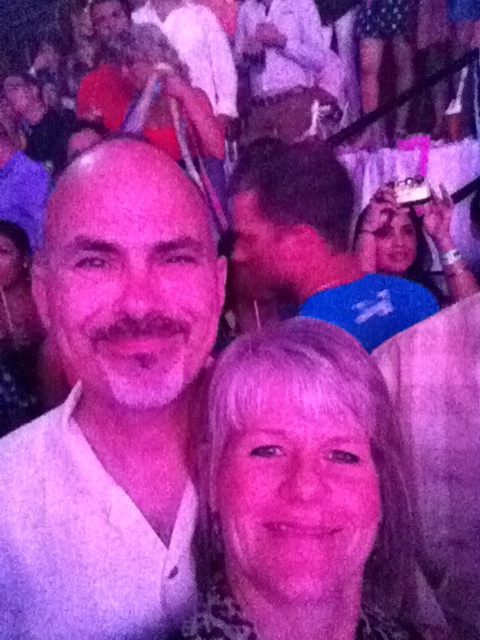 On Valentines Night, we celebrated the marriage of one of the couples that went on our trip! They eloped on New Year's Eve! The HardRock was great about satisfying any wish you have! We had this entire roof top to ourselves for a private dinner for the 10 of us! We had an entire bar, a nice full staff, and they even had music for us! It was a great night! One of my favorites!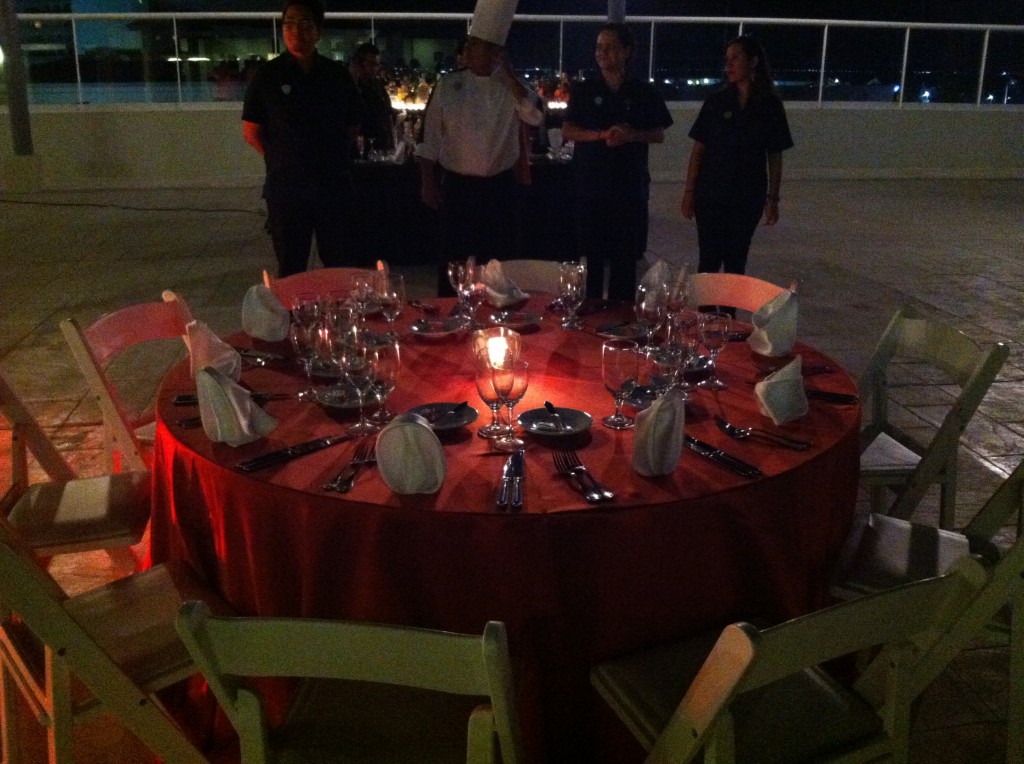 On another night, we all made reservations for the Romantic Lobster Dinner on the Beach!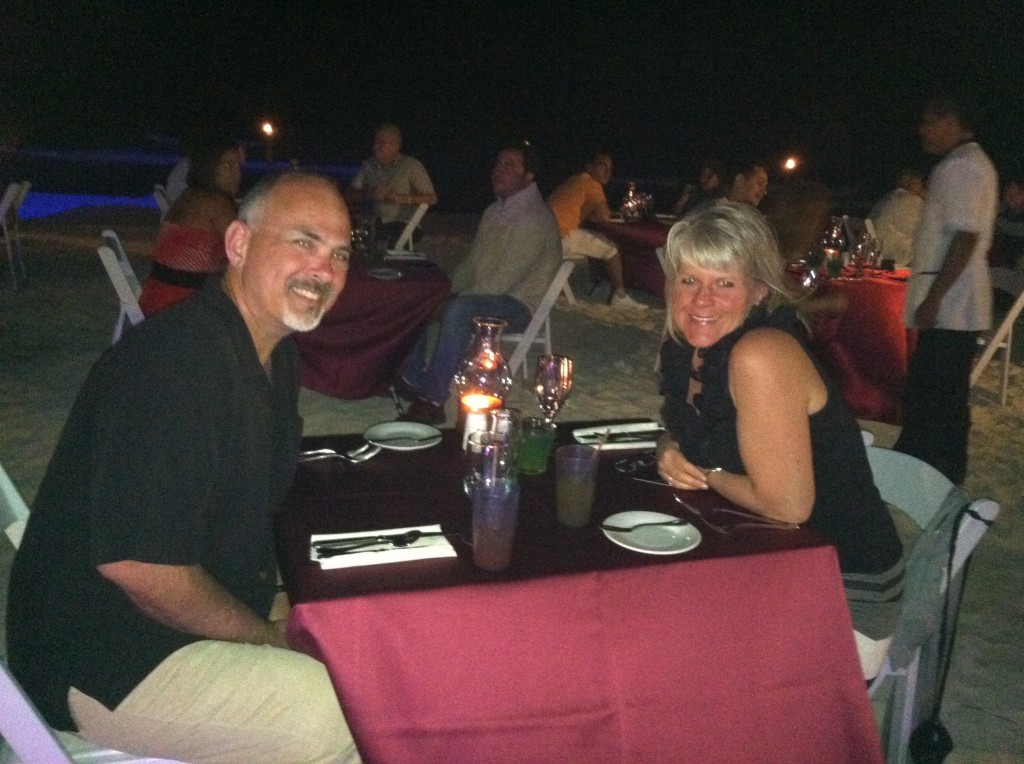 Of course, we had our usual silly photo's…..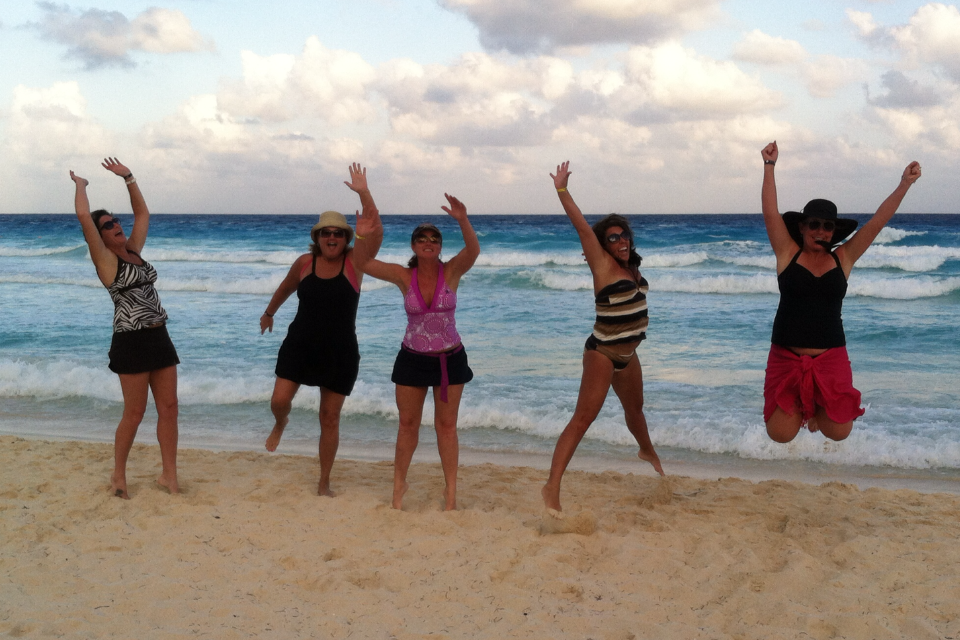 I can't pick a favorite….
The boys don't like our silly photo's as much as we do, but we make them participate anyhow.
We ate lots of yummy snacks…..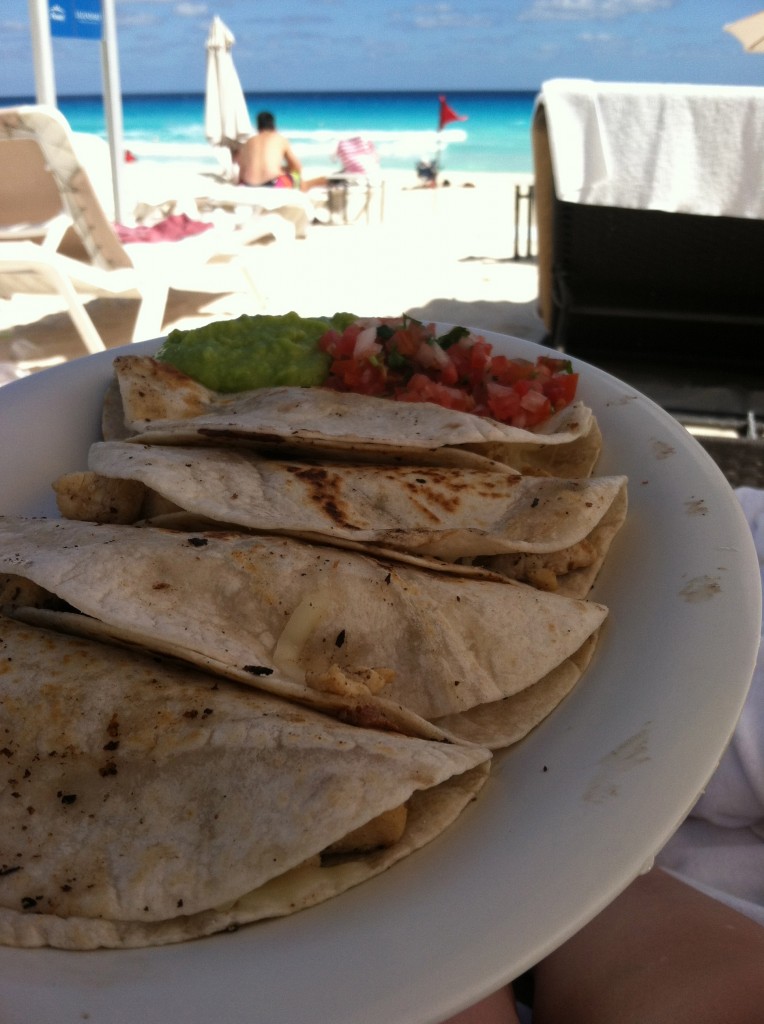 and lots of yummy meals…..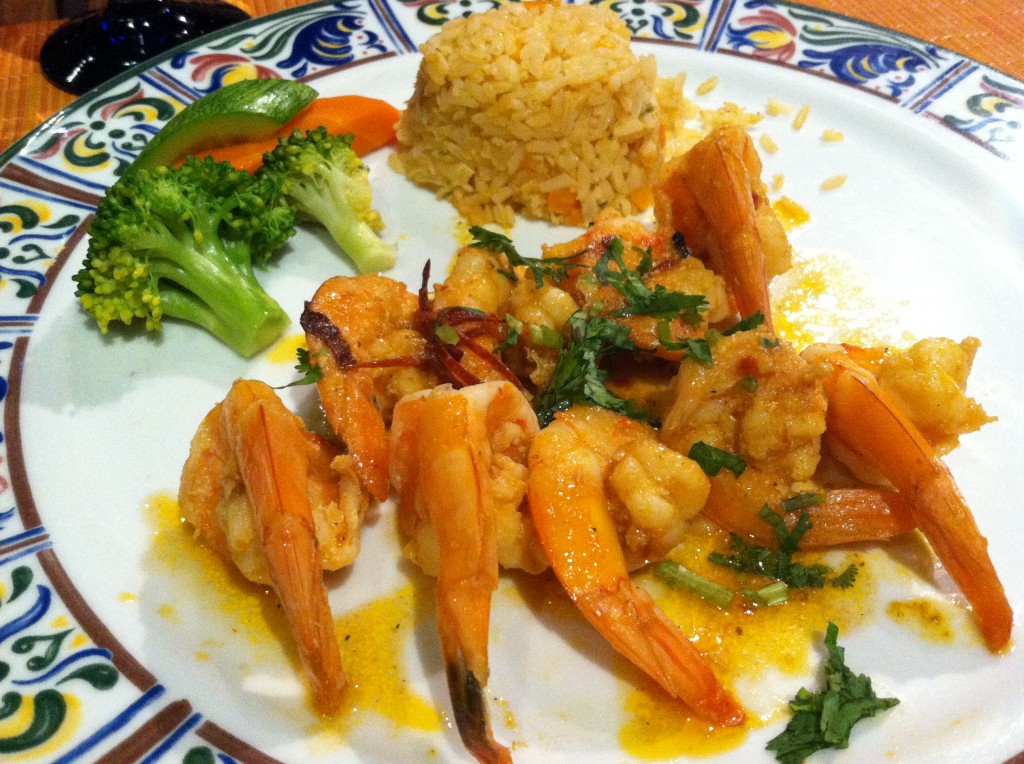 I didn't take pictures of ALL of the food that I ate…..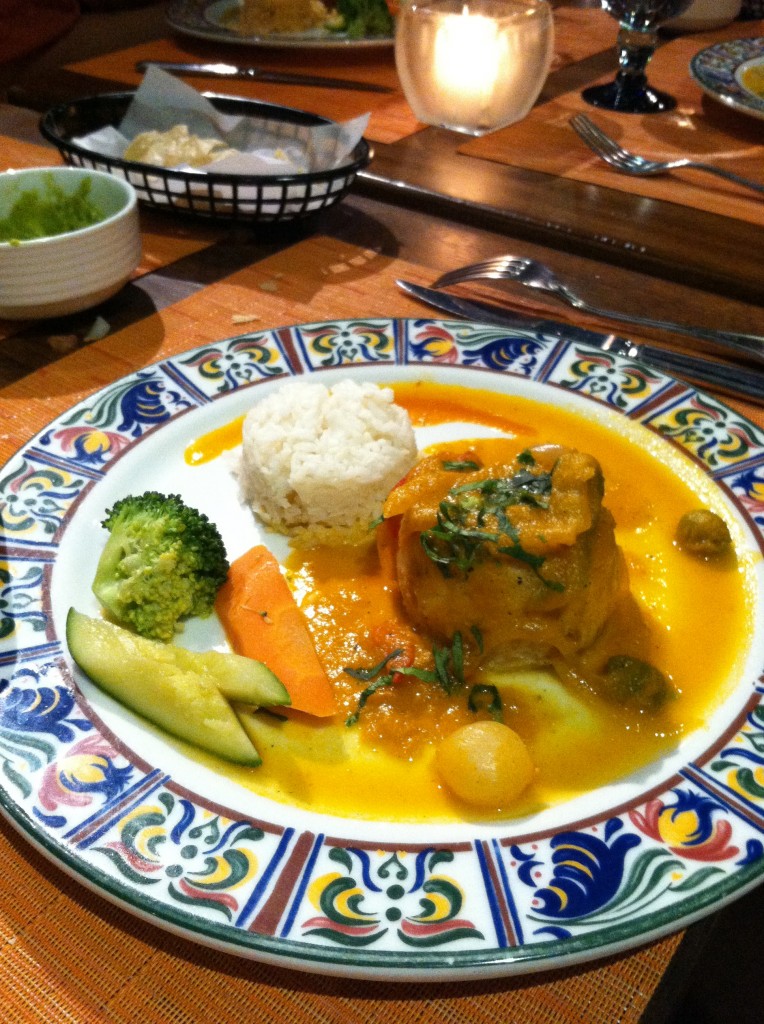 But I did take just a few….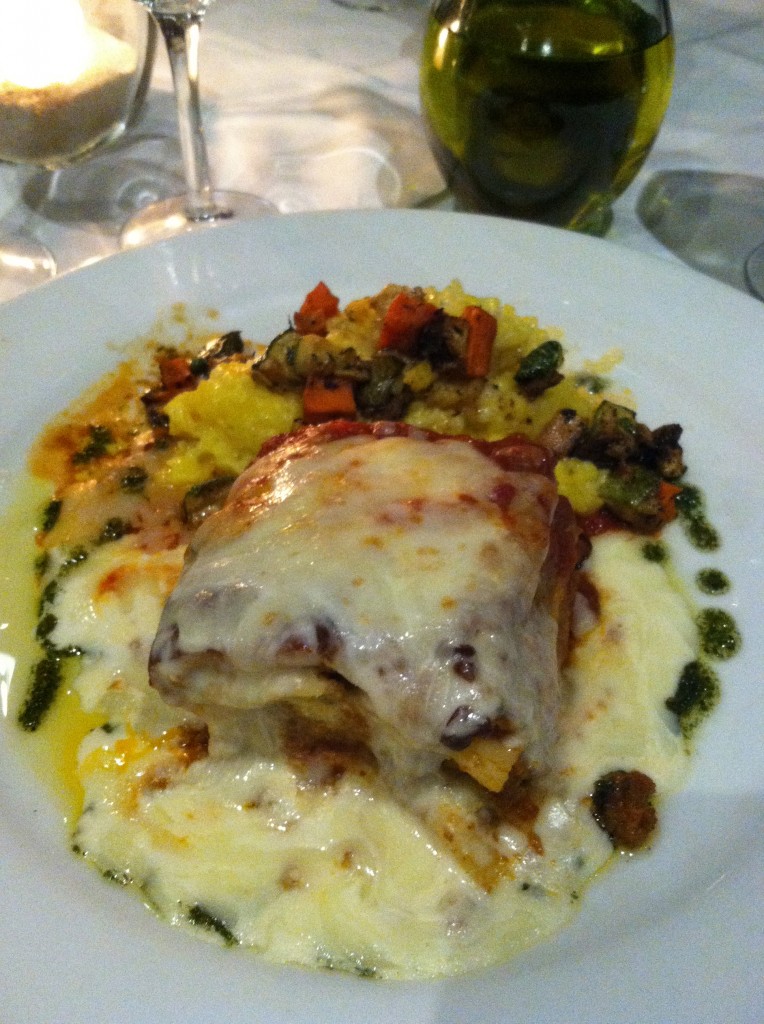 I did get in a salad here and there….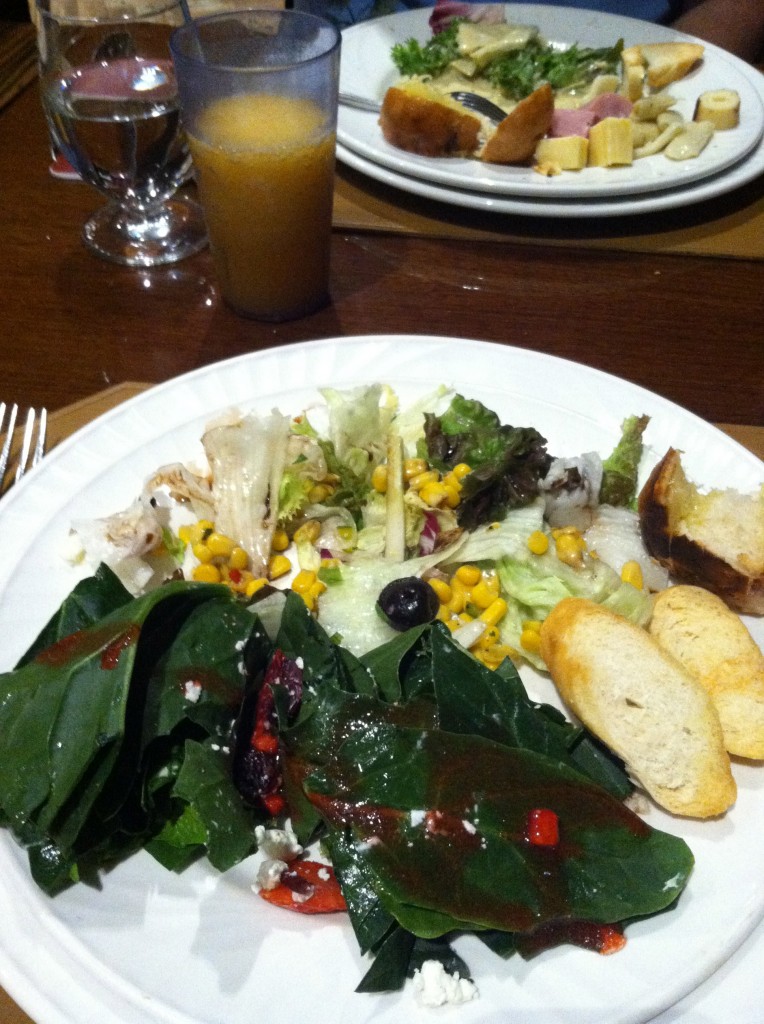 They serve lots of sweet treats too!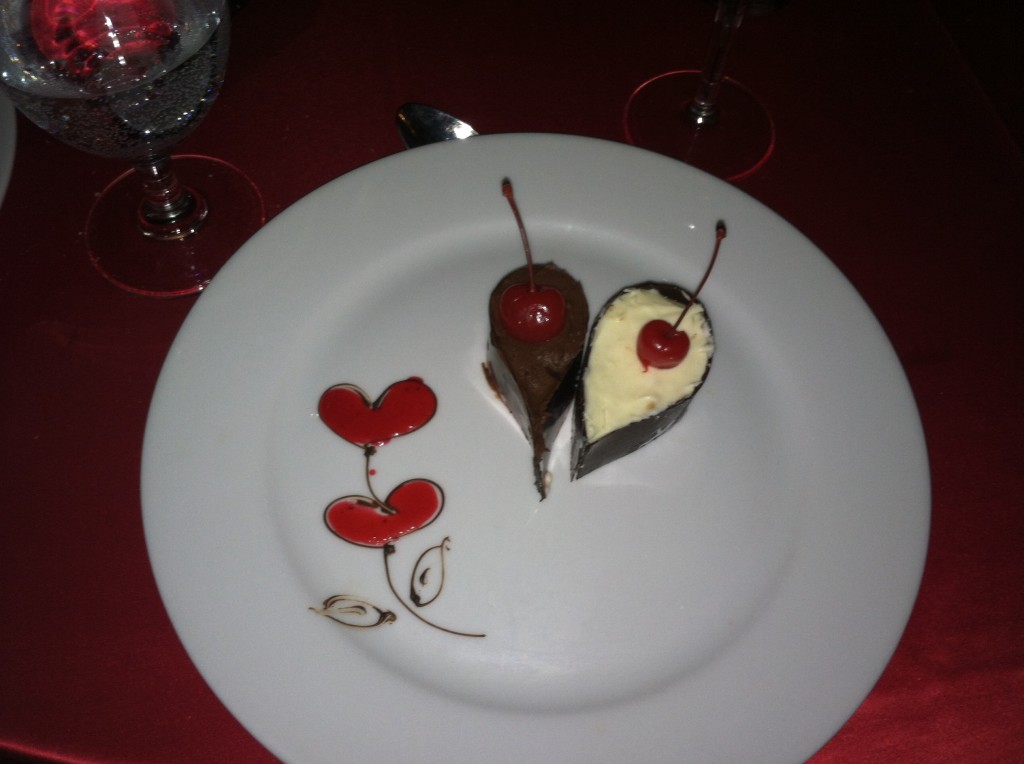 The presentation was awesome!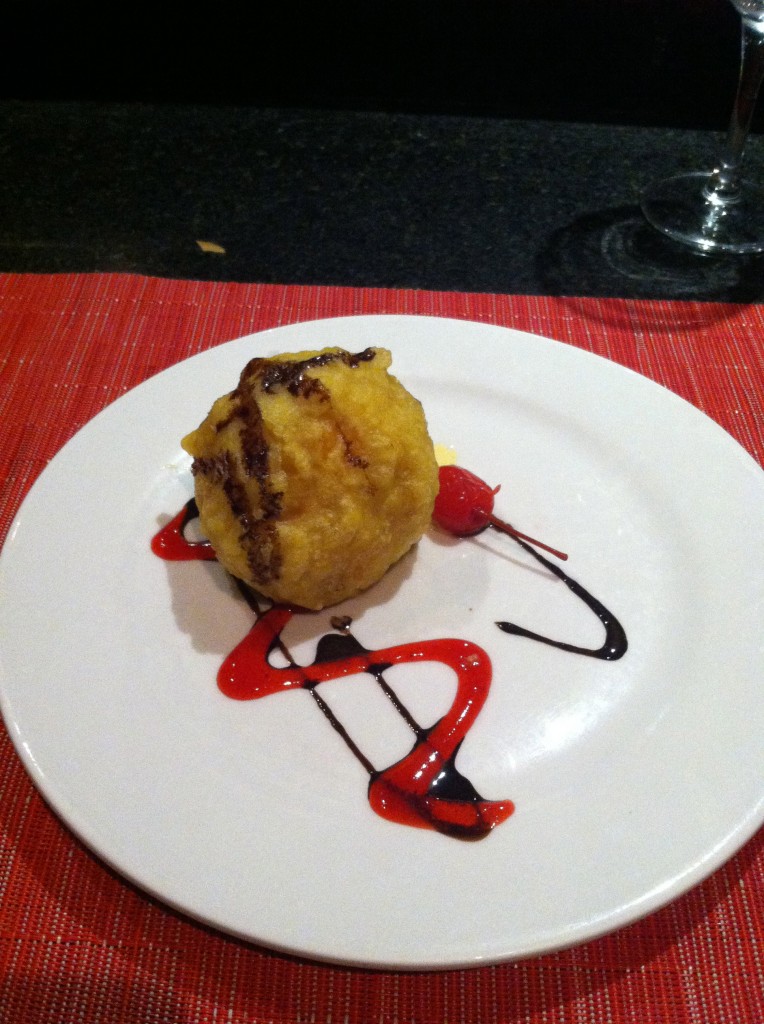 This Pumpkin Brûlée' didn't taste like pumpkin, but it was yummy!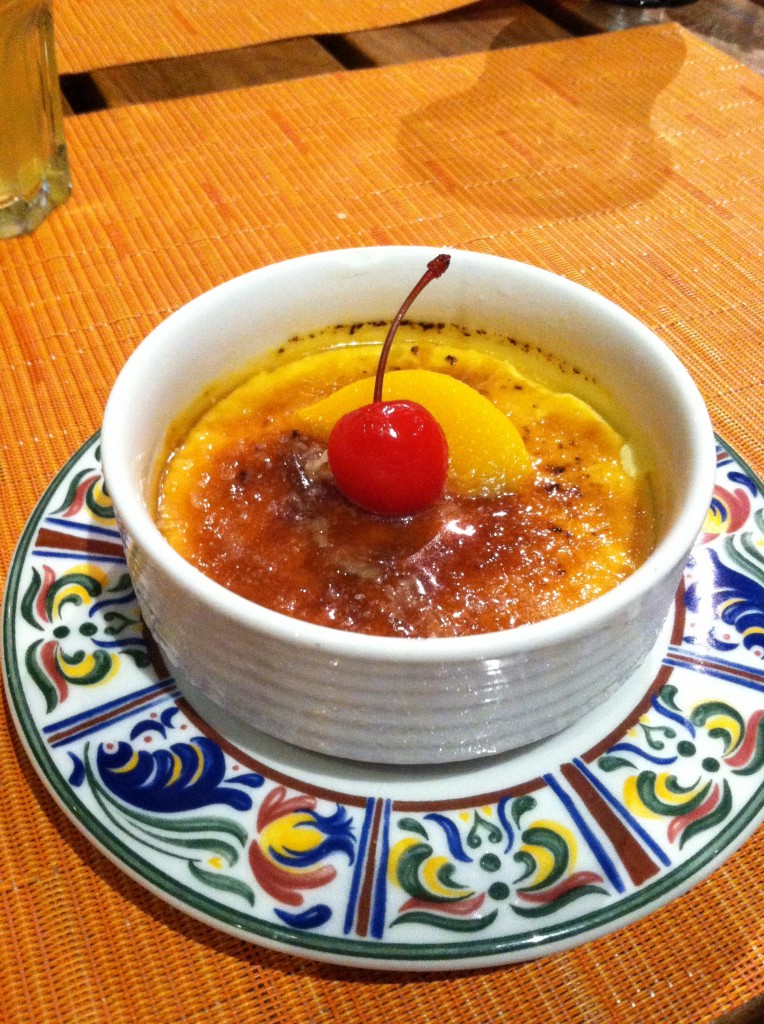 These are just a few of the many (MANY) drinks we had…..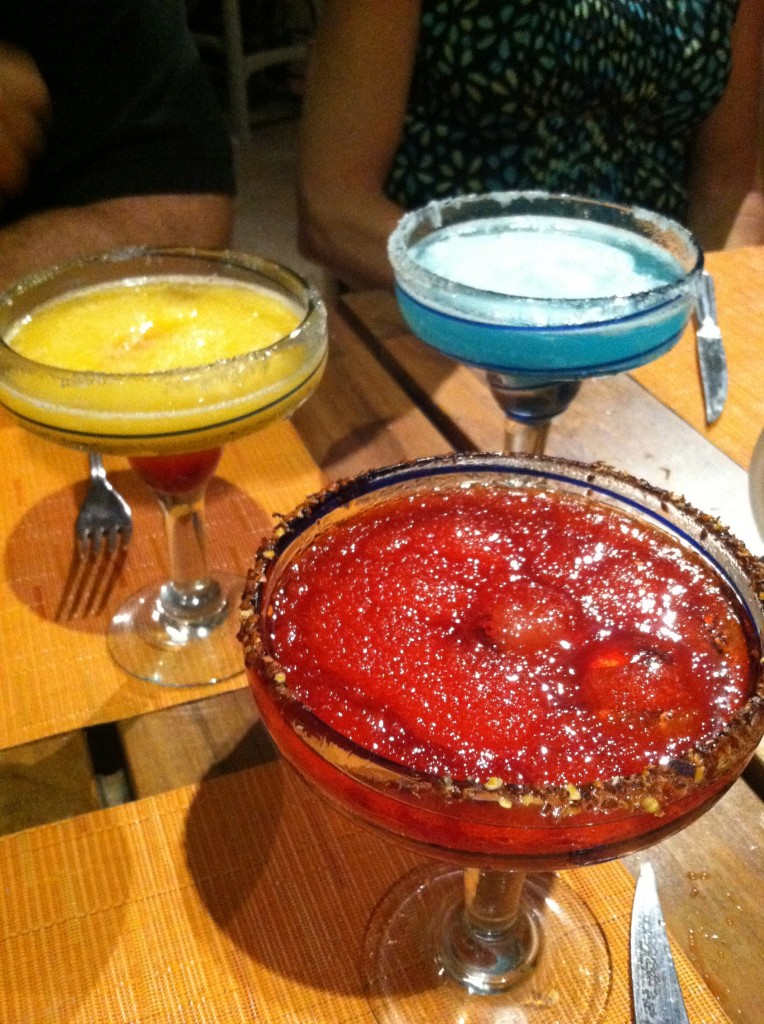 At Coco Bongo, confetti falls from the ceiling ALL NIGHT LONG!! (right smack into your drinks!!)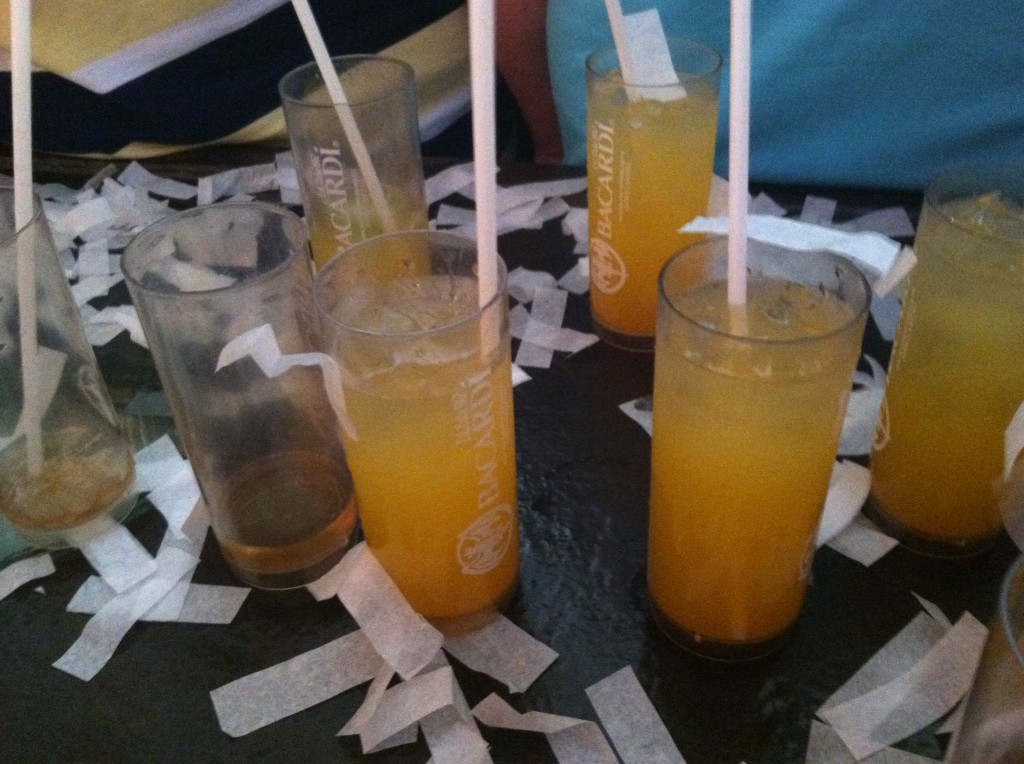 I'm a Dos Equis fan….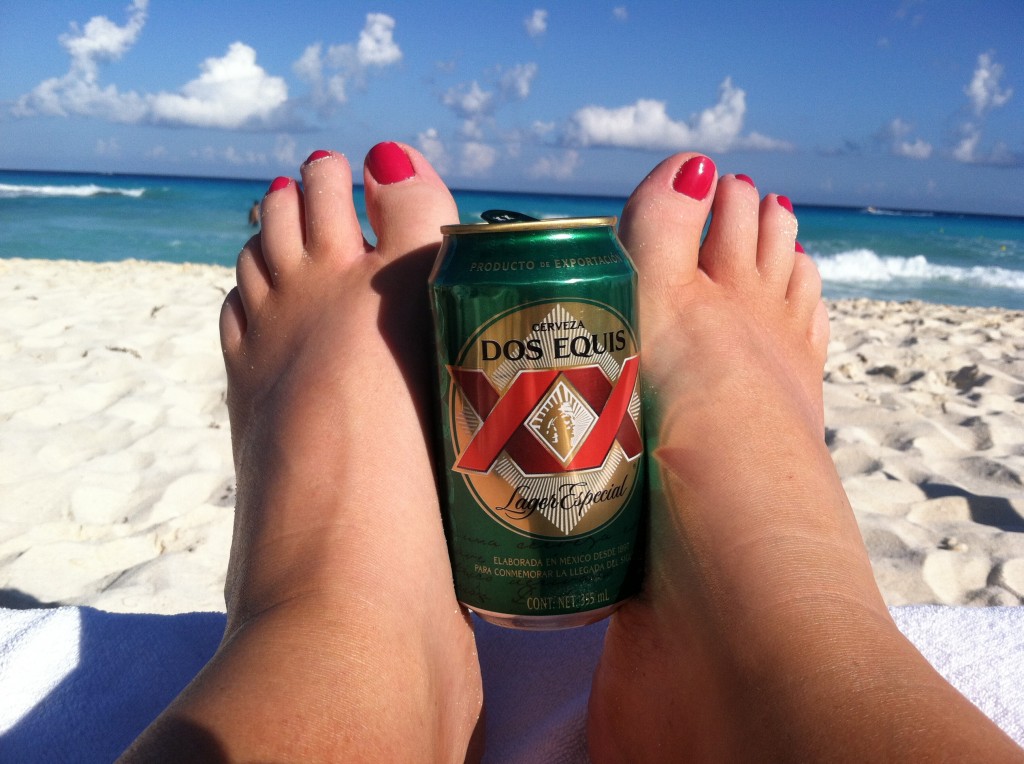 This Mojito at the swim up bar wasn't too shabby either….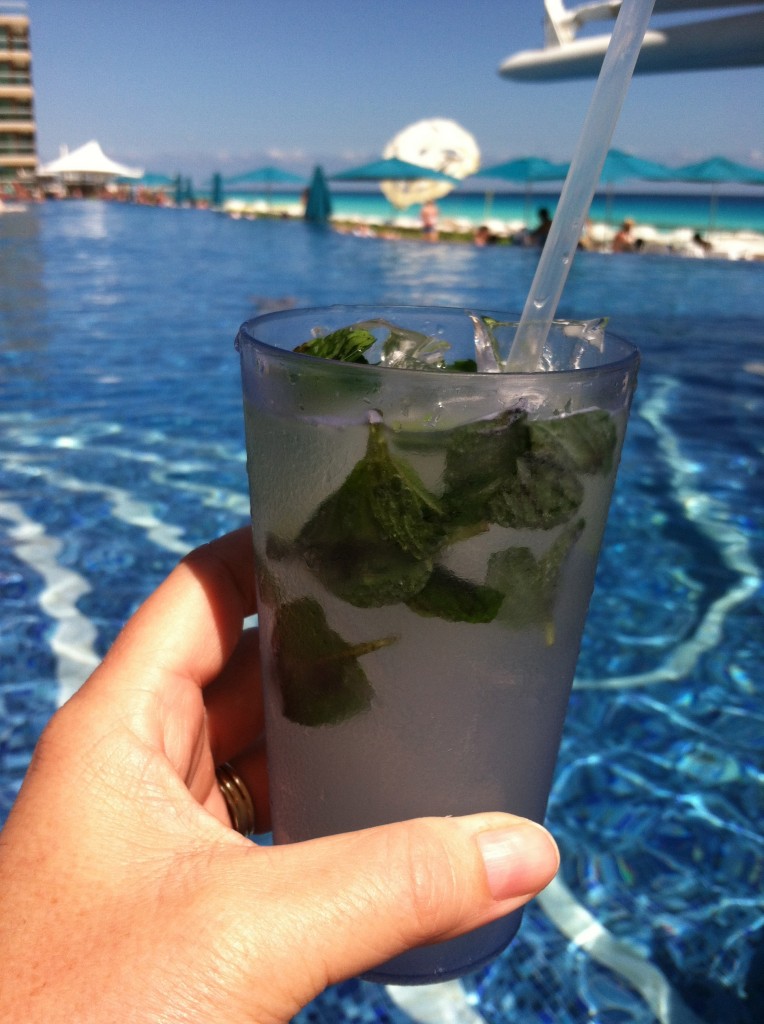 This was already on the table when we were seated for our Lobster dinner on the beach!
Then they poured Champagne!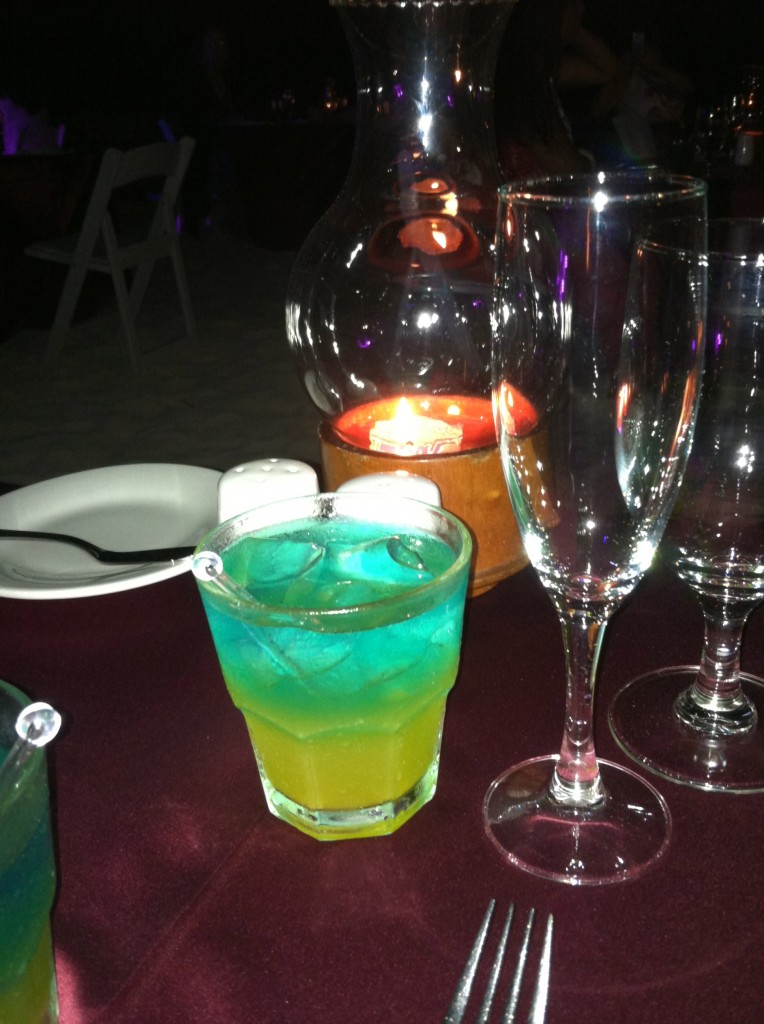 Valentine's Dinner drinks!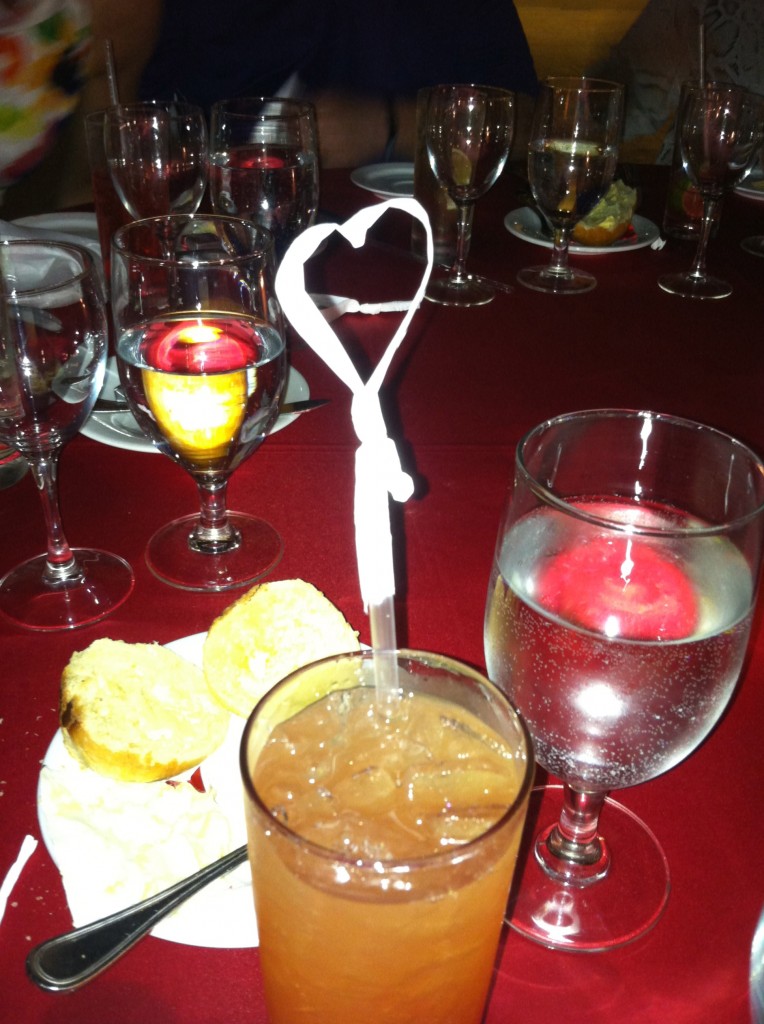 One last drink at the airport coming home….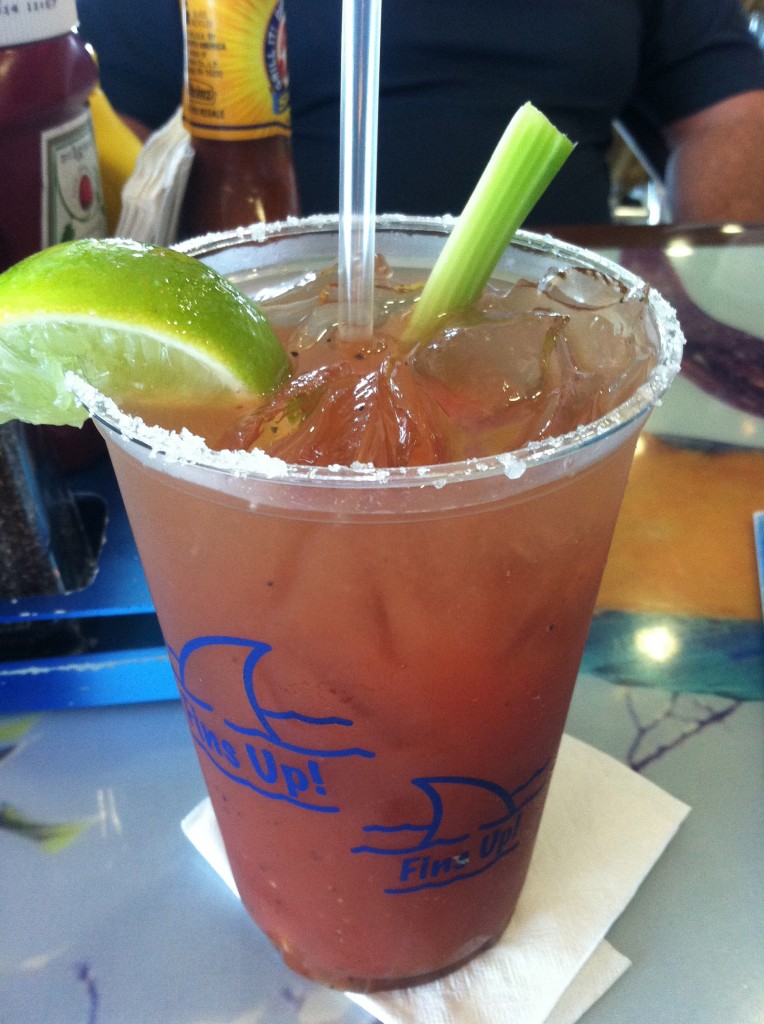 I didn't get ANY great group photo's, but I do like this picture of me and the hubby!
Vacation was great. The sun felt so good. It's always nice to get away.
I ate a lot. I drank a lot. I only walked the beach a few times, and I wouldn't really call it a workout. I did drink a ton of water. I tried to eat a lot of fruit, but 24 hour accessibility to food and drink at an all inclusive resort, is a challenge to say the least, I don't care how much you weigh or what you eat on a regular basis!!
I am going to my Weight Watchers meeting Friday morning. I have an idea where I will be.
I do know this……
Vacation's make me happy……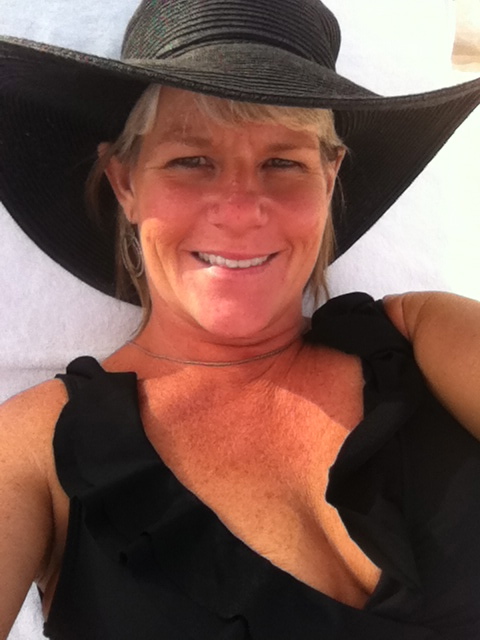 "love the life you live, live the life you love"