First of all, this is the most St. Patrick's Day celebrating I've done in my entire life! It all started with the St. Patrick's 4 Mile Run on Saturday, followed by an email from an Aunt of mine informing me that we actually do have a little bit of Irish blood in the family on my dad's side!! After discovering that, I will now feel the need to celebrate St. Patricks Day from here on out by going to Irish Pub's, inviting family over for Corned Beef and Cabbage, wearing all things green, and participating in the various St. Paddy's Day events throughout the city! I'm Irish!! (just a wee bit)
I'm Julie O'Farmer!
Okay…Man oh man, I had the munchies all day long and had a hard time controlling myself!
I bought some Hummus Chips the other day, and I discovered that they were better than I expected them to be.
Almond Butter makes a great little treat right off the spoon, but 1 T. is 3 PPV! I'm going back to my Better n' Peanut Butter. It's only 1 PPV for 1 Tablespoon!
I ate leftover green beans and mashed potatoes for lunch, which was fine, but I followed it up about an hour later with a mini bean and cheese quesadilla?
I bought miniature St. Paddy's Day sugar cookies for the grandkids for dessert at our impromptu St. Patrick's Day Dinner (I'M IRISH!!), and I guess I thought I could eat just one, but I accidentally ate a second, then a third!! That was FIVE points!!
All of this, and I had corned beef, cabbage and potatoes planned for dinner!!
My taste buds and cravings were all over the place. I think I needed some planned protein for lunch, and I failed there, so continued to munch on whatever was around. I was going to plan out my lunches this week, and hosting St. Patrick's Day dinner was unplanned (I just found out…I'm IRISH!!) and I literally let that throw me off for the day.
Now…..let me tell you about the AWESOME Corned Beef and Cabbage dinner that I made, since I'm Irish.
I've told you before that any recipe I make from The Pioneer Woman is always magnificent! Well, I followed the directions exactly, and this was amazing!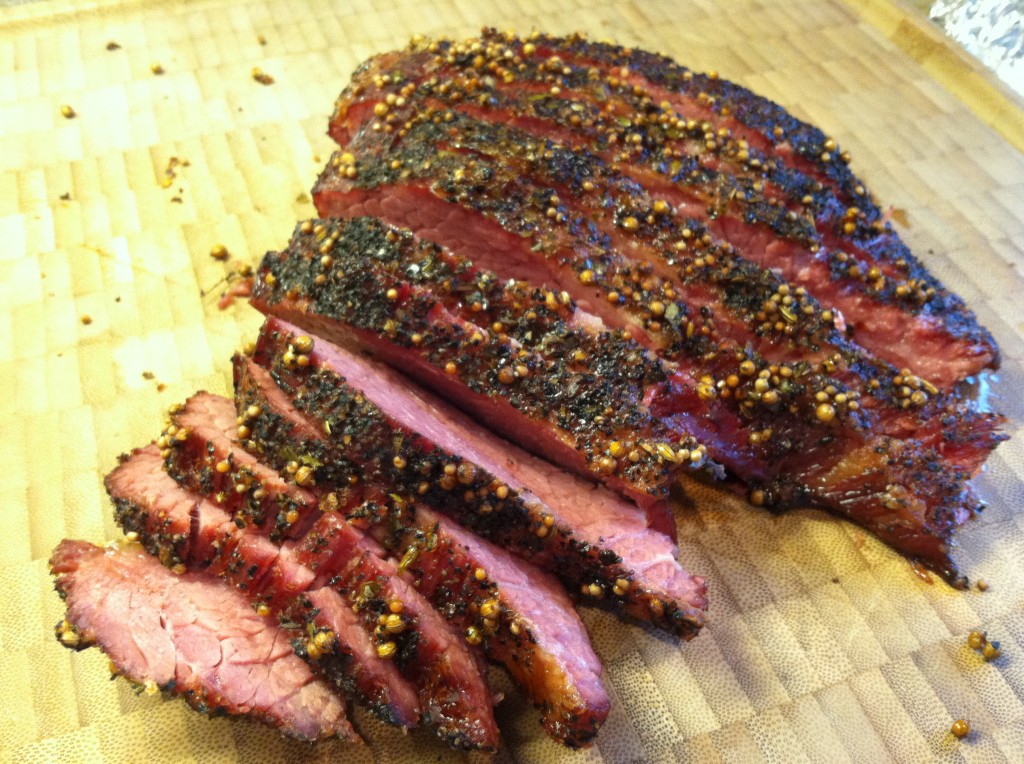 I ended up having St. Paddy's day dinner for our kids and grand kids that could make it. This is when I decided I needed to know what Irish Soda Bread was (If I'm Irish, I should know these things), and I decided that the kids needed Green Cookies for dessert and Green Drinks with their Dinner!
I made them Green Sprite, served it in Beer Tasting Glasses, and told them they were drinking Green Beer!!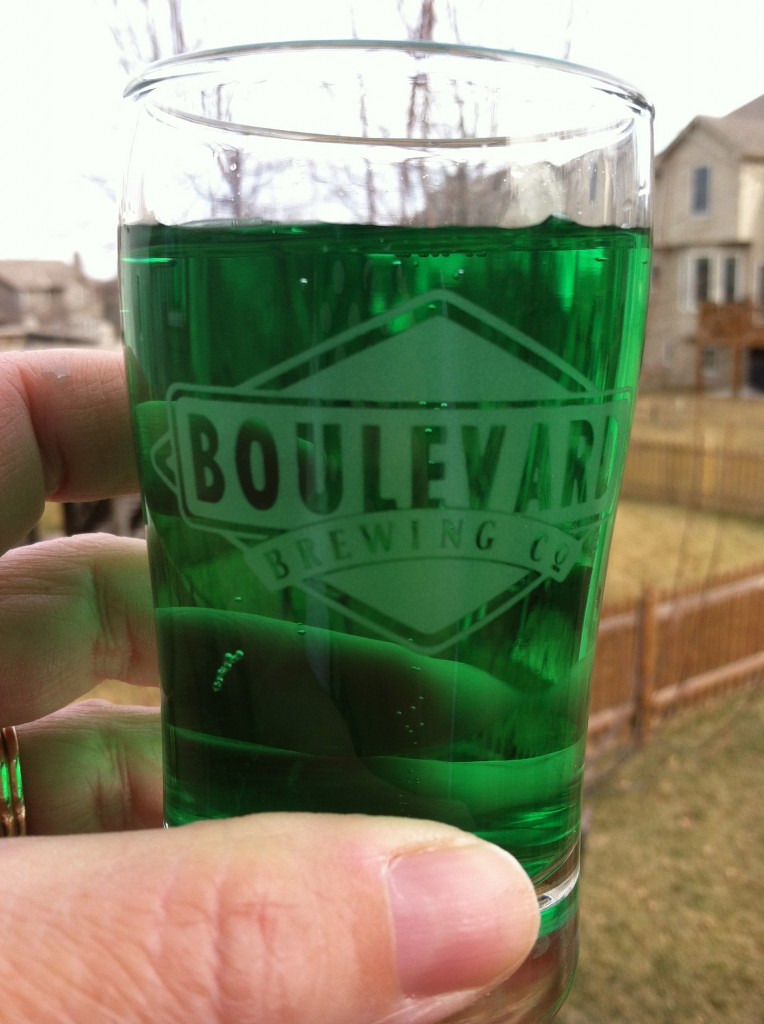 They love me…..
(doesn't he know everyone drink's Green Beer on St. Pat's Day?)

Why wouldn't they??
(Don't ask your mom. Drink your Green Beer!)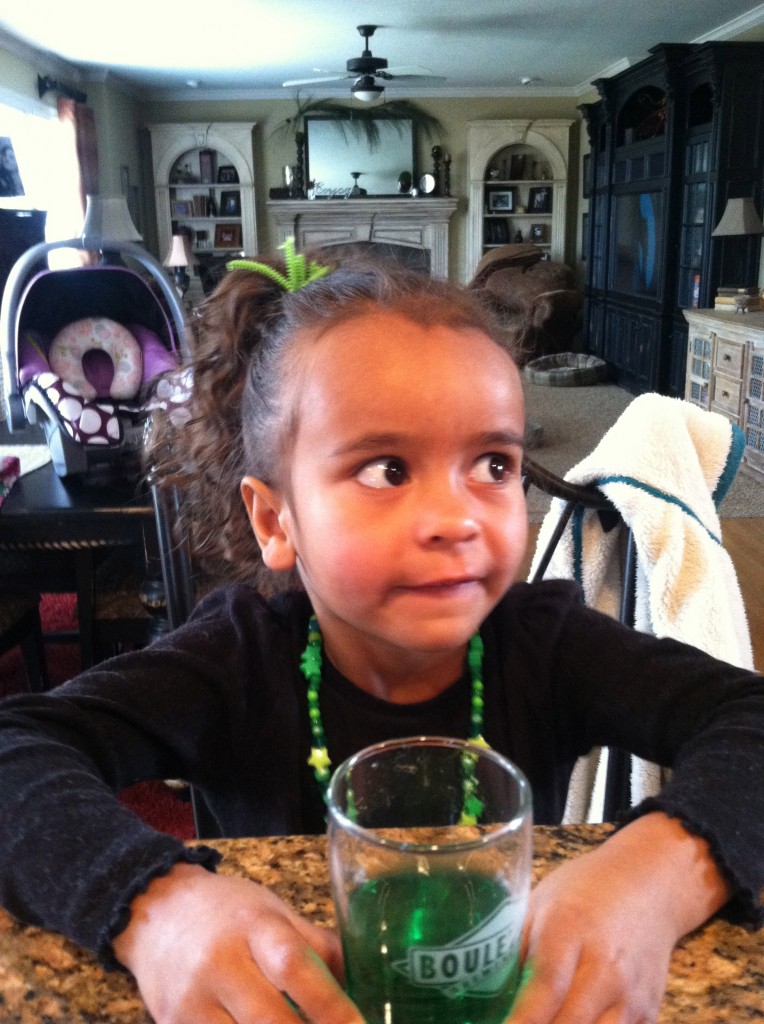 I did NOT give the baby Green Beer. She was laying down. I didn't want her to choke.

Um, my first experience with Irish Soda Bread was a good one!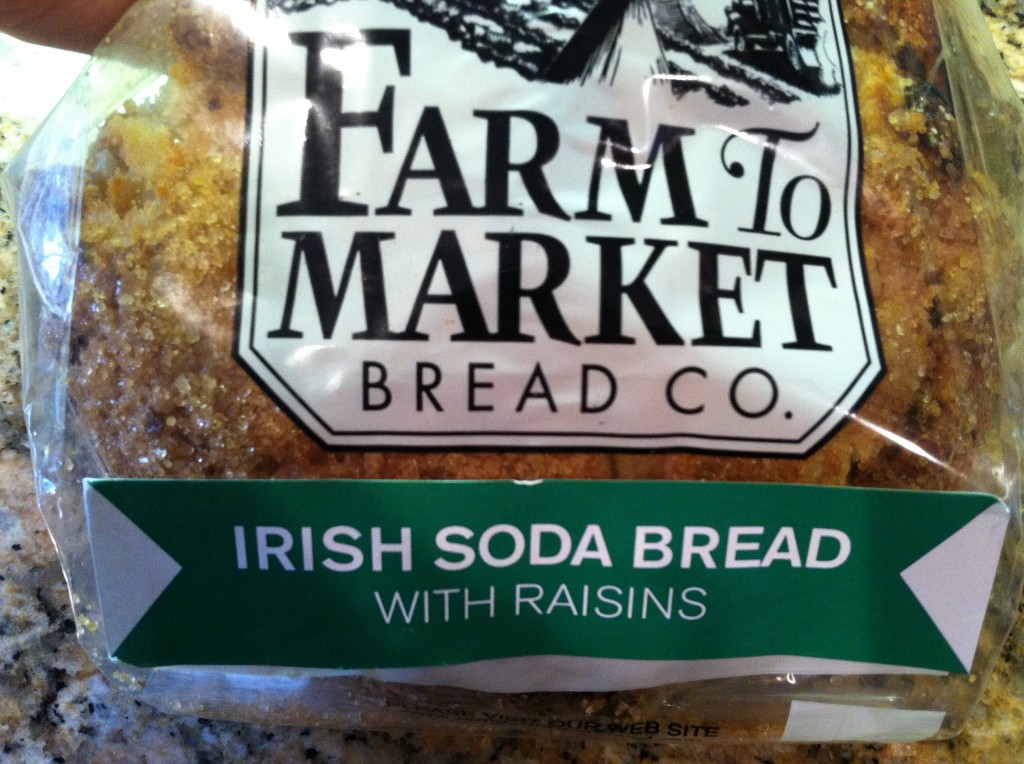 Dessert was a hit with everyone!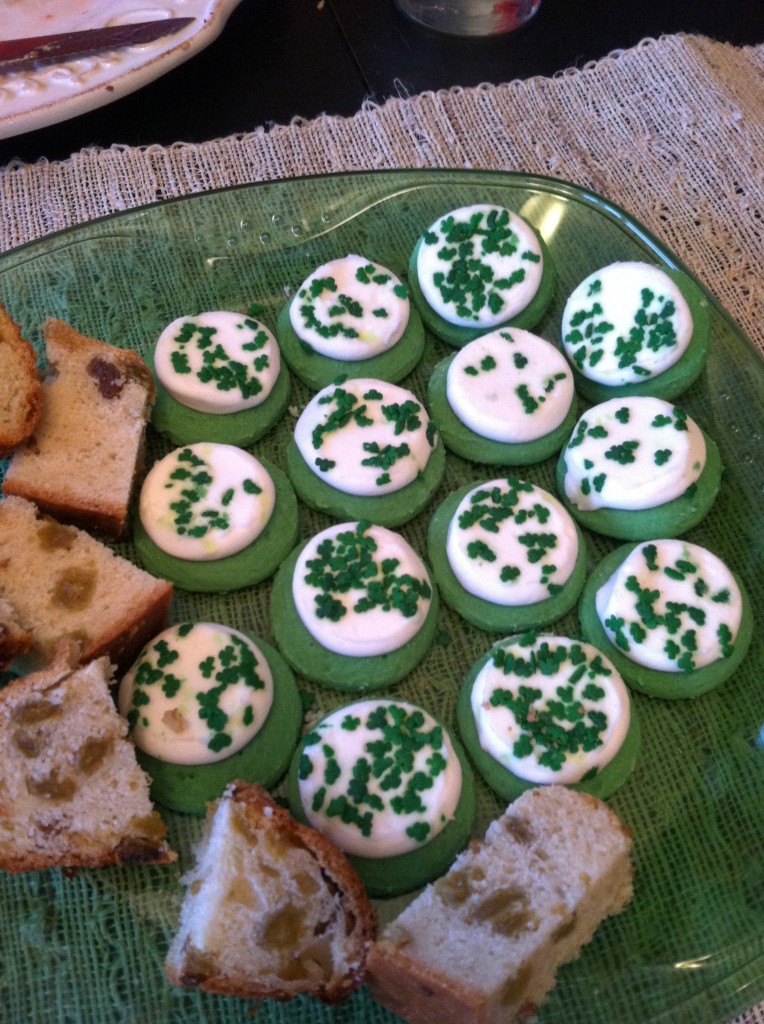 The kids ate seconds on the Corned Beef!!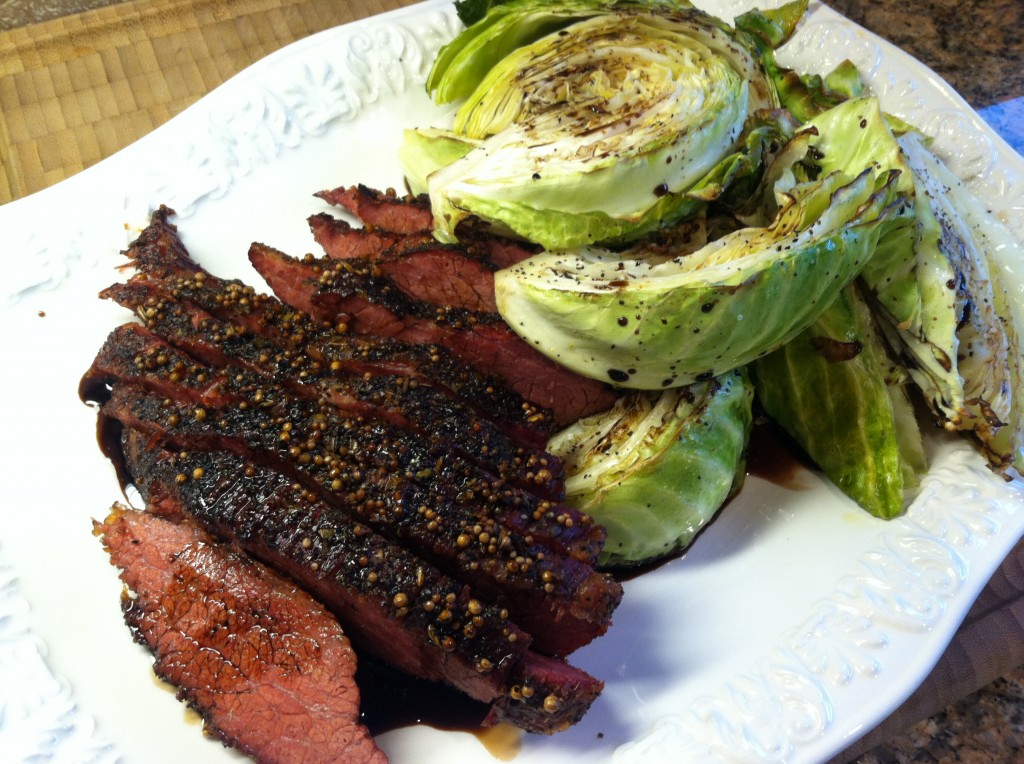 I was impressed…..with myself and my ability to follow a recipe. 🙂
Except for all of the points that I ate, and the fact that I never made it to the treadmill, it was a really great day!
Tess was able to FaceTime with all of us, and the kids (and possibly me and Grandpa too) argued over who's face got to be in the screen more! Goofy kids.
Here is literally, everything I ate today.
Breakfast
Green Eggs & Ham
Light English Muffin
3 Egg Whites, Laughing Cow Cheese Wedge
1 slice Bacon, cooked and chopped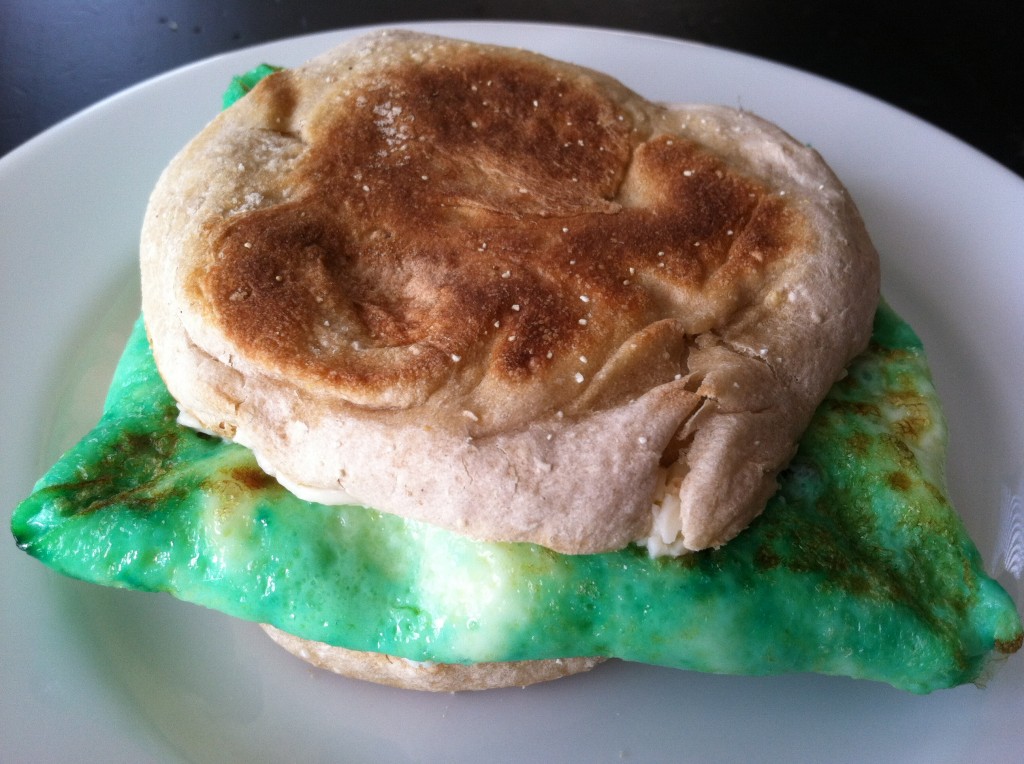 Snack
Hummus Chips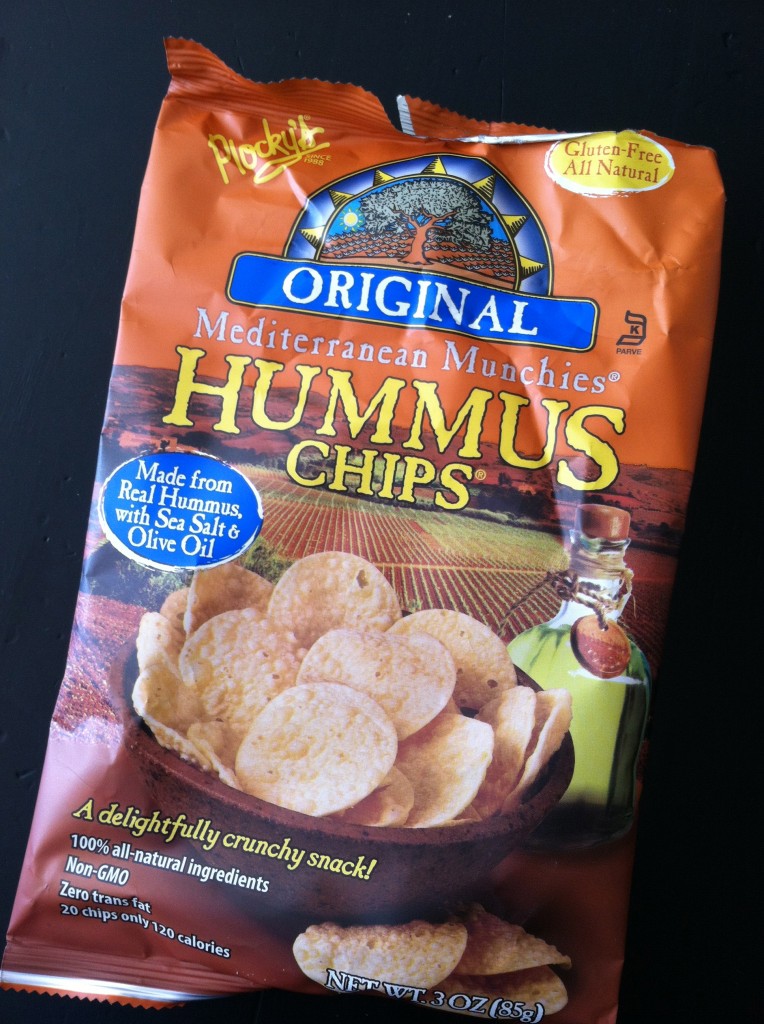 Lunch
Leftover Potatoes and Green Beans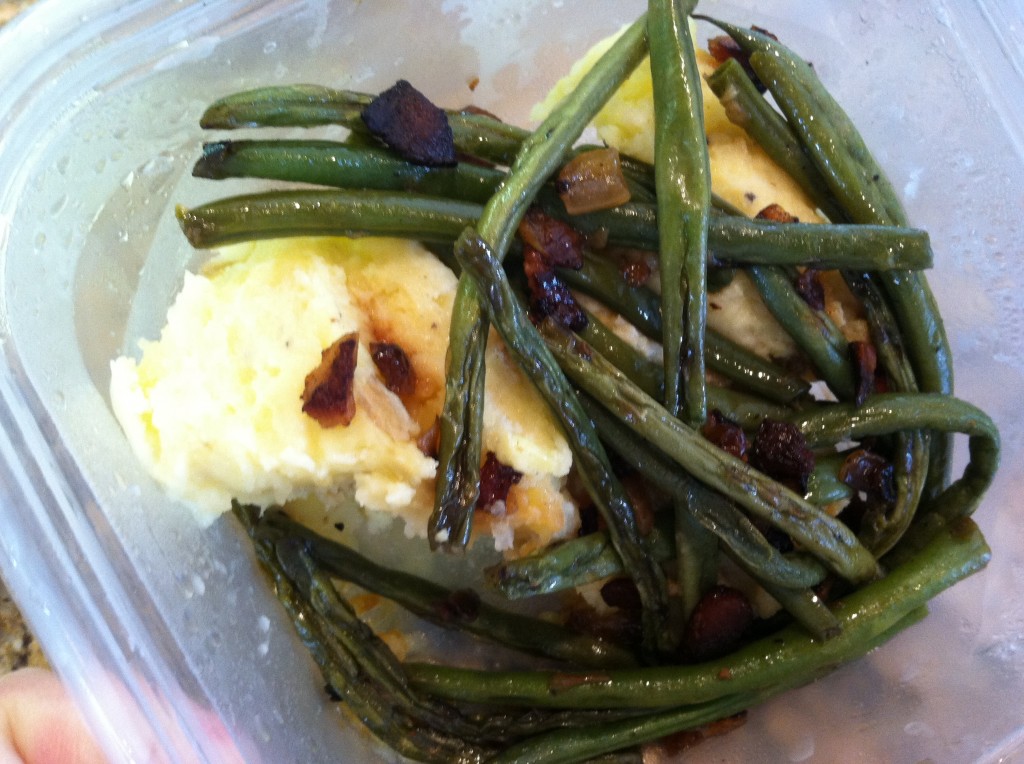 Snack
Corn Tortilla Quesadilla with FF Refried Beans and
Laughing Cow Queso Cheese Wedge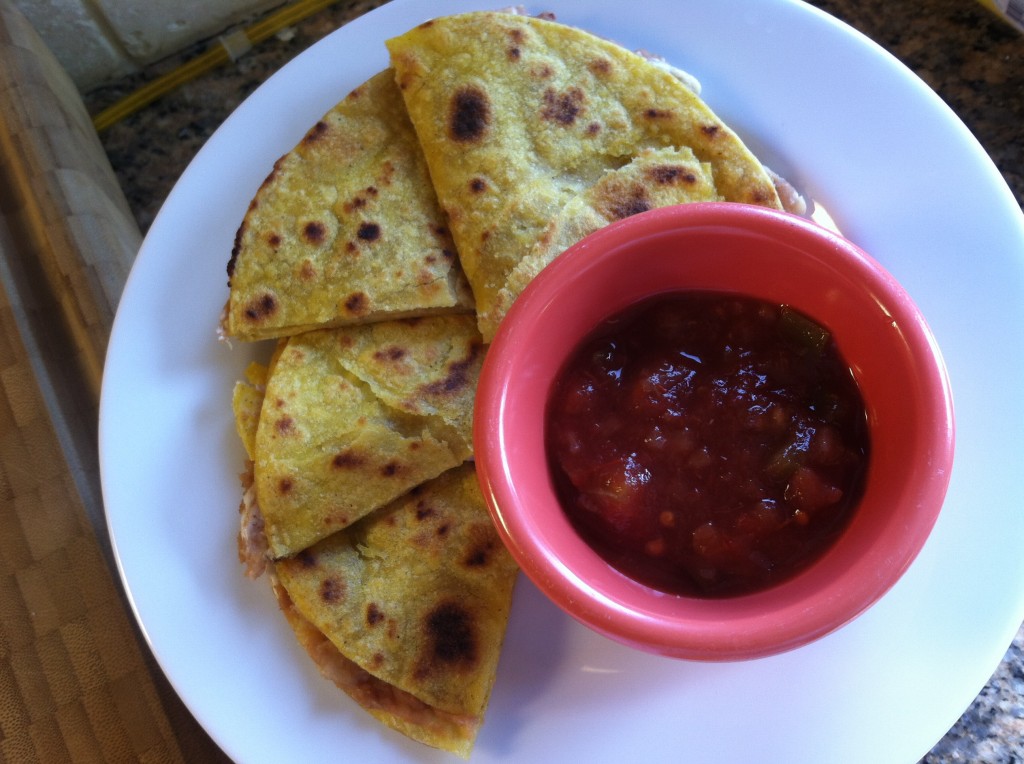 Snack
1 T. Almond Butter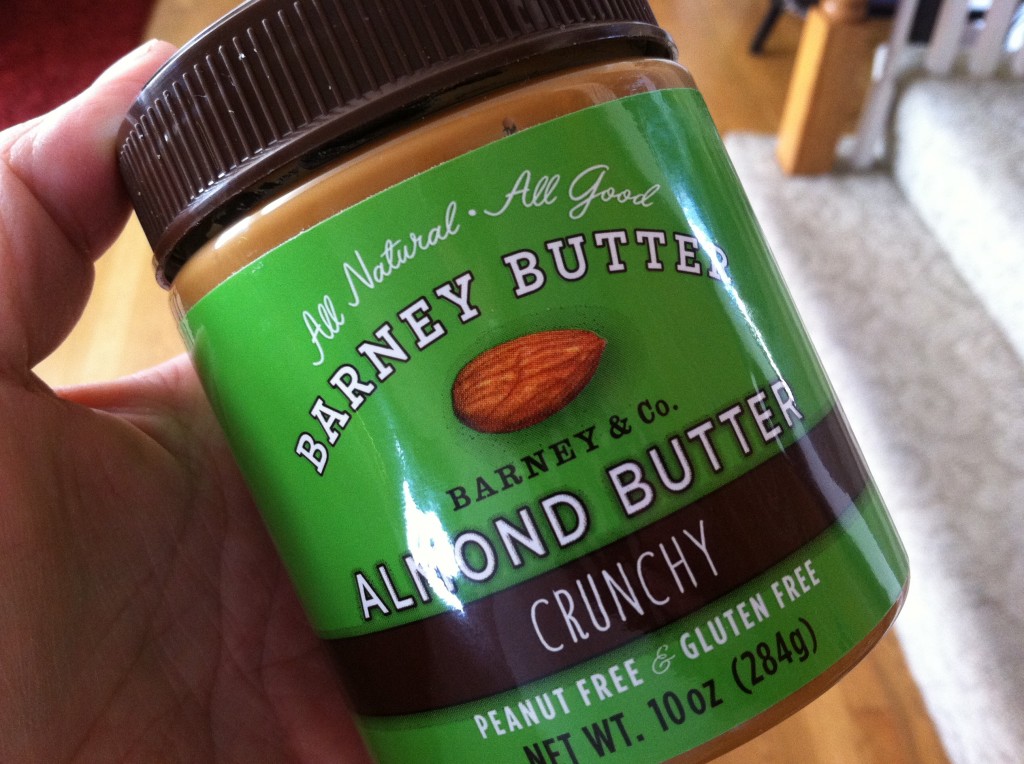 Dinner
Corned Beef, Cabbage, Potatoes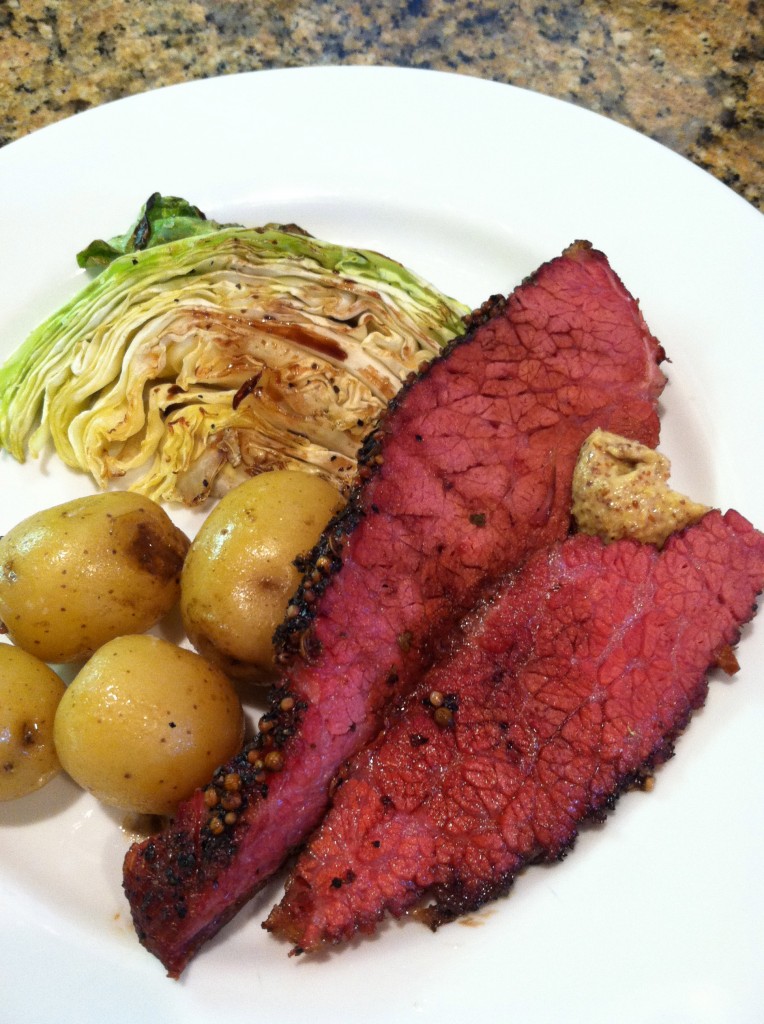 Weight Watcher's Points Plus
I can eat 26 PPV a day.
I can earn Activity Points by doing exercise, and eat them if I choose.
I have an allowance of 49 extra points that I can dip into throughout the week if I choose.
I should drink a minimum of 6 (8 oz) glasses of water each day.
My Weight Watcher Week Begins on Friday's
Breakfast = Breakfast Sandwich, Coffee with skim milk (7)
Snack = Hummus Chips (3)
Lunch = Potatoes, Green Beans (3)
Snack = mini Quesadilla (4)
Snack = Almond Butter (3)
Dinner = Corned Beef, Cabbage, Potatoes, Soda Bread, Cookies (19)
Total = 39
Exercise = none. 🙁
How many glasses of water I drank = 8, Not near enough with that salty dinner!
Activity Points Earned for the Day = 0
Activity Points Earned This Week = 10
Remaining points from my 49 Points Allowance = 10
Alcohol Consumption = none. Not even a Green Beer.
I saw this shopping a few weeks ago….
…made me giggle.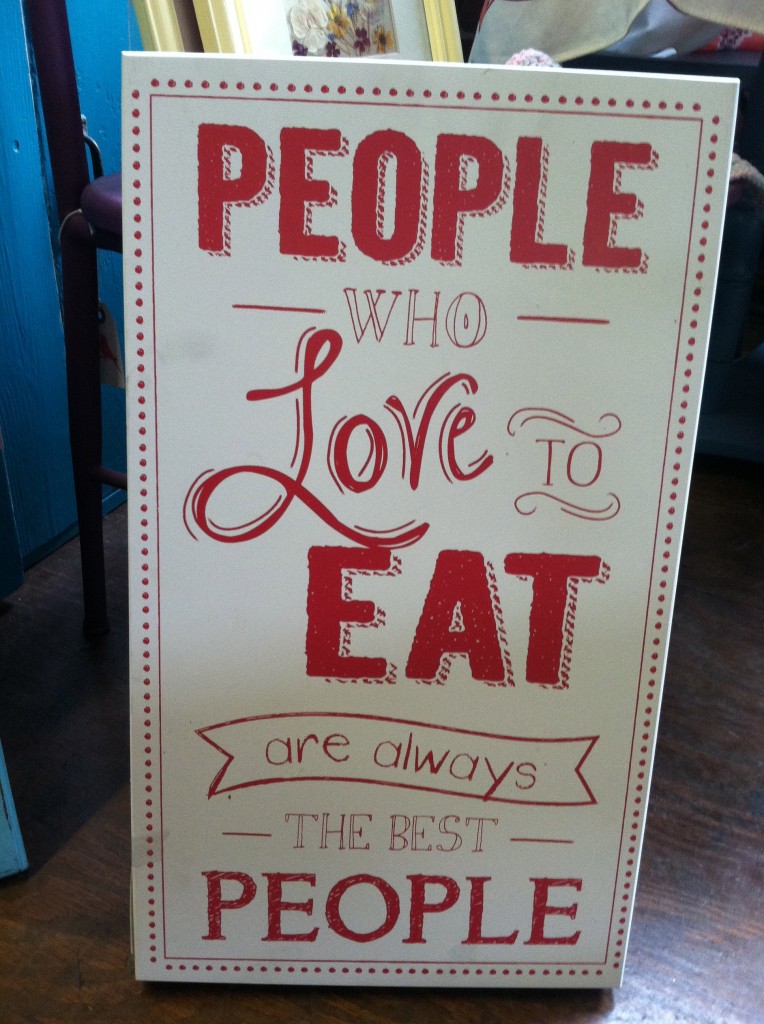 "love the life you live, live the life you love"