Well, I did it. I left the house with baby Charlotte yesterday.
Now, let me remind you, I have one daughter, and three step children. I've only had ONE baby, and as a teenager, I NEVER babysat. I had no interest. Maybe we just didn't have any babies on our street. I really don't remember. I don't even recall being asked to babysit and turning down the job. It just somehow never came up. So, my daughter, Tess, was my first and only experience with a baby! There was so much I didn't know.
Then our grandkids came along, the first one, seven years ago. None of them ever spent the night until they were a little older. Or maybe they did, but I don't remember ever requiring an infant seat in the car or carrying a diaper bag with me, so this whole "Gigi babysits Charlotte" thing is really new and exciting and a bit of a challenge all at the same time.
I knew I wanted to get out of the house, so I made lunch plans with a friend. I literally spent the entire morning getting ready for lunch!! Feeding, burping, rocking, changing, washing bottles for the next feeding (note: buy more bottles) changing my "spit up" shirt and listening to her cooo.
I was trying to be so cool about it all too. It had been over 20 years!!!
I actually drove to the fire department at 9:00 the night before to make sure the car seat base was properly buckled in the back seat!!! I know!
Anywho, we made it to lunch and all was a success.
I had planned to come home and jump on the treadmill, but somehow that never did happen. it didn't happen Monday either, or Tuesday. I've decided that I'll need to get up extra early, (which I know would make me feel awesome!!!!) or I need to do it as soon as her mom picks her up, before I EVEN think about doing anything else!!
Today's meal plan….did NOT go as planned. I cooked what I planned, but did not eat the dinner I planned, but I did have a plan.
Breakfast – Greek Yogurt and Fruit
Lunch – Salad
Snack – Smoothie
Dinner – Stir Fry with Quinoa in place of rice
Breakfast
I took me awhile to like nonfat plain Greek Yogurt. I still have to add 1 packet of sweetener. I'm partial to Truvia. I tried to just enjoy it with the sweetness of the fruit I added, but it just wasn't doing it for me. I haven't bought the Greek Yogurt in quite a long time, so I'm glad I took on this 21 day challenge. It's making me try hard to eat a variety of foods and reminding me of some of the foods that I've had in the past that I forgot I liked so much!
1 Cup has 22 Grams of Protein!!
1 Cup Plain Nonfat Greek Yogurt
1 Packet of Sweetener
1 Cup Strawberries mixed in with the Yogurt, then a few on top
Cinnamon Sprinkled on top
3 PPV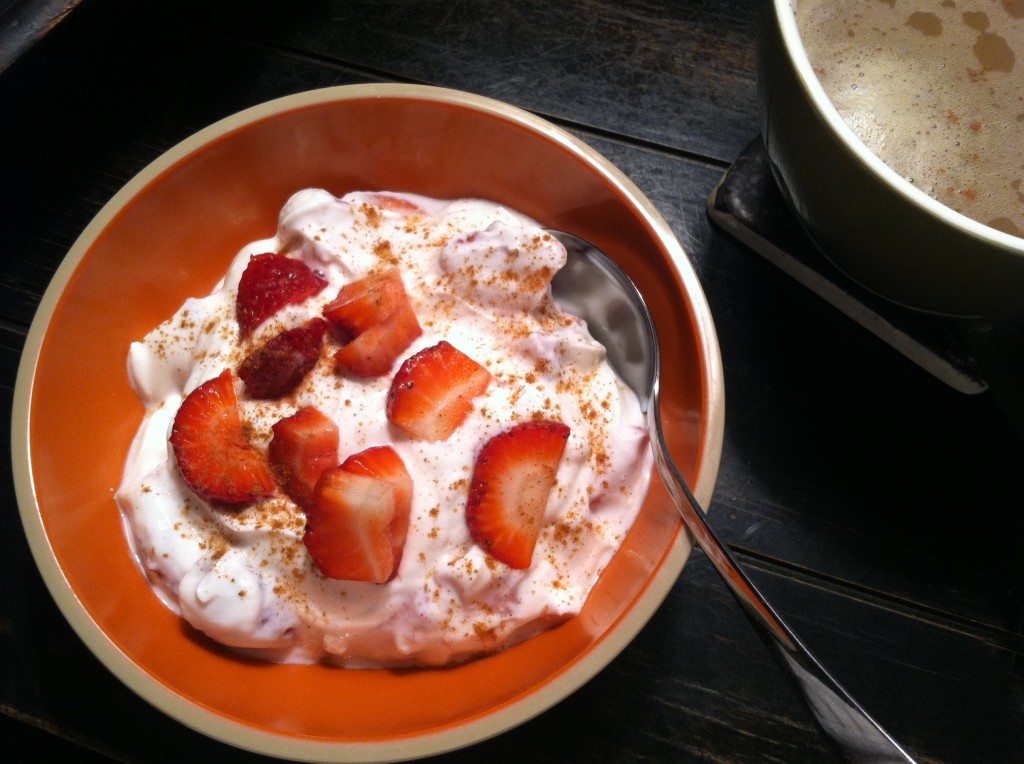 Lunch
San Diego Chicken Salad at First Watch
with Grilled Chicken, Cheese, Avocado
Avocado Ranch Dressing on the side
12 PPV
Snack
Vanilla Banana Smoothie
WW Vanilla Smoothie Mix, 1 C. Water, 1/2 C. Ice
Un-Pictured frozen Banana Chunks (about 1/2 of a banana)
Top with 1/4 GoLean Kashi Cereal
3 PPV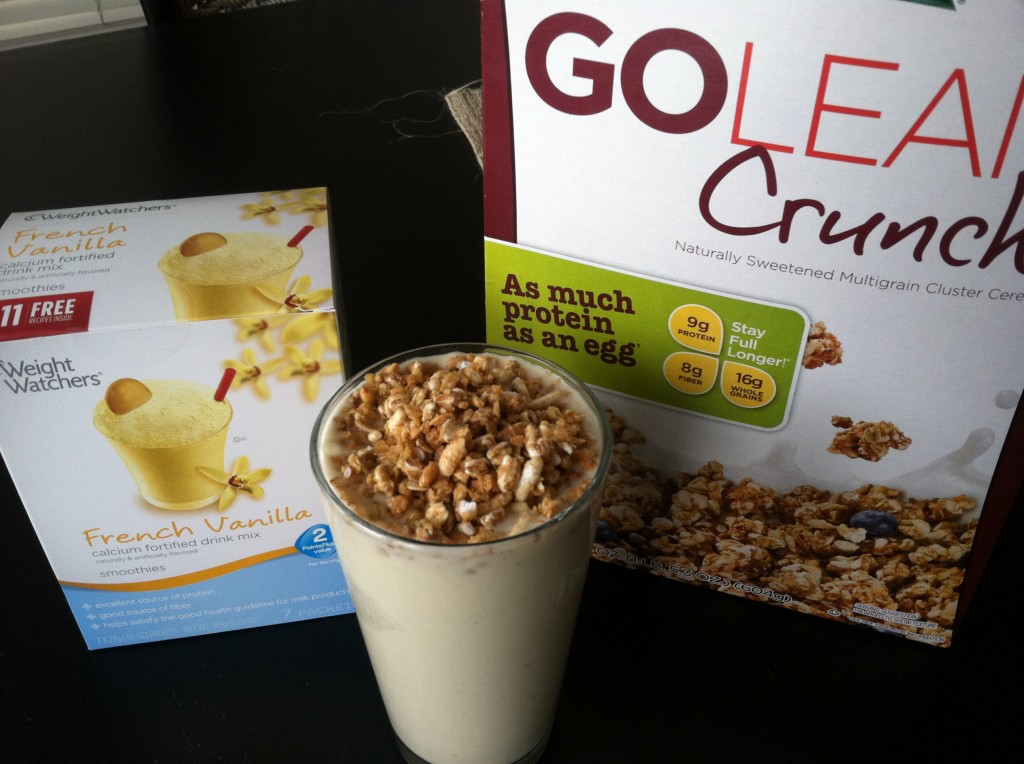 The Planned Dinner
Stir Fry with Quinoa (in place of rice)
10 PPV
I cut up 2 chicken breast into bite sized pieces and cooked them in 2 T. Garlic Infused Olive Oil. Then I added mushrooms and shredded carrots and a little low sodium soy sauce.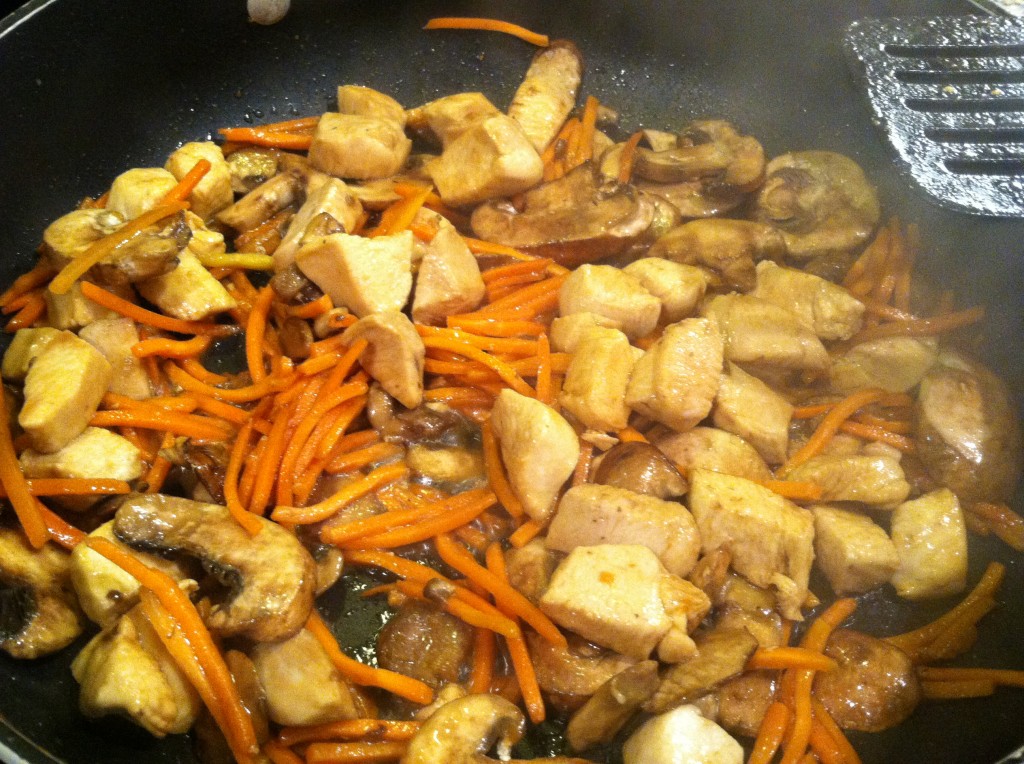 In another skillet, I made Fried Rice (Quinoa) according to the package directions of a seasoning packet for fried rice.

Then I mixed the two together and added peas and water chestnuts.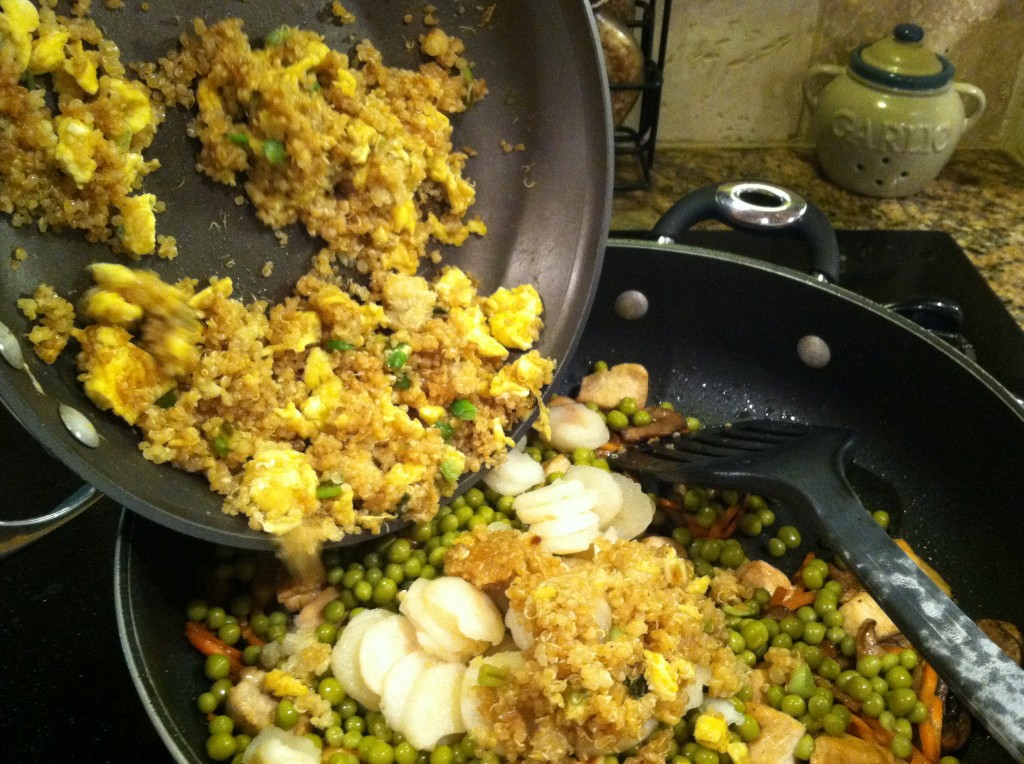 I divided this into four servings.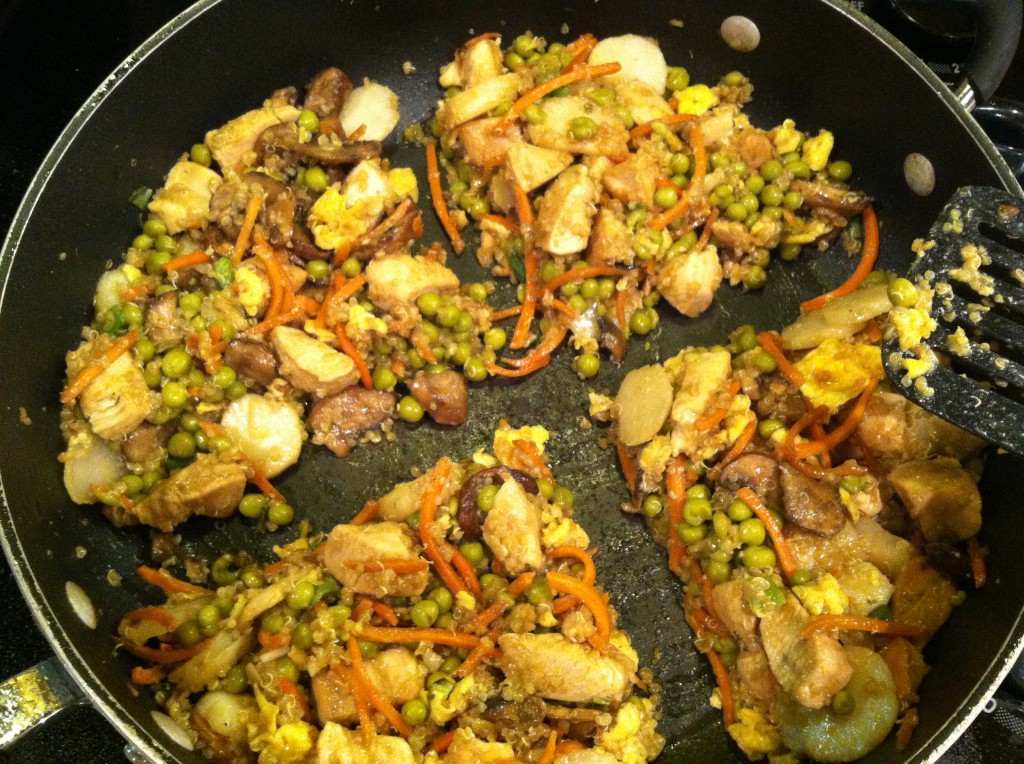 One serving = approximately 10 PPV
Honestly, I think I got a little carried away and added too many things to the skillet. It tasted super salty and it just wasn't what I was in the mood for, so after two bites, i just ate a small bowl of quinoa that I had cooked in Chicken Broth, and mixed in a Laughing Cow Cheese Wedge, which was really good!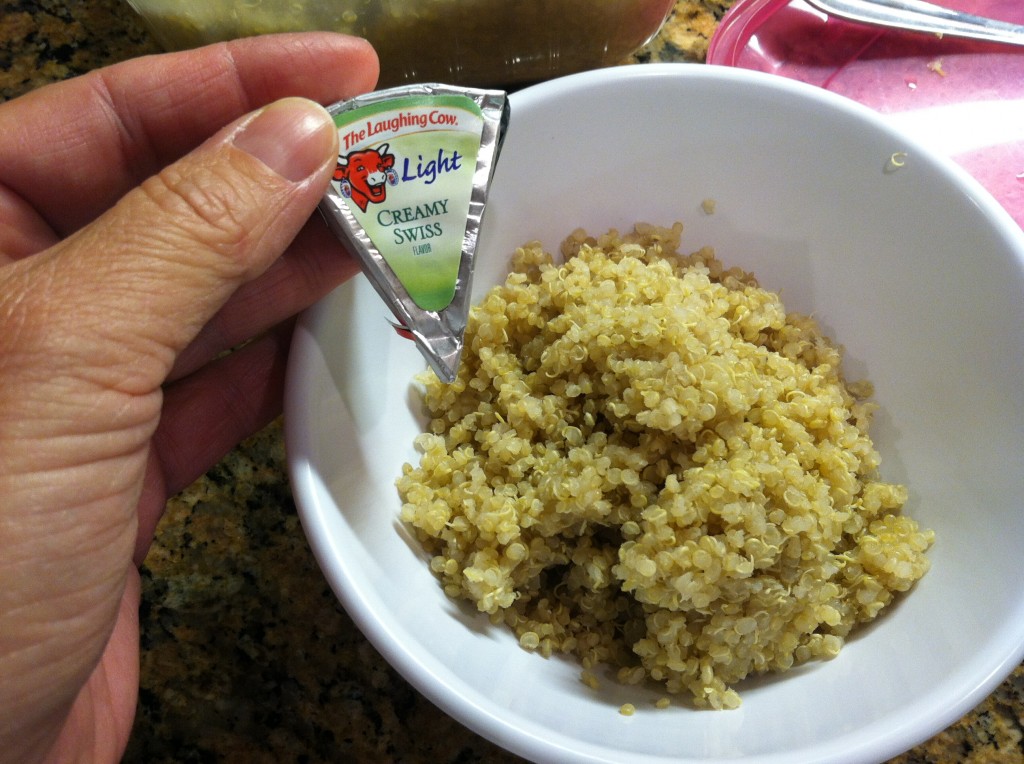 Weight Watcher's Points Plus
I can eat 26 PPV a day.
I can earn Activity Points by doing exercise, and eat them if I choose.
I have an allowance of 49 extra points that I can dip into throughout the week if I choose.
I should drink a minimum of 6 (8 oz) glasses of water each day.
My Weight Watcher Week Begins on Friday's
Breakfast = Yogurt, Fruit, Coffee with skim milk (4)
Lunch = Salad (12)
Snack = Smoothie (3)
Dinner = Quinoa, Cheese (4)
Total = 23
Exercise = none
How many glasses of water I drank = 11
Activity Points Earned for the Day = 0
Activity Points Earned This Week = 11
Remaining points from my 49 Points Allowance = 11
Alcohol Consumption = none, but I really was wanting a glass of wine!
Picture of the day!
She smiled while I was singing to her!
I want a BABY!!!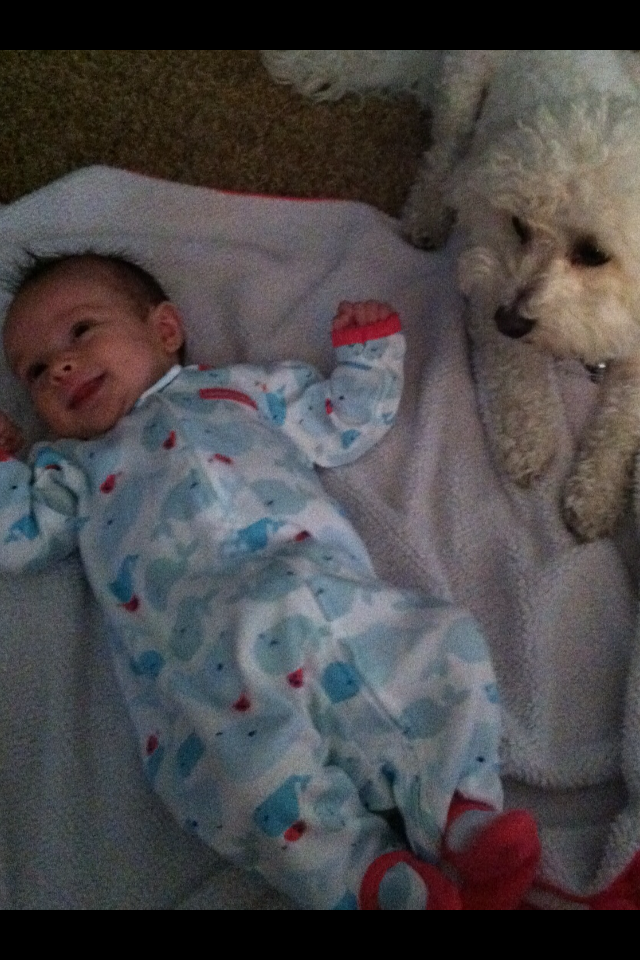 "love the life you live, live the life you love"