Challenges
A few day's ago, I blogged about what a challenging month it was going to be and my plan to get through it all. I planned to track everything that I ate, and make the best choices possible.
Here is EXACTLY what I said that I would do.
"My plan to get through the month is to TRACK everything I eat and drink and keep active!"
Okay, first of all, I have apparently forgotten to exercise for the last THREE days!!
Wednesday, we had a birthday dinner to go to. I ate before I went and was really glad that I had. Success!
Thursday was a wine dinner, and although I ate well, I drank too much wine and lost track of how many points I drank. Uh…not a success.
Friday was the 4th, and I went to the lake with friends, and I ate and drank really well. Success!
Saturday we had a couples shower to go to at 2:00, and a dinner at 6:00. I went to the shower hungry and had too many snacks, then at dinner, I had too much wine. Not a success.
Sunday. I ate within my points and drank lots of water. Success!
Sunday we layed in bed ALL day long and watched movies and napped. Seriously…..it was an awesome day in bed doing nothing. We rarely do that. At 5:30, we talked about how nice it would be if someone would walk through our bedroom door with a Papa Murphy's pizza, but it didn't happen. Instead, we got out of bed and worked in the yard together for a while, then I went to pick us up a pizza. We snuggled back up on the couch and watched movie number THREE for the day! It really was an awesome and lazy Sunday.
After looking at the calendar, I realize that July is really full of socializing, and I'll just need to pass on the adult beverages at a few things that are coming up on the calendar. Remembering how good it feel's to pat myself on the back after successfully making it through a challenge, will be my motivation. It also feels really good to be able to blog about a challenge that I made it through successfully. It's so much better than blogging about how I got drunk and used up all my points!! 🙂
Today? Exercise and good eats!!!
Here are yesterday's eats……
Breakfast
Light English Muffin, 4 Egg Whites, 2% Cheddar
1/4 Smashed Avocado with Lime Juice and Sea Salt
Cherries
Coffee with Frothy Skim Milk
8 PPV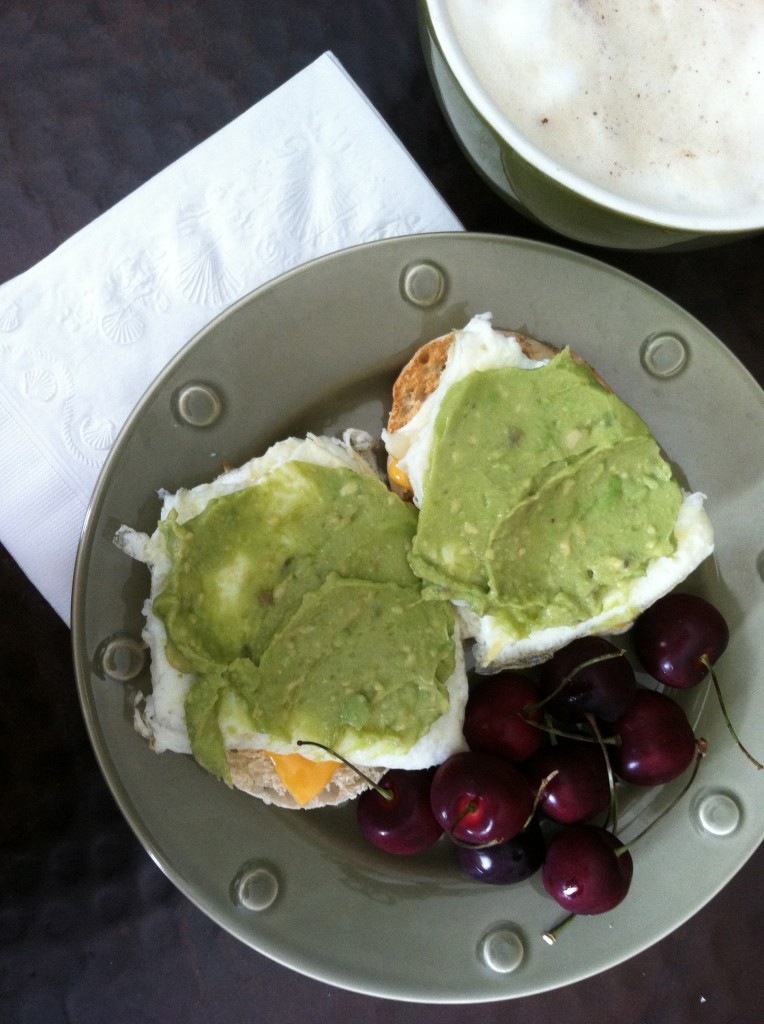 I think I'm addicted to Egg Whites and Avocado's!

Lunch
I didn't eat the whole bowl, but I did eat OUT of the bowl
0 PPV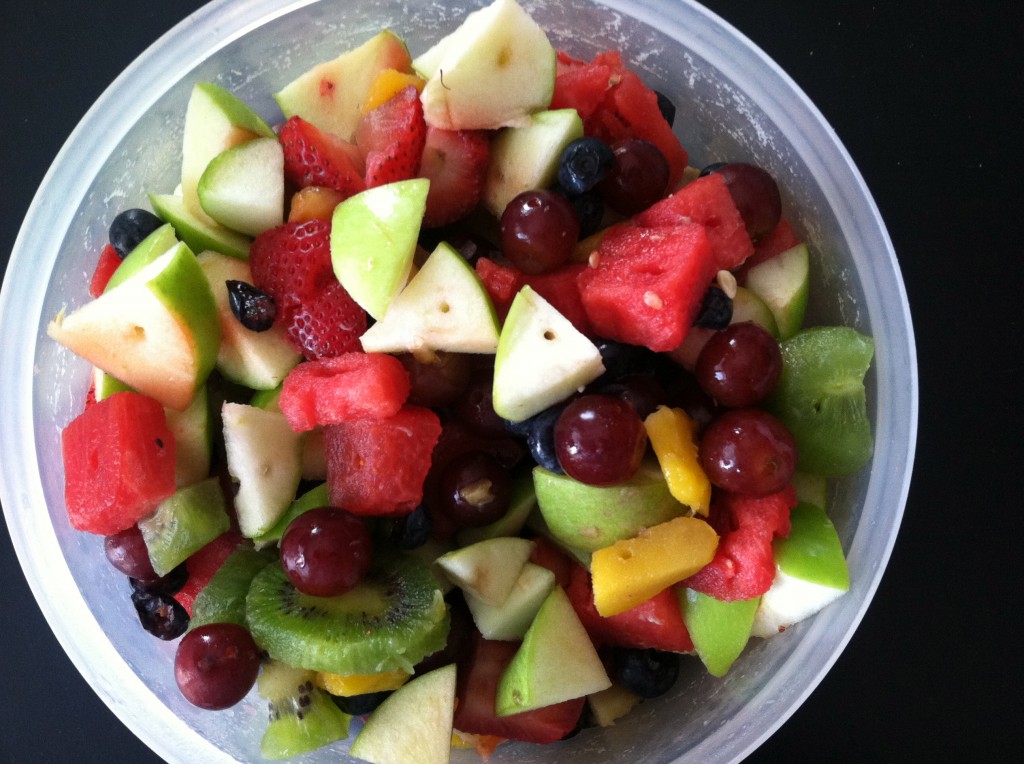 Dinner
Three Slices of this Papa Murphy's Taco Delight
15 PPV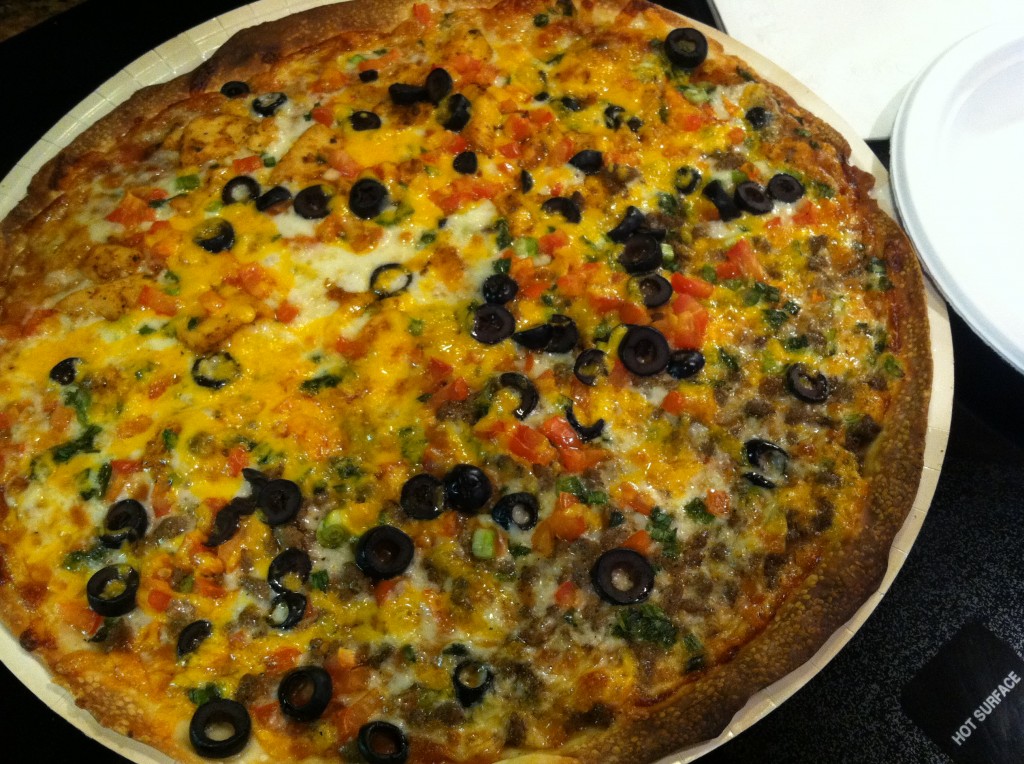 Weight Watcher's Points Plus
I can eat 26 PPV a day.
I can earn Activity Points by doing exercise, and eat them if I choose.
I have an allowance of 49 extra points that I can dip into throughout the week if I choose.
I should drink a minimum of 6 (8 oz) glasses of water each day.
My Weight Watcher Week Begins on Friday's
Breakfast = Egg Sandwich, Coffee with Frothy Skim Milk (8)
Lunch = Fruit Bowl (0)
Snack = Veggies (1)
Dinner = Pizza (15)
Total = 24
Exercise = none….well, a couple of doggie walks
How many glasses of water I drank = 12
Activity Points Earned for the Day = 0
Activity Points Earned This Week = 0
Remaining points from my 49 Points Allowance = 0
Alcohol Consumption = none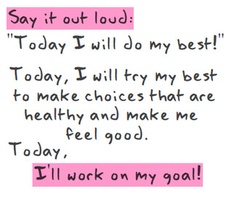 "love the life you live, live the life you love"