It was a full afternoon of snacking! For some reason, I just never felt satisfied. The snack's that I listed between lunch and dinner, I consumed from about 3:30-7:30. We didn't eat dinner until almost 8:00, which is about an hour later than usual. I was home all afternoon, and while I didn't feel like it was stress eating, I did have a lot on my mind. I kept telling myself to focus on the phone calls I was making, and the task that I was trying to complete, and forget about the food, but I just kept on snacking. While I did not take pictures of the snacks, I know what I ate, and I tracked the points.
I fixed Mike leftover spaghetti for dinner. There wasn't enough for both of us, so I had planned to come up with something quick and easy for myself to eat for dinner. I maybe should have just skipped dinner!
When I look at it now, my afternoon snacking really wasn't too awful! It's not like I ate a sheet cake or anything! 🙂
In the last 6 days, I've walked almost 27 Miles and I'm really pleased with what the scale is doing this week!
After walking all of those miles, Yoga should feel really good today!
Breakfast
Trader Joe's Bread, Toasted
4 Egg Whites, 1/4 Smashed Avocado
Strawberries
Black Coffee
5 PPV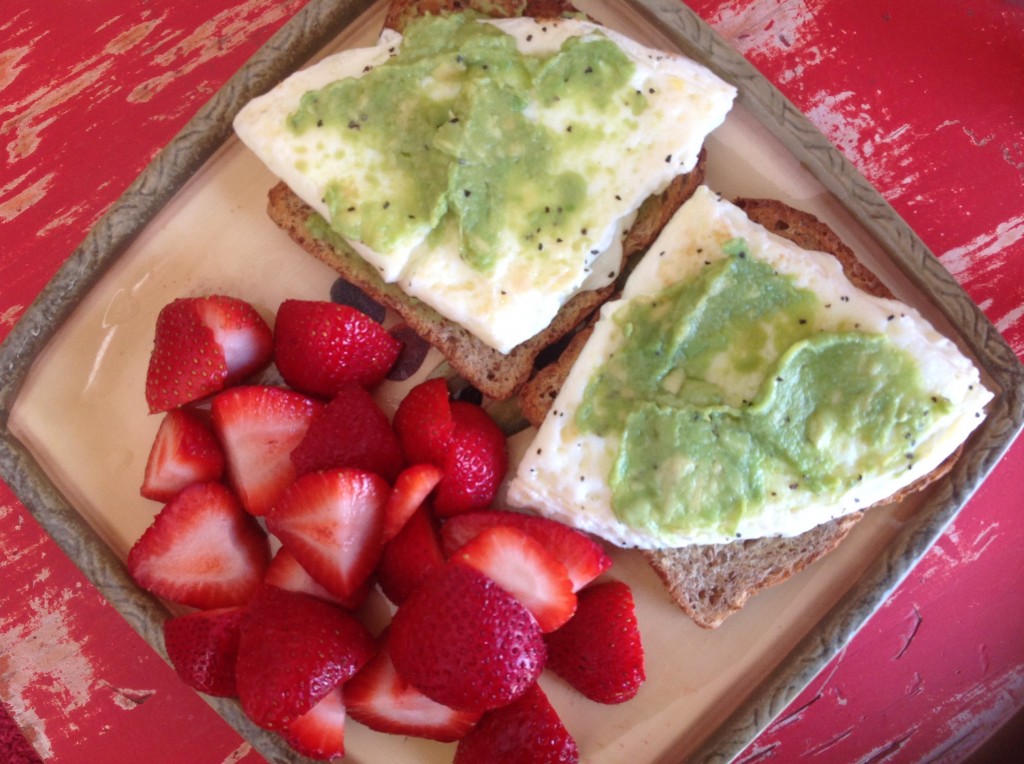 Lunch
1/4 C. Chicken Salad on a bed of greens
Feta, Blueberries, Sunflower Seeds, Vinaigrette
7 PPV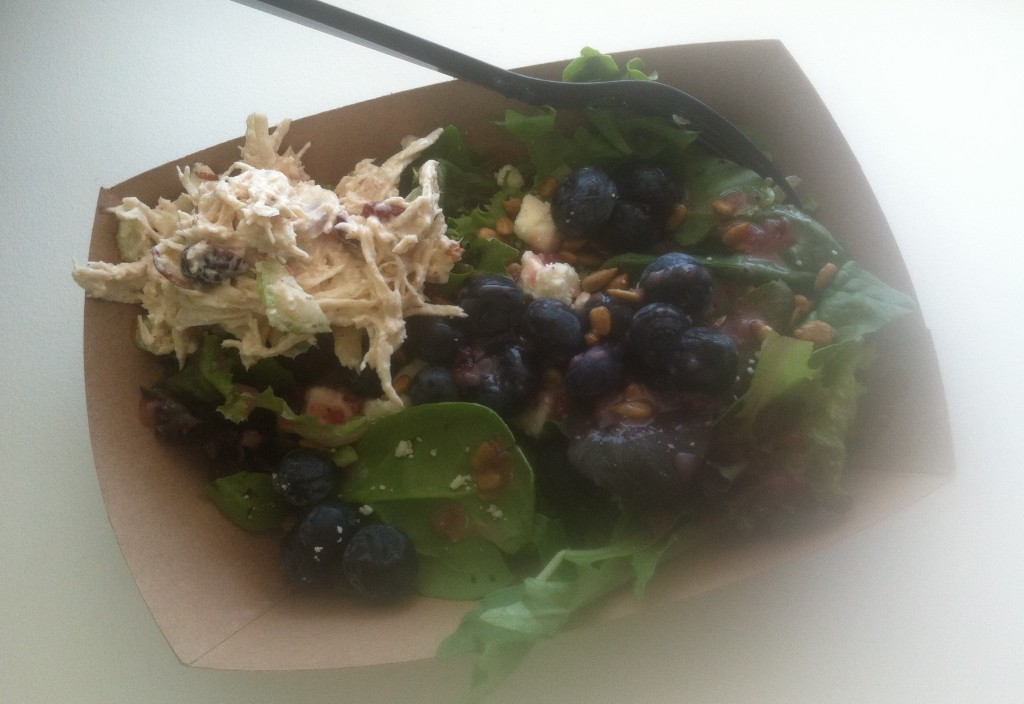 Un-Pictured Snack's
A Few Bites of Pork at the Food Truck
Edamame
Grapes
2 Banana's
A Few Bites of Mike's Spaghetti Dinner
Garlic Bread
12 PPV
Dinner
Sweet Potato, 2 Eggs
7 PPV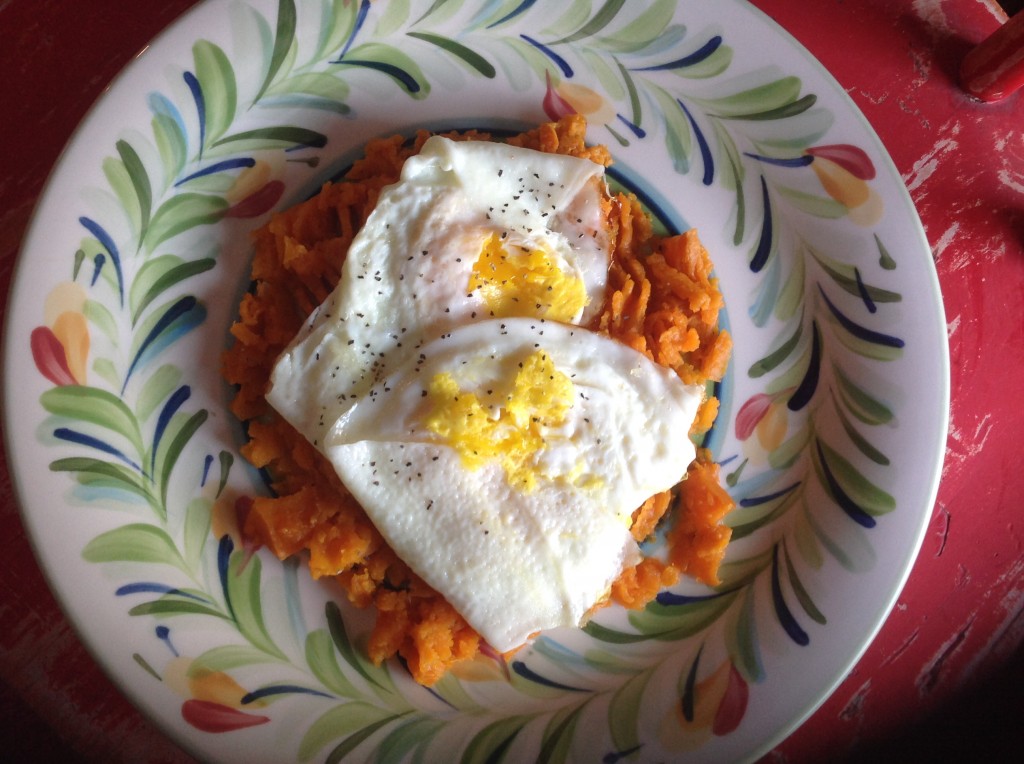 Weight Watcher's Points Plus
I can eat 26 PPV a day.
I can earn Activity Points by doing exercise, and eat them if I choose.
I have an allowance of 49 extra points that I can dip into throughout the week if I choose.
I should drink a minimum of 6 (8 oz) glasses of water each day.
My Weight Watcher Week Begins on Friday's
Breakfast = Open Faced Egg Sandwich (5)
Lunch = Chicken Salad (7)
Snack = so many snacks!! (12)
Dinner = Sweet Potato, Eggs (7)
Total = 31
Exercise = Walked 4 Miles
How many glasses of water I drank = 9
Activity Points Earned for the Day = 5
Activity Points Earned This Week = 23
Remaining points from my 49 Points Allowance = 38
Alcohol Consumption = none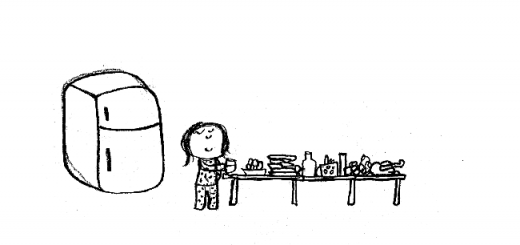 "love the life you live, live the life you love"