Weight Watcher's
At my meeting last week, I weighed 172.
One year ago, I got down to 154. I had been slowly losing weight for four years. I had plateaued several times, but never gained more than 3 or 4 pounds.
After reaching a weight of 154, slowly, I was back at 160, then IN the 160's. I hung out in the upper 160's for a long time, and now this.
It's tough to write this blog sometimes. I have readers that I am trying to inspire and motivate to live healthy. I don't like to let anyone down.
I have people reading the blog that know me personally, and gaining weight back, frankly….is embarrassing.
But, the whole idea behind the blog, was to share my story, struggles and all. Over the last five years, this is the first time that I've had a gain that has lasted so long. Although I know this happens with other people that lose weight too, it is frustrating. I want to tell myself that I've learned how to keep those pounds off. I want to be proud of my accomplishments, and I want to move forward, not backwards.
Looking back over my blog post, I made sacrifices to get to 154, and it wasn't always easy. A lot of those sacrifices are things that helped me to get the weight off, but will also help me to KEEP the weight off. I need to always remember that. It is NOT a diet. It IS a lifestyle. I will not always be able to eat or drink whatever I want and keep the weight off. I have to have limits.
I see the weight gain in my face and arms, and I don't like it. Scale or no scale, I'm not liking the face I see in the mirror.
I'm going to take things one week at a time. It works for me. Long term goals do not. I need to focus on one pound at a time right now, and one week at a time.
So here is the plan for this week!
Food and Fitness Goals for THIS Week!
I will have only 26 Points per day.
I will walk 20 Miles this week.
I will attend 1 Yoga class this week.
I will drink 10 (8 oz) Glasses of water each day.
I will NOT eat earned activity points.
I will NOT dip into my allowed 49 Points.
Now….The Parade!!
Last year, my dad and I worked hard on a float for the Annual Downtown Overland Park Parade. You can read all about it in my post, Feeling the Fall Season.
On the morning of the parade last year, a thunderstorm rolled in, and the parade was cancelled! So, our little float has been patiently waiting in my dad's barn for an entire year.
Yesterday? We got to be in the parade!
I went over early and we started getting things together. I had kinda missed my little friends!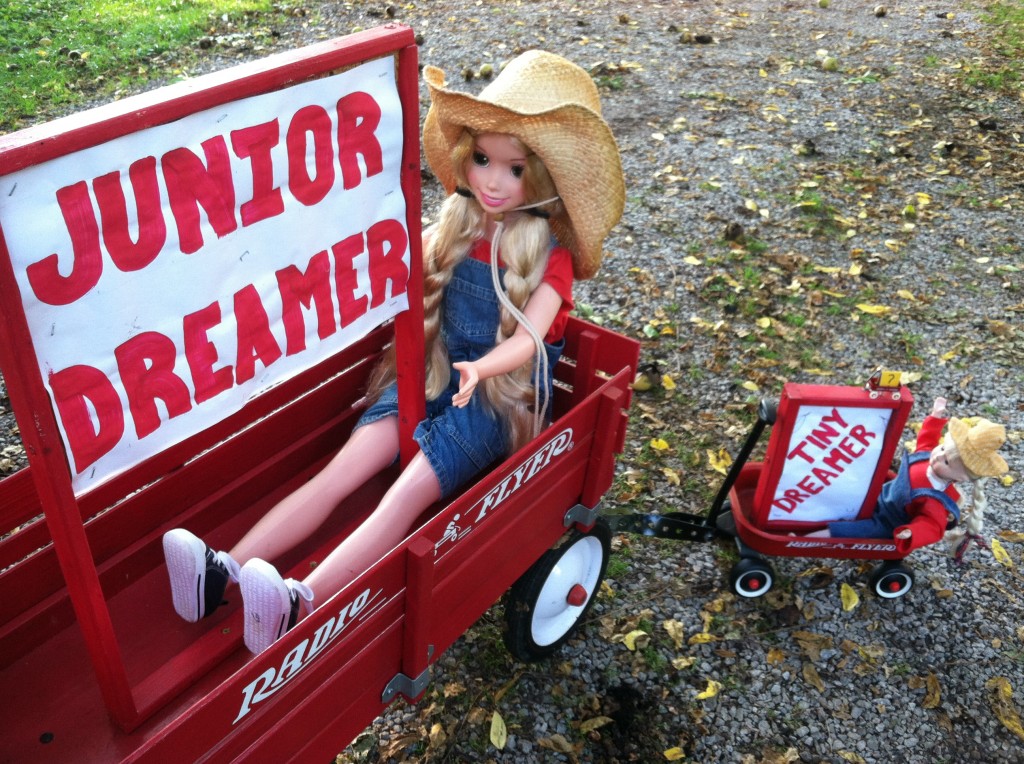 Dad decided at the last minute, to let his pet duck, Charlie, ride along with him in the cab of the truck. We were initially going to pull our float with dad's tractor, but I think he wanted Charlie in the parade too! That man loves this duck!! He even built him a seat in the truck that included a water tray!
I got in the wagon to see how comfortable I was going to be, when dad noticed that we had a flat tire. We got out the air compressor and that problem was solved. We were finally ready to go, when dad informed me that I would be riding through town on the way to the parade route in the big Radio Flyer wagon so Charlie could ride up front with him!
As we pulled out of dad's driveway and headed down the street, I realized just how silly he and I can be sometimes, and I thought I must look crazy in my blonde wig, pigtails and overalls riding down the street in this over sized Radio Flyer Wagon!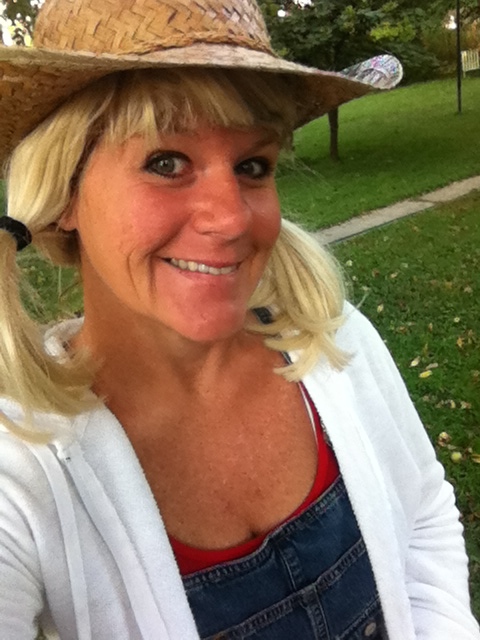 As I was thinking about how grateful I am for this silliness that he has passed on to me, I felt something awful and I thought that the tire was flat again! Worse! When I looked over the side of my big red wagon, the WHEEL was falling off! I started yelling and had my hands flailing all over the place!
Dad stopped, got out and came back. We had lost three of the five bolts! He asked me to RUN down and get his neighbor, Dale. So I did. I ran down the street in my overall's, blond wig with pigtails, and straw hat. Yep. I did. As I ran BACK to the wagon, I see my dad carrying Charlie, and I assumed he had let him walk around in the grass while I was chasing down Dale. But nope. Charlie had flown out of the driver's side window! Dad had to chase him down.
Dale brought us a jack and a tool box, Charlie got back in the cab, I got back in my wagon, and we were on our way. I still wasn't sure the parade was going to happen for us.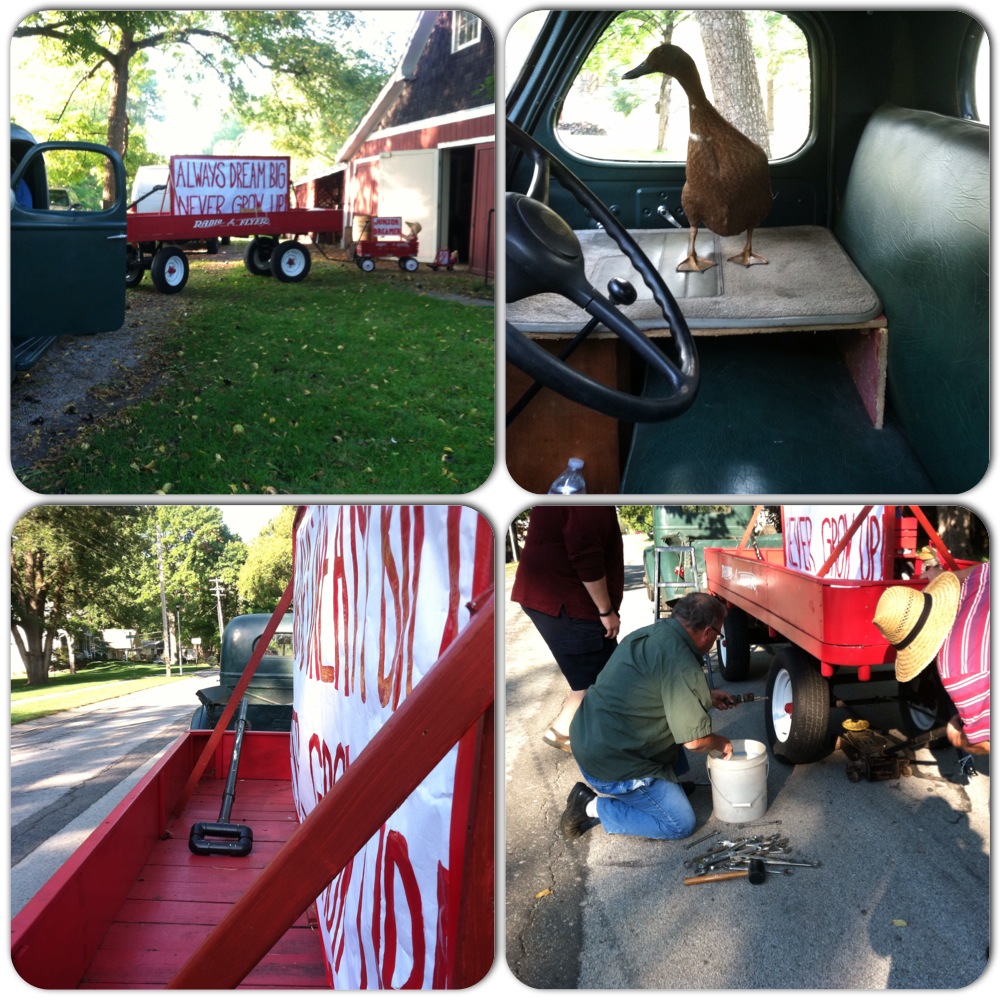 We made it through town without any other problems, and I practiced waving at the people staring at me!
We lined up with everyone else and had a few really interesting conversations with parade spectators! I guess our theme was a bit confusing. I explained that really, our only theme was to have fun, no matter what age you are! Oh, and Dad's into miniatures um…and ducks….among many other interest! Have I ever told you that he has over 2500 elephants in his house???
I could feel the parade excitement, and I could tell that my dad could feel it too! Now we were just hoping that Tiny Dreamer would hold on through the entire parade route! Can you see the even smaller wagon on top of Tiny Dreamer's sign??? My dad just never stops! 🙂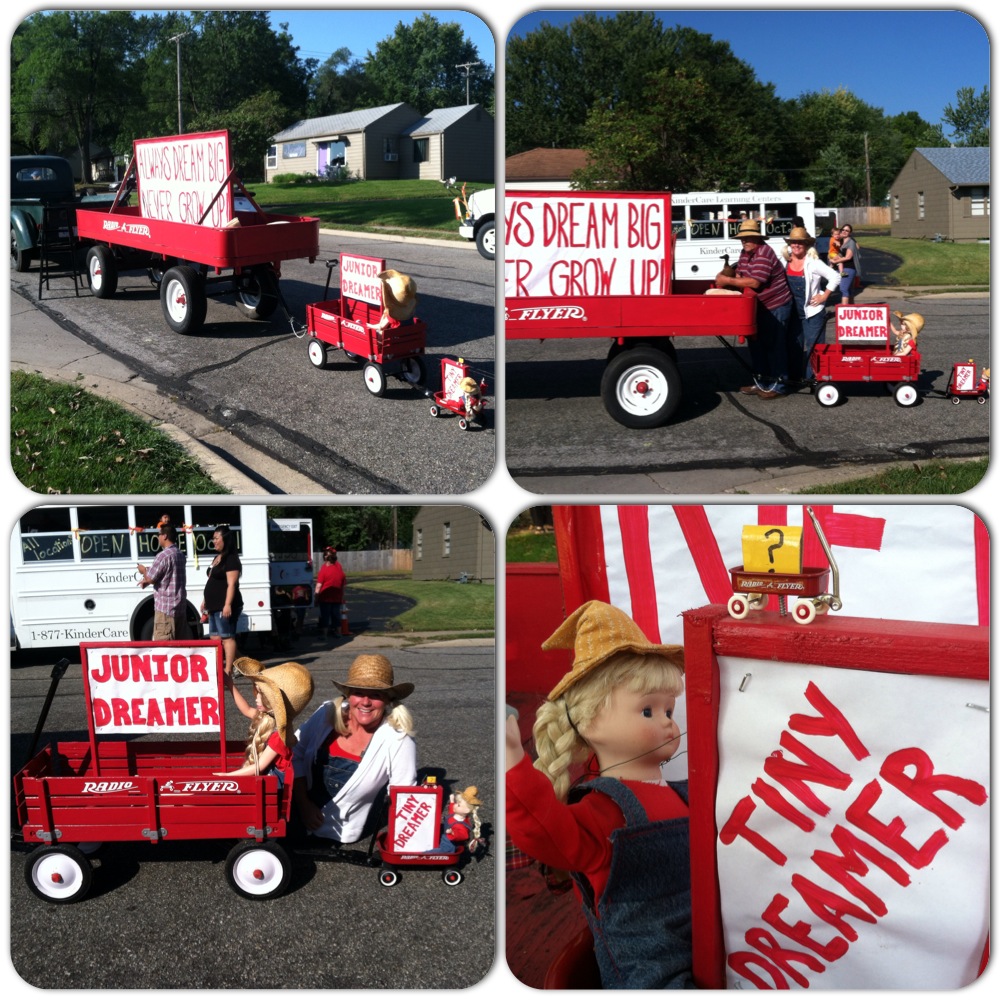 The parade was great! I heard all sorts of funny things! People were mostly yelling….
"Look, there's a REAL duck in that truck!"
I also heard…
"That's so cute!"
"Look at that big wagon!"
"Love the old truck!"
Then I heard from a girl, around 8 or 9. "OMG! That's Creepy!" I couldn't stop laughing.
I am going to assume she meant the Junior Dreamer behind me, and not me.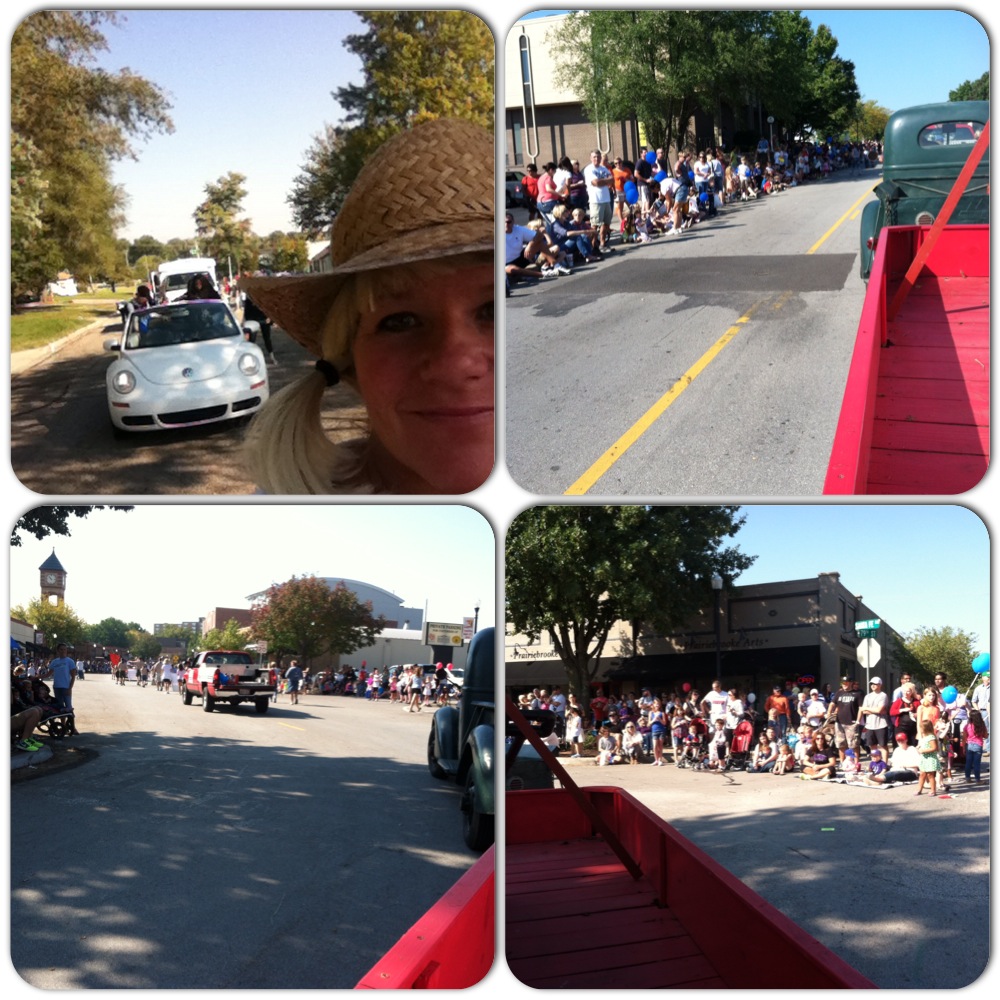 It was a great day in the parade!
I came home and planned out the rest of the day! I was in desperate need of new walking shoes! So I went and bought myself some!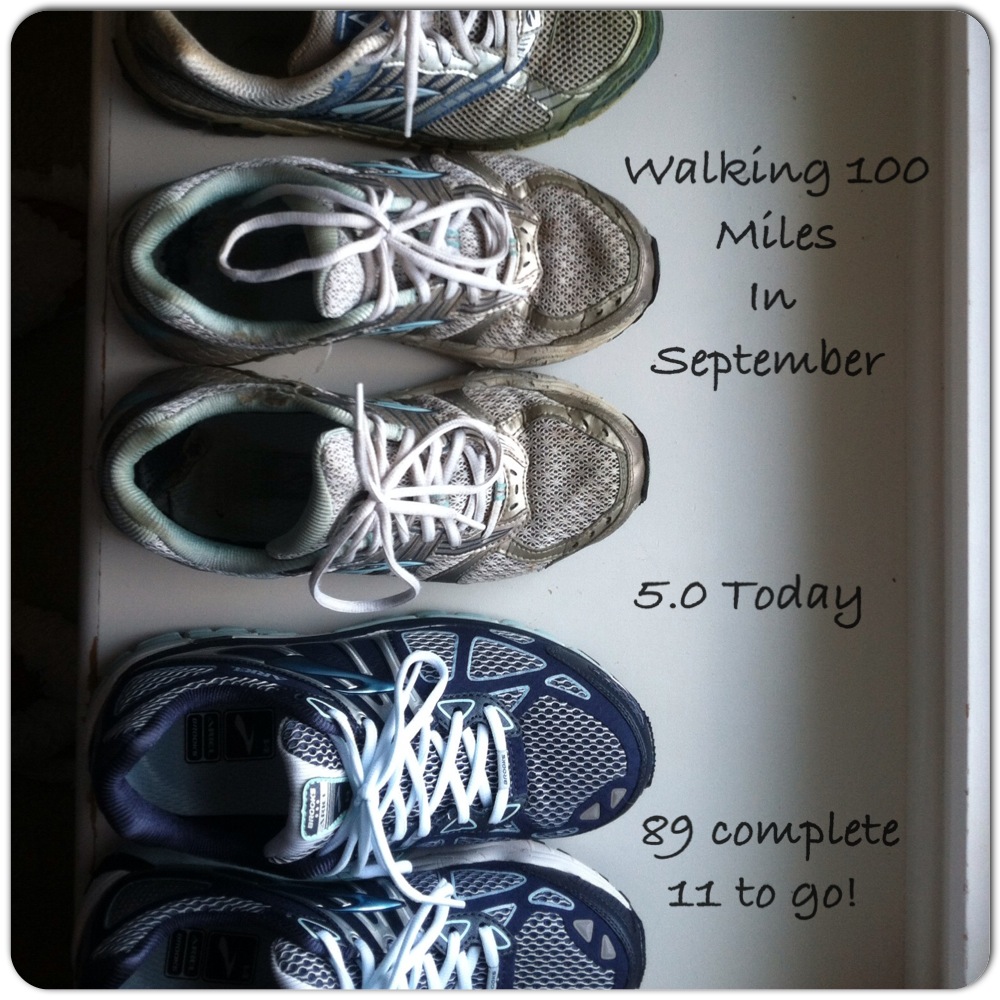 After my 5 mile walk, I spent more time than I should have chillin' with a neighbor in the driveway, but it felt good to relax. Then I came home and got back at painting my bedroom.
I've got lots of painting left to do, so I'll leave my last 11 miles for the last two days of the month!
Have a happy and healthy day!
"love the life you live, live the life you love"