We came home from our night out on Saturday night (okay, Sunday morning) at 1:00 am. Tucker had pooped in his crate and it was a mess. I spent the next hour giving him a bath and disinfecting the crate. FUN!!
At 2:00 am, I crawled into bed. Mike was fast asleep. I'd love to tell you about how Mike helped me clean up the poop mess, but the last time this happened he did it all wrong and I let him know it, so this time, I just sent him to bed. I'm fairly certain he did it all wrong so he would never have to do it again, and it worked, so I gotta tell ya, the guy's pretty damn smart.
I slept in until 10:30 am on Sunday!
After coffee and doggie cuddles, (I never thought I would actually love a dog unconditionally, but damn it, I do.) I watched the Chiefs win, I ate a really late and yummy Breakfast that included french fries, so brunch I guess, then I hit the grocery store, then I went to a 5:00 pm Yoga Stretch and Restore class. It was a nice and relaxing way to spend my rather lazy Sunday afternoon.
After groceries and Yoga, I came home and cooked dinner with these!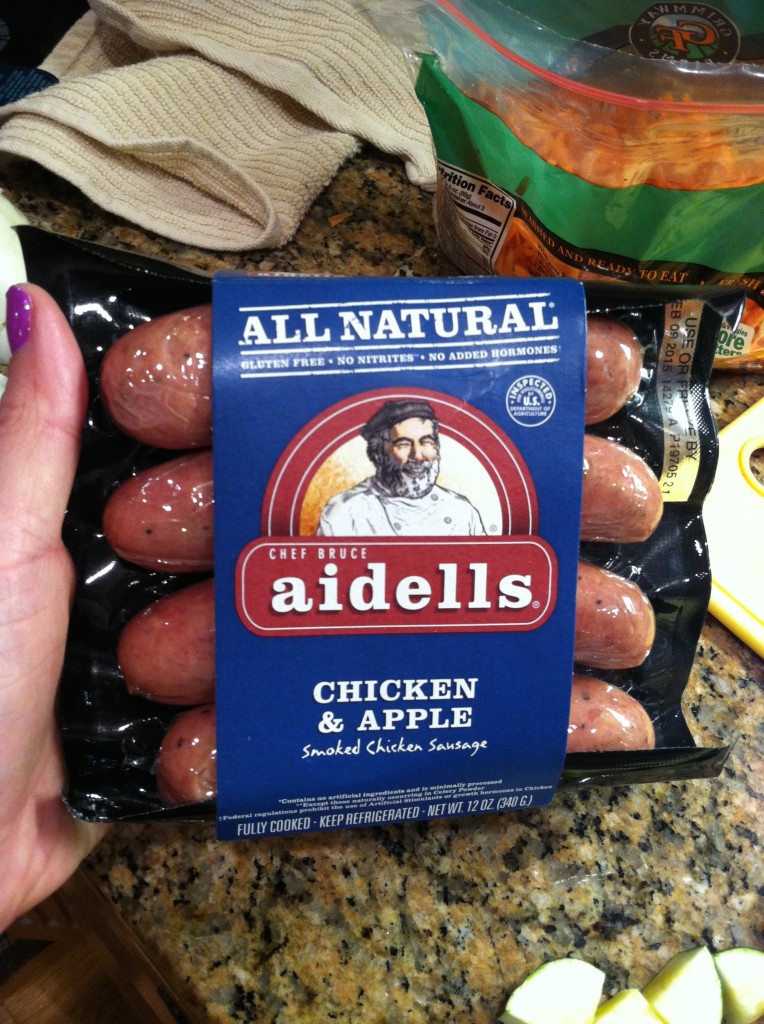 Chicken Sausage Skillet Meal
I cut up the sausage into bite sized pieces and browned them it in the skillet. I set the sausage aside. I boiled 10 small potatoes for 15 minutes, drained them and sliced them. I drizzled Butter Flavored Olive Oil into the skillet and tossed in the sliced potatoes, 1 diced onion,1 diced zucchini and a large handful of shredded carrots. I seasoned them with Cracked Pepper and Sea Salt and cooked them until the onions were tender. Then I added the sausage and gave it a good stir.
I added two wedges of Light Creamy Swiss Laughing Cow Cheese and put a lid on for a few minutes.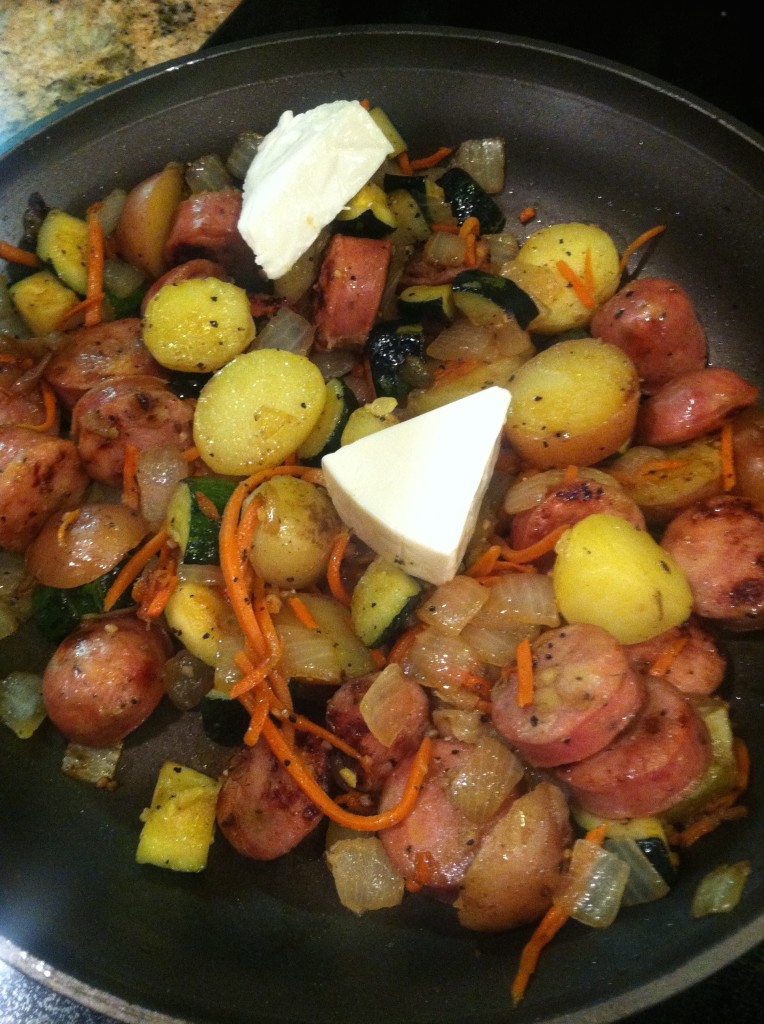 They melted into a creamy finish for my quick and easy skillet meal!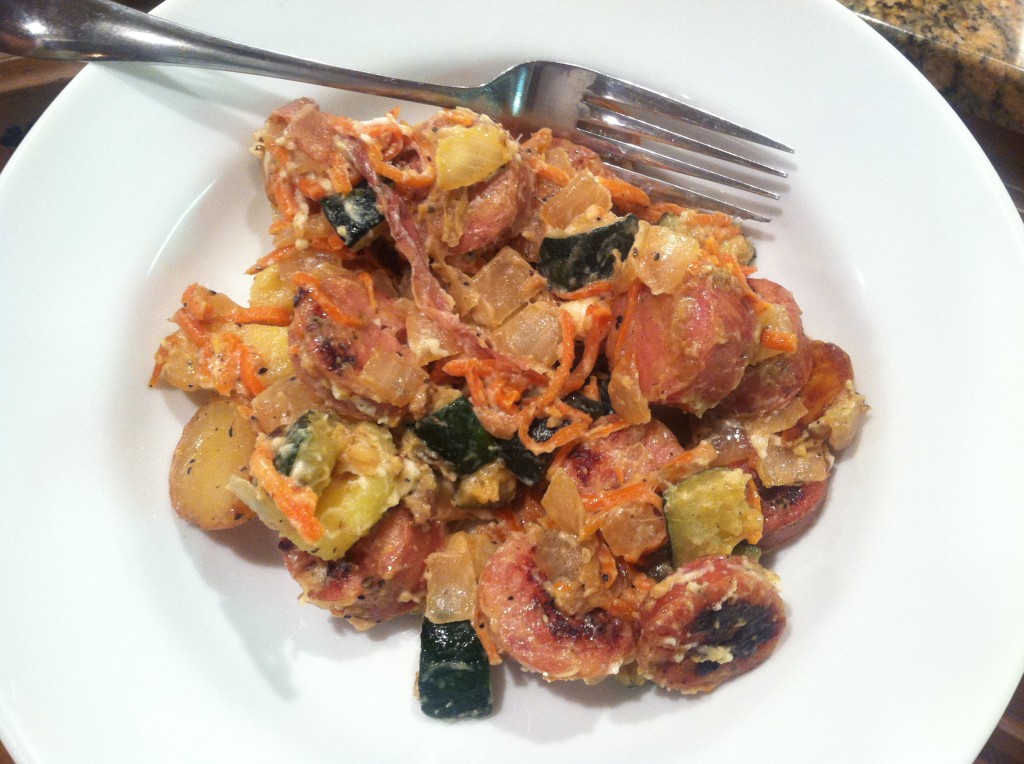 Dinner was Delish! Mike thought so too! And if you remember, he's really smart!
Ingredients
4 Chicken Sausages
10 Small Potatoes, cooked and sliced
1 Onion, diced
1 Zucchini, diced
1 C. of Shredded Carrots
1-2 T. Butter Flavored Olive Oil (Regular Olive Oil is great too!)
Salt and Pepper
2 Wedges of Light Cream Swiss Laughing Cow Cheese
Directions
Cut sausage into bite size pieces and brown in skillet. Set aside. Cook vegetables in Olive Oil until onions are tender. Season with Salt and Pepper. Add sausage and stir to combine. Top with cheese wedges and set a lid on top until cheese becomes soft. Stir melted cheese in!
Makes Four Servings
One Serving = approx. 8 PointsPlus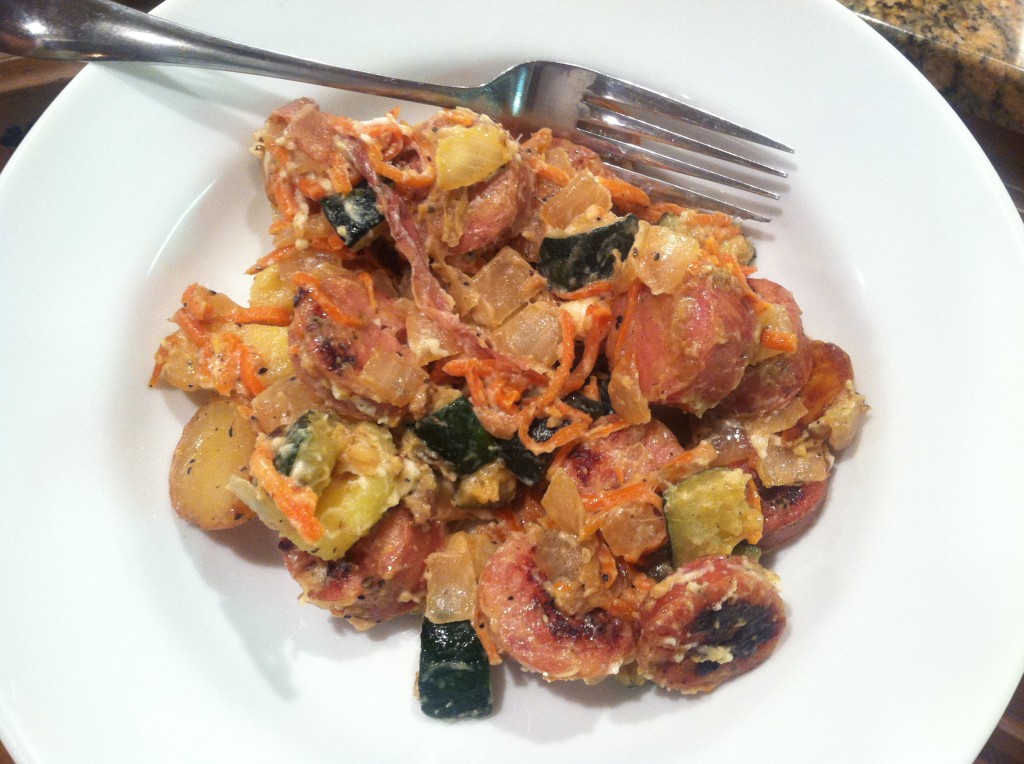 Here are yesterday's eats!
Brunch
One Serving of Ore Ida Sea Salt and Pepper French Fries
Topped with 5 Scrambled Egg Whites, 1 T. Bacon Bits
1 Slice Kraft 2% Sharp Cheddar torn into pieces
2 T. Light Sour Cream, Salsa
10 PPV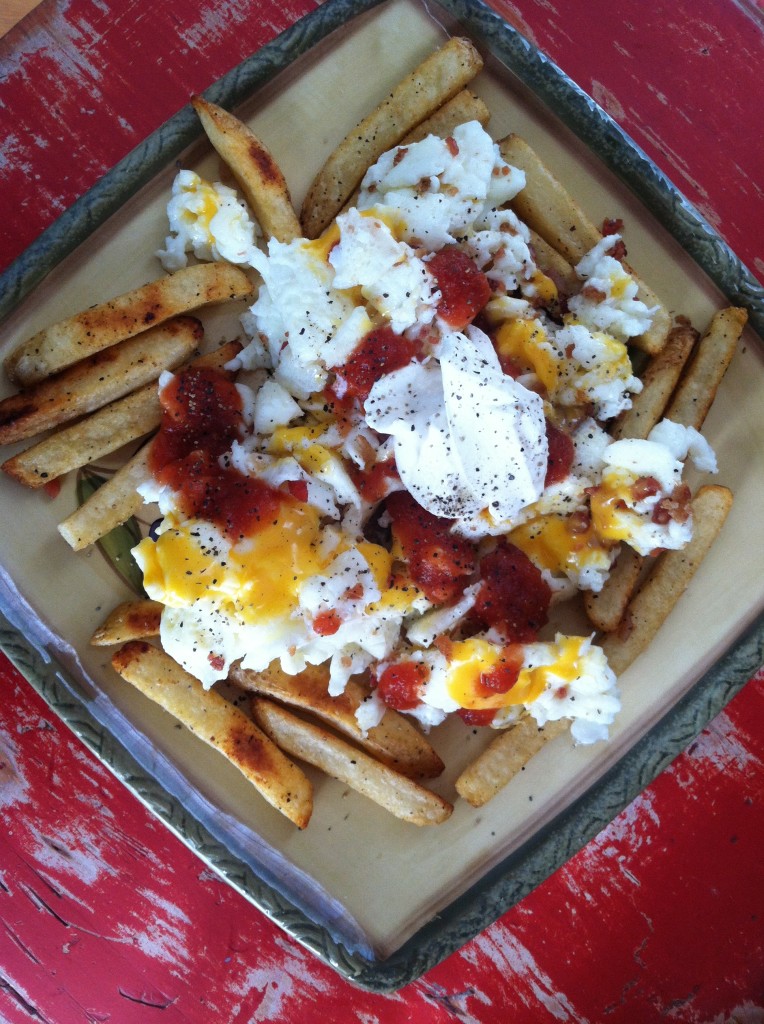 Apparently my brunch concoction kept me full, because I never did snack!
Dinner
Chicken Sausage Skillet Meal
8 PPV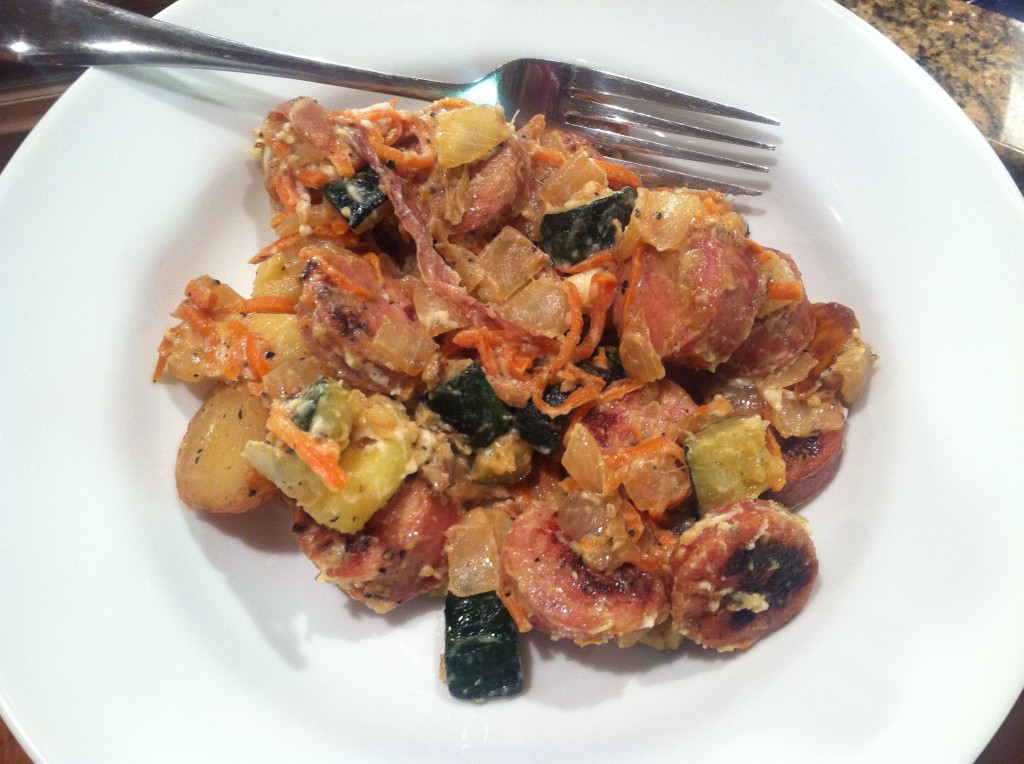 I usually eat all of my points, but I just wasn't very hungry yesterday. I enjoyed being able to have some hot chocolate in the evening and decided it was okay to not eat all of my points.
Dessert
Hot Chocolate
4 PPV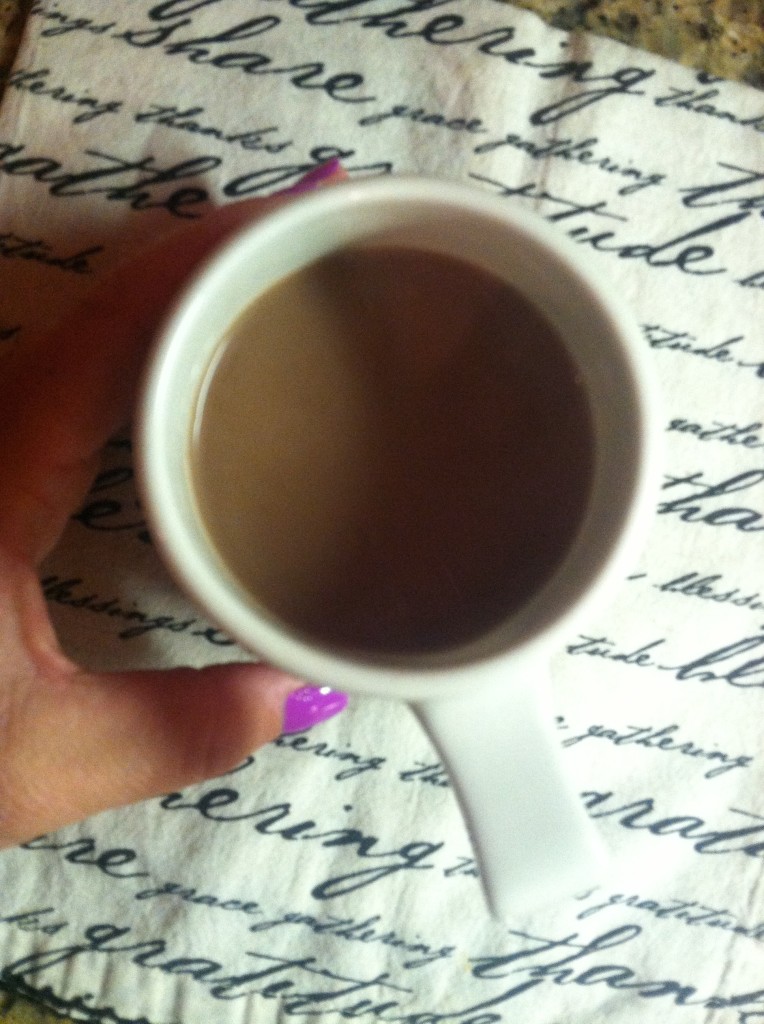 Weight Watcher's Points Plus
I can eat 26 PPV a day.
I can earn Activity Points by doing exercise, and eat them if I choose.
I have an allowance of 49 extra points that I can dip into throughout the week if I choose.
I should drink a minimum of 6 (8 oz) glasses of water each day.
My Weight Watcher Week Begins on Friday's
Brunch = Fries, Egg Whites, Cheese, Bacon Bits, Sour Cream, Frothy Coffee (10)
Dinner = Skillet Dish (8)
Snack = Hot Chocolate (4)
Total = 22
Exercise = Yoga Stretch and Restore Class
Activity Points Earned for the Day = 3
Activity Points Earned This Week = 15
Activity Points Remaining This Week = 15
How many glasses of water I drank for the day = 8
Remaining points from my 49 Points Allowance = 26
Happy Monday!

"love the life you live, live the life you love"