I found all sorts of great ideas on Instagram yesterday! Do you have an IG account? I highly recommend it for inspirational quotes, meal and snack ideas, exercise ideas and motivation, or even cute outfit ideas! My yummy snacks and dinner from today's post were inspired by Instagram accounts that I follow! More on Instagram in just a sec!
Honestly, today's blog post is all over the place!
My Monday included a Hot Yoga class that I loved, a six mile walk on my treadmill that I did not love, lots of recipe searching and a little Holiday Planning.
At some point during the day, I stumbled across this blog post that I wrote just after the Holidays last year.
It's about how careful I promised to be during November and December of 2014! I love writing my blog for so many reasons, and this is one. It was really good to go back almost a year and see exactly what my thoughts were related to my health, my eating, and my mindset.
Did I mention that I walked 6 miles on the treadmill?
Now that I have moved the treadmill into our bedroom and I have my DVR handy, I am caught up on some of my favorite TV shows! I would much rather be walking outside, but I suppose this little set up will get me through these cold months just fine.
I might spend the rest of November watching Holiday movies!
Okay, back to Instagram.
Ten Reason's that I love Instagram….
1. I'm inspired by the creative ways that people find to eat everyday foods.
2. The daily support from other followers keeps me motivated to eat healthy when I find myself getting off track.
3. I love to look at pictures, even other people's pictures!
4. I've seen some places on Instagram that I really want to visit.
5. I've read a lot of great quotes that set my mood for the day!
6. I love the exercise ideas that people come up with! The 100 Miles in a Month Challenge? Love that!
7. I've discovered new blogs through the bio's of the Instagram Accounts that I follow!
8. I've discovered some awesome Yoga pants!
9. I've been introduced to new products through reviews!
10. I follow a lot of funny people, and we all need a good laugh.
During my first mile on the treadmill, I just wasn't feeling it, so I posted this to Instagram while I was walking just to make sure I would walk my planned 6 miles! It worked.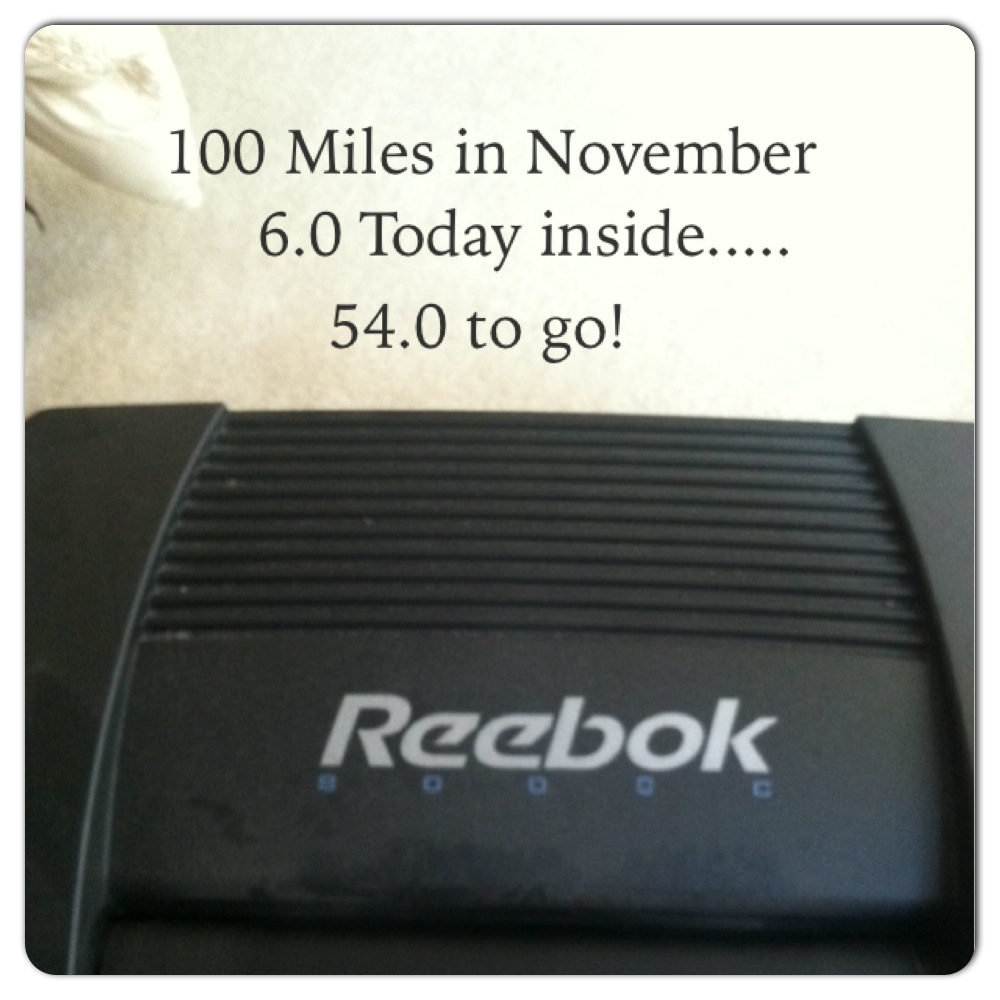 It was a pretty darned good Monday!
Here are yesterday's eats!
Breakfast
1 PPV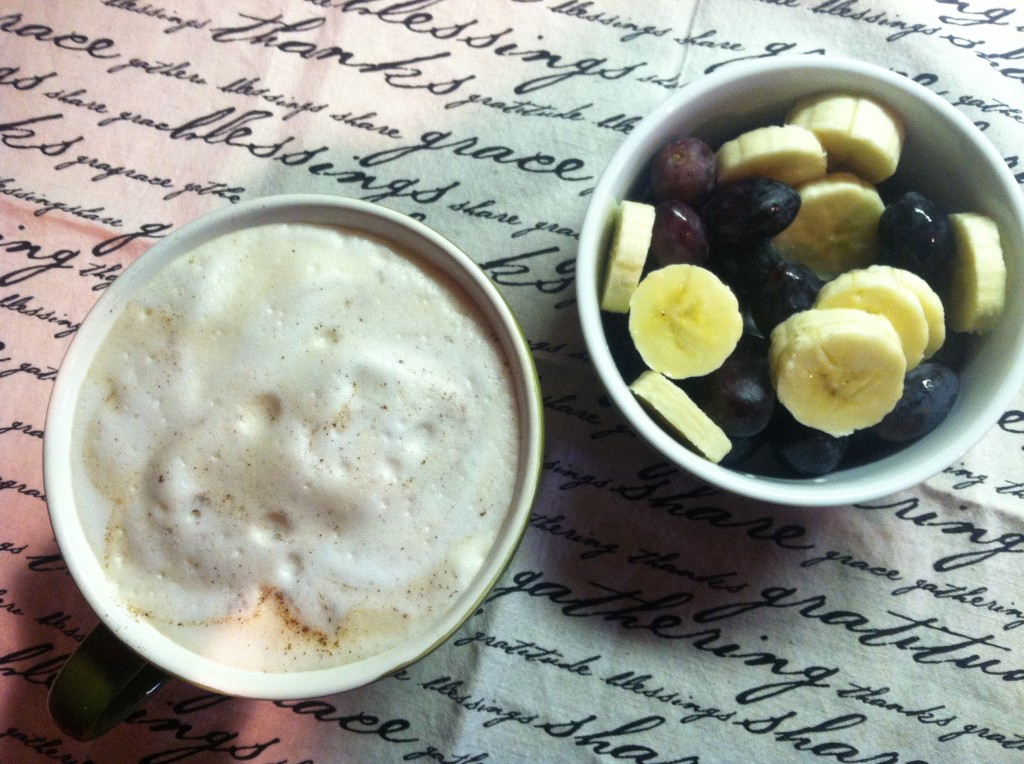 Lunch
Toasted Light English Muffin
Morning Star Spicy Black Bean Veggie Burger
2% Kraft Sharp Cheddar Cheese Slice
Red Onion, Tomato
A Few Thinly Sliced Crispy Potato Rounds, with Parmesan Cheese
Carrots Sticks
10 PPV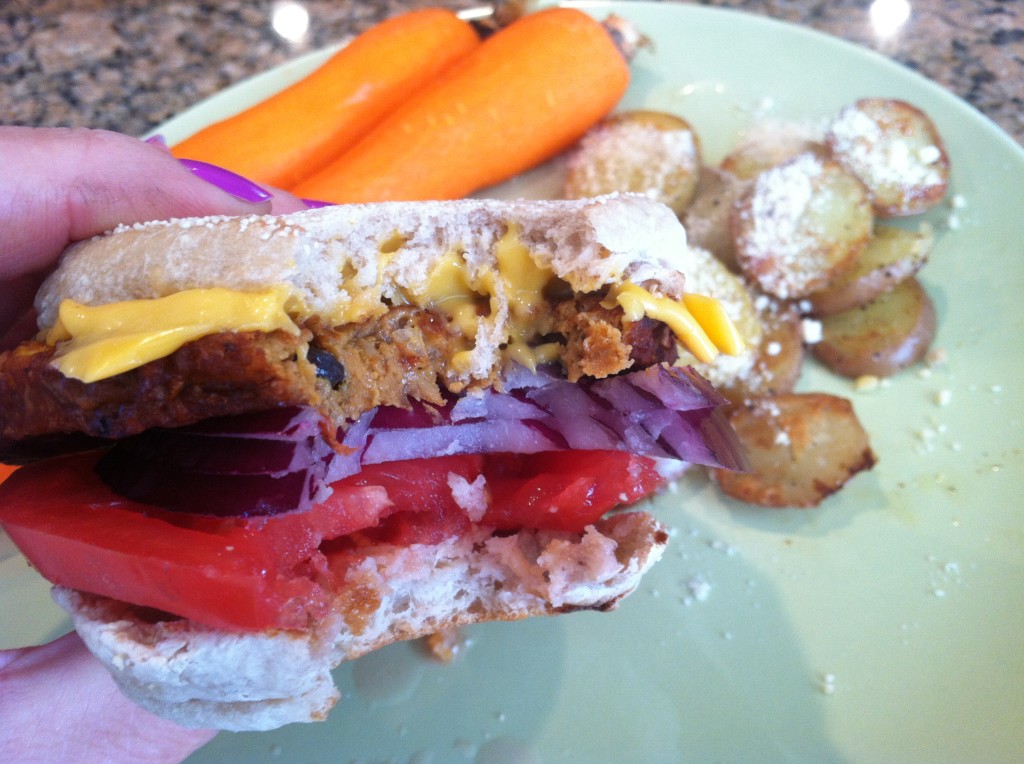 Snack Number One!
3 PPV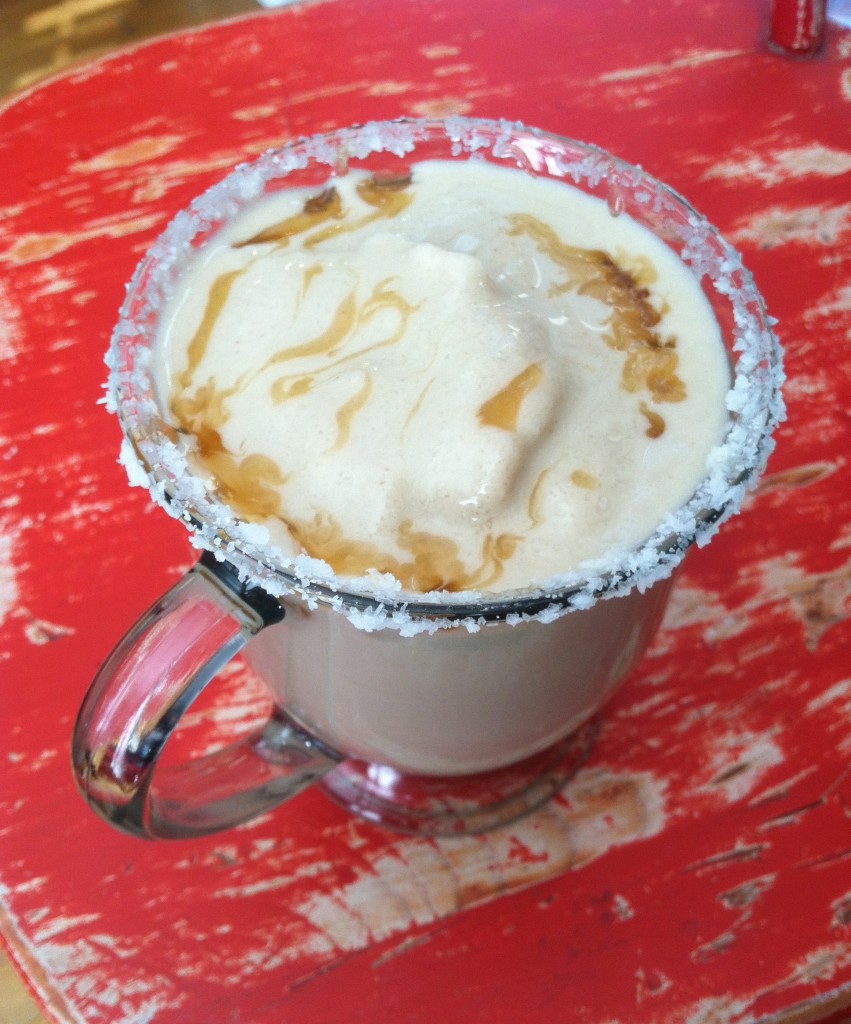 Snack Number Two!
I follow a lot of really creative people on Instagram, one of them being weightwatchers4me, and she is always coming up with some kind of delicious sweet snacks! Often, she cuts a banana in half and tops it with all sorts of great stuff! She inspired me to be a little creative with my banana yesterday!
If you're on Instagram, and you are looking for a little motivation or snack ideas, you should totally follow her!
If you melt nut butter in the microwave for 10-15 seconds, it spreads much easier! The sea salt on the banana really is yummy!
Banana
1/2 T. Almond Butter, 1 T. Crushed Walnuts,
1 tsp. Mini Chocolate Chips
Sprinkle of Sea Salt
3 PPV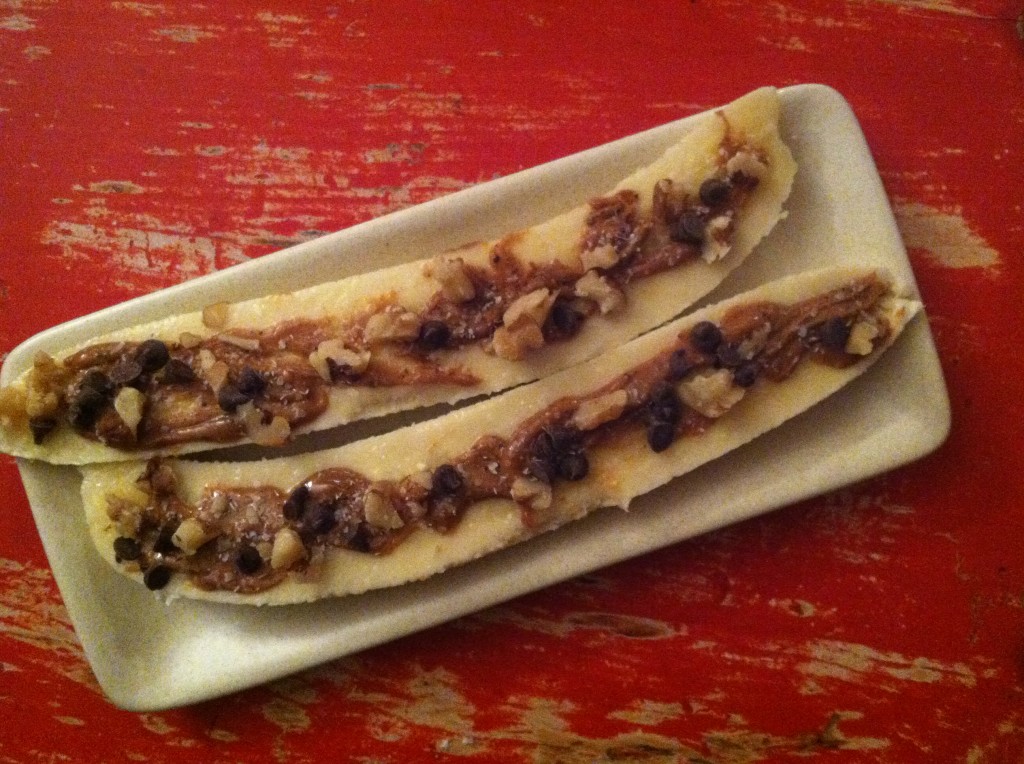 Dinner
I found this recipe over at emilybites.com. I modified it just a bit based on what I had in the fridge, but it was good and it was easy. I like good and I like easy. My picture doesn't look all that appetizing, but Mike and I both liked it a lot all mixed up with our Dole Chopped Salad!
Topped with Salsa and Smashed Avocado
Dole Chopped Salad
15 PPV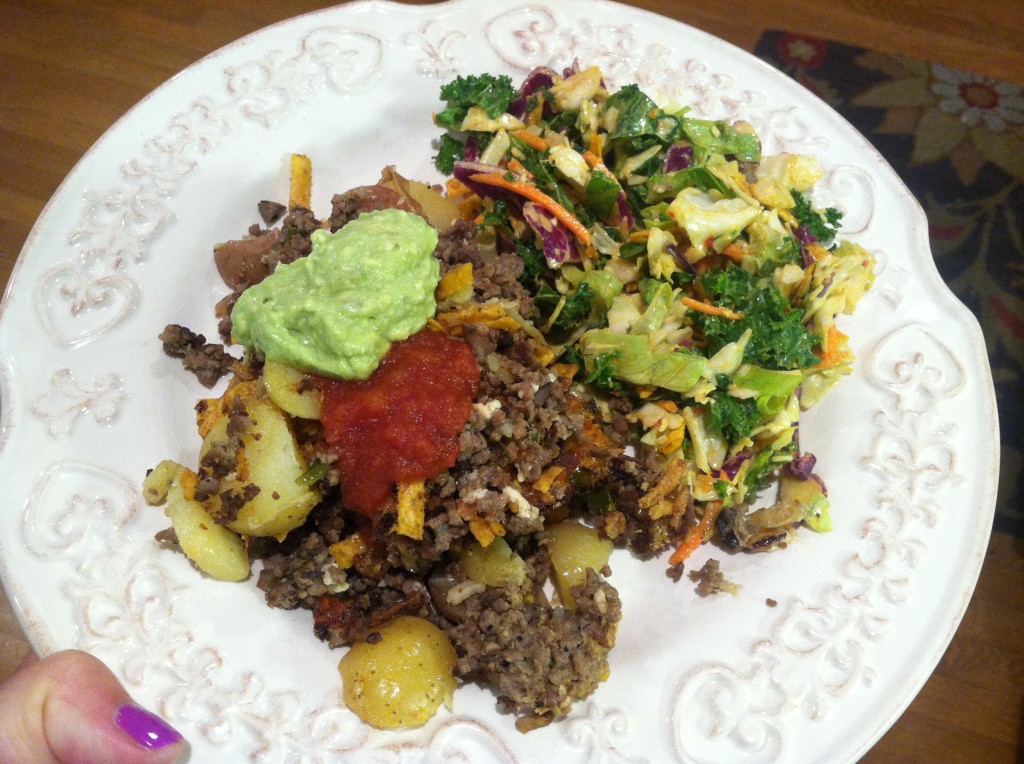 Weight Watcher's Points Plus
I can eat 26 PPV a day.
I can earn Activity Points by doing exercise, and eat them if I choose.
I have an allowance of 49 extra points that I can dip into throughout the week if I choose.
I should drink a minimum of 6 (8 oz) glasses of water each day.
My Weight Watcher Week Begins on Friday's
Breakfast = Frothy Coffee, Fruit (1)
Lunch = Burger, potatoes, carrots (10)
Snacks = Smoothie, Banana (6)
Dinner = Cheeseburger Casserole, Salad (15)
Total = 32
Exercise = Walked 6 Miles, 60 Minute Hot Yoga Class
Activity Points Earned for the Day = 10
Activity Points Earned This Week = 25
Activity Points Remaining This Week = 25
How many glasses of water I drank for the day = 10
Remaining points from my 49 Points Allowance = 20
Here is another great person to follow on Instagram!
wwgirl4life
She has the BEST post! She posted this yesterday and I asked if I could repost it!
If you are looking for inspiration and motivation, you should follow her on Instagram!
She is the one that inspired me to do the 100 Mile's in a Month Challenge!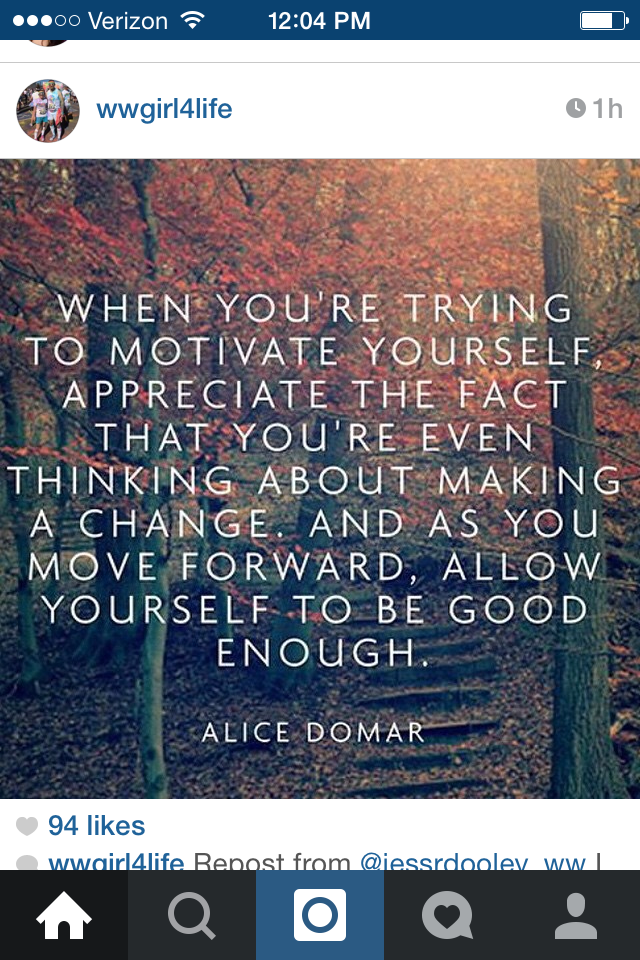 P.S. I really do like Instagram.
"love the life you live, live the life you love"