Hello Blog! I've missed you, but this girl has been super busy and unfortunately, you have suffered a bit of neglect.
I've been busy decorating, shopping, wrapping and going to parties, but I've also been relaxing, watching movies in the evenings with the hubb's, reading my book in the afternoons, and just soaking up the Christmas Spirit.
Here is this past week in a somewhat short review.
Last Thursday was all about Christmas shopping and then, a total girly party. It was the neighborhood "Ladies Gift Exchange – Wear Your PJ's" party and I had a blast!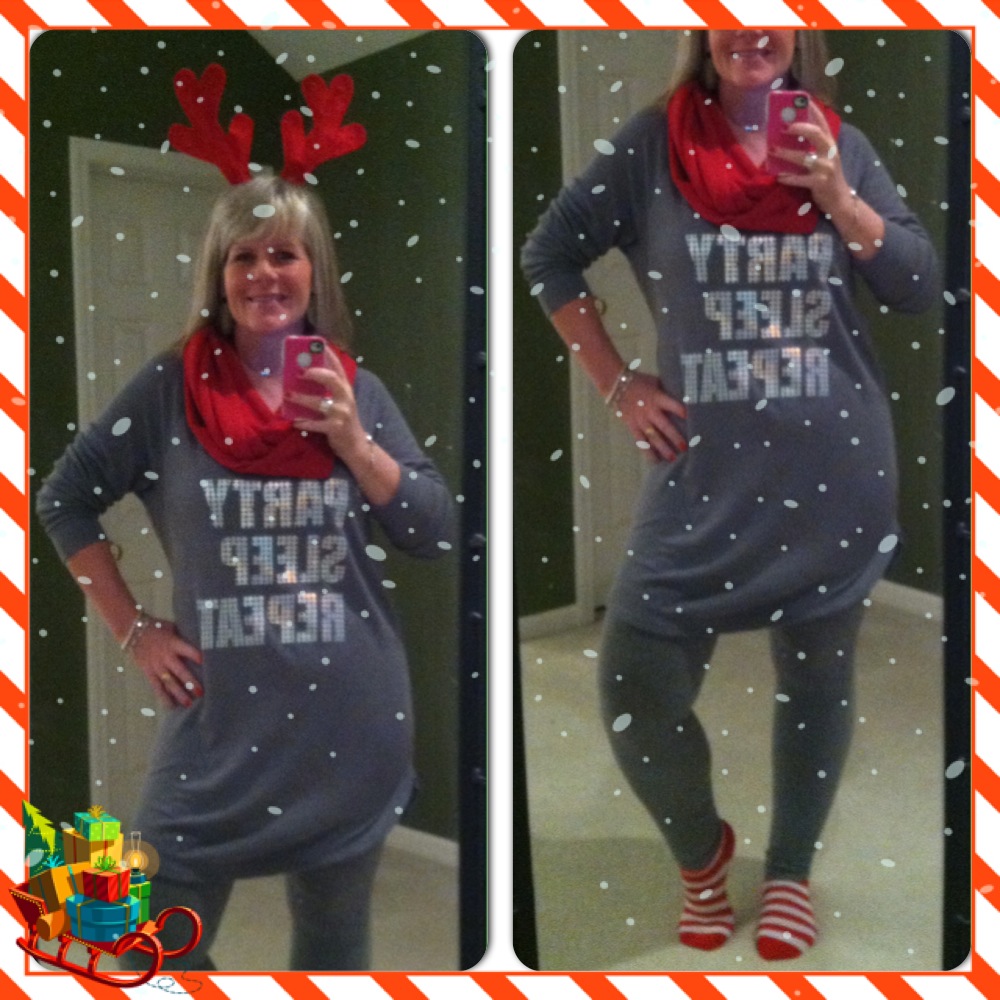 I drank enough wine for two, I was super cozy at the party, and I came home with this awesome gift!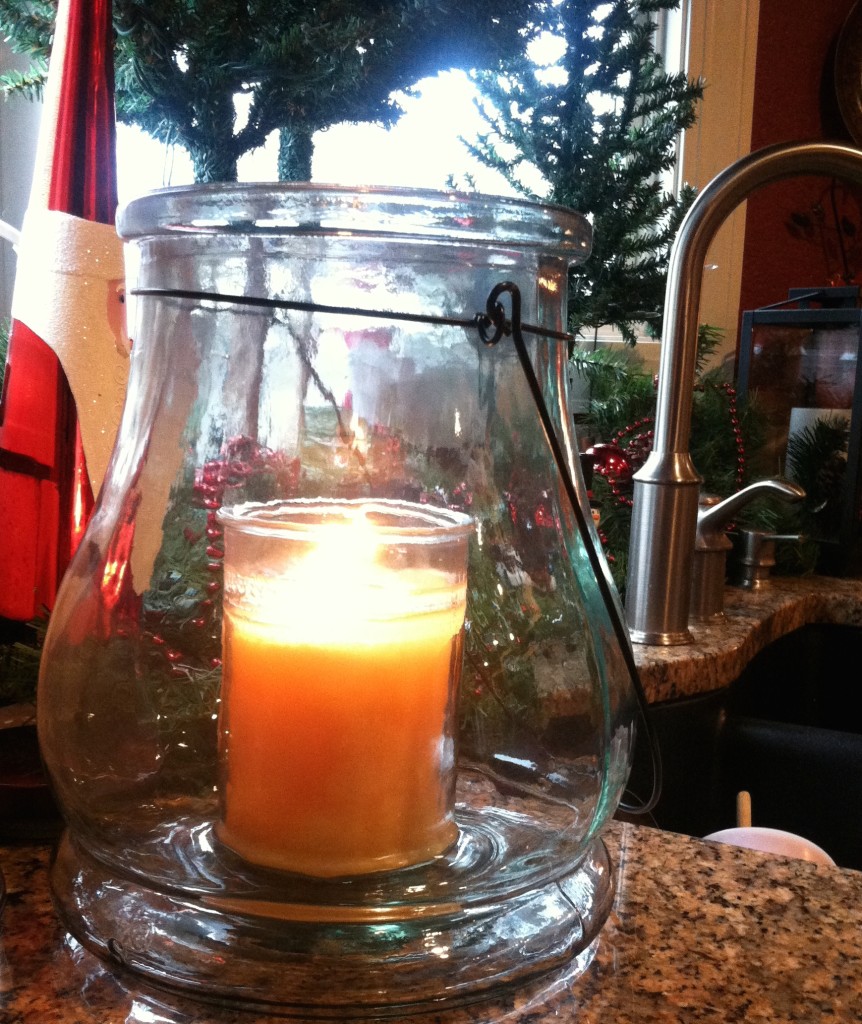 Friday, Mike and I had a last minute, super small get together where photo props and beer pong were the center of attention.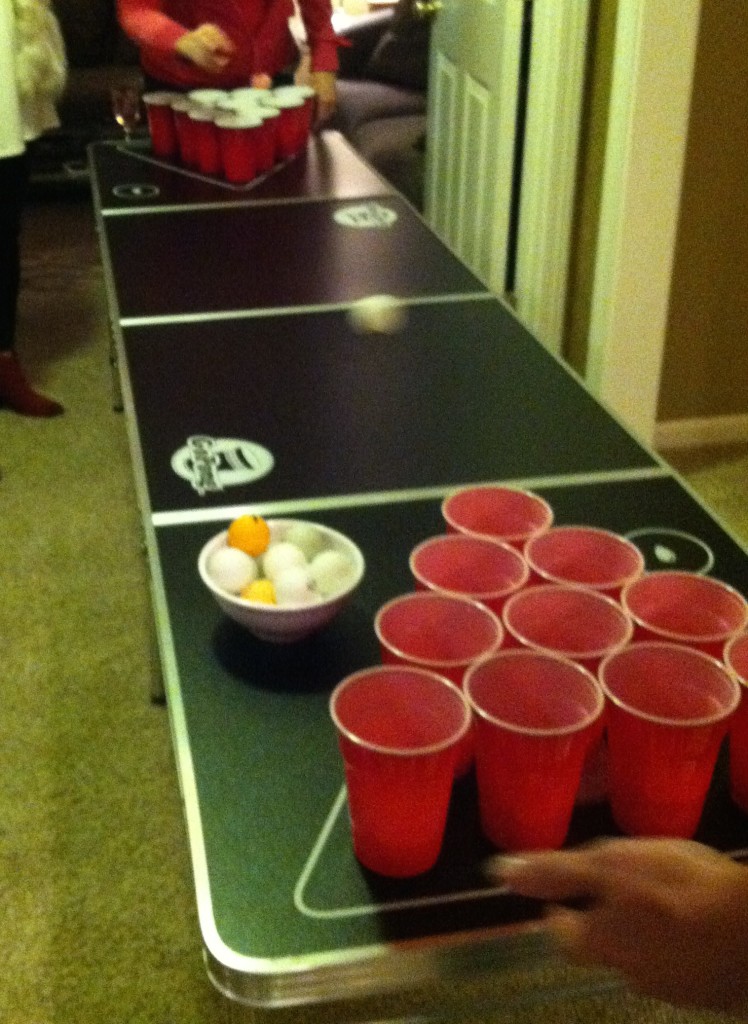 Even the dogs had fun!
Tucker loves his new glasses. Well, I love them on him anyway.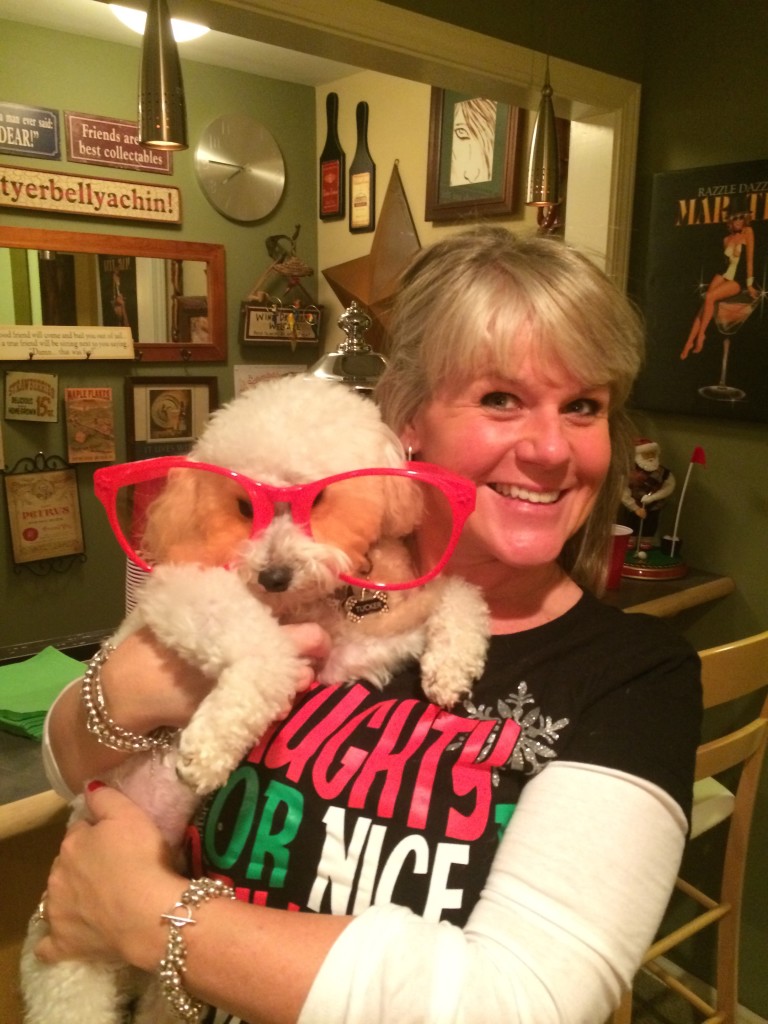 What's a party without a photo booth? (okay…it's a photo wall, and you need your own camera, but it served its purpose)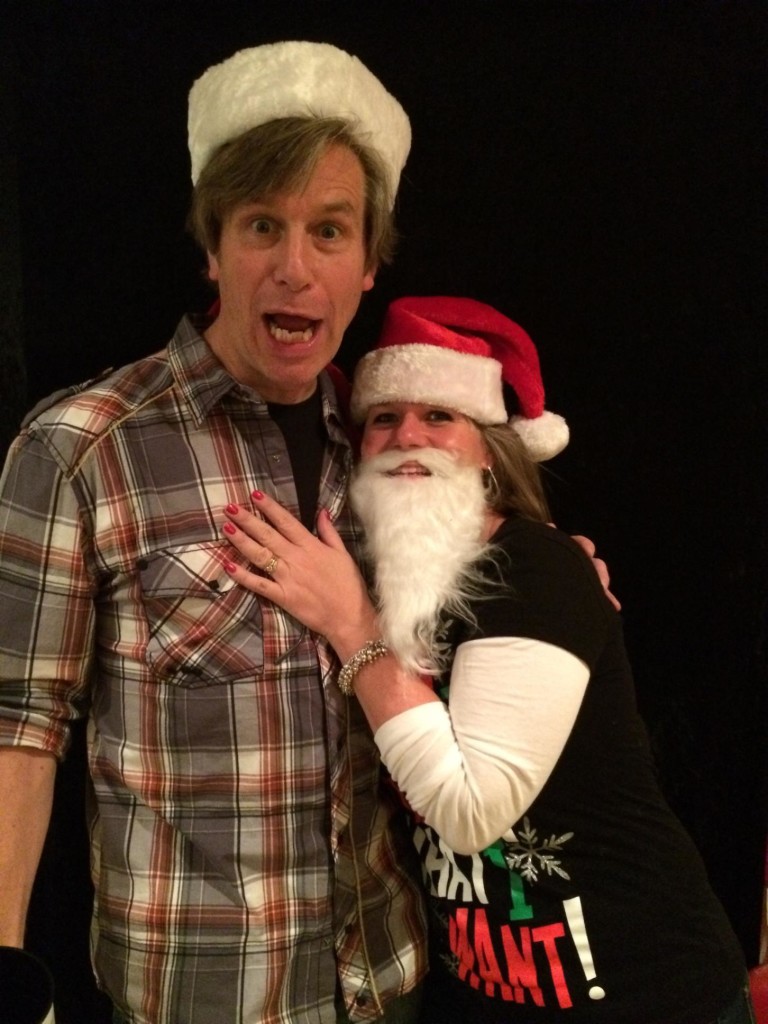 Saturday…..I had a date with Samone, my Little Sis!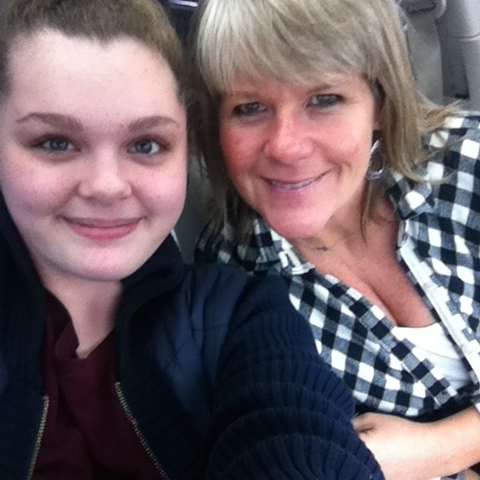 We did a little shopping at my favorite Hardware Store….I know, right? But I always seem to find some of the best stocking stuffers here! I found the cutest little finger puppets for the grandkids stockings!!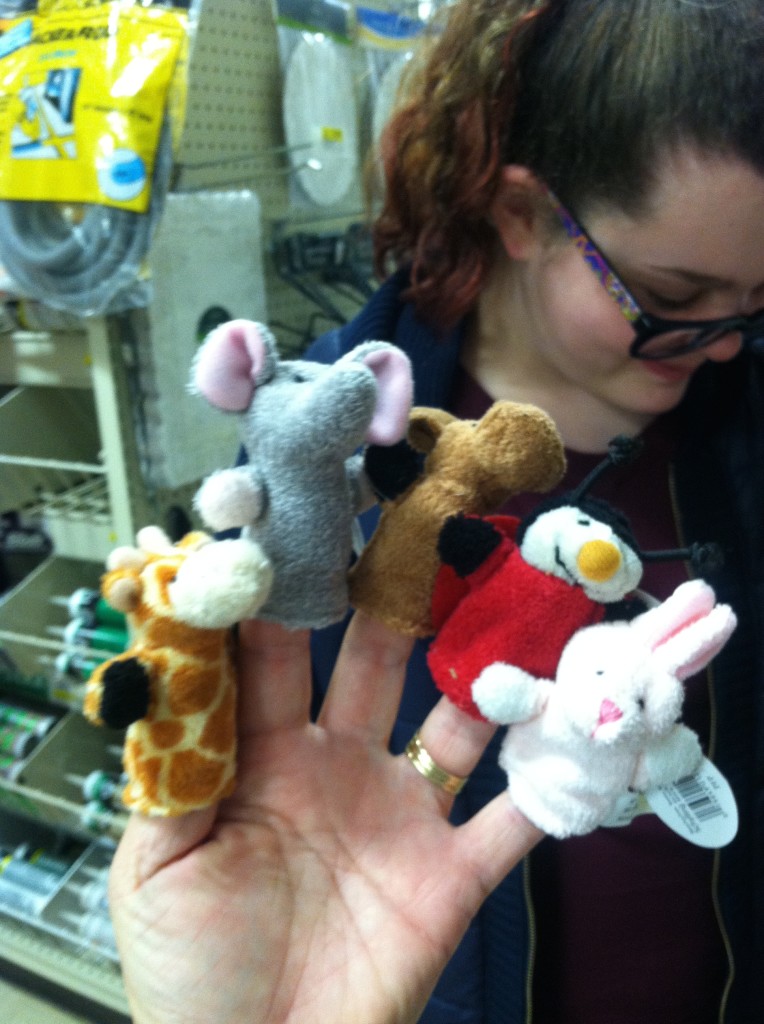 What fun is Saturday Christmas shopping without a Starbucks stop??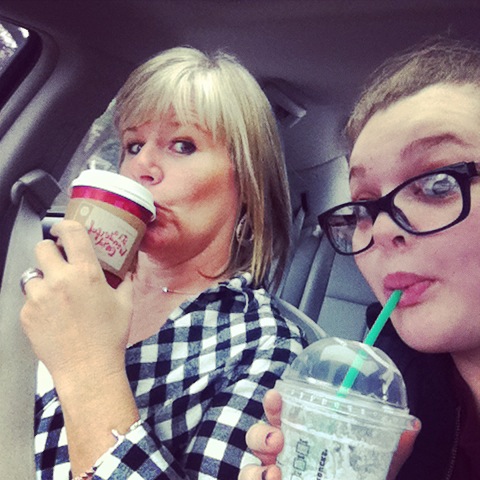 We played around at my house with nail polish and more photo taking!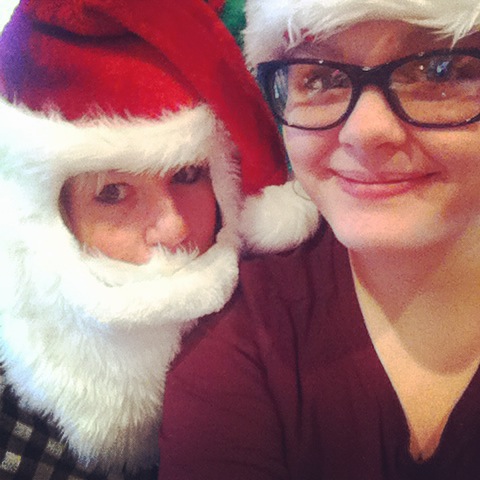 She might be just as goofy as me!!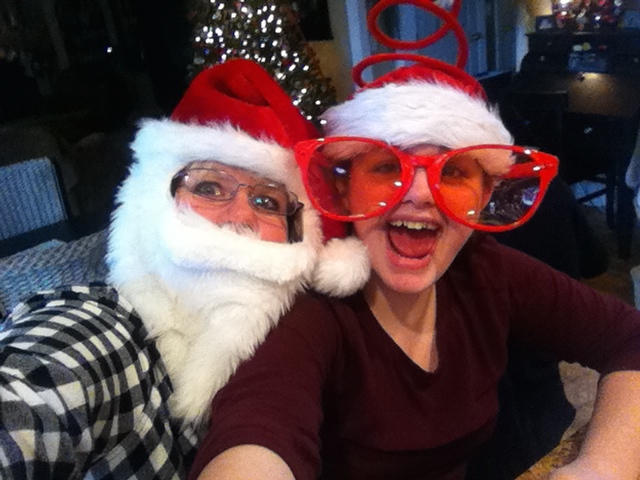 Sunday I finished up my shopping and did lots of wrapping!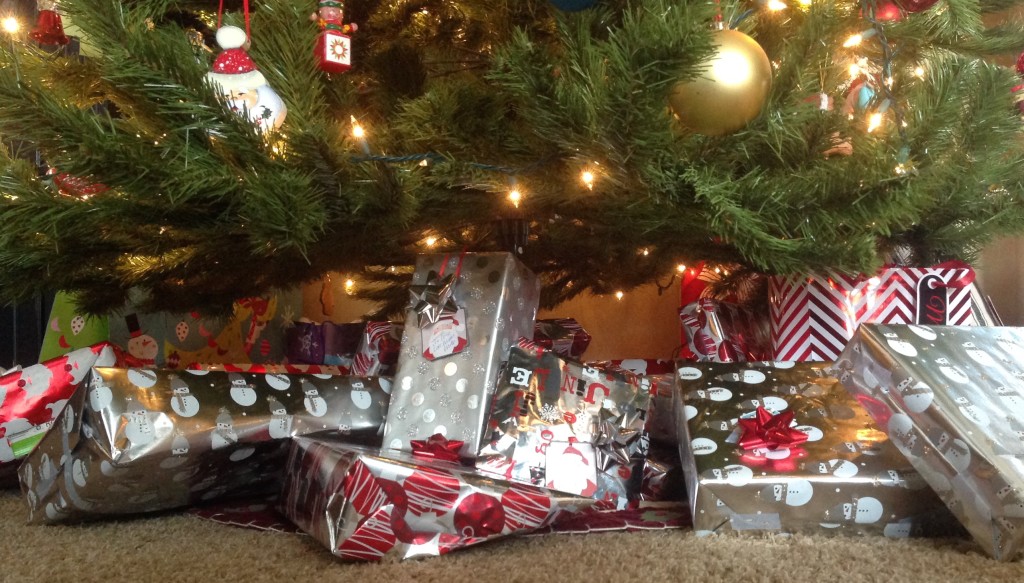 Santa stopped by and stuffed the stockings early too. He is gonna be really busy you guys, so I told him he could come by early.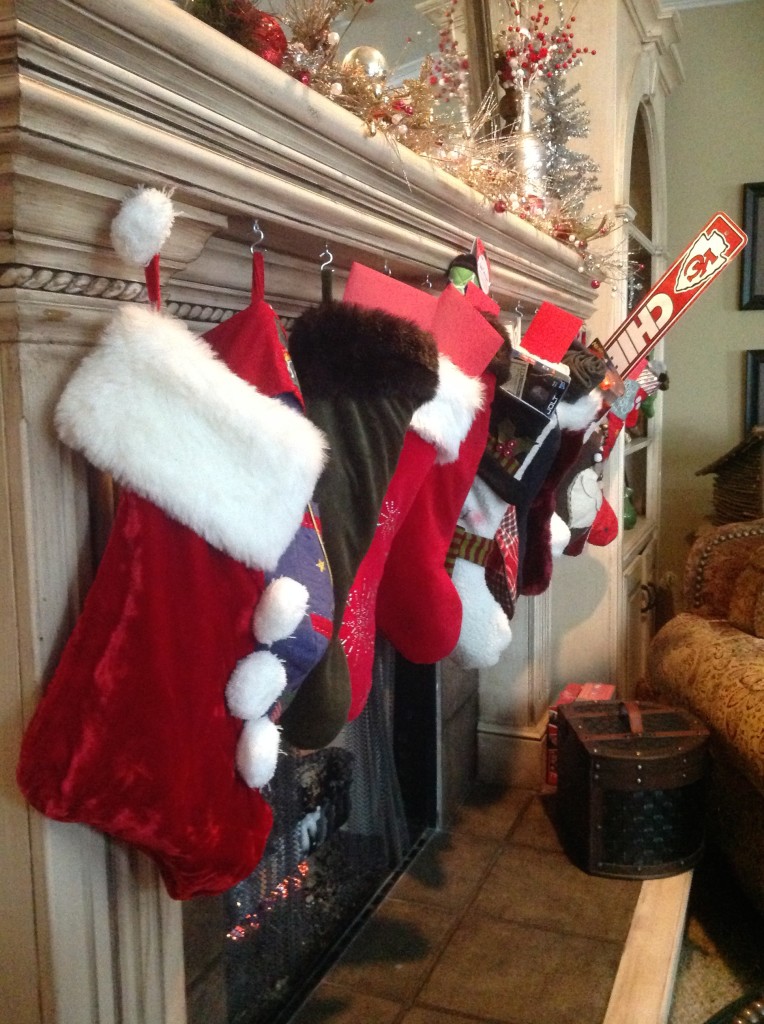 I even put Jesus in the manger……is that wrong? (My dad built this when I was a kid. Isn't it adorable?)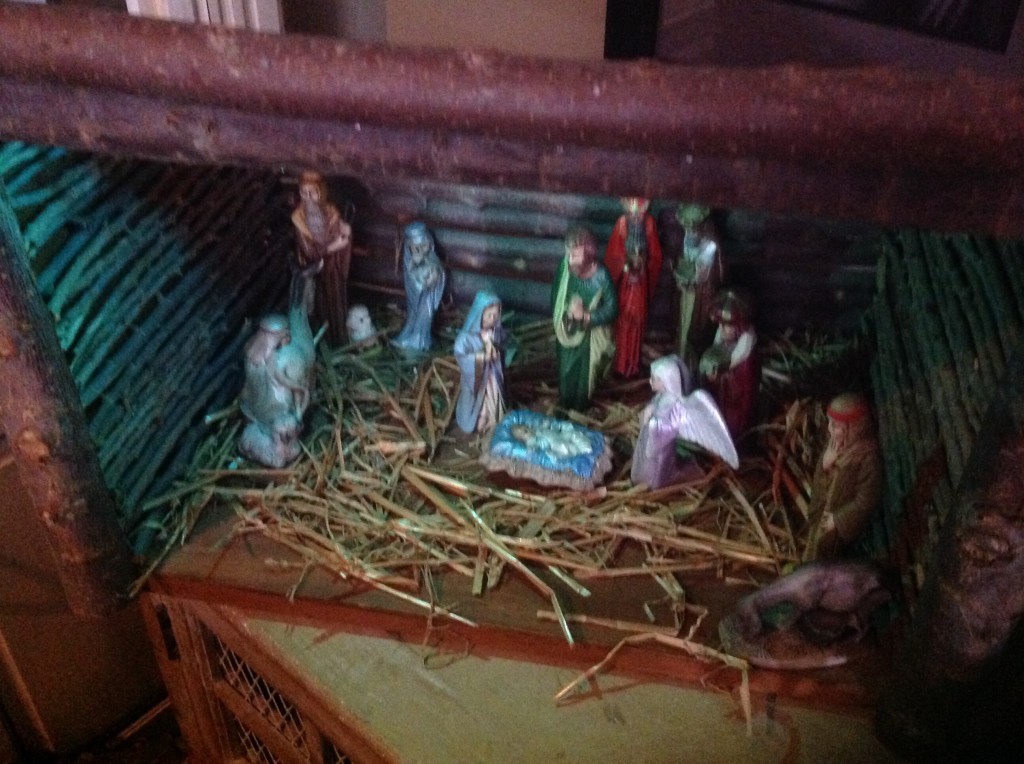 One night this week I made my first recipe out of my new Skinnytaste Cookbook!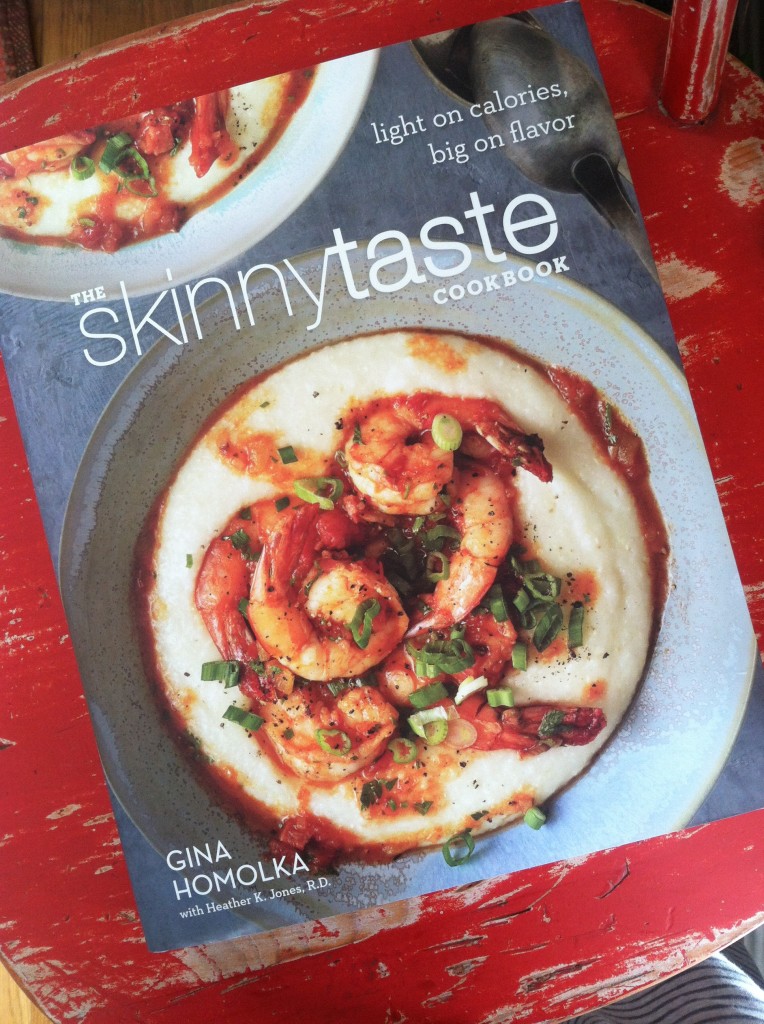 I made the Broccoli Mac and Cheese and it was delicious! I only put half of the pasta in the dish that it called for, then added some cooked chicken. Mike said he could have eaten the entire casserole!! I think mine looks pretty close to the picture in the cookbook!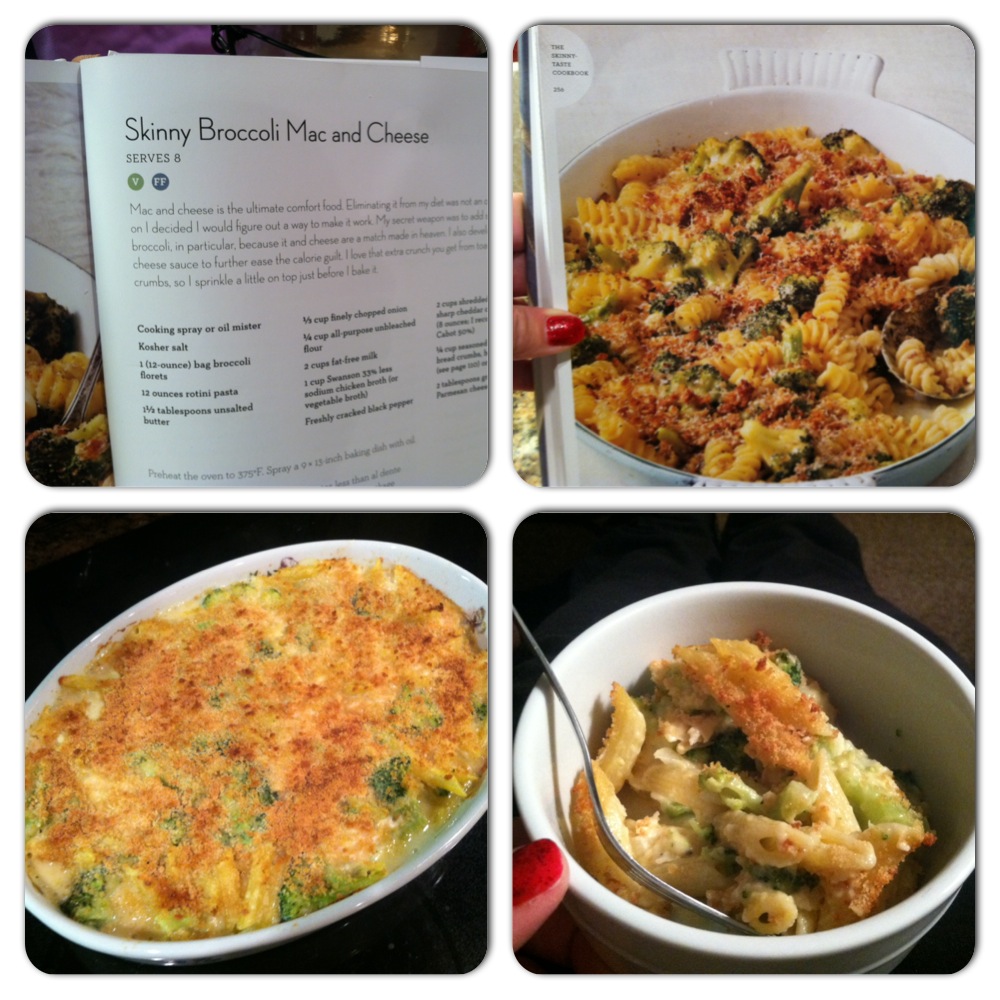 We ate that dinner on the couch while watching Miracle on 34th Street. The remake is already TWENTY years old! I've cried like a great big baby in every movie we've watched this week!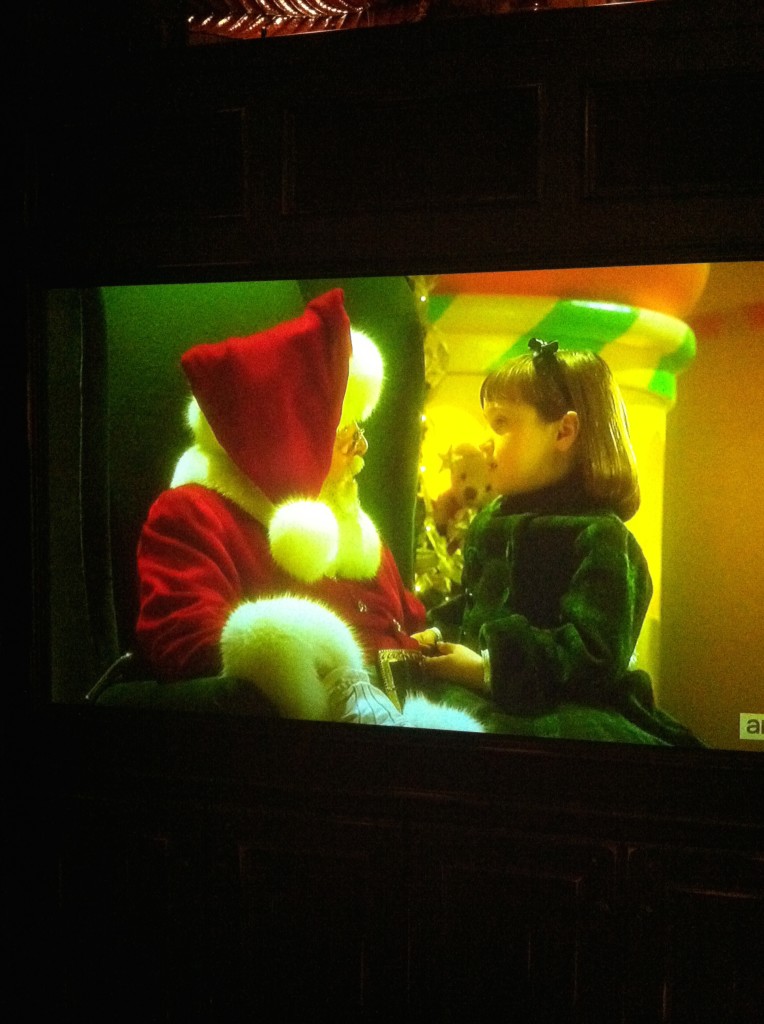 Miracle on 34th Street
The Holiday
Driving Miss Daisy
Scent of a Woman
I'm thinking Cary Grant tonight in An Affair to Remember, my all time favorite.
I'm saving Elf for when Tess comes for Christmas!
Here's what she's been up to with her roomies!! Cracks me up.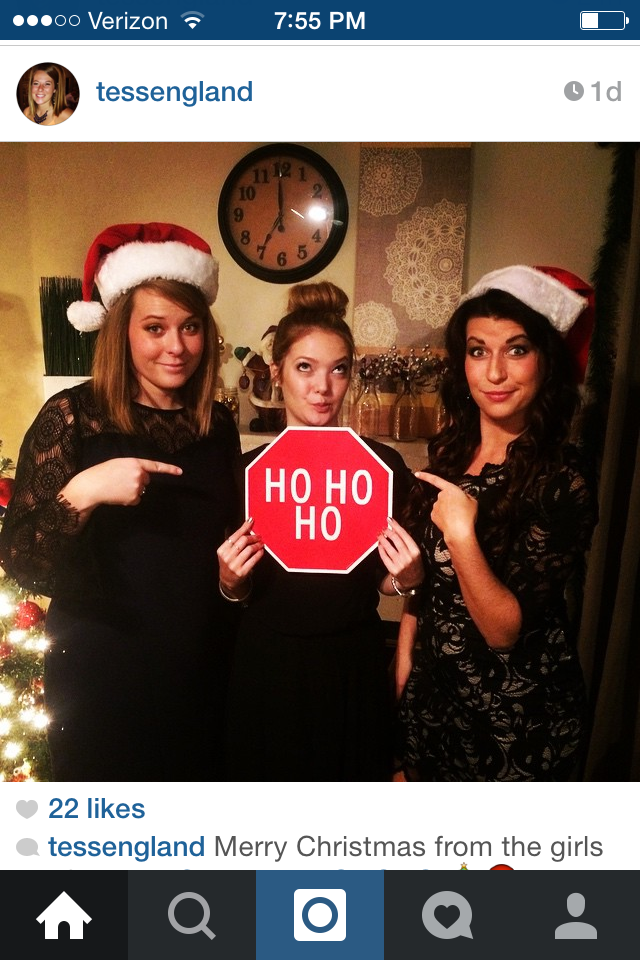 Yesterday, we had our first snow! It wasn't much, but it was so peaceful. Feeling sappy I suppose.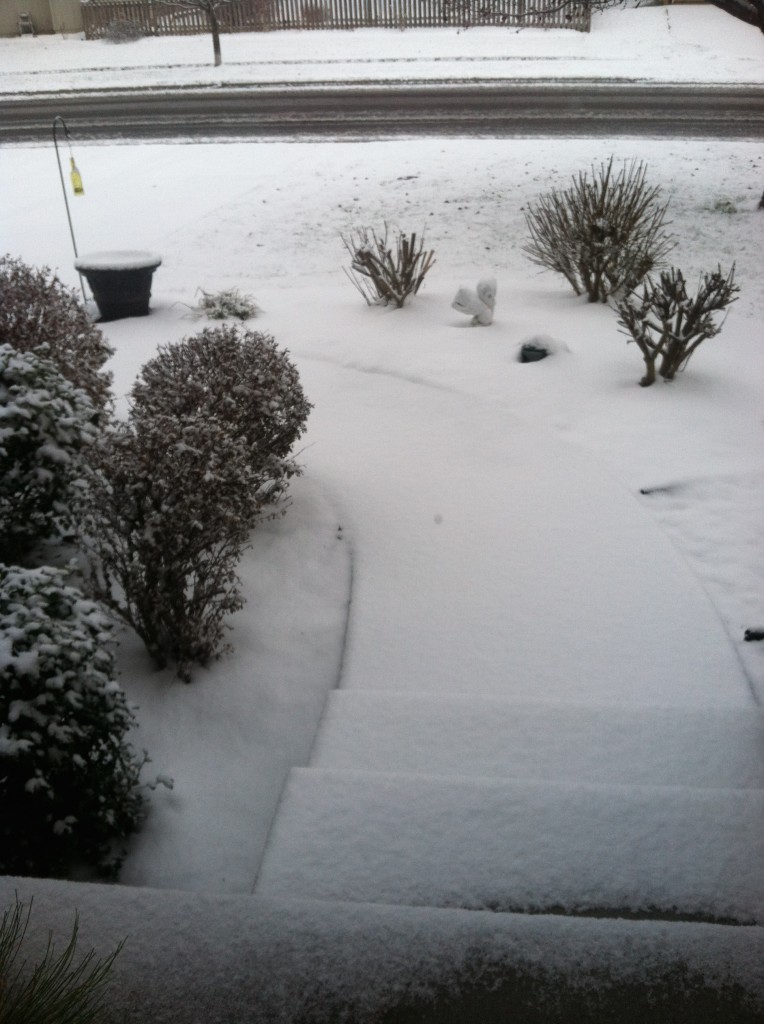 It gave me a reason to get out my boots!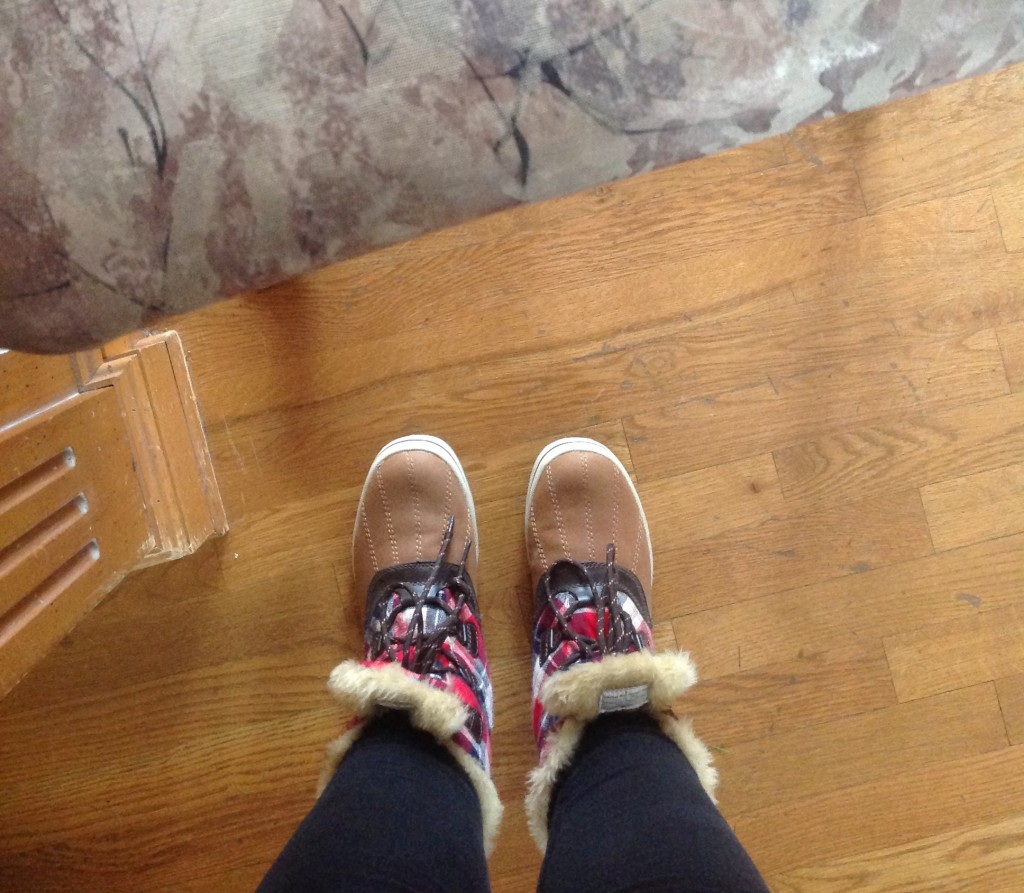 Last night we had Mikes work party, so I spent over an hour trying to curl my hair for about the third time since having it this length. I need more practice……..I look like I'm living in the 80's. Clearly I do not know what I'm doing.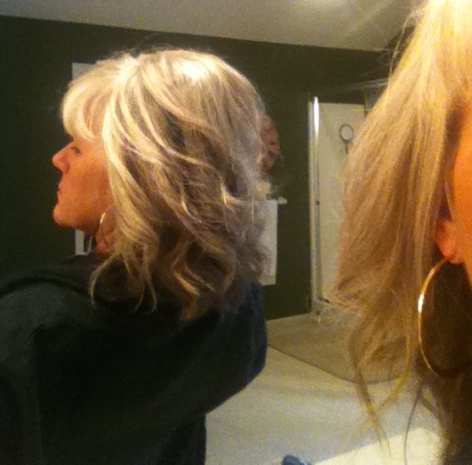 And then I added to my 80's hair a big sweater of animal print!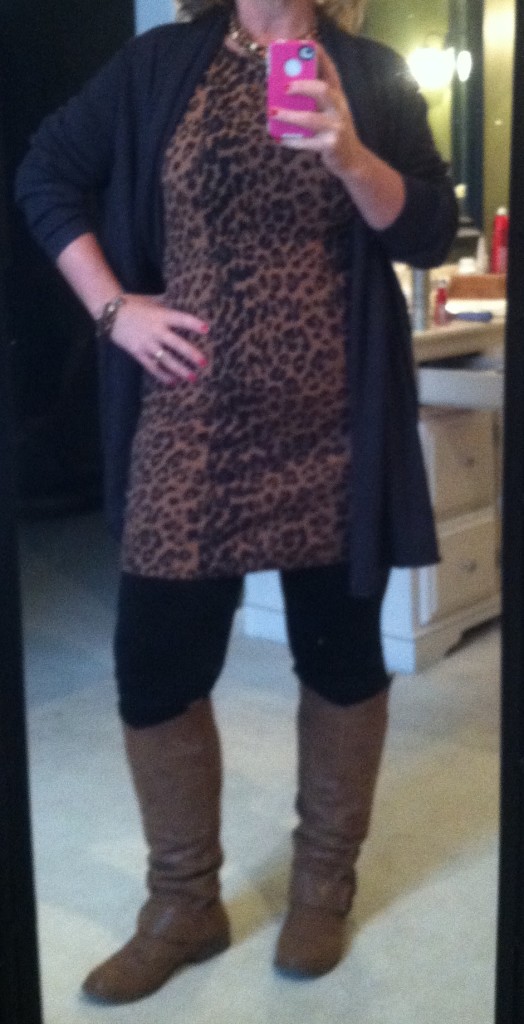 Today I went to my WW meeting, then right to the grocery store to stock up some healthier choices than I have made this past week.
The next week will be full so I know that my blogging will be sporadic at best.
I've got a lot of thoughts in my head related to goals and my health in 2015. I've gone from drastically pondering that I just won't drink any alcohol for the entire year, to pondering drinking only once a month, to then thinking twice a month, then thinking once every other month and back to thinking about just giving it up all together for a year. I know that my socializing greatly affects my weight, and really, it can't be all that great for my overall health anyhow. I'm not really a "one glass of wine" kinda girl. I'm more of a one bottle girl, and that leads to bad food choices. If I'm doing all of this work for my health, I feel like the older I get, the more I need to be thinking about that.
Tess and I are doing the Color Run again this year in Dallas, and we have agreed that we will do more 5K's together this year.
I track regularly, but I get in ruts where I miss days. I'm thinking of committing to tracking EVERY SINGLE DAY of 2015, no exceptions.
I have a lot of thoughts and plans for the year, I just need to finalize those in the next two weeks and put them in writing.
I walked 100 miles in August and it felt great to make a goal and reach it. I set the same goal for myself in November, and then didn't make it. That feeling sucked.
I want to make goals that will be challenging for me, but also realistic, so I've got some thinking to do!
I hope you all are enjoying your December, however you have been spending it!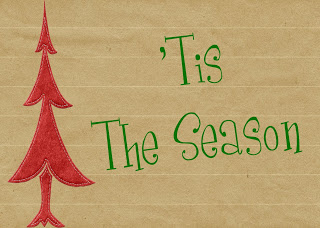 "love the life you live, live the life you love"