My weigh in went really well yesterday morning, and that completely set the mood for me for a healthy weekend.
This month has proven to be a good challenge for me. I didn't miss the alcohol as much as I thought that I would, and I really didn't miss the sugar as much as I thought that I would. I did my best to stay away from packaged foods, and I only had 1 packaged protein bar for the whole month, and that was really only because I was on an airplane, my stomach was growling, and I found it in my bag from my last trip!
The only alcohol that I had was a tiny bit of champagne to participate in a champagne toast for a friend.
I didn't eat any cheese, and I thought that I would really miss cheese!
I did however, have 4 coffee drinks with nonfat milk in them this month. I think I did pretty good.
One of my coffees with milk was yesterday. I made myself one to take to my WW meeting yesterday morning, along with a bowl of fruit to go! While at the meeting, one of the members passed around some 2 PointsPlus, Oatmeal Raisin Cookies that she had made from this WW Cookbook! So, I ended up having a tiny bit of sugar, one of the foods I've been avoiding this month.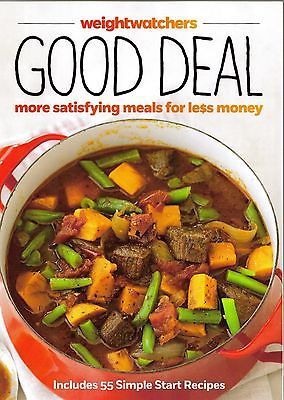 At our meeting, our Leader is asking for volunteer's to take this cookbook home for the week, make a recipe (or two, or three), then bring it back the following week and give us an opinion. I love this idea! I'll take it home one week and give it a try. The cookies were awesome!
It was a nice, lazy afternoon and evening at home. I ate leftovers for lunch and dinner, and I made Mike his own big skillet of yumminess.
Ground turkey, onion, garlic, carrots, zucchini, a little chicken broth and Cavender's Salt Free Greek Seasoning. I topped his bowl full of this with a little shredded cheddar and watched it melt. He said it was really really good!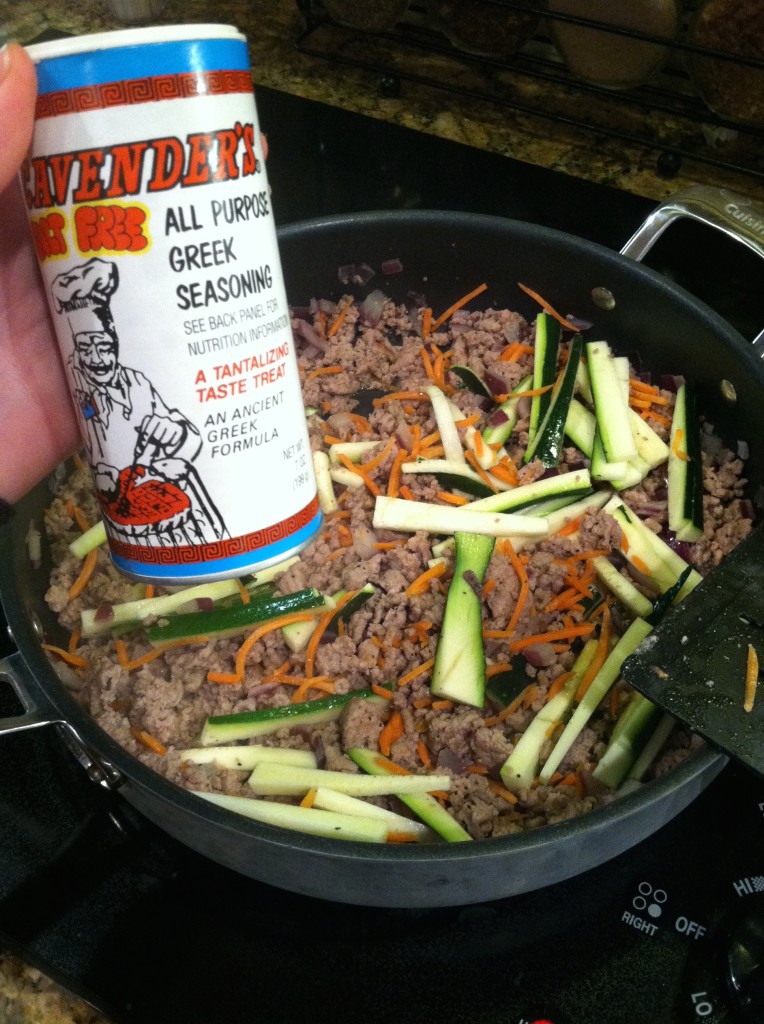 We spent the evening on the couch and I'm now all caught up with Scandal, Mom and Blue Bloods, and I watched the Season Finale of Parenthood. There were parts of that show, Parenthood, that always bugged me. They were all always talking over each other and it drove me crazy. I'm sure they did that to make the show seem more "real". None the less, it was a great family show and it always had good messages, and I cried really hard at the end of every damn episode!! Last night I was an absolute mess! I kept thinking Mike would wake up and console me, but I guess his snoring was louder than my sobbing. 🙂
While watching TV, I sipped on six cups of hot tea, repeatedly using the same tea bag (the last two cups, I'm certain were just hot water) all night long! This is a new flavor that I bought, and I really liked it!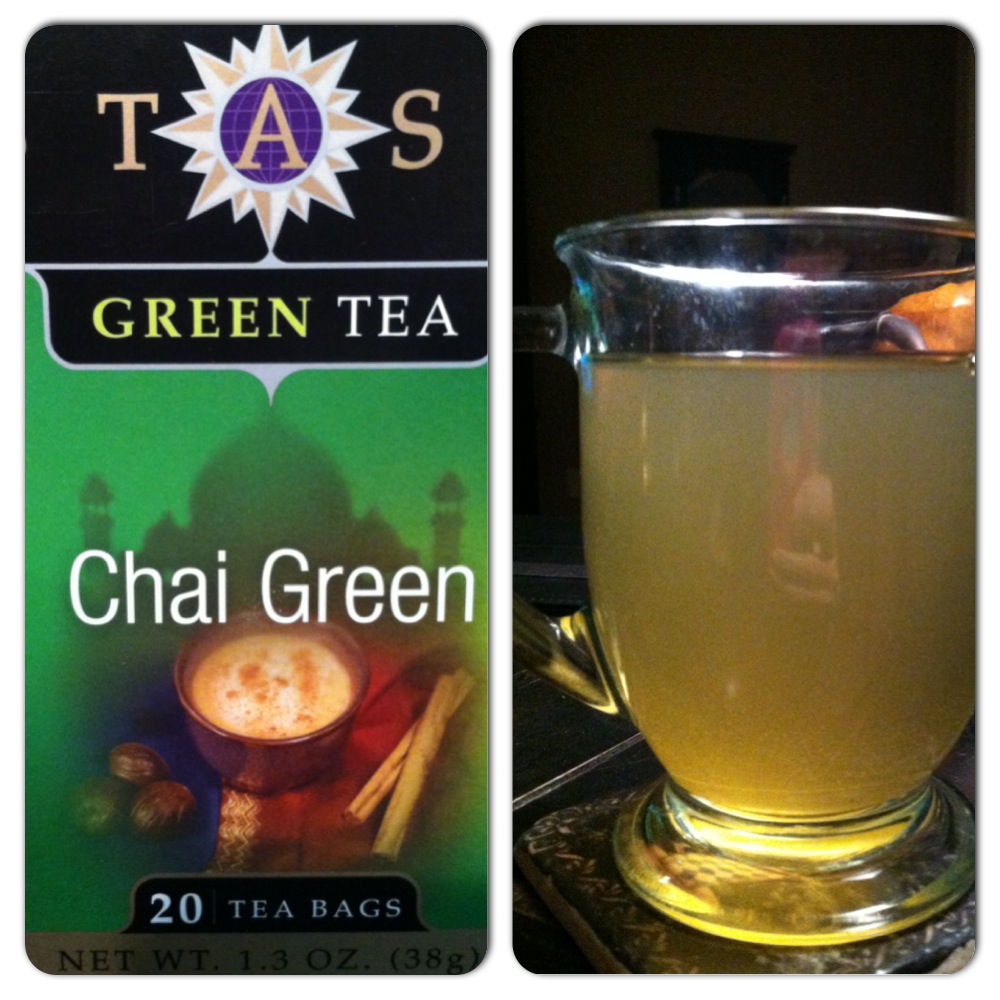 For the month of January, I am not eating (well, for the most part) the following items.
Gluten
Dairy
Red Meat
Soy
Corn
Sugar
Artificial Sweetness
Alcohol
Here are yesterday's eats…
Breakfast
Un-pictured Cookie at WW Meeting
Frothy Coffee – To Go!
Banana, Grapefruit, Blueberries
3 PPV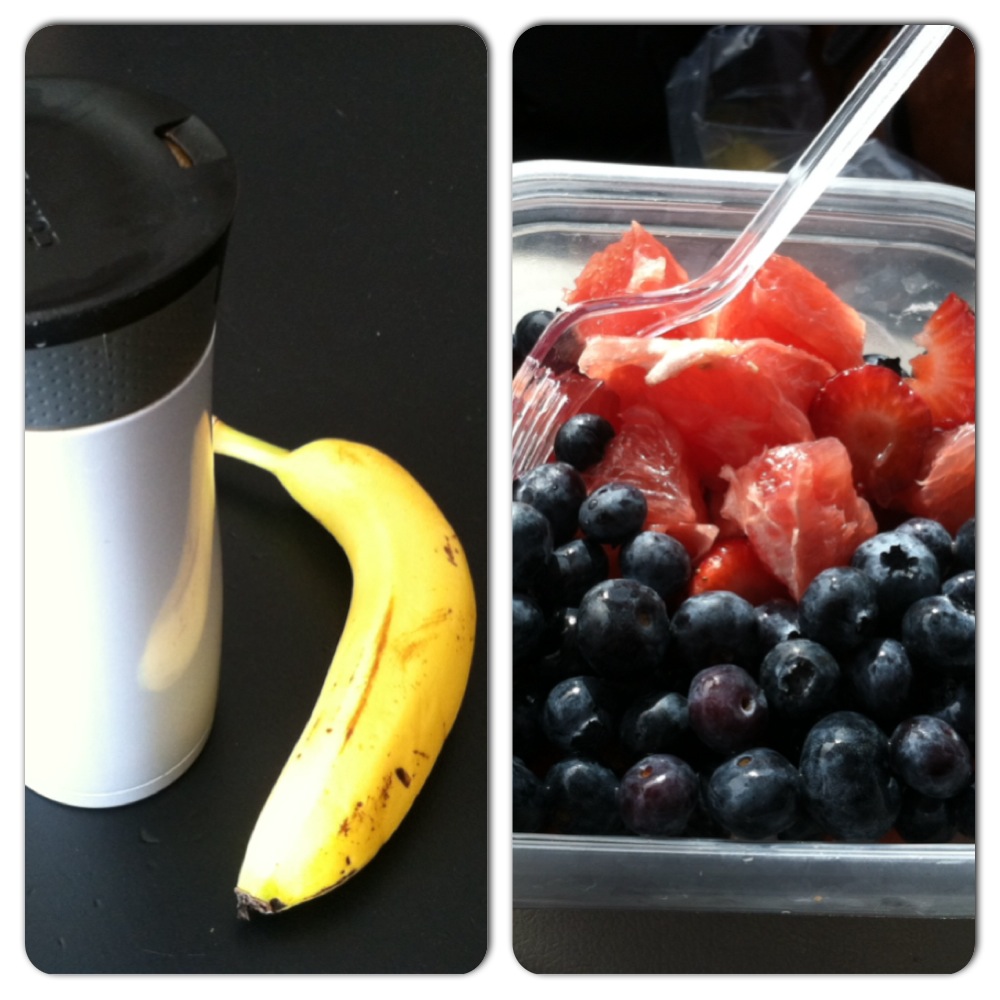 Lunch
topped with 2 Egg Whites and 1 Egg
10 PPV
This was a big lunch, but it was a late lunch and I was starving. I loved the runny yolk on top of this mixture!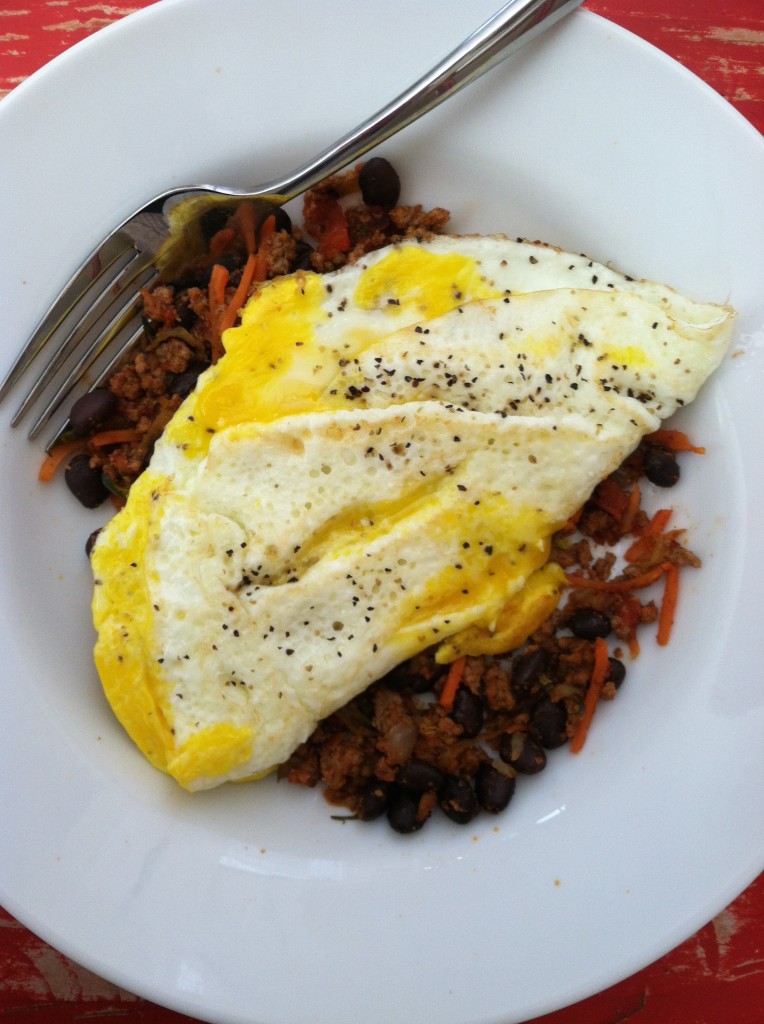 Snack
Gluten Free Toast with Smear of Almond Butter
Green Tea
4 PPV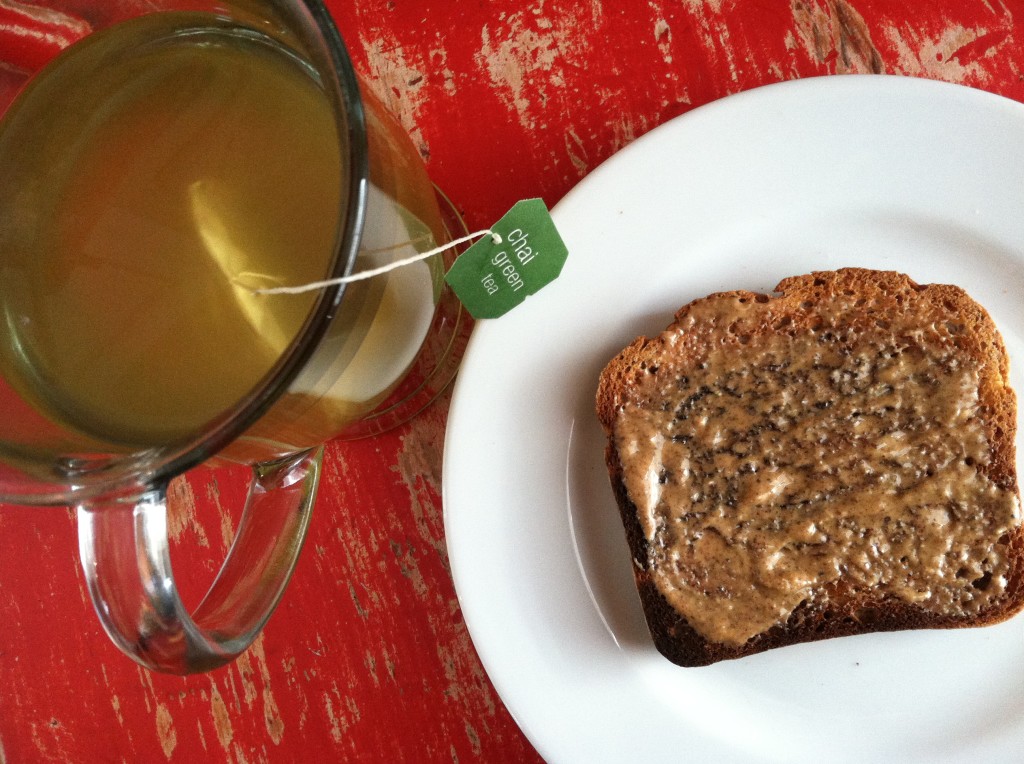 Snack
Apple
0 PPV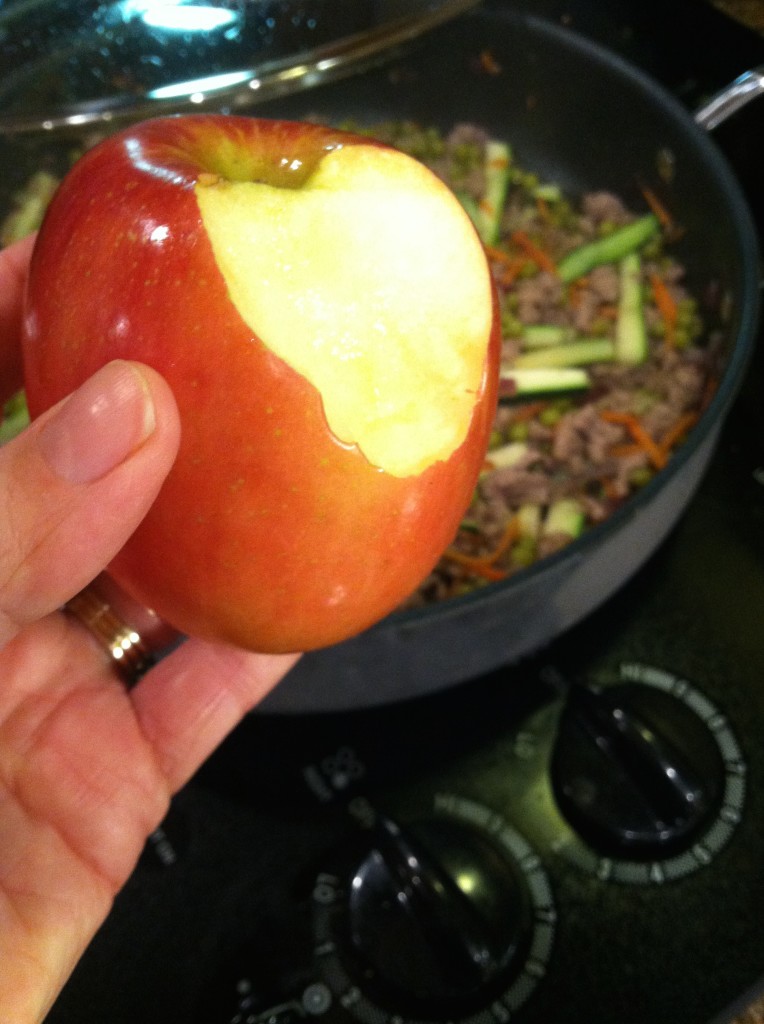 Dinner
7 PPV

Snack
6 PPV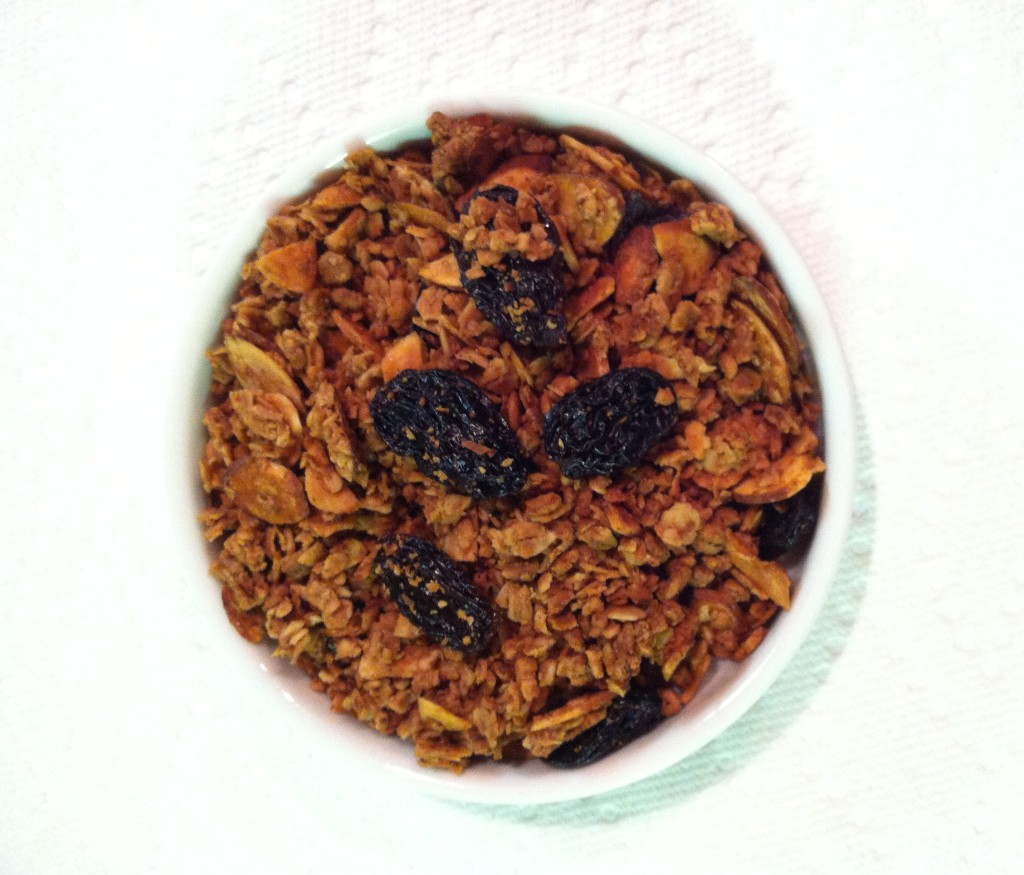 Weight Watcher's Points Plus
I can eat 26 PPV a day.
I can earn Activity Points by doing exercise, and eat them if I choose.
I have an allowance of 49 extra points that I can dip into throughout the week if I choose.
I should drink a minimum of 6 (8 oz) glasses of water each day.
My Weight Watcher Week Begins on Friday's
Breakfast = Cookie, Frothy Coffee, Fruit (3)
Lunch = Turkey Skillet with Eggs (10)
Snack = Toast, Almond Butter, Tea, Apple (4)
Dinner = Turkey Skillet (7)
Snack = Granola, Raisins (6)
Total = 30
Exercise = Rest Day
Activity Points Earned for the Day = 0
Activity Points Earned This Week = 0
Activity Points Remaining This Week = 0
How many ounces of water I drank for the day = 96
Remaining points from my 49 Points Allowance = 45
This is What I Will Accomplish in 2015
I will choose one occasion per month for Social Drinking
I will go no more than two days in a row without some sort of exercise. (unless I'm sick)
I will track every single day for the entire year. No matter what. I'll track if I eat 26 points, I'll track if I eat 76 points.
I will RUN in a minimum of six 5K's
I am feeling pretty enthusiastic!

"love the life you live, live the life you love"