(The awesome Sweet Potato, Zucchini, Red Onion and Egg dish that you might be here for, is below and actually is what I ate for my dinner! I love Breakfast for dinner!)
It was in the 70's yesterday in Kansas City! What a beautiful January day! The forecast for the rest of the week is 40's and 30's with a possibility of snow!! What the heck??
I totally got to take advantage of the day though. We opened up the Food Truck for business yesterday and sold out of everything! Due to the cold, and the propane not cooperating with us well when it's that cold, we hadn't had a lunch day since the first week in December! It was a great afternoon seeing all of those familiar faces happy to see us on our corner!
I dropped off Tucker at Doggie Daycare (this just sounds so crazy, but it's true) so he could enjoy the day outside too!
I took a 3.5 mile walk outside!
I hope the forecast is completely wrong and that we have more days of warmth and sunshine!
I'm heading to a Jazzercise Class this morning instead of the late afternoon, so it will be a teacher that I haven't had yet. I'm signing up today for the year. I really like the classes and all of the teachers that I have had so far! The schedule offers a great variety of times, and I like being in a class and having a workout to follow!
I'm heading to a High School friends house tonight for a small get together. She offered to make dinner, and I said I was eating really particular right now (THREE MORE DAYS!), so I would probably eat before I came, or bring my own dinner! We're going to be sitting around the fire pit (because even though yesterday was in the 70's, it really is January, and the weather reflects that today!) and sipping on wine. I'll take my tea bags and sip on tea, or maybe even just water so that damn scale is my BFF tomorrow morning at weight in!
I stepped on the scale this morning, ya know, to check in. It's right where I want it to be. I'm practically afraid to eat today! I'm going to really watch my salt and possibly drink EXTRA water. I've been doing a good job of getting in 80-90+ ounces, so maybe I'll shoot for over 100 today.
Sidenote: Mike is 3 weeks Diet Coke Free!! Yippee! Yahoo!! It's kind of a big deal. He doesn't think so, but I do! He has only replaced his Diet Coke with water! I'm just super impressed. 🙂 Oh yeah, and because he didn't eat carbs for the like the last 10 days, he's lost like 12 pounds. Men are irritating. I swear in his head, he just thinks….I'd like to lose 10 pounds, then he does.
For the month of January, I am not eating the following items.
Gluten
Dairy
Red Meat
Soy
Corn
Sugar
Artificial Sweetness
Alcohol
Here are yesterday's eats…….
Breakfast
Gluten Free Toast with a Smear of Avocado and Salsa
Topped with 3 Egg Whites
Berries and Black Coffee
6 PPV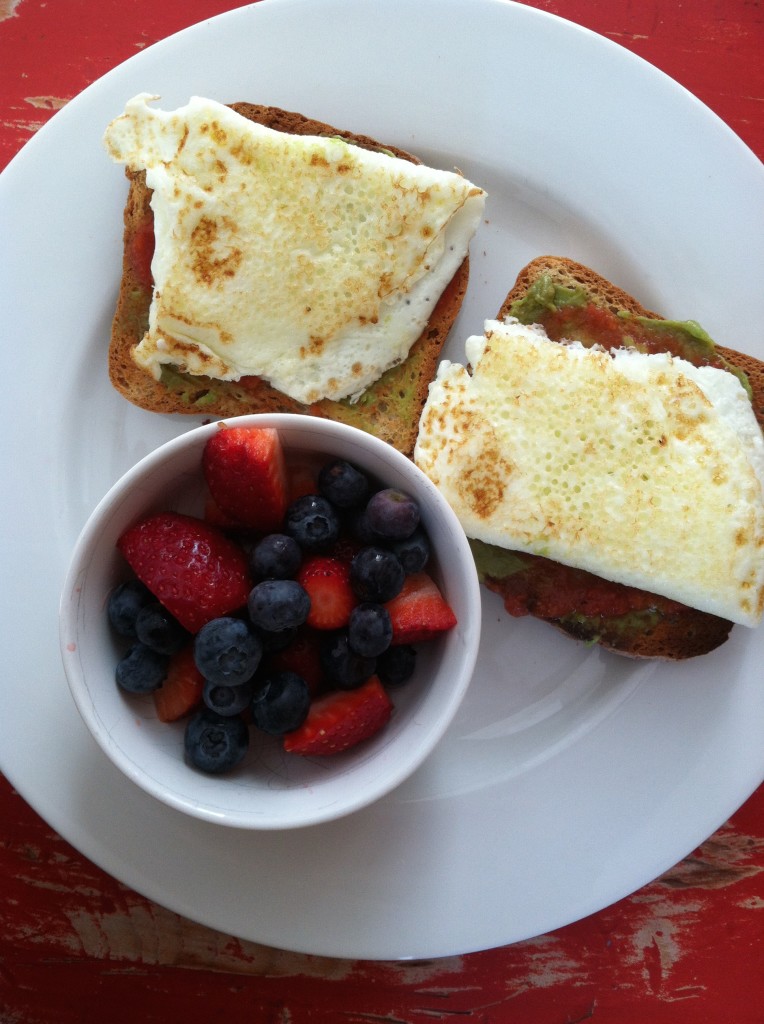 Lunch
Pork Bahn Mi Salad at the Food Truck
12 PPV
I know there is sugar in the sauces, but I did go super light on them, and I feel like I am overestimating on this meal. It's Mixed Greens, Pork, cucumbers, pickled carrots, and jalapeño's….and a little sauce. Oh how I've missed the Food Truck Food!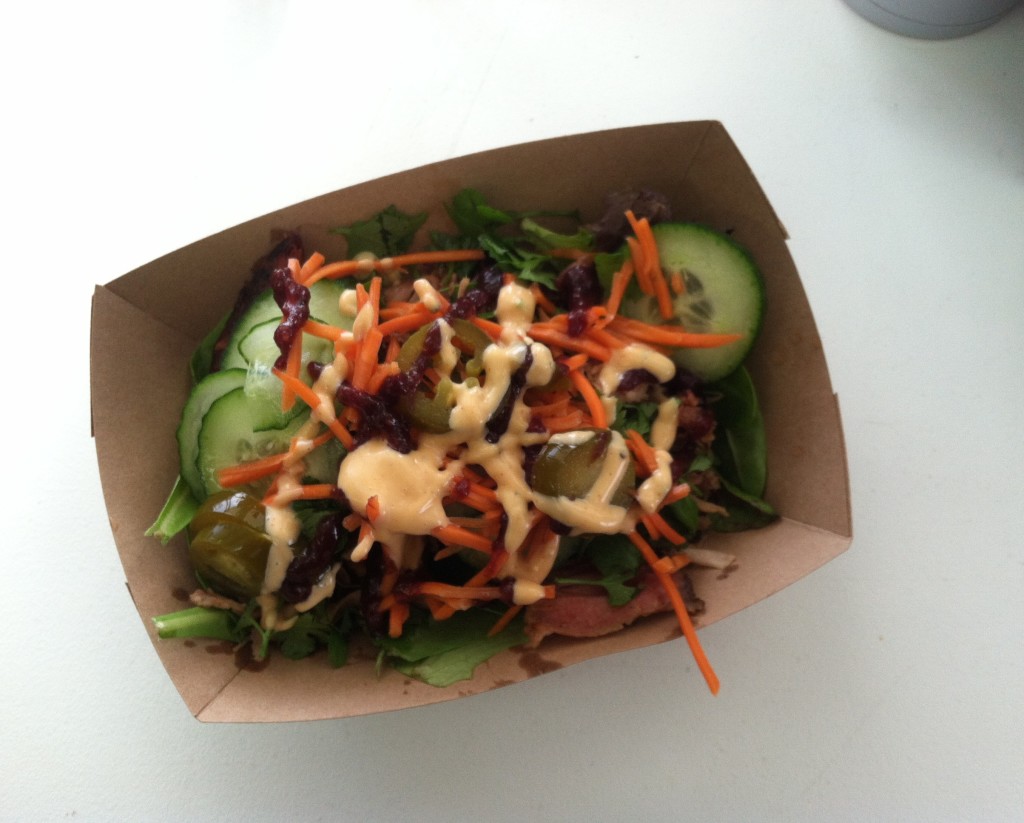 Snack
5 PPV
Nom Nom Nom……..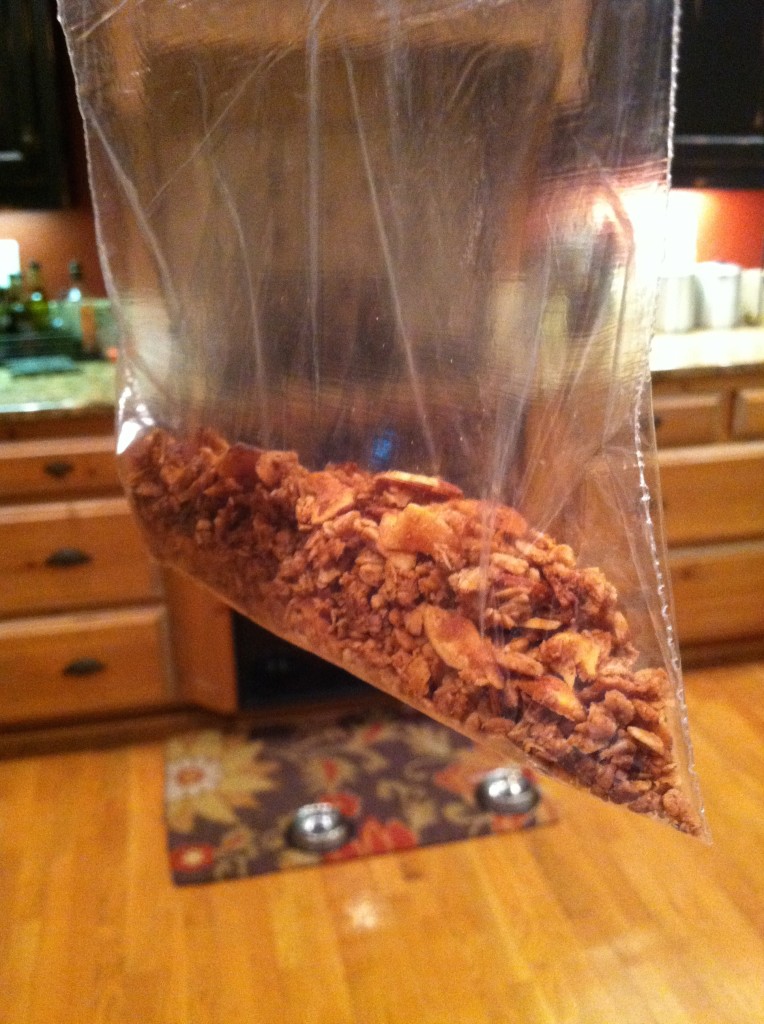 Dinner
4 oz Cooked, Diced Sweet Potato, 1/4 Red Onion
1/2 Zucchini, 3 Egg Whites, 1 tsp Olive Oil
4 PPV
Not only does this make a great breakfast, it's also such a great dinner for a night when I don't have a lot of points left for the day.
I clean, dry and poke with a fork, a small sweet potato. Then I microwave it for 2-3 minutes, depending on the size, flip it over and cook it for an additional 2-3 minutes in the microwave. A fork inserted into it easily will tell you that it is done. Then I make a slice in the skin across the top of it, and the skin comes right off. Now that I'm weighing and measuring, I weigh it. This one was 4 ounces.
While I'm prepping my sweet potato, I have diced red onion and diced zucchini cooking in the skillet in 1 tsp of Olive Oil. When my potato is ready, I dice it up and toss it in with the veggies.
Now, there are a couple of options to finish off this tasty meal. Last night, I scrambled a few egg whites in a separate pan, and then added them to the veggies and added a little sea salt and cracked black pepper. I love the flavor's of the zucchini with sweet potato and red onion together, and with the added egg whites, it's filling and only 4 PointsPlus!
Another really great option is to cook one or two eggs over easy in a skillet and top these veggies with that. The creaminess of the runny yolk is damn near a delicacy!
And if you still have a point or two left? Dice some avocado on top for an extra special finish!
Truly one of my favorite meals! Can you tell?
Eat if for breakfast, eat it for lunch, eat it for dinner, eat it for a snack!! It's easy. It's low in points. It has protein in it. It taste amazing!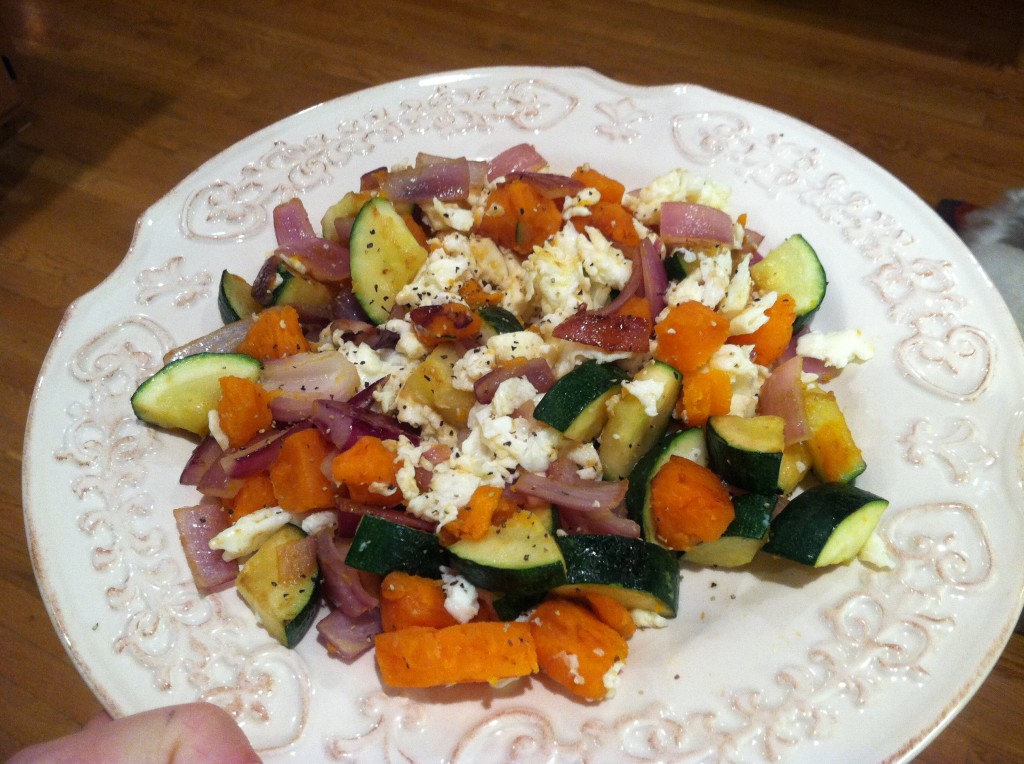 Here's a picture from another post with a yummy runny egg and some avocado on top of this deliciousness!! This picture really made me miss my Frothy Coffee's!!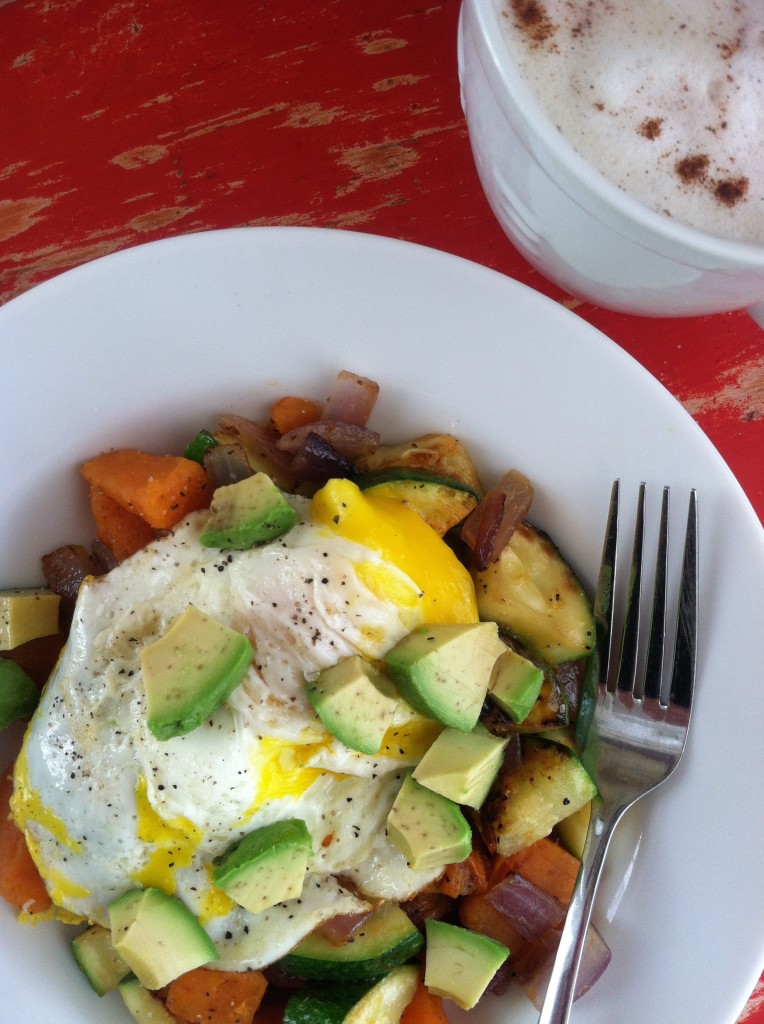 Weight Watcher's Points Plus
I can eat 26 PPV a day.
I can earn Activity Points by doing exercise, and eat them if I choose.
I have an allowance of 49 extra points that I can dip into throughout the week if I choose.
I should drink a minimum of 6 (8 oz) glasses of water each day.
My Weight Watcher Week Begins on Friday's
Breakfast = Egg White Sandwich, Fruit (6)
Lunch = Bahn Mi Salad (12)
Snack = Granol (5)
Dinner = Veggies and Egg Whites (4)
Total = 27
Exercise = walked 3.5 miles
Activity Points Earned for the Day = 4
Activity Points Earned This Week = 22
Activity Points Remaining This Week = 22
How many ounces of water I drank for the day = 96!
Remaining points from my 49 Points Allowance = 37
This is What I Will Accomplish in 2015
I will choose one occasion per month for Social Drinking
I will go no more than two days in a row without some sort of exercise. (unless I'm sick)
I will track every single day for the entire year. No matter what. I'll track if I eat 26 points, I'll track if I eat 76 points.
I will RUN in a minimum of six 5K's

"love the life you live, live the life you love"