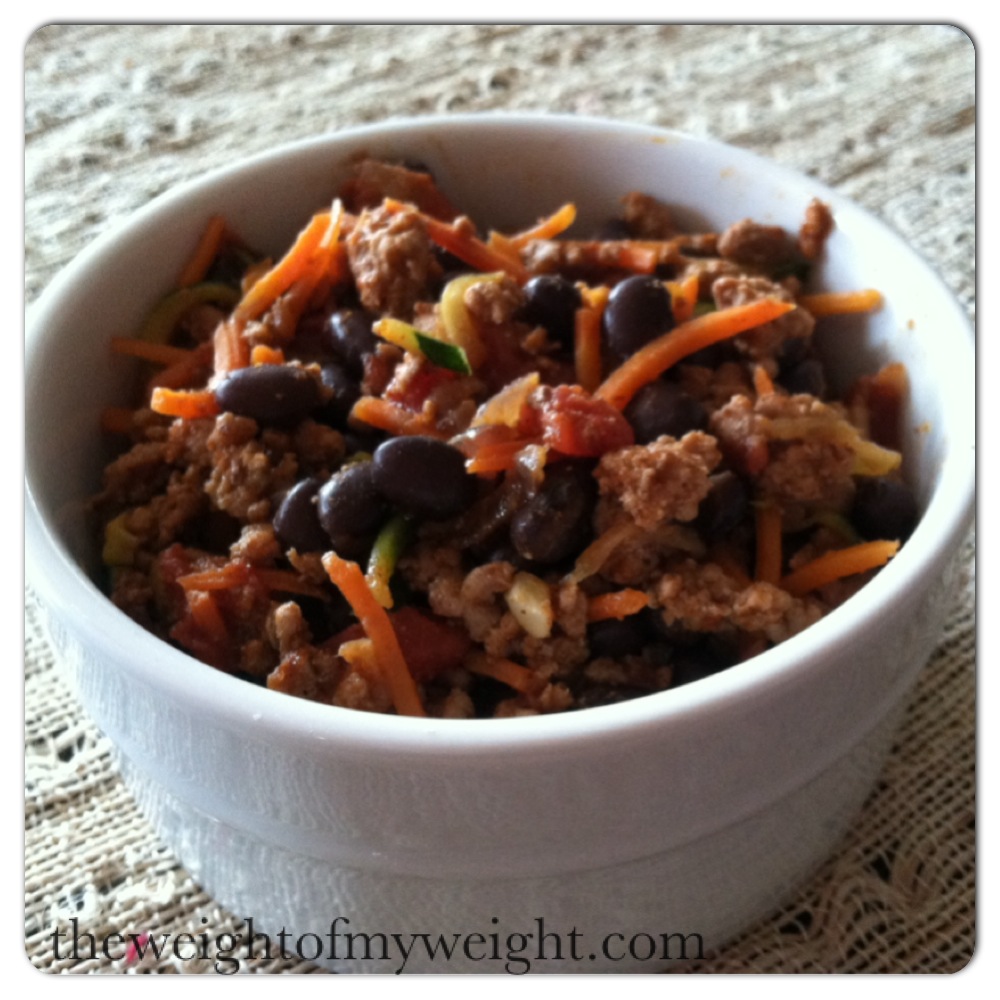 Okay, it's a mouthful, but I didn't know what else to call it. I would just call it "Skillet Deliciousness", but then you wouldn't have a clue what might be in it until you came here!
In an effort to come up with different meal ideas that did not include Gluten, or Dairy, or Red Meat or Sugar, my friend and I have been trying different idea's, and sending each other pictures on occasion of meal ideas that we came up with. I think the first week that we did our January Challenge, she sent me a picture of a bowl of cooked Turkey and Black Beans with Fire Roasted Tomatoes. I made it and ate on it that week, and it was incredible satisfying. It was "Comfort Food Satisfying", but super healthy.
Today, I made this for lunch. I give full credit to Becky for the idea! Thanks, Becky!
I've made my own seasoning to keep the sodium low and to avoid the sugar and gluten in some packaged seasonings. This would be great with Ground Beef, but I stuck with the Ground Turkey for today.
I skipped the cheese, but next month I'm eating this with just a little shredded, full fat cheddar cheese on top!
I would have topped this with some chopped avocado today, but I was OUT! 🙁
Baked corn chips would be great on top of this too!
You could even eat this on a big bed of greens for a Super Salad!
The possibilities are ENDLESS I say! ENDLESS!
Anyhow, it's easy and it's full of all sorts of yummy foods!
Enjoy!
Ingredients
1 lb Ground Turkey, 93% Lean
2 Garlic Cloves, minced
1 Onion, Chopped
1 Zucchini, made into Zoodles, or diced
1 C Shredded Carrots
3 tsp of Mexican Seasoning (or Taco Seasoning of your choice)
1 Can of No Salt Diced Tomatoes (again, just me trying for less salt)
1 Can of Black Beans, rinsed and drained
Directions
Cook turkey, onions and garlic until the turkey is cooked through and no longer pink. Add the zucchini and carrots and cook for about 5 minutes, or until veggies are tender.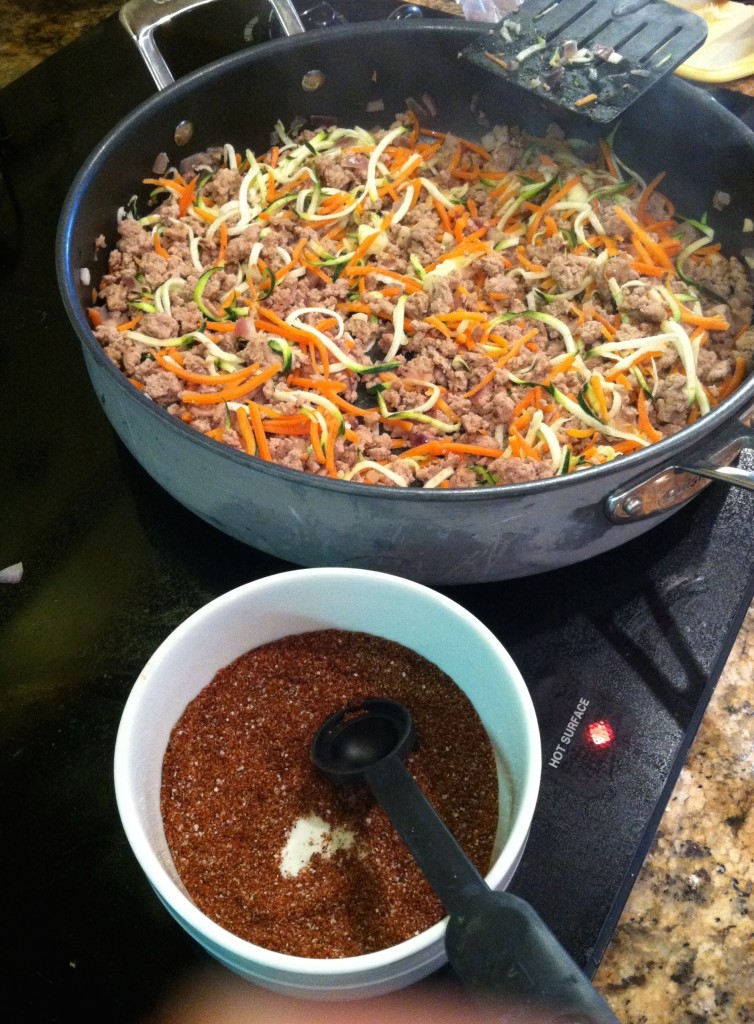 Add the seasoning and tomatoes and simmer for about 5 minutes. Add the beans and heat through for another 5 minutes.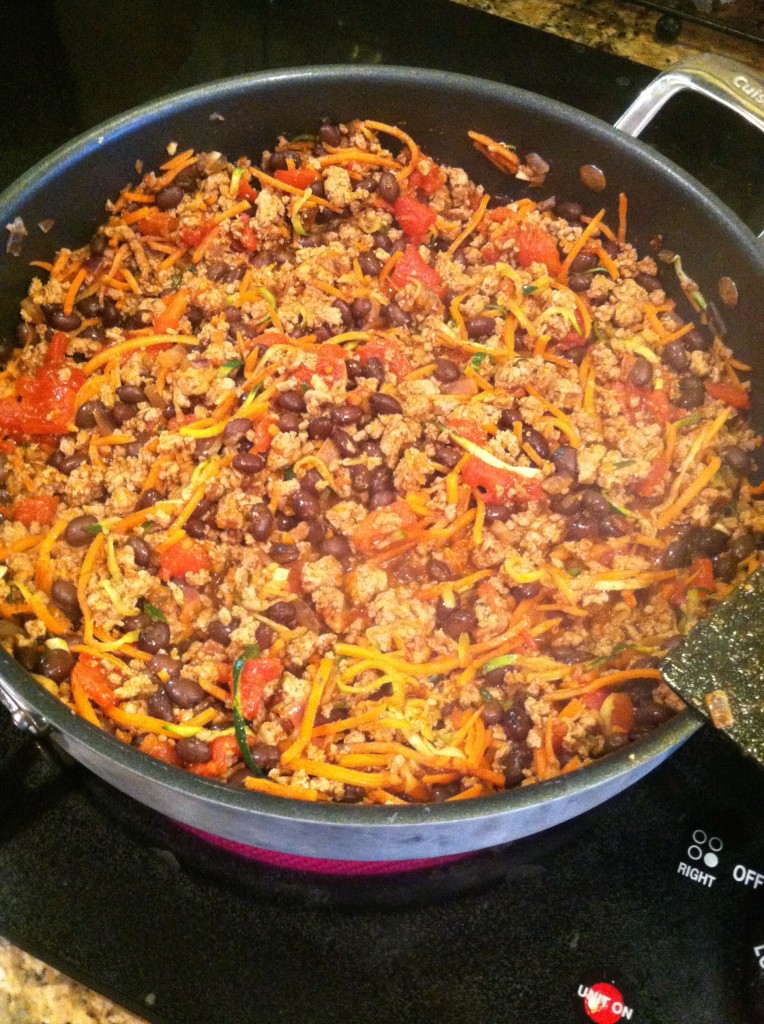 Makes 4 Servings. Approximate serving size is 1 1/2 Cups.
One serving = 7 PointsPlus.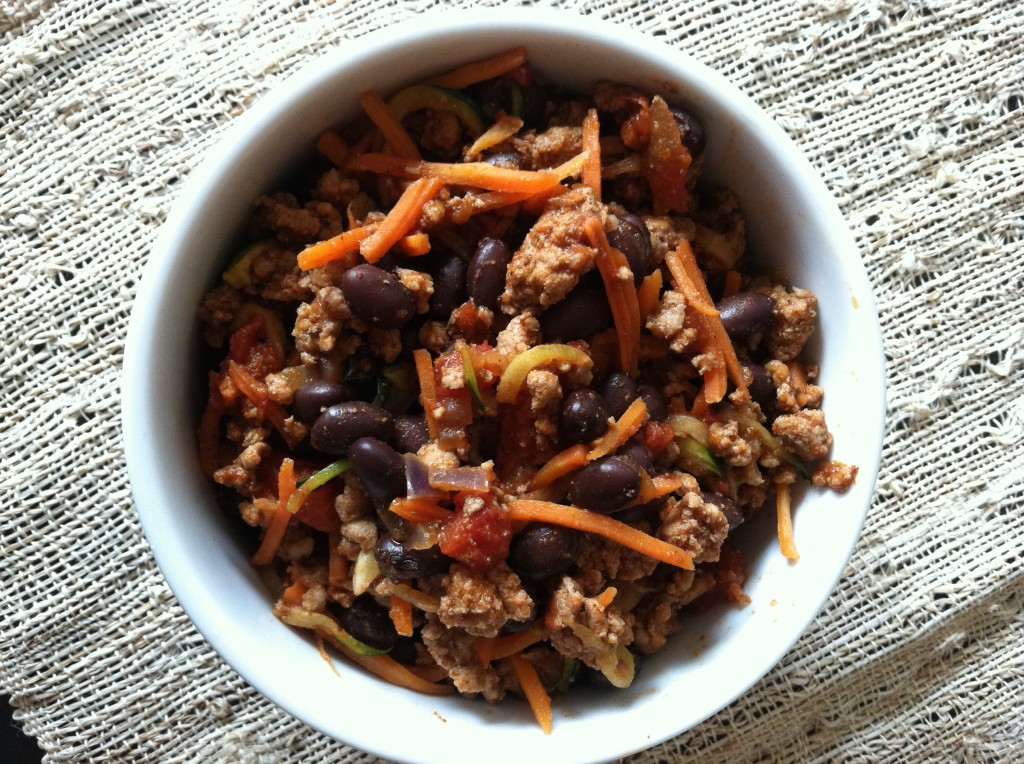 "love the life you live, live the life you love"