(Revised 3/24/15. I originally listed the Personal Size Pizza Crust in this post at 4 PointsPlus for the entire pizza. As it turns out, that pizza's nutritional information list that ONE serving is 1/3 of the Personal Size Pizza Crust. I've become such a label reader, I can't believe I missed that! Thank you to one of my new readers for pointing that out! It just goes to show you, Personal Size does NOT necessarily mean One Serving! I apologize to many of you that might have rushed out to buy that pizza crust!)
I had a great day yesterday playing Staycation. Complete dork…I know, but I still had a good time.
It was 82 in Kansas City in March…..I had to enjoy it, right??
I had breakfast in bed, I did a little shopping, I ate my lunch on the deck in the sunshine, and I went out to dinner with a girlfriend that I hadn't seen in a long time!
I woke up this morning and stepped on the scale. I was pleased with the number that I saw. I was happy at the end of January and the beginning of February with the Holiday weight that was coming off, then things seemed to come to a halt after my little injury and lack of exercise, which didn't really surprise me. It looks like I'm back on track now and I can assume that the scale will continue to go down.
I'm going back to Jazzercise next week and I'll just plan to start out low intensity and work my way back up!
Here are yesterday's eats…..
I made a pizza yesterday for lunch using this crust that I bought at Target, and I will be buying this again. The package comes with two crust in it, and one crust is 4 PointsPlus. It was about 6″ X 8″, so it was a pretty good size personal pizza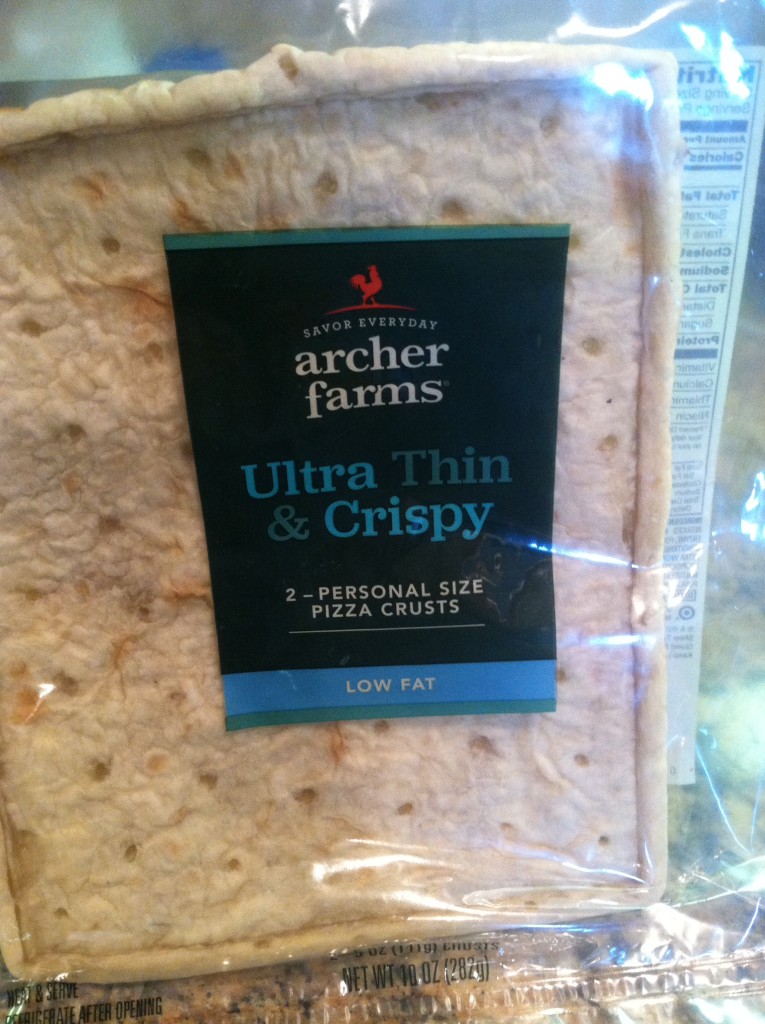 Breakfast in Bed
Egg White Omelet with Reduced Fat Mexican Cheese
1/4 Smashed Avocado with Lime Juice and Sea Salt, Orange
6 PPV
Yes, that's right. I did pretend that I was in Mexico, and I had ordered room service. Nobody came and made my bed or got my tray though!!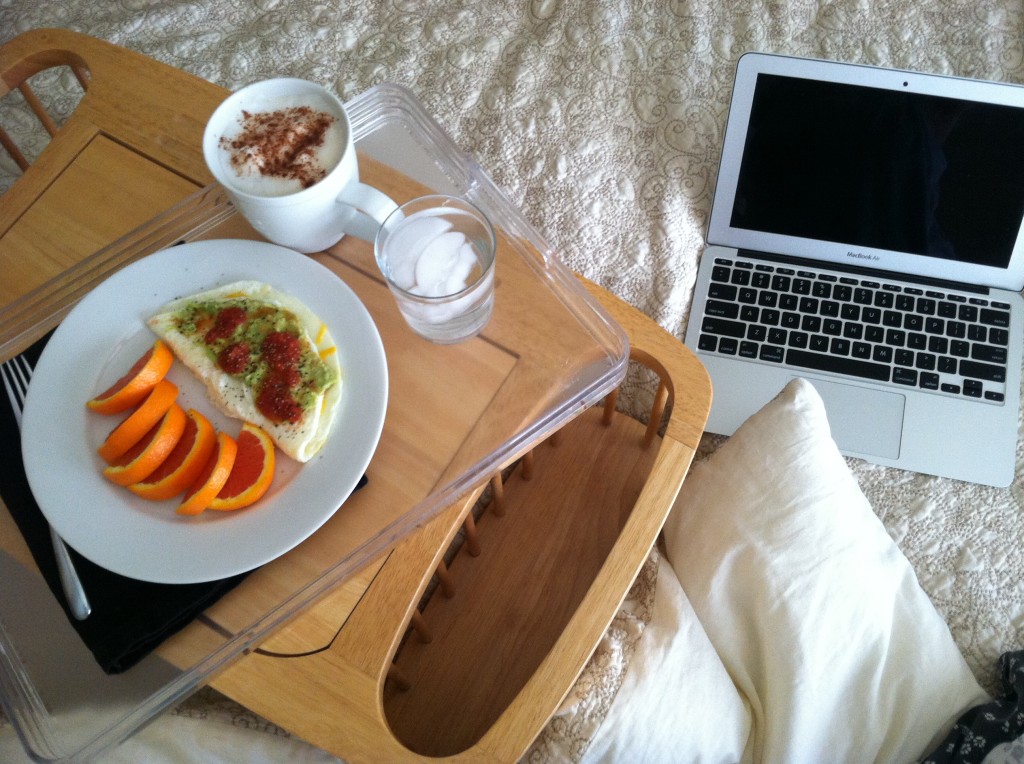 It's a Staycation, people…….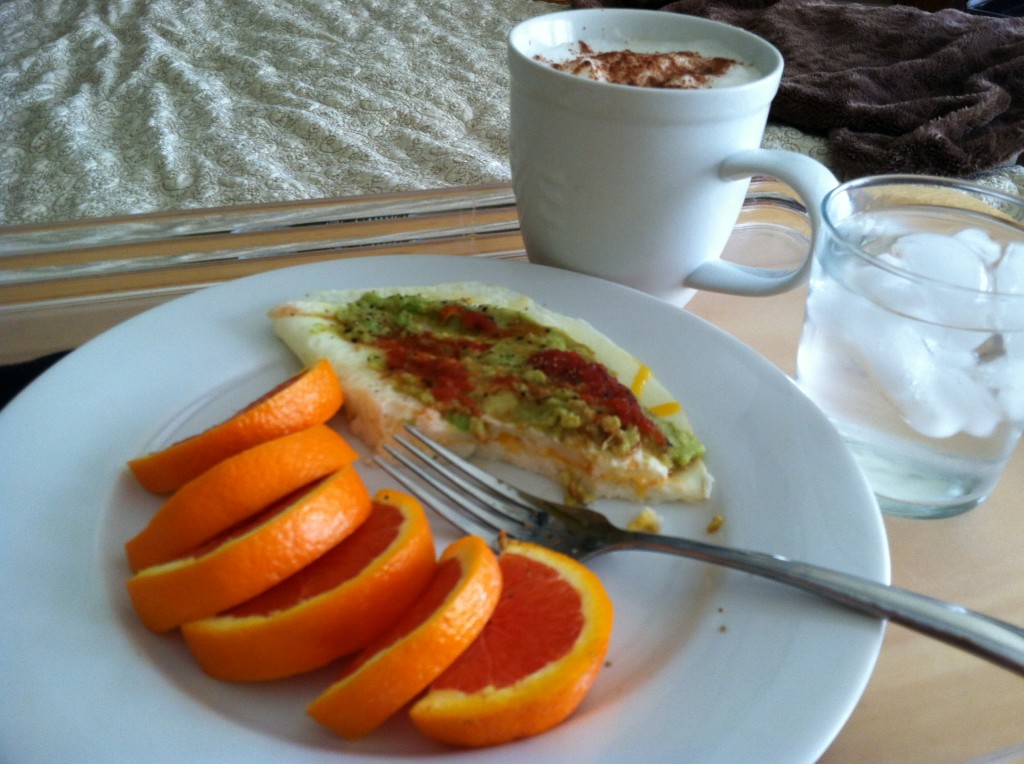 Snack
Apple Slices from Target
0 PPV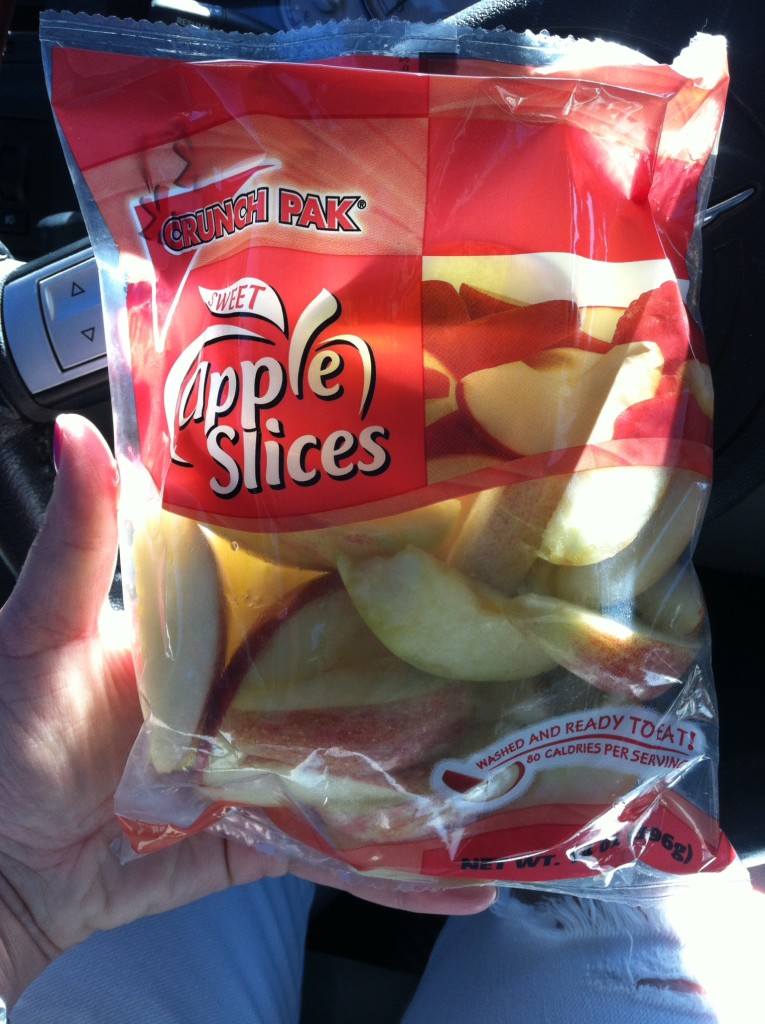 Lunch
Flatbread Pizza, Pizza Sauce
Reduced Fat Feta, Bell Pepper, Olives
6 PPV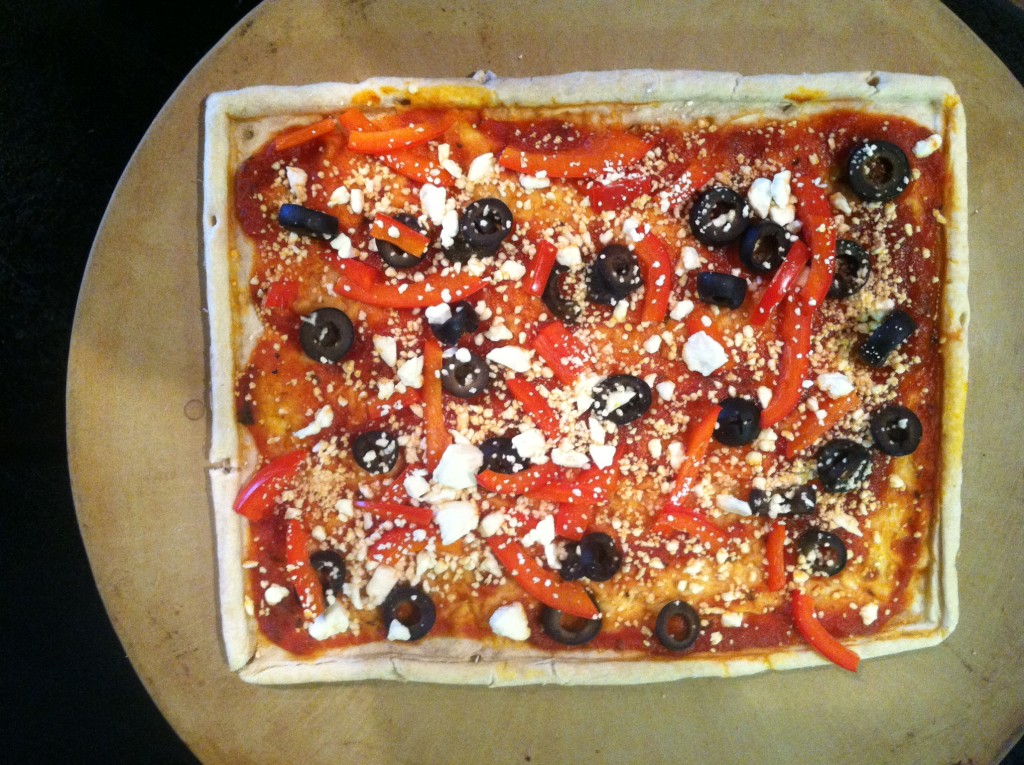 Fancy Banana……..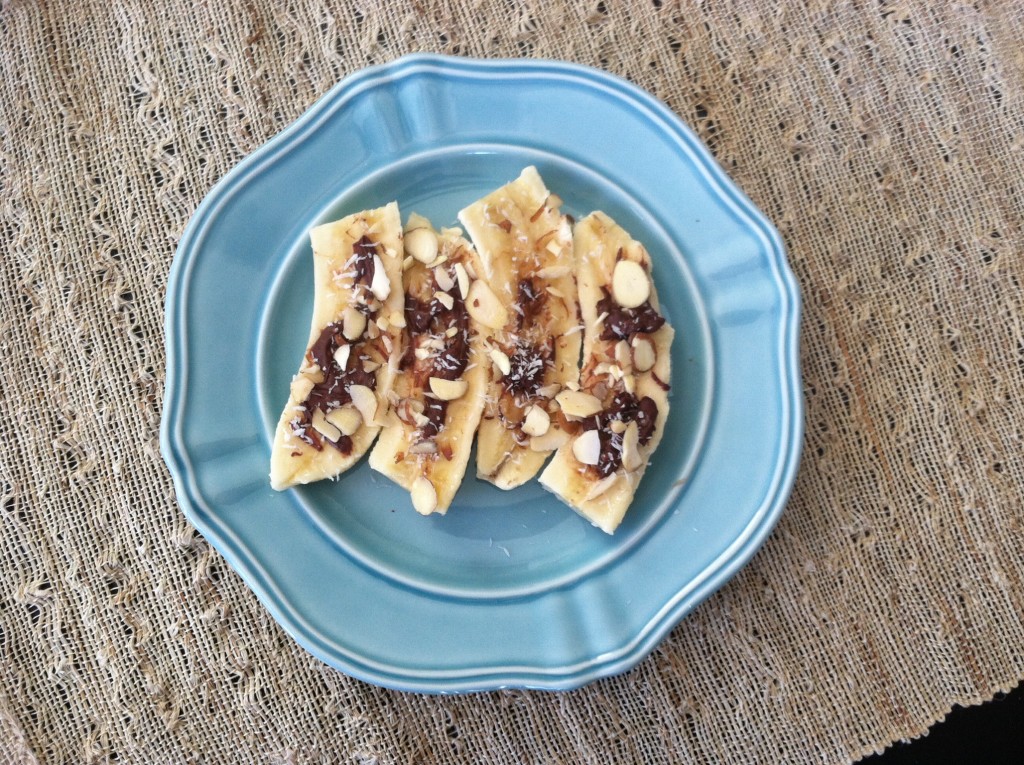 ……with Melted Chocolate Chips
Raw Unsweetened Coconut, Raw Almonds
2 PPV
Delish……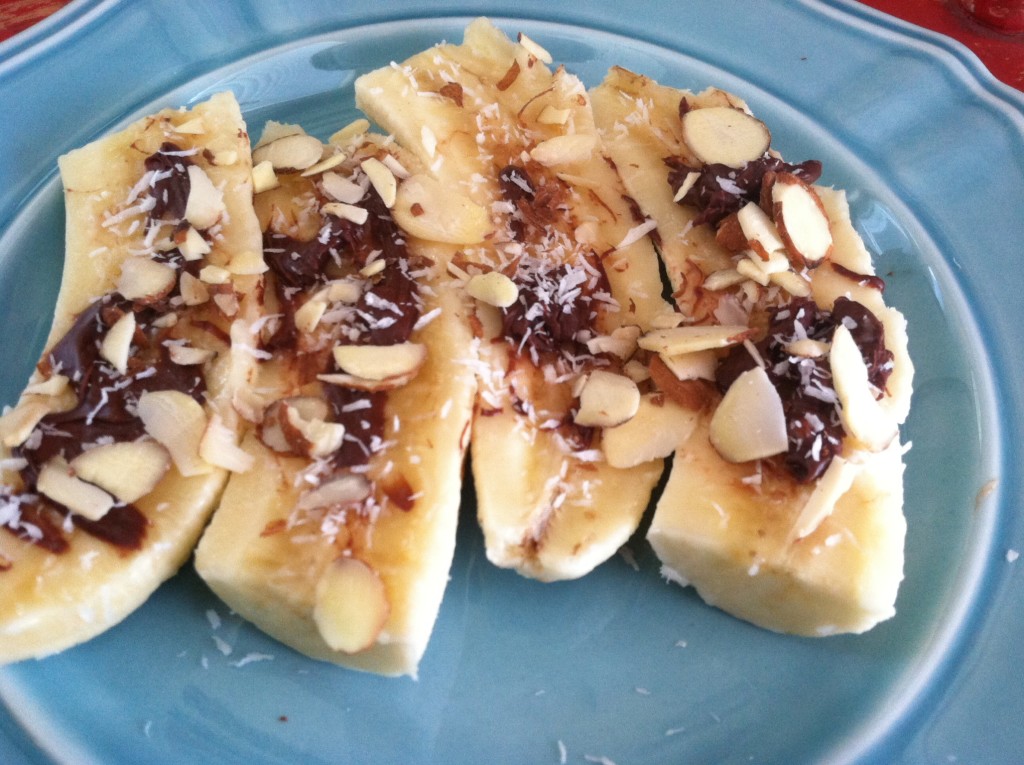 On the deck….with Water Falls playing on Pandora……
Oh….and a little Beach Boys……
This is only half of the pizza on my plate, but I did eat it all.

Dinner out with a Girlfriend…..
Salmon Caesar, Dressing on the Side
Bread and Oil
Wine
15 PPV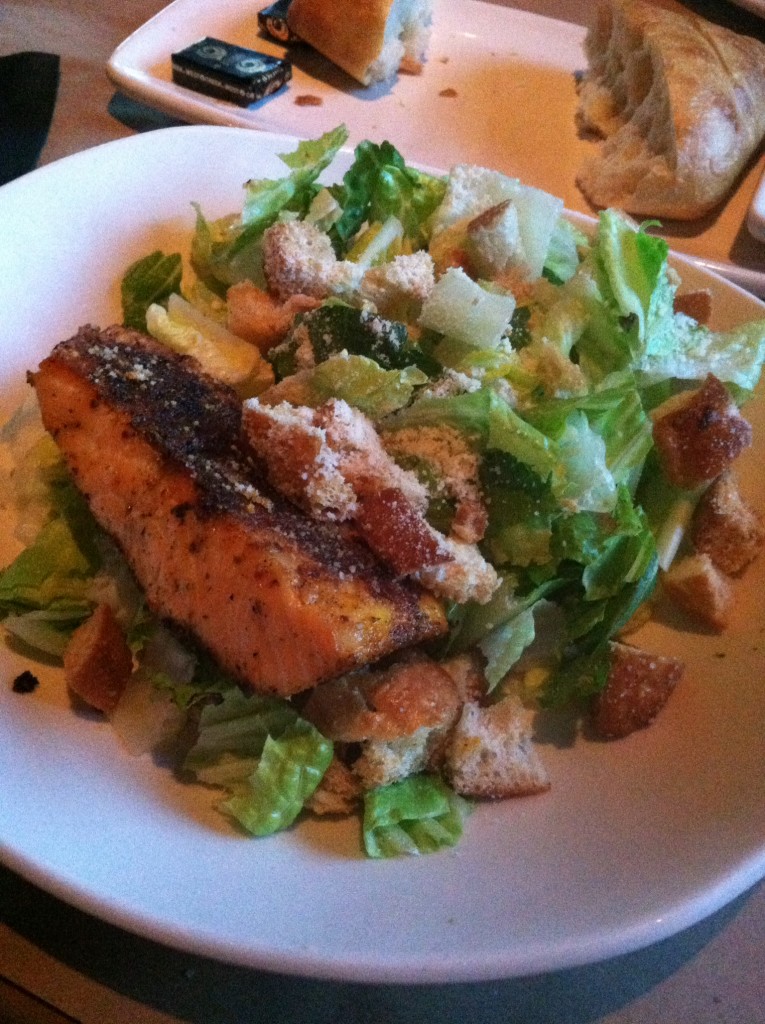 Weight Watcher's Points Plus
I can eat 26 PPV a day.
I can earn Activity Points by doing exercise, and eat them if I choose.
I have an allowance of 49 extra points that I can dip into throughout the week if I choose.
I should drink a minimum of 6 (8 oz) glasses of water each day.
My Weight Watcher Week Begins on Friday's
Breakfast = Omelet, Fruit, Frothy Coffee (6)
Snack = Apple Slices (0)
Lunch = Pizza and Banana (8)
Dinner = Salmon Caesar, Bread and Wine (15)
Total = 29
Exercise = none
Activity Points Earned for the Day = 0
Activity Points Earned This Week = 6
Activity Points Remaining This Week = 6
How many ounces of water I drank for the day = 80
Remaining points from my 49 Points Allowance = 38
This is What I Will Accomplish in 2015
I will choose one occasion per month for Social Drinking
I will go no more than two days in a row without exercise. (unless I'm sick..or break a bone!!)
I will track every single day for the entire year. No matter what. I'll track if I eat 26 points, I'll track if I eat 76 points.
I will RUN in a minimum of six 5K's

"love the life you live, live the life you love"