(Revised 3/24/15. I originally listed the Personal Size Pizza Crust in this post at 4 PointsPlus for the entire pizza. As it turns out, that pizza's nutritional information list that ONE serving is 1/3 of the Personal Size Pizza Crust. I've become such a label reader, I can't believe I missed that! Thank you to one of my new readers for pointing that out! It just goes to show you, Personal Size does NOT necessarily mean One Serving! I apologize to many of you that might have rushed out to buy that pizza crust!)
St. Patrick's Day…2009…Me in Mexico acting like I'm a 20 something….I don't know a single person in this picture.
2010. It rained that day in Mexico, and we were entertaining ourselves in the lobby, but I came prepared!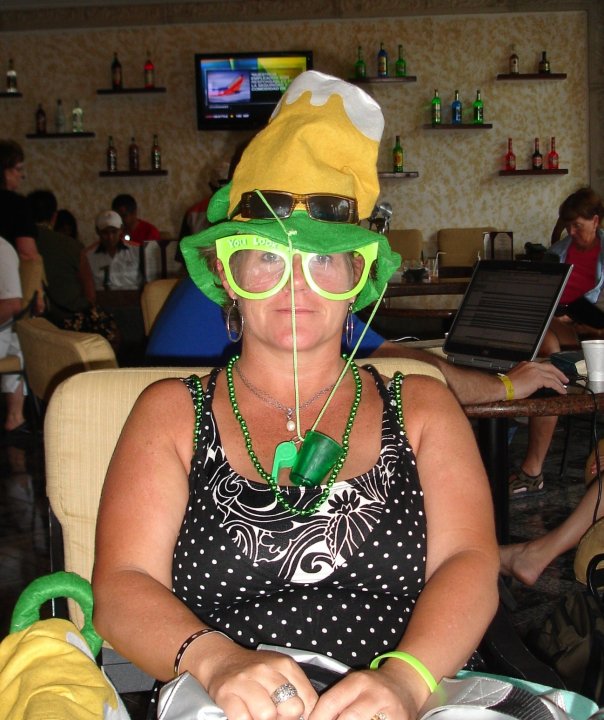 2011 and 2012….I must have done nothing…I can't find any pictures…
2013, with my friend Renee, and one of our local news anchors.
We called Mike to come get us that night. Surprise!! I STILL have the hats!!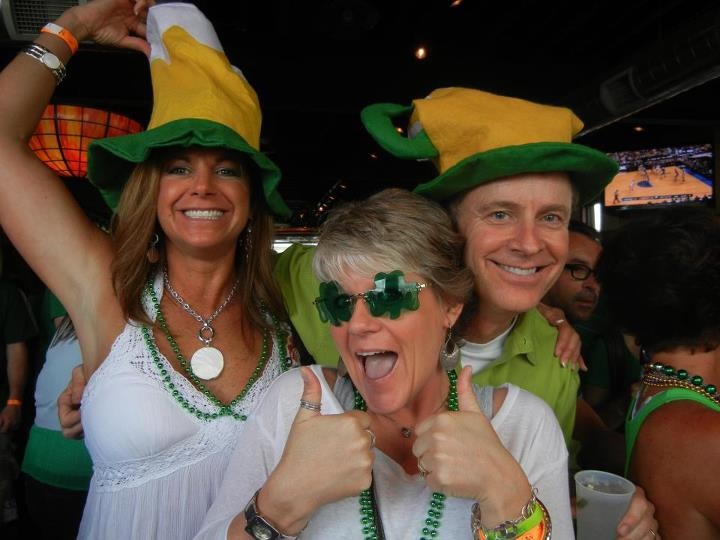 2014. I was 110% Irish (I'm not any percentage at all….as far as I know.) I celebrated for a couple of days. It all began the weekend before St. Patricks Day with a 4 mile run with Rebecca! We celebrated the rest of the day with beers and dancing!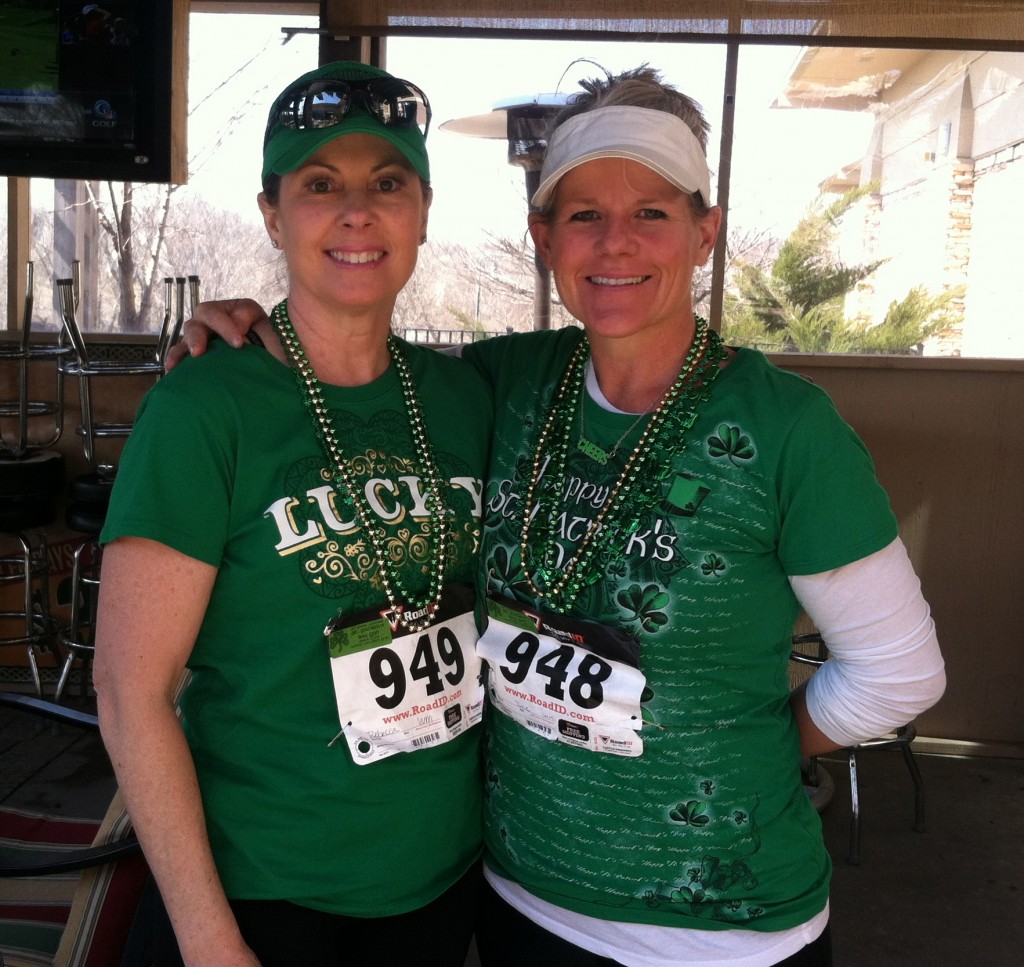 On St. Patrick's Day last year, I started it out with Green Eggs and Ham, on an English Muffin.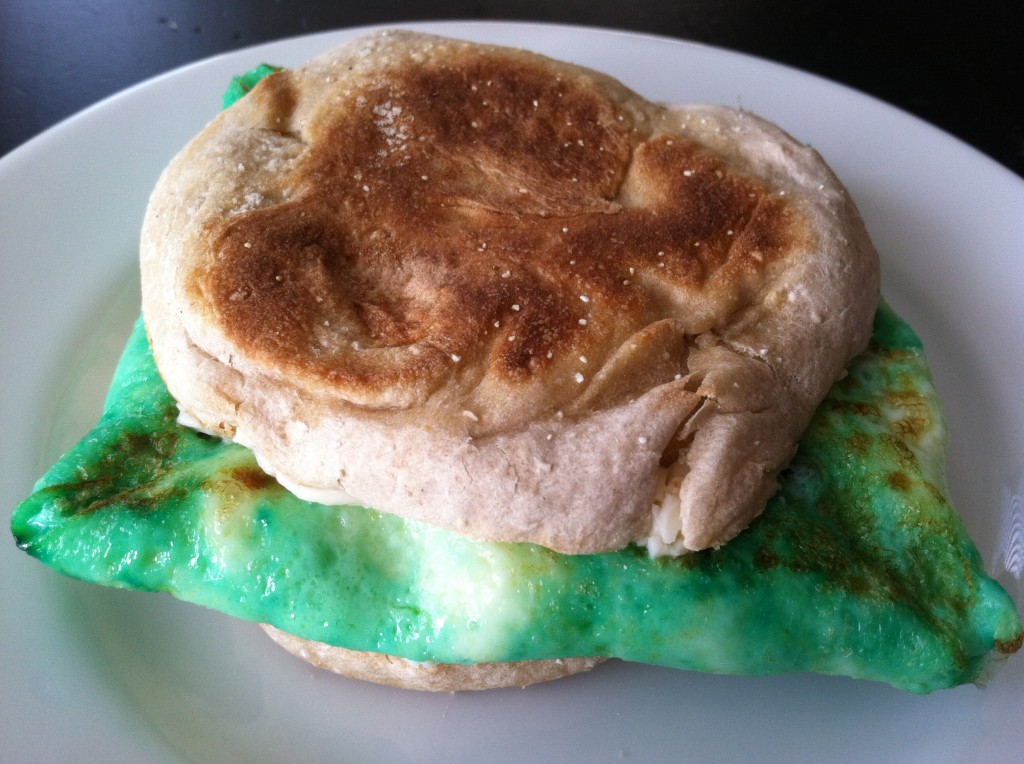 I made Corned Beef and Cabbage, and it was delicious!!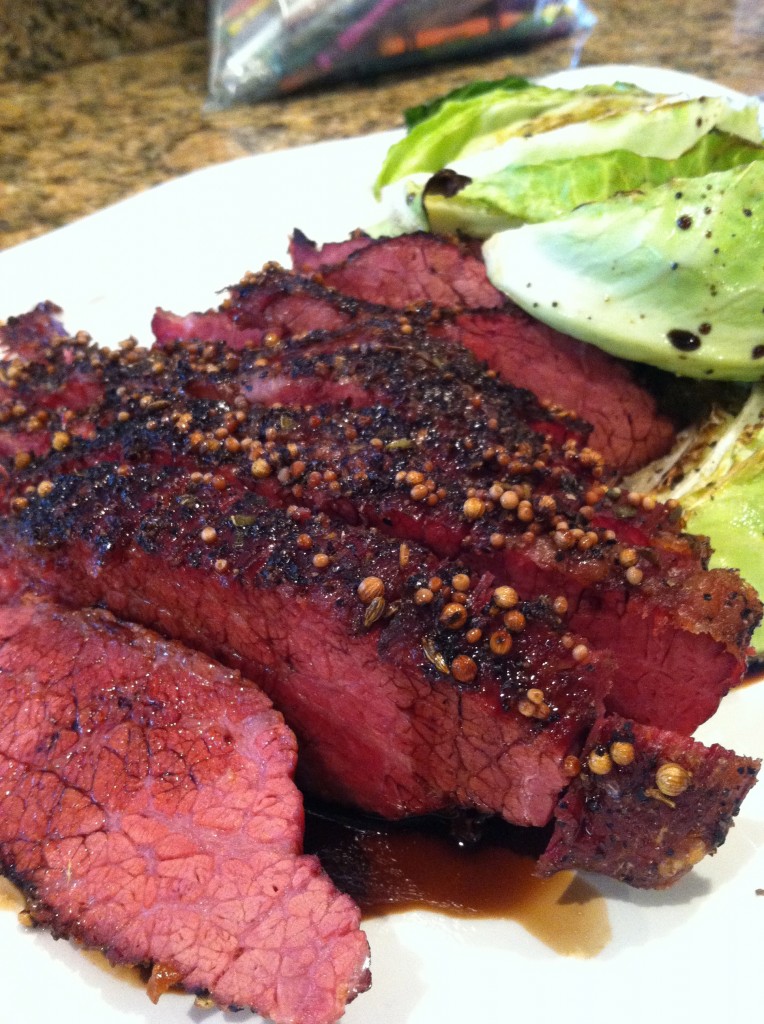 The Grandkids came over, and I told them to drink thier Green Beer! She looked at her mom, like….."uh…..Gigi want's me to drink beer!" (Fine, it was Sprite.)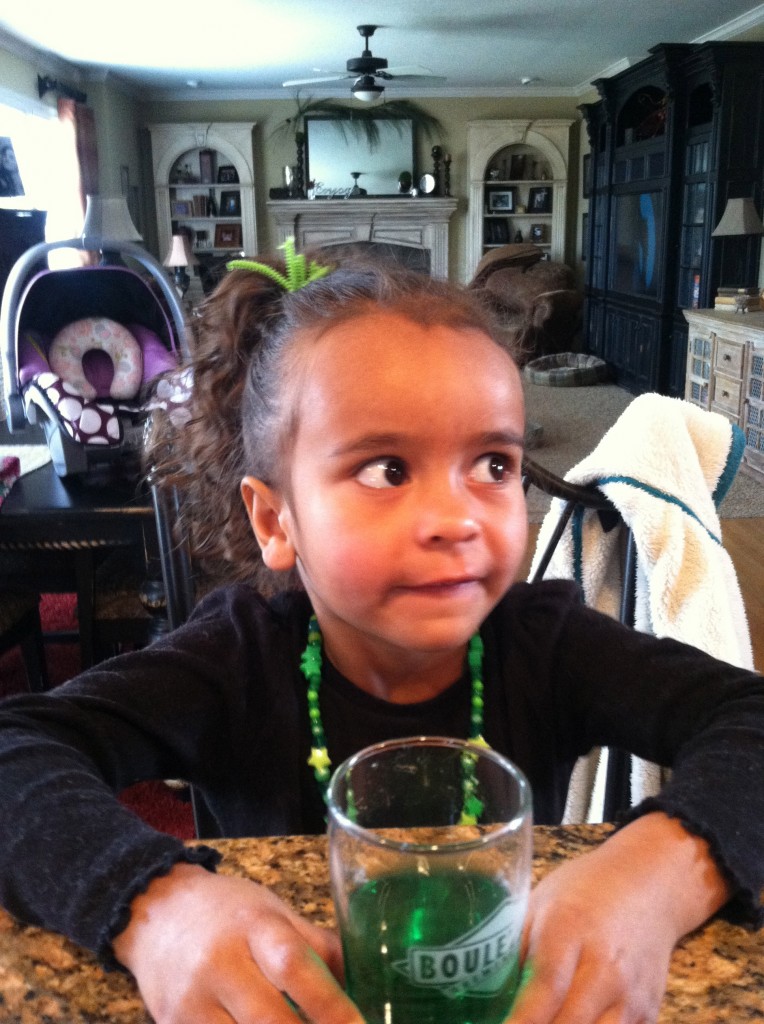 2015. I wore a green scarf. That is all.
I woke up early yesterday, and decided to head out the door to one of my favorite coffee shops. I pulled on a sweatshirt and added a green scarf cuz I was in the spirit of the Irish, for just a second anyhow. I really like this little coffee shop that I was headed to. It's good people watching, there's fun art to look at on the walls, the food and coffee are yummy, and the owner occasionally sits down and plays music. Yesterday, he was playing the piccolo!
After hanging out for a while, I called my mom to see if she would like to join me. It was then that I discovered that she was hanging out at TiresPlus, just like I was last week. So I picked her up and we went to her favorite breakfast spot, Bob Evans.
We ended up spending the day together, basically waiting on her car. It was a nice, quiet day with mom. No 5K's, no corned beef, no green beer (or Sprite), but I wore a green scarf!
Here are yesterday's eats…….
Un-Pictured Nonfat Latte
3 PPV
Breakfast
2 Eggs, Wheat Toast with Honey
Black Coffee with a little cream
8 PPV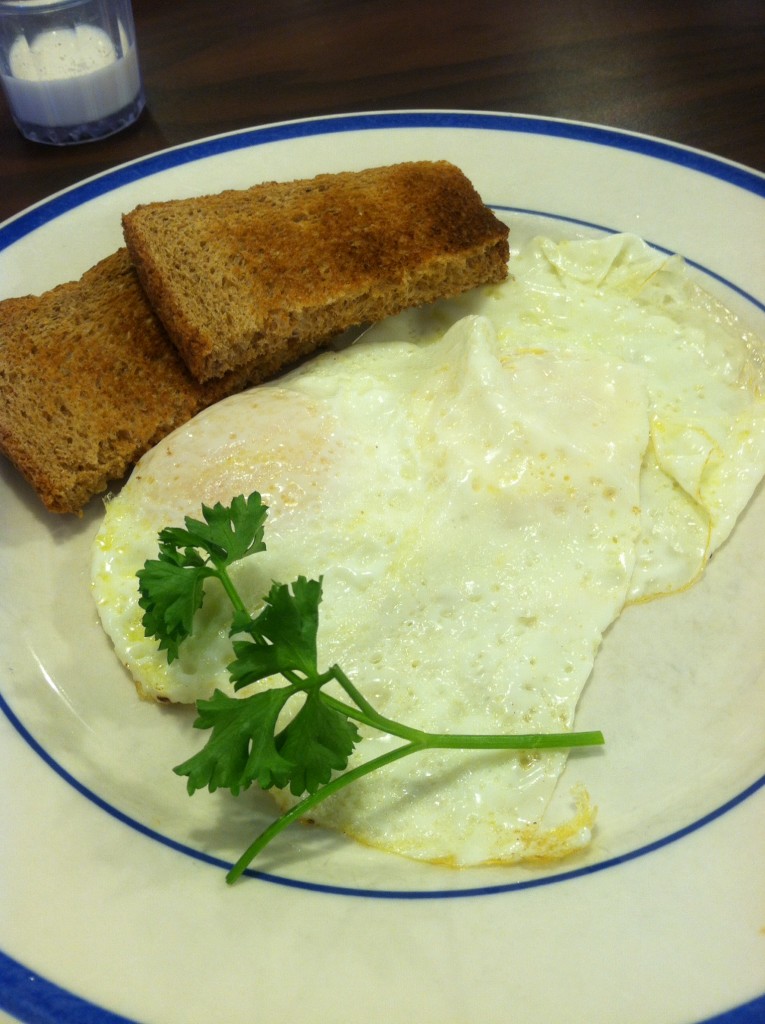 Lunch
Veggie Pizza, Carrots
8 PPV
Apple Slices with 1 tsp Almond Butter and Mini Chocolate Chips
2 PPV
Monday's pizza was so good that I used the second crust for yesterday's lunch. I did bake it on the rack instead of a cookie sheet and I liked the crispiness of it much better!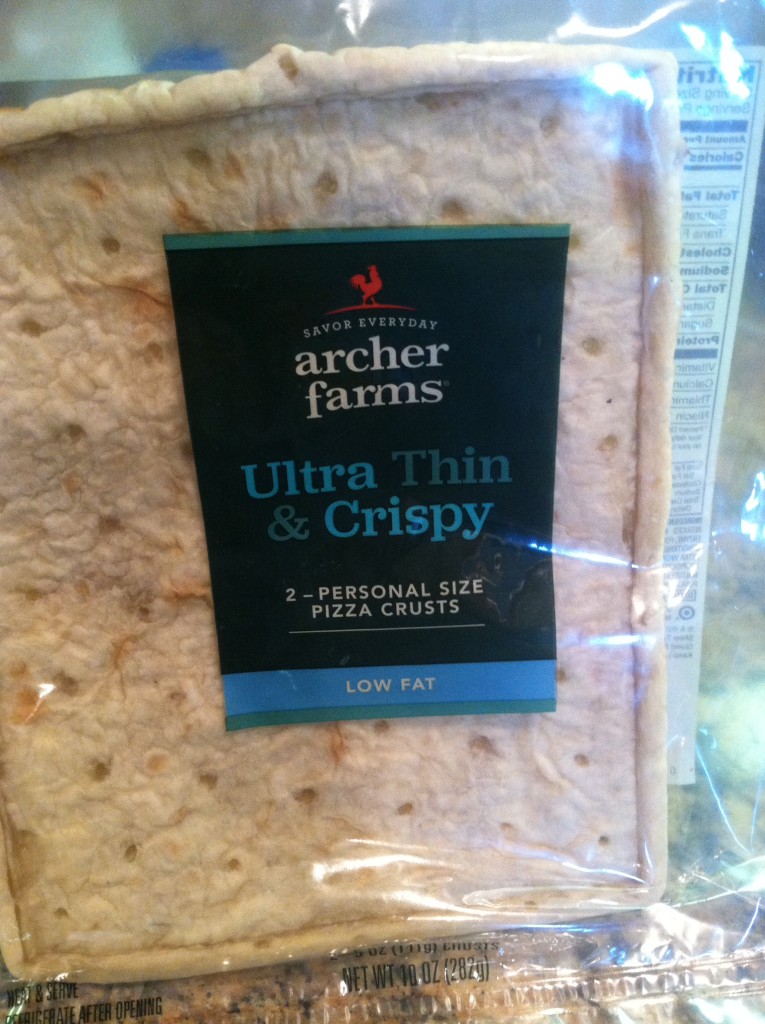 Pizza Sauce, Red Bell Pepper, Zucchini, Olives, Cherry Tomatoes, Reduced Fat Feta Cheese, Reduced Fat Cheddar Cheese.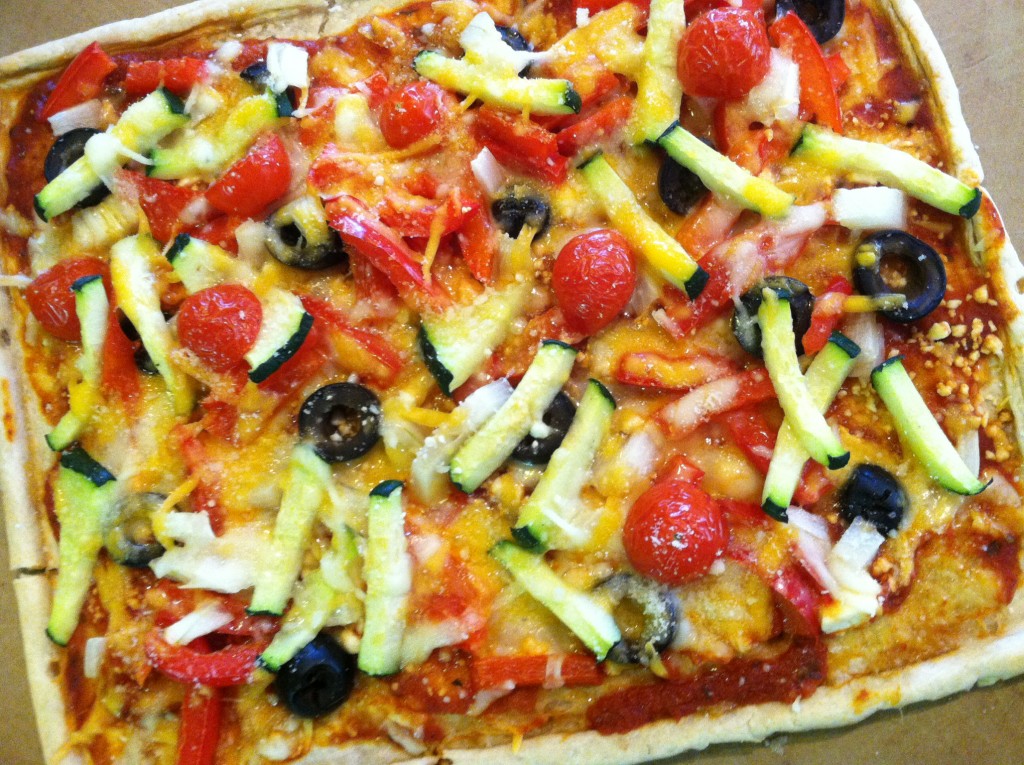 This is half of the pizza, but I ate the whole thing.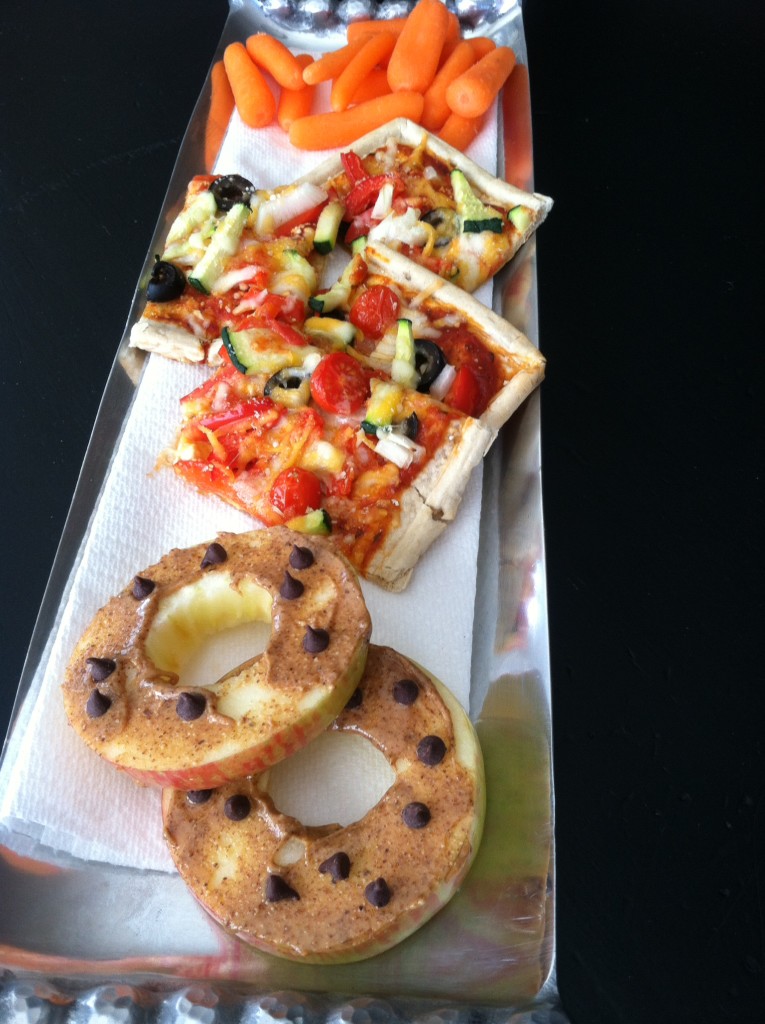 Dinner
One Taco, Fruit Bowl
3 PPV
I ate a late lunch, so I wasn't super hungry. One White Corn Taco Shell, 1 oz Ground Beef Taco Meat, Cheese, Lettuce and Tomato.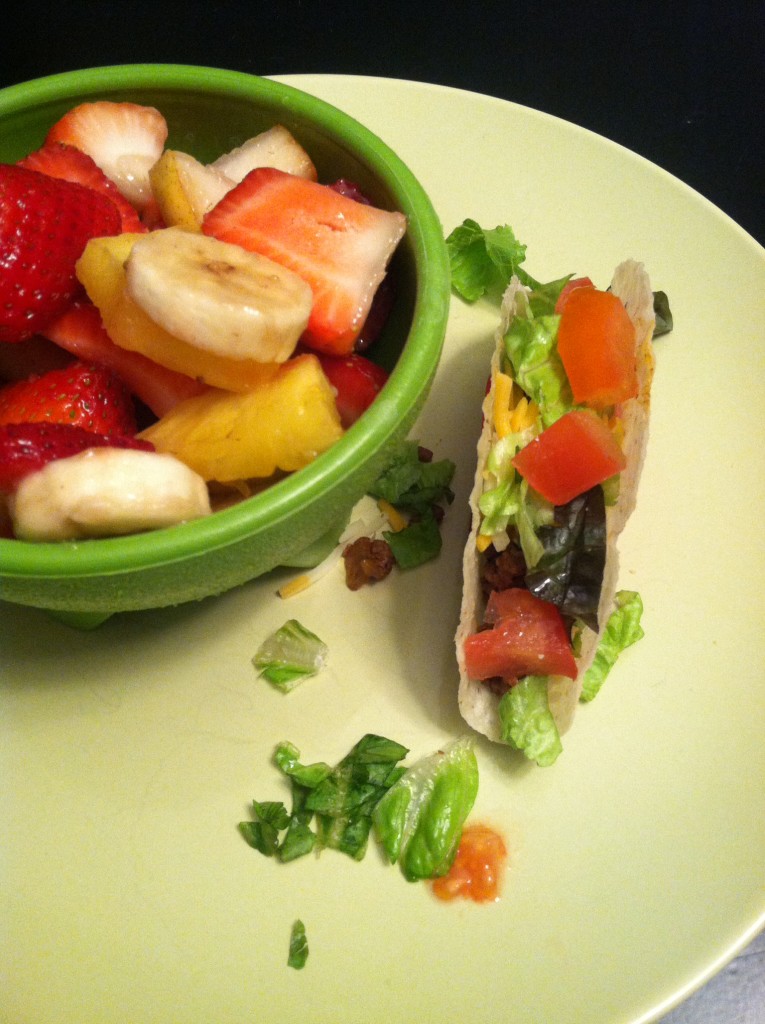 Weight Watcher's Points Plus
I can eat 26 PPV a day.
I can earn Activity Points by doing exercise, and eat them if I choose.
I have an allowance of 49 extra points that I can dip into throughout the week if I choose.
I should drink a minimum of 6 (8 oz) glasses of water each day.
My Weight Watcher Week Begins on Friday's
Breakfast = Eggs, Toast, Latte (11)
Lunch = Pizza, Carrots, Apple (10)
Dinner = Fruit Bowl, Taco (3)
Total = 24
Exercise = None, and I have no excuses…..
Activity Points Earned for the Day = 0
Activity Points Earned This Week = 6
Activity Points Remaining This Week = 6
How many ounces of water I drank for the day = 60
Remaining points from my 49 Points Allowance = 38
This is What I Will Accomplish in 2015
I will choose one occasion per month for Social Drinking (This is a work in progress….)
I will go no more than two days in a row without exercise. (unless I'm sick..or break a bone!!)
I will track every single day for the entire year. No matter what. I'll track if I eat 26 points, I'll track if I eat 76 points.
I will RUN in a minimum of six 5K's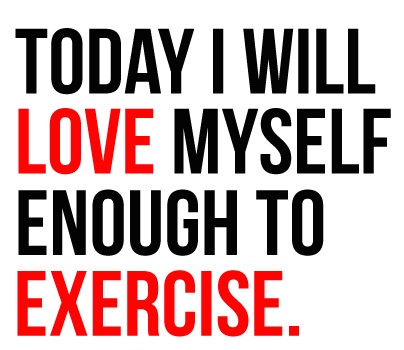 "love the life you live, live the life you love"