I'm a little behind in blogging over the last several days….and surprise! I have LOTS to say!
I got to spend the weekend with one of my favorite peep's this weekend, my daughter Tess!
I went to Dallas Wednesday night for a nice long weekend! We had beautiful weather and a great weekend together! I miss having her living here so much, and we both really needed this visit.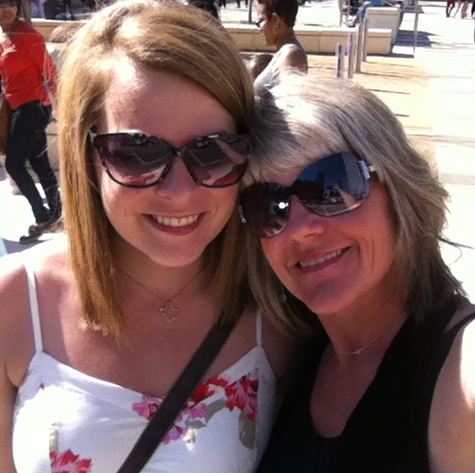 If you are a new reader, my daughter, Tess, lives in Dallas and works for Southwest Airlines. Basically, she tweets for a living. Social Media amazes me. What does that job at Southwest mean for me and my husband? It means we get to fly for FREE!
It makes visiting Tess, and Tess visiting us, so easy. I'm not sure how we'd manage if we didn't get to see each other as often as we do. She really is one of my best friends, and I never imagined that we wouldn't live in the same city. Knowing that we can visit each other regularly has made it so much easier.
We planned this trip several months ago because we were registered for The Color Run 5K on Saturday! It was our first 5K together last year and our goal was to run it without stopping, and we did!
We decided that we would do it again this year and we had a great day! Before running a 5K last year, neither one of us had ever done that. We are registered for more this year, and our goal is to do six. Who knows….maybe 10K's next year???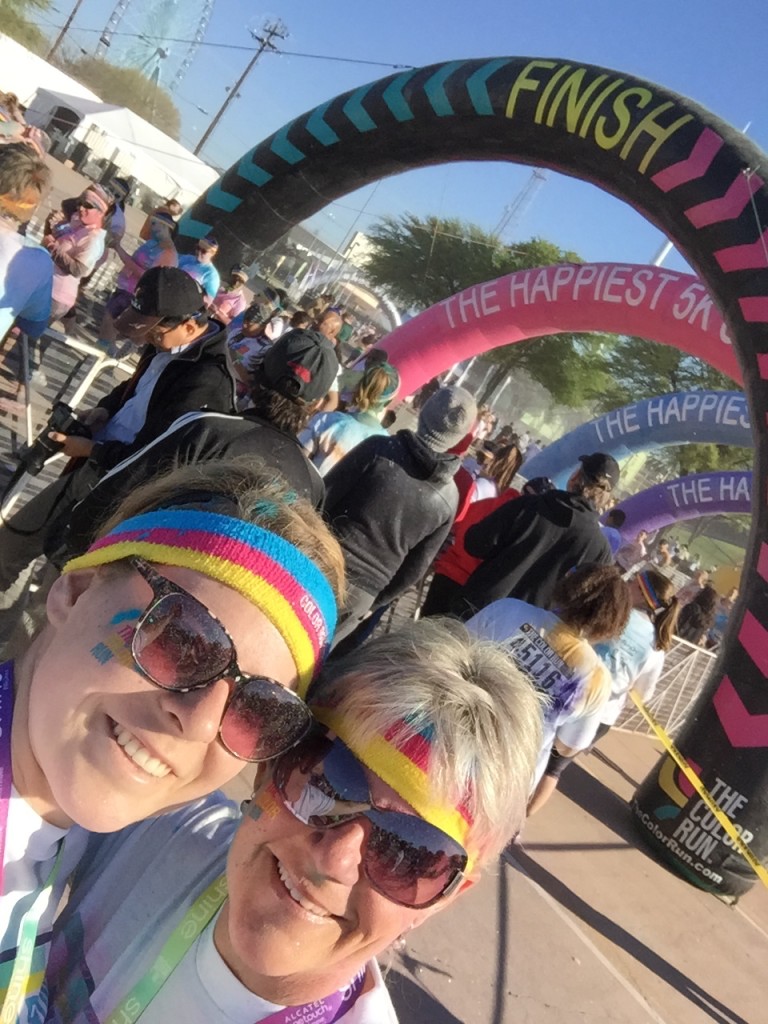 It was beautiful outside and the perfect day for a race!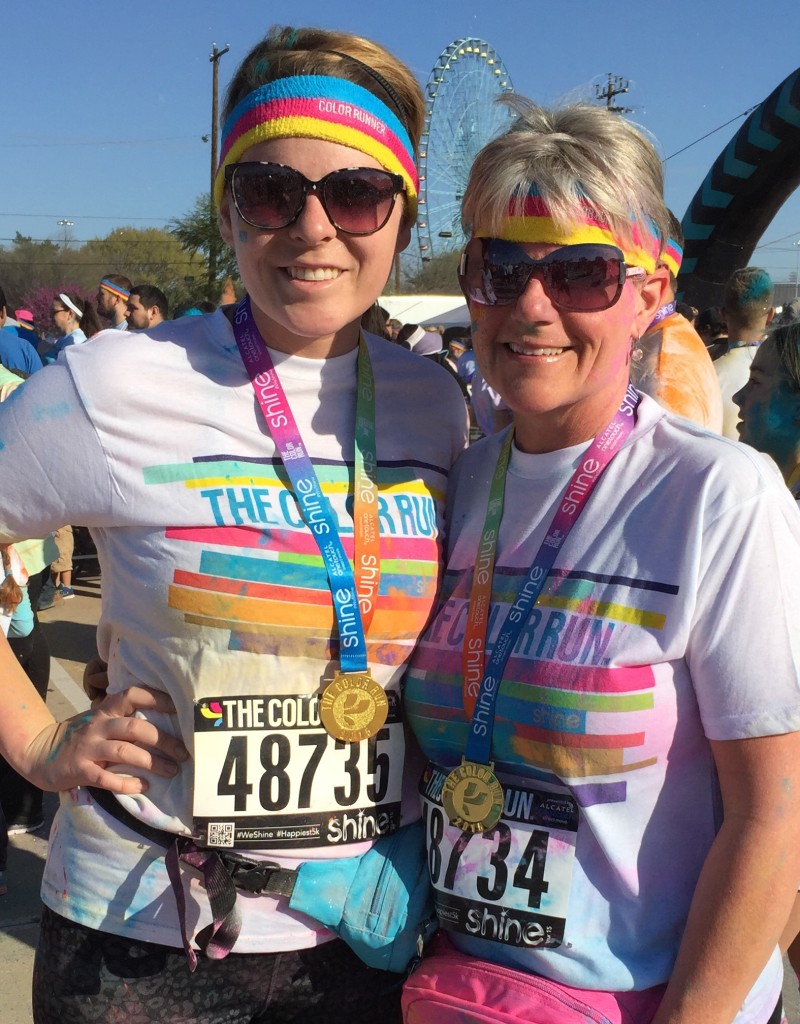 If you don't get quite enough COLOR on you during your run, there is a huge dance party afterwards where you just act crazy and throw color everywhere! Behind all of that color in the air, there is a big stage that gets completely lost in all the color!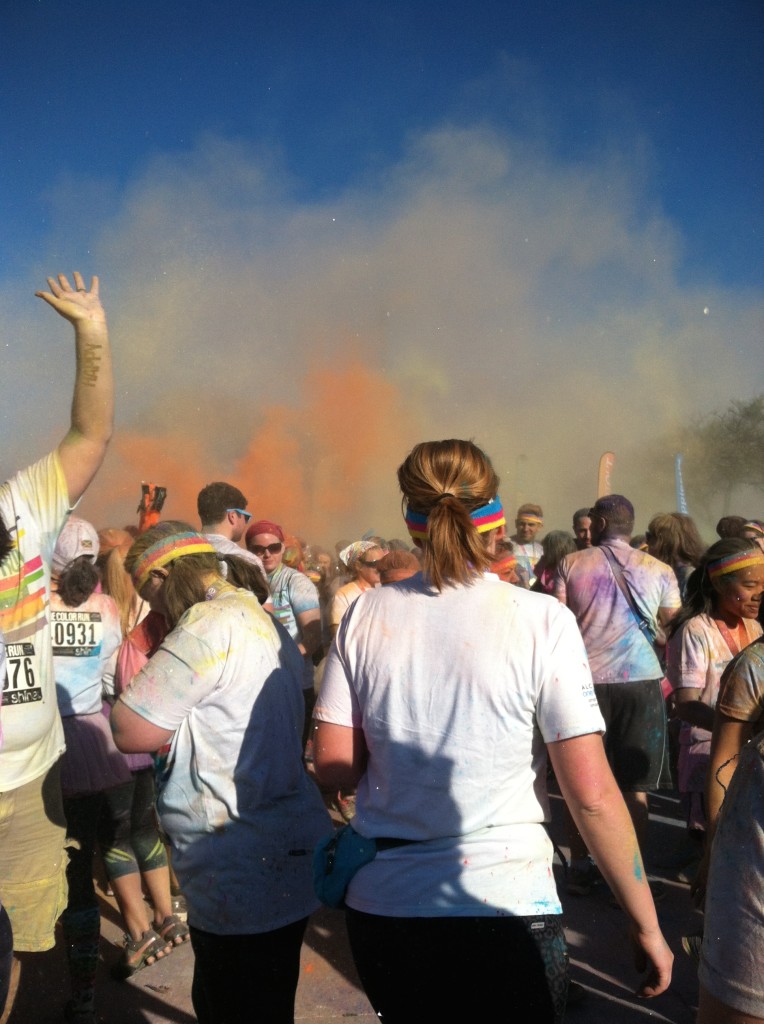 Tess was an Instagramming Fool!!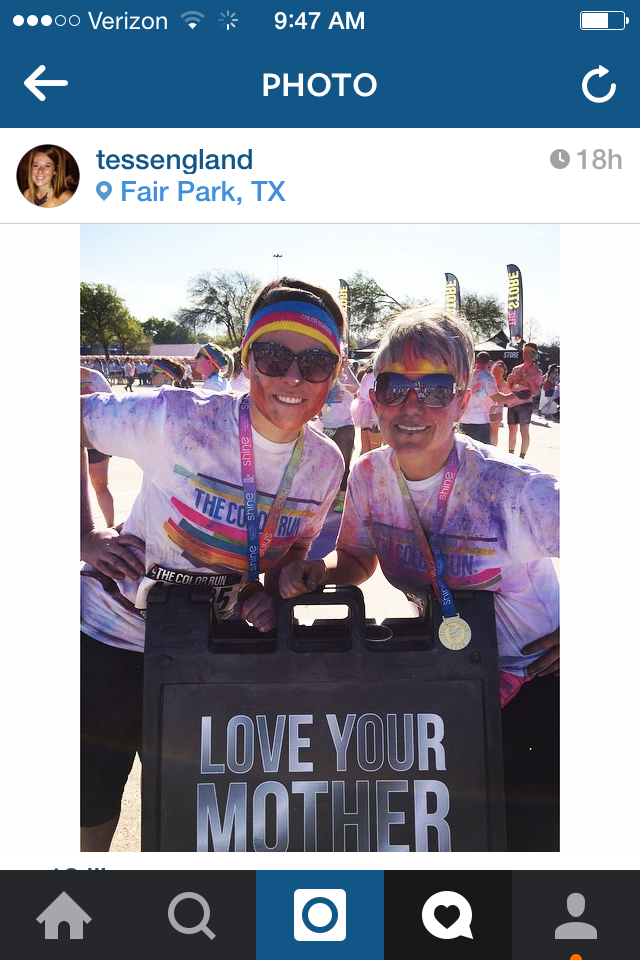 Thursday, I spent the day at the apartment while Tess and her roommates went to work. I love her apartment and feel very "at home" there, so I made myself some breakfast, attempted to write a blog post, and played house. I was fighting the internet connection though and eventually, I gave up on the blog.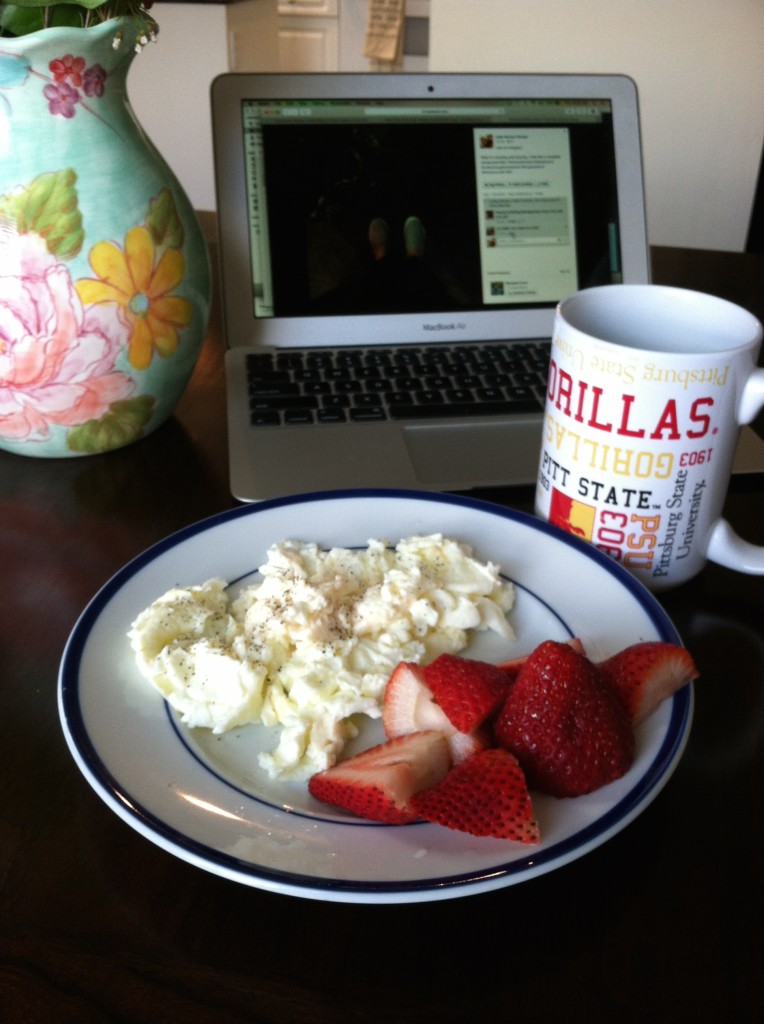 I sat outside at this great little area around the pool for a while…..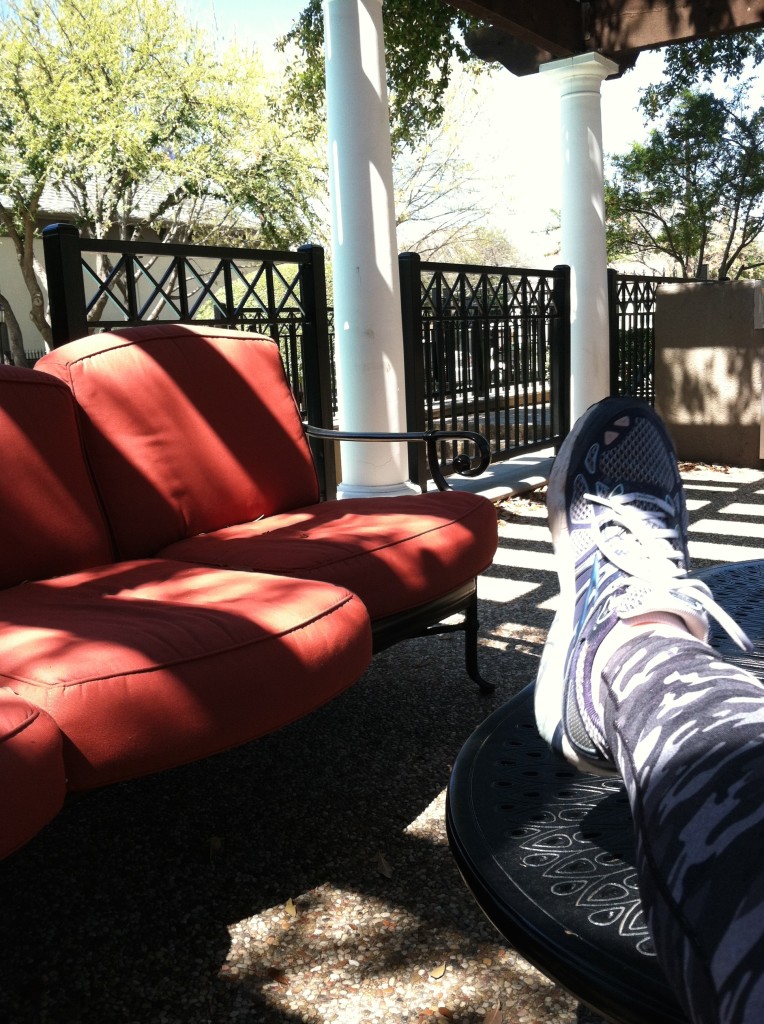 Tess came home for lunch and brought me a big salad!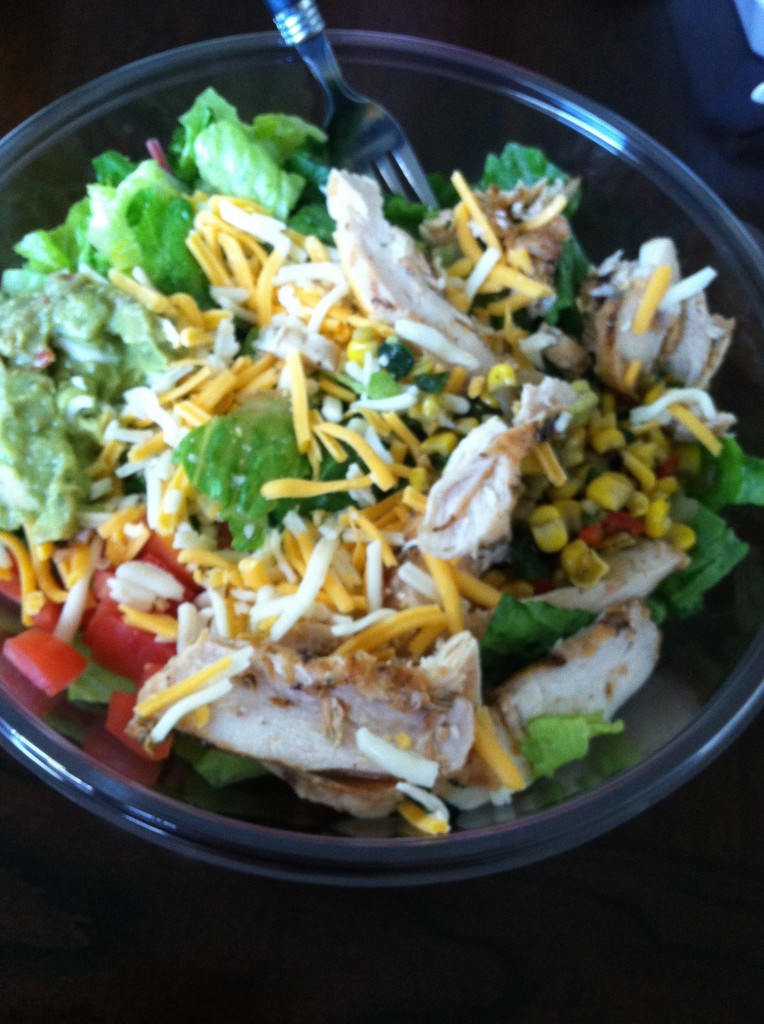 I walked to the grocery store after lunch for a few groceries, and made us dinner. Turkey Taco Meat Skillet with lots of veggies added in……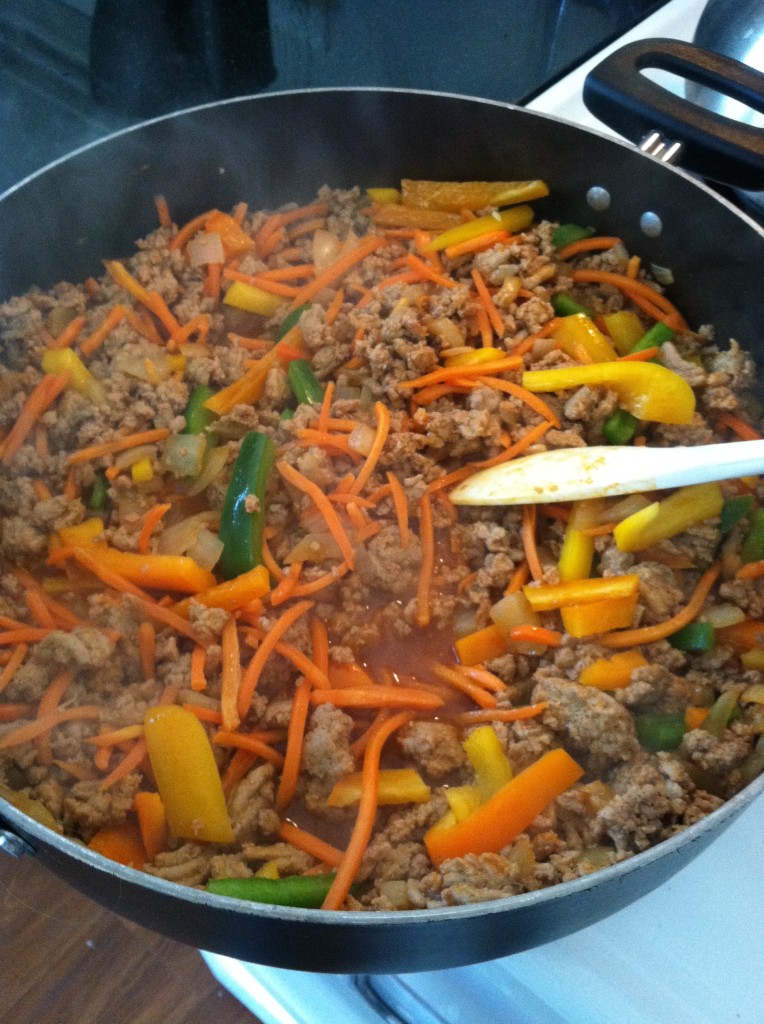 The roommates were happy to come home to Turkey Taco Bowls for dinner!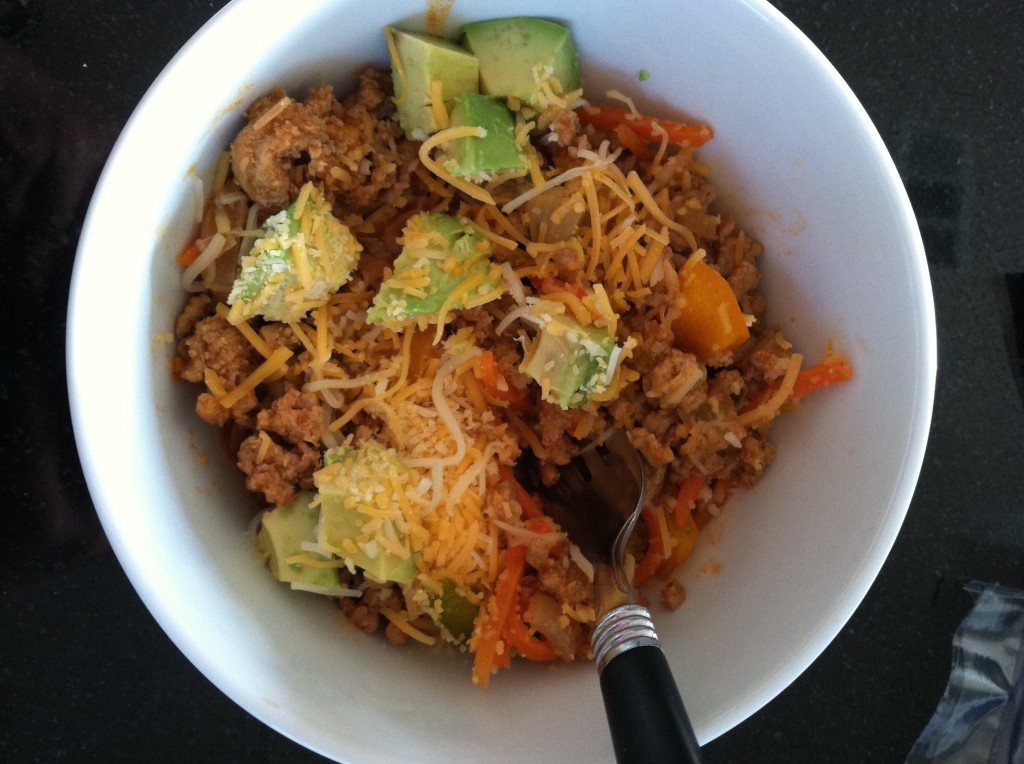 After dinner, Tess and I and two of her friends, Elly and Victoria, went to see Frozen on Ice! I was ridiculously excited!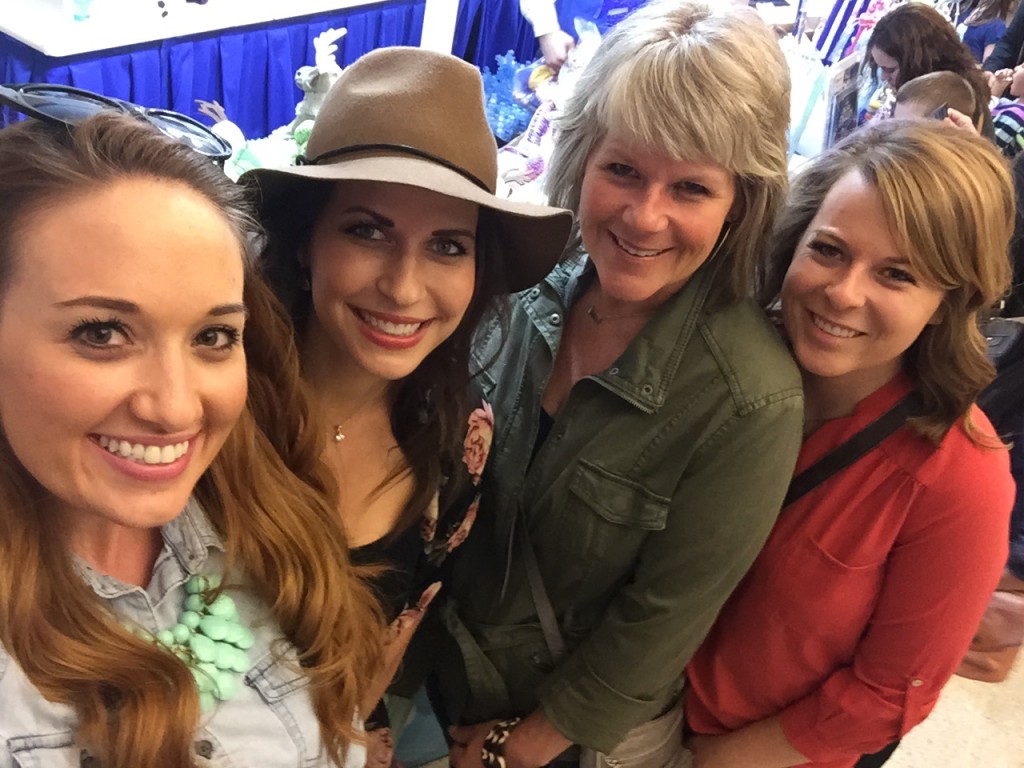 To make our evening even more exciting……Victoria, on the far left, actually worked for Disney for about 5 years, and played several "Princess" rolls while employed there. We even got to see pictures of her as Snow White and Ariel. It kinda made me want her autograph. It also made me want to tell all of the little girls at that the show in their blue little dresses that I was with a real princess! She was cracking us up all night long. We listened to only Frozen songs on the way to the show, and Victoria knew all of the words. That girl could belt out a song! I think it was killing her to stay seated during the performance!
I loved the show and I'm hoping to take my granddaughter's when it comes to Kansas City in August! It brought back some great memories of taking Tess to The Beauty and the Beast on Ice when she was little. Oh Disney….you do make me happy.
Friday morning, Tess and I went to a WW meeting, did a little Spring Clothes shopping, and then we went to lunch with Manuel!
Um, how cute are they together?? 🙂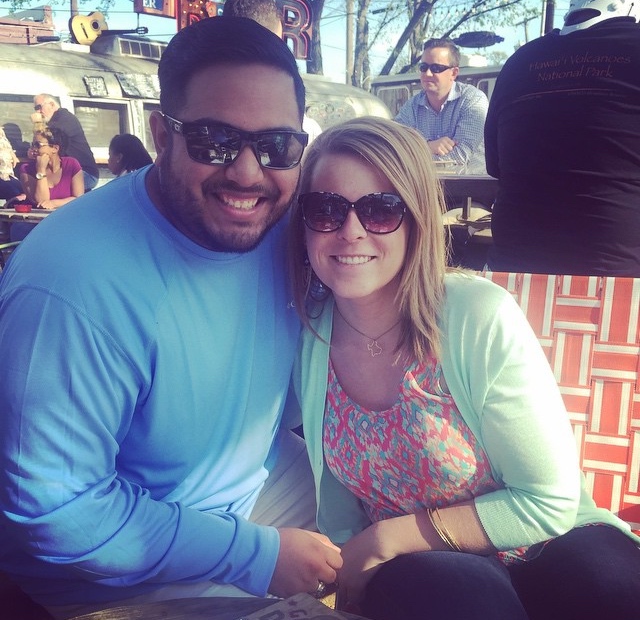 I had these awesome Blackened Salmon Taco's!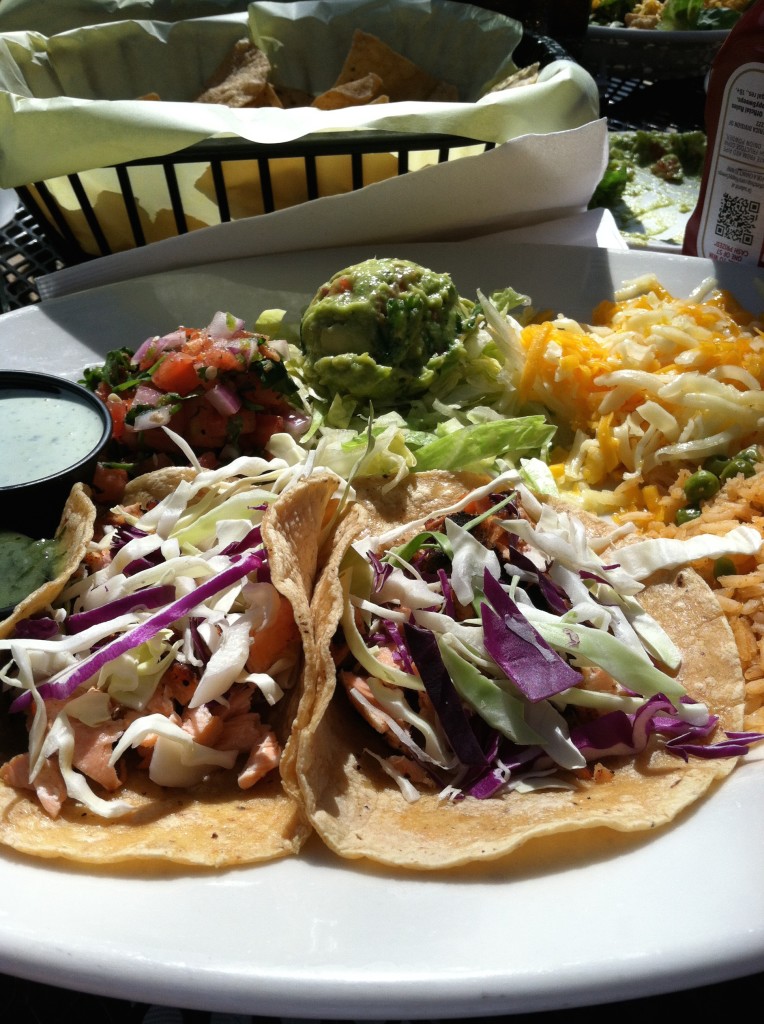 This was a great breakfast Taco on the way home from the race Saturday morning….Eggs, Bacon and Avocado on a corn tortilla! I do love a Taco!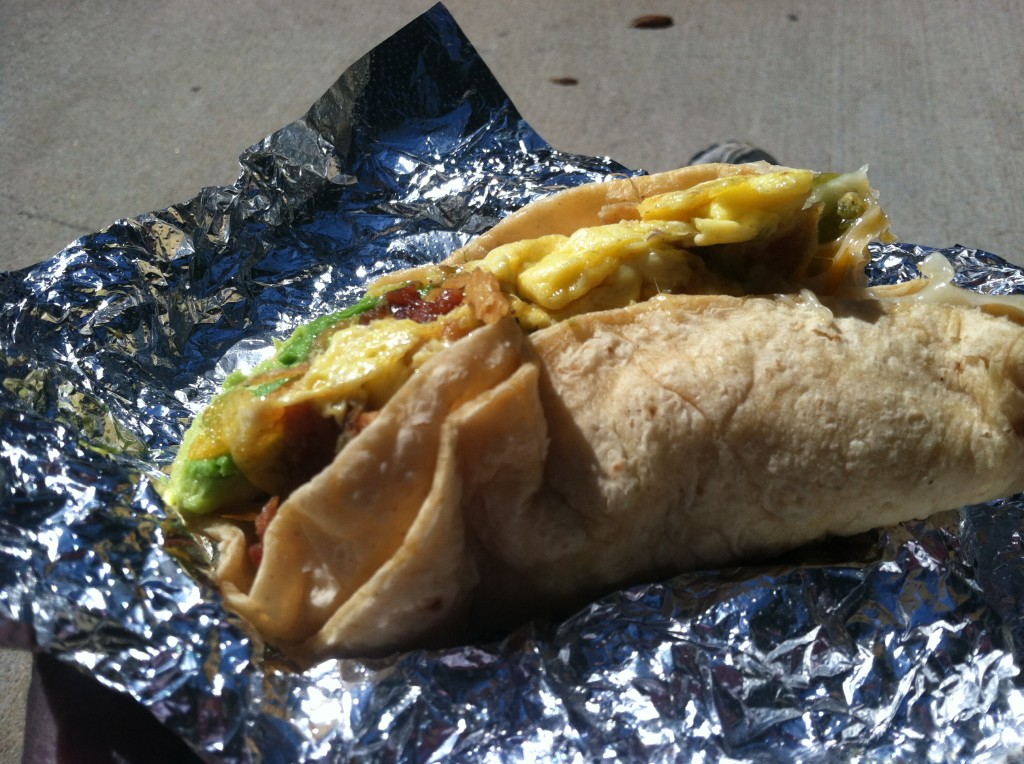 Saturday's lunch was at a place called the Porch, where I ordered this great Salmon Burger! I was loving the weather and our meals outside!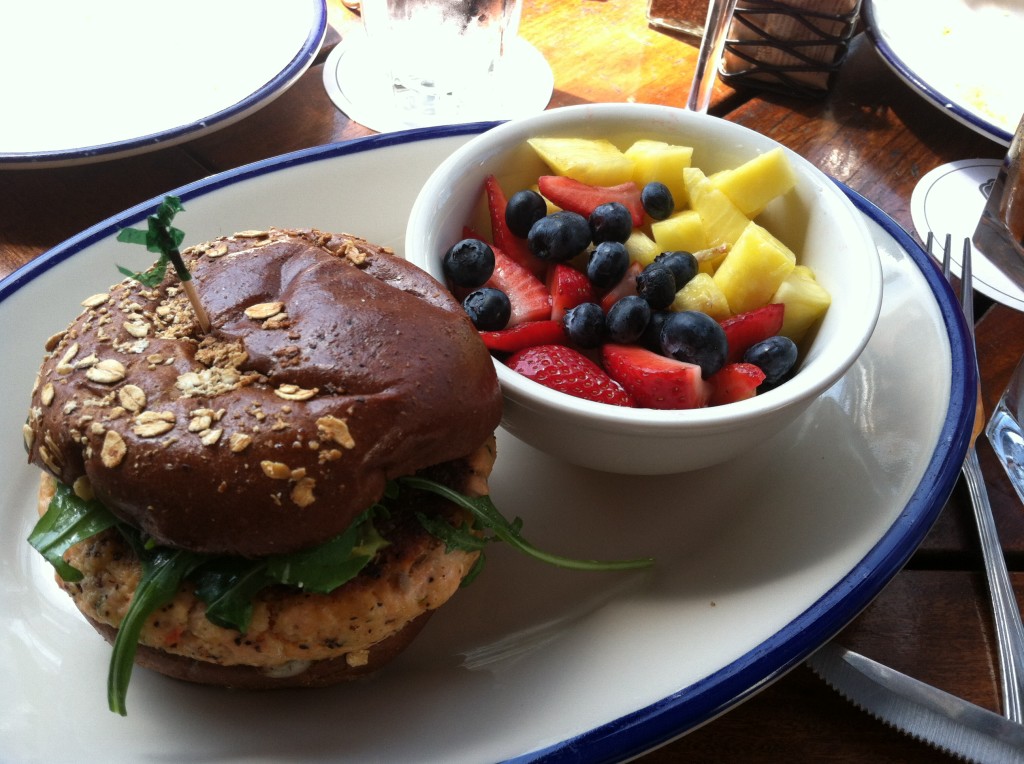 After lunch on Saturday, we enjoyed strolling in the park downtown that was full of people, dogs and Food Trucks!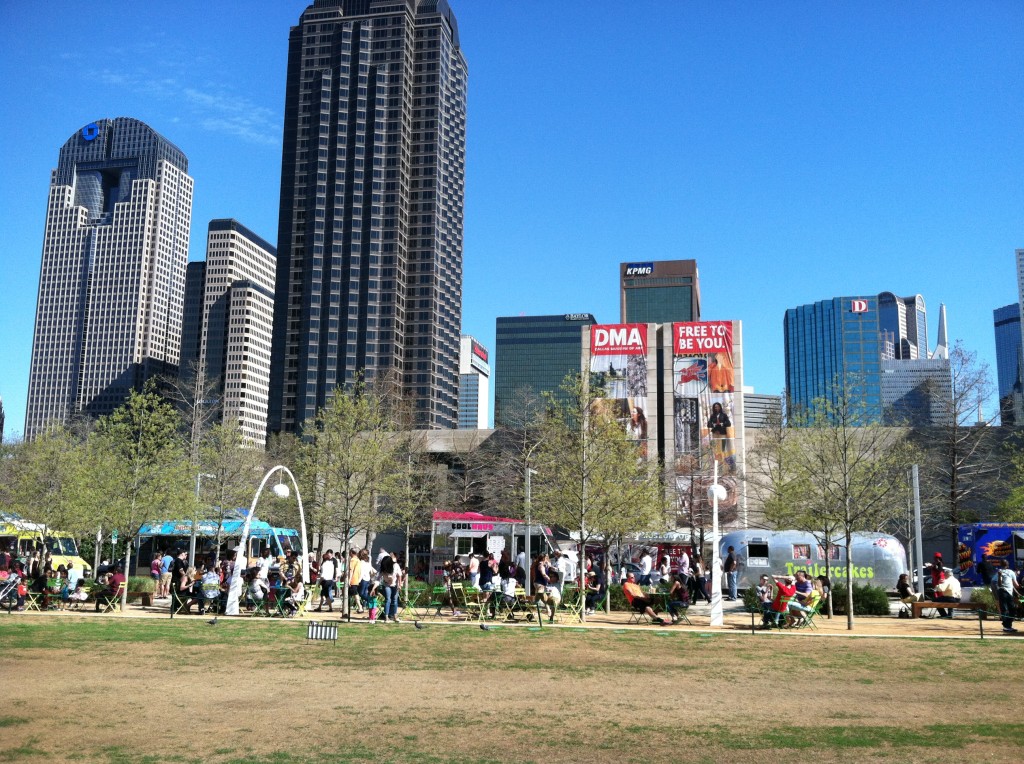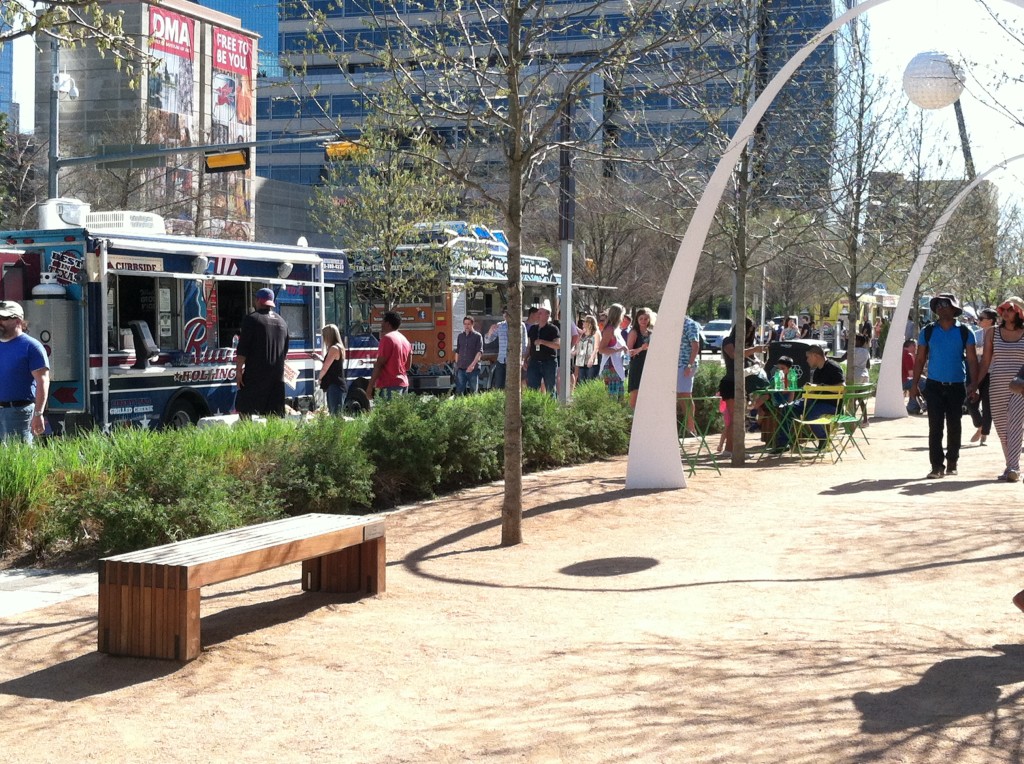 We even found a dog treat stand for Pudge, Manuel's dog.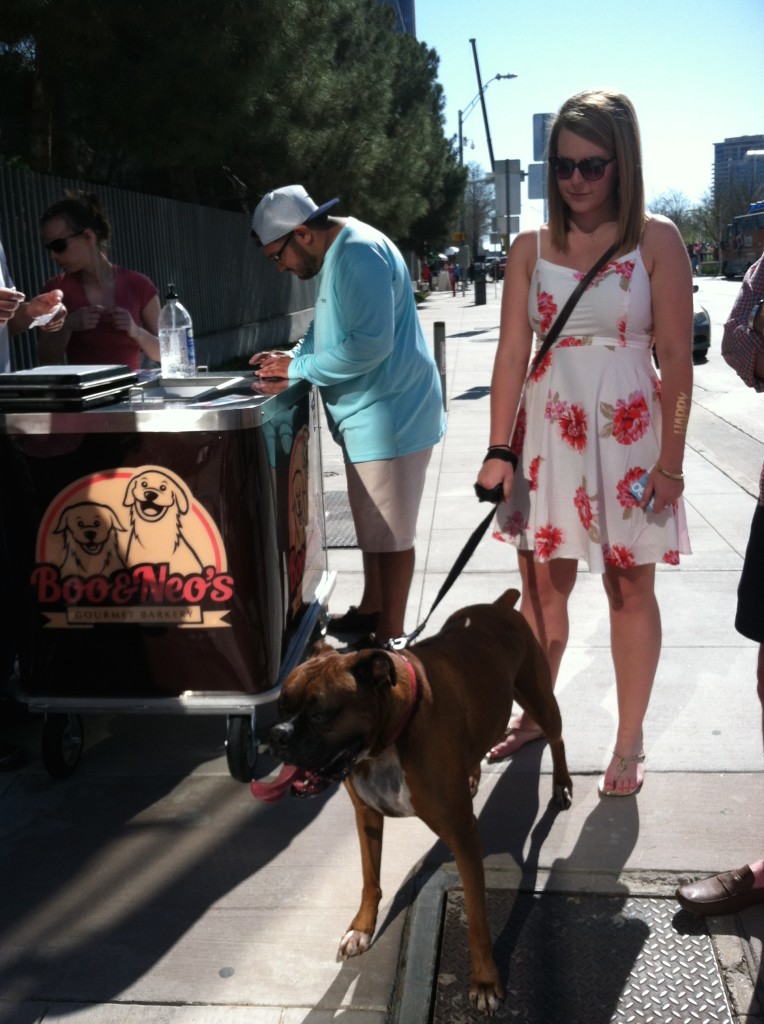 Tess sat in the back seat with Pudge on the way home. He's the BOSS!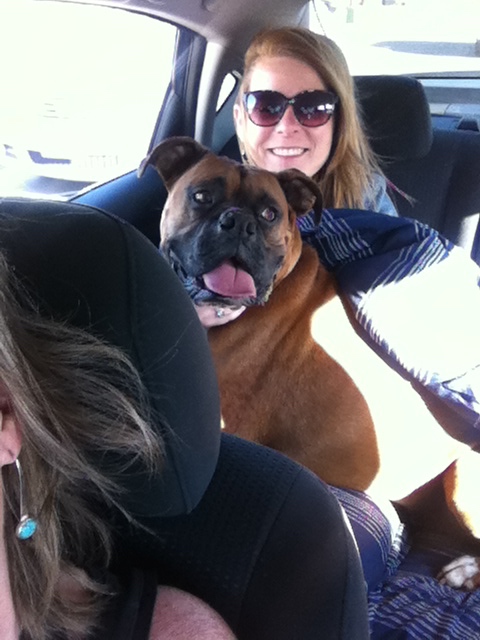 He think's he's a lap dog……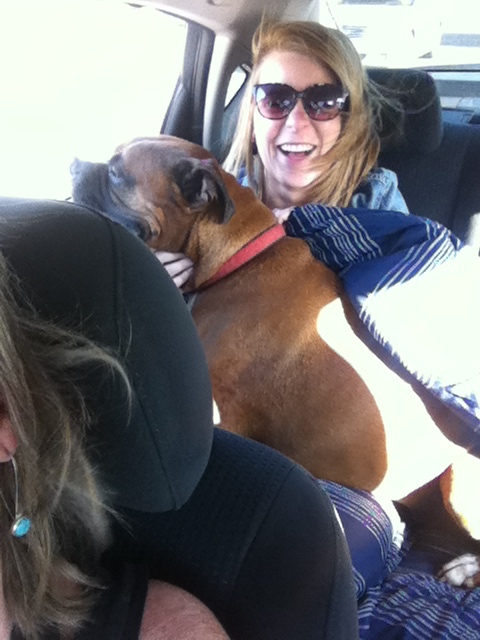 Saturday night was a quite night alone with Tess and lots and lots of girl talk.
I was on an early flight home Sunday, just in time to get to my In-Laws for a great Palm Sunday dinner and Easter Egg Hunt with the family. It's hard not having Tess in town for the Holidays, but I was sending her pictures all afternoon so she'd feel like she was there. Mike's parents are the best Great Grandparents (and just great people!) ever! There was a houseful for dinner and lots of good playtime outside.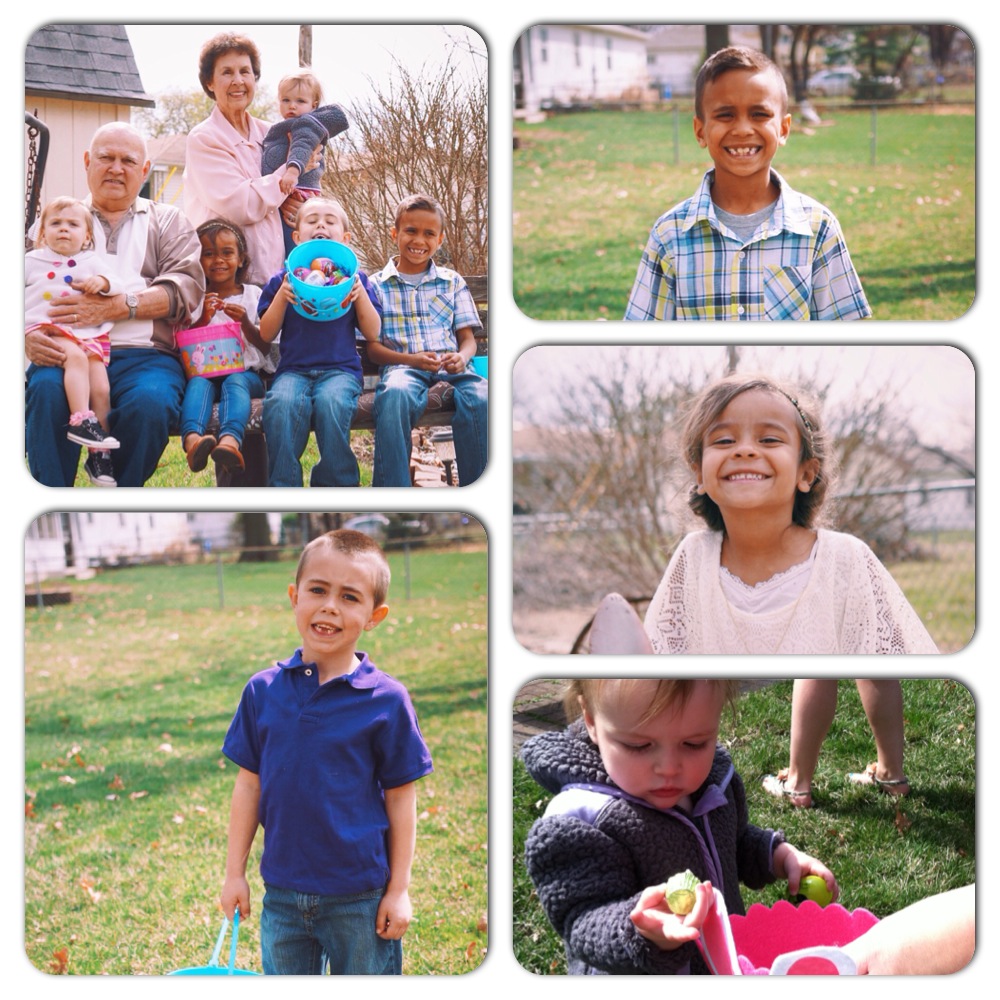 I had a great long weekend in Dallas, and it's always so hard to leave my kiddo. We always try to plan our next visit so we have that to look forward to. Tess and Manuel are coming to Kansas City at the end of May so we can all run in the Chiefs – Finish on the 50 5K. That race will end on the 50 yard line at Arrowhead Stadium. Tess is a huge Chiefs fan and football fan in general, so the thought of being on the field in Arrowhead Stadium has her crazy excited!
Okay……I said that I had lots to say……..
MRI Update
Two years ago, I had rotator cuff surgery on my right shoulder. When I went to the doctor initially, both shoulders were bothering me, but the right shoulder was worse than the left shoulder, so the focus was on the right shoulder.
My right shoulder healed nicely, but I am still feeling extremely limited as to what I can physically do with my left shoulder, so I had an MRI on my left shoulder. I received the results while in Dallas.
I have rotator cuff tendonitis and a partial tear. Part of me is relieved to finally know what is wrong, and part of me is really bummed because that surgery on my right rotator cuff sucked. So……doc is recommending a cortisone shot today, and see if that doesn't give me enough relief that I can strengthen it and not have any surgery.
My morning is gone, and I've got a lot to get done today!
I hope you have all had a wonderful weekend!
I'm going to focus on eating no more than 26 points a day, getting in lots of activity, and drinking my water!
Make it a Happy and Healthy Week!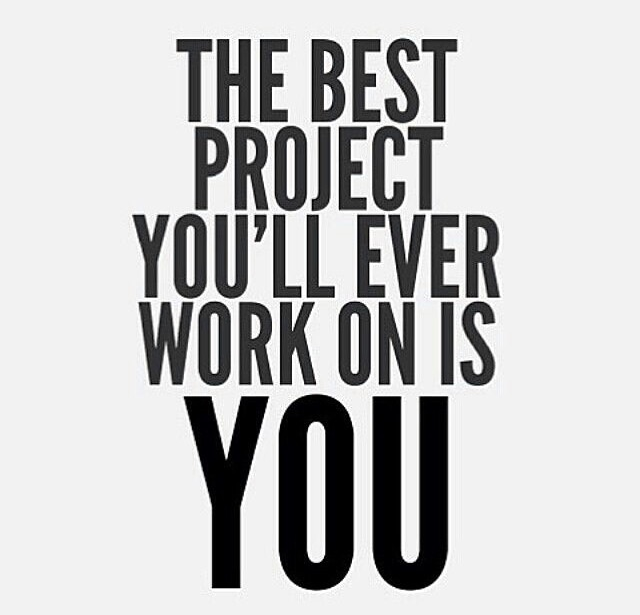 "love the life you live, live the life you love"