It was just one of those good days that moved right along. Things got done. I had a plan for the day for what I would do, what exercise I would do, and what I would eat.
I stuck with my plan. Along with all the good things that filled up my day, there was some weird stuff too. Here's my day……
Breakfast – delish
Blog, Emails, Facebook…Instagram! (super important stuff!)
Yoga – Yay!
Starbuck's – Yum
Car Wash – Overdue
Lunch – 1 POINT!!
Walk – 3 Miles! Yay again!
Errand's – Weird
Dinner – Loving this salad combo!
Shower
Couch time…..Ahhhhhh………
One of my errands yesterday was to return a Rotisserie Chicken to Target. Yes, you read that right. I was returning a chicken! I've never bought a rotisserie chicken at Target before, and I love me some Target, but there was NO meat on this chicken! I don't know if it over rotisserie-ed…..or what, but it was skin and bone. Literally. I thought it was the weirdest thing I'd ever seen. Until I was walking out of Target….then this happened.
I saw a woman that appeared to be in her 30's or so…..with another woman who appeared to be in her 50's or so. I'll assume it was a mother/daughter duo out for a day of shopping, right? The younger woman was wearing a T-Shirt that said….."Me and my mom talk sh*t on you". I read it and then realized she was watching me read it, but then I thought when you wear a shirt like that, you want people to read it, right? Then I looked at who I assume was her mom to see if her t-shirt said….."and we have no friends". It was just a weird shirt. That doesn't even make sense on a coffee mug, or a sign over your basement bar, or a sign at your lake house, or on a ball cap…..or anywhere! I would have been more amused if it would have just said…."me and my mom are bitches". I considered asking her if I could take a picture of it so I could have said to her….no one is ever going to believe that someone is really walking around wearing a shirt that say's this. Super weird, and I usually LOVE weird.
That is all.
Here are yesterday's eats……
Breakfast
6 PPV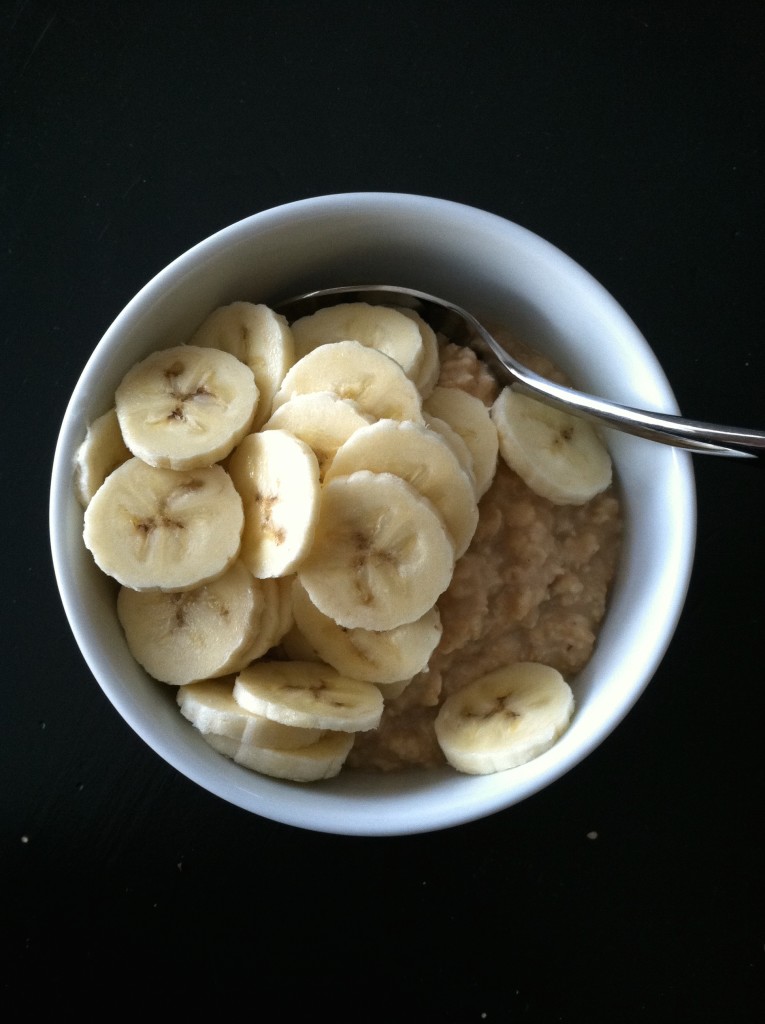 Snack
Un-Pictured Tall Nonfat Latte
2 PPV
Lunch
14 g Trader Joe's Cheddar Gruyere
Un-Pictured Banana
1 PPV
If you're eating a zero point soup for lunch, then you can afford to eat some full fat cheese! I weighed out 14 g of full fat Cheddar Gruyere cheese to put on top of this soup and it was really really good!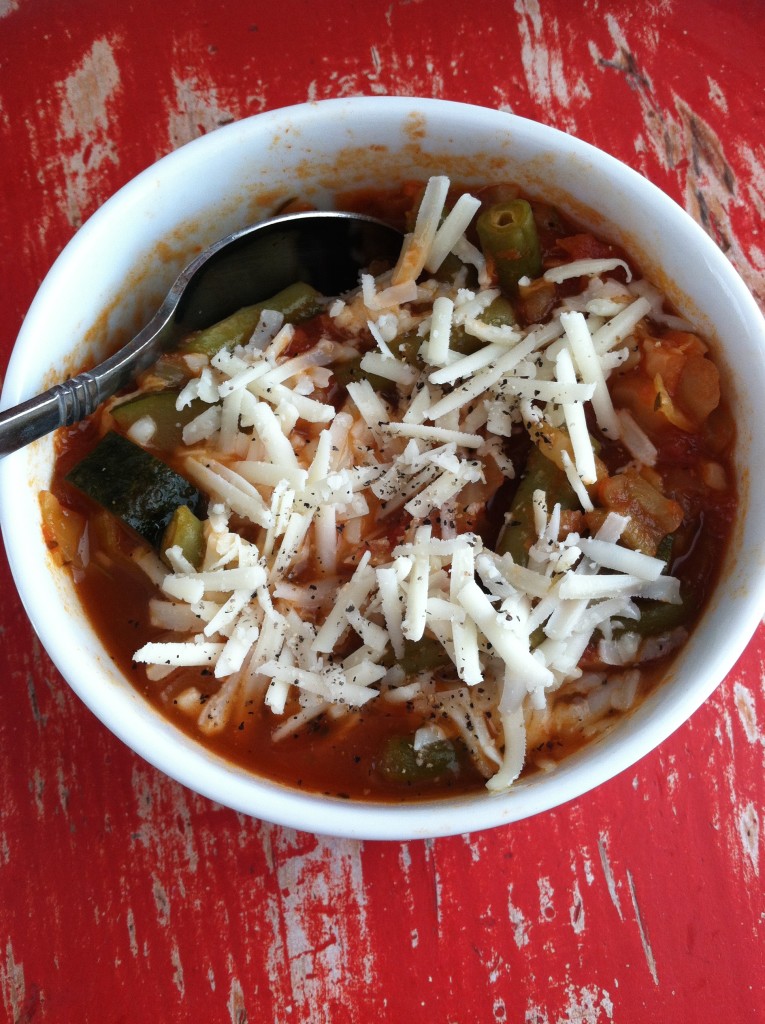 Snack
Apple, 10 g 70% Cocoa Dark Chocolate
1 tsp Raw Unsweetened Coconut
2 PPV
I melted the chocolate in the microwave, then drizzled it on the apple. I follow weightwatchers4me on Instagram. She does some amazing things with a little chocolate drizzle. Check out her website at drizzlemeskinny.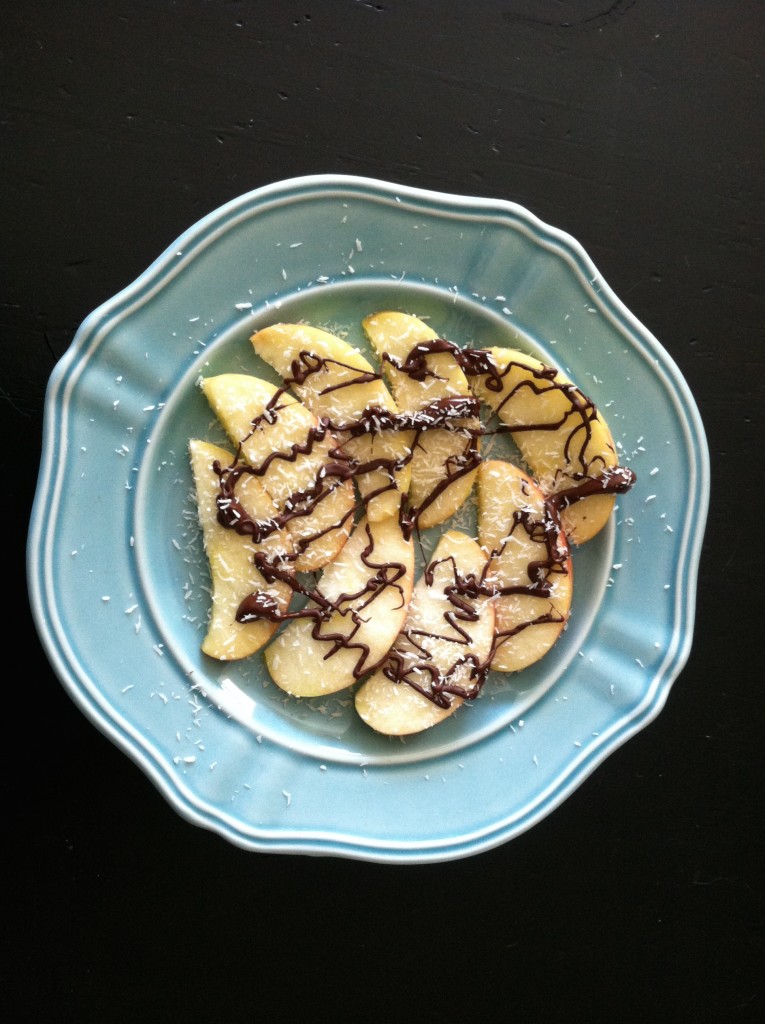 Snack
Un-Pictured Walnuts and Raisins
3 PPV
Dinner
Mixed Greens, Dried Cherries, Gorgonzola
Walnuts, Beets, Balsamic Vinaigrette
12 PPV
This Avocado Cream Sauce is from yesterday's post. I'd like to play with this a little more, but it tasted pretty good on this chicken!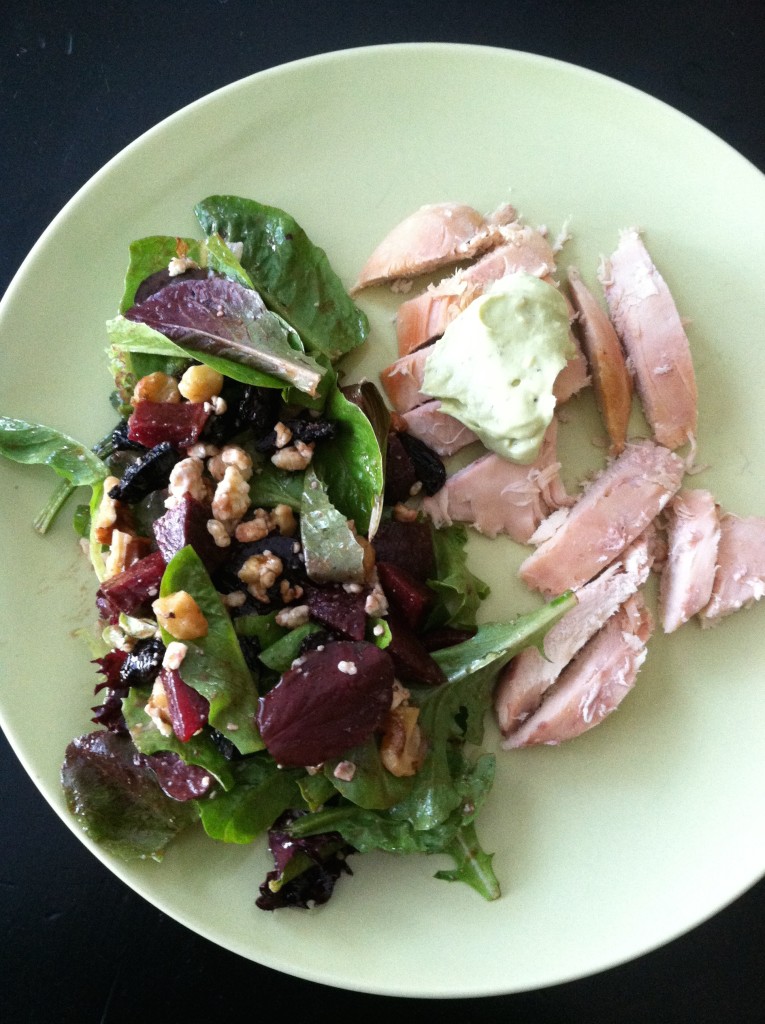 Weight Watcher's Points Plus
I can eat 26 PPV a day.
I can earn Activity Points by doing exercise, and eat them if I choose.
I have an allowance of 49 extra points that I can dip into throughout the week if I choose.
I should drink a minimum of 6 (8 oz) glasses of water each day.
My Weight Watcher Week Begins on Friday's
Breakfast = Peanut Butter Oatmeal, Frothy Coffee (6)
Snack = Tall Nonfat Latte (2)
Lunch = Soup with Cheese, Banana (1)
Snack = Apple with Chocolate and Coconut (2)
Snack = Walnuts and Raisins (3)
Dinner = Chicken, Salad (12)
Total = 26
Exercise = 60 minute Yoga Class, 60 Minute Walk
Activity Points Earned for the Day = 10
Activity Points Earned This Week = 19
Activity Points Remaining This Week = 19
How many ounces of water I drank for the day = 75
Remaining points from my 49 Points Allowance = 0
This is What I Will Accomplish in 2015
I will choose one occasion per month for Social Drinking (um…this is a work in progress)
I will go no more than two days in a row without exercise.
I will track every single day for the entire year. No matter what.
I will RUN in a minimum of six 5K's. One down, 5 to go!
This went along with my "weird" theme, and I'm not sure how many conversations Mike and I have had about how weird we think we are at times. Plus, who doesn't love Dr. Suess??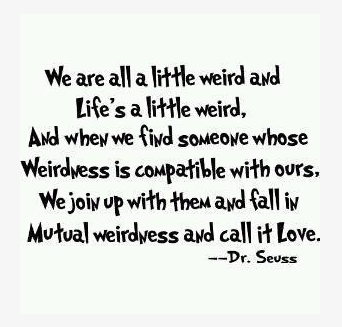 "love the life you live, live the life you love"