While Mishka, my 13 year old pup, was getting groomed yesterday, I got a text from the groomer.
"Found a couple of fleas"
The really weird thing is, I dreamt all night long that ants were crawling all over me and I kept waking up scratching! The dogs sleep with us. Basically, I was now disgusted for the rest of the day. Still am a little bit. I spent a lot of time cleaning yesterday.
Then…..
Mishka got sick. Vomiting, diarrhea and shaking.
We went to the vet. I had a ridiculous reaction to all of the cats there and sneezed 150 times over the next few hours.
Misha either was shaking or sleeping on my lap for the rest of the day.
Now it's boiled chicken and rice for the next two days for her, I felt like the parent of a sick infant trying to comfort her all day yesterday.
I also felt like the parent of a child who came home with a note from the school nurse that said my child had lice! Both dogs have fleas!
Here are yesterday's eats…….
Breakfast
Chocolate Peanut Butter Banana Oatmeal
5 PPV
1/2 Cup Quick Cooking Oats
2 T PB2
1/4 tsp Raw Stevia
1 T. Unsweetened Cocoa Powder
3/4 Boiling Water
Mix all together and top with a Sliced Banana
It's like a big Oatmeal Cookie!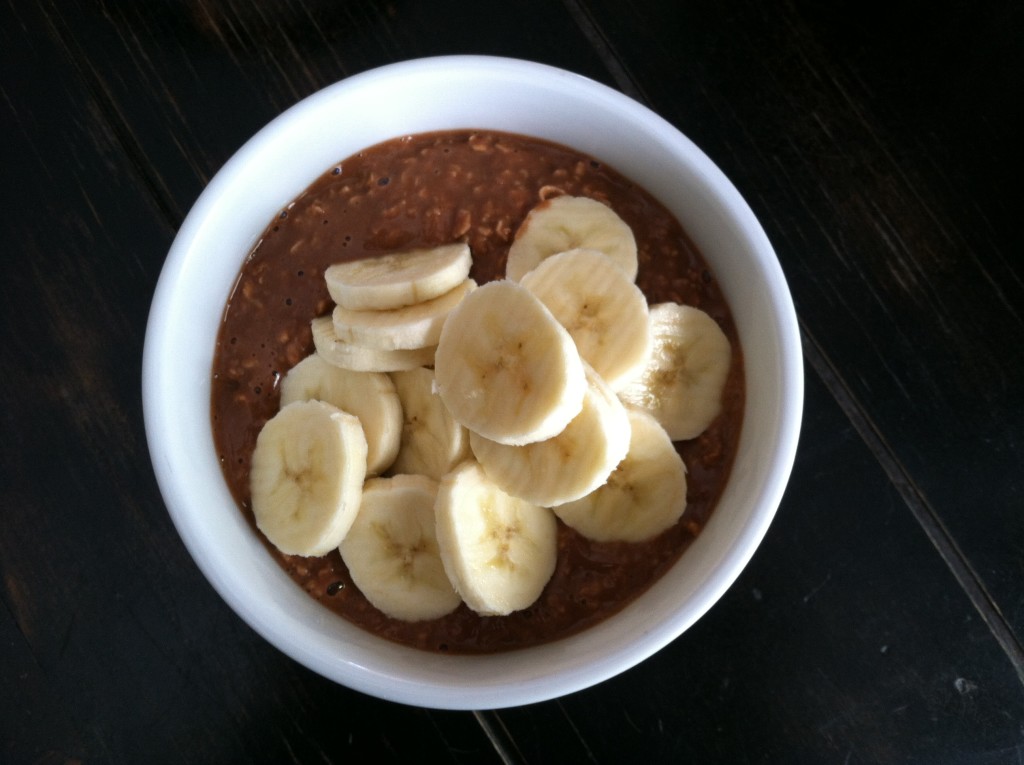 Lunch
4 Turkey Meatballs, Marinara, Spaghetti Squash
9 PPV
I love leftovers…….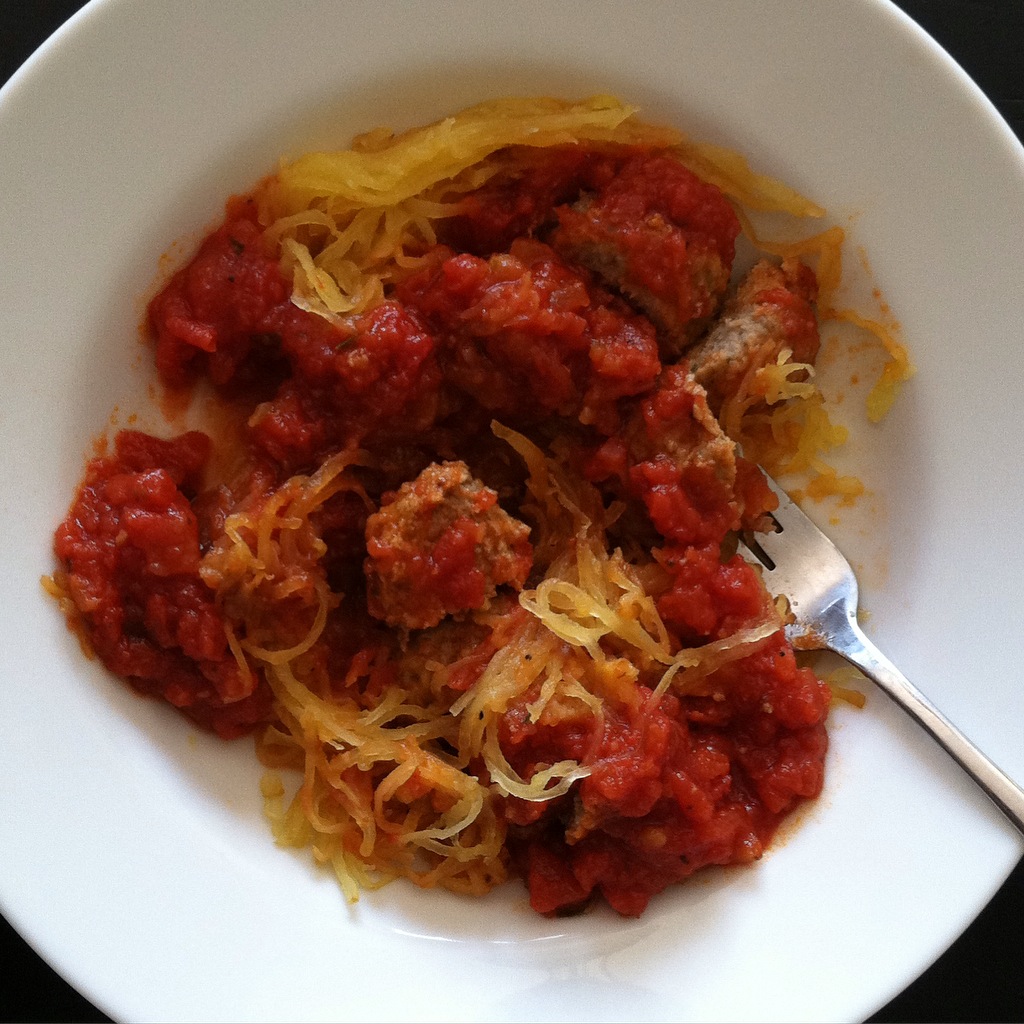 Dinner
Grocery Store Salad Bar
12 PPV
I made a huge salad with lots of greens, carrots, broccoli slaw mix, 7 bean salad, cherry tomatoes, grilled chicken and a little pasta salad.
I brought it home and chopped it all up and shared it with Mike. Lots of flavors and convenient since the grocery store is right up the street!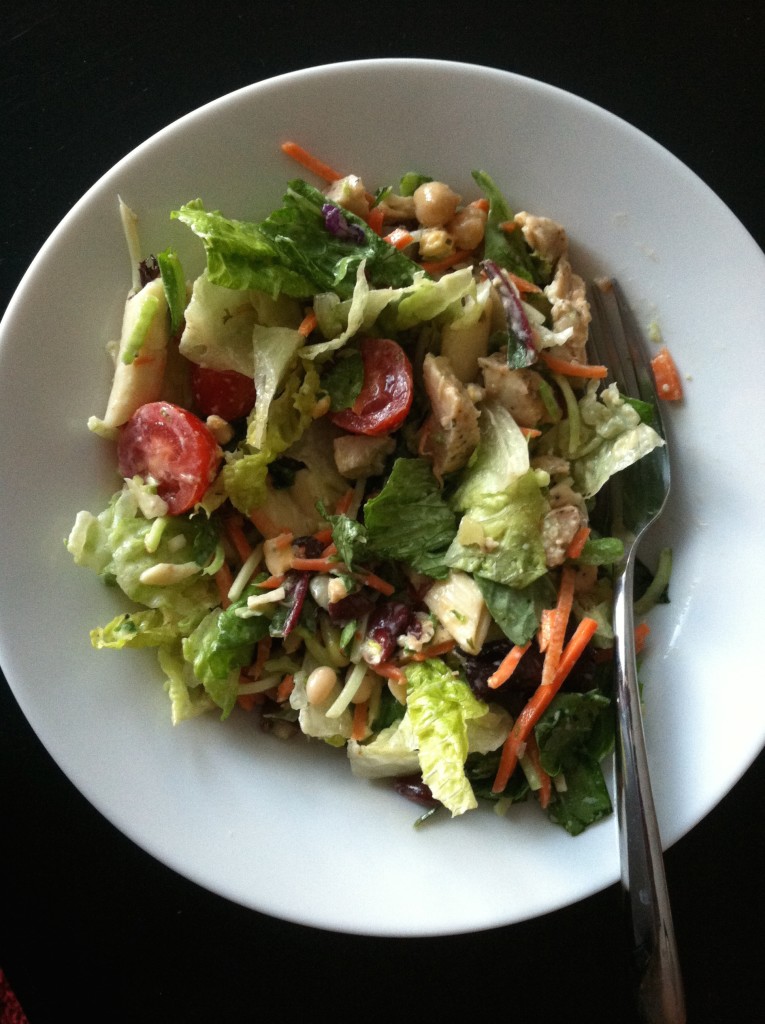 Weight Watcher's Points Plus
I can eat 26 PPV a day.
I can earn Activity Points by doing exercise, and eat them if I choose.
I have an allowance of 49 extra points that I can dip into throughout the week if I choose.
I should drink a minimum of 6 (8 oz) glasses of water each day.
My Weight Watcher Week Begins on Friday's
Breakfast = PB Oatmeal (5)
Lunch = Spaghetti Squash, Turkey Meatballs (9)
Dinner = Salad (12)
Total = 26
Exercise = none
Activity Points Earned for the Day = 0
Activity Points Earned This Week = 6
Activity Points Remaining This Week = 6
How many ounces of water I drank for the day = 50 (I just forgot!)
Remaining points from my 49 Points Allowance = 0
This is What I Will Accomplish in 2015
I will choose one occasion per month for Social Drinking (um…this is a work in progress)
I will go no more than two days in a row without exercise.
I will track every single day for the entire year. No matter what.
I will RUN in a minimum of six 5K's. One down, 5 to go!
I like to remember this when the day doesn't go as planned.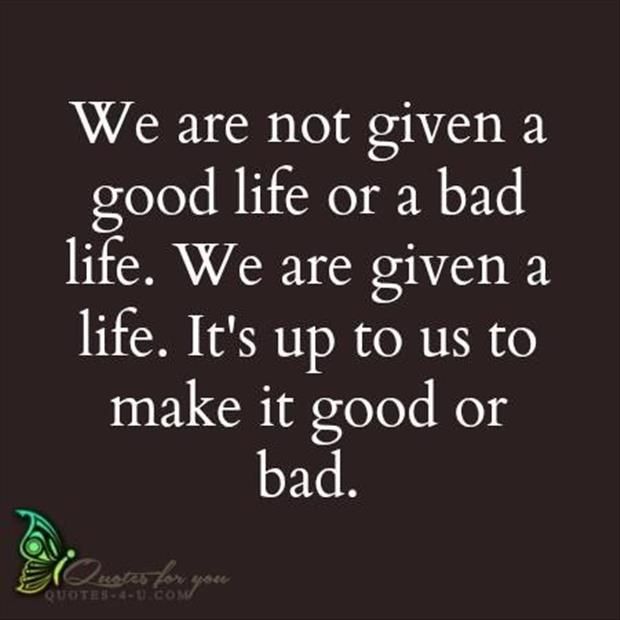 "love the life you live, live the life you love"