Saturday was movie night at home on the couch and I'm loving those Saturday nights more and more. First, we watched Wish I Were Here, with Kate Hudson and Zach Braff. We thought it was weird at first, yet it was keeping us very entertained. The more the movie went on, the more we liked it, and at the end I was a blubbering idiot and loved this movie and the weirdness at the beginning of the movie completely made sense!
Then, we started The Last King of Scotland, but it was late and we couldn't keep our eyes open.
Both being wide awake early Sunday morning. I made Frothy Coffee, and we finished The Last King of Scotland. What a great performance by Forest Whitaker! I always love his movies!
After the movie, I made breakfast and we chatted about our plans for the day. Knowing I had some miles to get in, I asked Mike if he'd like to join me. He keeps saying that he is going to. HE DID! We got in 3.5 miles and even added in a little jogging. He hasn't done that in forever, and I loved that he went with me! We haven't had much sunshine lately, but we had it yesterday and it was HOT out early yesterday!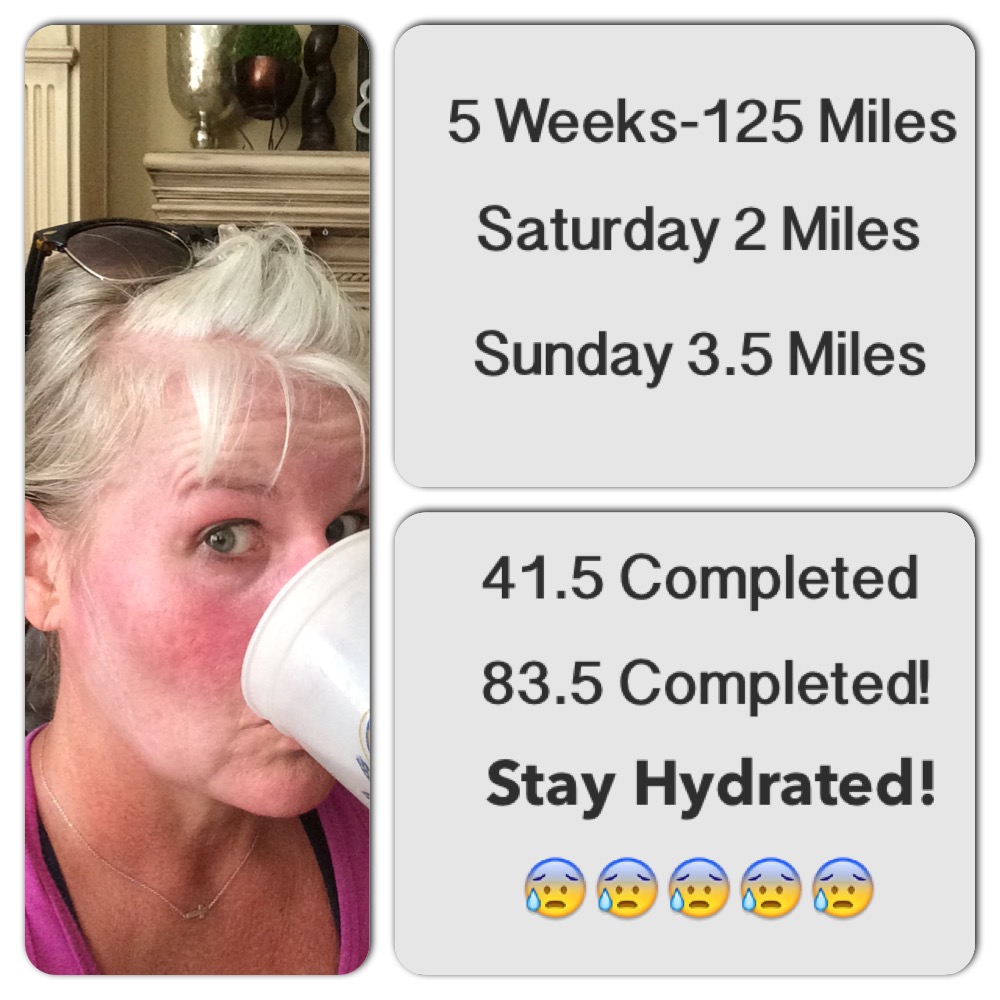 The rest of the day was super productive with the two of us doing things around the house and making some yummy stuff for dinner!
Chicken Kabobs for Mike from ATasteofHoney.com, and Grilled Salmon Kabobs for me from SkinnyTaste.com. Dinner was AMAZING!!
We had a great Sunday. i hope that you did too!
Here are yesterday's eats….
Breakfast – 5 PPV
Egg Whites with Laughing Cow Cheese and Pico, Berries and Toast with 1/8 Smashed Avocado, Frothy Coffee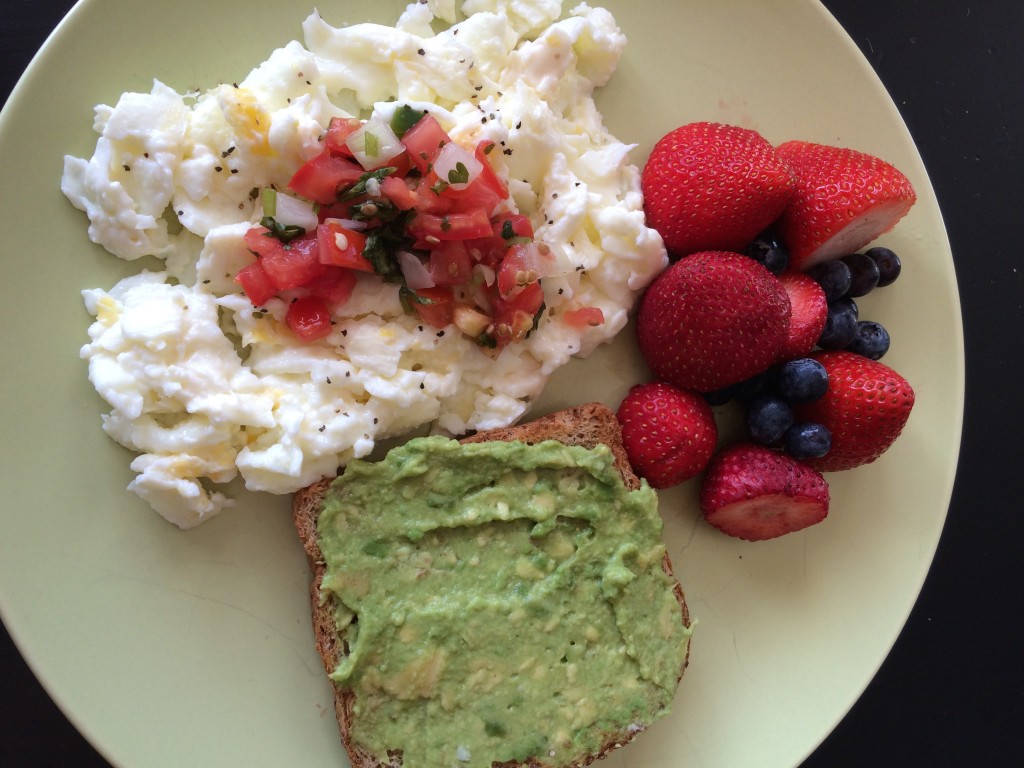 Lunch – 10 PPV
Salad Bar from the grocery store. Lots of greens and veggies, Grilled Chicken, Kidney and Garbonzo Beans and about 1/4 C. of macaroni salad. I brought it home and chopped it all up. The macaroni salad was little treat without eating too many points. I think I'm being generous by giving it a PointsPlus Value of 10.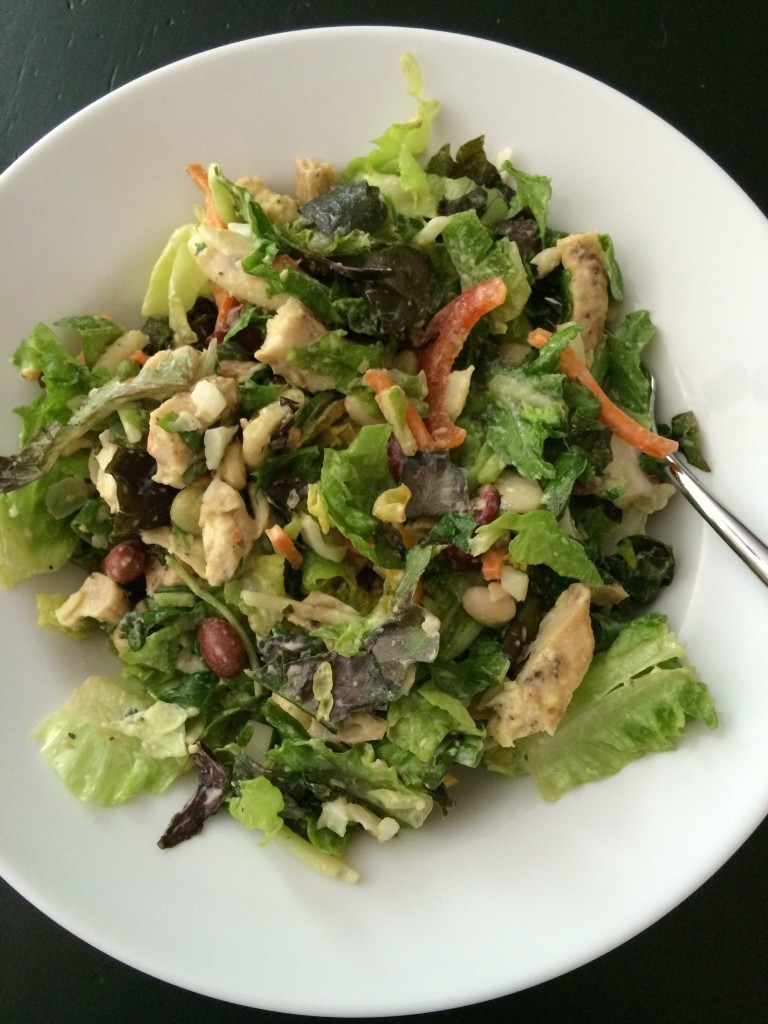 Dinner – 8 PPV
I've made both of these kabob recipes before, and forgot how great they both were! I make a lot of recipes from SkinnyTaste.com. If you haven't checked out her website, or purchased her cookbook, I highly recommend that you do one or the other! I also made the SkinnyTaste Roasted Cauliflower recipe, and while it was in the oven, the house smelled so good! Um, did I already say that dinner was AMAZING??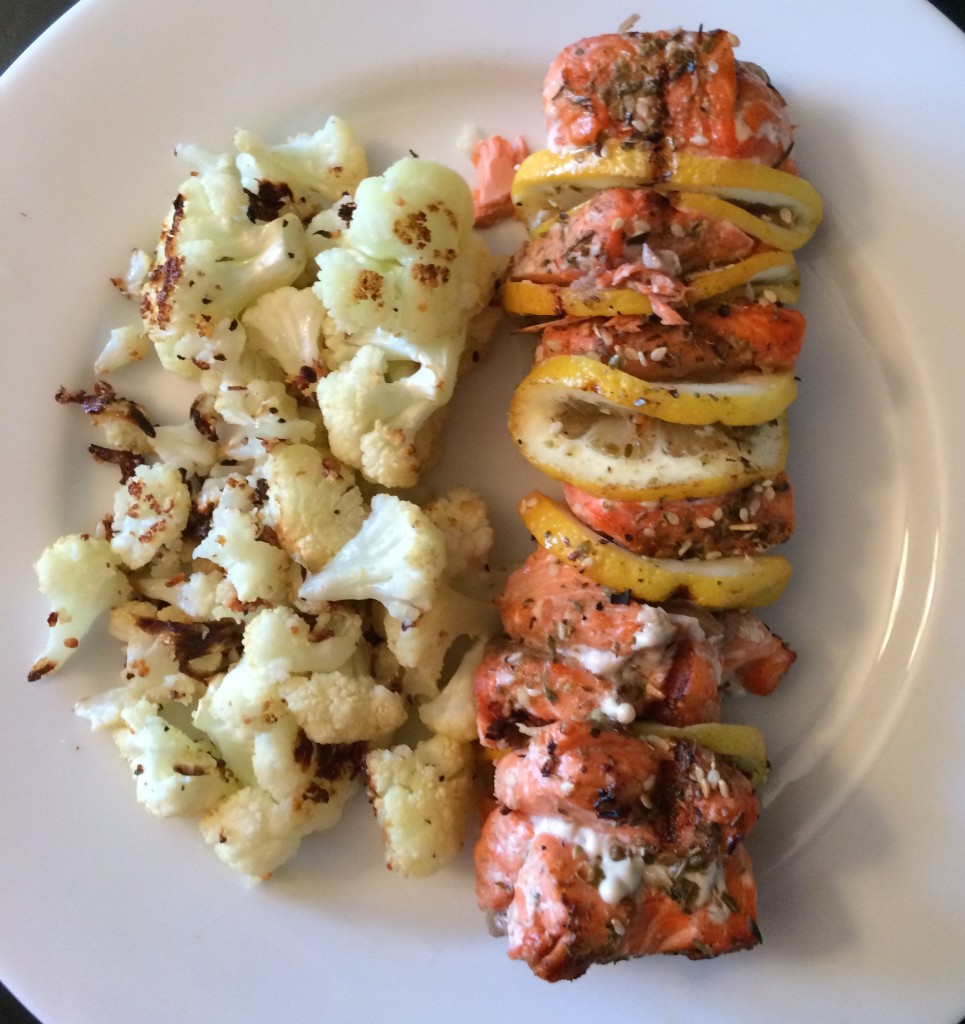 Weight Watcher's Points Plus
I can eat 26 PPV a day.
I can earn Activity Points by doing exercise, and eat them if I choose.
I have an allowance of 49 extra points that I can dip into throughout the week if I choose.
I should drink a minimum of 6 (8 oz) glasses of water each day.
My Weight Watcher Week Begins on Friday's
Breakfast = 5
Lunch = 10
Dinner = 8
Total = 23
Exercise = Walk/Run 3.5 Miles
Activity Points Earned for the Day = 4
Activity Points Earned This Week = 10
Activity Points Remaining This Week = 10
How many ounces of water I drank for the day = 90
Remaining points from my 49 Points Allowance = 24
This is What I Will Accomplish in 2015
I will choose one occasion per month for Social Drinking (um…this is a work in progress)
I will go no more than two days in a row without exercise.
I will track every single day for the entire year. No matter what.
I will RUN in a minimum of six 5K's. Two down, four to go!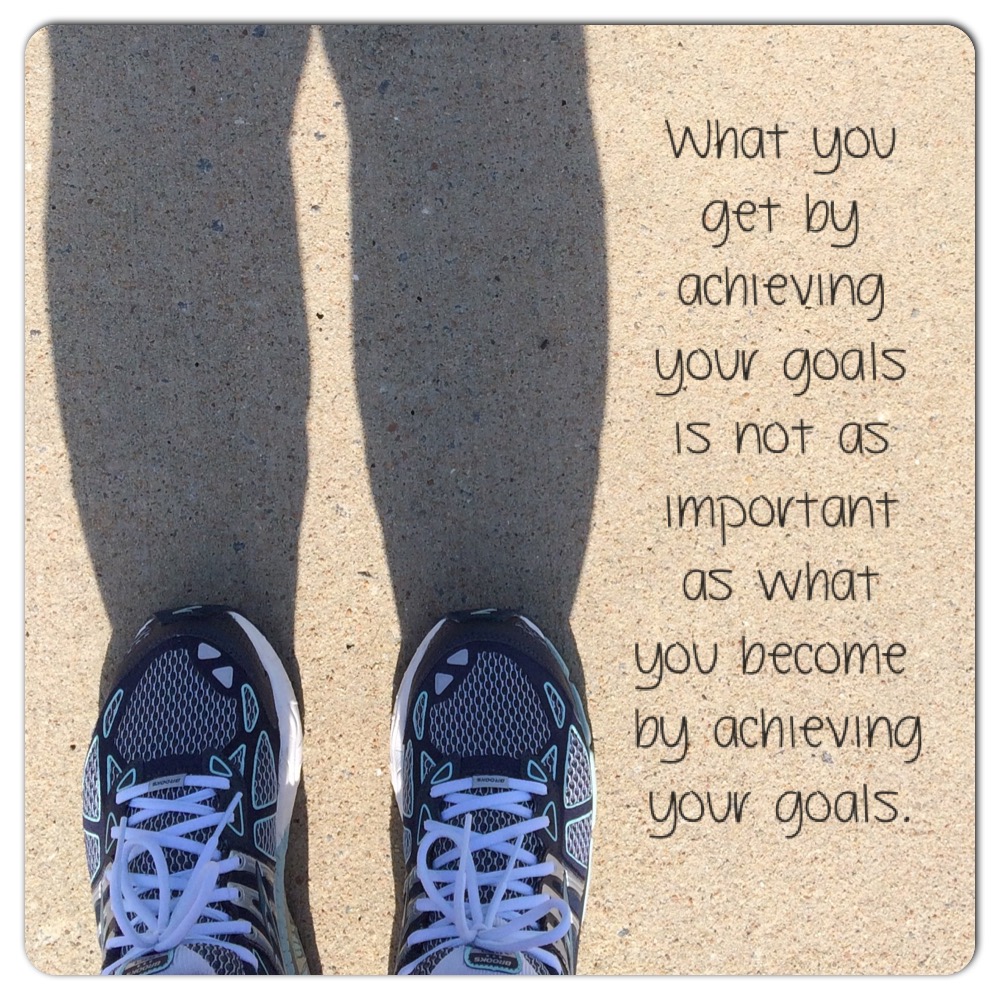 "love the life you live, live the life you love"