(Revised: I completely forgot to include my Jazzercise class in this post! How could I forget an hour of crazy, sweaty activity? I've updated my activity points to include my class.)
Would you believe I had a hard time eating all of my points yesterday?? Yeah, I can't believe it either! I ran out of greek yogurt, so I just took a big fruit bowl to eat at the food truck for my lunch, then when I came home, I basically had marinara and spaghetti squash in the fridge and no meat, so my point consumption for the day, so far was really LOW! And….I was satisfied. I snacked on things throughout the afternoon, and had a salad for dinner, but I still didn't eat all of my points, and I did NOT go to bed hungry.
I got out earlier than usual again and got a few miles in with Tucker man!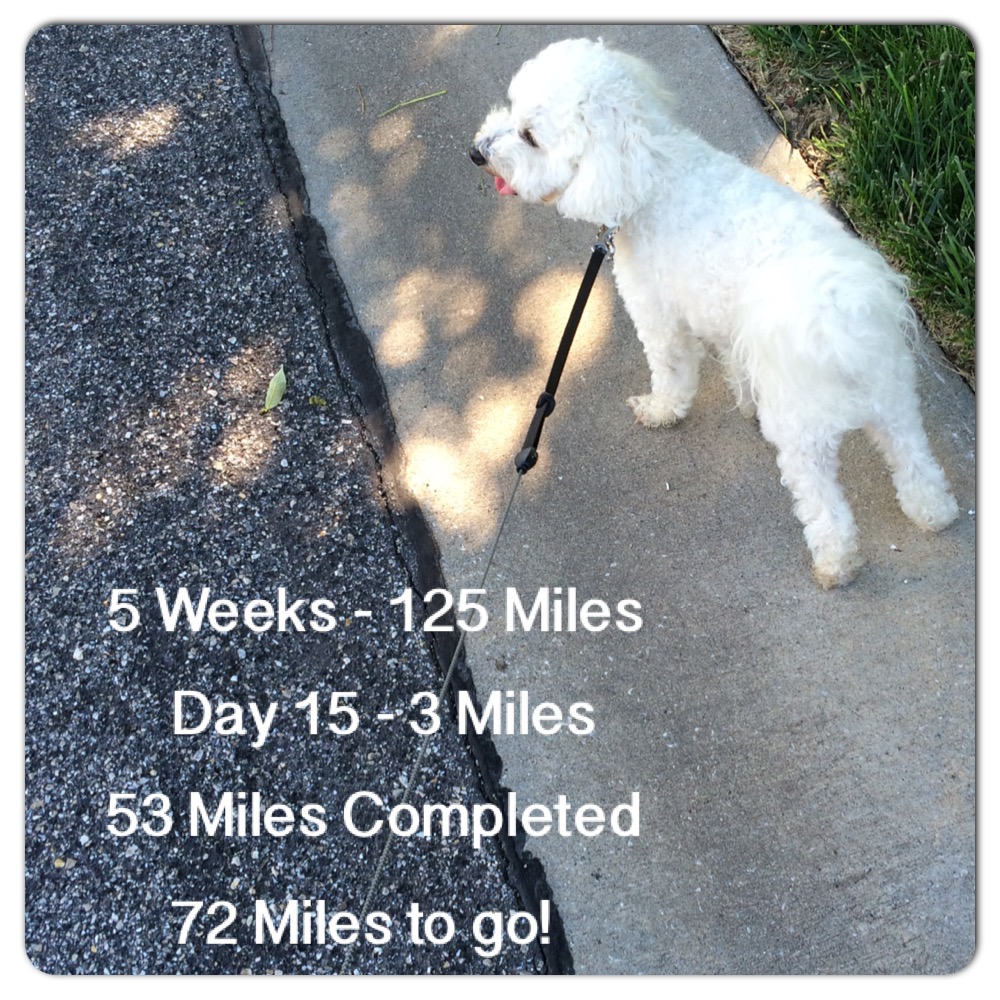 Here are yesterday's eats…..
Breakfast – 6 PPV
Yum!!! Breakfast Quesadilla……Two Corn Tortilla's stuffed with 4 scrambled egg whites and 1 Queso Laughing Cow Cheese Wedge mixed in. I grilled this for just a few seconds on each side so the tortilla's were crispy! Topped with 1/4 Smashed Avocado and Salsa. Grapefruit, Berries and Black Coffee.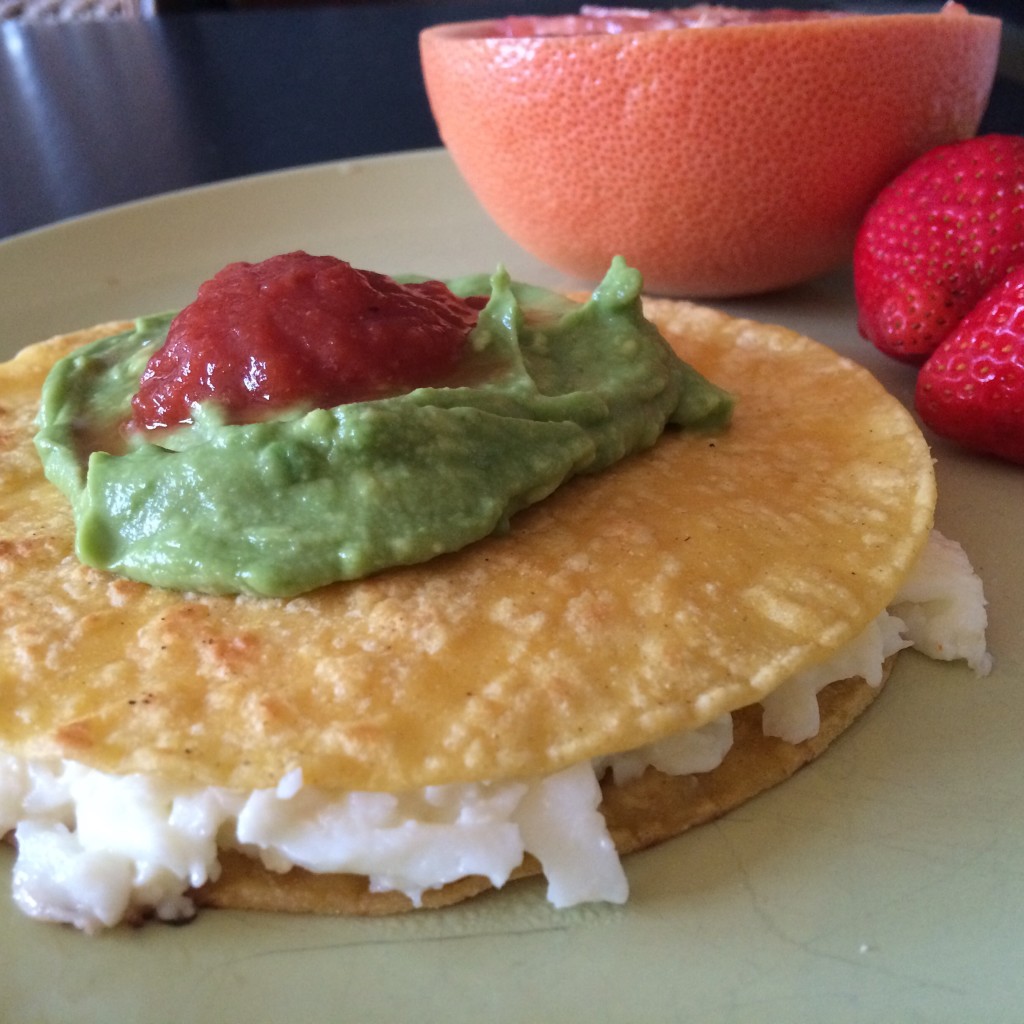 Lunch – 0 PPV
Big fruit bowl with Blueberries, Black Grapes, Strawberries, Banana, Kiwi and half a Grapefruit under there somewhere.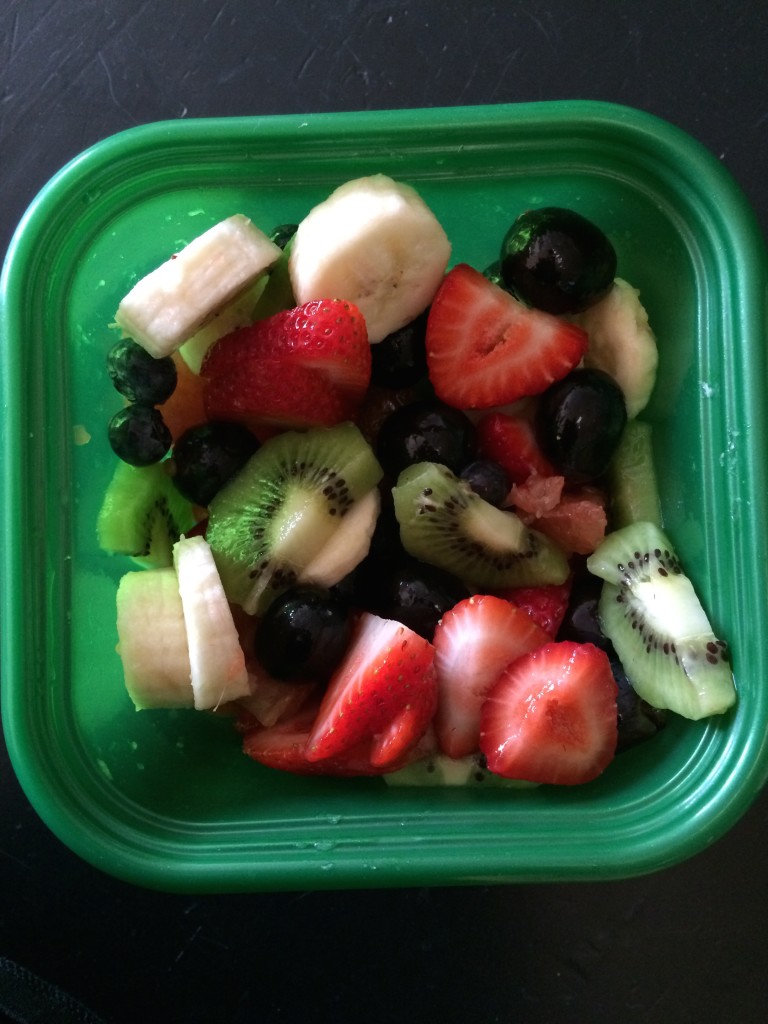 Snack – 2 PPV
Zucchini Noodles, sautéed with garlic and onion in 1 tsp Butter Infused Olive Oli, served over spaghetti squash and topped with homemade marinara and 1 T. Parmesan Cheese. I hadn't sautéed zucchini noodles in a long time like this, and I forgot how much I love this!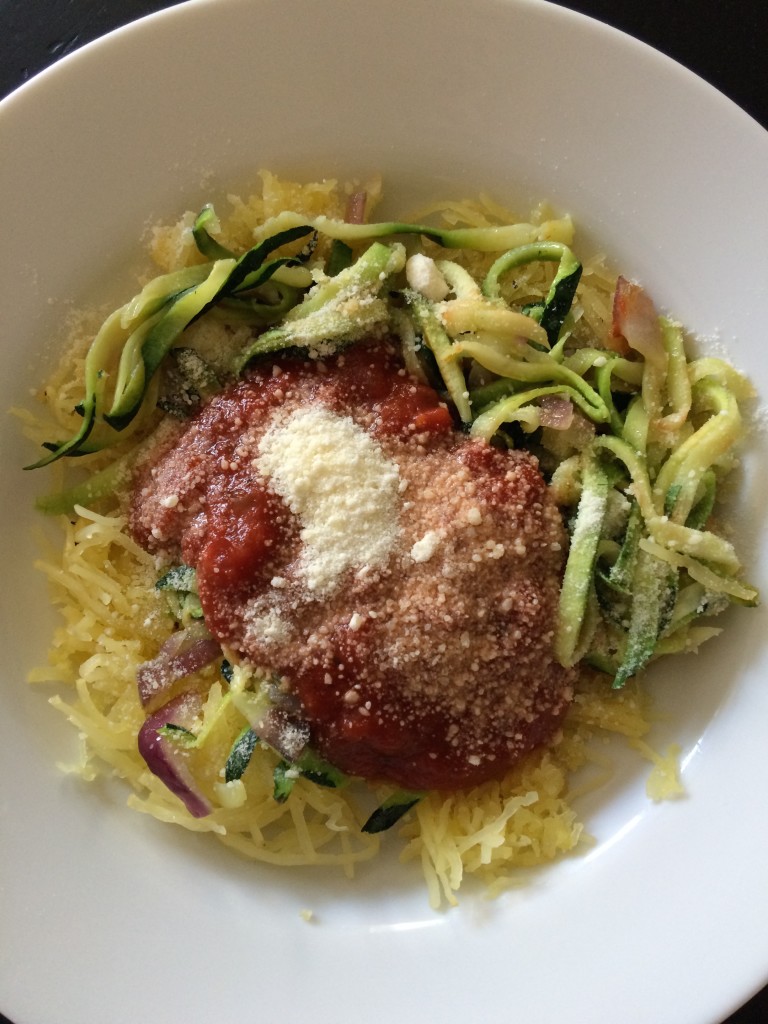 Snack – 2 PPV
Raw Almonds.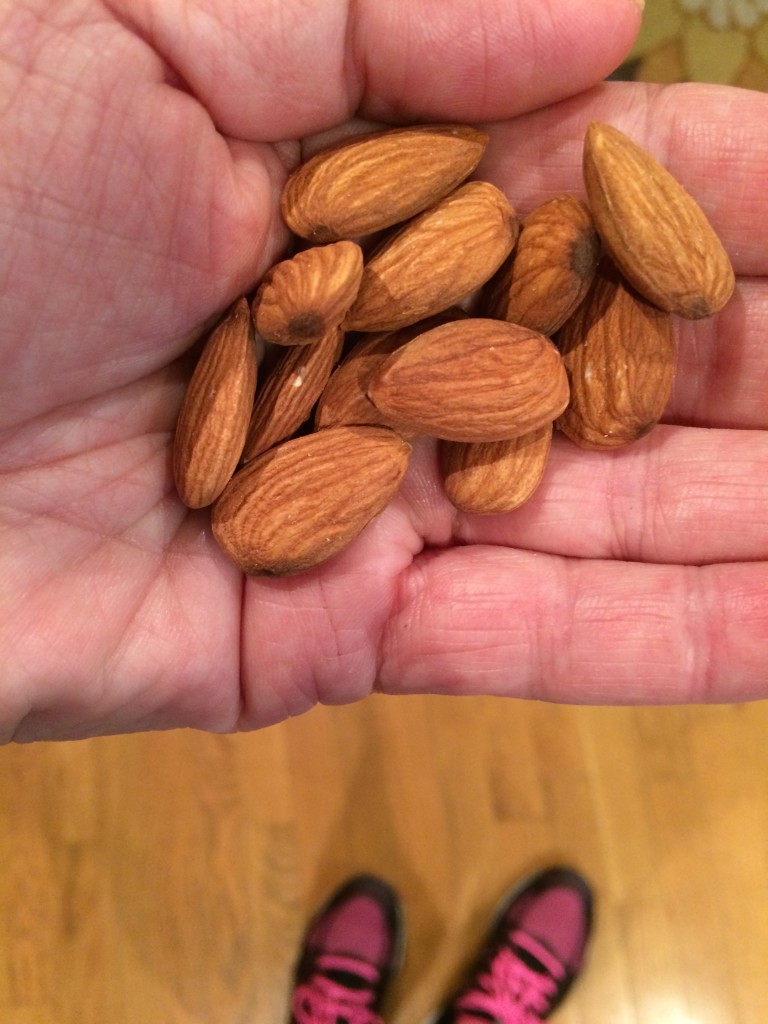 Snack – 1 PPV
Smoothie made with 1 C. Unsweetened Almond Milk, 1 frozen Banana, 1 C. Frozen Cherries and 1 packet raw Stevia. Served in a frosty mason jar!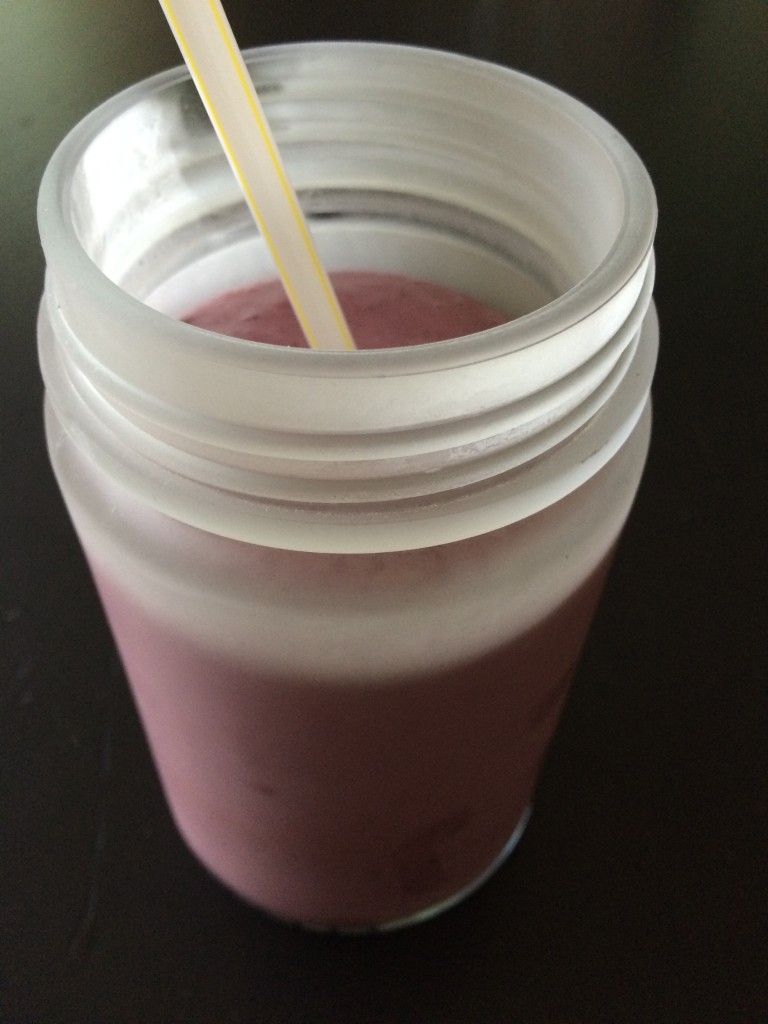 Dinner – 8 PPV
Salad with mixed greens, 3 oz Chicken, 15 g. Walnuts, 1 T. Feta, Blueberries and 1 T. Trader Joe's Cranberry Walnut Gorgonzola Cheese. Mike said at least twice how much he loved this salad!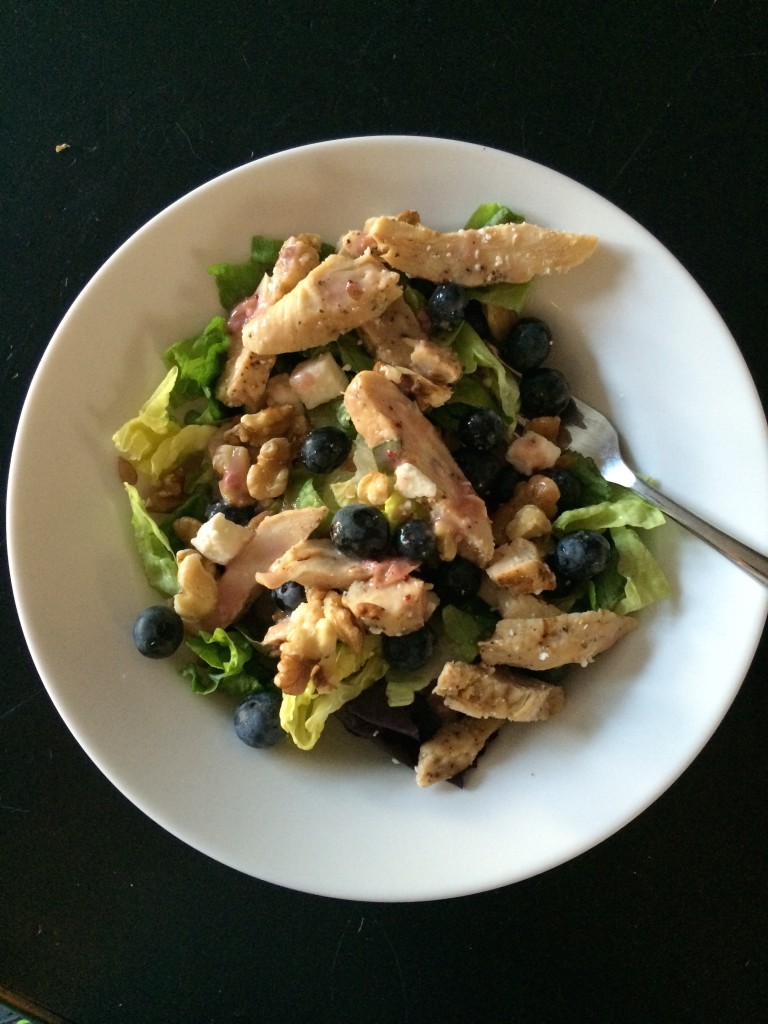 Weight Watcher's Points Plus
I can eat 26 PPV a day.
I can earn Activity Points by doing exercise, and eat them if I choose.
I have an allowance of 49 extra points that I can dip into throughout the week if I choose.
I should drink a minimum of 6 (8 oz) glasses of water each day.
My Weight Watcher Week Begins on Friday's
Breakfast = 6
Lunch = 0
Snack's = 5
Dinner = 8
Total = 19
Exercise = Walked 3 miles, Jazzercise
Activity Points Earned for the Day = 9
Activity Points Earned This Week = 35
Activity Points Remaining This Week = 35
How many ounces of water I drank for the day = 80
Remaining points from my 49 Points Allowance = 22
This is What I Will Accomplish in 2015
I will choose one occasion per month for Social Drinking (um…this is a work in progress)
I will go no more than two days in a row without exercise.
I will track every single day for the entire year. No matter what.
I will RUN in a minimum of six 5K's. Two down, four to go!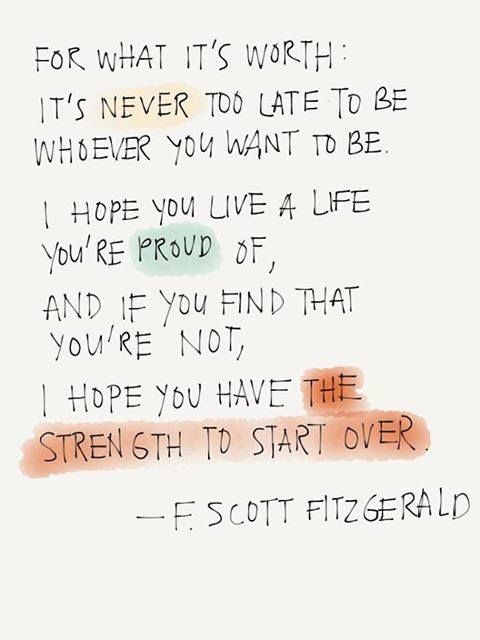 "love the life you live, live the life you love"