Immediately after I posted my blog yesterday morning, my new neighbors came out to play. I sat in my window with my dogs and watched them play for quite a while. Tucker is super confused as to why he can't just go out in the backyard and play with them. I tried to explain to him that the three of the foxes together might decide that Tucker would make a good dinner, but he just didn't seem to understand.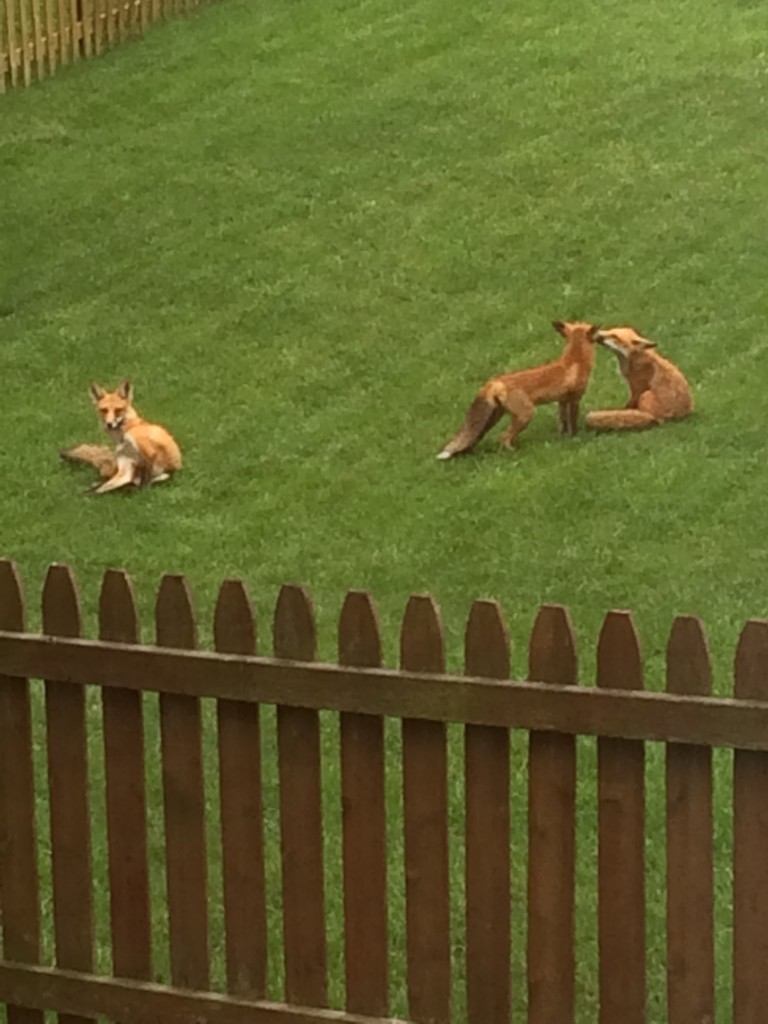 He did decide to just watch and be content. They would appear, then disappear all morning.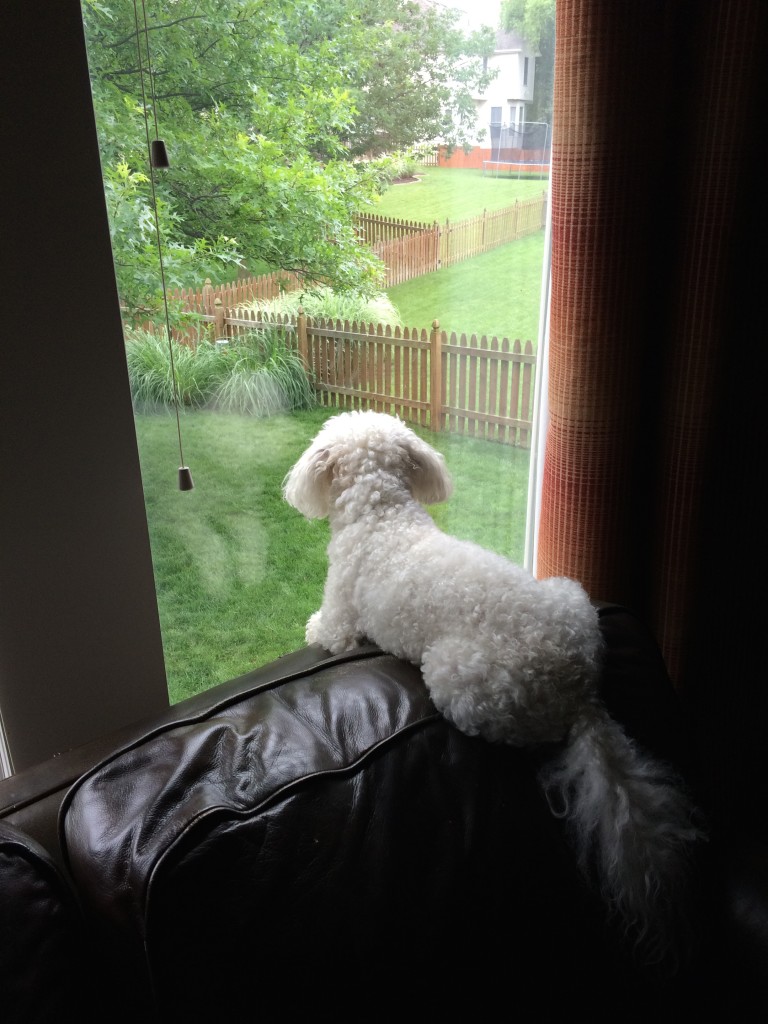 I'm a little hesitant to just let the dogs out in the backyard to do their business, so I've been putting them on a leash and taking them to the front yard, or taking them for short walks. Yesterday when I came home from working the food truck, Tucker had pooped in the living room anyhow. These foxes are jacking with my schedule and the dogs schedule just a bit.
This morning, I put the dogs on a leash and took them to the front yard. After standing in the driveway for a few minutes while the dogs sniffed around the front yard, I saw something out of the corner of my eye and I jumped, only to see a bunny rabbit speeding across the street! I'm like….geezzzzz Julie, chill out. Then I realize on of my new neighbors in RIGHT SMACK IN FRONT OF ME ON THE SIDEWALK! I froze. I know they aren't going to come after me, but it still freaked me out a bit.I swear it looked at Mishka and licked its chops! Then the fox slowly walked towards the backyard, it's new home.
Thankfully, Mike really seems to be enjoying walking with me and I am loving it! We got in a good walk after dinner last night. I won't be going alone on my walks for a while. At least until my new neighbors move away. I'm a wuss, what can I say?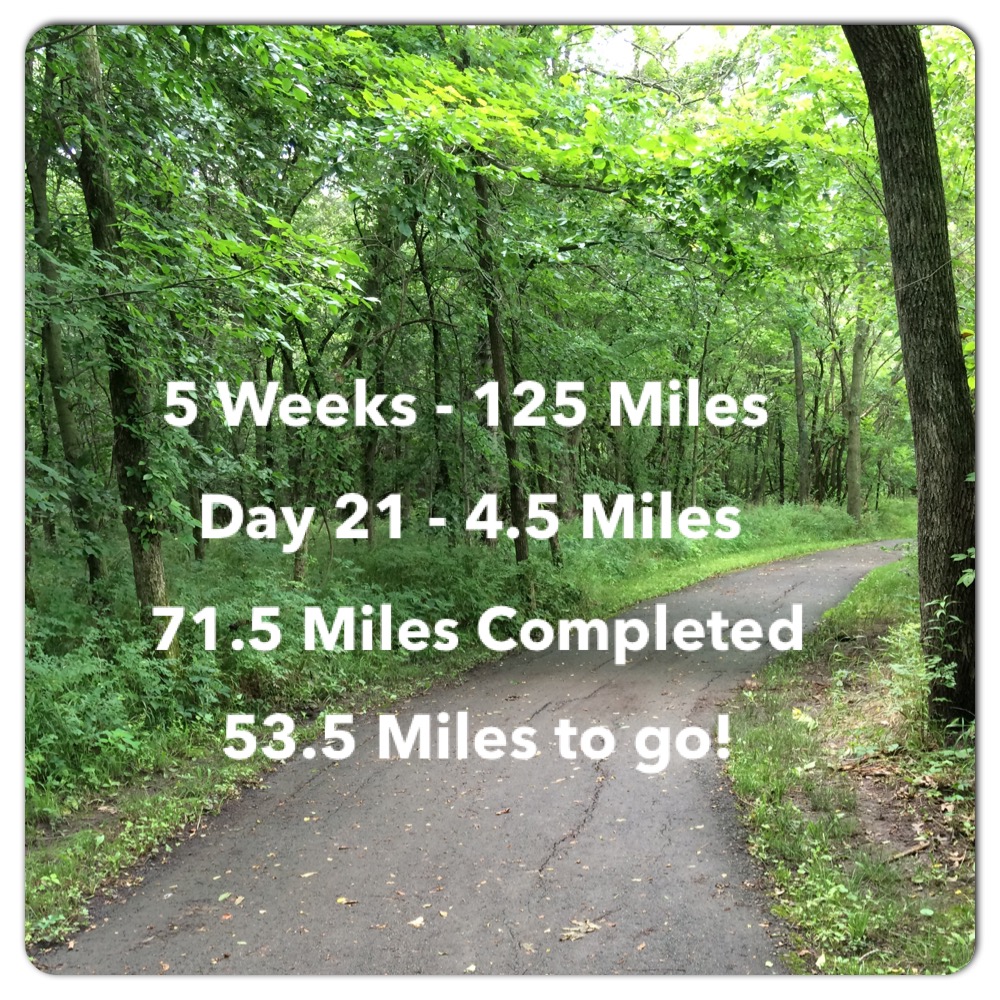 Here are yesterday's eats….
Breakfast – 5 PPV
I made Cherry Almond Oatmeal just like I make my Blueberry Oatmeal, but I used frozen cherries instead of frozen blueberries, and topped it with raw almonds.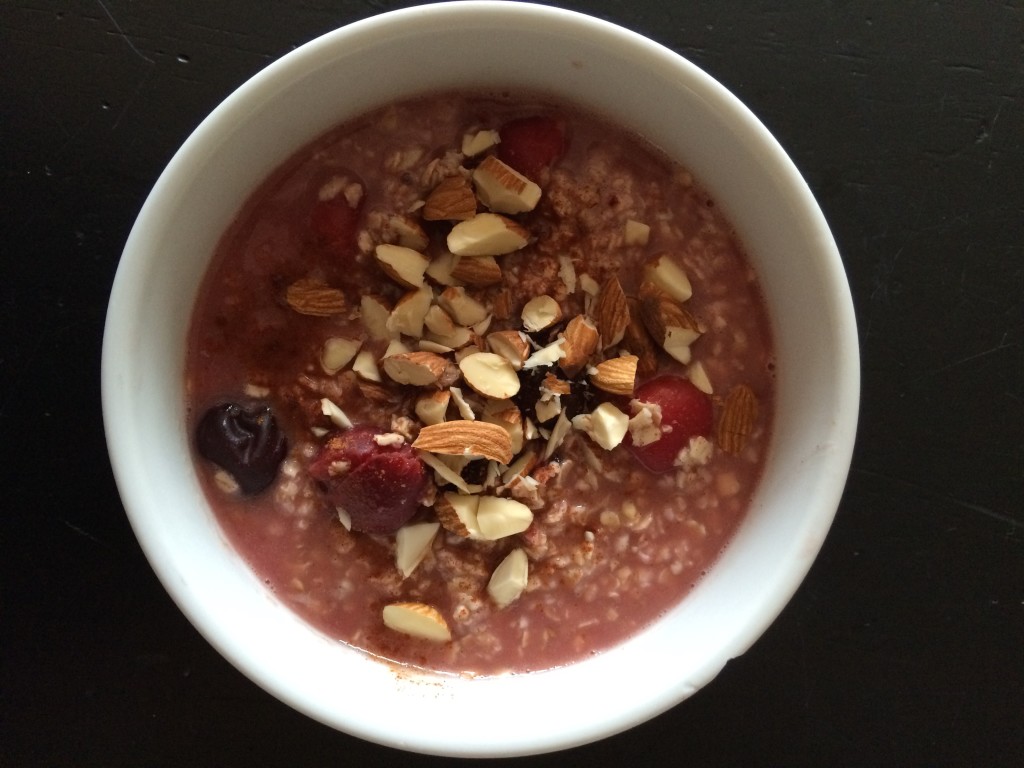 Lunch – 3 PPV
My fruit and yogurt combo's are proving to be a filling lunch. Yesterday I mixed 8 oz of Plain Nonfat Greek Yogurt with Cinnamon, Raw Stevia, Blueberries and Blackberries. Deeeeelish!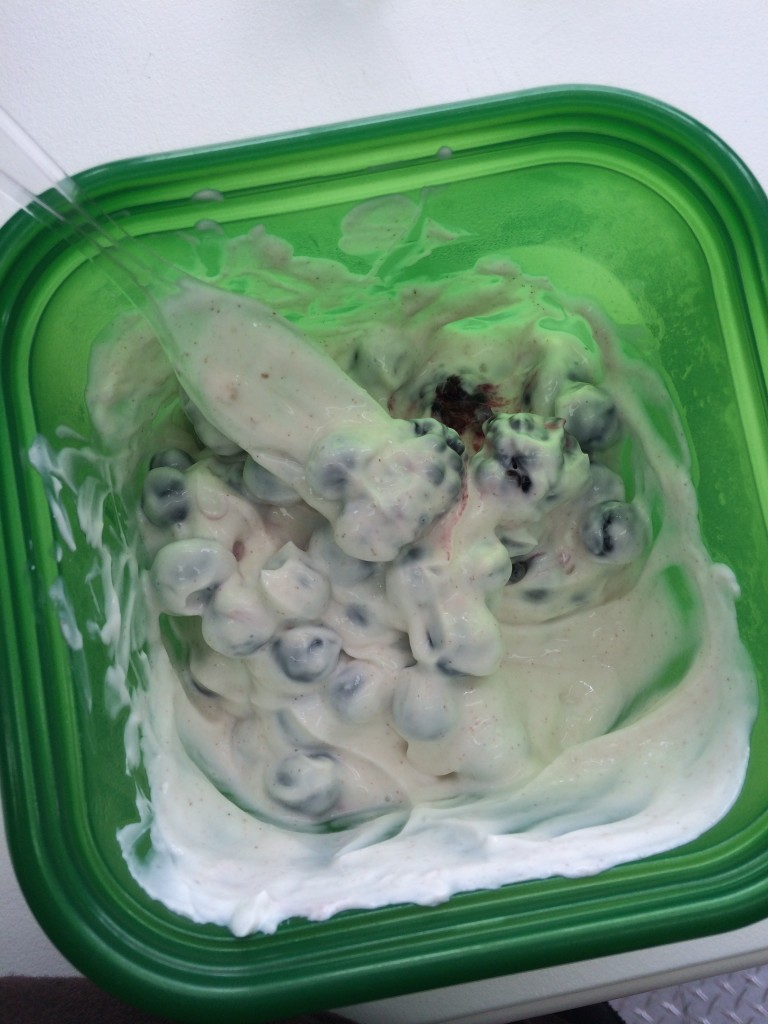 Snack – 5 PPV
Leftover asparagus with leftover Shredded Chicken and some Quinoa on the bottom. Simple, yet tasty.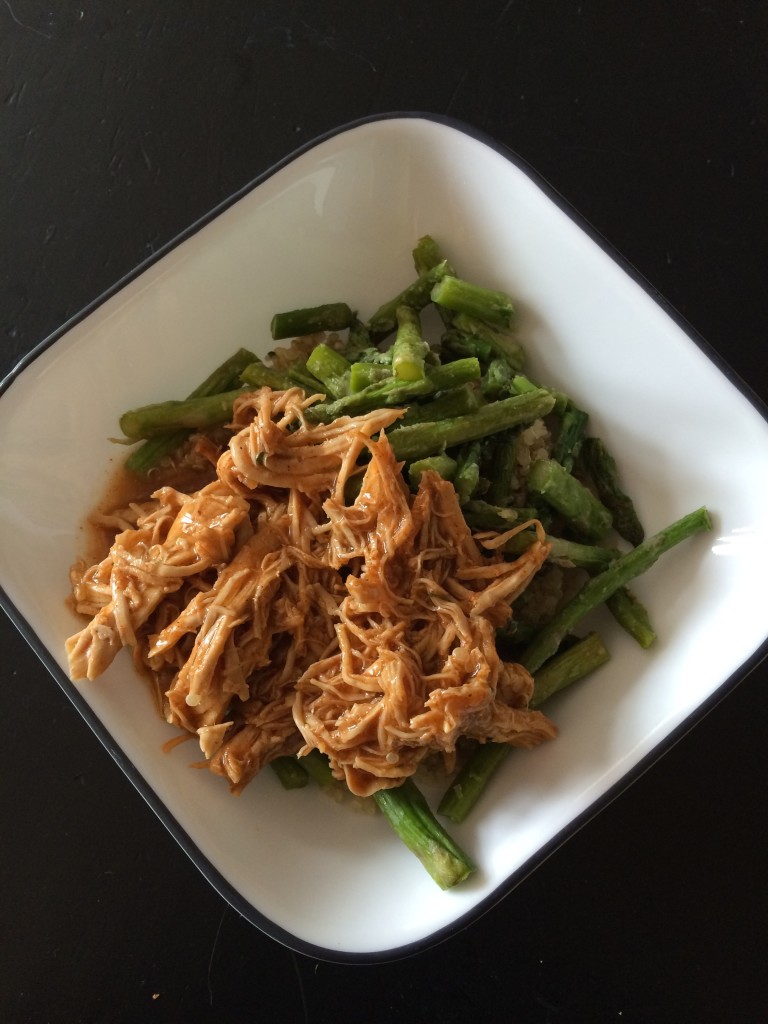 Snack – 6 PPV
Cheerios and skim milk. I don't keep cereal in the house very often because it's a total trigger food for me and I am trying to eat less packaged food. Once in a while, I will buy a box of cereal so Mike has something around to snack on. I have no good explanation of why I even ate this, except for the fact that I had the points available. I've pushed it to the back of the pantry and plan to not eat any more of it.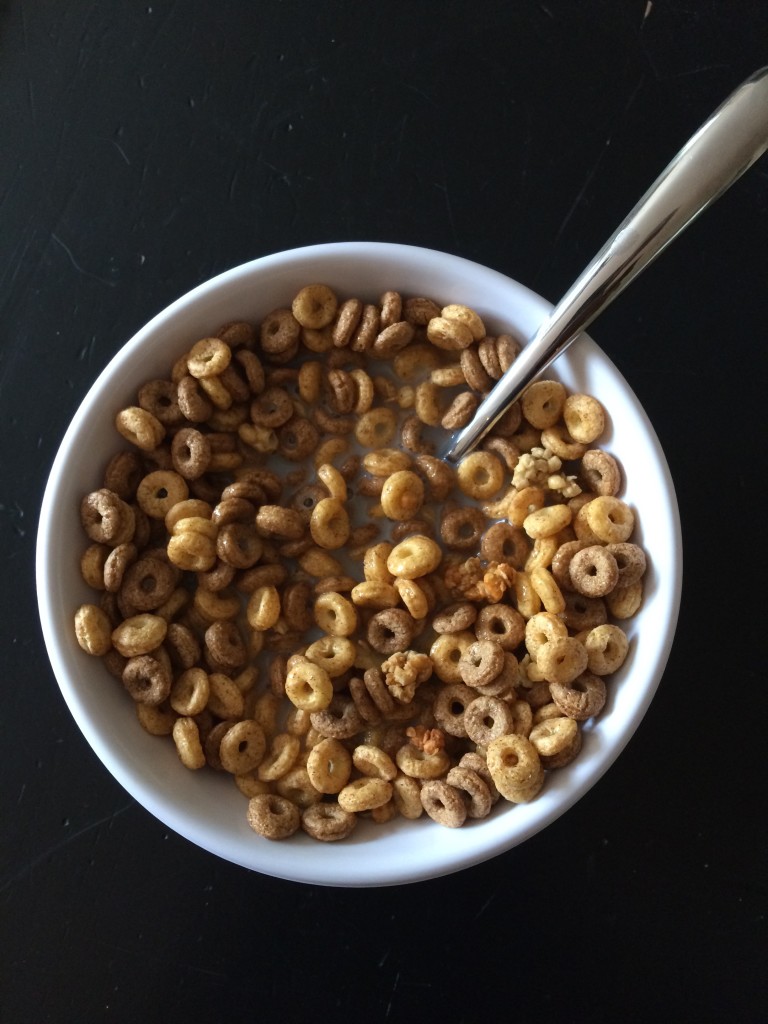 Dinner – 7 PPV
Chopped Salad with lots of veggies and leftover beans and corn and pico on top!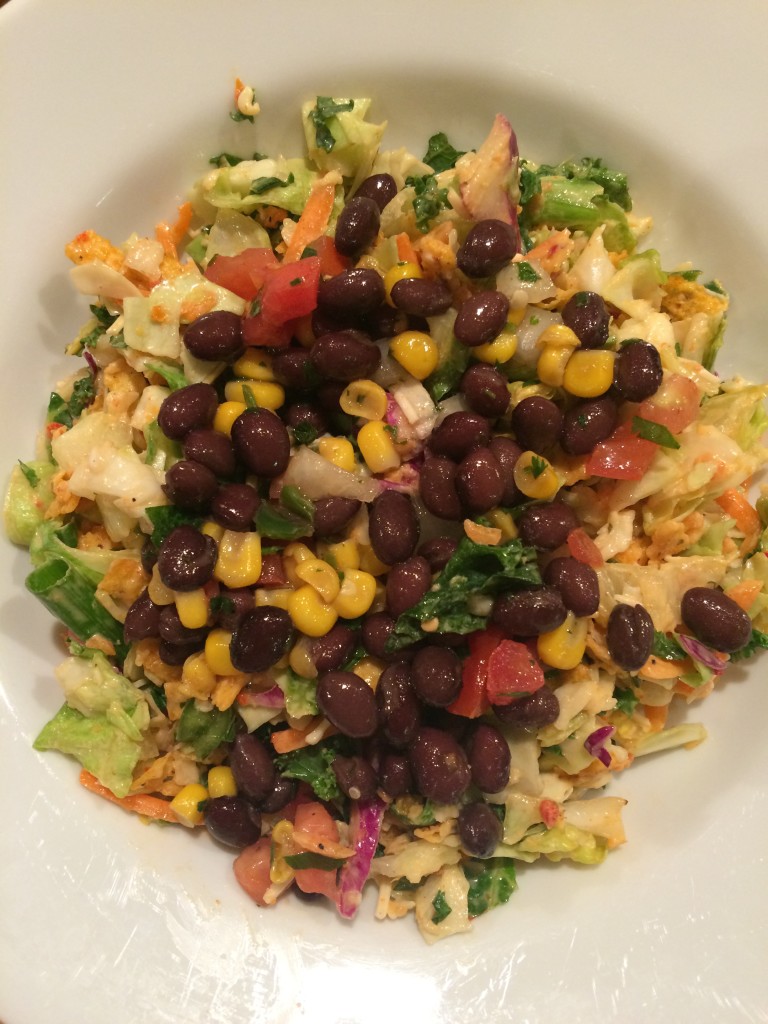 Weight Watcher's Points Plus
I can eat 26 PPV a day.
I can earn Activity Points by doing exercise, and eat them if I choose.
I have an allowance of 49 extra points that I can dip into throughout the week if I choose.
I should drink a minimum of 6 (8 oz) glasses of water each day.
My Weight Watcher Week Begins on Friday's
Breakfast = 5
Lunch = 3
Snack's = 11
Dinner = 7
Total = 26
Exercise = Walked 4.5 miles
Activity Points Earned for the Day = 6
Activity Points Earned This Week = 20
Activity Points Remaining This Week = 17
How many ounces of water I drank for the day = 70
Remaining points from my 49 Points Allowance = 0
This is What I Will Accomplish in 2015
I will choose one occasion per month for Social Drinking (um…this is a work in progress)
I will go no more than two days in a row without exercise.
I will track every single day for the entire year. No matter what.
I will RUN in a minimum of six 5K's. Two down, four to go!
Are you getting some activity in this week?

"love the life you live, live the life you love"