After a short conversation with the Apple Tech Support guy and a not so short session by myself deleting over 5000 pictures of eggs, sweet potatoes and avocado's, my computer is back up and running. I'm feeling like it's a temporary fix due to a few other issues I seem to be having. There is also a variety of messages that keep popping up. For now, I get to tell you what I ate yesterday and how far I walked. Lucky you, huh?
Before I talk food and walks, my new neighbors, the foxes, are still around. I called Animal Control AND Kansas Wildlife Rescue, and both of them told me that there is nothing that can be done, and that the three foxes are likely a mother and two pups, and will probably be gone in a week or two. They did recommend supervising my dogs while they are outside, which I actually figured out all by myself. I don't think anyone in the neighborhood is afraid of them, and they are cute to watch, but they are an inconvenience and I will be happy when the little cuties move out of the next door neighbors backyard.
Lets talk walks……
Mike has been walking in the evenings, and I really like being able to join him and walk together. It's good for us to have time together away from our phones, computers, TV's and all the other gadgets we tend to get lost in. We actually….you know…..talk about stuff. Oh, and Tucker likes to go too.
Strut your stuff, dude.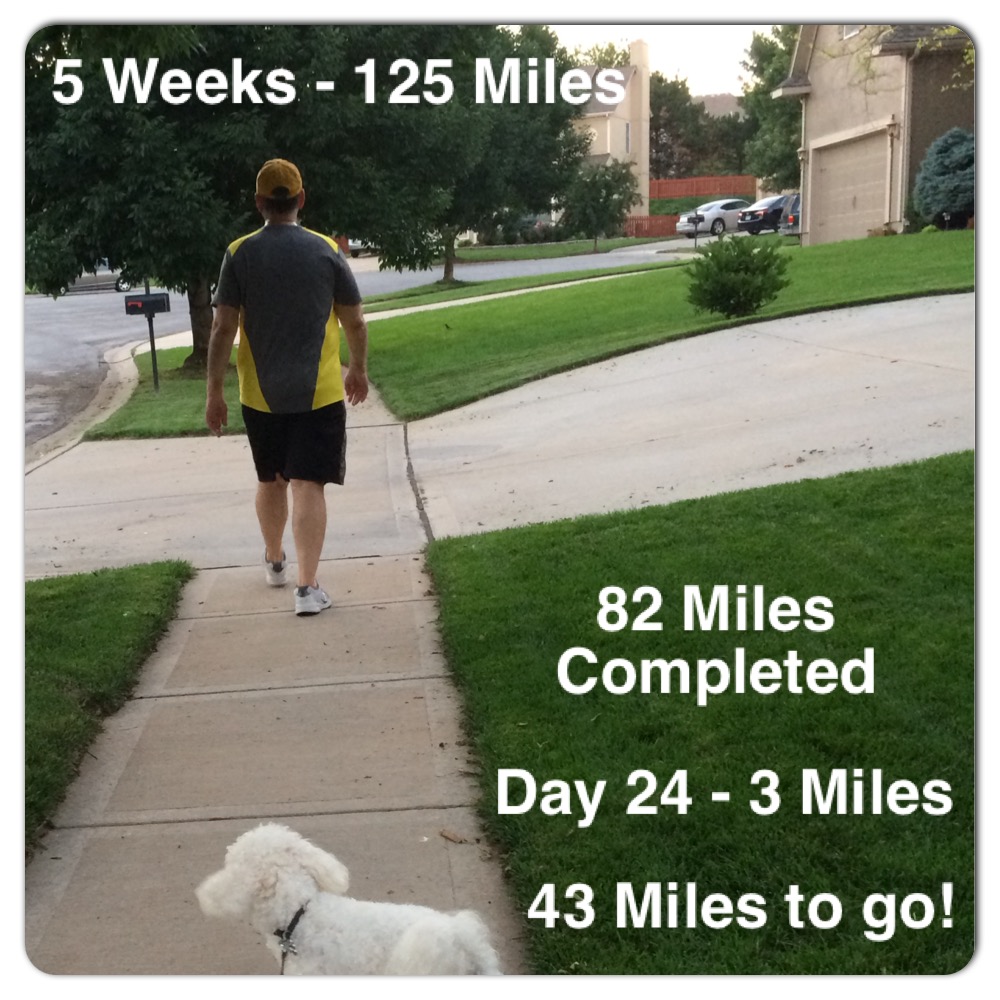 I went to my WW meeting yesterday morning, My body is loving 172. (My goal weight is 160, and I haven't been there in about a year and a half.)
When I started my 5 week challenge, I was at 176. I am hoping to be at 169 by the end of my 5 Week Challenge. During my 5 Week Challenge, I am walking 125 Miles, getting in some Jazzercise classes and Yoga classes, and I'm focusing on the Simply Filling foods list from Weight Watchers. If you are not a WW member, that basically means….Fruits and Veggies…Lean Meats…Whole Grains…Fat Free Dairy…Healthy Fats. I'm eating a few things that are not on the list, but I'm trying to limit those items.
Here is yesterday's weigh in results. Now….to get below 172!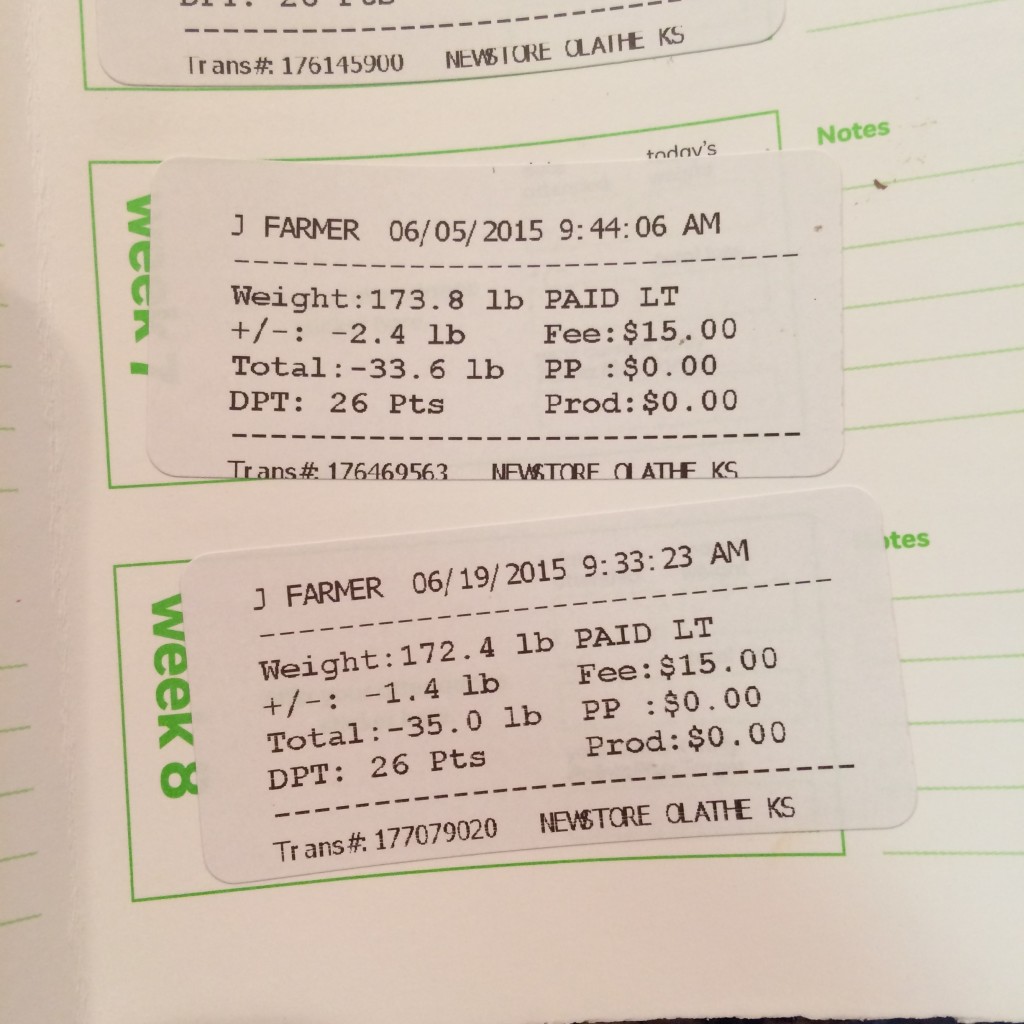 Here are yesterday's eats……
Breakfast – 6 PPV
Un-Pictured
8 oz Plain Nonfat Greek Yogurt, Vanilla Stevia Drops, Cinnamon, Kiwi, Strawberries and a Banana along with a Grande Nonfat Latte.
Lunch – 6 PPV
Leftover Spicy Black Bean Burger. For dinner the night before, this was an 8 PointsPlus burger, but for my lunch yesterday I skipped on the light mayo, and only used half of the avocado. Still super tasty! Grapes and Carrots for my sides.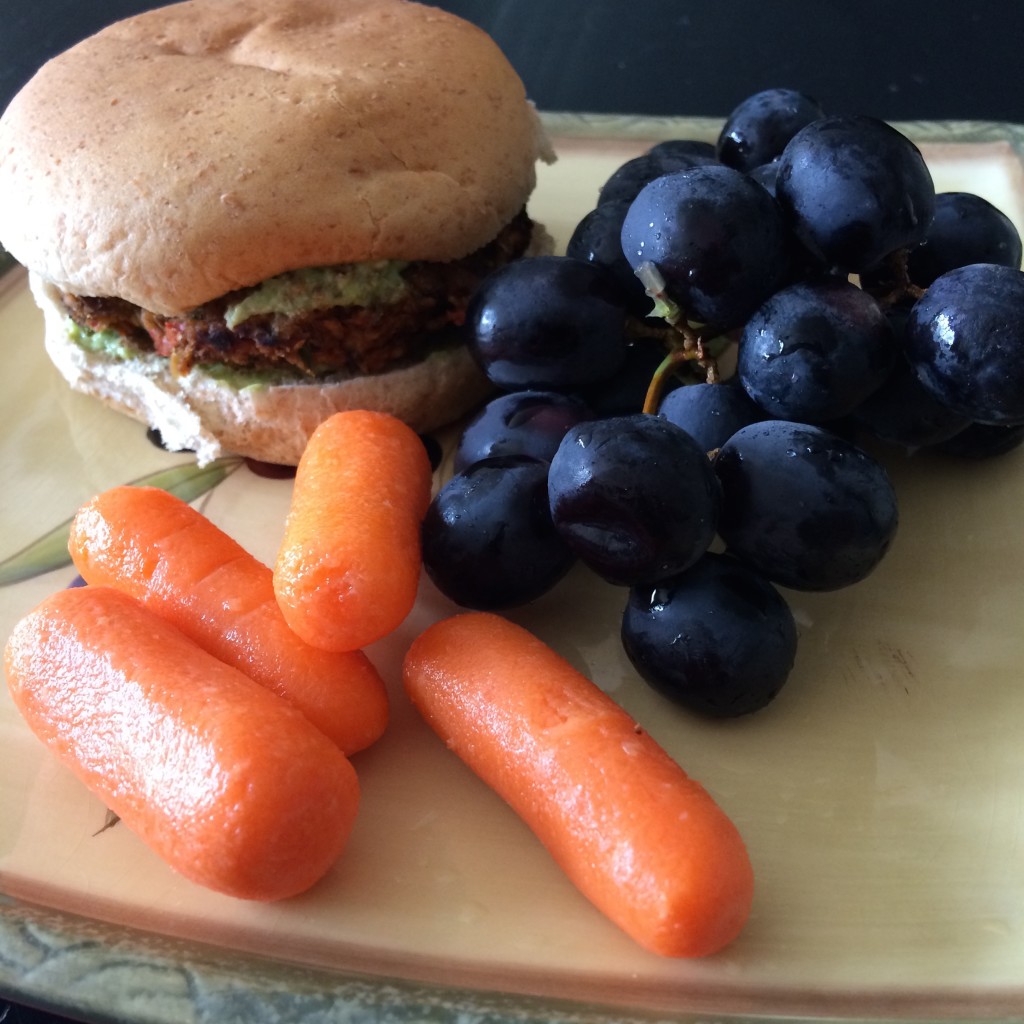 Snack – 0 PPV
One of my favorite fruits, and perfectly ripe.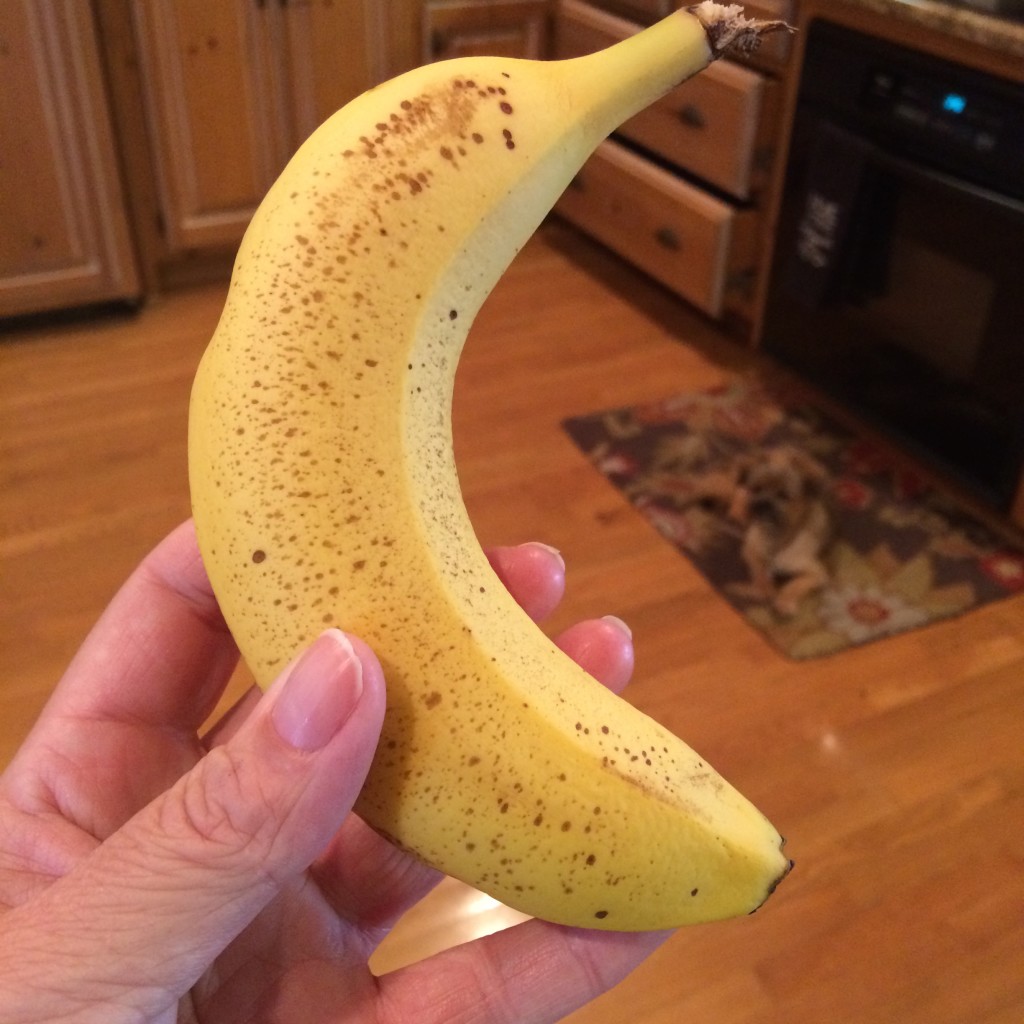 Dinner – 12 PPV
Grocery Store Salad Bar…A variety of Greens, Shredded Carrots, Broccoli Slaw, Bell Peppers, Grilled Chicken (3), 3 Bean Salad (5), Macaroni Salad (4). I guesstimate when I make this salad, but I feel like it is fairly accurate. I bring it home and chop it all up so I can get a little taste of everything in each bite.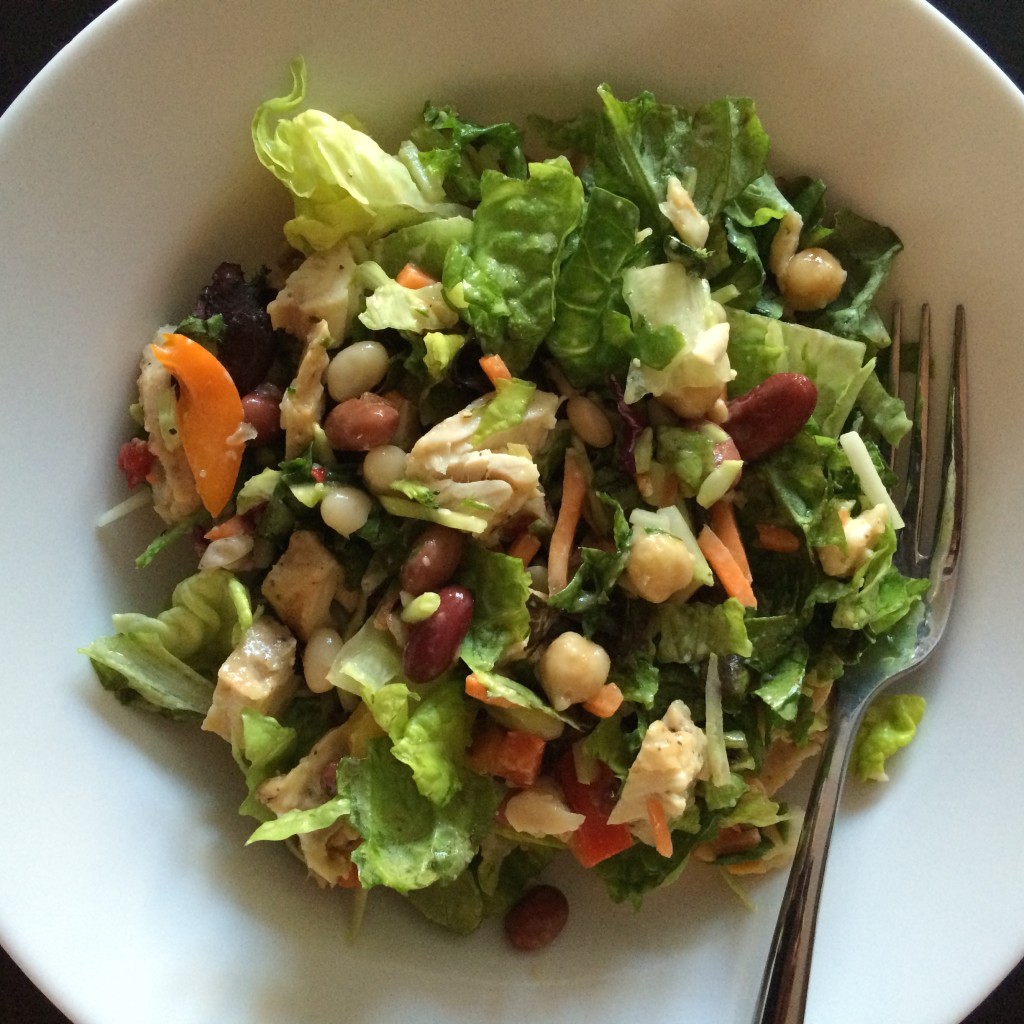 Weight Watcher's Points Plus
I can eat 26 PPV a day.
I can earn Activity Points by doing exercise, and eat them if I choose.
I have an allowance of 49 extra points that I can dip into throughout the week if I choose.
I should drink a minimum of 6 (8 oz) glasses of water each day.
My Weight Watcher Week Begins on Friday's
Breakfast = 6
Lunch = 6
Snack = 0
Dinner = 12
Total = 24
Exercise = Walked 3 Miles
Activity Points Earned for the Day = 4
Activity Points Earned This Week = 4
Activity Points Remaining This Week = 4
How many ounces of water I drank for the day = 60…Boooo Hiss Hiss
Remaining points from my 49 Points Allowance = 49…Yippee!
This is What I Will Accomplish in 2015
I will choose one occasion per month for Social Drinking (um…this is a work in progress)
I will go no more than two days in a row without exercise.
I will track every single day for the entire year. No matter what.
I will RUN in a minimum of six 5K's. Two down, four to go!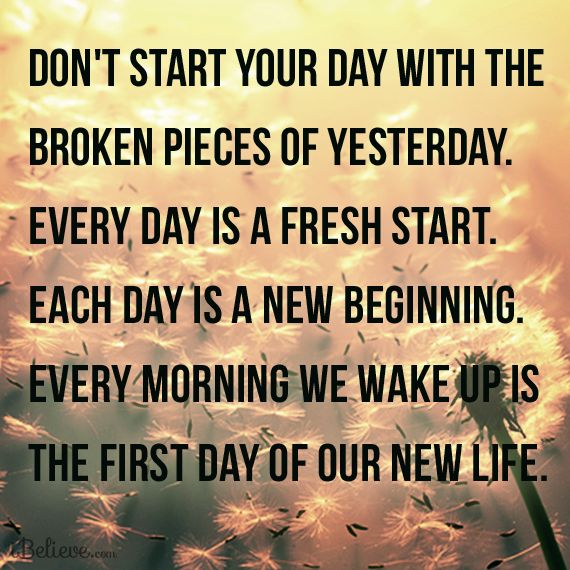 "love the life you live, live the life you love"