Happy July!
It's time to set some new goals to keep me on the healthy track. I like short term goals. I do best with those. My 5 Week Challenge was perfect for me. Now I've come up with a plan for Exercise, Food and Drink for July and August.
Exercise…
I really love my walks, but I'm going to increase how often I go to Jazzercise and Yoga and hopefully increase my cardio for the next two months.
Food…
When I eat more than half of my extra 49 Weekly points, I maintain, but I don't lose. I need to stick to the 26 Daily Points, and just barely dip into those extra 49 points as little as possible.
Drinks…
I need limits on my dang drinks!
Here is my plan for July and August.
Exercise
Jazzercise three times a week (I've never gone more than once or twice a week)
Yoga one time a week (I've never made a Yoga commitment….I just go when the mood strikes me).
Walking three miles at least two times a week.
Food
Only Allow myself to eat 10 of the 49 Extra Weekly Points.
Drinks
Drink only ONE time per week. (Beginning July 7th! I have parties and such people!)
I'm going to allow myself one day a week of no exercise, without any guilt. There is just something about planning a "Rest Day" that allows me to not feel guilty if I pick one day a week to not exercise. It will be interesting to see if the scale reacts to Jazzercise three times a week. I always try to do the highest intensity and it always feels like a really good workout.
I can comfortably eat my allowable 26 Points a day, but I know that it is realistic for me to go over on occasion, and I don't want to limit myself so much that I feel frustrated with myself or guilty if I go over a few points. Allowing myself only 10 of those 49 extra points is very realistic for me to do for two months, and I am CERTAIN that the scale will react to that.
Drinking ONE time per week is much better than what I have been doing, but only drinking once a month right now honestly makes me feel a bit panicky!!! I say this with a smile on my face, and I hope as readers, you won't judge me. 🙂
My floors are looking great and I'm excited for them to be done by the weekend! While tip toeing in my socks (as directed) out of my house yesterday morning with all of my belongings that I felt that I needed for the day, my cup of coffee (I had to have it you guys) sloshed around and I spilled about 6 drops of coffee on the new floors!! I was totally freaking out! I called the floor guys and apologized for being a dumb ass and they were super nice and said that they would take care of it. Huge sigh of relief. I thought it was a much bigger deal than it actually was. That's my life. Drama Queen here!!
I just wanted to follow the rules…….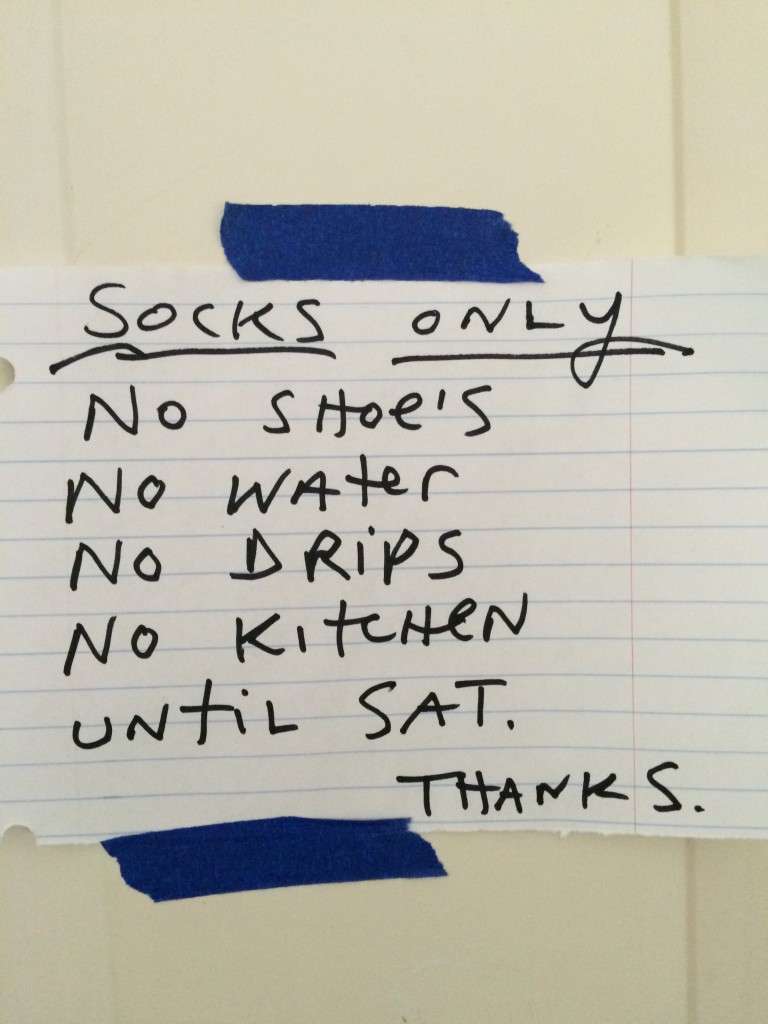 Here are yesterday's eats….
Breakfast (kinda) – 6 PPV
I ran in the grocery store wanting to grab something quick. I bought Vanilla Greek Yogurt, Almond Butter and a Banana. I was running late and thought I would eat this at the food truck before we got started for the day, but it just didn't happen. I ate this around 1:00? I was starving.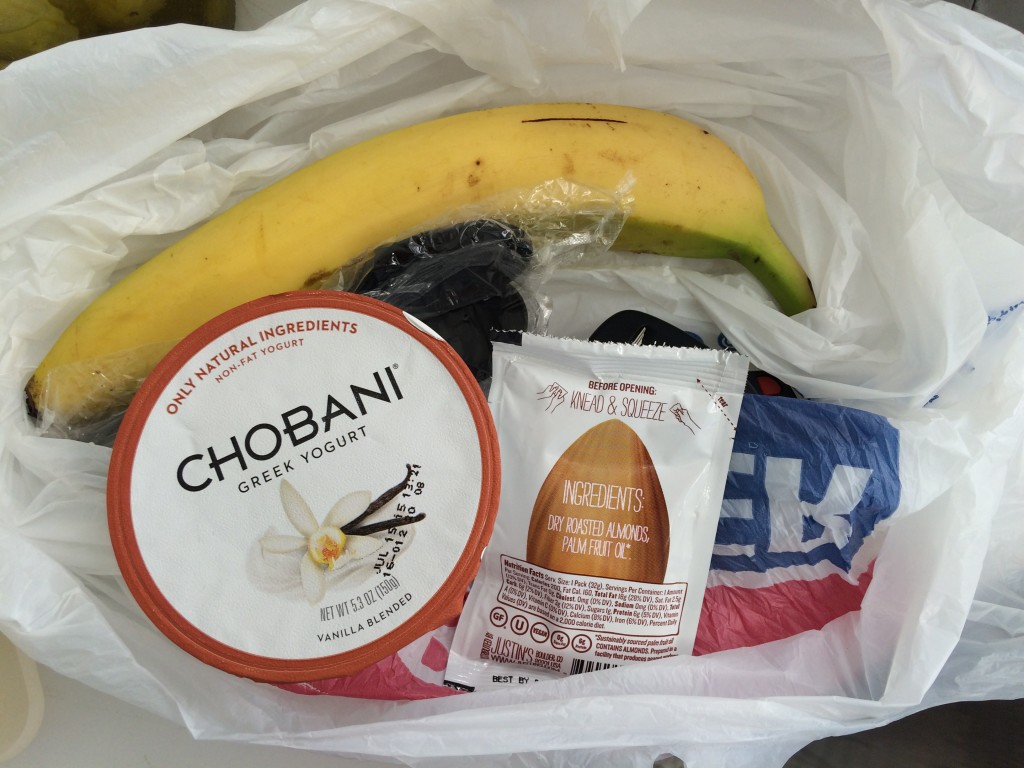 It all tasted really good together!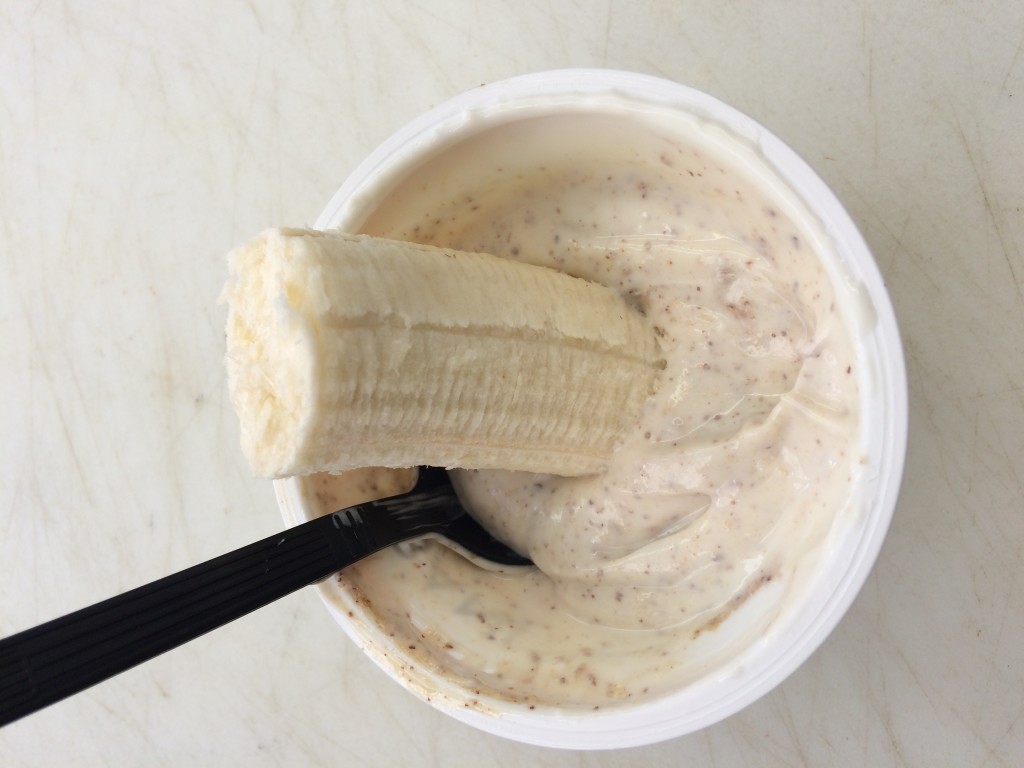 Lunch (again…kinda) – 6 PPV
It was 4:30, and I didn't want to eat dinner yet, but I was getting ready to mow and I hadn't had much to eat. I ran in Walgreens for a couple of things, and this is the snack that I came out with. Not too shabby. Almonds, String Cheese and water.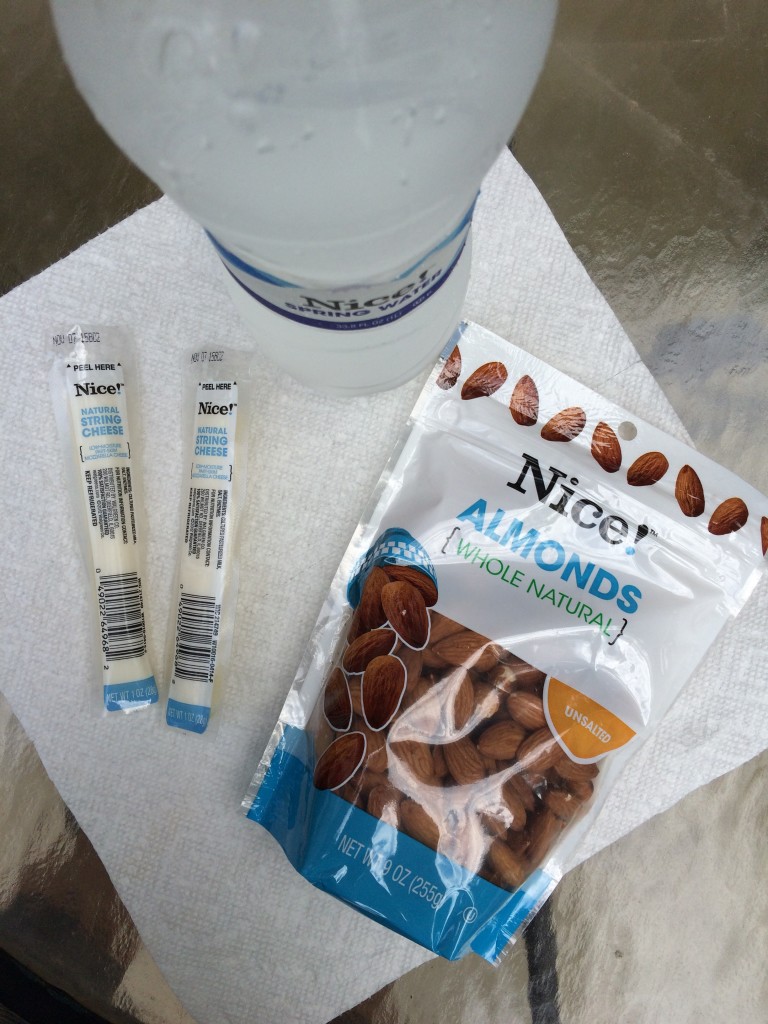 Dinner – 8 PPV
I ordered Mike and I a salad to go, packed a cooler with water bottles (and a couple of beer's), took everything into the backyard and ate on our deck while listening to the Royals game. I thought it was a pretty good dinner idea until the skeeters came and ate up my ankles and the Royals lost. Dinner was good though.
Salad with Chicken, Avocado, Cheese and Salsa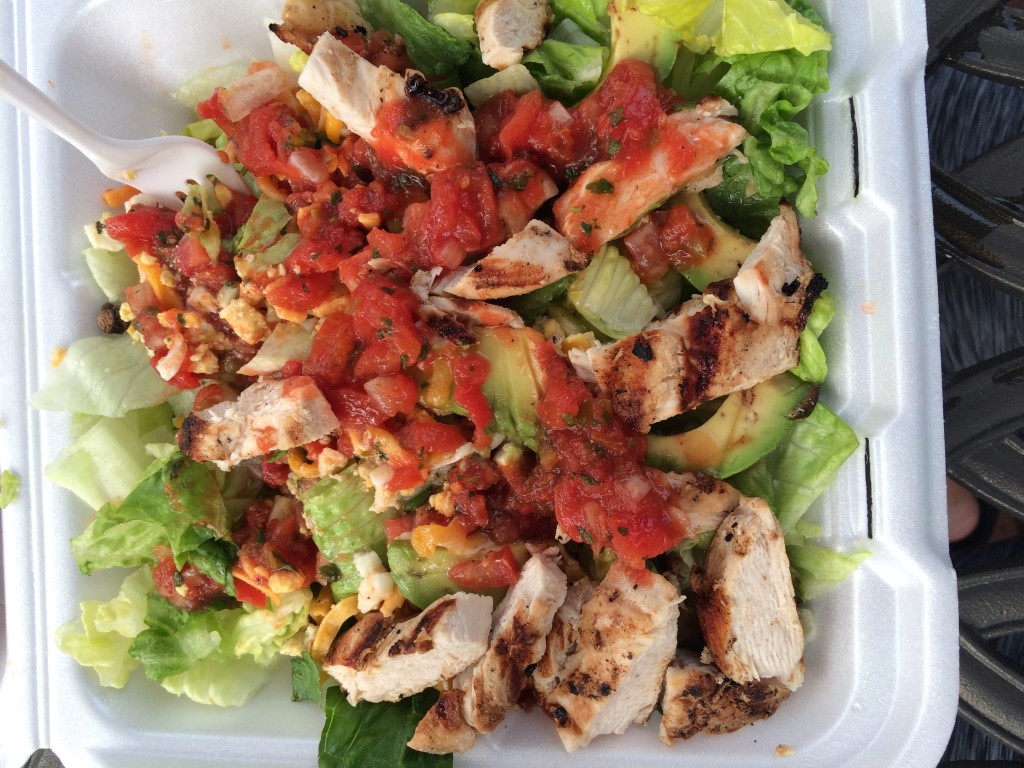 Dessert – 5 PPV
One Refreshing and Tasty Lemon Shandy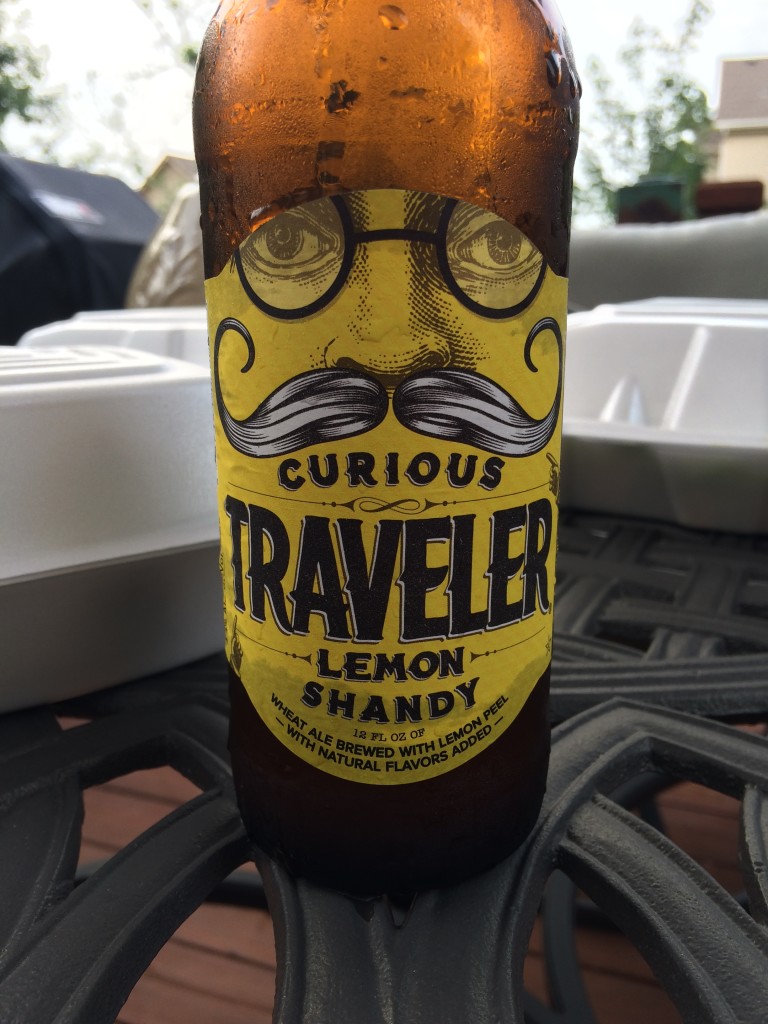 Weight Watcher's Points Plus
I can eat 26 PPV a day.
I can earn Activity Points by doing exercise, and eat them if I choose.
I have an allowance of 49 extra points that I can dip into throughout the week if I choose.
I should drink a minimum of 6 (8 oz) glasses of water each day.
My Weight Watcher Week Begins on Friday's
Breakfast = 6
Lunch = 6
Dinner = 13
Total = 25
Exercise = Mowed the lawn
Activity Points Earned for the Day = 3
Activity Points Earned This Week = 27
Activity Points Remaining This Week = 26
How many ounces of water I drank for the day = 80
Remaining points from my 49 Points Allowance = -1
This is What I Will Accomplish in 2015
I will choose one occasion per month for Social Drinking (um…this is a work in progress)
I will go no more than two days in a row without exercise.
I will track every single day for the entire year. No matter what.
I will RUN in a minimum of six 5K's. Two down, four to go!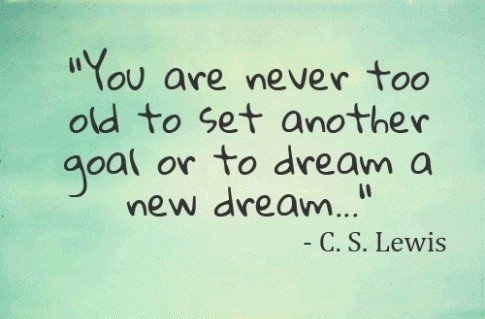 "love the life you live, live the life you love"