Between not feeling so great the last couple of days, the rainy weather with temperatures in the 60's, and 4 days of alcoholic beverages over my long weekend, I was craving comfort food and carbs all day yesterday. I literally thought about food and eating ALL day. I don't have any extra points left for the week, and it was my goal for the day to only eat 26 points. I ate 35 points yesterday, and that's actually just a good guess.
Blogging about how much I eat on a "bad food day" can be difficult to do because admitting to eating so much in one day is embarrassing. Having this blog has saved me from some really bad binge days. I feel obligated (my choice) to blog everything that I've eaten. Last night I could have continued eating all evening long, but knowing I would be blogging about it this morning, helped me to stop eating.
If you are struggling with binge eating, or overeating, and you think the accountability of a blog might help you with that, I encourage you to start one, or start an Instagram Account. I follow Instagram Accounts that have an account simply to post what they eat daily to help them with their own accountability. The support you can receive back is one more great reason to start a blog or an IG account. You can do this for free and you just might find that one tool that helps you on your own journey to a healthier YOU!
Today, I WILL make good food choices and then tomorrow I can Blog all about what a great day I had!
Here are yesterday's eats…..
Breakfast – 8 PPV
I ate this at 7:30, after I had already had a banana and a Frothy Coffee.
Leftover Turkey Taco Meat with Black Beans, Corn and Zoodles, topped with two egg whites and one egg.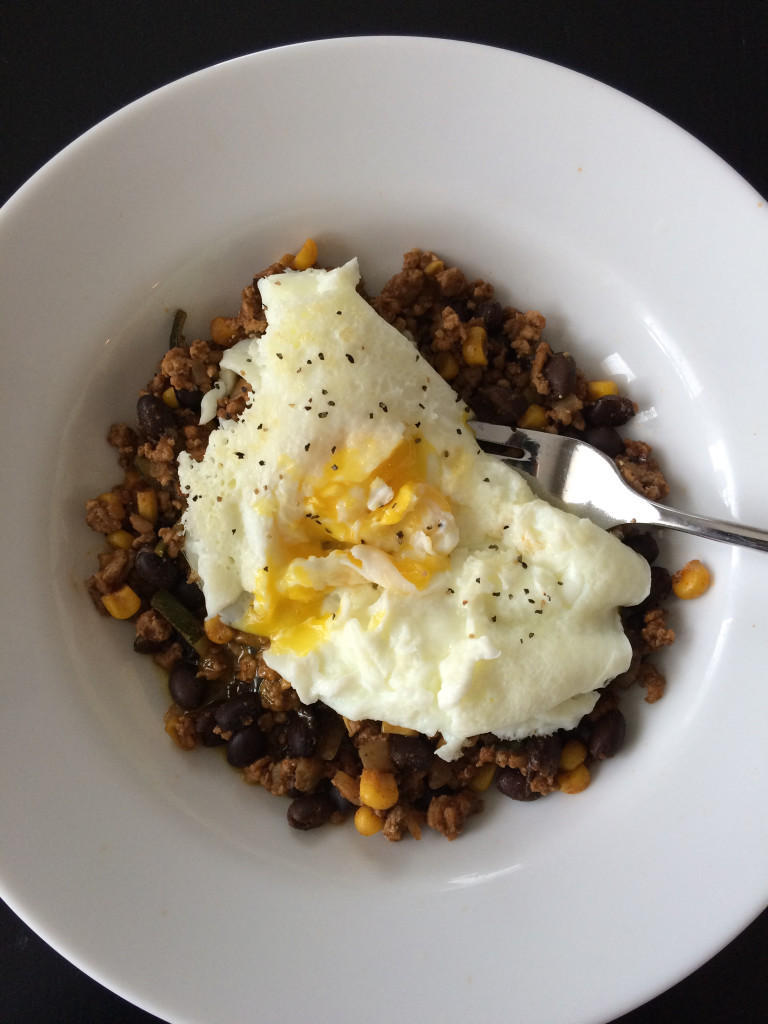 Lunch – 15 PPV
I did NOT pack a lunch to take to the Food Truck, so I decided to be smart and make a salad. It's on the menu and it is delicious.
Mixed Greens, Sunflower Seeds, Red Onions, Strawberries, Feta, Dressing and a small scoop of Chicken Salad.
Not Pictured…….Then all I could think about was the pulled pork, so I had a small bowl, (1/2 Cup?) with about three bites of creamy mac and cheese. Then I had another small bowl of pork with a little broccoli slaw and aioli (basically, a pork taco with no tortilla), then I had one bite of the Banana Nut Cake with Cream Cheese Icing. It was now 2:00 and I was irritated myself and still wanted more food.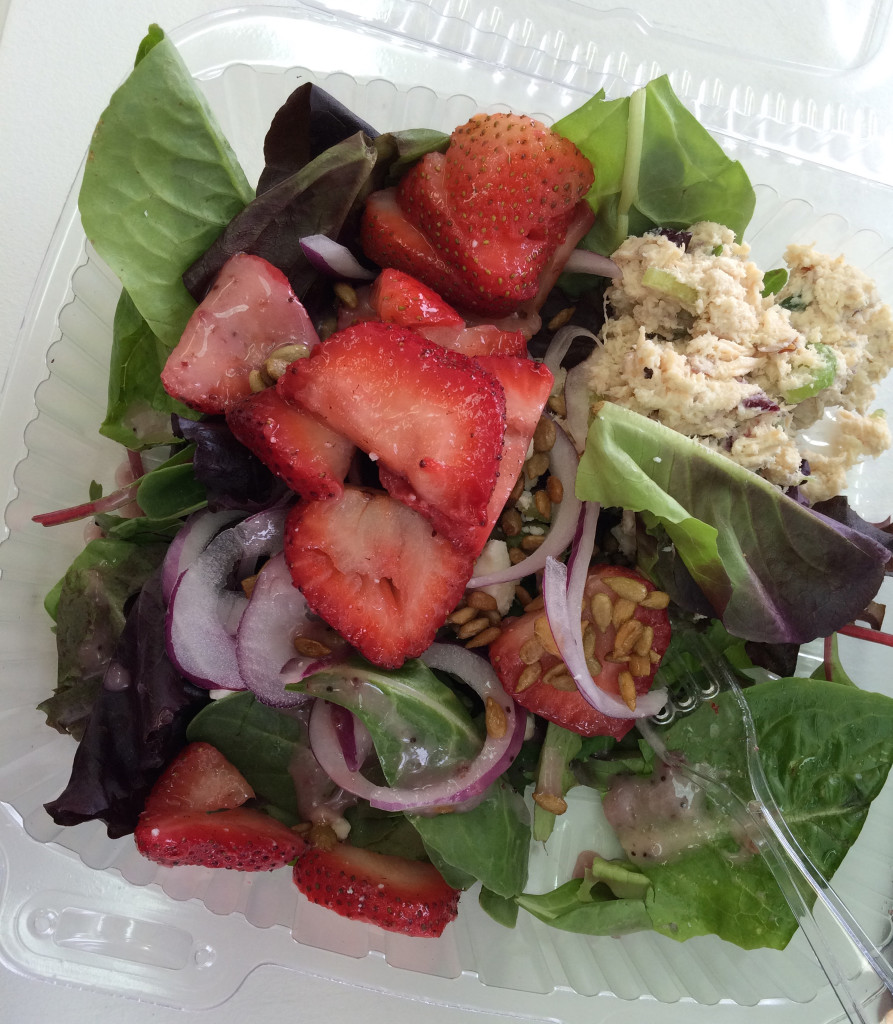 Snack – 6 PPV
At 4:30, I decided to eat a Light English Muffin with Almond Butter and a Banana on it, and I told myself that I would only eat fruit or veggies for the rest of the night.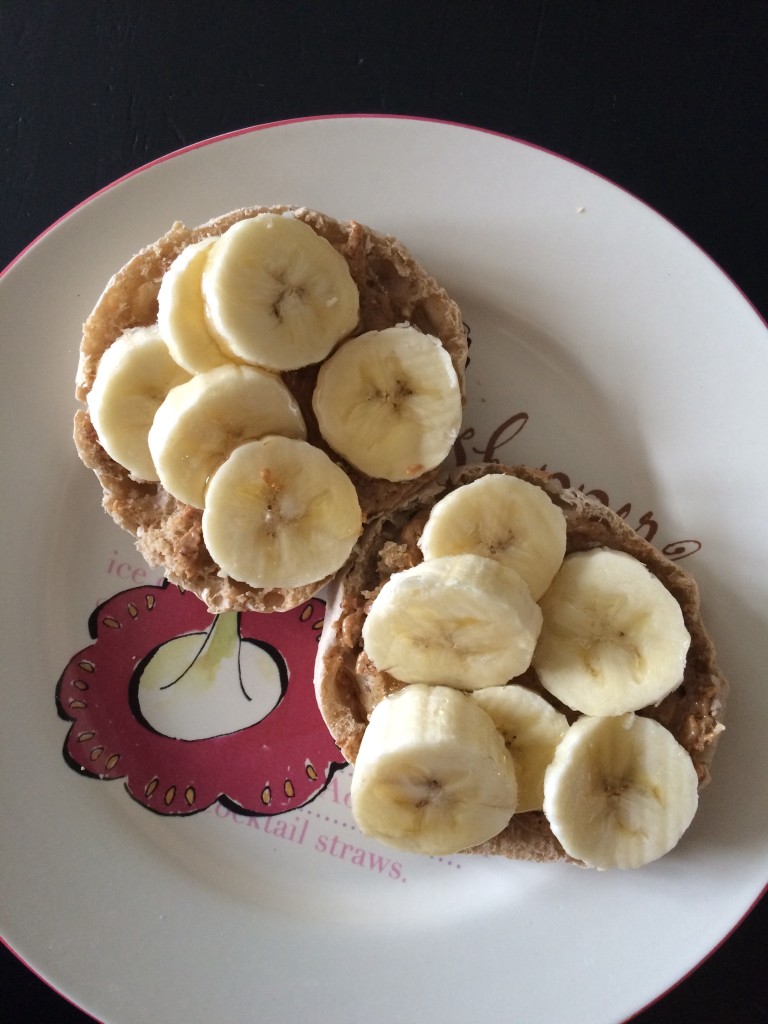 Dinner – 6 PPV
At 6:00, I completely ignored my earlier thoughts and made a small Quesadilla with 2 Corn Tortilla's, a Morning Star Spicy Black Bean Veggie Burger and one Queso Laughing Cow Cheese Wedge and some carrots.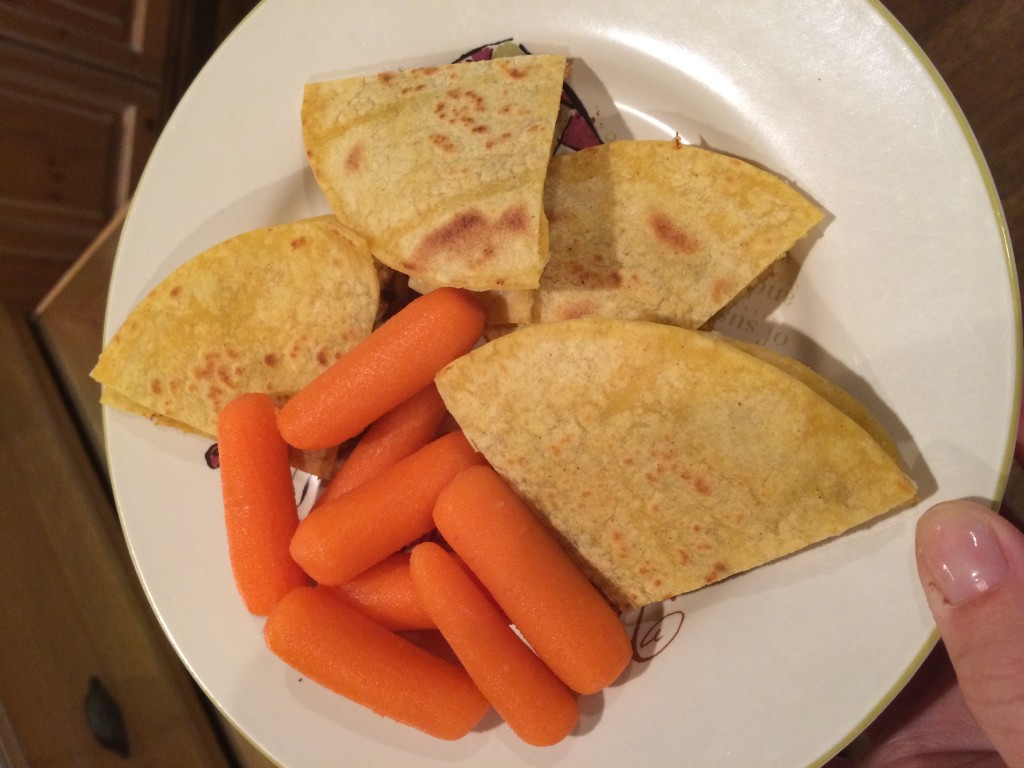 Yesterday was a real crap food day. Today will be a good food day.
Weight Watcher's Points Plus
I can eat 26 PPV a day.
I can earn Activity Points by doing exercise, and eat them if I choose.
I have an allowance of 49 extra points that I can dip into throughout the week if I choose.
I should drink a minimum of 6 (8 oz) glasses of water each day.
My Weight Watcher Week Begins on Friday's
Breakfast = 8
Lunch = 15
Snack = 6
Dinner = 6
Total = 35
Exercise = none
Activity Points Earned for the Day = 0
Activity Points Earned This Week = 0
How many ounces of water I drank for the day = 60, which is terrible.
Remaining points from my 49 Points Allowance = 0
This is What I Will Accomplish in 2015
I will choose one occasion per month for Social Drinking (um…this is a work in progress)
I will go no more than two days in a row without exercise. (unless I'm sick)
I will track every single day for the entire year. No matter what.
I will RUN in a minimum of six 5K's. Two down, four to go!
Today will be a GREAT day!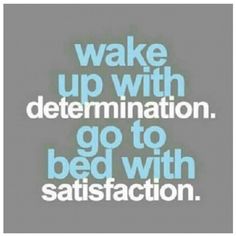 "love the life you live, live the life you love"