I had a great time Friday night at my 30 Year Class Reunion. I was hoping to see a few faces that I hadn't seen in a long time, and I was pleasantly surprised to see even more people than I was expecting to be there!
We had a great turn out and a great time!
I went to Junior High with everyone in this picture and actually grade school with two of these girls.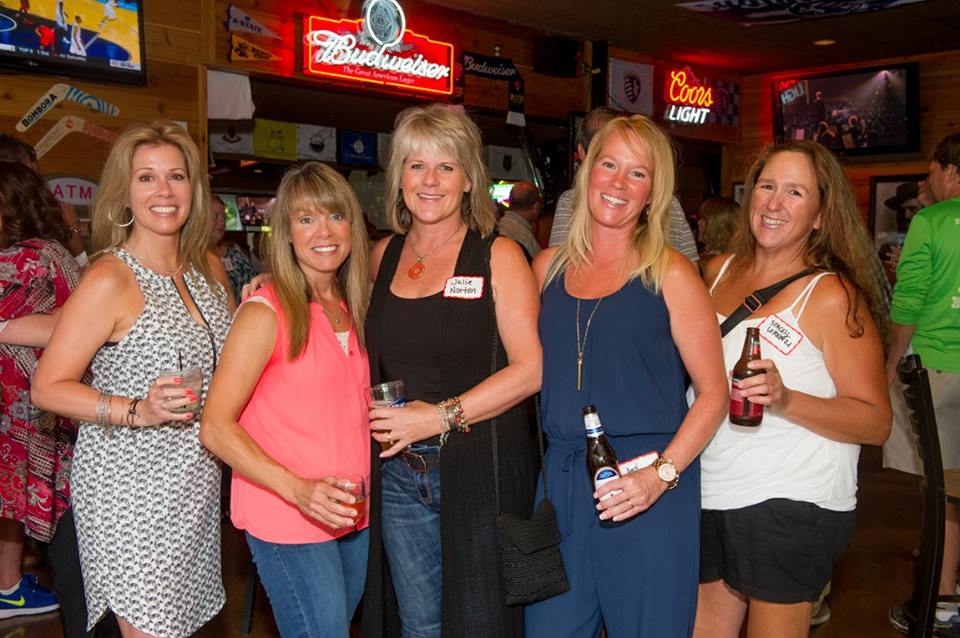 Here is a group picture of all of the people that were there that I went to Junior High with. The photographer in our class did a great job of getting smaller groups together for photo's! I have NO idea what I was so tickled about in this picture, but I'm telling you, I had a really good time Friday night.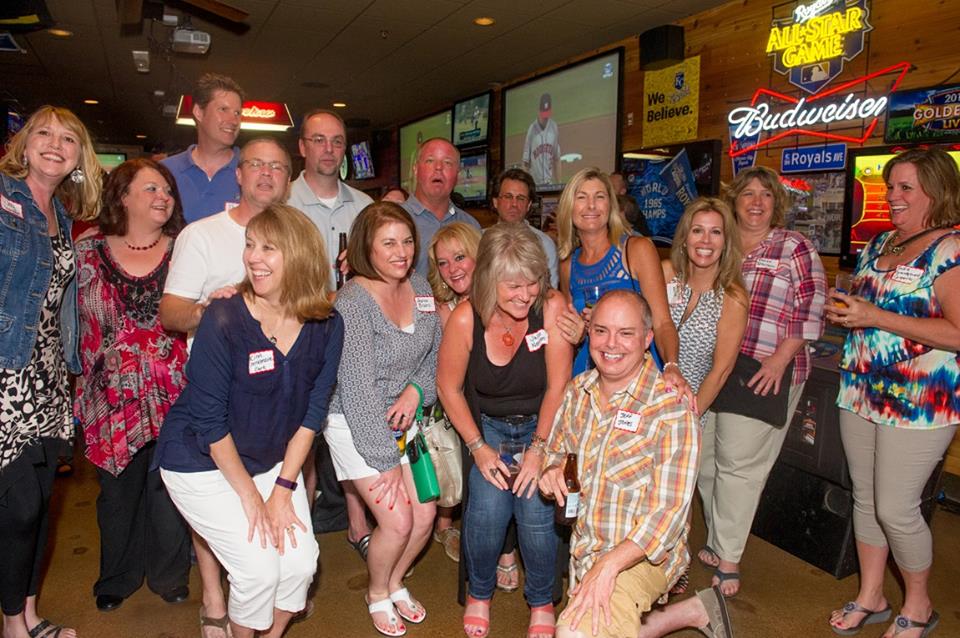 These are all the people at the reunion that I went to GRADE school with! Pretty cool, huh? The guy right in front of me, Steve, was my boyfriend in 5th grade and he gave me my first jewelry from a boy! The girl beside me in the multicolored shirt, Susie, lived close to me and I would walk to her house, and her mom would drive us to school. I remember her and her sister would ALWAYS drink hot tea on the way to school. She said she still drinks hot tea every day. The blonde on the far right, Jennifer, is just as beautiful now as she was in the 6th grade! Super sweet too! The girl beside her, Laurel, is now a great photographer and did a wonderful job of capturing the moments for us on Friday night! The girl on the far left in the red shirt, Vikki, did a LOT of work planning this reunion and finding people, and it is so much appreciated by everyone that came! The guy behind me in the royal blue shirt with the beard, Larry, lived a few blocks from me and we were in trouble together from grade school all through high school. He hasn't changed a bit! 🙂
A lot of great memories with some of the people in this picture.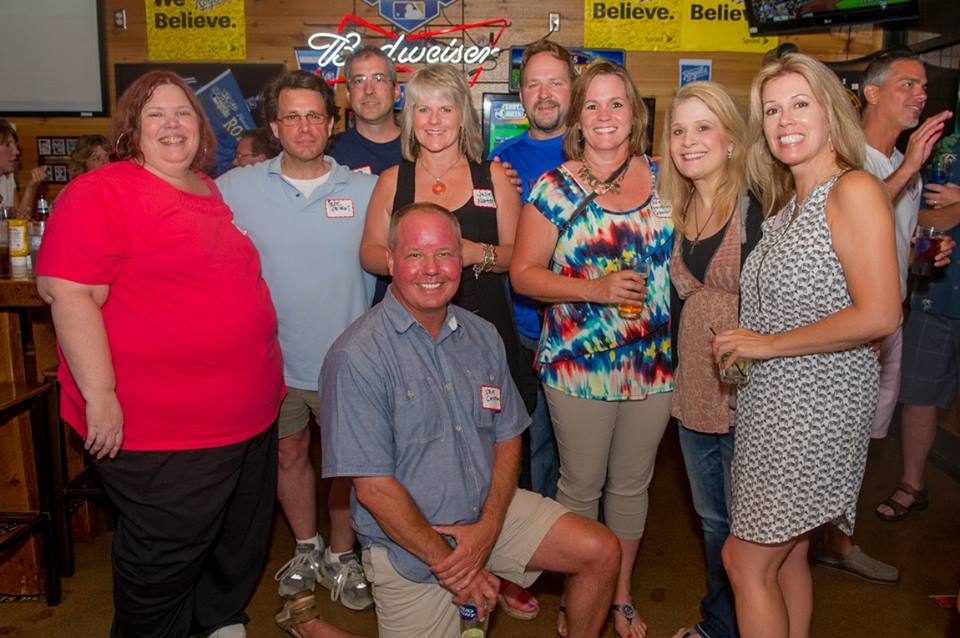 Good people here and lots and lots of memories and laughs.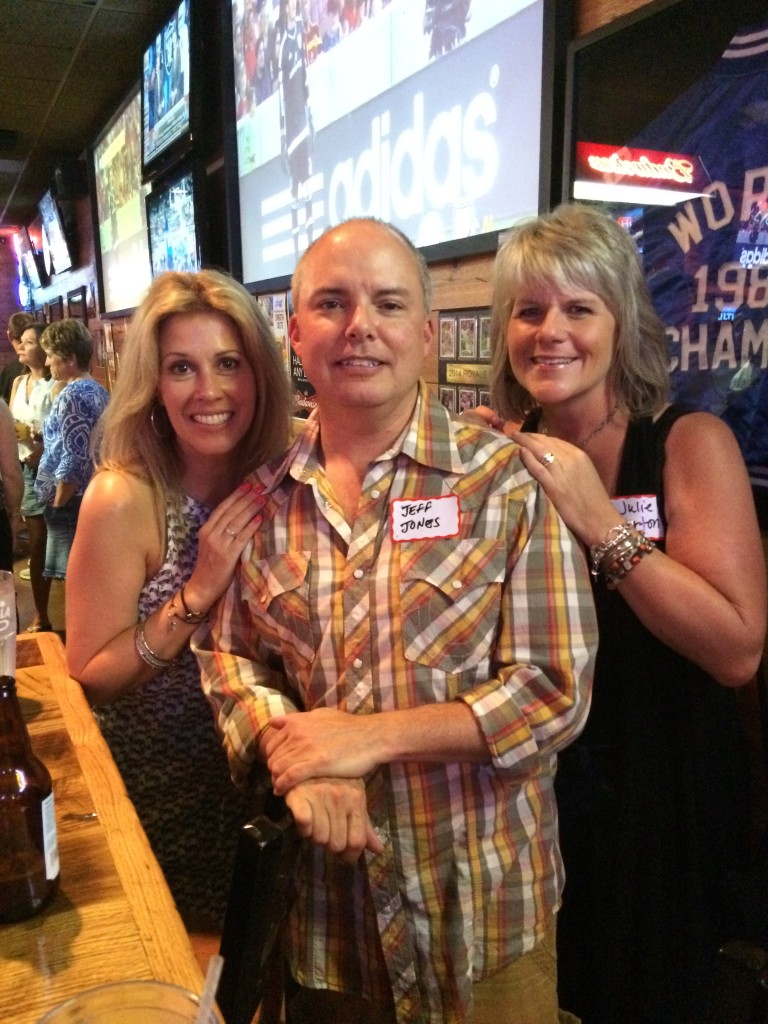 I didn't know this guy very well, but he had a crush on a friend on mine in school, and she couldn't be there. I just had to take of picture of us and send it to her. It was after I took the picture that I realized he showed up in a T-shirt that said…."Nobody Know's I'm a Lesbian". What the heck, dude????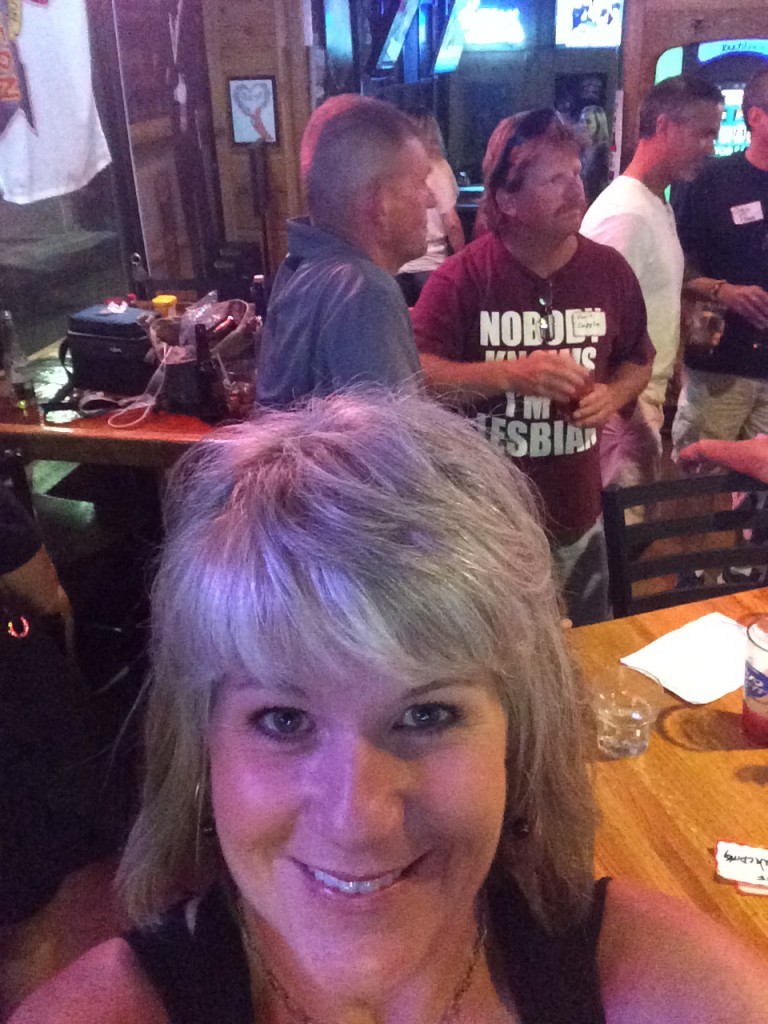 Anyhow, I had a really great time and hope to see some of those classmates that live here in town a little more often.
Friday morning I went to a Hot Yoga class, then to my Weight Watcher meeting. I had a great week at the scale, and hopefully this will be a great week too with my continued exercise plan!
Here are my eats for Friday.
Breakfast – 4 PPV
Egg Whites with Salsa and Avocado, Banana with 1 tsp of Almond Butter and a sprinkle of Chia Seeds, Kiwi.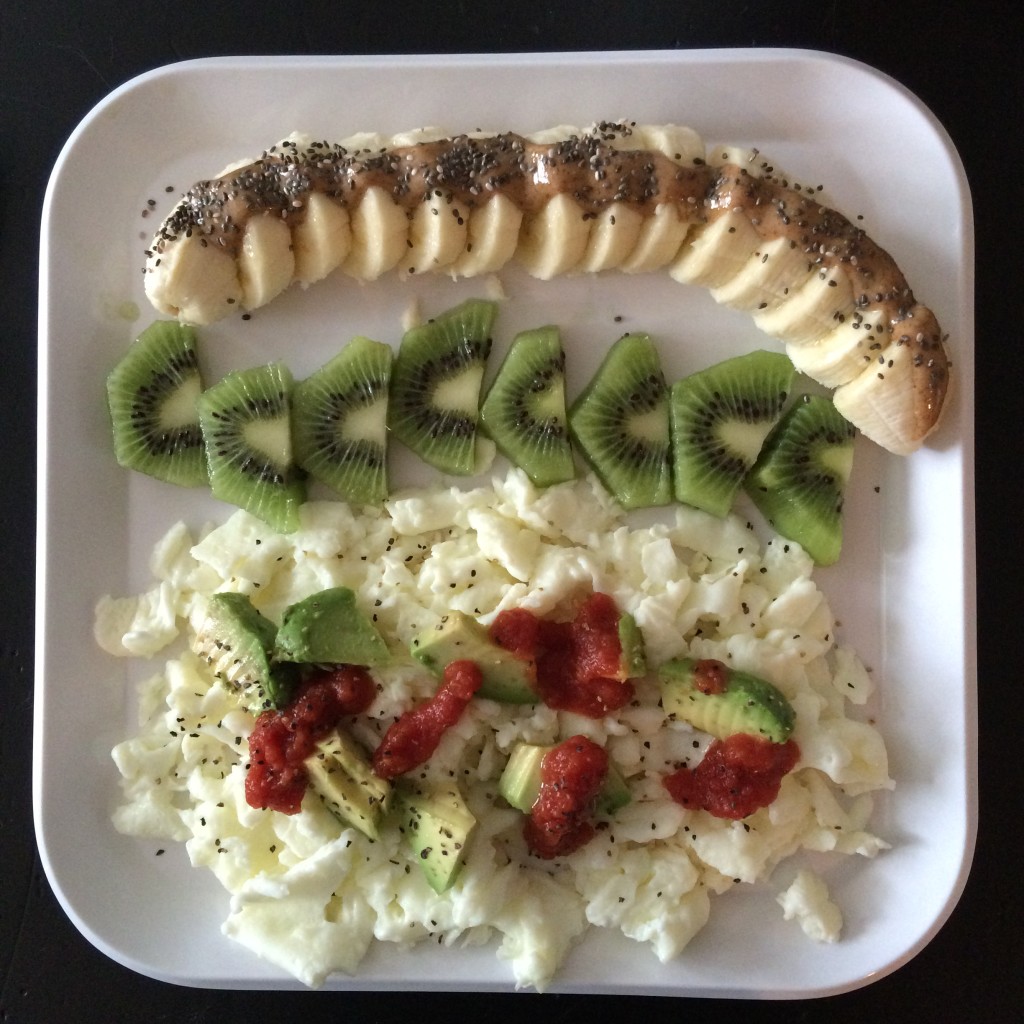 Snack – 0 PPV
Watermelon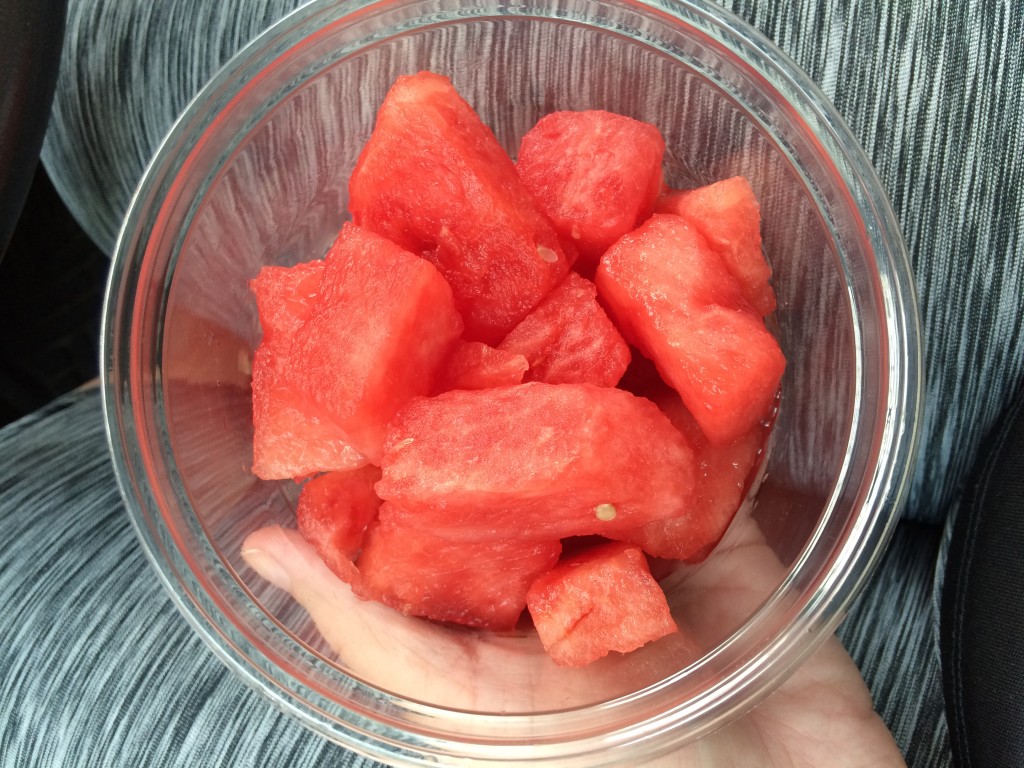 Snack – 2 PPV
Raisins and Walnuts.
Check out my Yoga sock's guys! Great for Hot Yoga so you don't slide all over your mat! They have little grippers on the bottom.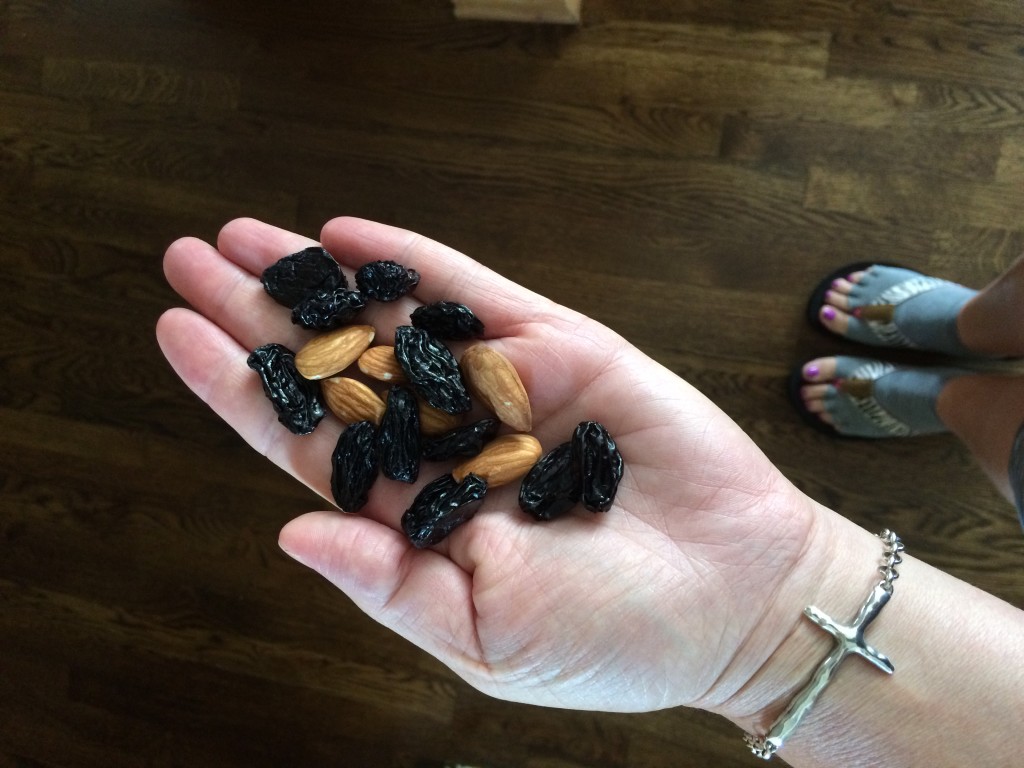 Snack – 2 PPV
Tall Nonfat Latte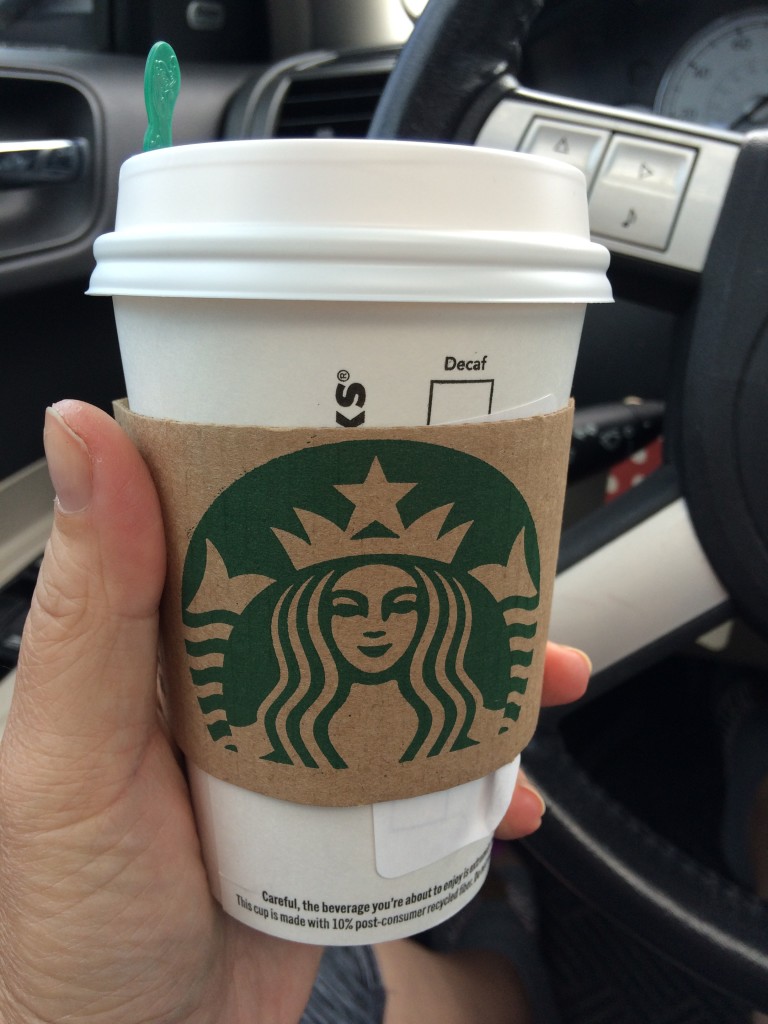 Lunch – 0 PPV
Berries and a Banana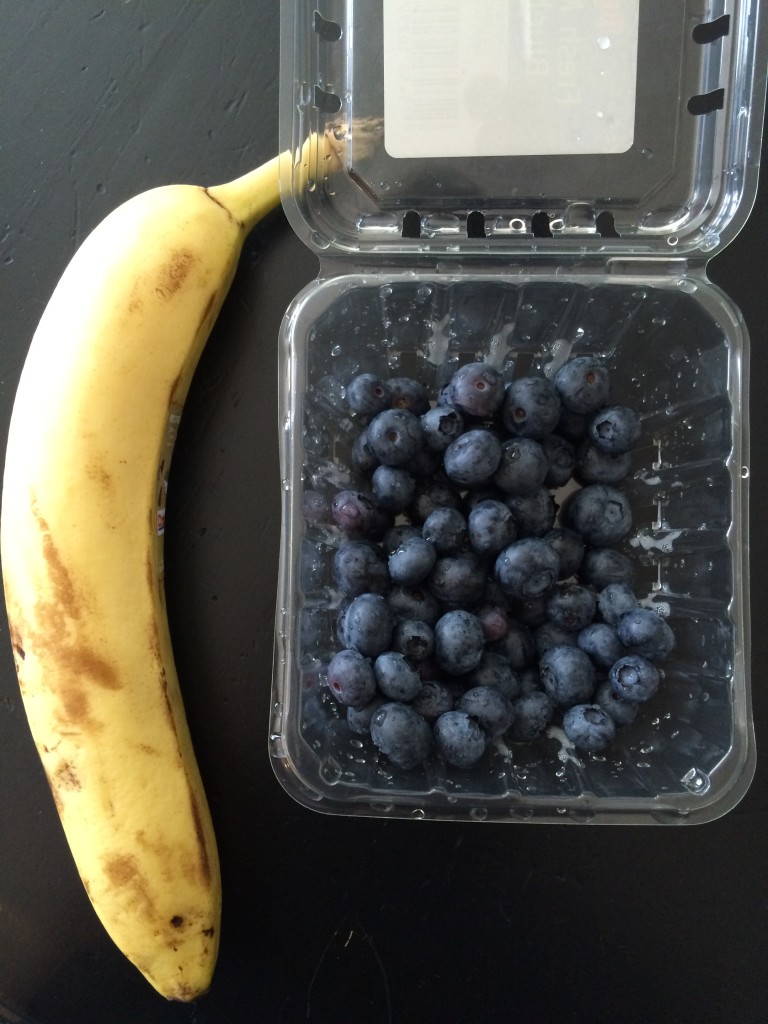 Dinner – 8 PPV
Salad Bar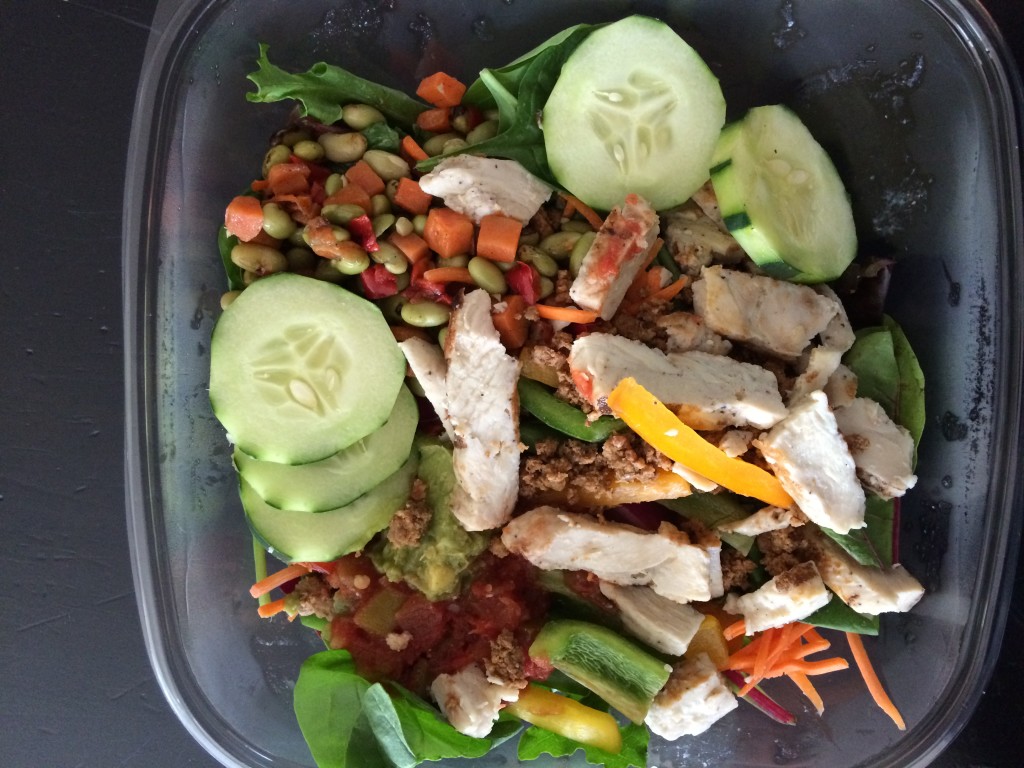 Drinks – 18 PPV
Un-Pictured Beer's
Weight Watcher's Points Plus
I can eat 26 PPV a day.
I can earn Activity Points by doing exercise, and eat them if I choose.
I have an allowance of 49 extra points that I can dip into throughout the week if I choose.
I should drink a minimum of 6 (8 oz) glasses of water each day.
My Weight Watcher Week Begins on Friday's
Breakfast = 4
Snacks = 4
Lunch = 0
Dinner = 8
Drinks = 18
Total = 34
Exercise = Hot Yoga Class
Activity Points Earned for the Day = 4
Activity Points Earned This Week = 4
Activity Points Remaining This Week = 4
How many ounces of water I drank for the day = 100+
Remaining points from my 49 Points Allowance = 41
This is What I Will Accomplish in 2015
I will choose one occasion per month for Social Drinking (um…this is a work in progress)
I will go no more than two days in a row without exercise.
I will track every single day for the entire year. No matter what.
I will RUN in a minimum of six 5K's. Two down, four to go!


"love the life you live, live the life you love"