I had several blog post go out last night. My daughter (who likes a lot of the same foods that I like) had recently mentioned to me that she has had a hard time finding a couple of my simple recipes, and that a few of them needed a little more instruction for the less experienced cook. I don't claim to be an experienced cook at all, but I understood where she was coming from and appreciated the constructive criticism. Like my body and my health, my blog is a work in progress. I took her advice and revised a few recipes and then rewrote a few all together.
I'm now going through each item under my recipe tab, one at a time, and making the necessary changes. Forgive me if you are a subscriber and you get a few extra post throughout the next couple of weeks, but hopefully in the end, it's helpful! You might even see something that sounds good to you!
Just a reminder that this is a very simple blog with very simple meal suggestions. It is my hope that through the blog, I continue to explore new foods and new ways to prepare foods that taste great and that are low in Weight Watcher Points. The blog keeps me accountable, and keeps me on the healthy track. If you find something that sounds good to you, I hope that you'll give it a try.
If a recipe is unclear or you have questions, please feel free to comment on the post, or email me.
While I was cleaning up shop, the hubs watched Youtube videos on how to take your computer apart and clean it. He amazes me at times. I knew this would be a disaster, that he would be up all night, and that he would be purchasing a new computer today.
Nope. The stud accomplished his goal, all before 9:00 pm. I'm super impressed.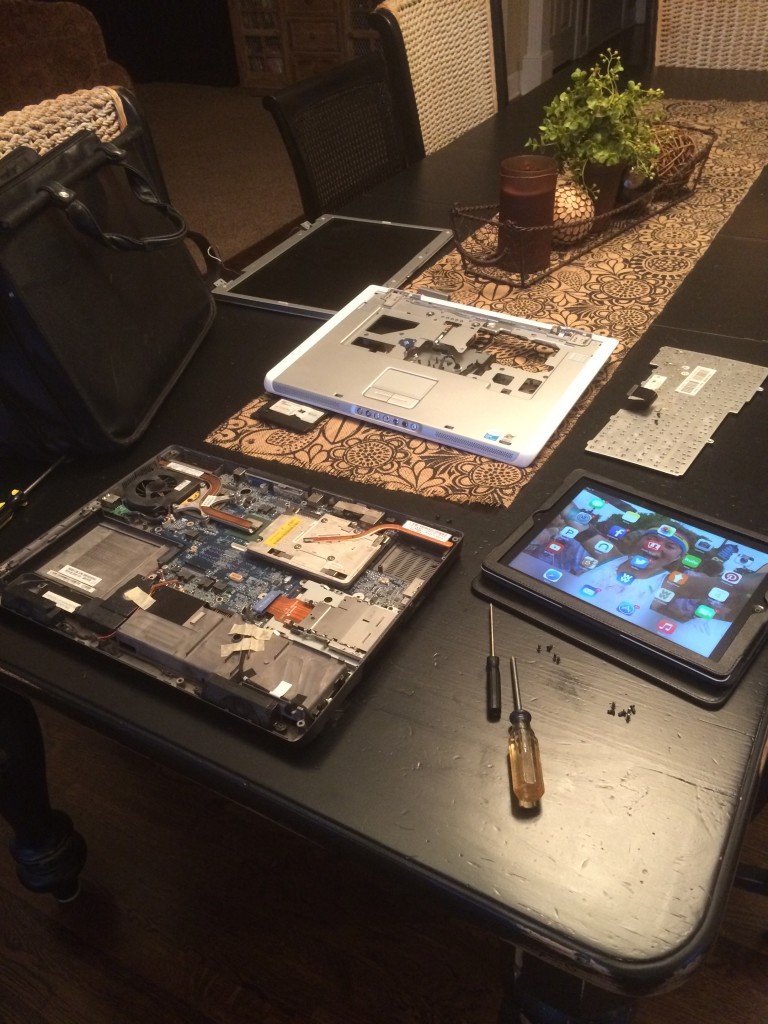 Part of last nights dinner was tons of roasted veggies. I should have invited guest.
I roasted up mushrooms, zucchini, red onions, brussels sprouts, carrots, sweet potatoes, corn and bell peppers.
1/3 C Olive Oil
2 T. Italian Seasoning
1 1/2 tsp Sea Salt
1 tsp Cracked Black Pepper
Combine oil and seasonings and mix in a large bowl with veggies. Roast on a baking sheet at 400 for 30-40 minutes.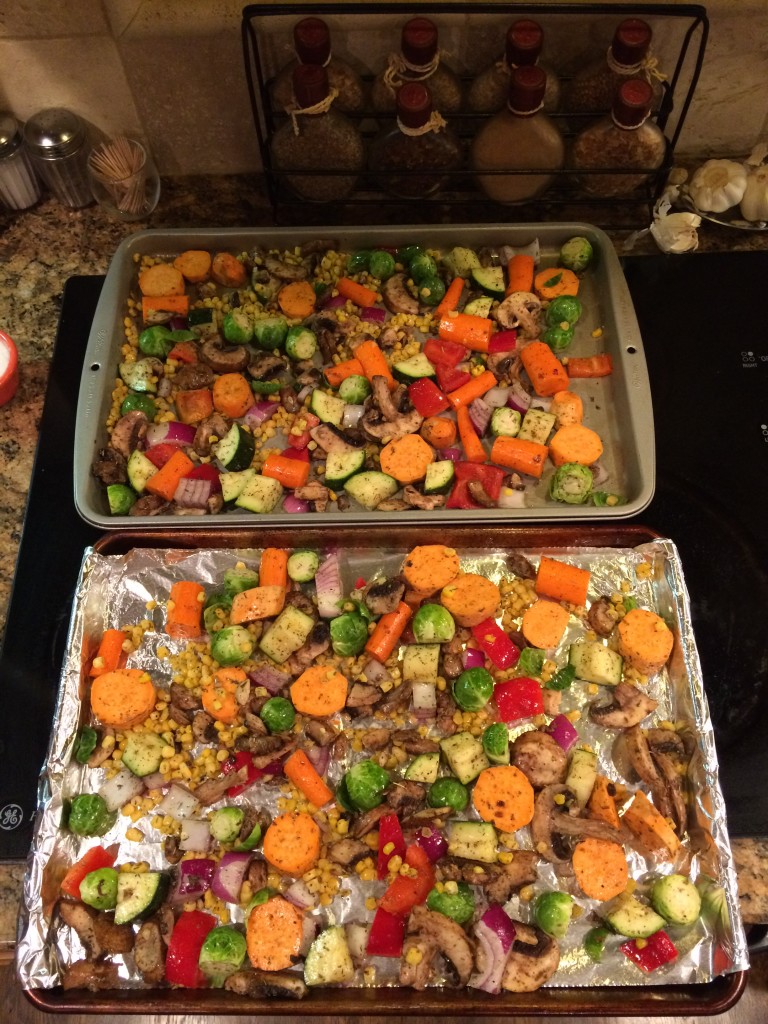 Who doesn't love a big serving of Roasted Veggies??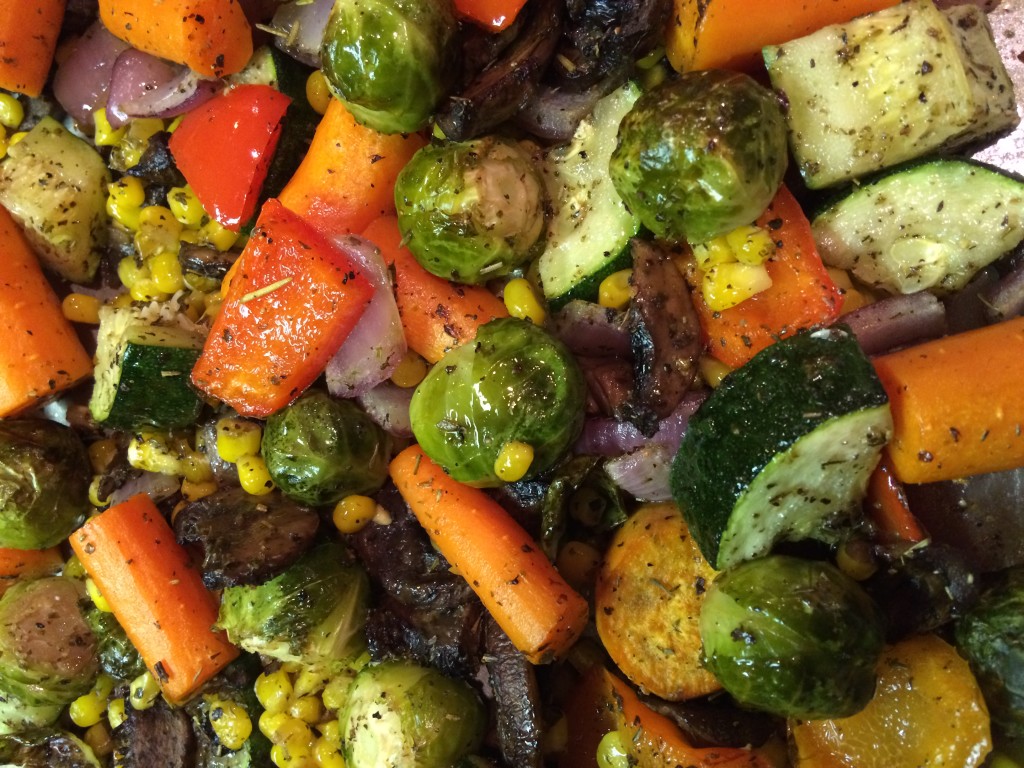 Pre-Breakfast – 1 PPV
Banana and Coffee with cream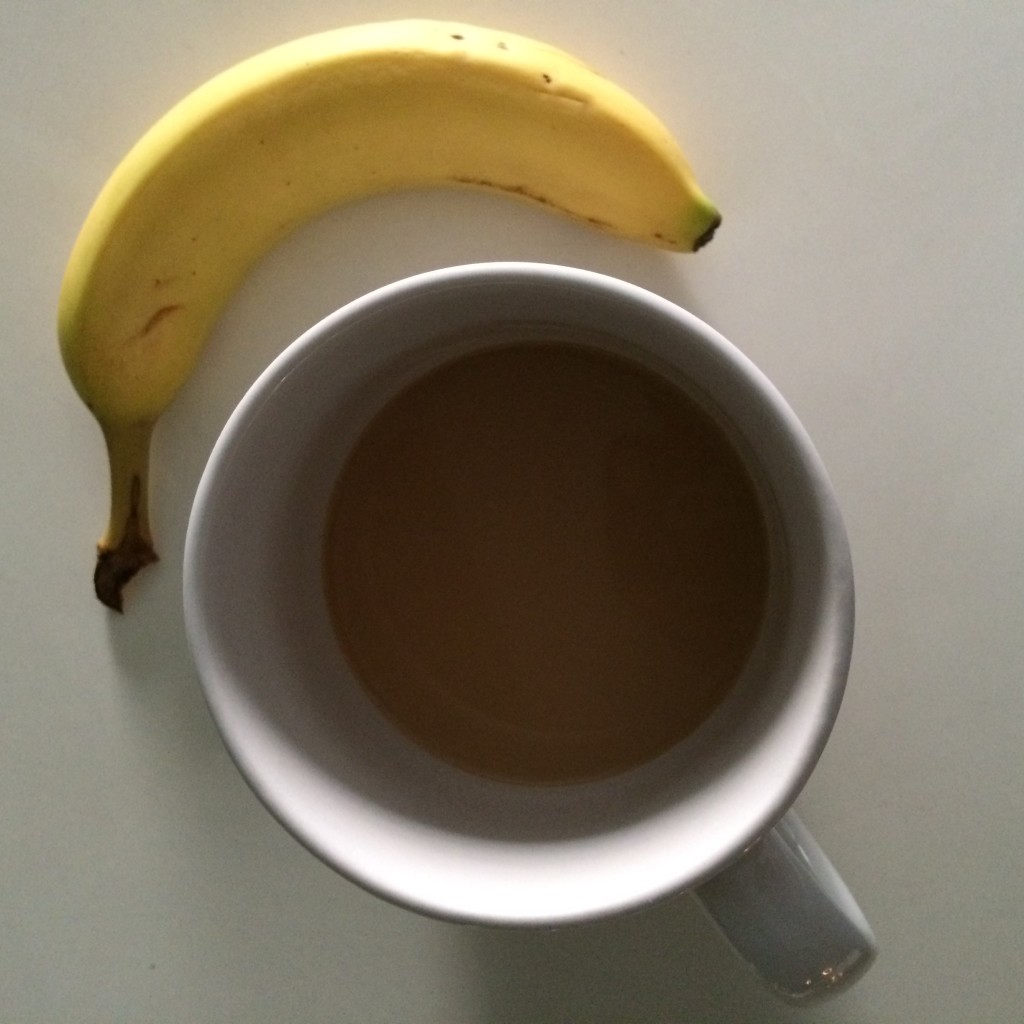 Breakfast – 3 PPV
2/3 C Plain Nonfat Greek Yogurt with Vanilla Stevia and cinnamon, topped with fresh fruit and 1 T. Granola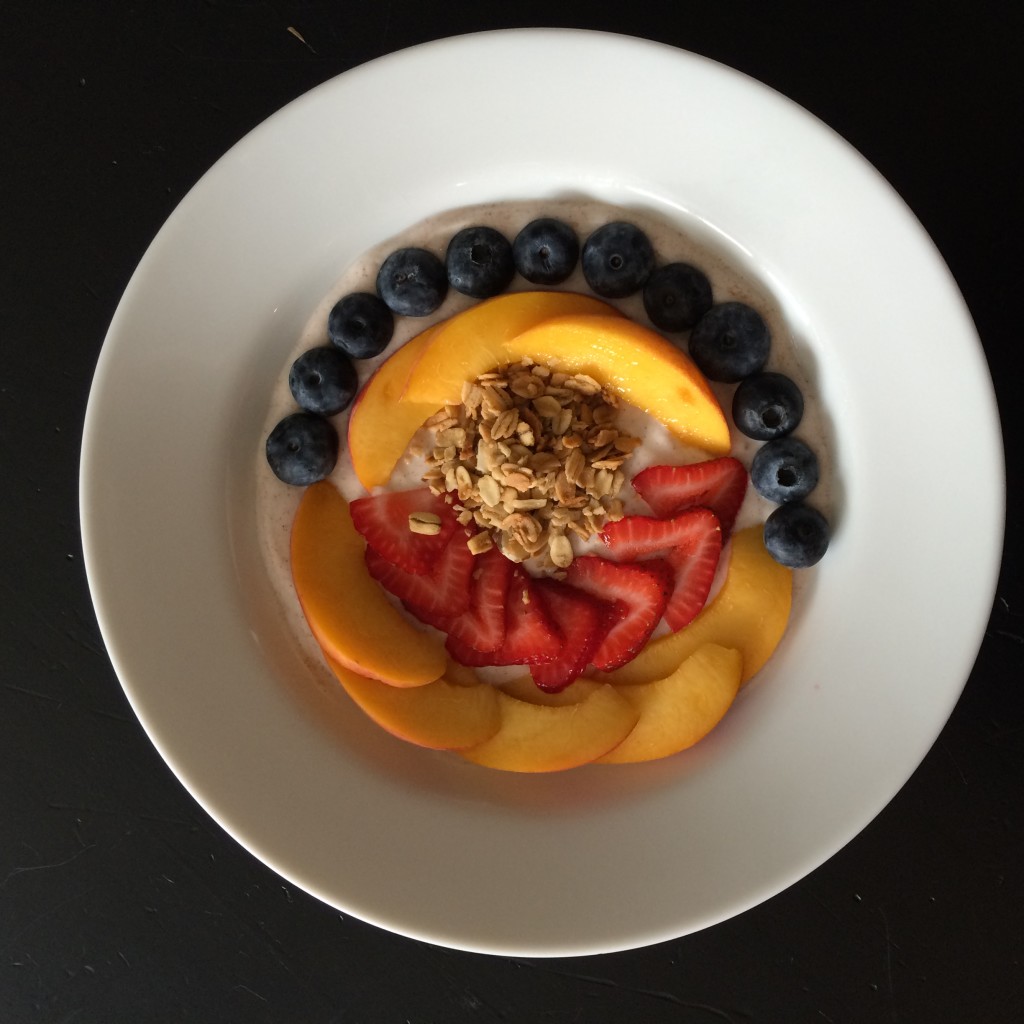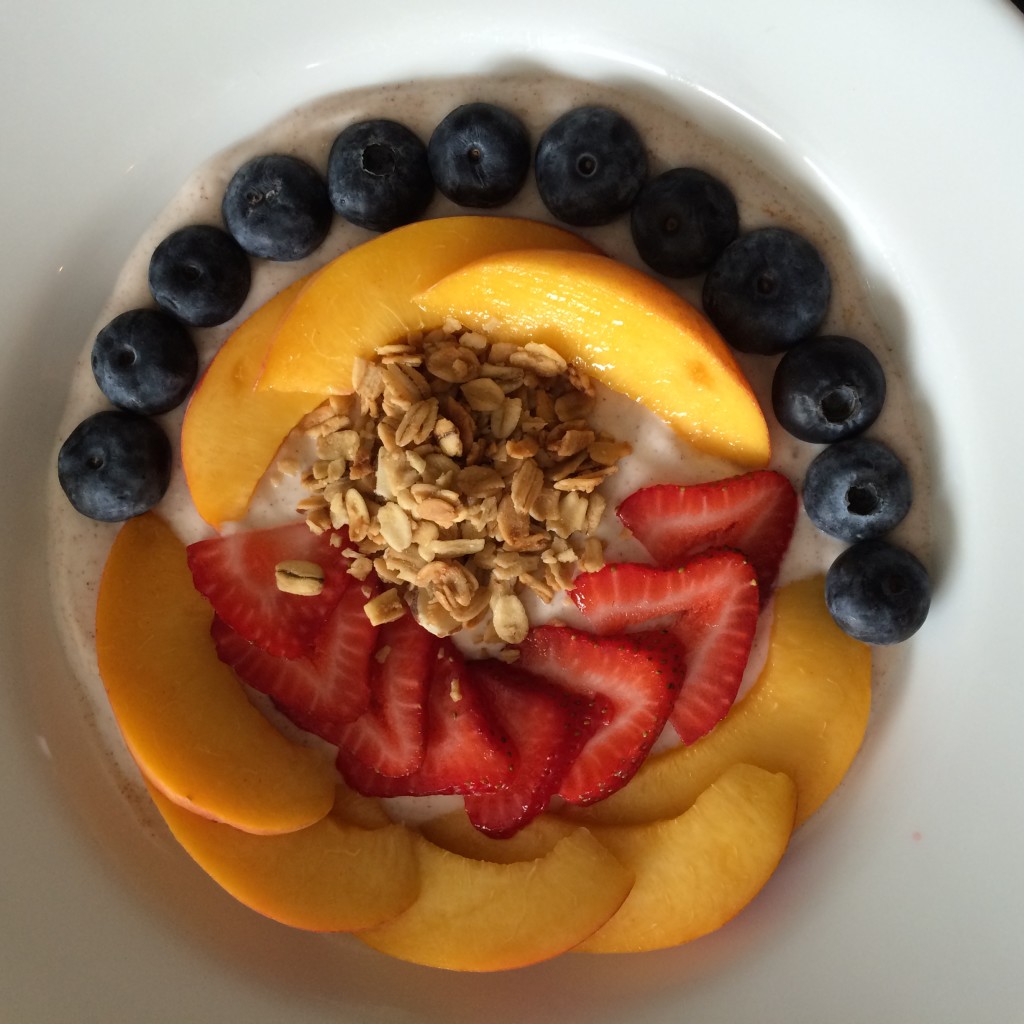 Lunch – 7 PPV
Leftover Turkey Burger Sliders and Veggies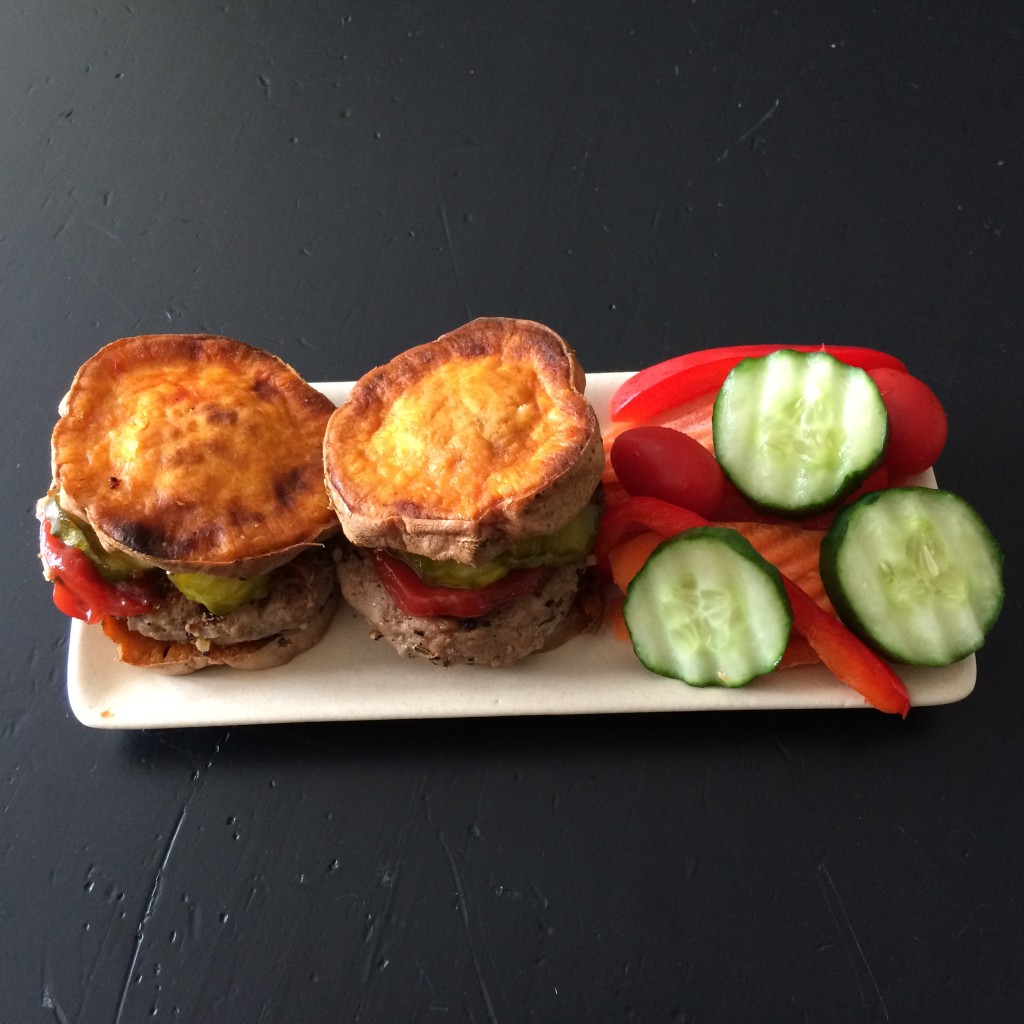 Yes, I will be making these Turkey Burger's and these Sweet Potato Buns again real soon!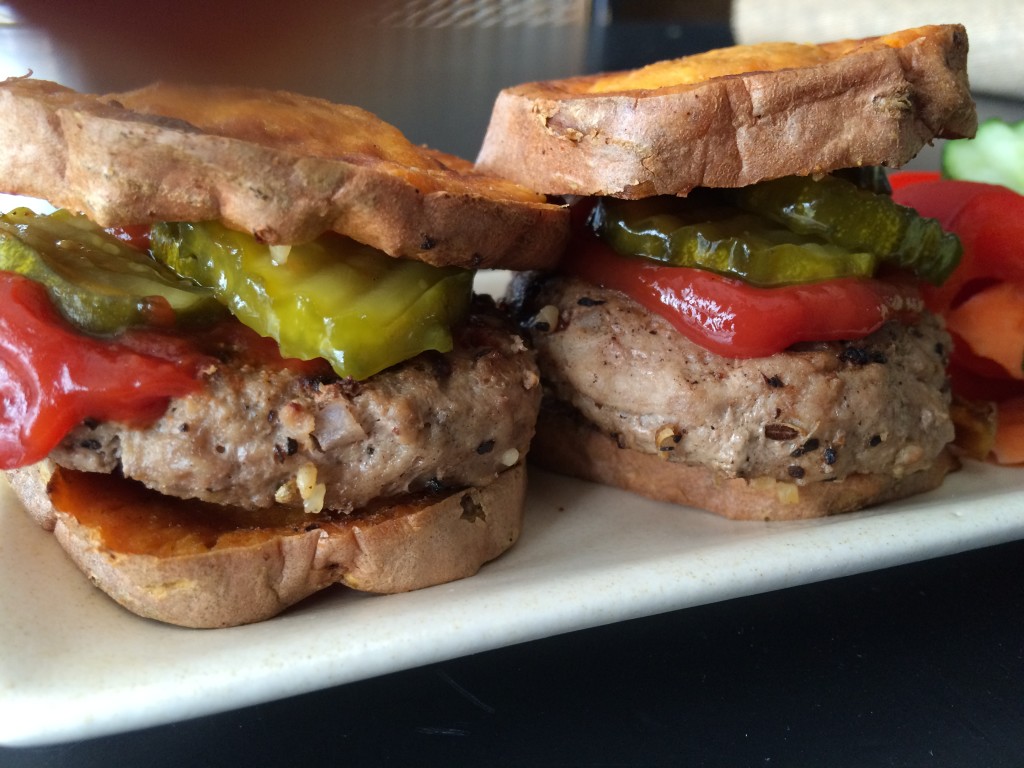 Snack's – 7 PPV
Un-Pictured Granola……..
…..and, I made this pasta salad for Mike to eat with his Turkey Burgers the other night. I ended up snacking on it yesterday afternoon. It tasted pretty darned good too!
Spaghetti, Tomatoes, Cucumbers, Greek Salad dressing and Parmesan Cheese.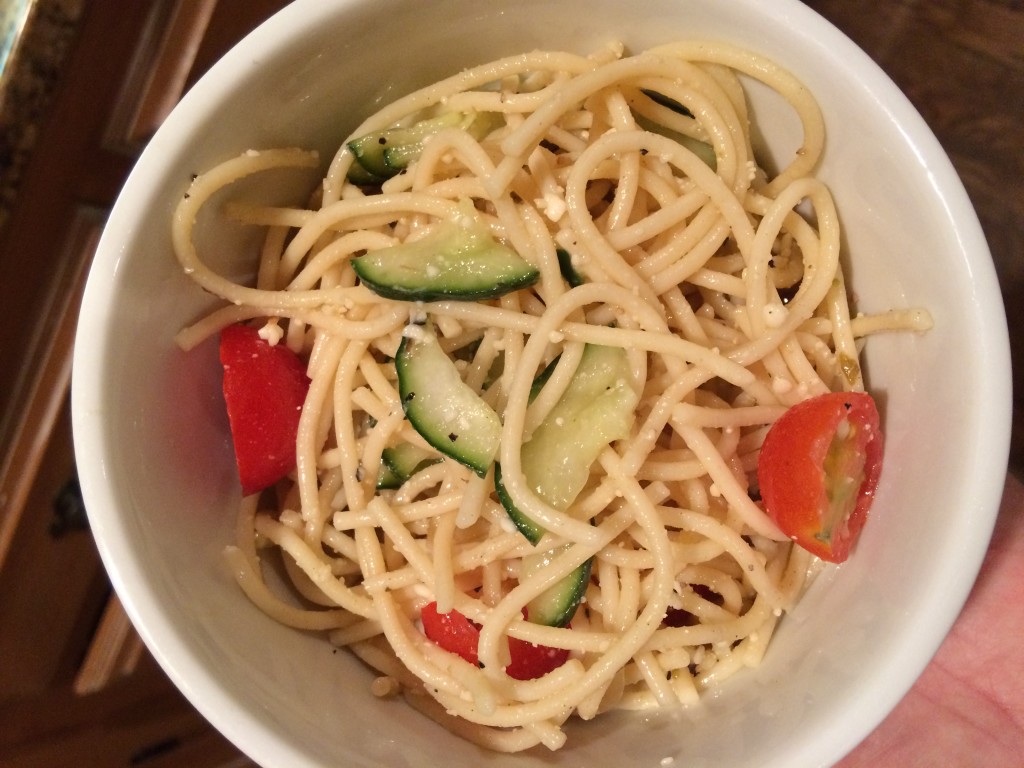 Dinner – 7 PPV
I forgot to take a picture of my bowl, but I sautéed chicken and turkey sausage in a big Skillet in Butter Infused Olive Oil, then I added a bunch of roasted veggies and gave it a good stir. I topped my bowl of Skillet with spicy mustard. The hubs loves this meal.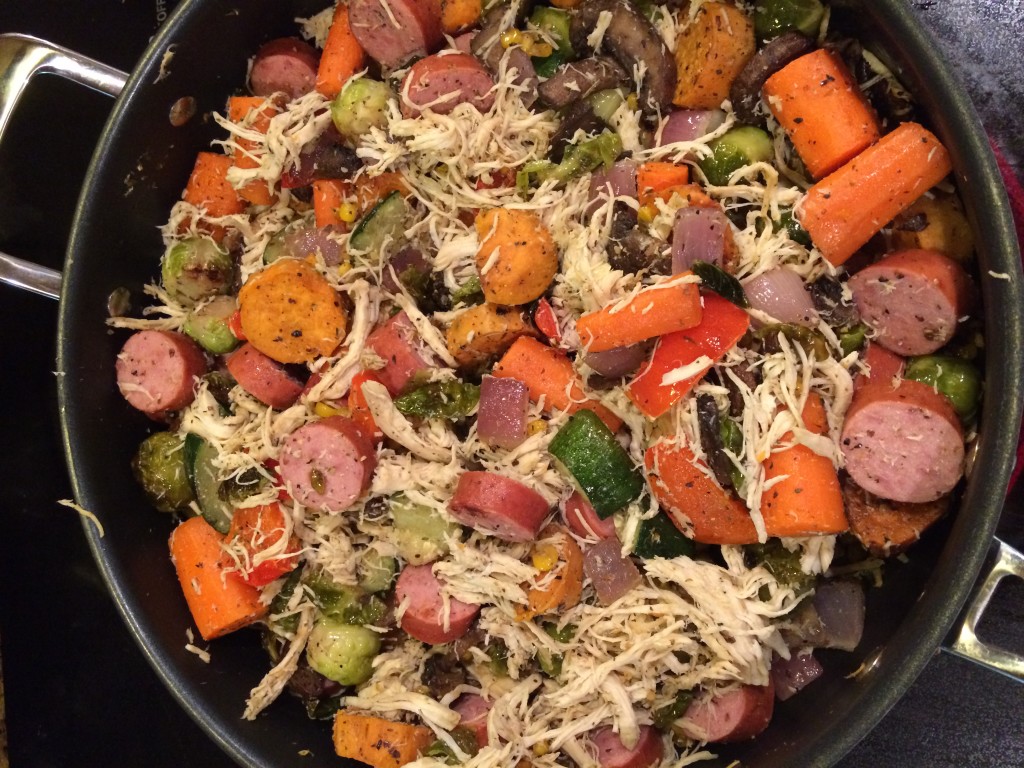 Weight Watcher's Points Plus
I can eat 26 PPV a day.
I can earn Activity Points by doing exercise, and eat them if I choose.
I have an allowance of 49 extra points that I can dip into throughout the week if I choose.
I should drink a minimum of 6 (8 oz) glasses of water each day.
My Weight Watcher Week Begins on Friday's
Breakfast = 4
Lunch = 7
Snack's = 7
Dinner = 7
Total = 25
Exercise = Jazzercise
Activity Points Earned for the Day = 5
Activity Points Earned This Week = 18
Activity Points Remaining This Week = 18
How many ounces of water I drank for the day = 100+
Remaining points from my 49 Points Allowance = 2
This is What I Will Accomplish in 2015
I will choose one occasion per month for Social Drinking (um…this is a work in progress)
I will go no more than two days in a row without exercise.
I will track every single day for the entire year. No matter what.
I will RUN in a minimum of six 5K's. Three down, three to go!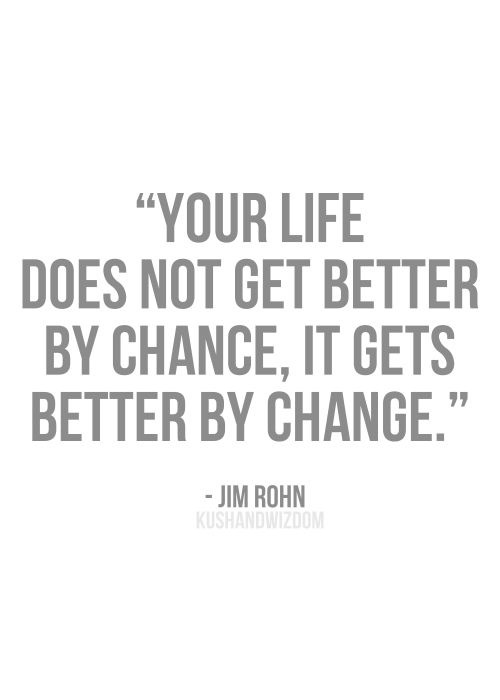 "love the life you live, live the life you love"