In honor of all of the kids going back to school and seeing their pictures all over Facebook yesterday, I decided to have my picture taken too. Okay, for realzzzz. My Passport is expiring and I lost my Costco card (more on Costco in just a sec). Yesterday I made the rounds and had my picture taken, both of which are awful. That's what happens when you get one take.
That doesn't even look like me…….Hey Julie, open your eye's!!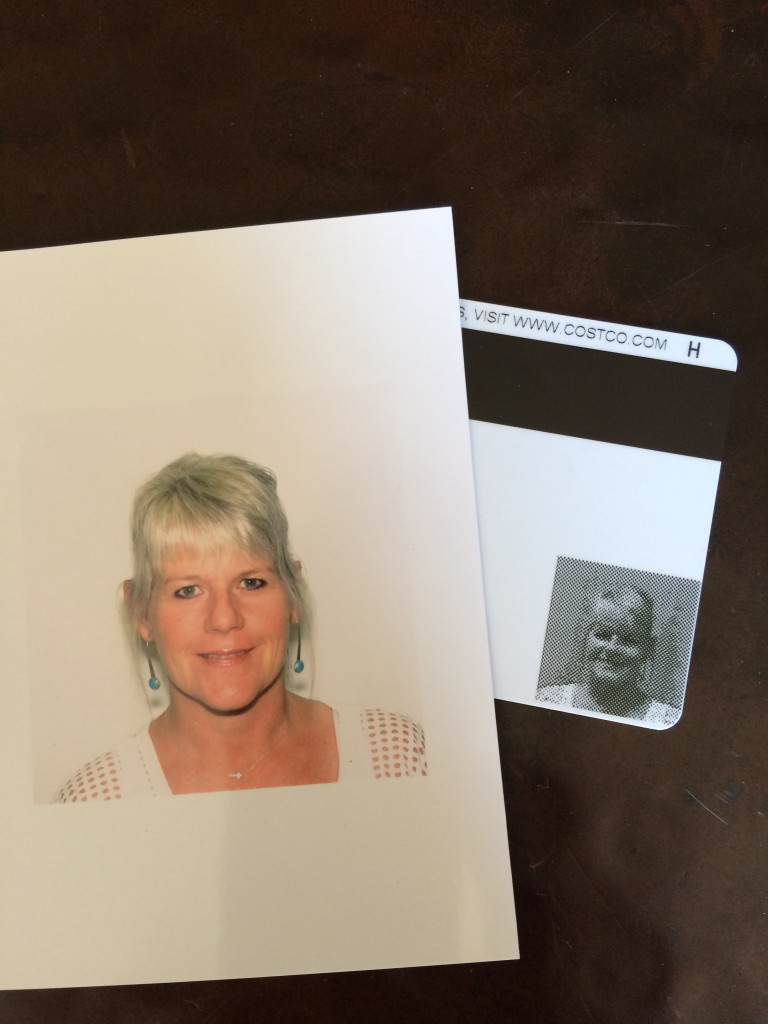 Also on my "to do" list yesterday, price comparison at Walmart, Costco and Amazon Prime. I have been considering getting an Amazon Prime membership. It's $99 a year, and they deliver right to your door, no shipping! I've recently found a few things on Amazon Prime that I wanted to purchase, and I liked the idea of items like Toilet Paper, Laundry Detergent and Dog Food being delivered to my door, so I decided to look into it.
After comparing 12 items in the brands that I prefer (in addition to the items listed above, I compared toothpaste, deodorant, body wash, Ibuprofen, and a few others) at all three locations, Amazon Prime only had the best price on two of those items, and Costco had the best prices on most of the items on my list. So I had my picture taken at Costco, and I'm sticking with my membership there. Bummer. I was looking forward to toilet paper on my front porch! Bonus! Free samples while shopping at Costco!!
You might find different results for the products that you purchase, this was just my experience.
I did NOT go to an exercise class yesterday and I did NOT take a walk. What the heck with these calves of mine? The 700 stairs I ran on Monday are killing me. My calves feel like they are going to cramp up at any given second while just sitting! They feel like they are the size of cantaloupes. If I wasn't massaging my own calves last night, I was asking Mike to do it. I stretched and stretched and stretched last night too. Undecided on what type of exercise to do today. Did I say wuss yesterday? I think I did. Let me say it again. Wuss.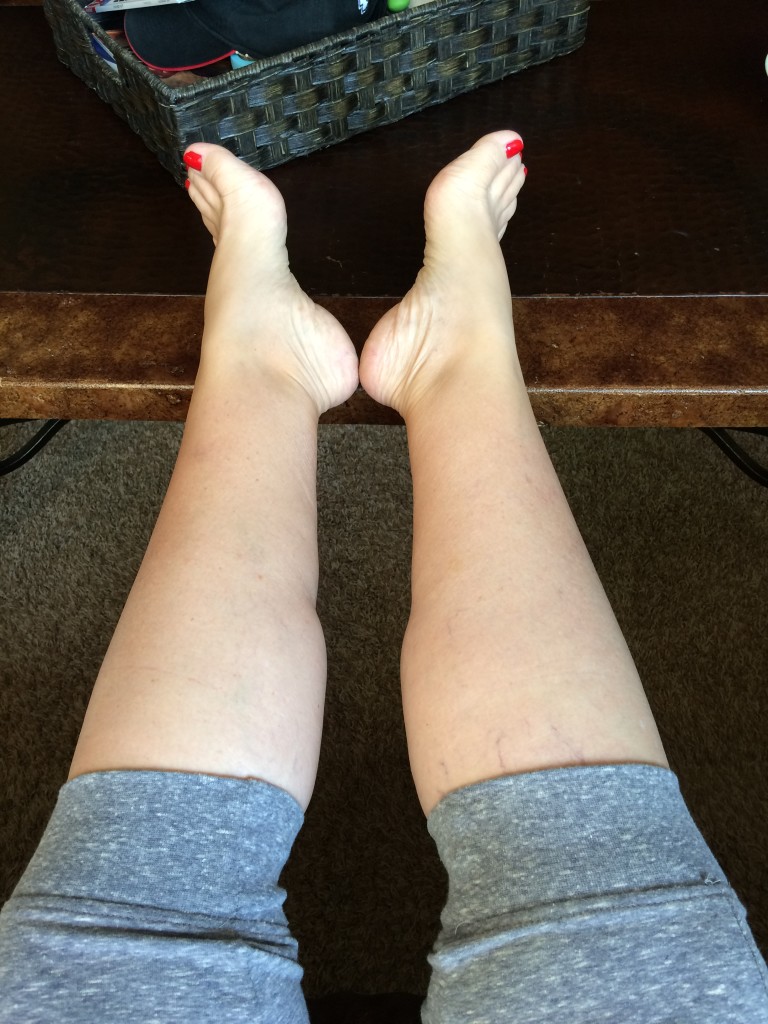 The highlight of the day? Dinner. I was browsing Pinterest again when I found a recipe for Spaghetti Squash Lasagna Boats. I thought it sounded delicious. I hadn't quite figured out if Mike likes spaghettis squash or not, so with the additional Italian Turkey Sausage, I made him a pizza on some new thin crust that I bought yesterday at HyVee. One pizza is three servings, and one slice is 3 PointsPlus. One package includes three medium sized crust.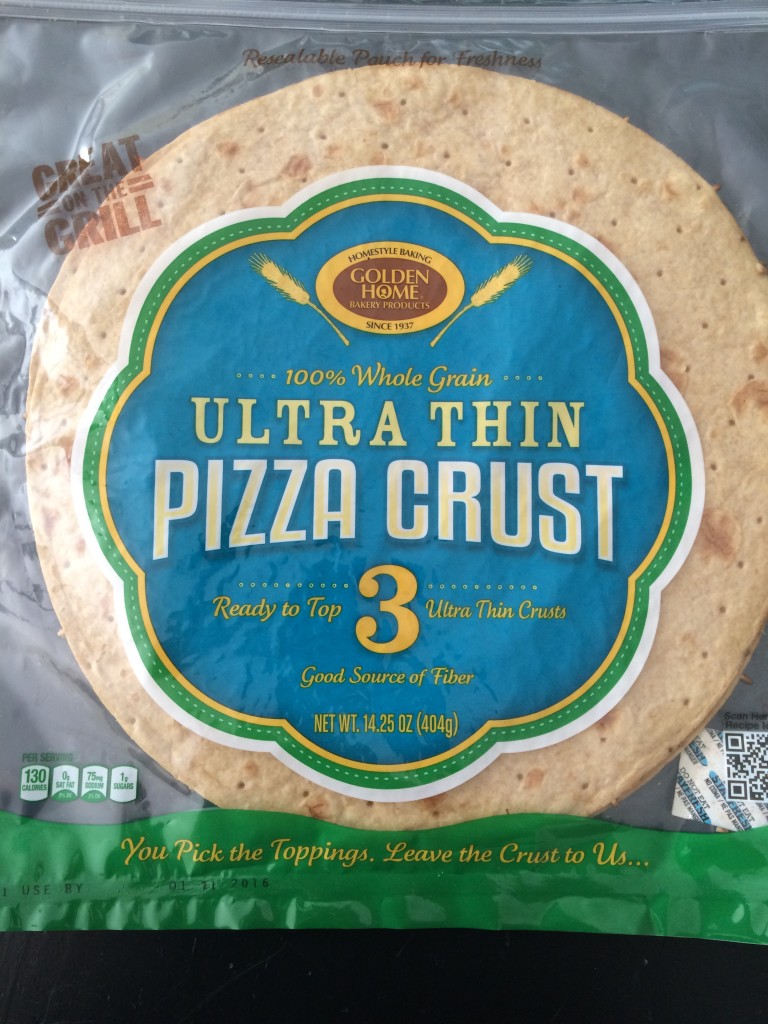 For the spaghetti squash recipe, I did alter it a bit by cooking two spaghetti squash instead of one (then two skins ripped, so I used two ramekins in their place), and I added extra sauce to the original recipe. I kept the measurements for the sausage and the cheeses just like the recipe called for. By making the changes that I made, I was able to make four servings instead of two servings, which lowered the points for each serving, and it was still amazing in taste and it was super filling. I still have lots of cooked squash left over. I hope that all made sense.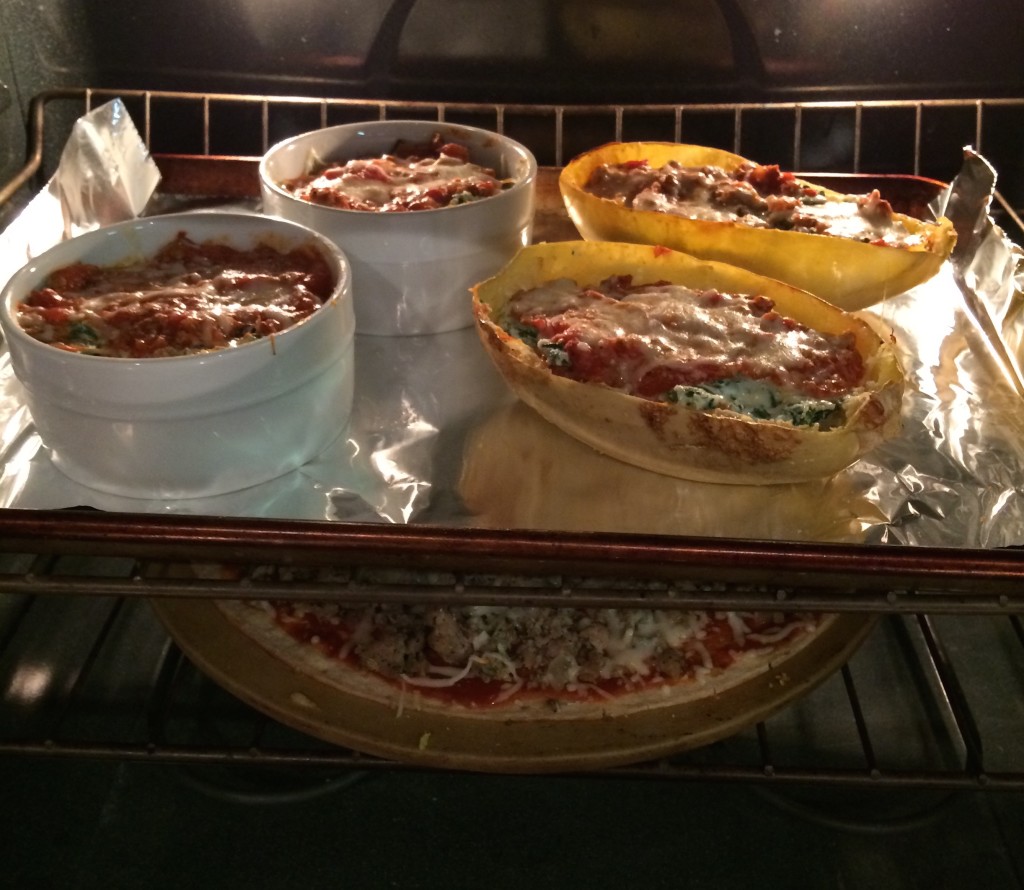 Dinner didn't suck. Mike liked the squash AND the pizza.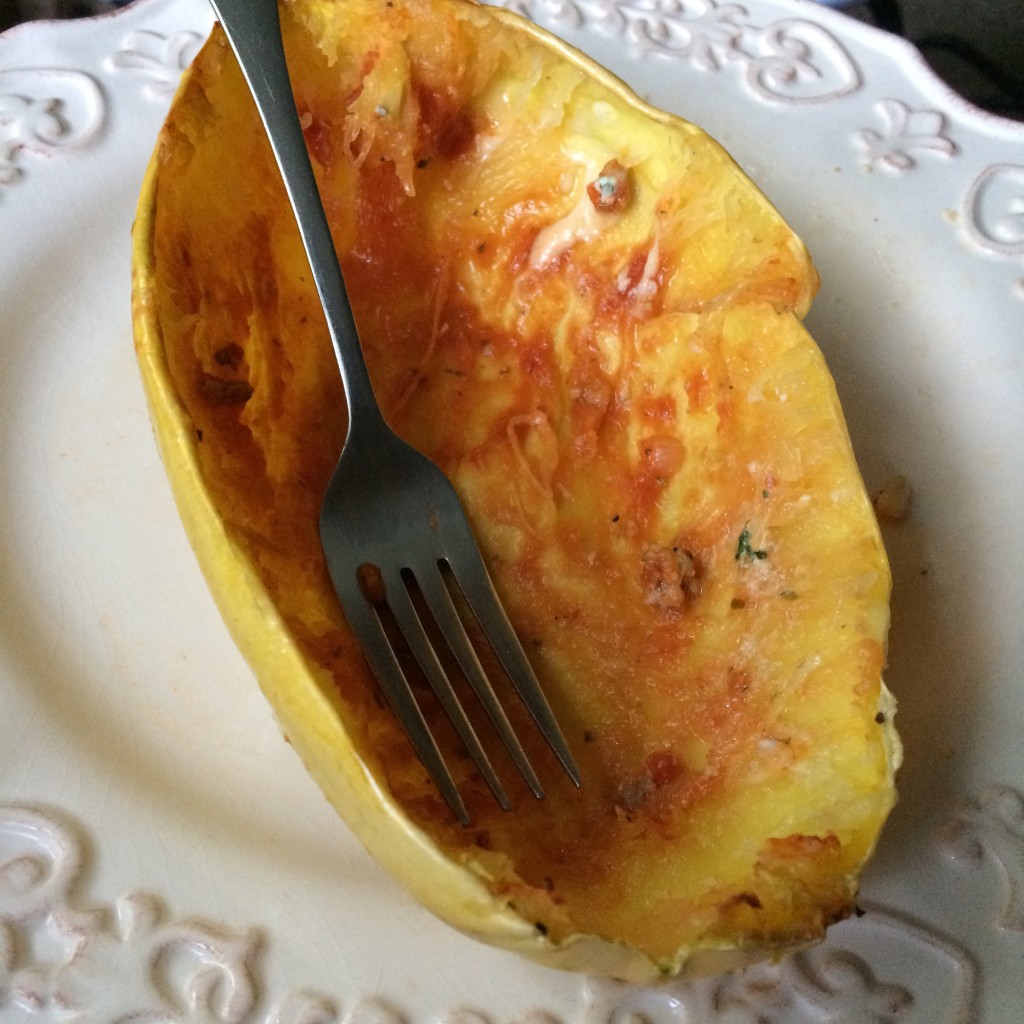 Not my best week! I'm ready for a fresh start tomorrow!
Here are yesterday's eats….
Breakfast – 5 PPV
Scrambled Egg Whites with Salsa, Light English Muffin with one wedge Laughing Cow Creamy Swiss, Berries and Cinnamon.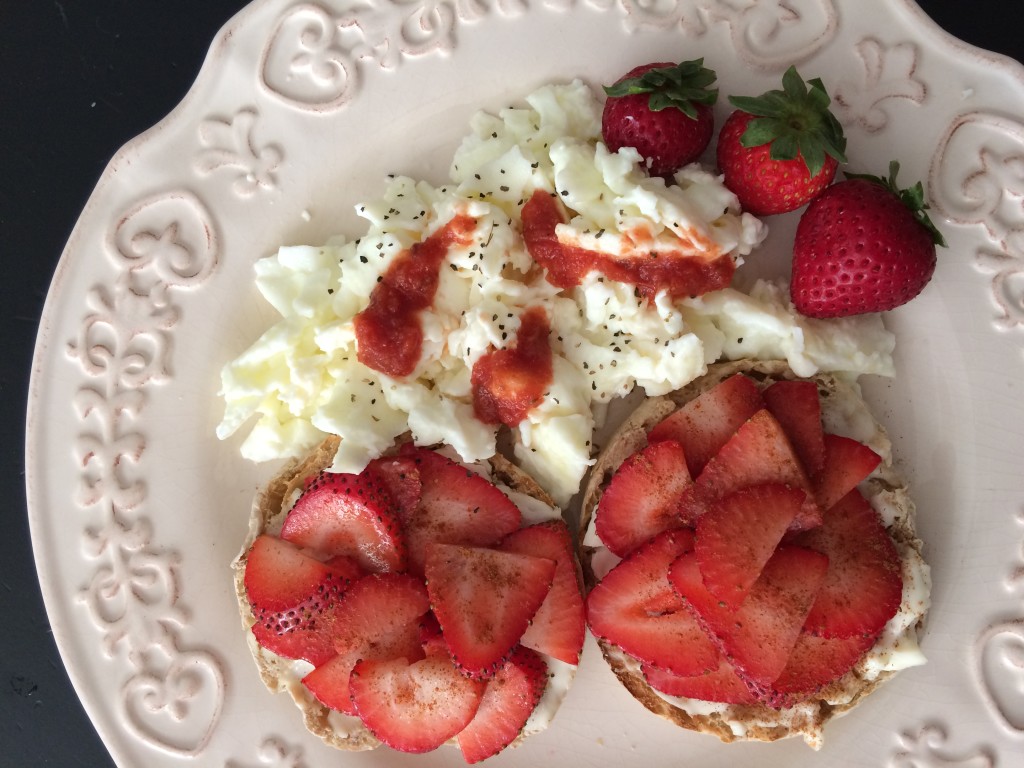 Upon the advice of an Instagram follower, I put this in the toaster oven with the berries on it for a mock Danish, and I loved it all warmed up!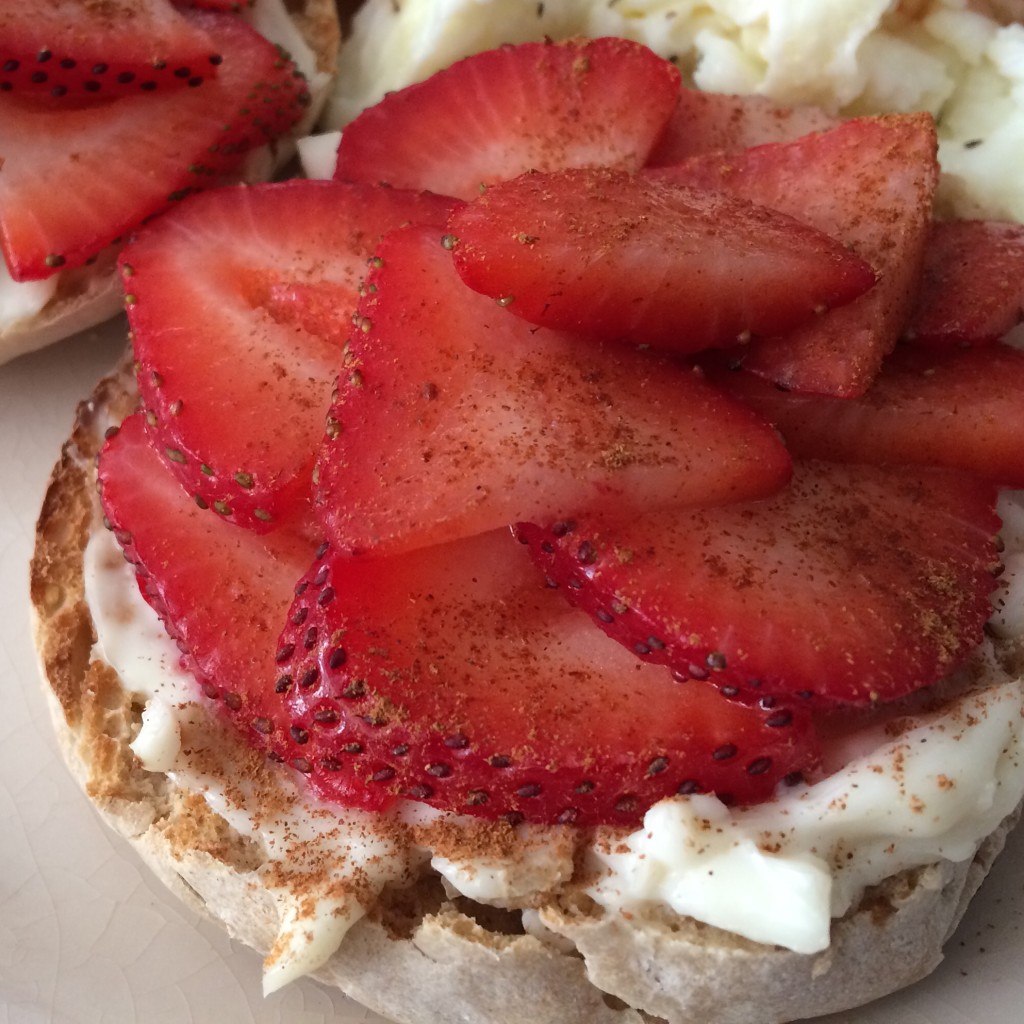 Lunch – 8 PPV
Grocery Store Salad Bar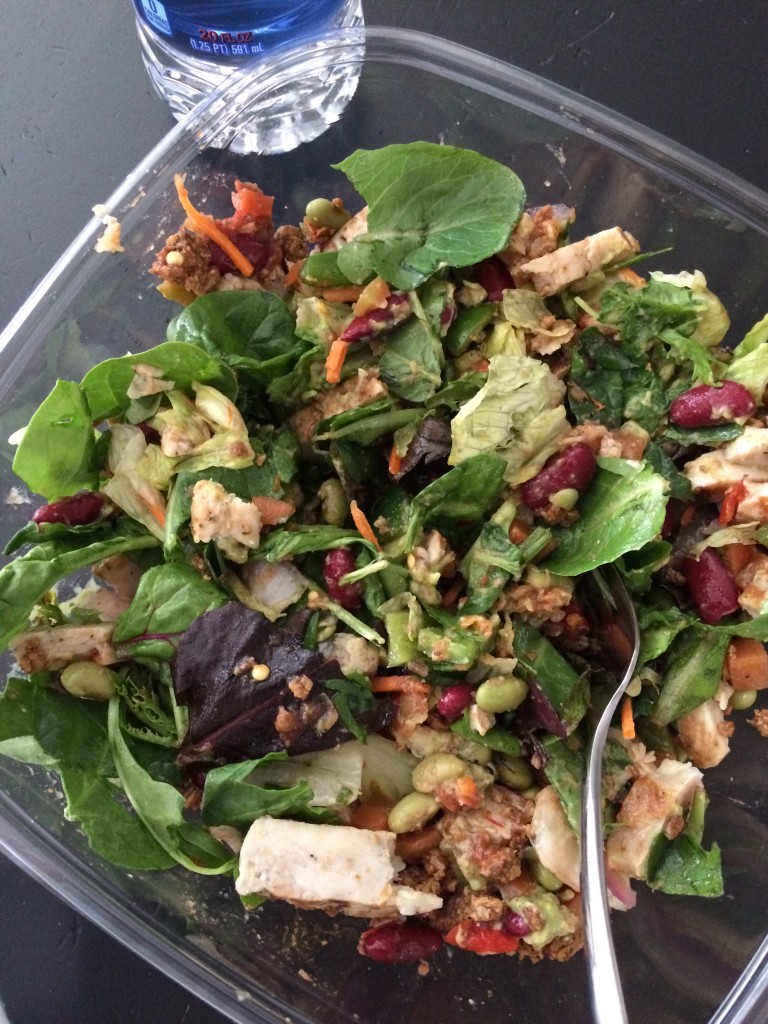 Snack – 2 PPV
Banana, Almond Butter, Chia Seeds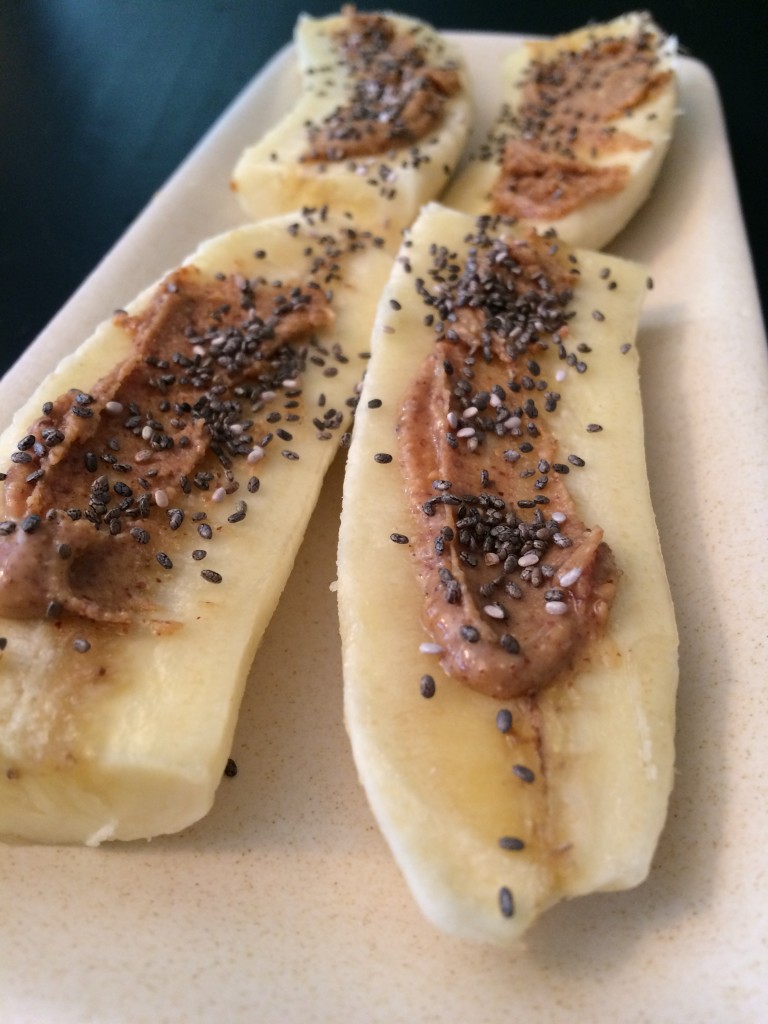 Dinner – 15 PPV
Spaghetti Squash Lasagna Boats, Salad, Un-pictured Wine. I'll be making this again!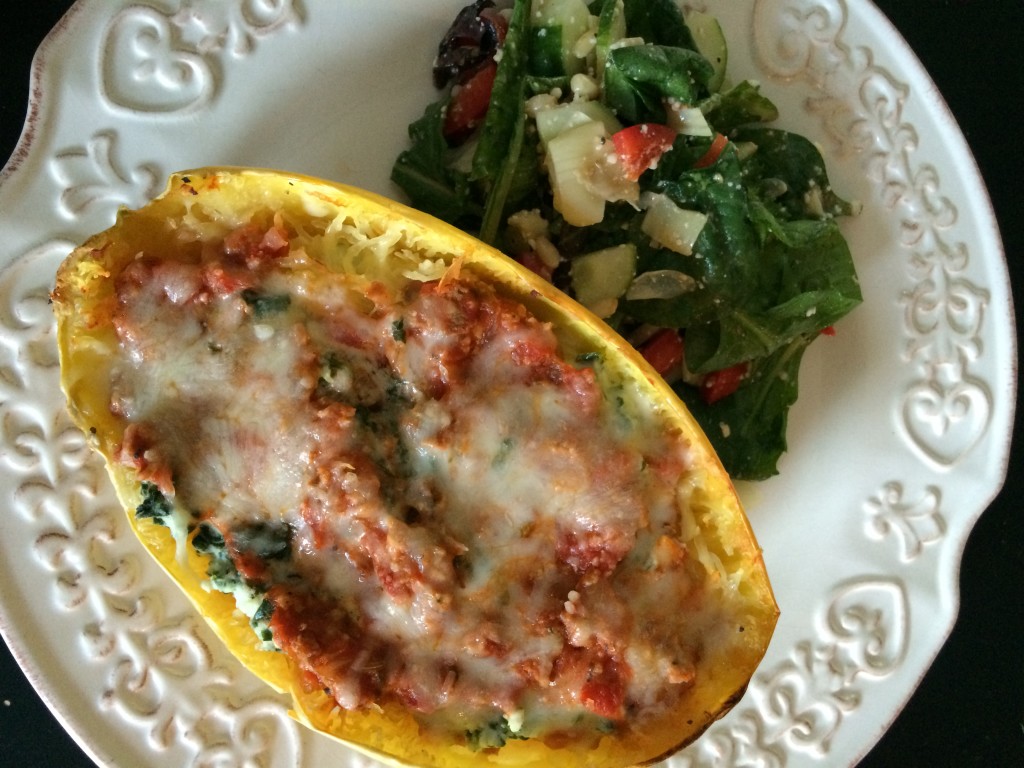 Weight Watcher's Points Plus
I can eat 26 PPV a day.
I can earn Activity Points by doing exercise, and eat them if I choose.
I have an allowance of 49 extra points that I can dip into throughout the week if I choose.
I should drink a minimum of 6 (8 oz) glasses of water each day.
My Weight Watcher Week Begins on Friday's
Breakfast = 5
Lunch = 8
Snack = 2
Dinner = 15
Total = 30
Exercise = nothin'
Activity Points Earned for the Day = zilch
Activity Points Earned This Week = 14
How many ounces of water I drank for the day = 80
Not my best week! Ready for a fresh start tomorrow!
This is What I Will Accomplish in 2015
I will choose one occasion per month for Social Drinking (um..this is a work in progress)
I will go no more than two days in a row without exercise. (I've done "two a day's" to make up)
I will track every single day of the entire year. (I've only NOT tracked one weekend this year.)
I will run in a minimum of six 5K's. Three down, three to go!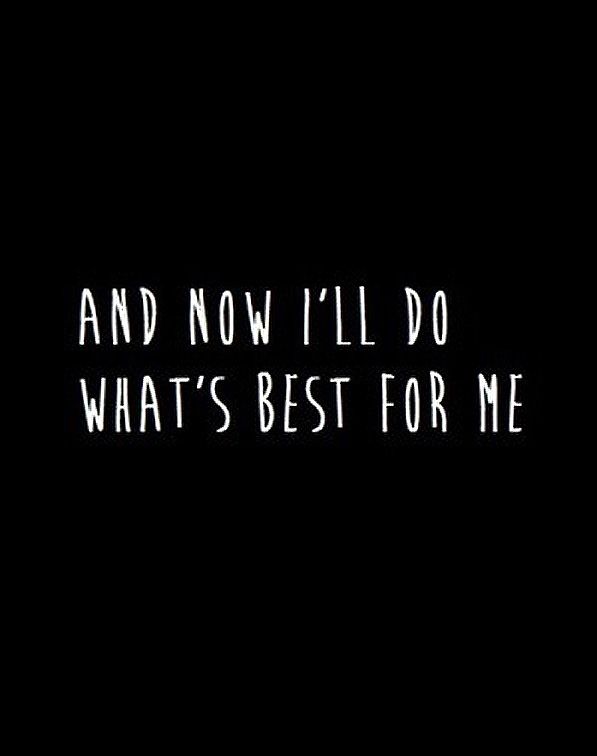 "love the life you live, live the life you love"