I rarely ask Mike what he would like for dinner, because…
He tells me that he has too many decisions to make during the day and he doesn't want to make another one.
He tells me that he likes everything that I make, so it doesn't matter. (He doesn't want to make a decision.)
He's super sweet and tells me that we can just go out to eat. (He doesn't want to make a decision.)
He actually answers me and tells me that he wants Grilled Chicken Salad, and he really does!
I'm going to see what kind of Grilled Chicken Salads I can come up with this week!
I am loving this cooler weather we are having and it is making me anxious for Fall. I love having that first cup of coffee on the deck, so that's exactly what I did yesterday before going to Yoga.
After Yoga, I mowed and spent a lot of time outside in the yard. I pulled out my hammock for the first time in a long time and I plan to enjoy it a little bit all week long.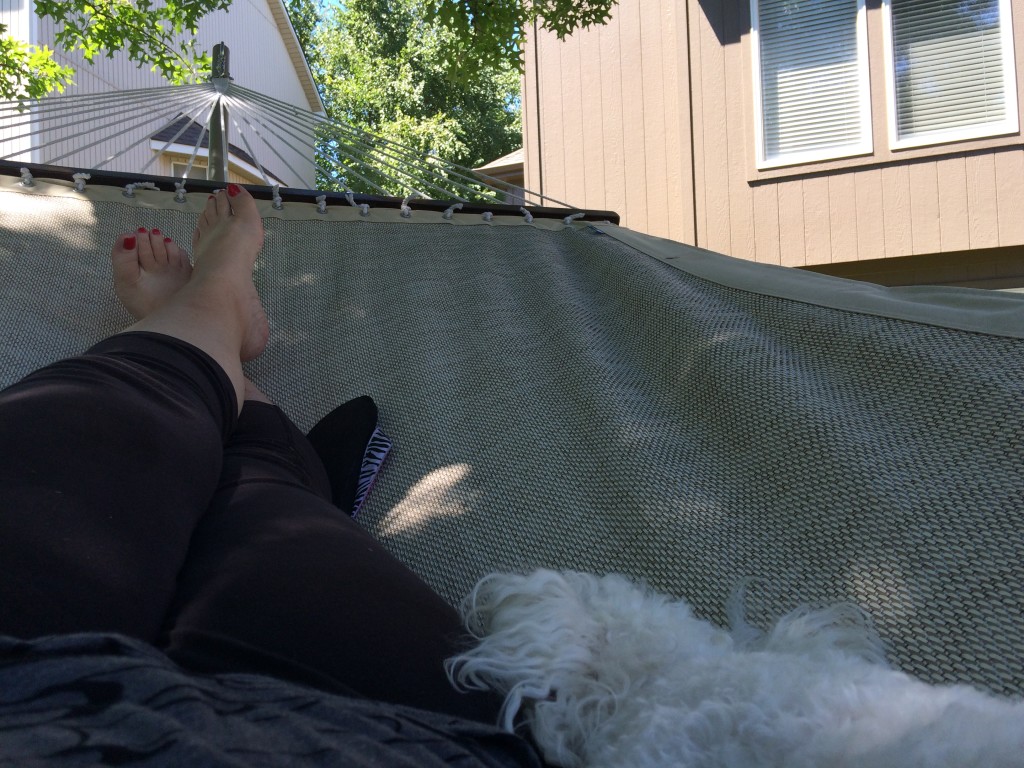 Besides coffee on the deck and hammock time, I'll be grilling some chicken for those salads.
If you are also lucky enough to be experiencing some cooler temperatures, I hope you are getting to enjoy it!
Here are yesterday's eats…..
Breakfast – 4 PPV
I didn't eat breakfast as soon as I woke up, (I was chilling on my deck with my coffee) and I usually do. All of a sudden it was time to walk out the door for Yoga, and this was my crappy, odd, sugary, salty breakfast choice. Two handfuls of Popcorn and a few Chocolate Covered Almonds. WTH?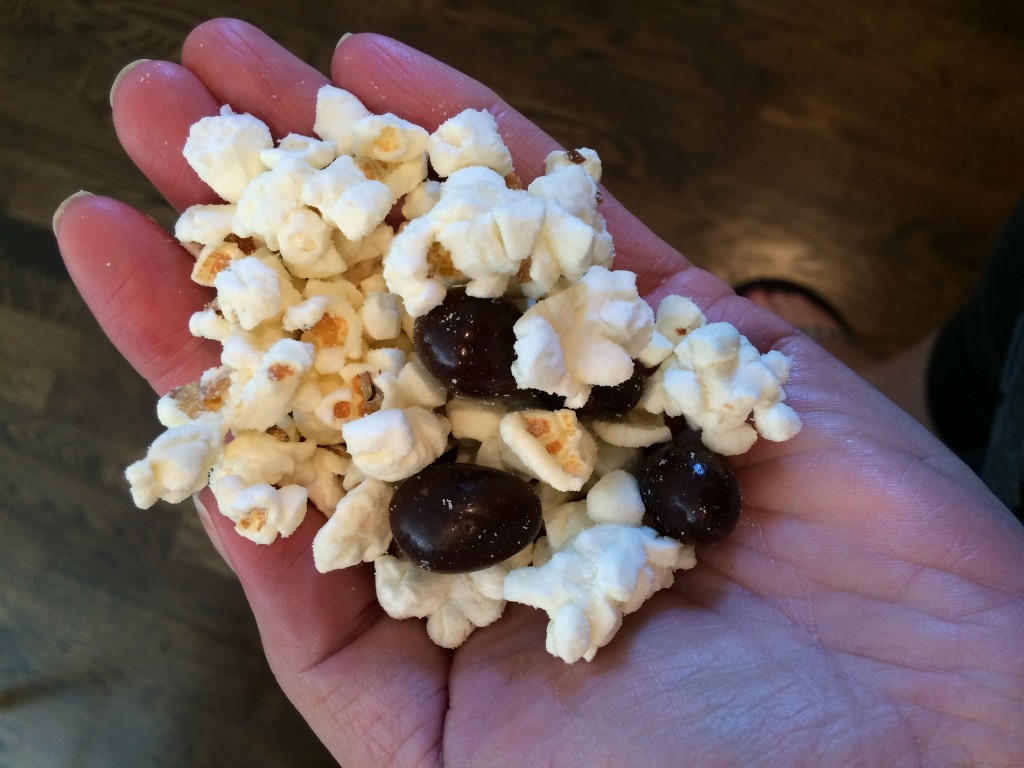 Lunch – 8 PPV
Yum. leftovers from my Grilled Chicken Salad the night before. I chopped up leftover Chicken and Veggies from the skewers and added them to my leftover salad.
Romaine, cucumbers, tomatoes, red onion, kalamata olives, bow tie pasta, parmesan cheese, greek dressing, grilled red bell peppers, grilled red onions and grilled chicken breast.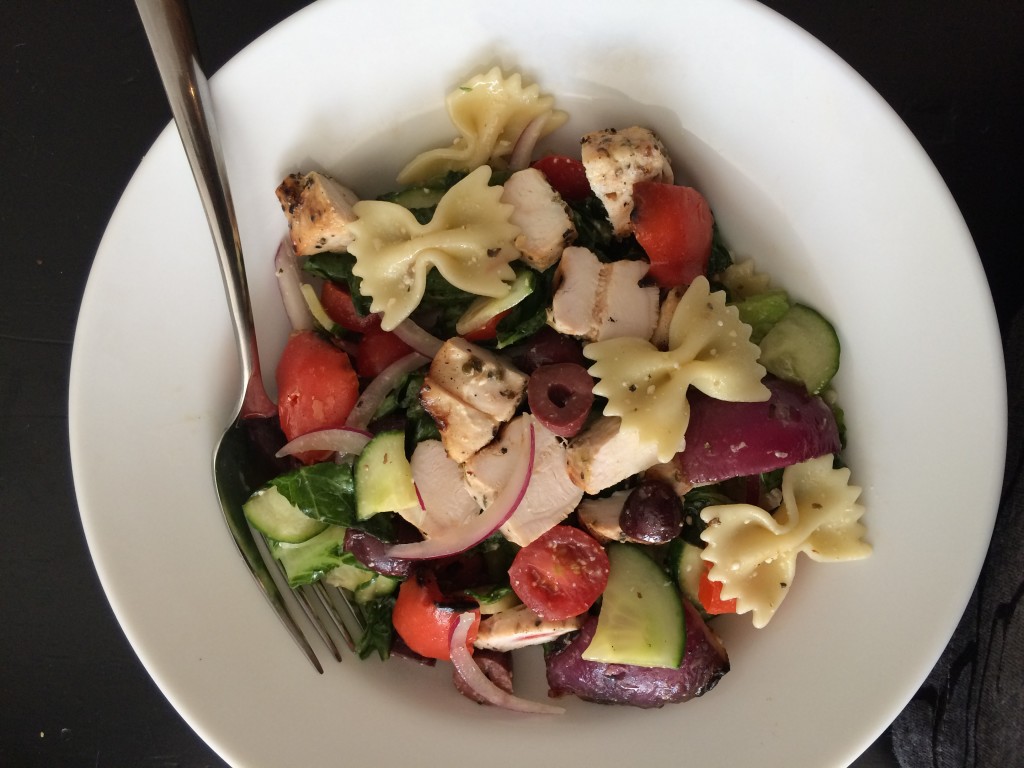 Snack – 1 PPV
Blueberries and a Pear with 1 tsp of Almond Butter drizzled and a few Chia Seeds.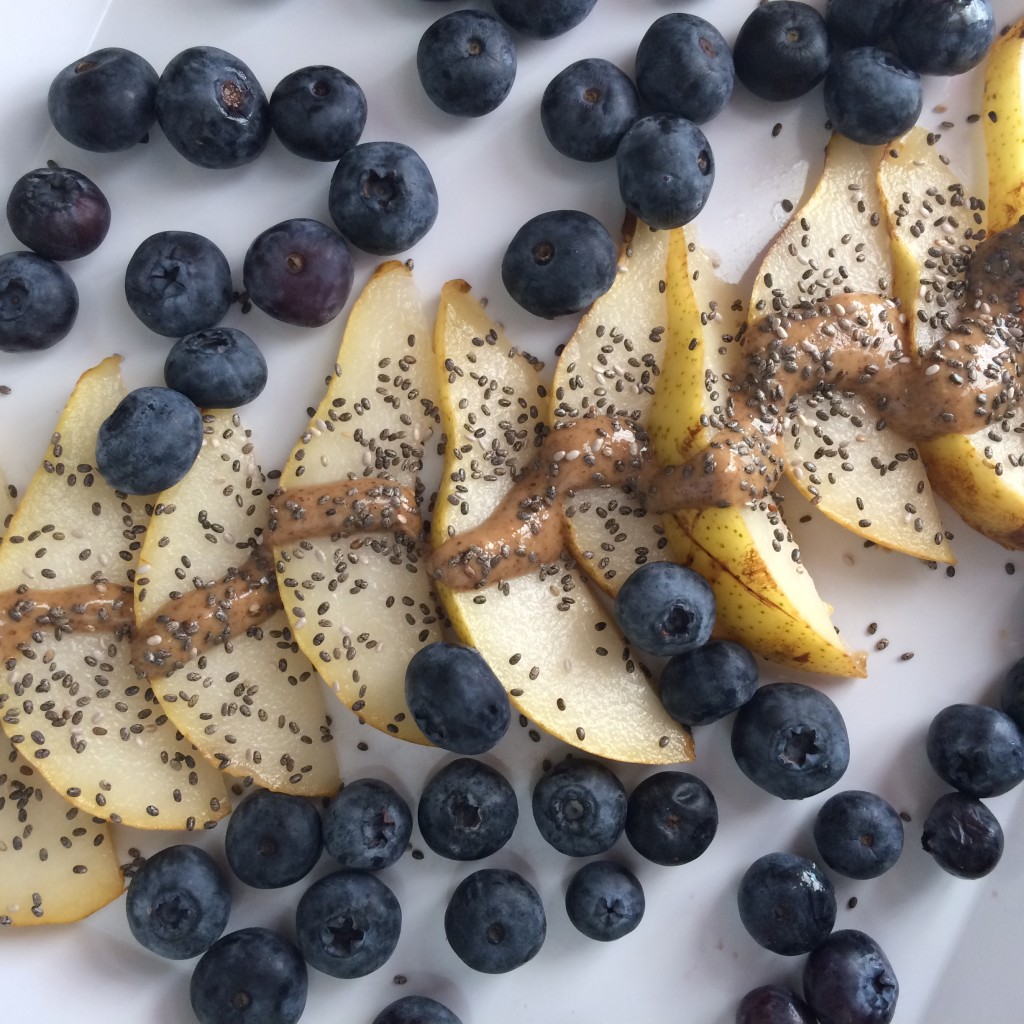 Dinner – 13 PPV
BBQ Ranch Salad
Dressing = mix Equal Parts (1/4 C each) of Ranch Dressing and BBQ Sauce. 2 T. = 3 PointsPlus
BBQ'd Chicken Thighs. 2.5 ounces cooked = 6 PointsPlus (4 for the chicken, 2 for the sauce)
1 T. Black Beans, 1 T. Corn, 1 T. Edamame = 1 PointsPlus
30 g. Avocado = 1 PointsPlus
20 g. Sharp Cheddar Cheese, cut into small chunks = 2 PointsPlus
Romaine, Shredded Carrots, Cherry Tomatoes, Cucumbers = 0 Points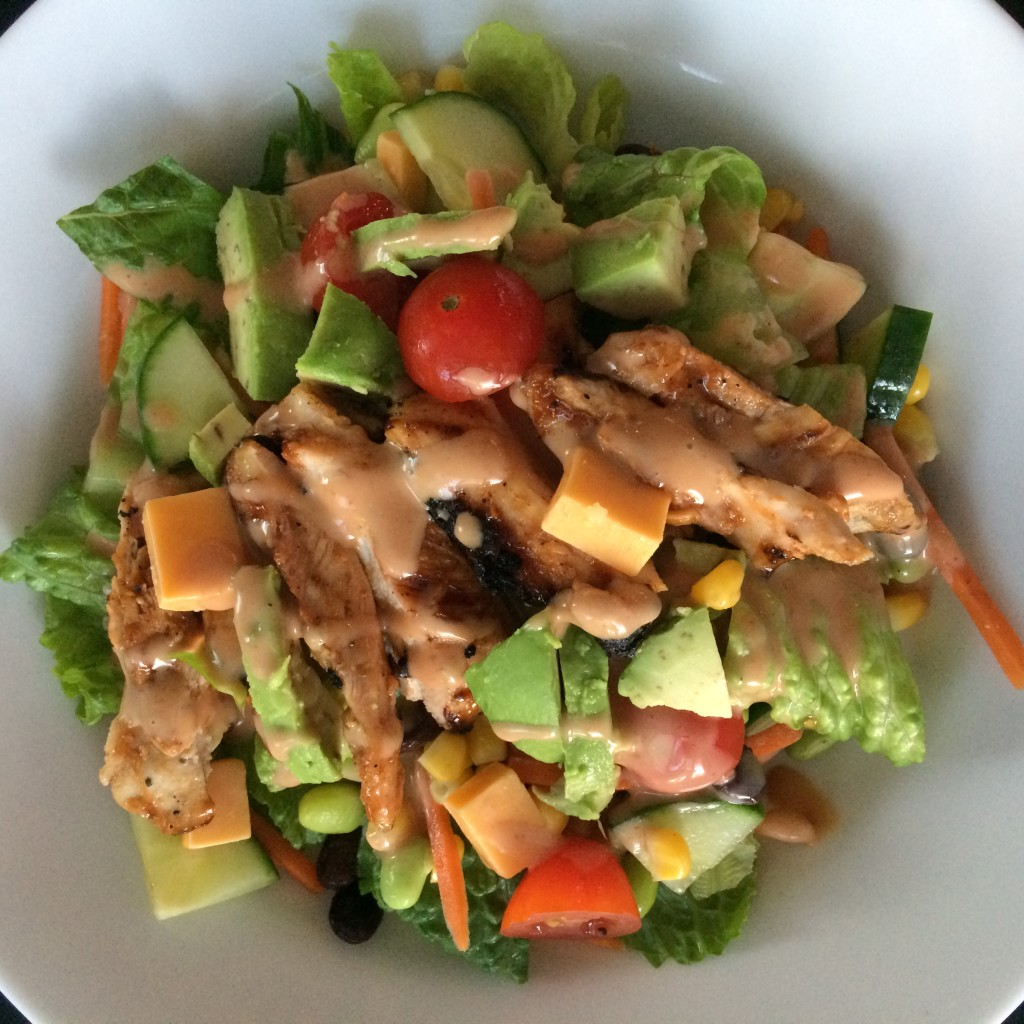 I've made a version of this before, and I forgot how yummy it really is. To cut down on points, you could always grill chicken breast and not baste them in BBQ sauce, but the thighs on this salad were really delicious!
A little surprise bite of full fat sharp cheddar cheese in an occasionally bite made this feel like a big hearty bowl of dinner!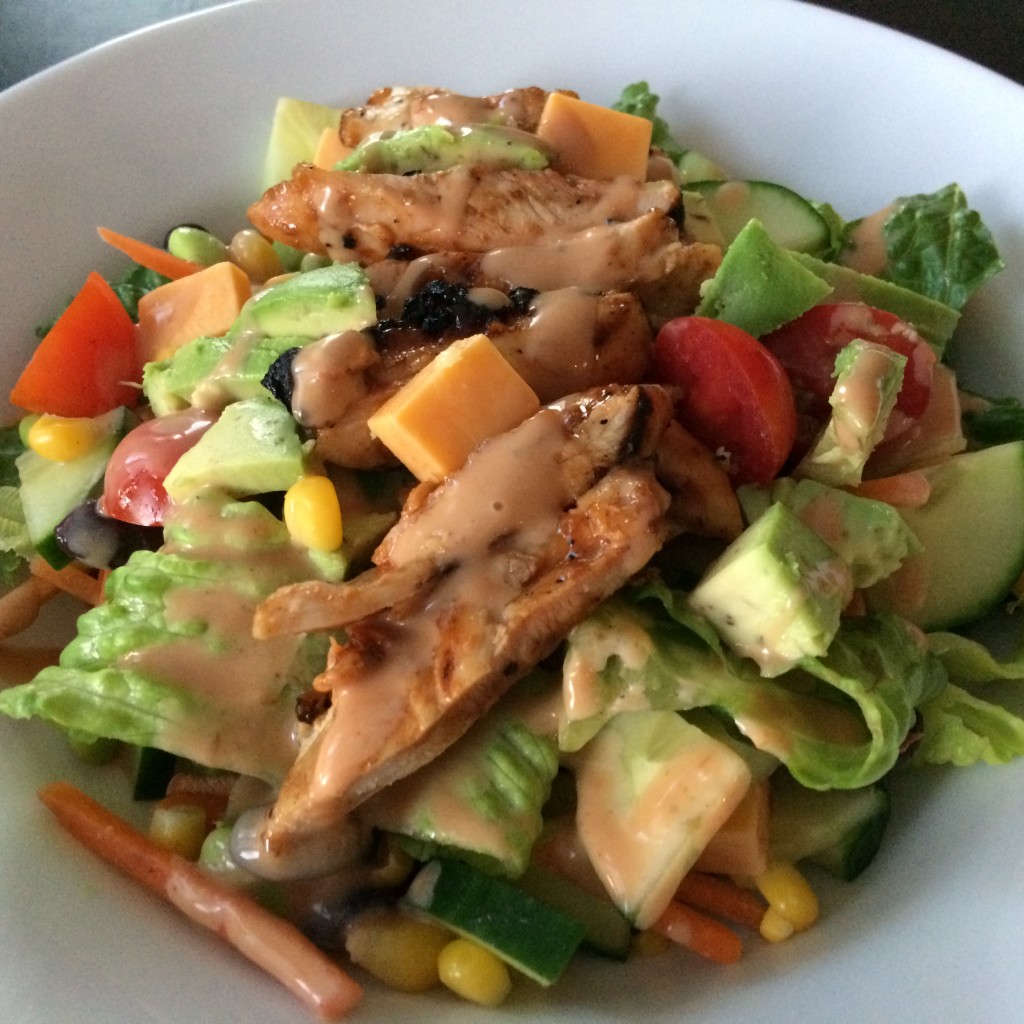 Weight Watcher's Points Plus
I can eat 26 PPV a day.
I can earn Activity Points by doing exercise, and eat them if I choose.
I have an allowance of 49 extra points that I can dip into throughout the week if I choose.
I should drink a minimum of 6 (8 oz) glasses of water each day.
My Weight Watcher Week Begins on Friday's
Breakfast = 4
Lunch = 8
Snack's =1
Dinner = 13
Total = 26
Exercise = Hot Yoga, Mowed the Lawn
Activity Points Earned for the Day = 7
Activity Points Earned This Week = 14
Activity Points Remaining This Week = 14
How many ounces of water I drank for the day = 80
Remaining points from my 49 Points Allowance = 29
This is What I Will Accomplish in 2015
I will choose one occasion per month for Social Drinking (um..this is a work in progress)
I will go no more than two days in a row without exercise. (I've done "two a day's" to make up)
I will track every single day of the entire year. (I've only NOT tracked one weekend this year.)
I will run in a minimum of six 5K's. Three down, three to go!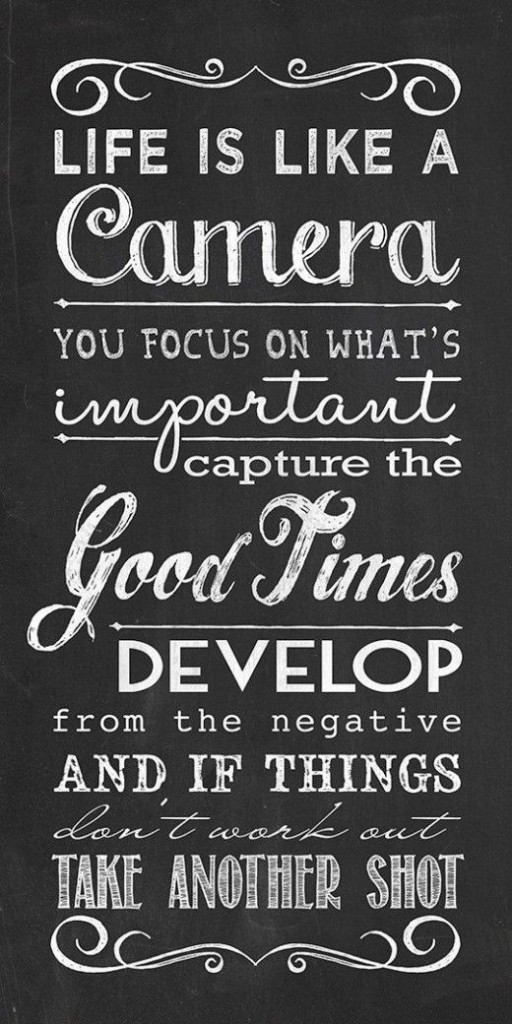 "love the life you live, live the life you love"