I had time to cozy up on the couch this morning with my coffee and my pups and my laptop and blog, so I can tell you a little bit about how well the first 5 days of the Whole30 is going for Mike and I.
I had been thinking about doing this for a while before deciding to take the plunge, but I am SO glad that we made the decision to do it together. I'll be honest, this week has been a little overwhelming spending so much time shopping, planning, reading the book as a reference a lot (I don't retain very well), chopping and dicing food, cooking food, doing dishes (running the dishwasher twice a day for two people) and packing lunches, but I'm sure this will all seem to be less and less work, and less overwhelming as the days go by and I become more organized. I'm still trying to stock the house with things that are used regularly that I didn't previously have.
Check out this stocked fridge! Meats, Hard Boiled Eggs, Veggies, Fruit, Avocado's and Almond Butter!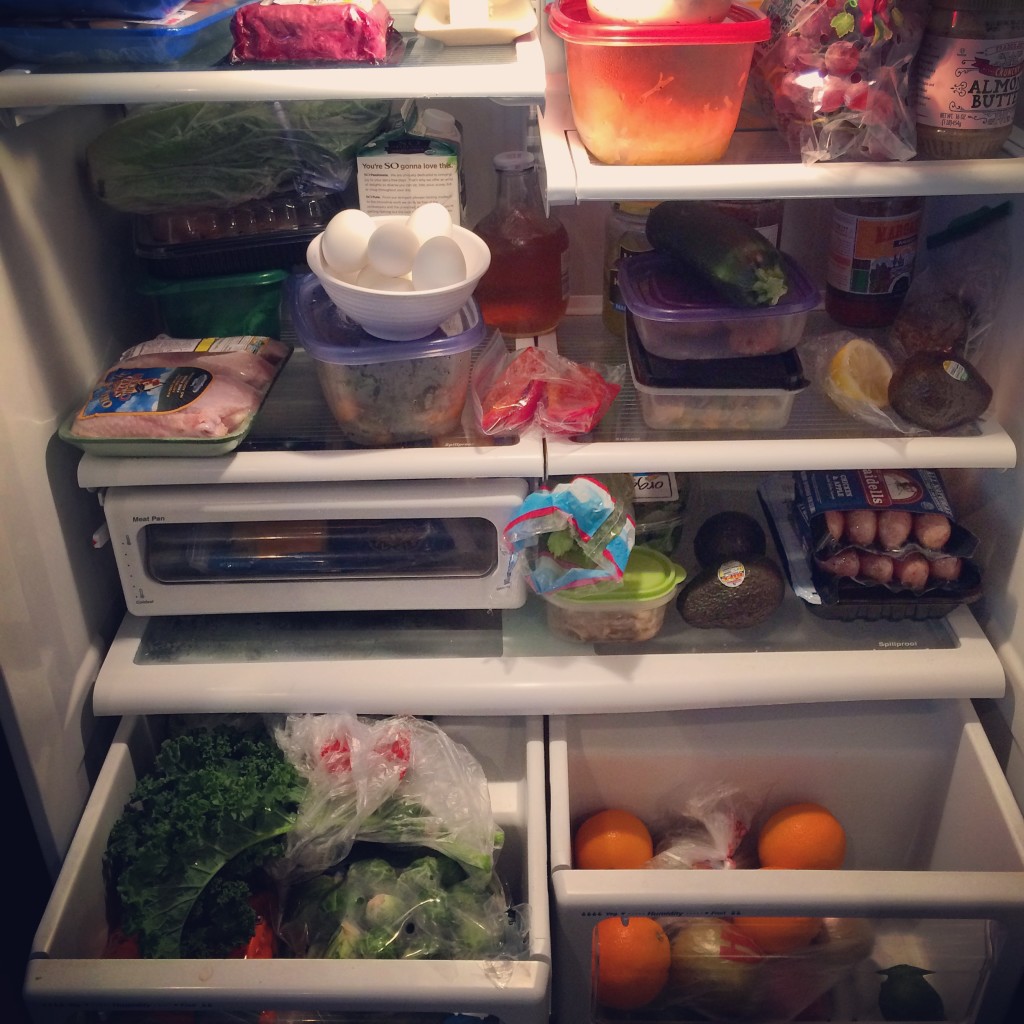 I did not wake up with a food withdrawal headache this morning, and I survived a Friday night watching the KC Royals play a kick ass game without drinking beer or wine, so no headache there either! Yay! I don't think that Mike woke up today with a headache either. Double Yay!
Let Go Royals! Clap…Clap…Clap Clap Clap! I love Salvy and he hit a homerun last night!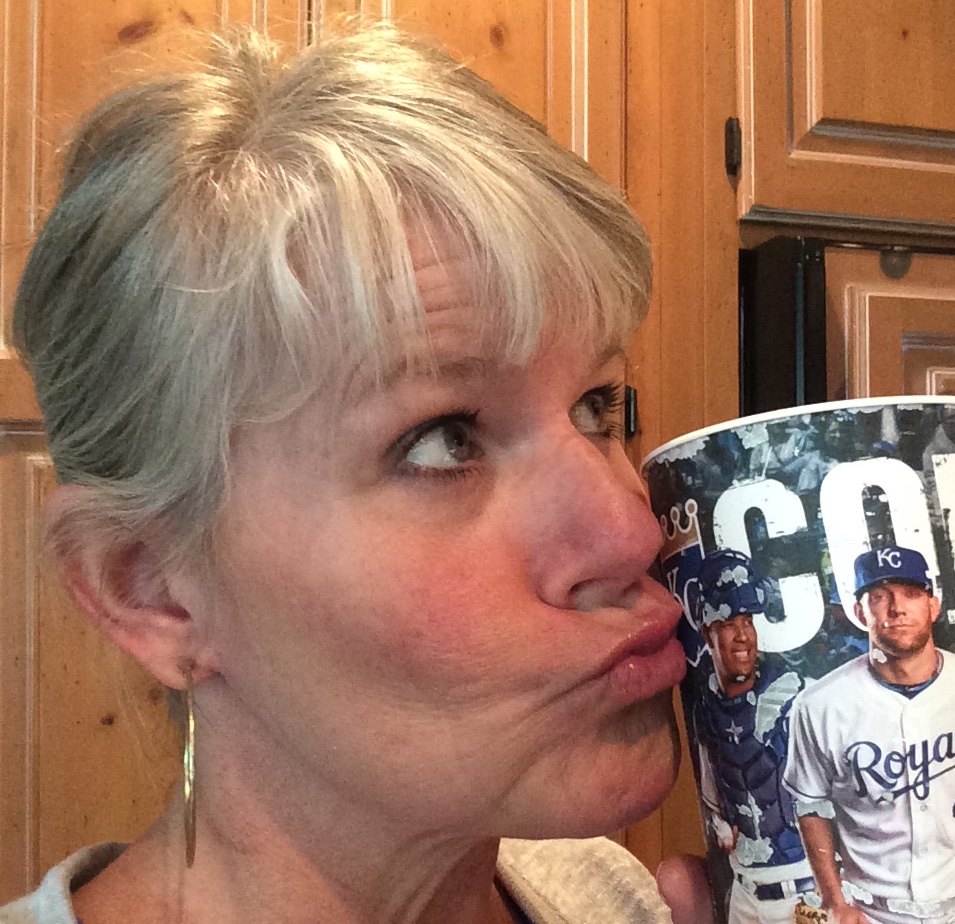 We've eaten some really good food all week long. We had taco salad last night for our Friday Night Ballgame dinner, and it tasted great with no tortilla chips, no cheese and no sour cream. Smashed avocados make everything taste great, in my opinion.
I went to my WW meeting yesterday morning, and I had planned to not look at the scale to see what my weight was. I've done that before because I didn't want the number on the scale to determine my mood for the day. Well, I usually do that when I suspect that my weight might be up. Yesterday when I got out of bed, I had that skinny feeling. You know that feeling you have when you first get out of bed in the morning and you've worked hard that week to eat really healthy and follow all of the WW rules? That feeling of…..I actually feel lighter? Well, I had that. It was hard to not look at the scale when I stepped on it, so I did. It's not a big deal, it's just that the Whole30 encourages you to only weigh yourself on day 1, and on day 30, as to not be discouraged on day 20 if you don't like what you see on the scale. Anyhow, I weighed, I looked, and I am VERY HAPPY!
Ironically (I thought), at my Weight Watcher meeting yesterday, we discussed Protein, and the importance of eating protein when trying to lose weight. (The Whole30 encourages a lot of protein) We also discussed the different veggies that include protein, and this was news to me! Some of the veggies that have the most protein? Brussels Sprouts, Broccoli, Asparagus and Spinach! They are all Whole30 approved. Of course if you are doing WW, soybeans (not Whole30 approved) are also an awesome source of protein and so versatile!
Now, let me talk snacking……
The Whole30 plan encourages meals, and discourages snacking, which can lead to grazing, which can lead to some real bad food habits. One of the main ideas behind the Whole30 is to re-establish your relationship with food. I've been thinking a lot about my relationship with food these last 5 days, and snacking and over snacking and even bingeing in the afternoon has been an issue for me since grade school. I know there has to be some balance and control there for me, and that is the biggest thing that I am determined to overcome while doing the Whole30.
Yesterday, I had to grab a couple of things at Whole Foods. Whole Foods is where I discovered the Whole30 approved Pumpkin Spice Larabar a couple of days ago. and basically ate it before I had my car door closed in the parking lot, wanting to do nothing more than eat for the next hour. I had decided then that it was for sure a trigger food for me that I could not keep in my house.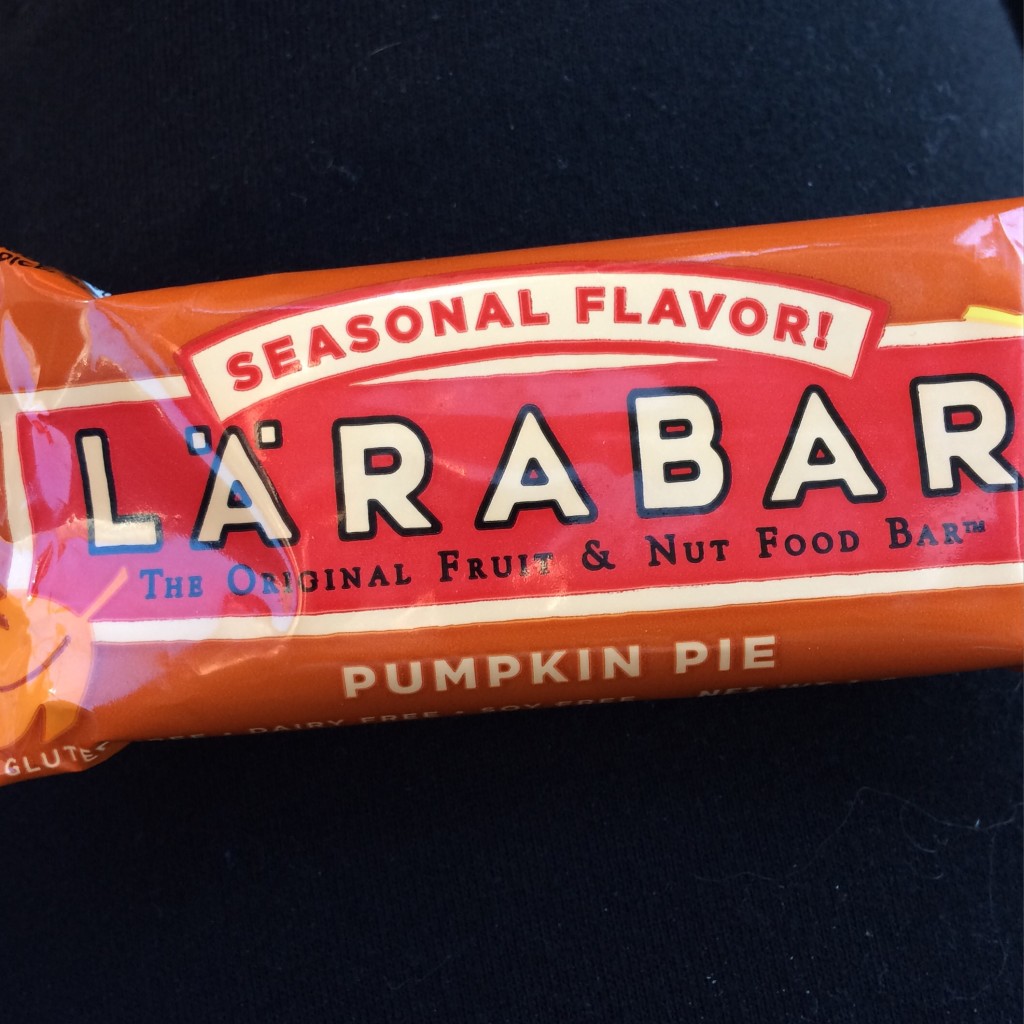 Yesterday, I wanted to learn how to eat that bar, enjoy it, and feel in control while I ate it. Telling myself that I couldn't eat it at all was really bothering me. I'm okay with knowing that I can not keep it in my house, but I'm not okay with the idea, or even the choice, that I can't eat it at all.
I bought the bar yesterday, put it in my purse, and came home. I made a cup of tea. It was gorgeous outside yesterday afternoon, and I wanted to take just a few minutes to stop running and stop doing, and just enjoy the day. I took my cup of tea, and my pumpkin spice bar out on the deck. I relaxed and put my feel up. I drank my tea, and mindfully ate my bar, slowly. I even sat it down for a while and sipped on my tea and forgot about it, and just felt the sun on my face. So, while I did have a snack, it was one snack. I felt in control. It didn't make me want to eat anything else. While I admit that I did not eat the bar because I was hungry (baby steps guys), I did eat the bar mindfully. I hope that makes sense. Snacking in the afternoon for me has been standing at the pantry door popping nuts in my mouth, or standing with the fridge door open mindlessly shoving grapes in my mouth.
Yesterday, mindfully eating one small snack felt like progress, and success.
Will I buy those bars and keep them in my house? Probably not. But I feel like now if I want to have a snack simply for the purpose of enjoying a snack, I will sit down and enjoy it and mindfully eat it.
After my mindful snack (I like the way that sounds), I went back to my stinking project in the front yard! I want to buy some new furniture, but for now, I finally have a little place to sit in the front.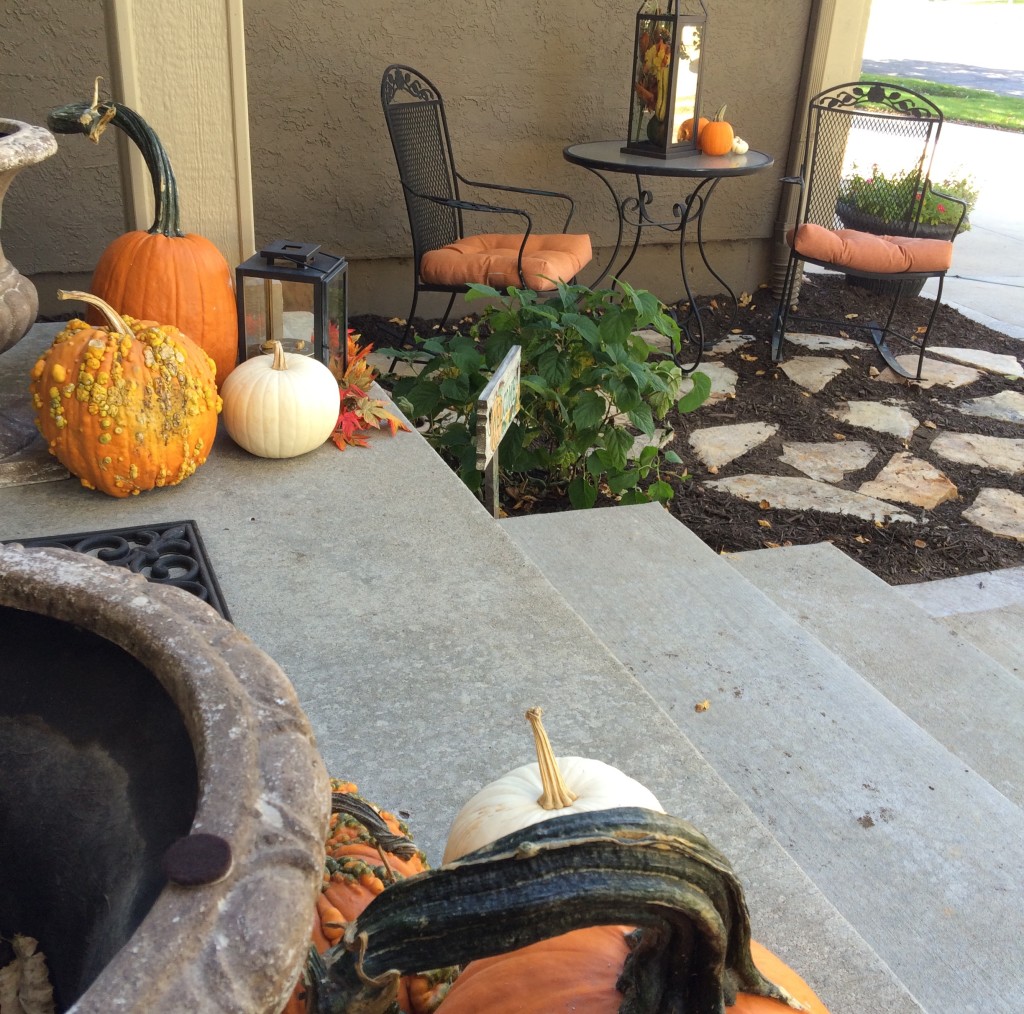 Check out this stem! I paid like a million bucks for this guy, but I love it!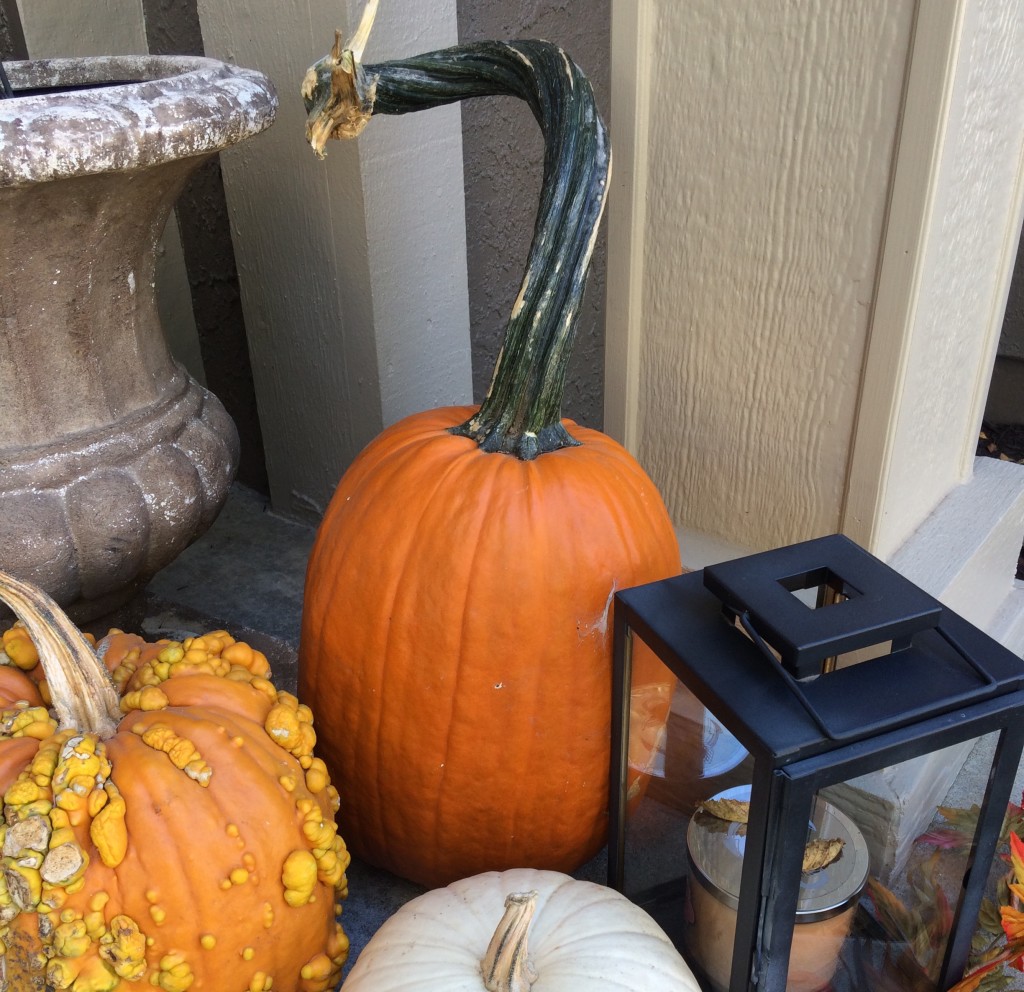 I bought this guy too…..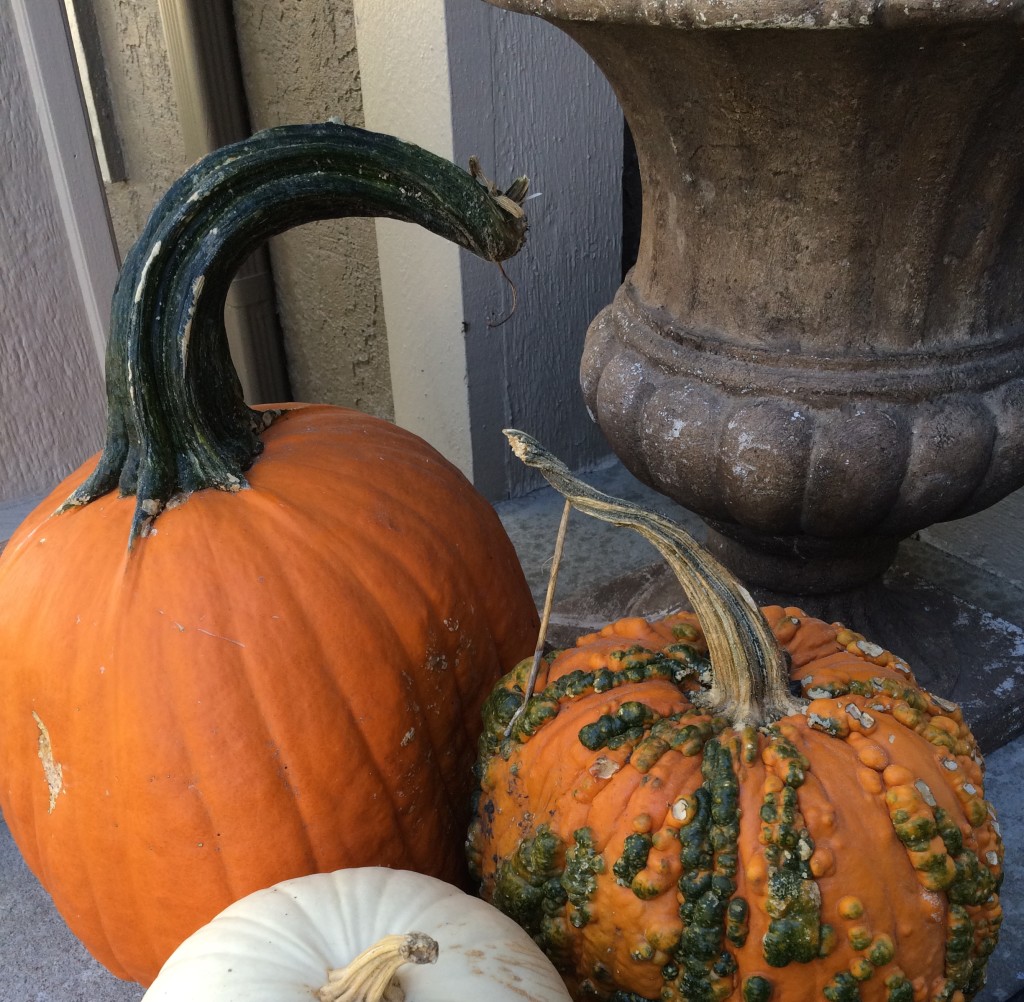 I still need some greenery in those pots….but progress has finally been made.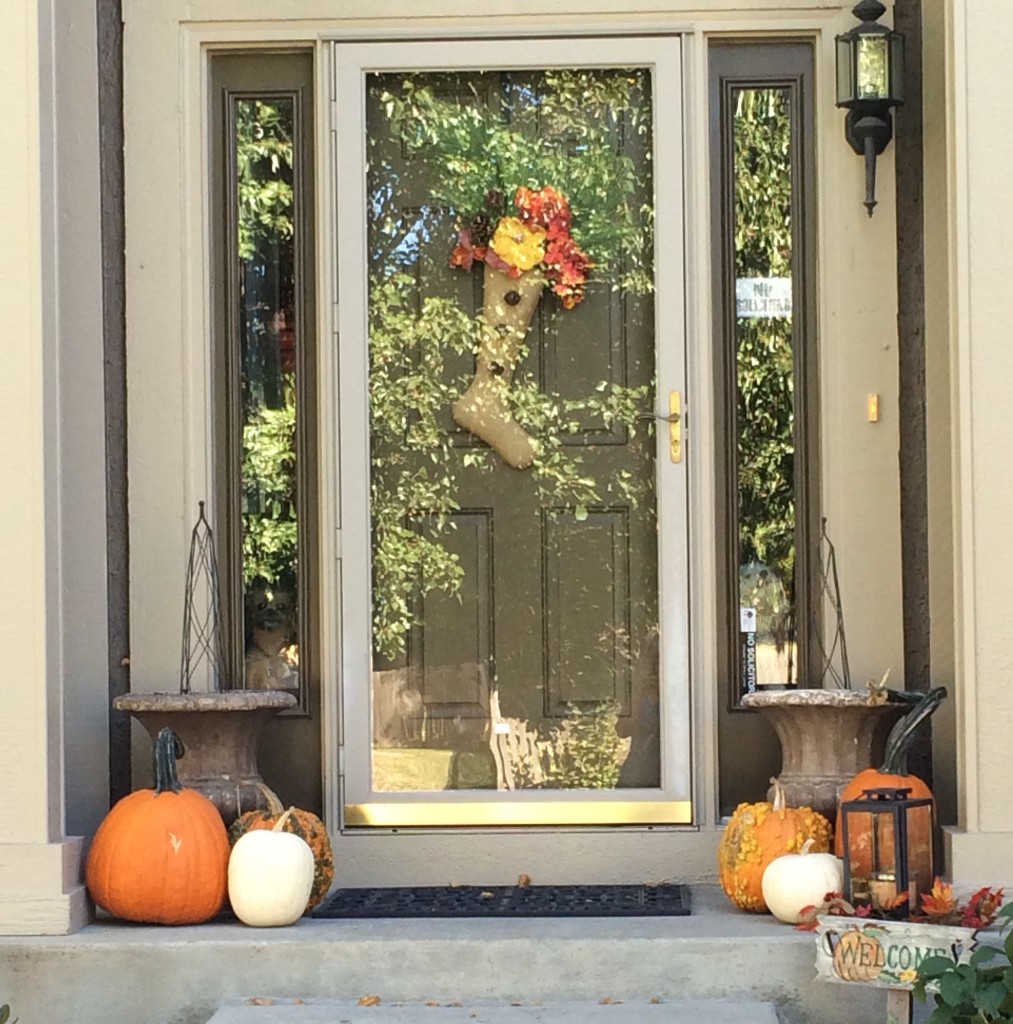 Between cooking dinner and watching the Royals game, we also unexpectedly babysat Char, because her mom got FREE tickets to the Game!! Whoo! Whoo! Mike asked me to delete this picture, and I assured him that it was only to send to Char's mom……(and maybe sneak into the blog).He he. Yes, that is a Red Solo Cup Shot glass on his head! Charlotte is holding another walkie talkie. They chatted like this forever!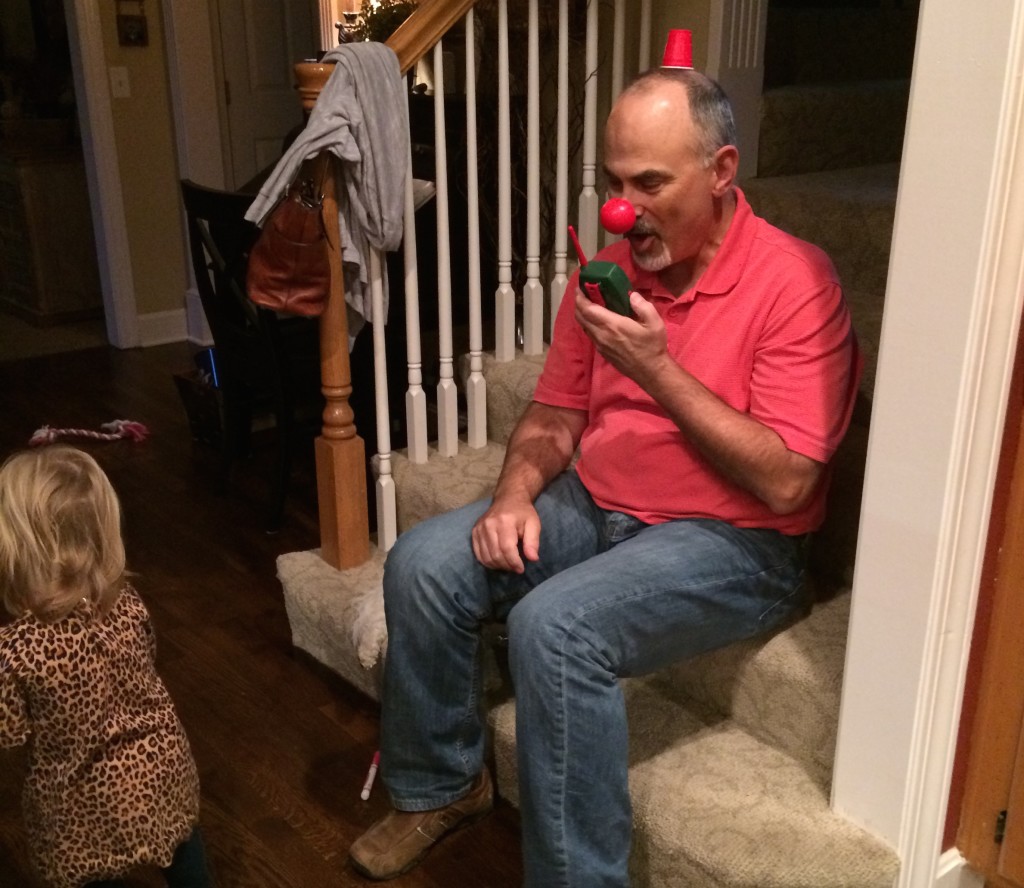 It's been a great 5 days!
Here are yesterday's eats….
Breakfast
Tuna Salad made with homemade Mayo, Hard Boiled Egg and leftover green beans. Yep, ate it for breakfast, cold, sitting in my car in the parking lot after my WW meeting.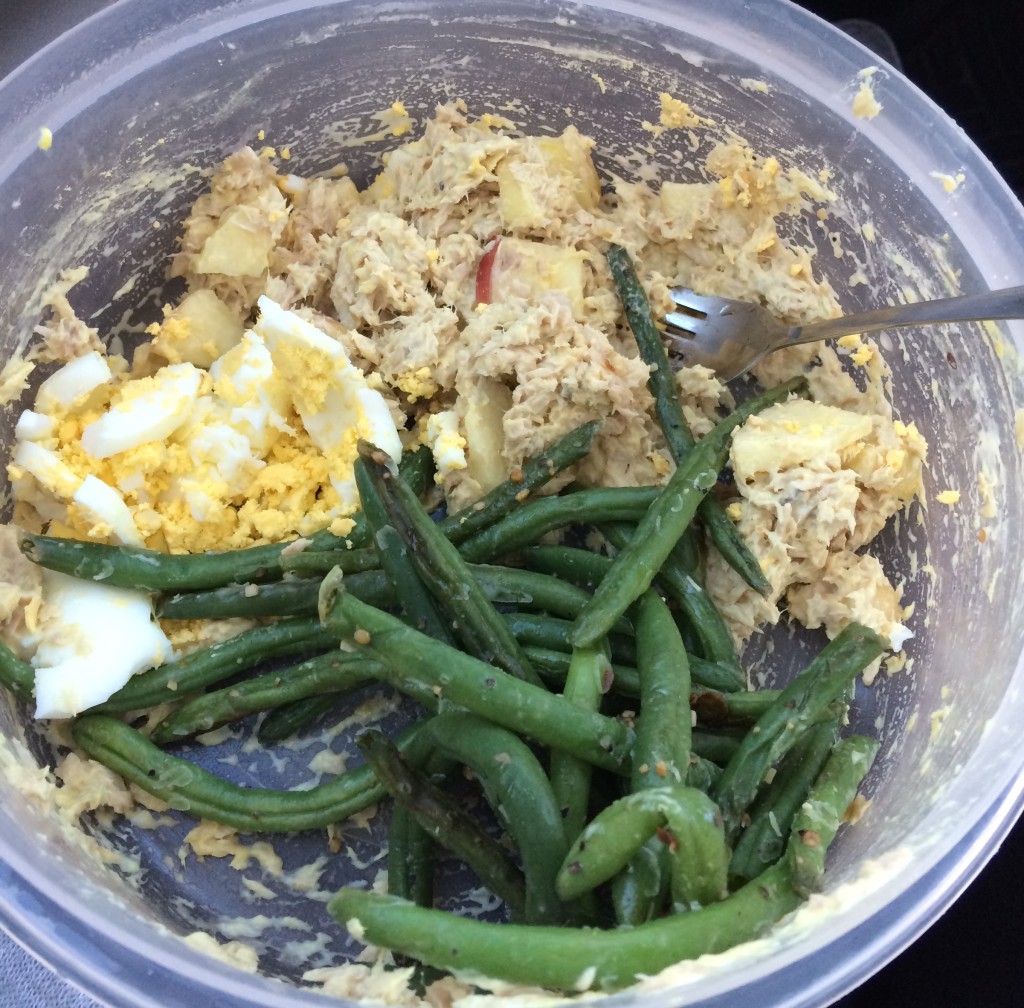 Lunch
I took a picture, but it seems to be lost! Anyhow, I had leftovers of this Chicken Apple Spinach Sweet Potato Hash that I made earlier in the week. This recipe used Chicken Thighs, which I love!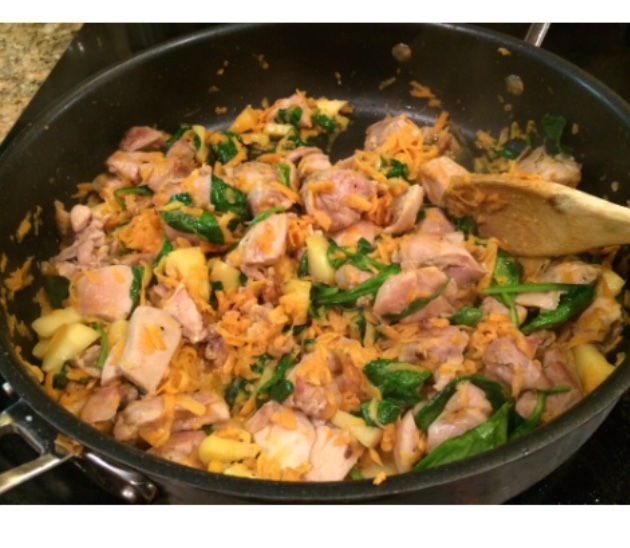 Snack
Pumplin Spice Larabar with Hot Tea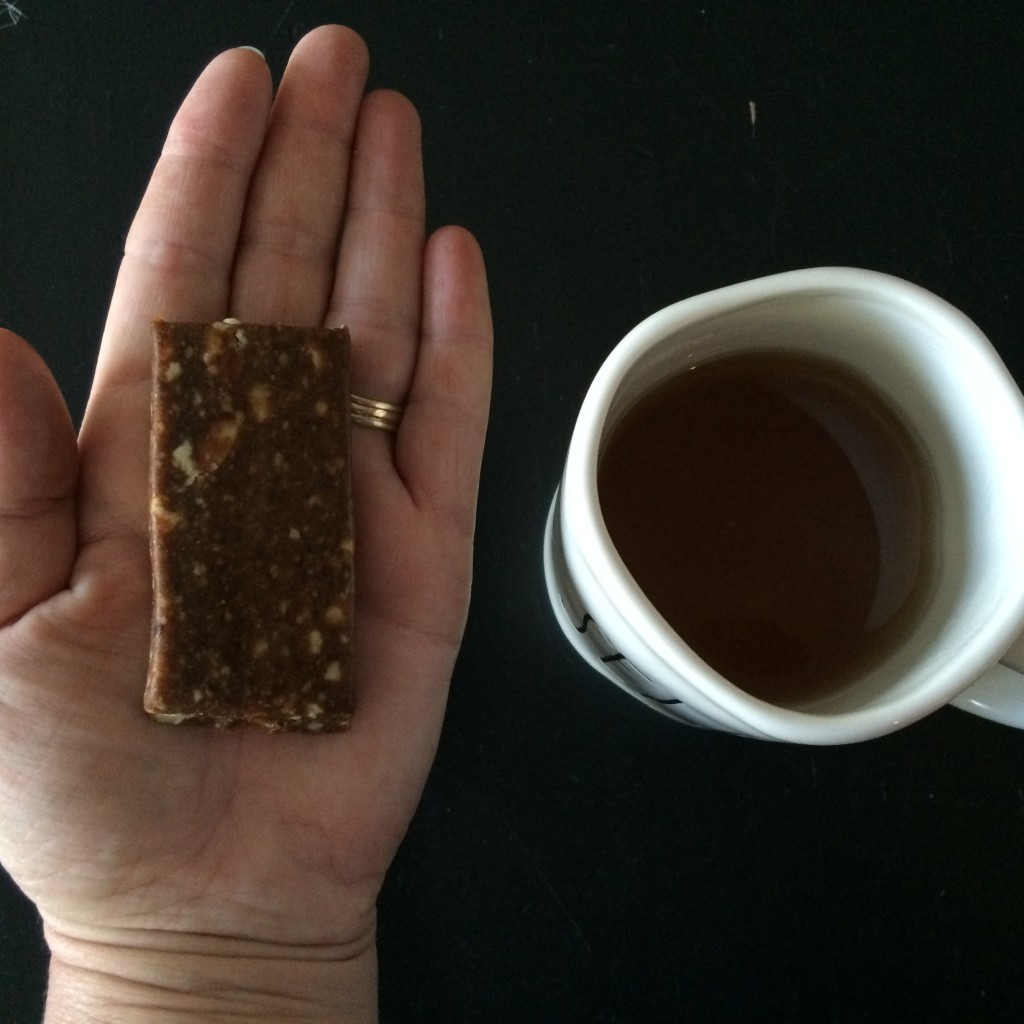 Dinner
Beef Taco Meat with homemade Taco Seasoning, on a bed of tons of veggies (Spinach, Kale, Romaine, Broccoli Slaw), topped with Salsa and Smashed Avocado, and leftover roasted veggies on the side. Lot's and Lot's of Veggies!!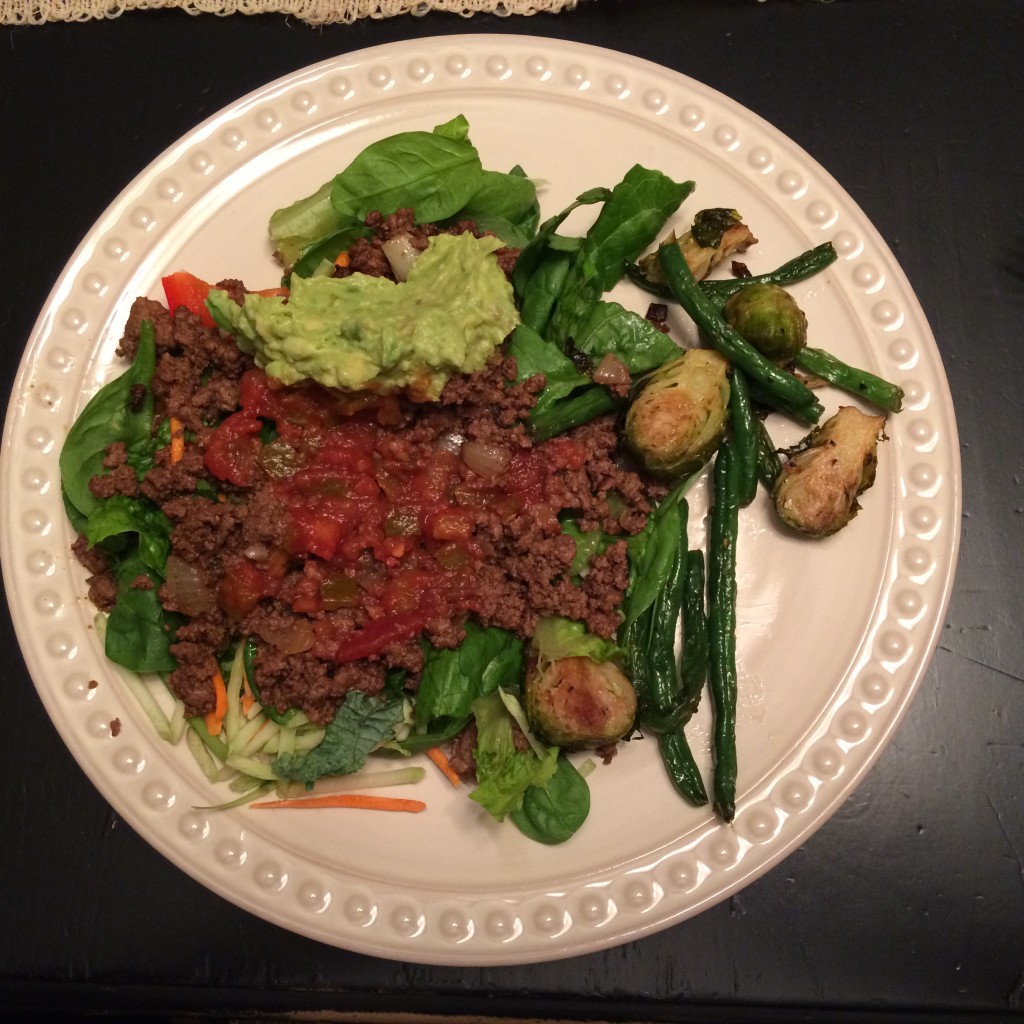 Exercise = none
This is What I Will Accomplish in 2015
I will choose one occasion per month for Social Drinking (um..this is a work in progress)
I will go no more than two days in a row without exercise. (I've done "two a day's" to make up)
I will track every single day of the entire year. (I've only NOT tracked a few weekends this year.)
I will not be tracking my food while doing the Whole30.
I will run in a minimum of six 5K's. Four down, two to go!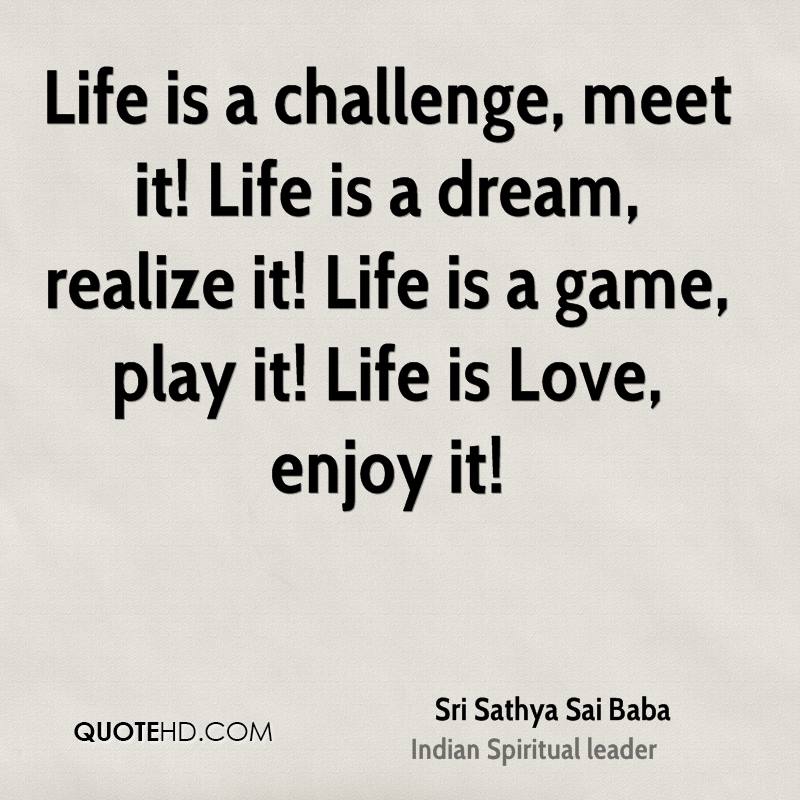 "love the life you live, live the life you love"