One of my readers, (that I feel like I personally know!) had some great questions on my blog yesterday and I loved answering all of them!
I'll certainly do a review of the whole30, on day 31, but I am trying to blog about the journey as I go too.
I loved all of her questions, and I thought others might have a few of the same questions, so I thought I'd share, even though you can go to yesterdays post and read for yourself. 🙂
Q – "A few questions for you – what did you do with all the non compliant foods in your house?"
A -I had been planning on doing the whole30 for a while, so I was trying to use and eat up the foods that I knew we wouldn't be eating while we were doing the whole30. Coincidentally, one of the kids in the neighborhood was doing a food drive, so I filled a bag with canned goods and non-perishable foods that I knew we wouldn't eat, so maybe a donation? Anything I had left that would spoil, I just tossed.
Q – "How do you cook spaghetti squash (just bought my first one)?"
A – I cut the squash in half, lengthwise. Clean out all of the seeds and the loose parts. I rub just a little Olive oil and Sea Salt and Cracked Pepper inside the squash. I put the squash open side down on a baking sheet and bake at 400 for 30-40 minutes, depending on how the big the squash is. Let it sit for just a few minutes to cool so you can scrape out the cooked spaghetti noodles with a fork. I scrape them all out until I reach the skin of the squash. This is great with just a little Olive Oil or Butter and 1 T. of Parmesan Cheese. Of course, it is also great in any recipe where you are wanting to sub it for pasta.
Don't think of it as spaghetti though, think of it as a vegetable. It doesn't have a pasta texture, in my opinion, but I do like the taste and the texture of it!
Q – "Do you think a modified approach would show any benefits?"
A – A modified approach? Yes! I do! Each day, I think to myself…Okay, I want to eat like this forever! (mostly…I miss my morning frothy coffee and wine) For me, learning how to not snack and graze, is big!!
I know this Friday morning, my Leader will say…Wow! What did you do different this week? My answer will be, I ate protein at every meal. I ate three meals a day. I only ate two fruits a day. (I was relying on fruit pretty much between every meal) I increased the amount of veggies I was eating and tried to eat veggies at every meal. (One of my biggest changes!) For the most part, I only ate one snack a day, and it was a planned snack that I ate between lunch and dinner, and I sat down and mindfully ate it.
I love WW, and out of respect for the program and my Leader, I really don't want to talk about whole30 specifically, in the meeting. I'm really doing Simply Filling, without dairy, without bread, without legumes. Kinda sorta, right?
Hopefully that answers a few questions for anyone else that is curious. Obviously, I'm no expert, but as I am doing this, I am trying to pay really close attention to what it is that I am doing differently.
So glad that i got in a 5 Mile walk yesterday morning, then did my errand running.
Exercise first thing….Exercise first thing…Exercise first thing……
Here are yesterday's eats…..
Breakfast
Have you ever cooked an Egg in a slice of of Avocado? It's quite delicious! I ate mine with a few bites of Sweet Potato and a Banana with Almond Butter.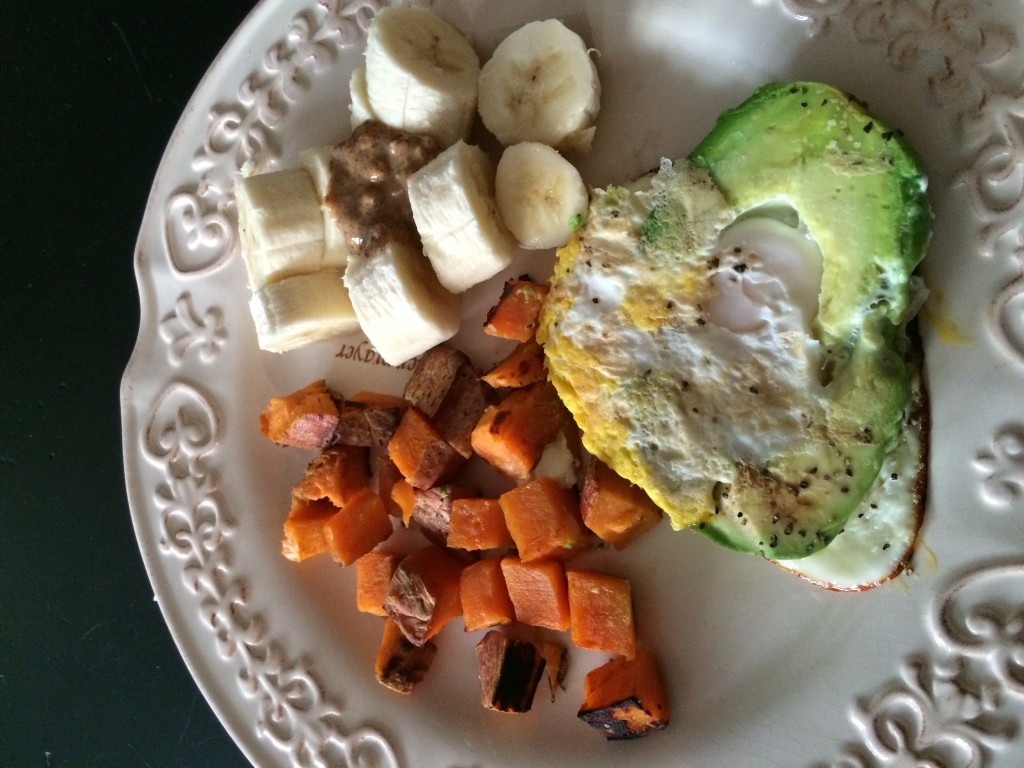 Snack
A few Raw Pecans and Grapes after my 5 mile walk.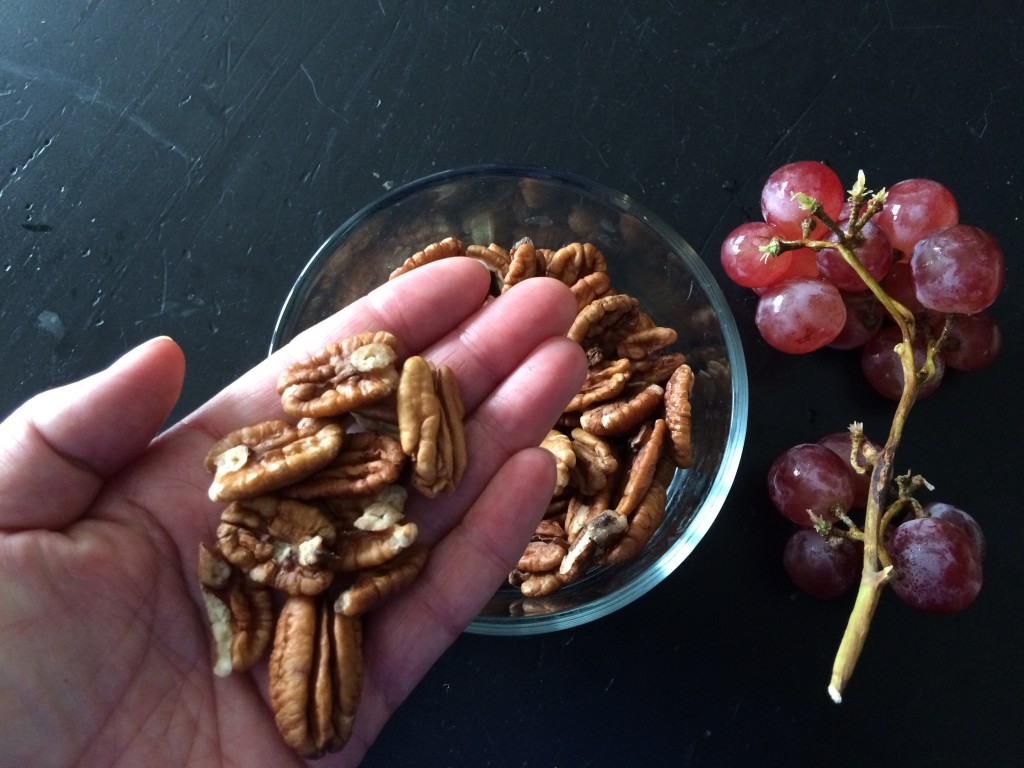 Coffee with Mom
I did a little blogging at Starbuck's after having coffee with my mom. Did you know that Two Tall Black Coffee's cost less than One Grande Latte?? Yep! Saving, saving and more saving!!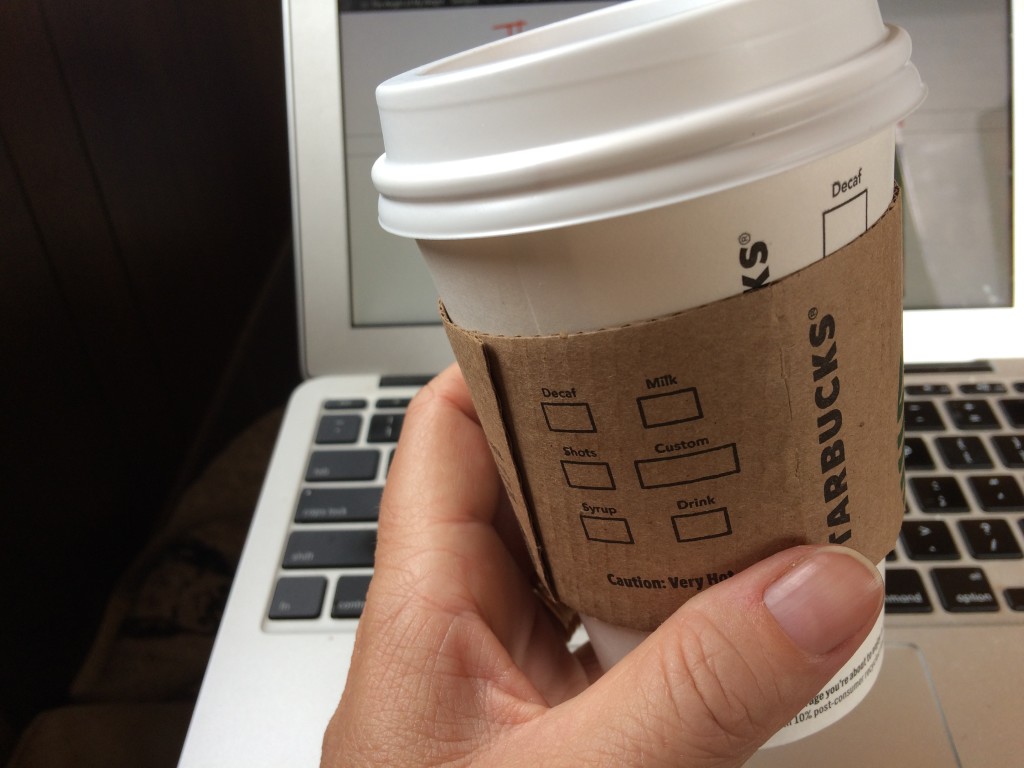 Lunch
Leftover Turkey Spaghetti Sauce served over a bed of sautéed Green Beans. YUM!! Who needs pasta?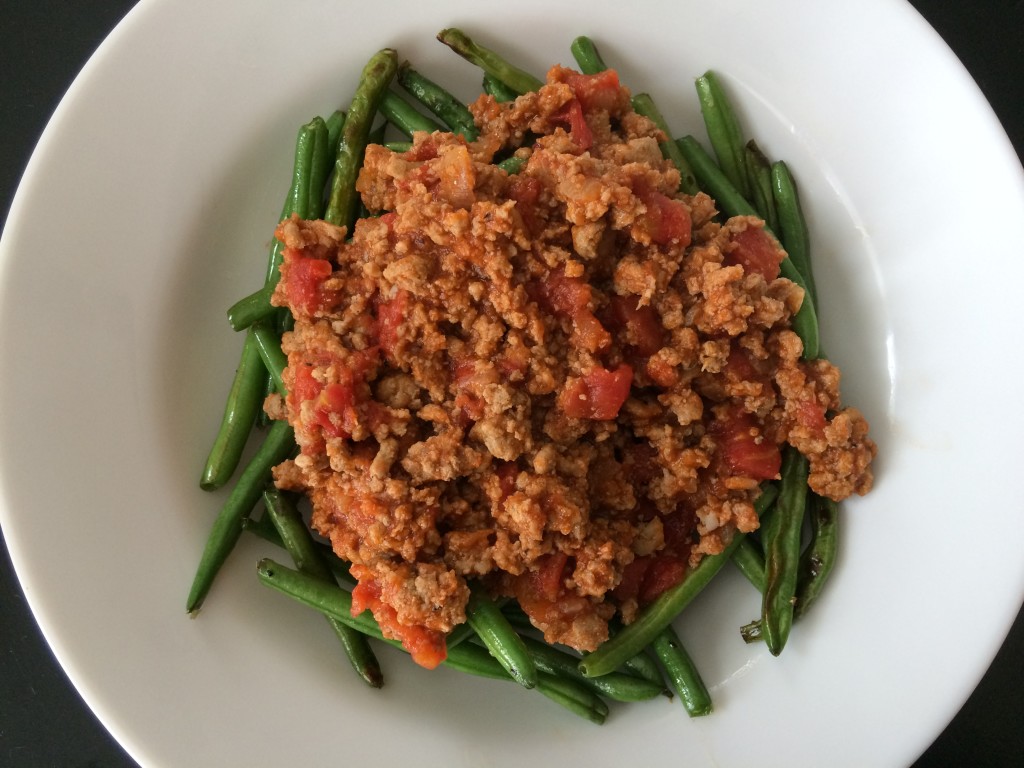 Dinner
Salmon, Steamed Broccoli and Whipped Cauliflower. I cut up the cauliflower and boiled it for about 8 minutes, then drained the water and added a little salt and pepper and clarified butter. I used my Emersion Blender to whip these babies up. Mike loves this stuff maybe more than I do! I'm not a huge fan of broccoli, raw or cooked, so I didn't eat all of the broccoli on my plate.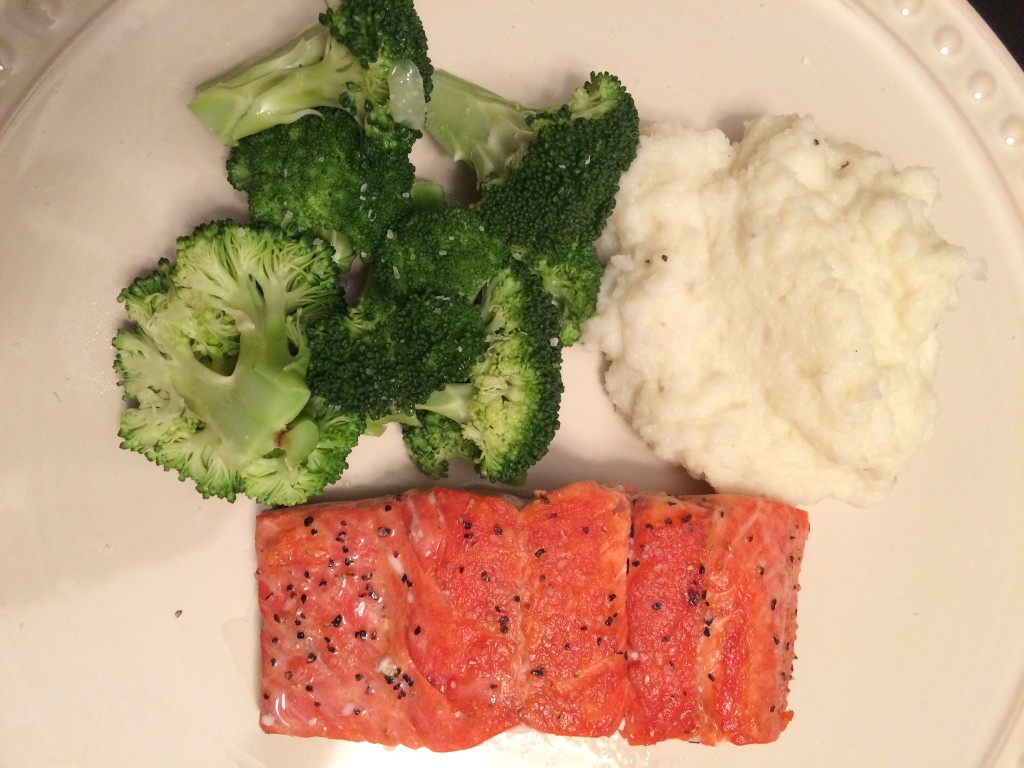 Exercise = Walked 5 Miles. Whoop! Whoop!
Water Consumed = 80 ounces
This is What I Will Accomplish in 2015
I will choose one occasion per month for Social Drinking (um..this is a work in progress)
I will go no more than two days in a row without exercise. (I've done "two a day's" to make up, and slacked lately)
I will track every single day of the entire year. (I've only NOT tracked a few weekends this year.)
I will not be tracking my food while doing the Whole30.
I will run in a minimum of six 5K's. Four down, two to go!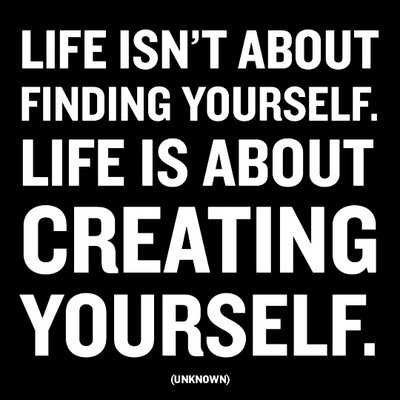 "love the life you live, live the life you love"