No doubt, it was a challenging weekend at times. Friday beers while watching the Royals game would have been nice, and Saturday night while at a party, a glass of wine would have tasted good, but we skipped on the beverages, and we survived. 🙂
Yesterday, we went to our son and daughter-in-law's house for a family get together. Before I talk about the food challenges, let me talk about this awesome house that they bought and moved into last October.
The house was built in 1935.
Jake and Jordan moved in one year ago, and this was their first official family get together. We've been to the house, but not with all of our kids and grandkids and Mike's parents. Everything was cozy and perfect.
I love the area of Kansas City that they live in. It's an older part of the city with some beautiful old homes. I didn't even think to take a picture from the street, but I took a couple of pictures while sitting on the porch, and the trees are beautiful.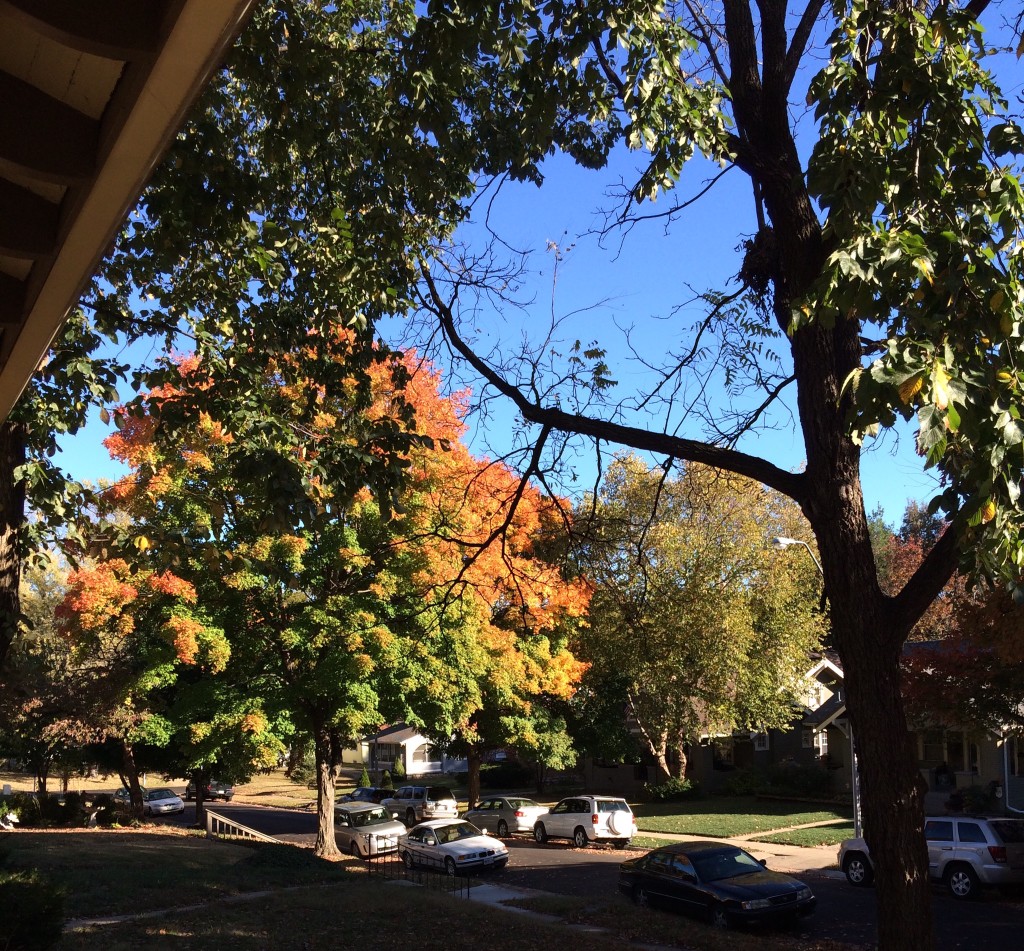 Papa Mike giving a shoulder ride to grab a leaf.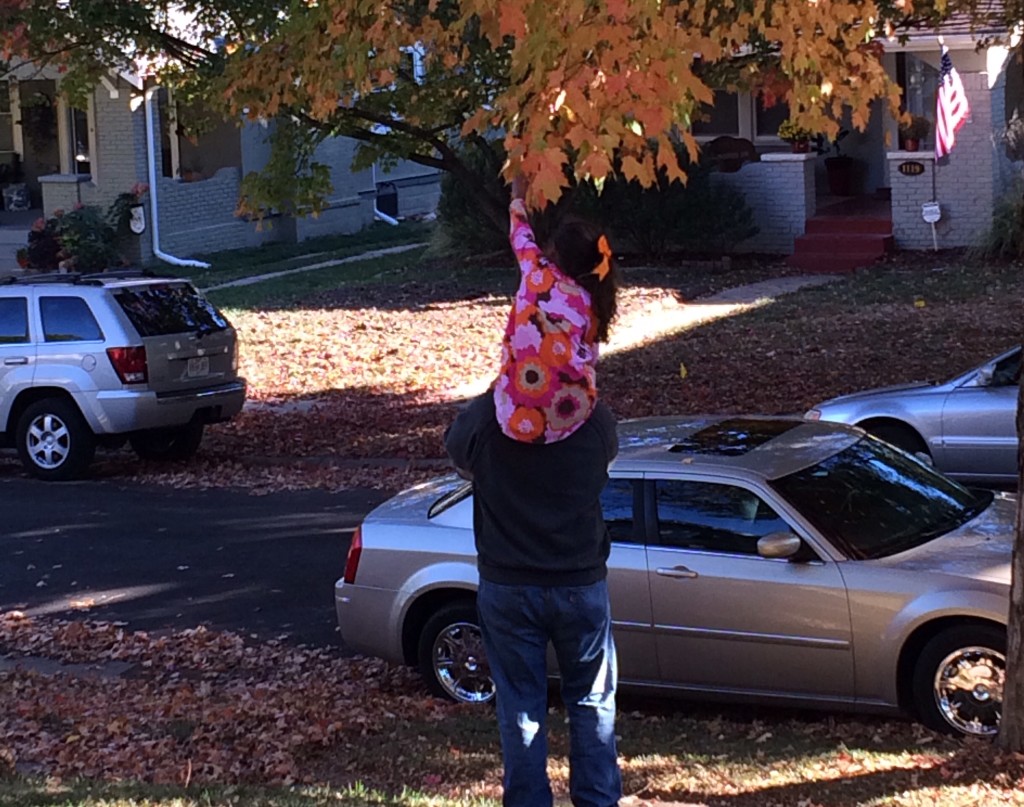 One of my favorite parts of the house is the huge front porch. We sat out there for a large part of the afternoon and it was perfect. Papa Mike and Char are at the end of the porch on the porch swing. It reminds me of swinging in the porch swing on my grandparents front porch when I was a kid.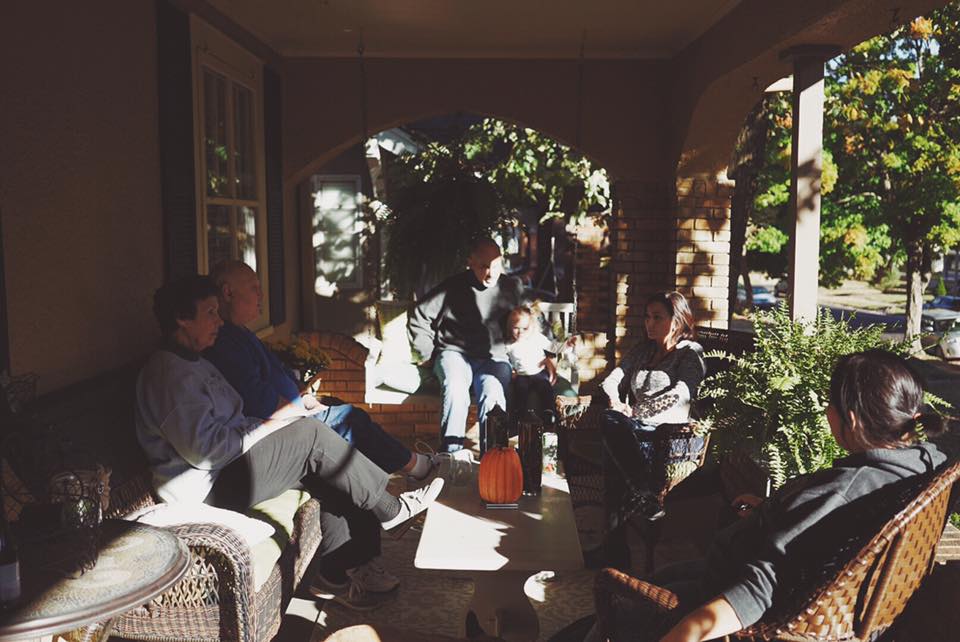 We spent a little time browsing through the magazines that Jake and Jordan found in the attic when they moved in. I browsed through this October 1937 issue of the McCalls magazine. I love that they found these!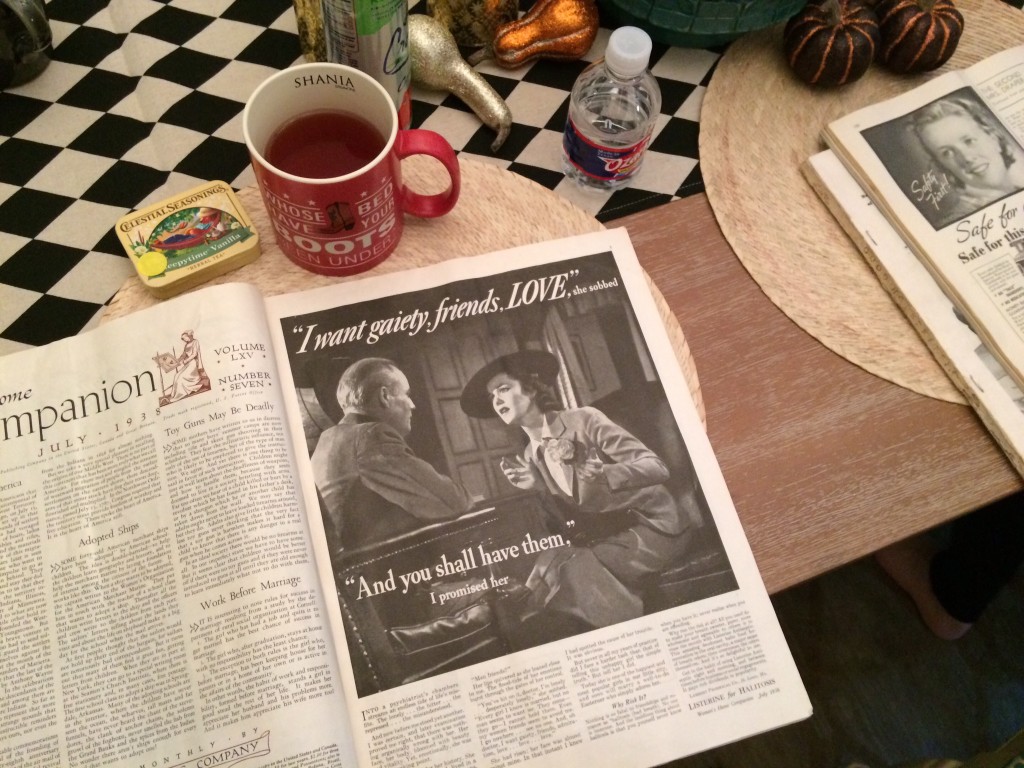 The kids were either climbing tree's in the backyard, or painting pumpkins in the basement with Aunt Jordan.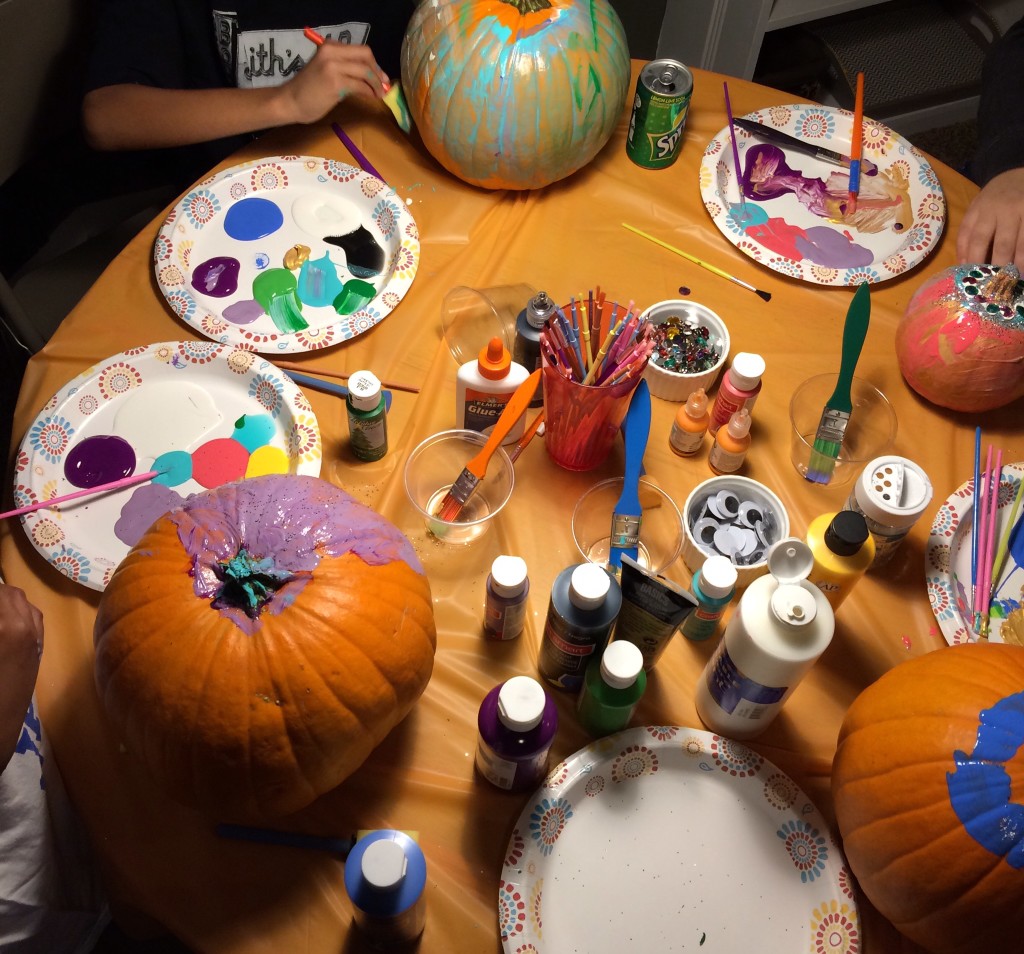 They have done such a great job of making their house so cozy. It looks like they have lived there for years. When we all got there, Jake had a video with music playing in this living room (I forgot to take a picture of the wall with the TV and the wall with the sectional that we all piled onto) with pictures he's taken over the last four years. It was great looking at pictures of the grandkids and seeing how they've changed in just a few short years.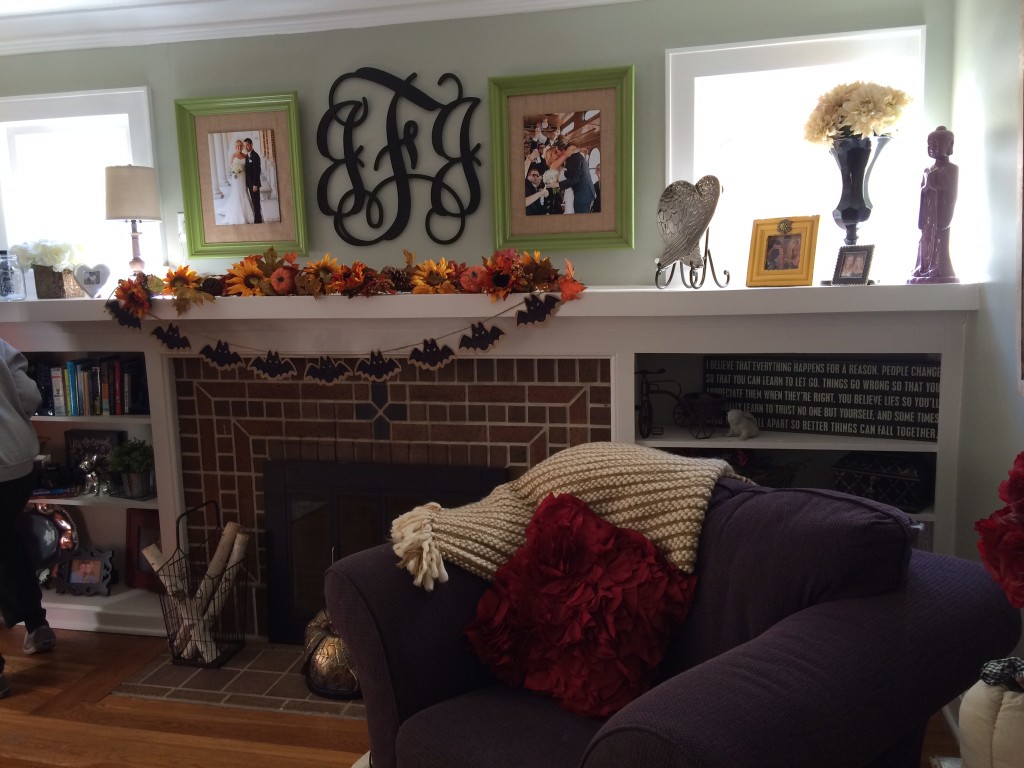 The house is beautiful.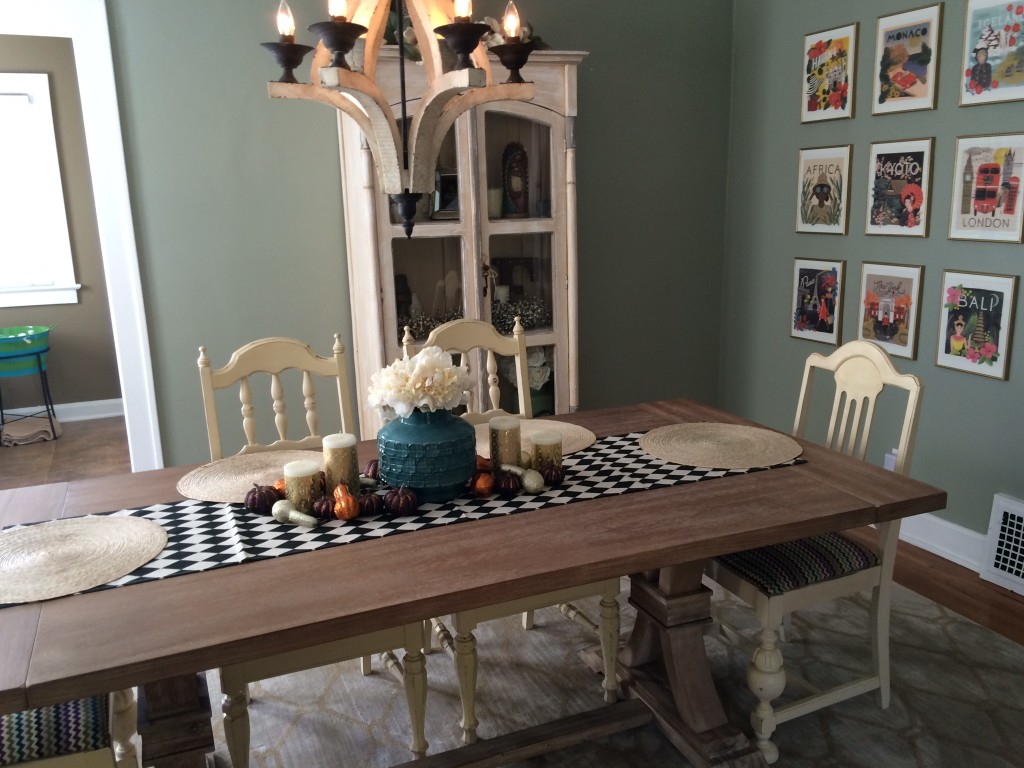 The Guest Room…..maybe one day a Nursery?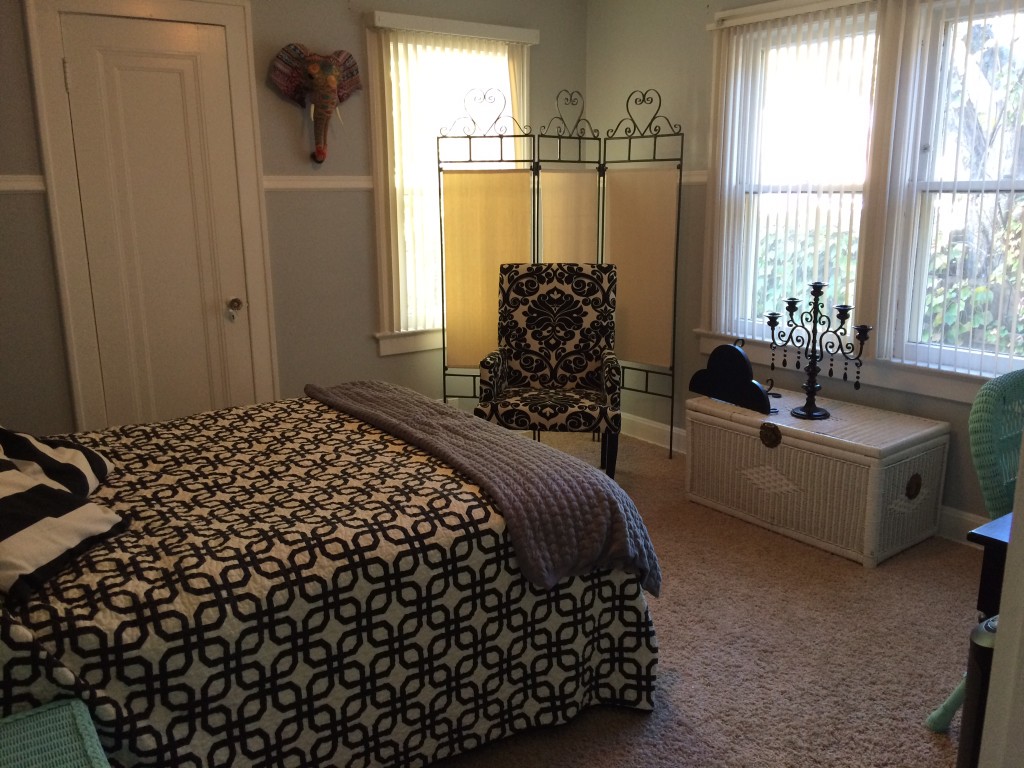 Okay…let me talk Food Challenges…..
First, dinner was delicious! There is an awesome Meat Shop down the street from Jake and Jordan's house, McGonigle's, that has been around for years, and they are know for their quality meats. Jake bought some ground beef and we had the best burgers ever! No seasoning needed.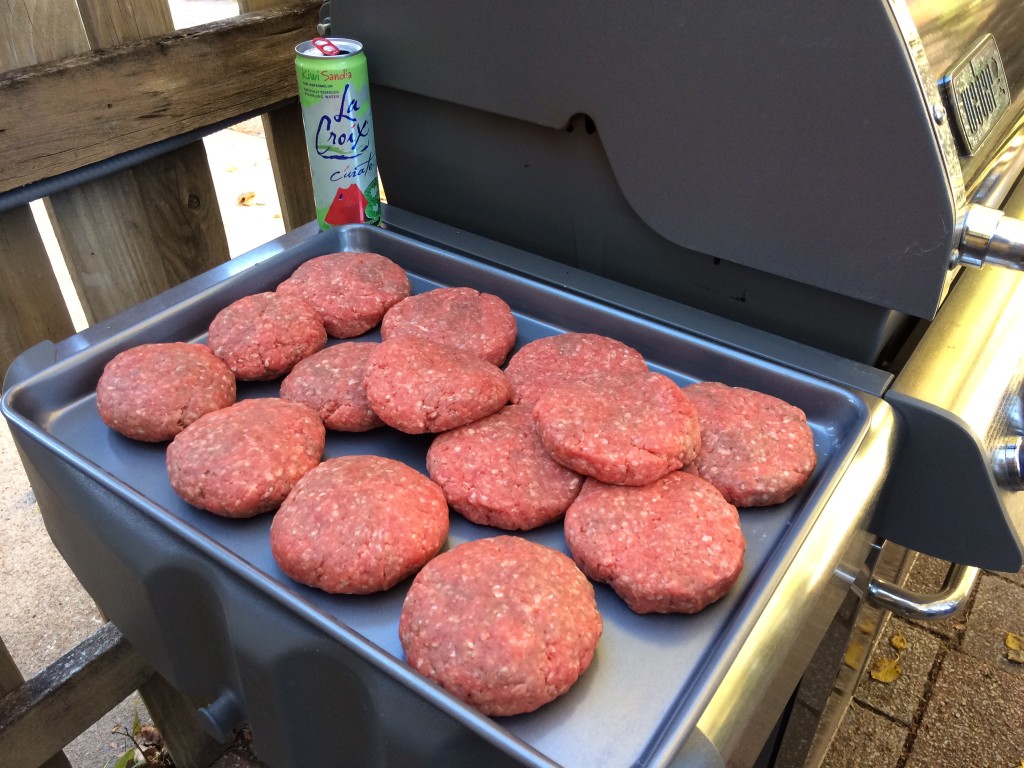 We got to their house around 3:00, and ate dinner around 5:00? Mike and I ate lunch at home a little later than normal so we weren't hungry when we got there, but when we did get there, there were lots of yummies out to snack on.
Jordan did such a great job of decorating for the family and they both put in a lot of work for our family get together.
Beer Dip and Pretzels, Cookies, M&M's, Roll Ups and Salsa…..along with a dinner menu. So cute.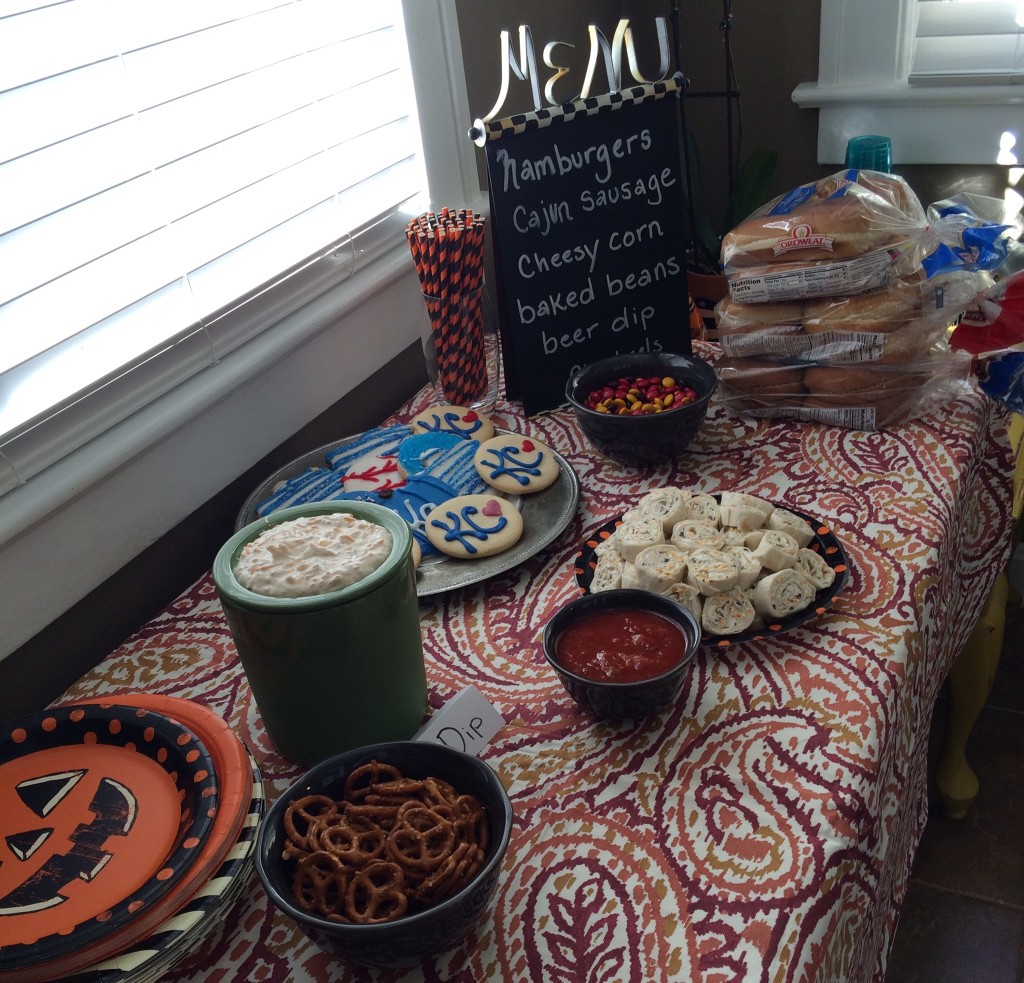 Smore's Fondue……the kids LOVED this! Jake and Jordan were excited to use one of their Wedding Gifts!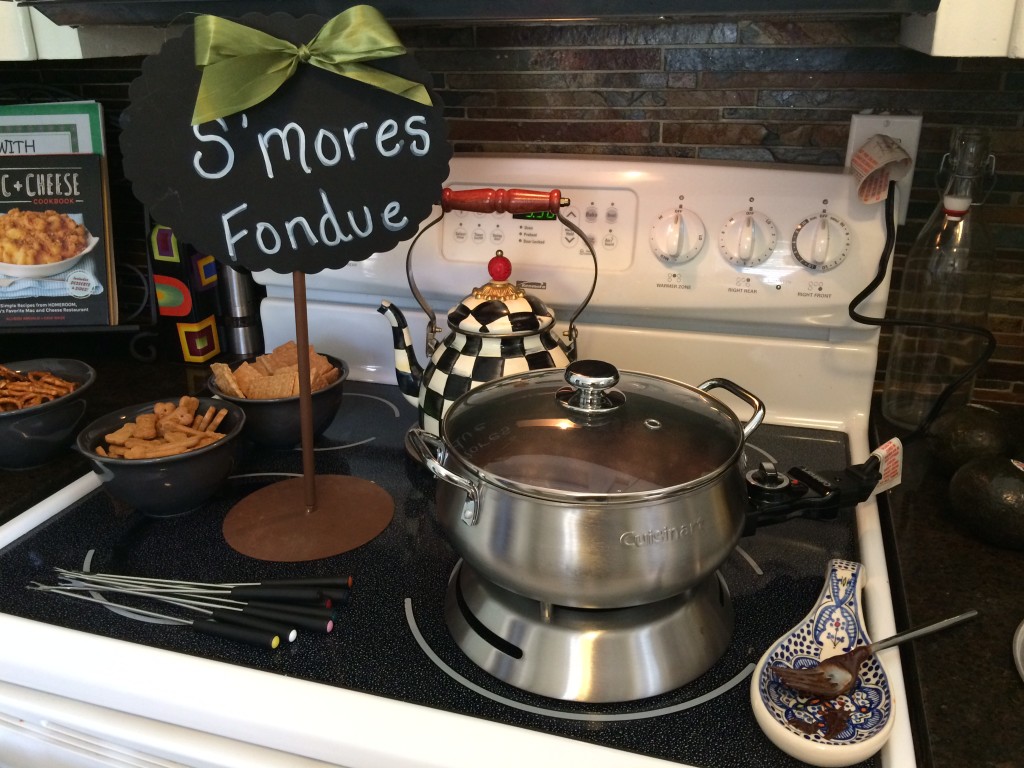 There was also a large fruit platter. I was really trying to just not eat anything until we sat down for dinner, but I did have few strawberries and I sipped on hot tea, but I was thinking about those M&M's, Cookies and Fondue for a long time before we sat down to dinner.
I knew we were having burgers, so I made a big batch of roasted veggies, and included some chicken sausage, to take as a side to share. Everyone seemed to like the veggies, and we all had a great dinner!
Mike and I agreed on our drive home that passing up on the sweets was tough, but just one more reason why I think doing this challenge together has been so great!
Here are yesterday's eats….
Breakfast
Egg White Omelet with Salsa, One Diced New Potato, Raspberries and 1/2 Banana with SunButter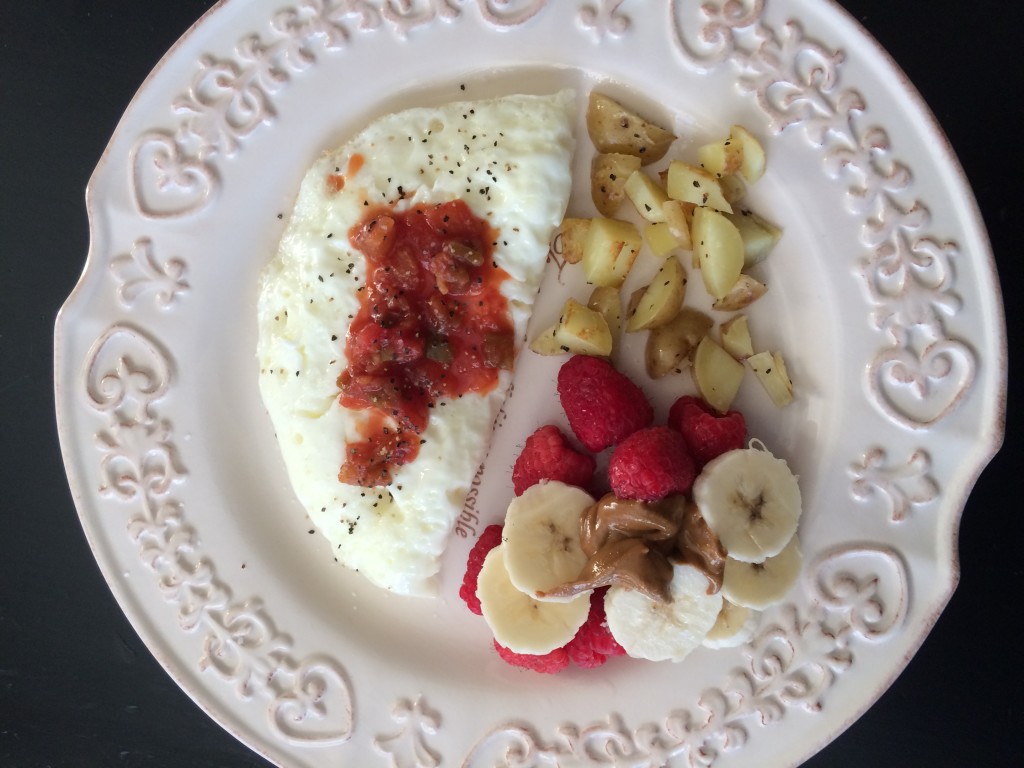 Lunch
Chicken Salad with Whole30 Mayo, Cucumbers, Celery, Sliced Almonds and big, fat, juicy Holiday Grapes.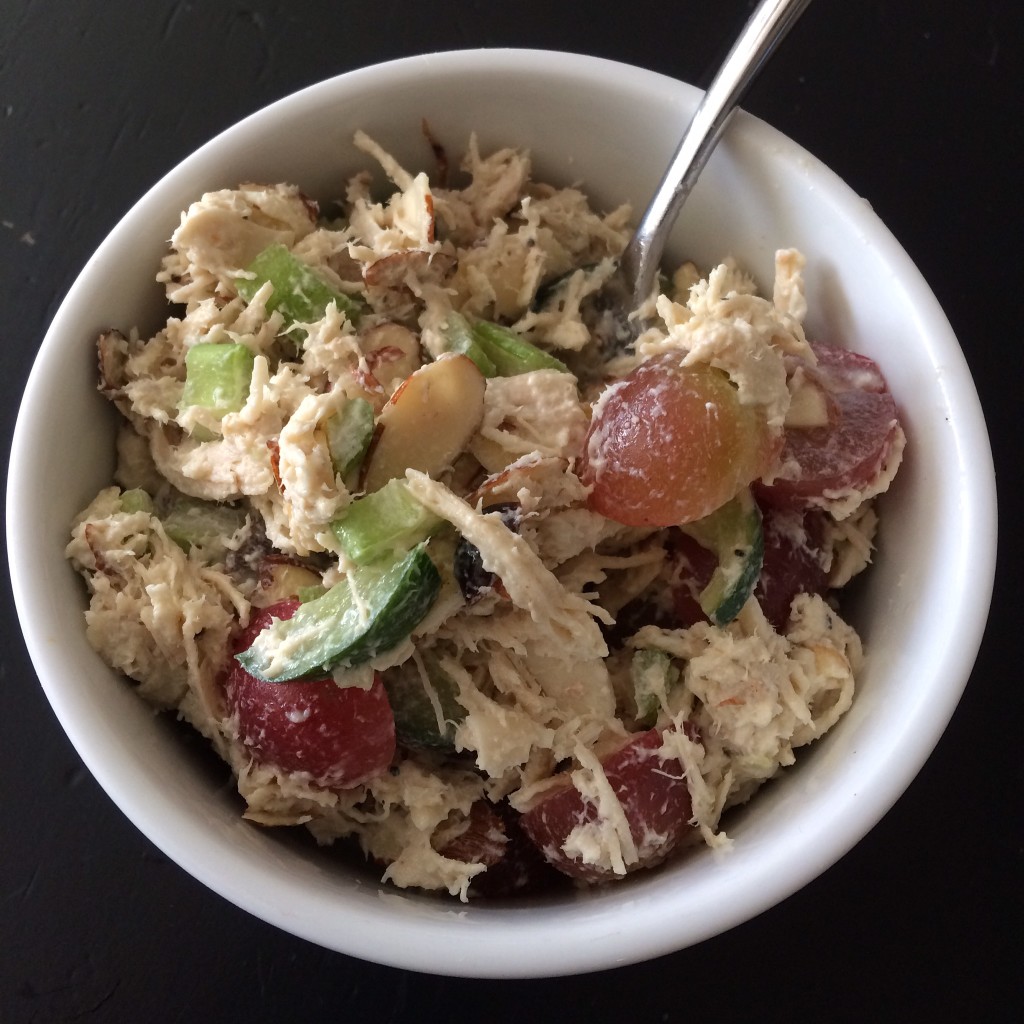 Dinner
Burger with Avocado and mustard, Roasted Veggies with Chicken Sausage, Fruit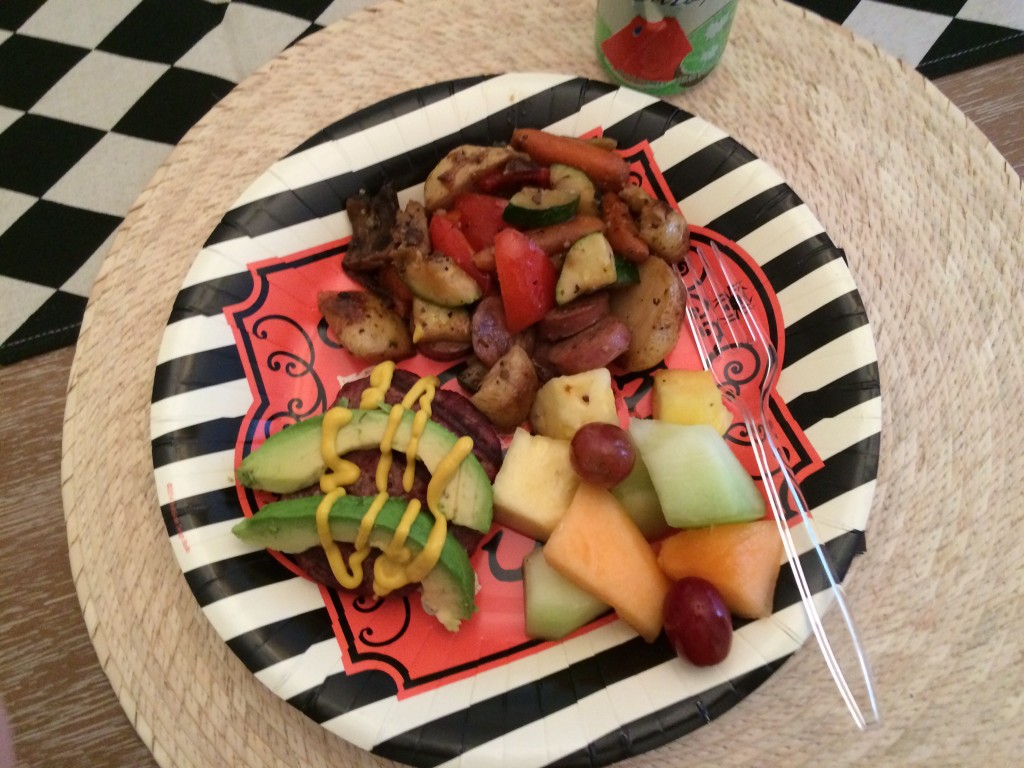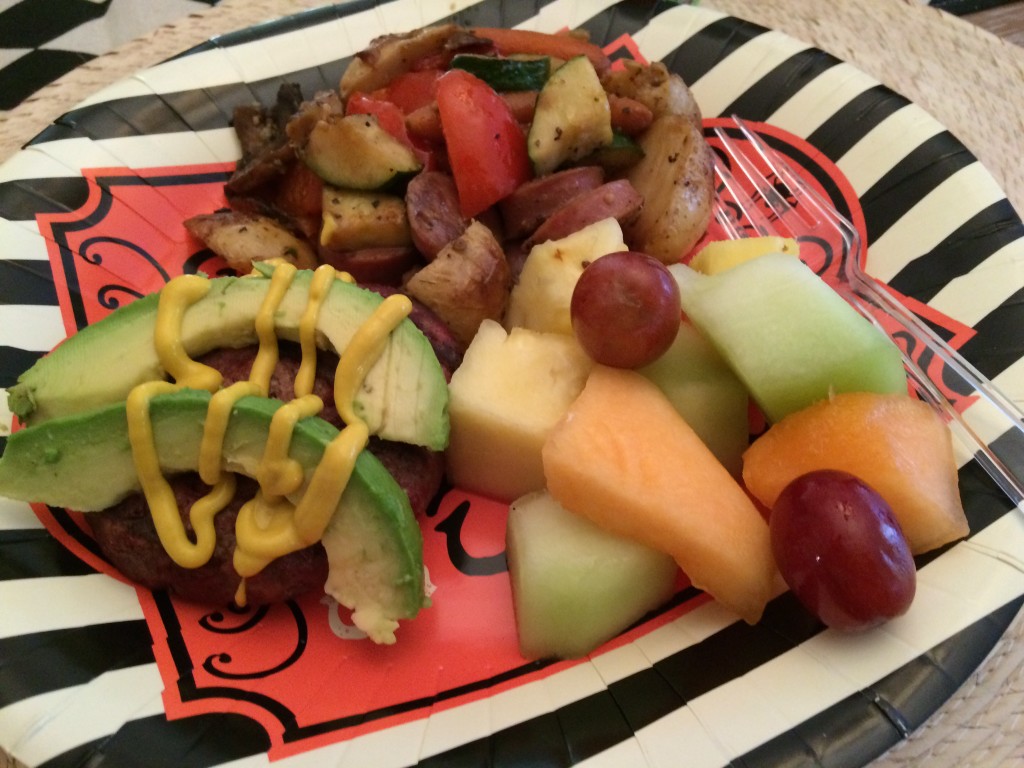 Exercise = none
Water Consumed = 70
This is What I Will Accomplish in 2015
I will choose one occasion per month for Social Drinking (um..this is a work in progress)
I will go no more than two days in a row without exercise. (I've done "two a day's" to make up, and slacked lately)
I will track every single day of the entire year. (I've only NOT tracked a few weekends this year.)
I will not be tracking my food while doing the Whole30.
I will run in a minimum of six 5K's. Four down, two to go!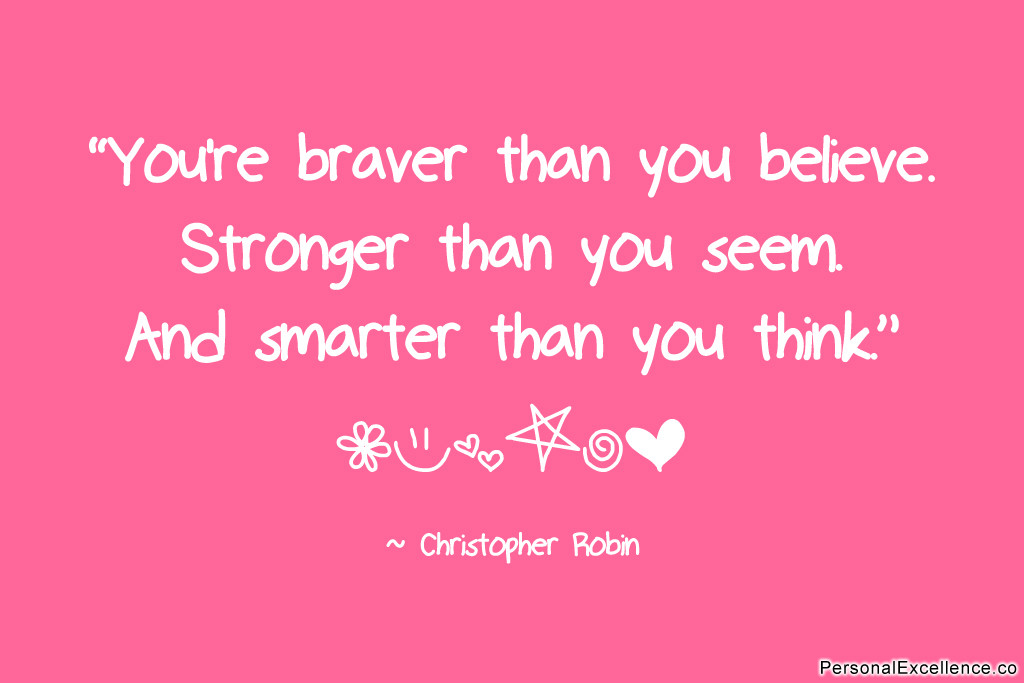 "love the life you live, live the life you love"