You guys, WE WON game one of the World Series!! Yahoo! Yippee! Hoorah! Hooray! Whoo Whoo!! It was a late night too in extra innings. I admit, I dozed off, and woke up with bases loaded and got to see us win the game, then right back to sleep!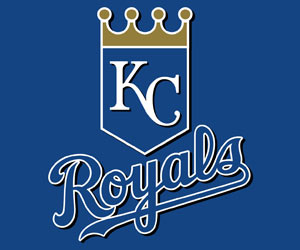 I hope it's another exciting evening, but nine innings would be great!
Okay….Whole30.
I really was not sure what Paleo was. If you are unclear on the difference between Paleo and Whole30, and would like to know more, click HERE for a great description of both.
My short version, the whole30 is a 30 day restrictive diet, where after 30 days, you begin to individually reintroduce food items back into your diet, and see how your body reacts to that food. If it's a food that you chose to eat, and you experience no negative side effects (inflammation, gut issues, cravings), then it's up to you to decide if you want to eat that food or not. Then, reintroduce another food.
The Paleo diet is more of a lifestyle. Meats, Seafood, Eggs, Fruits and Veggies and raw nuts. The Paleo lifestyle is all about eating whole foods, and avoiding processed foods.
Will we eat 100% Paleo after the whole30? I doubt it, but our diet will for sure be changed because of the Whole30, and I will continue the practice of a mindful snack.
I am learning to re-establish my relationship with food, and I feel like the whole30 plan is helping me do that. I needed this. My body felt good, and I was feeling very healthy, but my brain still struggles with food demons. This for me, is more about my mental relationship with food, than my physical health. I am learning that by feeding my body the right foods, (more protein and veggies, and no sugar) I am not experiencing any cravings at all. I miss my Frothy Coffee's that I've had every morning for a long time, but I don't crave them. Assuming milk and I have no issues, I will have them again, but maybe skip the flavored stevia drops. I am learning that even healthy foods can be a trigger for me, and I'm discovering how to manage that. No eating while standing in front of the pantry or the open refrigerator. Anything I eat in between meals, must be mindful and planned. This for me is the hardest part, but on day 16 of the whole30, it is becoming easier, and it's an important thing for me to overcome.
I really couldn't be happier that we are doing the whole30.
Oh, and Herbal, Decaf Hot Tea is my new beverage of choice! (Okay, I don't crave wine, but I miss it, especially now that the evenings are cool and a glass of red wine sounds yummy.)
Here are yesterday's eats…..
Breakfast
Scrambled Egg Whites, Avocado, Turkey Bacon (whole30 compliant, no added sugar, available at Whole Foods), Cherry Tomato salad with fresh Basil, Berries and Black Coffee.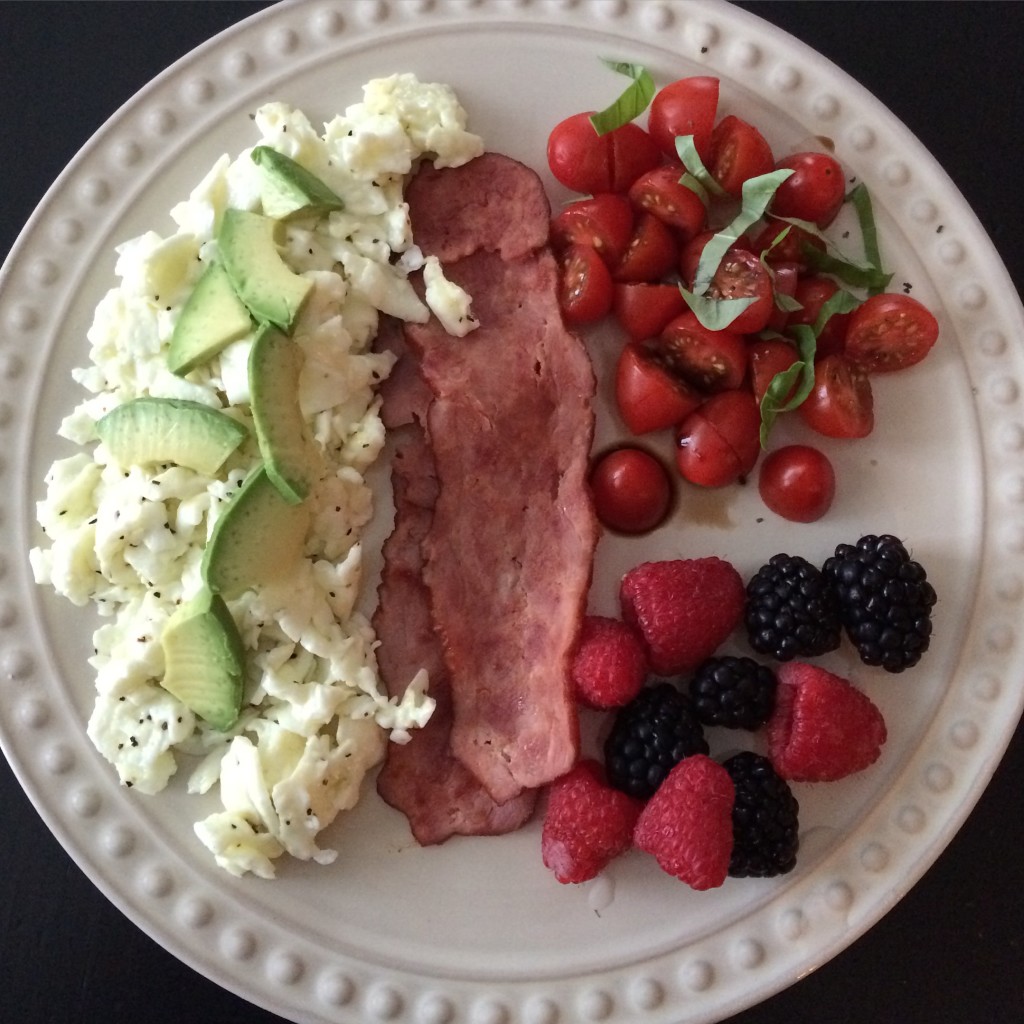 Lunch
The last of the Chicken Salad (with very little chicken). There wasn't much left, so I bulked it up with more veggies and grapes. Kiwi on the side and a date rolled in raw coconut that I saved from yesterday. It's a pretty big deal that that remained in my house for 24 hours.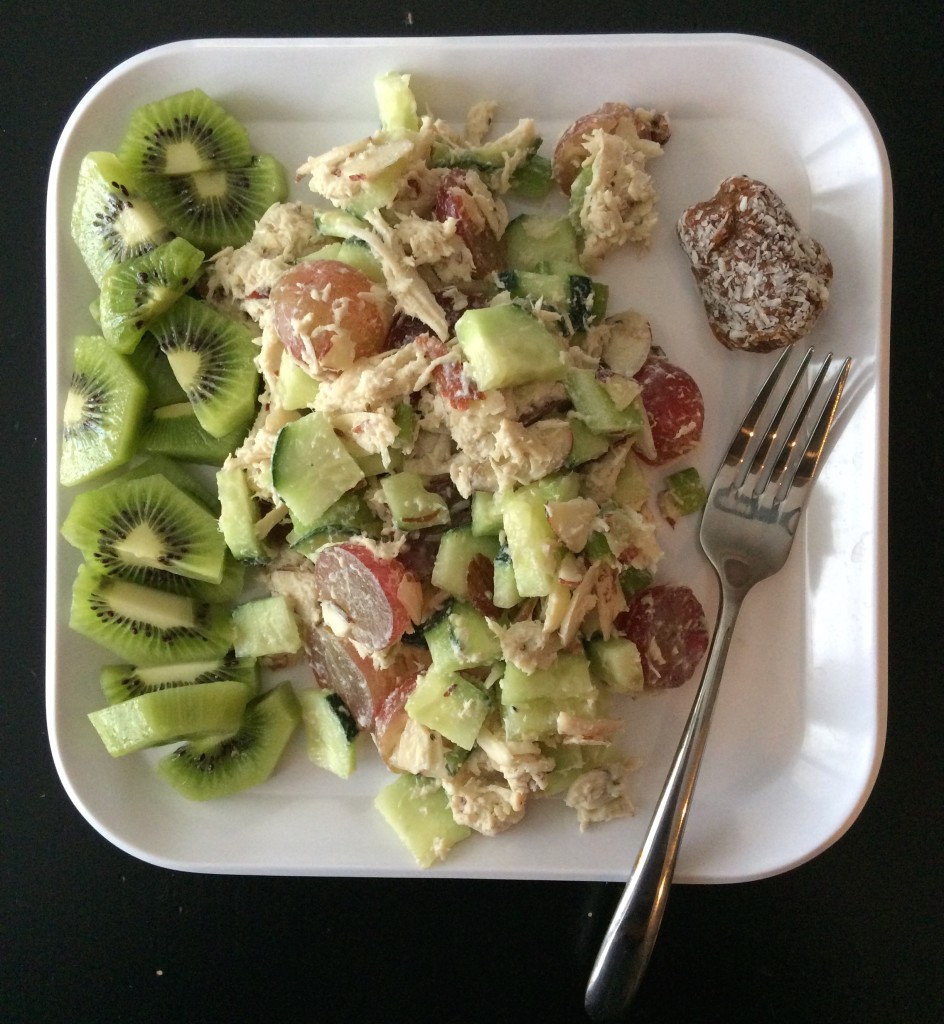 Snack
I didn't have much protein in my lunch, so I made a smart snack of 4 scrambled Egg Whites and apple slices with cinnamon.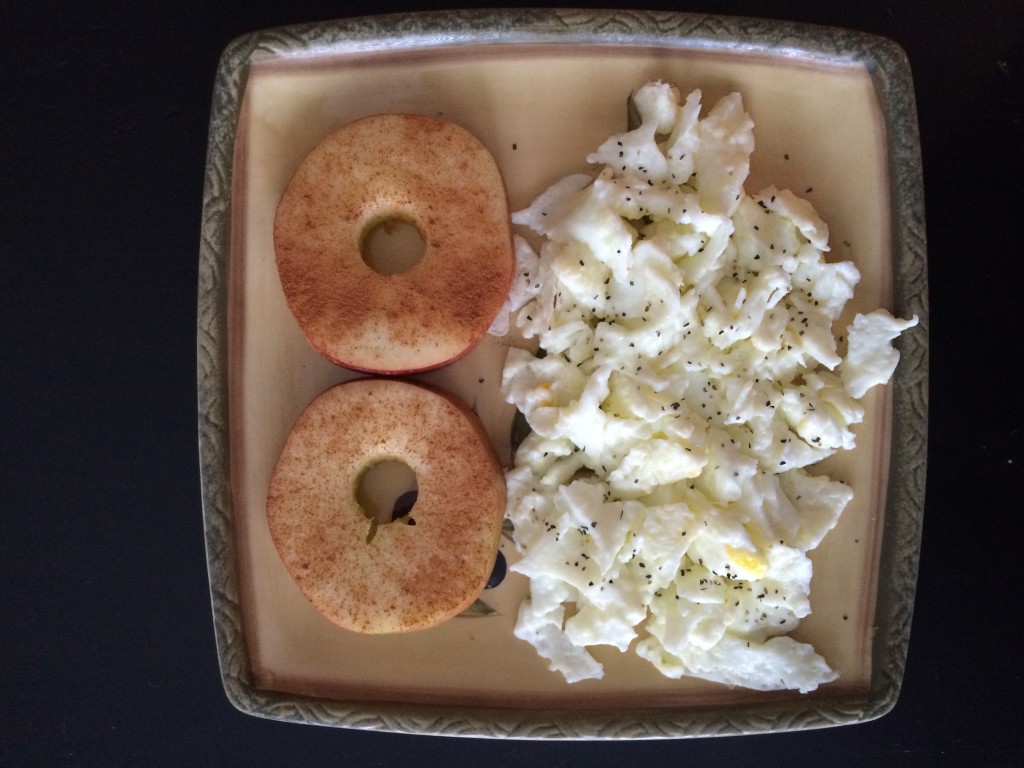 Dinner
Leftover Roasted Veggies with Grilled Chicken Breast and Chicken Apple Sausage.
I like to roast the potatoes and carrots and keep some in the fridge. I marinate, and grilled up several Chicken Breast, sliced them, and put those in the freezer. When it's time for dinner, dice up a few fresh veggies, mushrooms, zucchini, onions, whatever, and toss them in the skillet with olive oil and seasonings. Add in some of the potatoes and carrots and some of your thawed chicken, and dice up a few chicken sausages.
I got the idea for this from a dish made at the food truck, called Cowboy Skillet. Her's is much better using a different sausage and a few different veggies, but this is an easy One Pot Meal.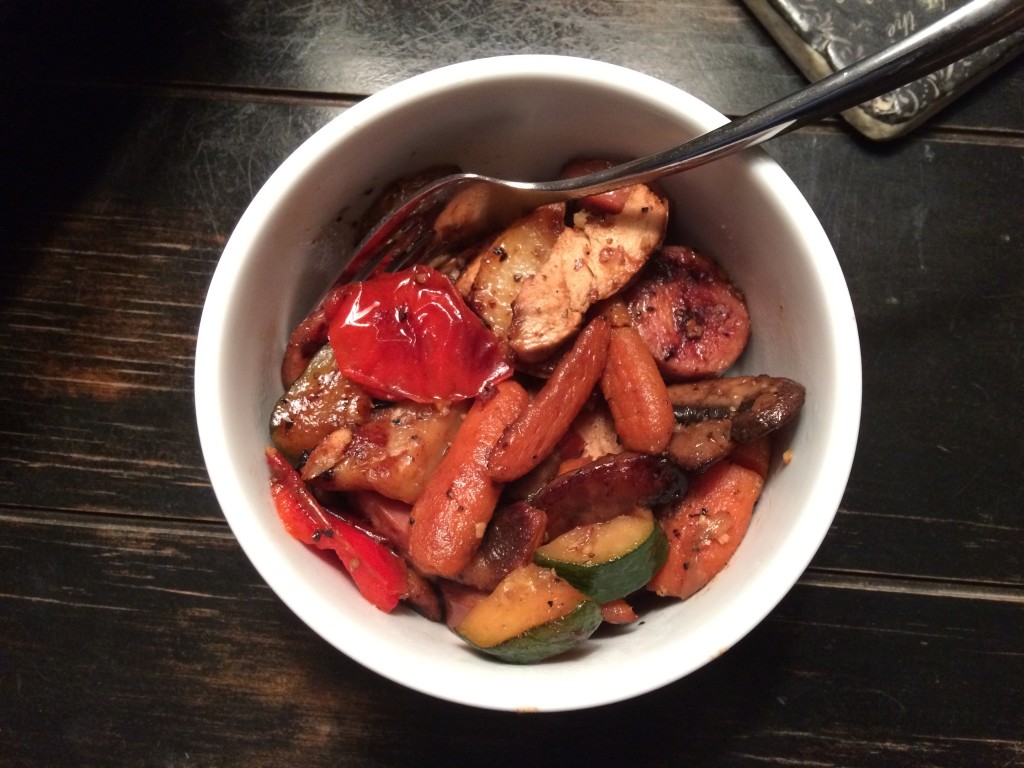 Exercise = none
Water Consumed = 40 oz and a ton of hot tea.
This is What I Will Accomplish in 2015
I will choose one occasion per month for Social Drinking (um..this is a work in progress)
I will go no more than two days in a row without exercise. (I've done "two a day's" to make up, and slacked lately)
I will track every single day of the entire year. (I've only NOT tracked a few weekends this year.)
I will not be tracking my food while doing the Whole30.
I will run in a minimum of six 5K's. Four down, two to go!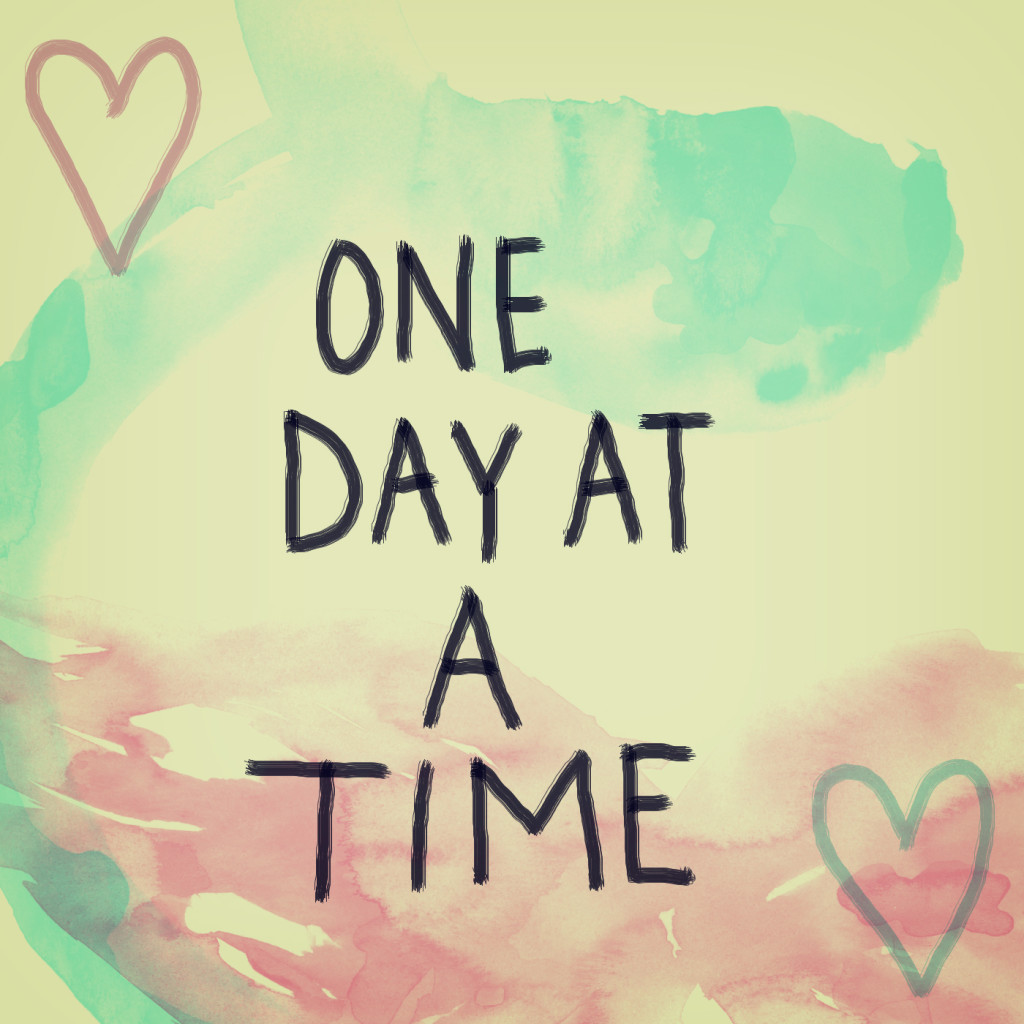 "love the life you live, live the life you love"