(Revised…I forgot to mention when I originally posted this, I did not make it to my WW meeting yesterday since I had to work, but I think I lost this week. I will be at my meeting next Friday for sure, and i will weigh in.)
What a busy and crazy last couple of weeks. October baseball, that leads into November baseball and celebrations, can be draining, and I wasn't even drinking!!
Today, we have absolutely nothing planned, and it feels so good. I went to my 8:00 am Yoga class this morning, and came home to make breakfast. It's gorgeous outside, so I'm spending as much time on the deck as possible. I'm on coffee cup number four.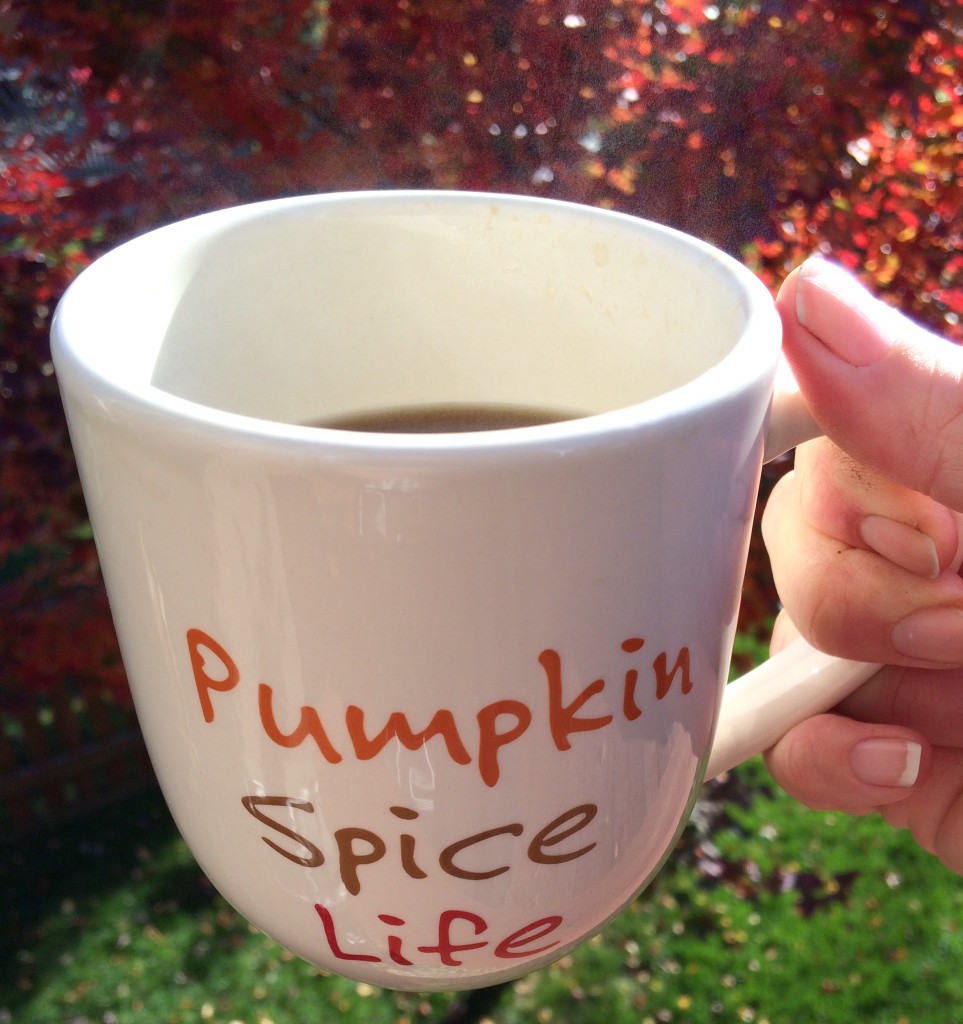 It has felt really good to climb into bed early the last couple of nights. Yesterday was Food Truck day in the West Bottoms of Kansas City, and those days are always our busiest, with hardly any time for chatting while we work! I've gotten used to not worrying about exercising on those days. I figure being on your feet for 4 – 5 hours and constantly moving has got to burn a few extra calories. After working, my friend Renee (she's been helping us out for several weeks now) and I decided to do a little shopping. I love my cabinet that I bought last month, and I thought I might find another treasure. A lot of the stores are ready for the Holidays!
I want everything in both of these pictures.
One shop was having their Grand Opening. They had Free Beer and lots of goodies! Renee had a beer and a piece of Pumpkin Cake that she claimed was the best piece of anything she'd ever had. Whatever. I had a bottle of water. (You guys, there was fudge.)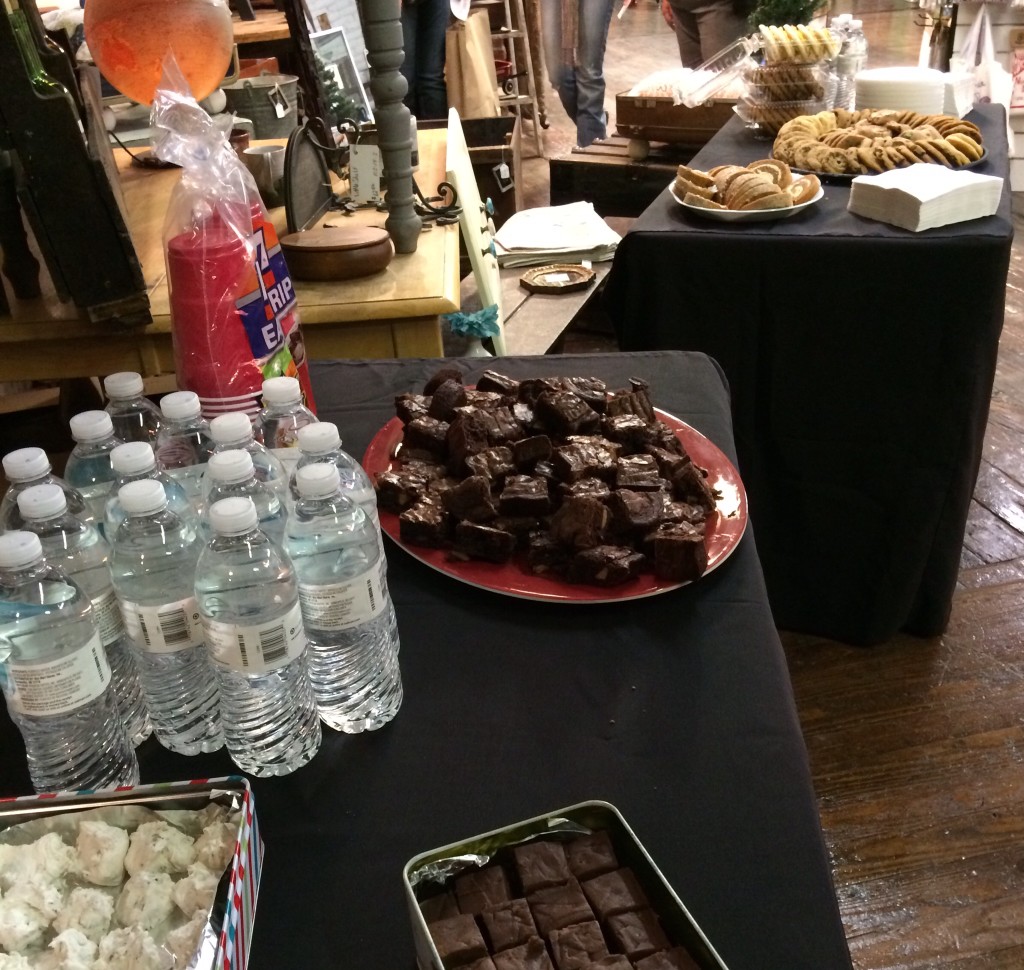 I left without a purchase, came home and showered, put on pj's and made dinner. We were in bed and asleep before 9:00. It was awesome!
The Whole30
Mike and I are almost done with our Whole30, and we have been talking a lot these last few days about what we will change on day 31. Mike said that he is fine with changing nothing. He has really had great success with weight loss and changes in his sleep pattern. He's not really missing any food, but agrees that it would be nice to have a glass of wine or a beer.
The Whole30 book suggest reintroducing things that you have not been eating (grains, legumes, dairy and sugar…and alcohol) over a 10 day period. Introduce one item on day 1 (maybe grains), then on day 2 and day 3 of the reintroduction phase, eat only Whole30 foods and see how your body reacts to the grains that you ate on day 1 of re-introduction. If you react negatively, (gas, bloating, etc) then you decide if you want to leave that food group out of your diet forever. If you don't have a negative reaction, then thats great, and you have learned that grains are not an issue for you. Day 4, reintroduce something else (maybe diary), and follow the same guidelines. If there is a food that you choose not to reintroduce, then that's up to you.
If you decide to not reintroduce any of the foods that you have not been eating, then you would be eating the Paleo Lifestyle. The Paleo Lifestyle has no qualms about eating snacks and desserts. You simply make your snacks and desserts using Paleo foods.
Sugar is the tough one for me. Should I, or shouldn't I?
I have had nothing to eat during the Whole30 with sugar in it. No ketchup, no bottled salad dressings, no canned goods with added sugar, nothing.
I was using the flavored Stevia drops in several things that I was eating before starting the Whole30. I used it in my coffee, my oatmeal, my Greek Yogurt, my Pancakes, and I'm wondering if those are foods that I say goodbye to, and never look back. I haven't decided yet. I do know that my urge to snack had decreased, and while I'm not 100% there on the no snacking urges, I'm much closer than I was, and a girl has to wonder…..is it because I've had no sugar?
I have decided that I am ready to count points again. I'm super curious how many points I am consuming on a daily basis, and honestly, I just like to count. I have to think that I am close to between 26-30, but I'm not really sure.
I have lost weight, and I am pleased with that, but it is not as much as I was hoping to lose. I will share Mike's weight loss (super happy for this guy!) , and mine, on my last post of the Whole30.
What's important, is that we are both feeling really healthy, and have zero regrets about the last 26 days!
I have a lot more to say about the Whole30. I'll share all of my thoughts when we are done.
Have a Happy and Healthy Weekend!
Here are yesterday's eats…..
Breakfast – 4 PPV
5 Scrambled Egg Whites, 1/4 Smashed Avocado with Sea Salt and Lime Juice, Salsa, 1/2 Banana and Kiwi, Black Coffee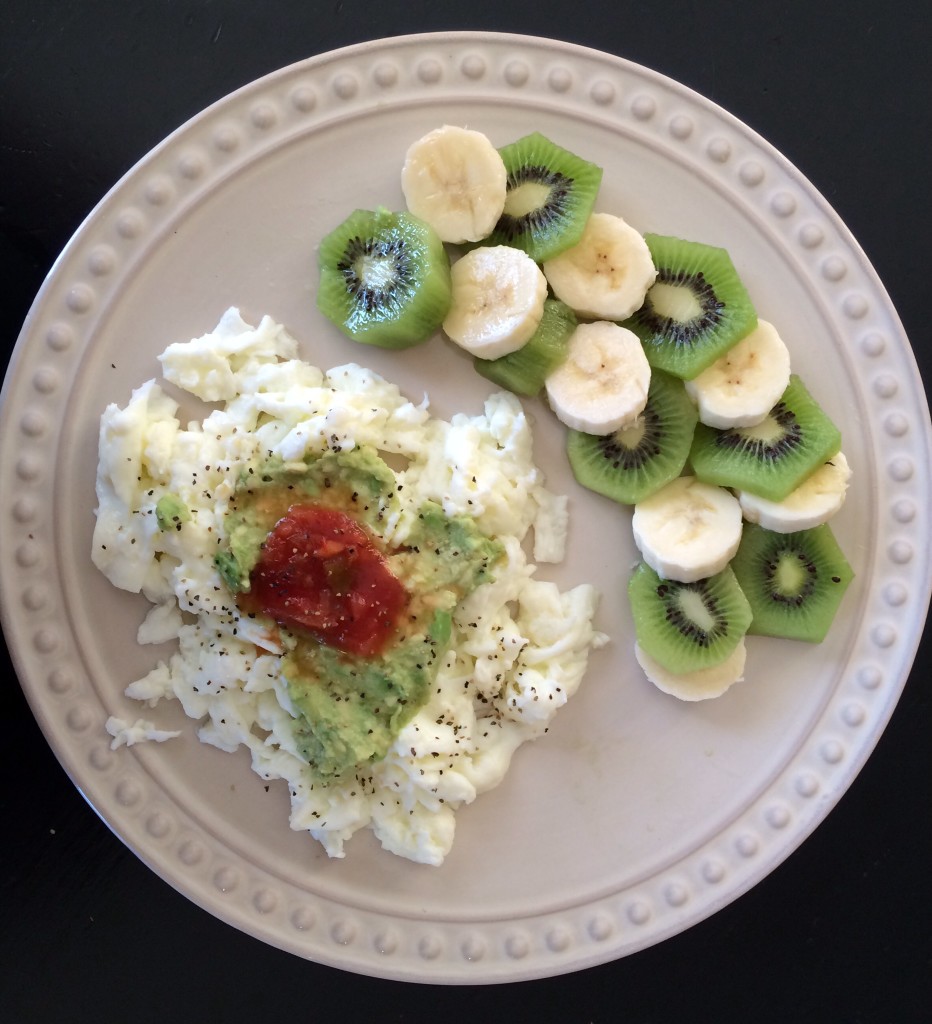 Lunch – 8 PPV
Pork at the Food Truck with Dill Pickles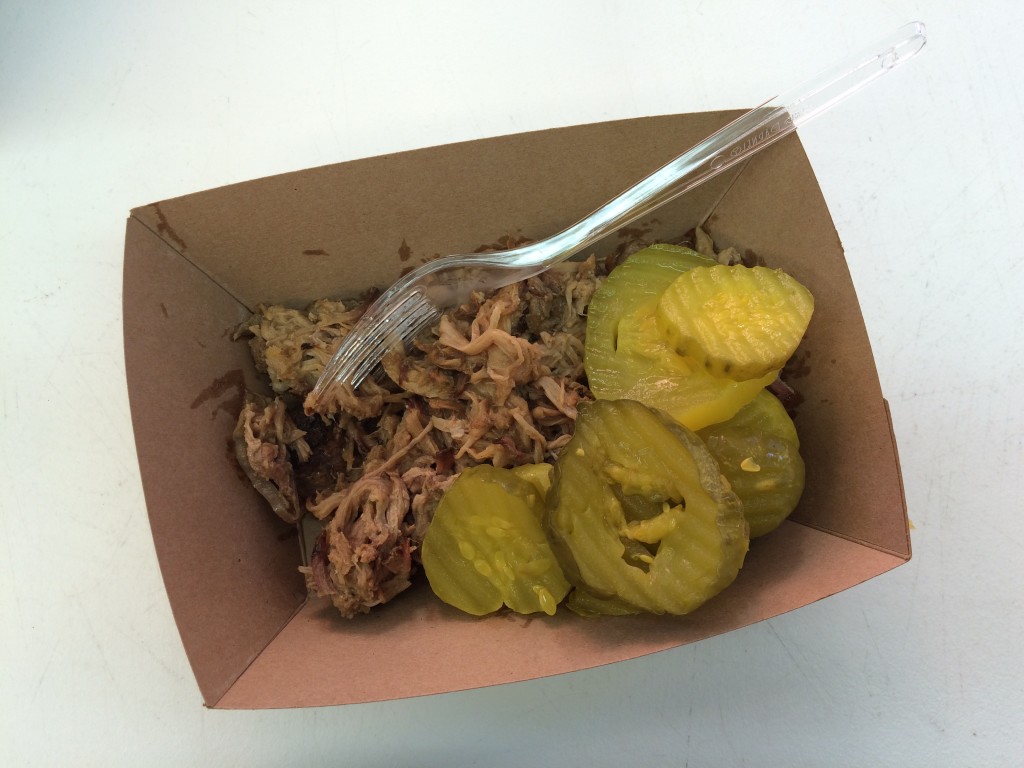 Snack – 5 PPV
I did have a snack between lunch and dinner, and I'm only doing that when I'm actually feeling hunger pains, which I was. So hungry, the first picture I haven't taken since beginning the Whole30!
Three bites of Egg Salad and six Pecan Halves
Dinner – 13 PPV
Butternut Squash Chili (No Black Beans, added Chicken Breast), Sauteed Veggies……..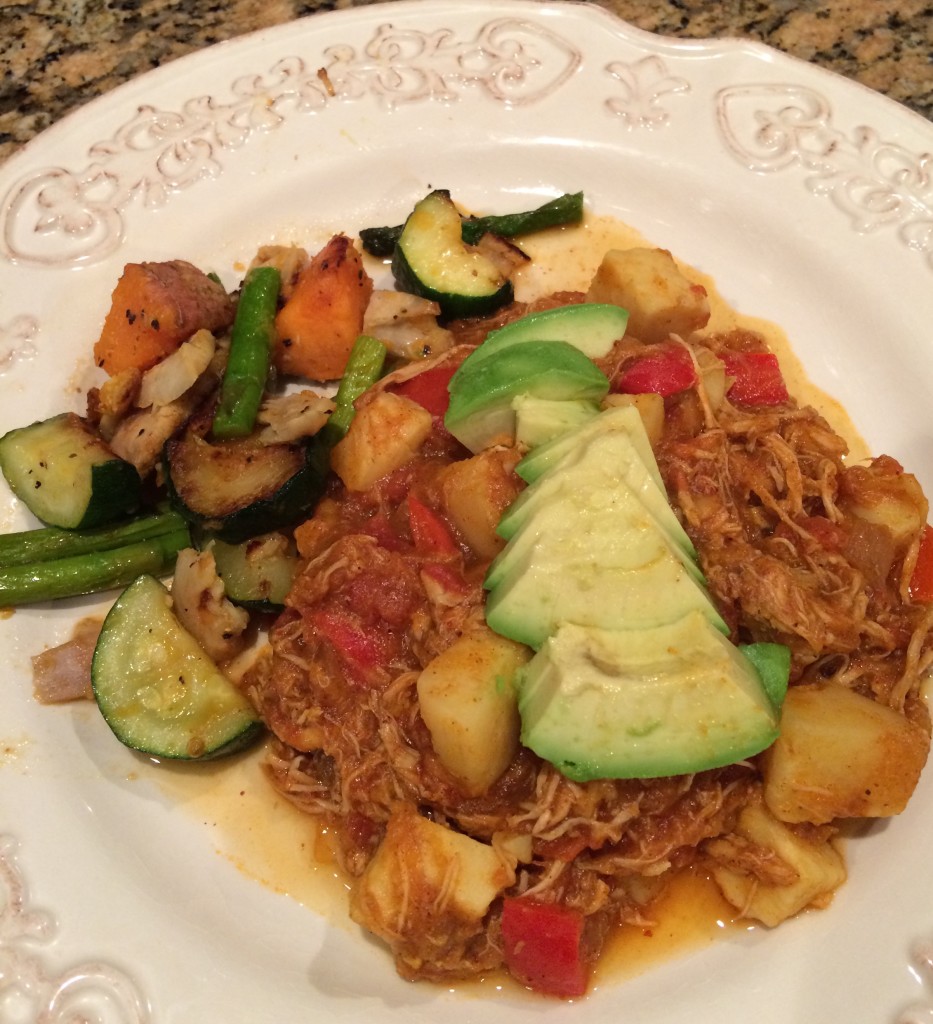 …and Baked Plantains. This was my first time making these. Not bad. Mike liked them too, although we couldn't come up with a description of what we thought they tasted like. Mike tasted a hint of banana, and I though more potato?? Sliced them, put them on parchment paper on a baking sheet, brushed them with melted Coconut Oil and sprinkled them with Sea Salt. Baked at 350 for 20-25 minutes. (actually forgot to take them out of the oven when the timer went off, but 20-25 would likely be perfect!)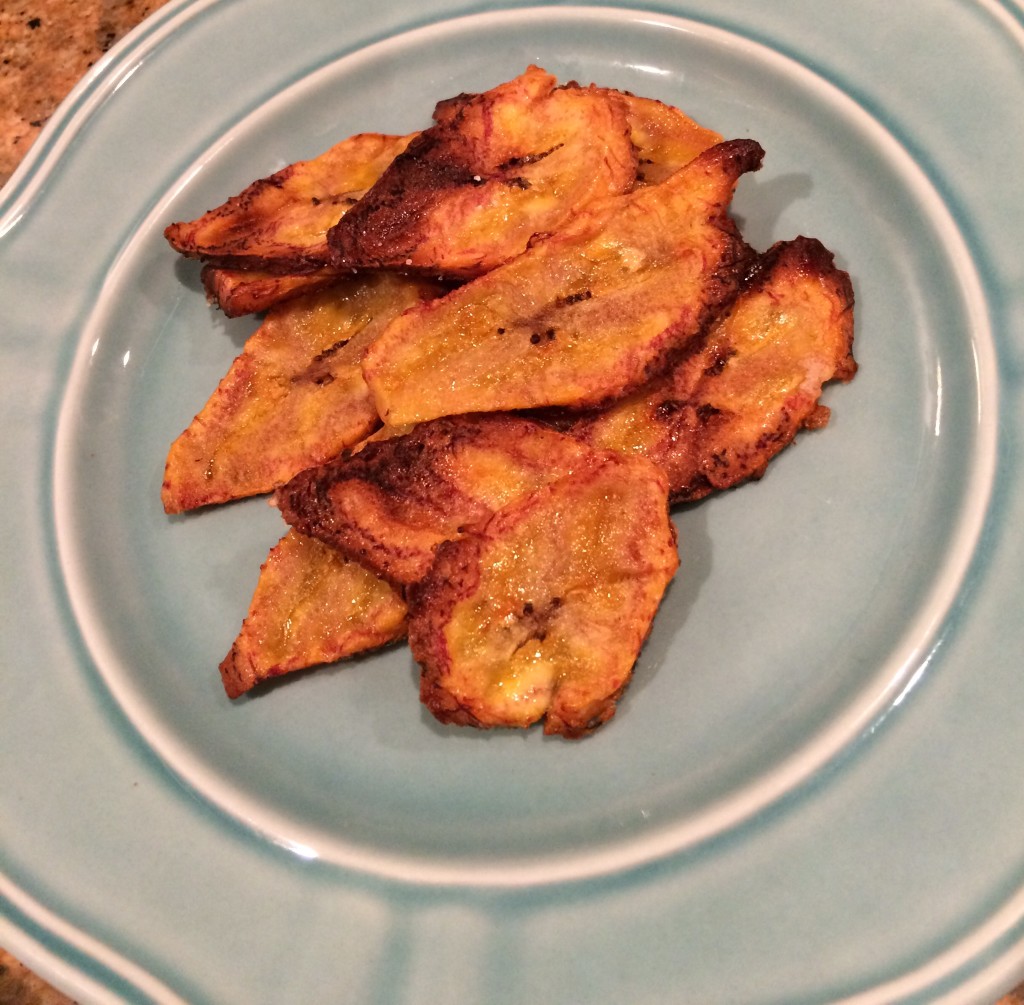 Weight Watcher's Points Plus
I can eat 26 PPV a day.
I can earn Activity Points by doing exercise, and eat them if I choose.
I have an allowance of 49 extra points that I can dip into throughout the week if I choose.
I should drink a minimum of 6 (8 oz) glasses of water each day.
My Weight Watcher Week Begins on Friday's
Breakfast = 4
Lunch = 8
Snack = 5
Dinner = 13
Total = 30
Exercise = none
Activity Points Earned for the Day = 0
Activity Points Earned This Week = 0
Activity Points Remaining This Week = 0
How many ounces of water I drank for the day = 70
Remaining points from my 49 Points Allowance = 45
This is What I Will Accomplish in 2015
I will choose one occasion per month for Social Drinking (um..this is a work in progress)
I will go no more than two days in a row without exercise. (I've done "two a day's" to make up, and slacked lately)
I will track every single day of the entire year.
(I've only NOT tracked a few weekends this year and I did not track during the first 26 days of Whole30)
I will run in a minimum of six 5K's. Five down, One to go!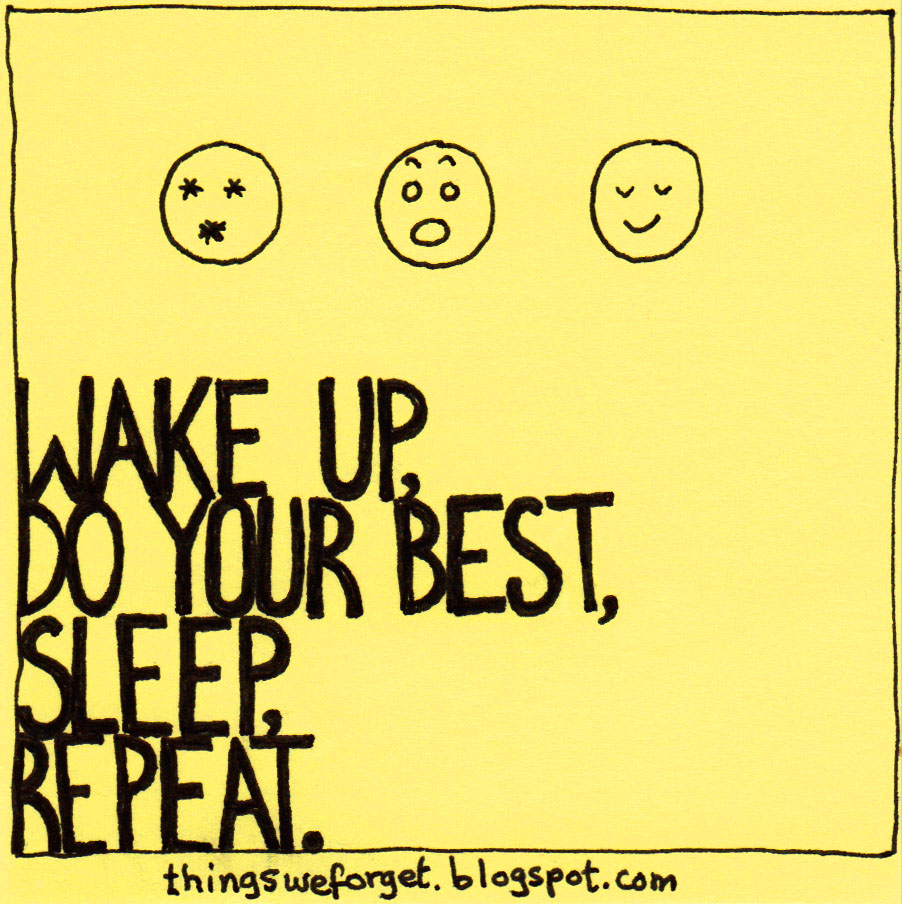 "love the life you live, live the life you love"